Air Conditioning Buying Guide
Purchasing an Air Conditioner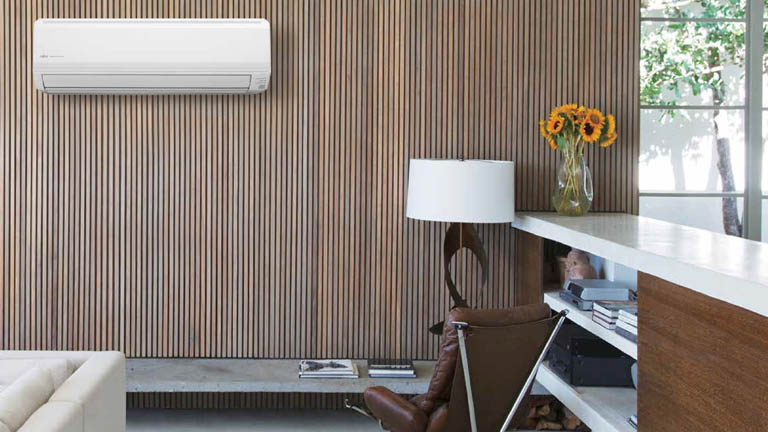 There are a number of practical considerations to bear in mind when choosing an air conditioner:
Do you live in rented accommodation? If so, consider air conditioning that does not require any installation such as a fan or a portable air conditioner.
Consider the size of the space you are trying heat or cool before purchasing an AC system. Mismatching the space to the AC may deliver either unsatisfactory results or wasted energy.
Do you need to cool your home in the summer and heat it in the winter? If so, consider reverse cycle air conditioning for year round climate control.
Air Conditioner Features
Understanding Air Conditioners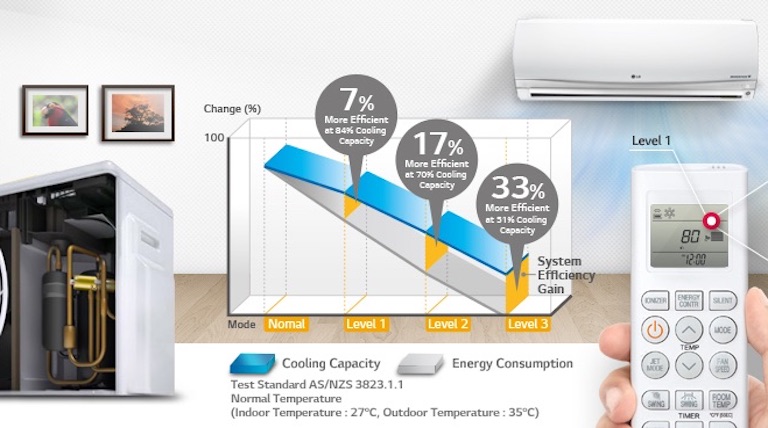 To ensure you are shopping for an air conditioner according to the right criteria, it is important to understand a few key terms:
Reverse Cycle: An air conditioner with both heating and cooling capabilities.
Inverter: Inverter air conditioners deliver a constant airflow for improved temperature regulation and increased energy efficiency.
Smart AC: Smart air conditioners connect to your home network so you can control and monitor their output through an app on compatible mobile devices.
Capacity & Efficiency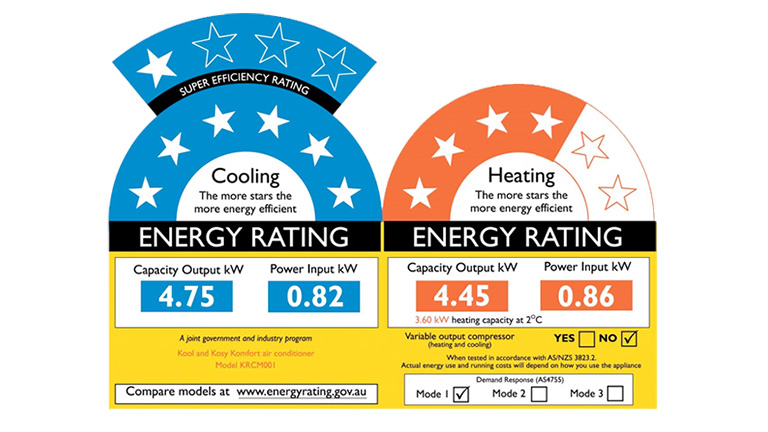 Air conditioning capacity is measured in British Thermal Units (BTUs) and output power is measured in kW. Efficiency is classified using a star system where the more stars a unit has, the more efficient it is.
As a general rule, an air conditioner needs at least 80 watts of power per square metre in the room.
Reverse cycle air conditioners use two kW values: the first for cooling capacity and the second for heating.
A unit's efficiency is given as a star-rating and established by determining the ratio of power input to cooling and heating capacity.
Types of Air Conditioners
Split System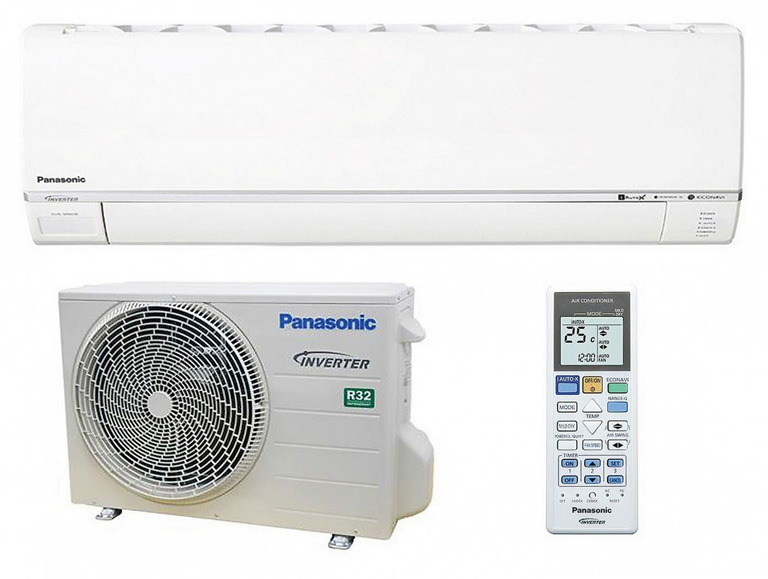 Split system air conditioners are generally considered to be the most effective of all the home air conditioning types. They consist of two units, one of which is installed outside the home, the other inside.
Generally, split system air conditioning units tend to be quieter, more powerful and more efficient than the alternatives. They are ideal for anyone looking to cool larger rooms or even an entire residence.
Split system air conditioners also tend to include additional features such as built-in WiFi to air ionisers and motion sensors, which increase air quality and efficiency respectively.
It's important to have split system AC installed by a professional, so factor these costs into your budget before making a purchase. As such, they are only likely to be suitable for home owners.
Window/Wall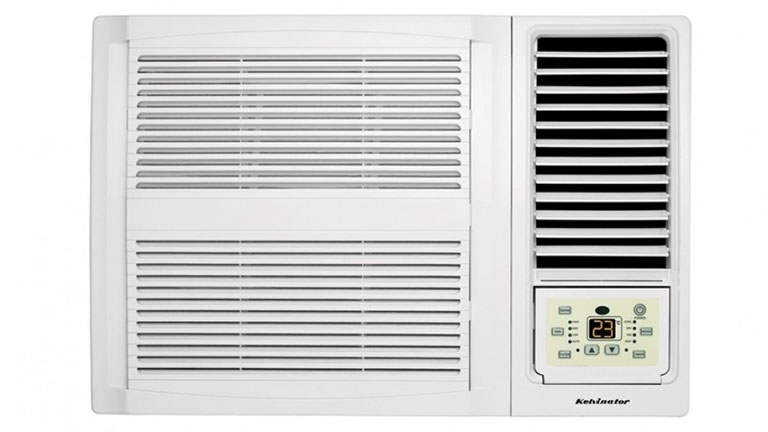 Window or wall air conditioners offer a more affordable alternative to split system air conditioners and can still deliver outstanding results in the right circumstances.
Window/Wall air conditioners are ideal for controlling the temperature in a single room or a confined space. When used properly, window air conditioners can be extremely efficient and effective.
Unlike a split system air conditioner, a window air conditioner can be easily installed by anyone with basic DIY skills. Note, when installing these units to vent through a wall you should seek professional assistance.
Window/Wall air conditioners also boast numerous useful features such as timers, remote controls and air ionisers. Since window air conditioners require you to keep a window open at all times, you may wish to consider one with a built-in insect guard.
Portable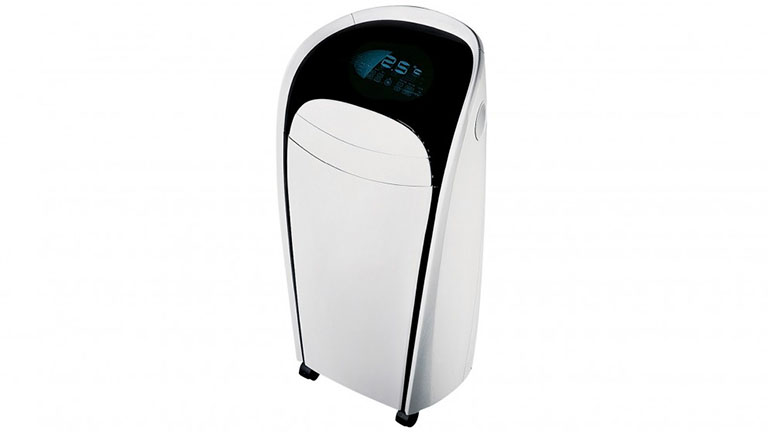 A portable air con unit is perfect for anyone who wants to regulate the temperature in a single room without any DIY. Compact and easy-to-move, these units can follow you throughout your home.
Portable air conditioners are ideal for anyone in rented accommodation as they require no installation. While they are not as effective as other, more expensive alternatives, they can still help you take the edge off the harsh Australian climate.
Take note of the weight of a portable unit if you intend to use it throughout your home. Increased portability may come at a premium, but it could be a worthwhile investment if you need to cool rooms situated on another floor of your home.
Portable air conditioners also boast a range of convenience features such as remote controls and timers. Functions such as omnidirectional louvres can help spread cooled air evenly throughout the room for better results.
Match Air Conditioning to Your Room Size
Finding the right air conditioner depends on numerous factors including room size, ceiling height, insulation, size of windows, level of sunlight and more. Below is an approximation of required cooling and heating capacities for different room sizes.
| Room Size m2 | Capacity - Cooling (C)/Heating (H) |
| --- | --- |
| 3.0m x 3.0m = 9m2 | 2.5KW(C)/3.2KW(H) |
| 5.0m x 5.0m = 25m2 | 3.5kw(C)/3.7KW - 4.3KW (H) |
| 5.5m x 5.5m = 30m2 | 3.5kw(c)/3.7KW(H) - 5.0KW(C)/6.0KW(H) |
| 6.3m x 6.3m = 40m2 | 5.0KW(C)/6.0KW(H) - 6.0KW(C)/7.2KW(H) |
| 6.7m x 6.7m = 45m2 | 6.0KW(C)/7.2KW(H) - 7.1KW(C)/8.0KW(H) |
| 7.1m x 7.1m = 50m2 | 7.1KW(C)/8.0KW(H) - 8.0KW(C)/9.0KW(H) |
| 7.7m x 7.7m = 55m2 | 8.0KW(C)/9.0KW(H) - 9.2KW(C)/10.0KW(H) |
* This table is only a general guide to the heating and cooling capacities of air conditioners across a range of brands that takes into consideration the spectrum of standard environmental conditions of various room sizes. Please contact specialist in store staff for more information about the air conditioner most suitable for your room or rooms.
Air Conditioning Additions
---
Air Treatment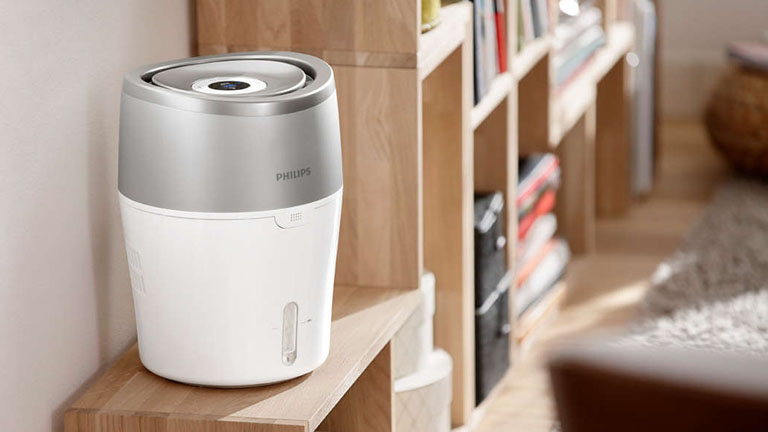 Air treatment products such as humidifiers, dehumidifiers and purifiers help you live in comfort. Compact and easy-to-use, they can take the edge off any season.
Fans
If you're looking to cut back on costs and cool more rooms in your house than a pedestal, desk, floor or tower fan could be the perfect option.
Heaters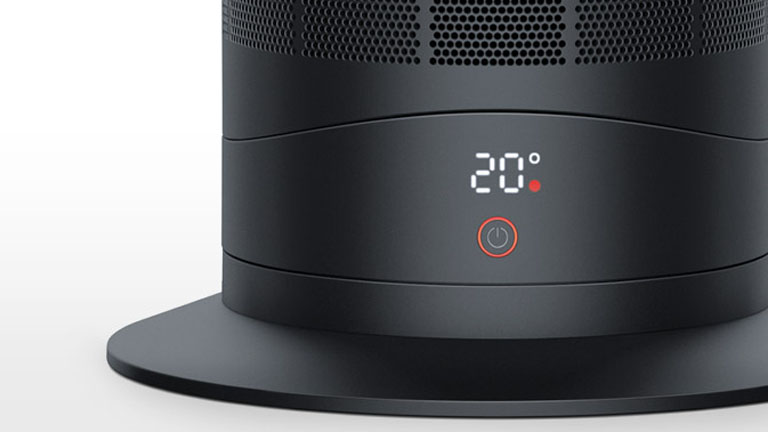 Heaters are an effective way to increase the temperature in your home. Easy to use and easy to set up, heaters keep you warm with the minimum of fuss.