Bed Linen Buying Guide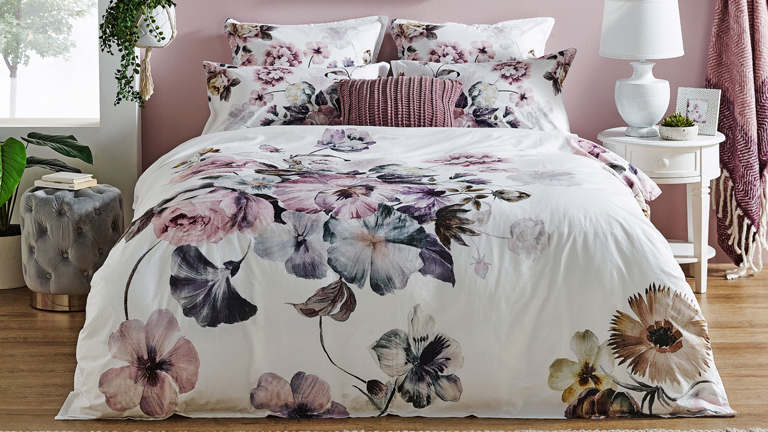 There are a number of practical considerations to bear in mind when shopping for bed linen:
Shop for bed linen according to how it will be used. For example, if you are shopping for a quilt cover for a child's room, opt for durable fabrics that can withstand regular washing.
Pay close attention to linen size to ensure that you purchase the sheets and quilt covers that match your mattress.
If you are shopping for quilt covers, flat & fitted sheets and pillow cases, you may find that purchasing them as a matching set is more economical than buying individual pieces.
Fabric Types
Cotton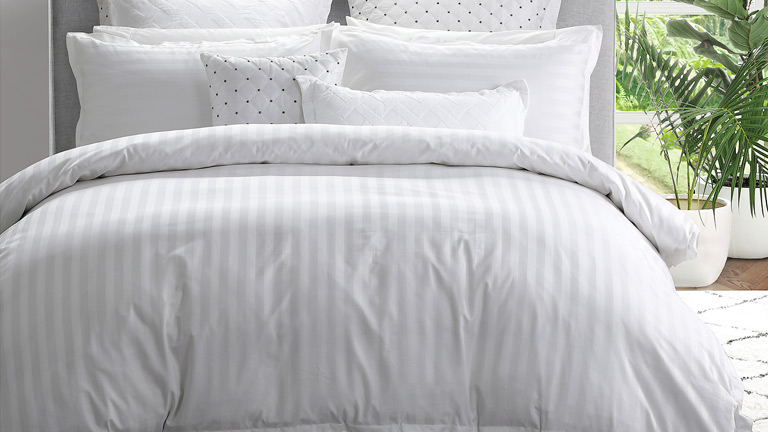 Cotton is the most commonly used fibre in bed linen. It is durable, comfortable and easy-to-wash making it perfect for everyday use.
Cotton is favoured for its breathable qualities. It also channels sweat away from your skin, making it the ideal material for year-round use.
Warm and soft-to-the-touch, pure cotton is perfect for buyers with sensitive skin.
Pure cotton bed linen is affordable, low maintenance and durable — making it a great option for families of all sizes.
Polycotton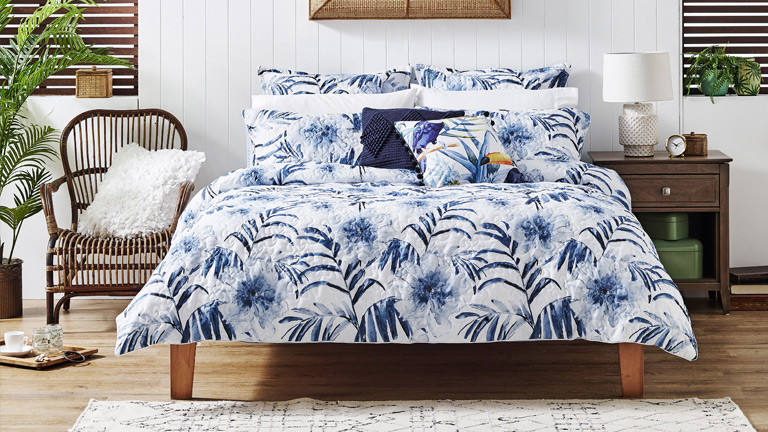 Polycotton blends integrate the strengths of cotton and polyester to create an eye-catching, comfortable and durable material.
The mix of polyester and cotton (polycotton) creates sheets and covers that are both comfortable and easy-to-maintain. If you need to update the bedding throughout your home, polycotton represents an excellent option.
Polycotton dries quickly so you can get your bed ready sooner. What is more, polycotton is unlikely to need extensive ironing, meaning your workload is reduced.
Polycotton is a thin, lightweight fabric that retains the moisture absorbing qualities of cotton, making it a sensible choice for the heat of the summer months.
Egyptian Cotton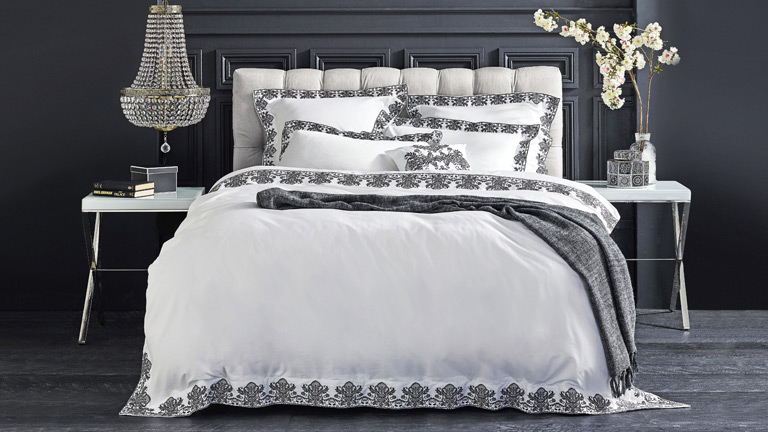 Egyptian cotton is arguably the last word in bedding materials. Often regarded as one of the finest fabrics in the world, its hardy thread and tight weave guarantee a lasting, lustrous finish.
Perhaps the most attractive feature of Egyptian cotton is that can help you stay cool in the summer and warm in the winter so you can enjoy year round comfort.
Made with a close weave, Egyptian cotton is soft, lightweight, extremely strong and requires minimal ironing so you can enjoy the best of everything.
Cotton made from Egyptian fibres is highly breathable and will actually become softer with use. It is also less likely to pill and will produce less lint than other fabrics.
Linen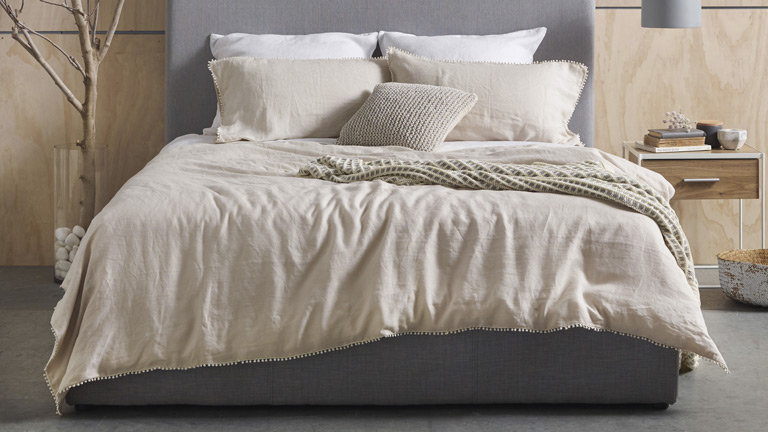 Linen is favoured for its durability, breathability and versatility. Linen bedding also boasts certain anti-bacterial qualities that will make it appealing to allergy sufferers.
Linen is around twice as durable as cotton, making it an excellent choice for anyone who wants bedding made of hardwearing, natural fibres.
Linen bedding is ideal for use in the height of the summer as it can regulate your temperature when you are asleep so you can stay cool when the temperature rises.
Pure linen bedding also boasts bacteria resistant qualities, which makes it a sensible choice for allergy sufferers and asthmatics who struggle with bedding made from other fabrics.
Weave Types
Percale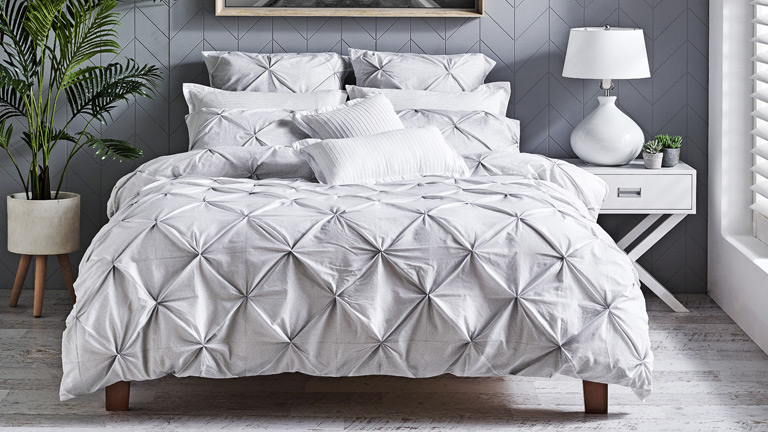 Percale is a plain-weave fabric made from high-quality combed cotton. Percale tends to be durable and long-lasting, making it suitable for regular use.
Percale cotton is created using a one over, one under weave. The piece is then combed to remove shorter staples (individual fibres) to produce a smooth thread.
Threads are tightly woven into a fine textured, crisp sheet with a matte finish.
Percale is favoured for its lightweight and highly-breathable qualities that leave bedding feeling crisp and cool against your skin.
Flannelette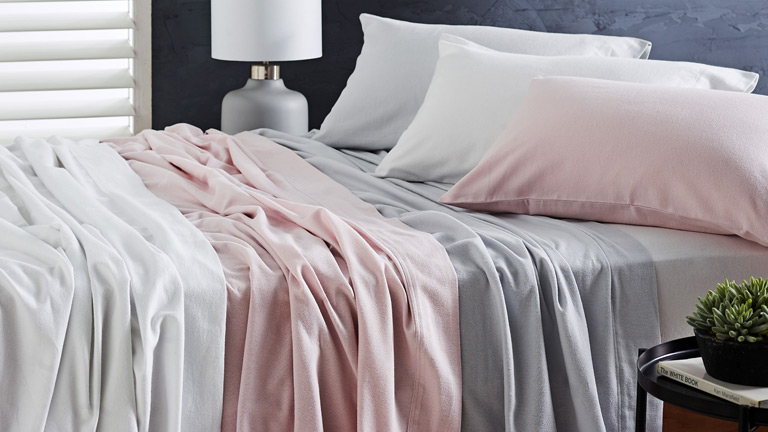 Flannelette bedding (sometimes referred to as flannel bedding) has a warm, soft feel that makes it the ideal bedding for the winter months.
The flannelette fabric is commonly brushed on each side and created with loosely spun yarn to make it beautifully soft-to-the-touch.
Flannelette is ideal for the colder months as it boasts excellent heat retention. However, it may be too warm for the height of the summer.
Most flannelette sheets can be machine laundered, ironed and tumble dried so long as a low heat setting is used.
Jacquard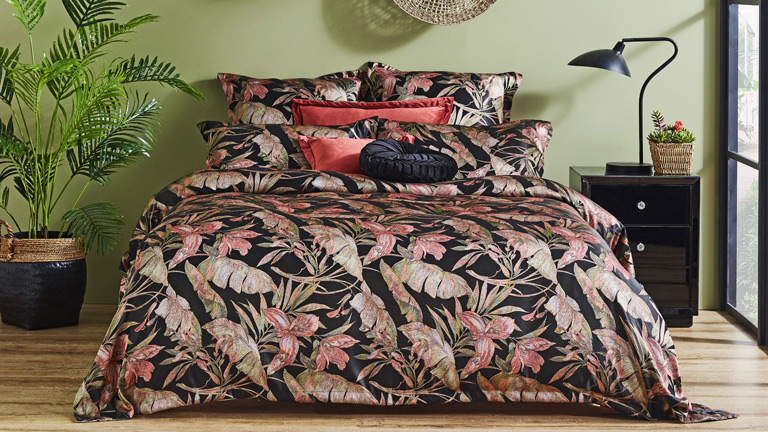 Jacquard is a type of weave where two or more colours are woven together to create a pattern. Jacquard is ideal for creating a feeling of opulence and majesty in your bedroom.
Jacquard weaving raises warp threads to form a pattern. Jacquard bedding is a more tactile and luxurious alternative to printed covers or sheets.
Jacquard tends to be woven with very fine threads. This creates a high thread count which in turn adds a regal feel to your bedroom.
As a result of the complexity involved in the weave, jacquard bedding tends to be one of the more expensive types. Always check to see if the bedding is machine washable.
Ben Linen Features
Fabric Detail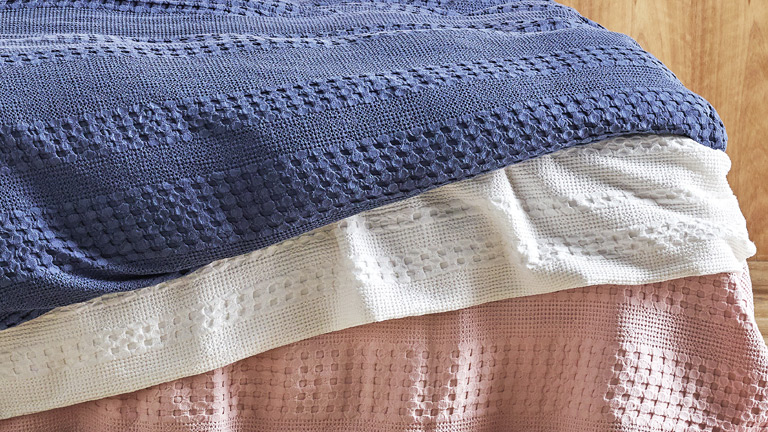 Fabric can be decorated and adorned with details via a number of techniques. The following are perhaps the most popular:
Applique: patterns are created by sewing additional fabrics to the duvet either by hand or by machine.
Embroidered: this creates a tactile feel and adds detail to otherwise plain covers. Hand-embroidered bed linen creates a more individual look but expect to pay for the privilege.
Print: printed bed linen is a cost effective way to change the look and feel of your bedroom. Covers are either printed digitally or by hand, with the latter offering deeper colours but costing more.
Thread Count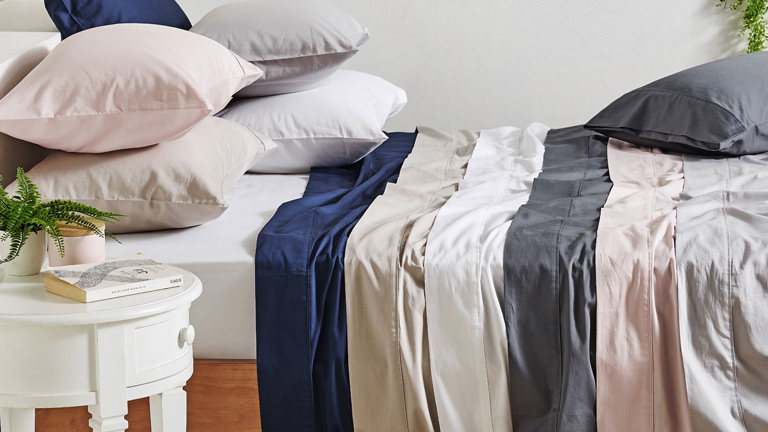 Thread count is the number of threads per square inch and is a good indicator of quality. In the broadest terms, the higher the thread count, the softer and thicker the sheet.
Any sheet over 800 threads is comparable to a five-star experience. Sheets around the 300 to 400 mark offer exceptional levels of durability and comfort. A 200 thread count sheet is a great starting point for anyone looking to expand their linen closet.
Be aware that very high thread count linen is not always the best answer. While it may add a touch of luxury to your home, a high thread count doesn't always guarantee durability.
Similarly, thread and weave can have as great a bearing on quality as thread count. Try to look at all the contributing factors when making your choice.
Size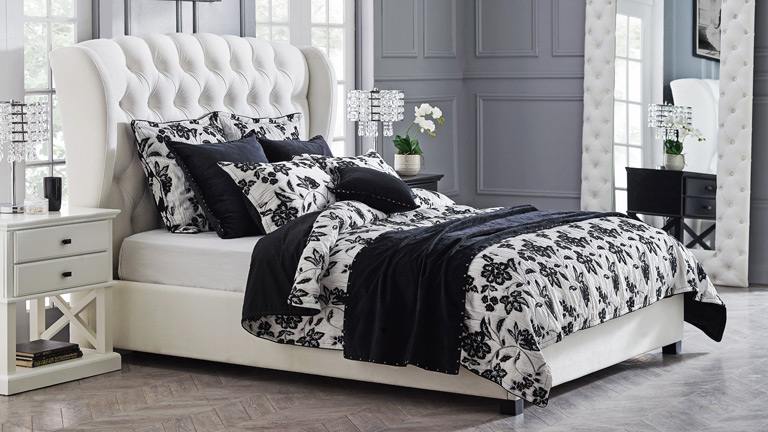 The size of the bed linen you choose should be dictated by the size of your mattress. Buy a fitted sheet that is too small and you can expect it to come loose during the night.
Fitted and flat sheets typically come in single, king single, double, queen, king and super king across a range of colours and blends.
Pillow top mattresses may require custom linens designed with deep corners to accommodate the cushioning of the ensemble.
If you have a custom-made mattress, it is likely that you will need custom-sized sheets. Contact the mattress vendor for more info.
Bed Linen Essentials
---
Quilts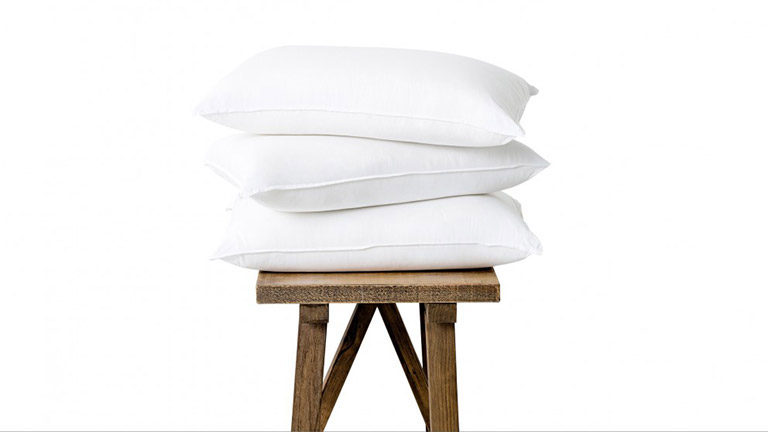 Adding a new quilt to your bedding can help you enjoy a more peaceful night's rest. Shop a wide variety of quilts, from high loft to light loft, and set yourself on a path to better sleep.
Pillows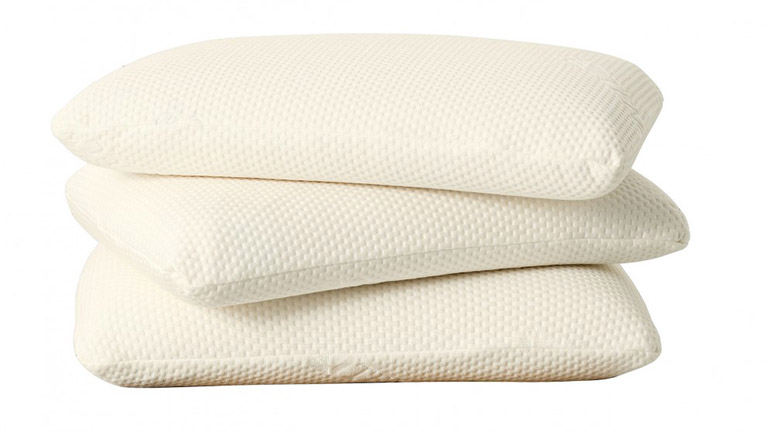 The right pillows can be the difference between waking up feeling rested and waking up feeling sore. Choose from a huge range of options to find the pillow that matches your sleeping habits.
Sheets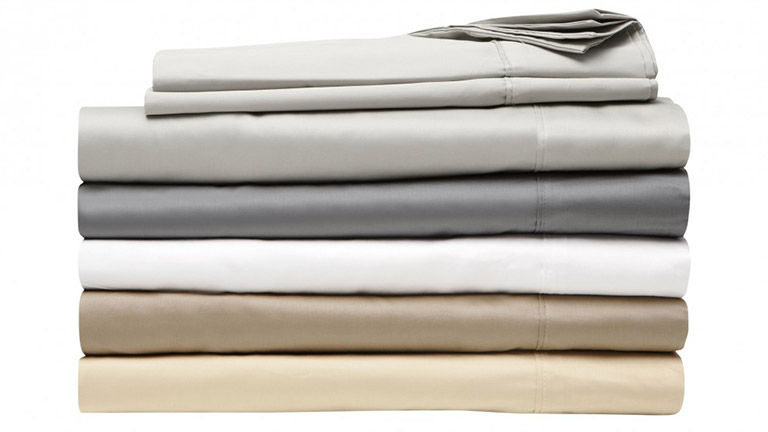 Choosing the sheets that match the season and your décor can help you sleep in comfort and improve the look of your bedroom. Shop a wide range of designs, colours and fabrics to find the sheets that work for you.