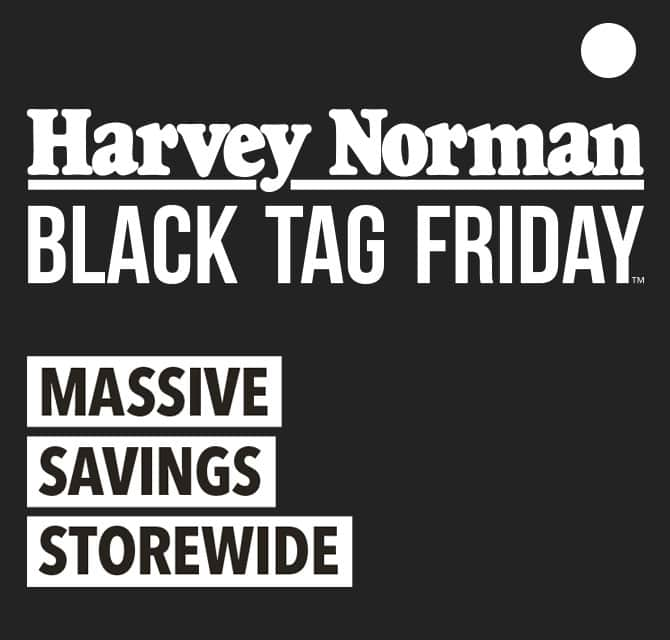 STAY TUNED for the next Harvey Norman's Black Tag Friday™. Our deals are available online and in store.
There are always massive savings storewide across our range of Computers, Home Appliances, TV & AV, Furniture, Bedding, Flooring & Bathrooms!
Our Black Tag Friday™ sales give you a chance to pick up incredible offers for ONE DAY ONLY! Learn more about Black Friday.
Learn more about Black Friday
Join the Party with Harvey Norman's Black Tag Friday Sales
You already know Harvey Norman is the home for amazing deals on gear from huge brands like Apple, Samsung, Sony and dozens of others. But, with the holidays rolling around, we've decided to really get into the spirit and offer up some even better savings.
And what better way to do that than join in on the Black Friday fun in Australia? Harvey Norman's Black Tag Friday sales give you a chance to pick up incredible gifts, whether they are for yourself or others, at amazing prices for a limited time.
So, what is a Black Friday sale?
Black Friday is a shopping phenomenon that has been around for decades in the US and has recently taken other countries by storm.
Every year Americans celebrate Thanksgiving on the final Thursday in November. This year, Thanksgiving Thursday falls on the 28th of November. After stuffing their faces with tonnes of turkey and mountains of mash, they spend the next day snapping up deal after deal on Black Friday. The day is the unofficial start of the Christmas holiday season, which of course, also means it's the unofficial start of the Christmas shopping season.
And now the wave of savings has reached the sunny shores here in Australia. But, in true Harvey Norman style, we're not going to just follow everybody else's rules. That's why we're going to launch Black Tag Fridays (that's right, plural) throughout the rest of the year. That gives you multiple chances to get in on the savings.
How can you get involved?
Before the rise of online shopping, Black Friday sales were exclusively brick and mortar prospects. Shoppers would line up for hours to have first crack at amazing deals on the latest tech and hardware. But, as if we needed another reason to love it, the internet made getting access to these deals all the easier.
Gone are the days where you need to go sit in line for hours and face a huge mass of customers willing to push and shove their way to savings. Now you can hop online with Harvey Norman and save hundreds on your holiday shopping without even leaving the house.
3 quick tips for Black Friday in Australia
You don't have to be an online shopping veteran to take part in massive Black Friday sales in Australia. Here are three quick and easy tips to keep in your back pocket when the time comes to strike.
Stay up to date. There's no reason to be caught off guard when it comes to knowing what products are on their way. Check Harvey Norman regularly to get info on upcoming deals and Black Tag Friday lineups.
Make a plan. As with your standard holiday shopping routine, make a list of what you're looking for. Is it time to upgrade to the newest Apple smartphone? Ready to replace some of those appliances or want to reward somebody on the nice list with some quality tech? Write down what you're looking for so you can be ready to roll.
Don't wait! Black Friday sales are quite popular, and Harvey Norman's Black Tag Friday will be no different. If you see a deal on the item you're after, chuck it in your cart and pull the trigger! You don't want stocks to run out while you hesitate.
Don't worry about waiting in line on one specific day to take advantage of Black Friday sales in Australia. Sample the amazing Black Tag Friday offers Harvey Norman is serving up and save on electronics, furniture and more.
Stay up to date
Be the first to know and never miss out on another Black Tag Friday™, Super Saturday or any of our amazing sales.
Sign up today and keep up with the latest!