If you've ever cursed the cord of your hair straightener, whether when packing it into a suitcase, trying to untangle it from your hair dryer, or simply struggling to store it neatly, the new BaByliss 9000 Cordless Hair Straightener might just be the answer you've been looking for.
This break-through technology cordless hair straighter is powered by 4 lithium-ion batteries with patented Micro Heating Matrix, delivering instant heat up and heat recovery. Combine that cord-free power with a lightweight design, plus floating ceramic plates, and you're talking beautifully smooth, shiny hair, wherever you are.
Recently, I was lucky enough to take home the BaByliss 9000 Cordless Hair Straightener – exclusive to  Harvey Norman – to see if it lives up to the hype. As someone who regularly styles her hair with a straightener I was pretty excited to get my hands on it and test it out. Little did I know the hair styling game was about to change forever. Read on for my full BaByliss Cordless Hair Straightener review!
The BaByliss 9000 Cordless Hair Straightener is an every-day stylist's best friend
Let me first say that in terms of hair type, I have naturally wavy hair with a curl and frizz factor totally dependent on the weather. If I'm going for a polished look, whether sleek or glam, heat styling is basically a must in order to tame these tresses. This not only means that with such frequent use my hair straightener often gets left out on the counter top, but I also almost never travel without it. If you're like me, then introducing a cordless hair styler into your beauty routine will basically change your life. With no annoying cord, the BaByliss 9000 Cordless Hair Straightener takes up so much less space on the counter, and it's also super portable and easy to pop in your bag – simply zip it into the included travel case.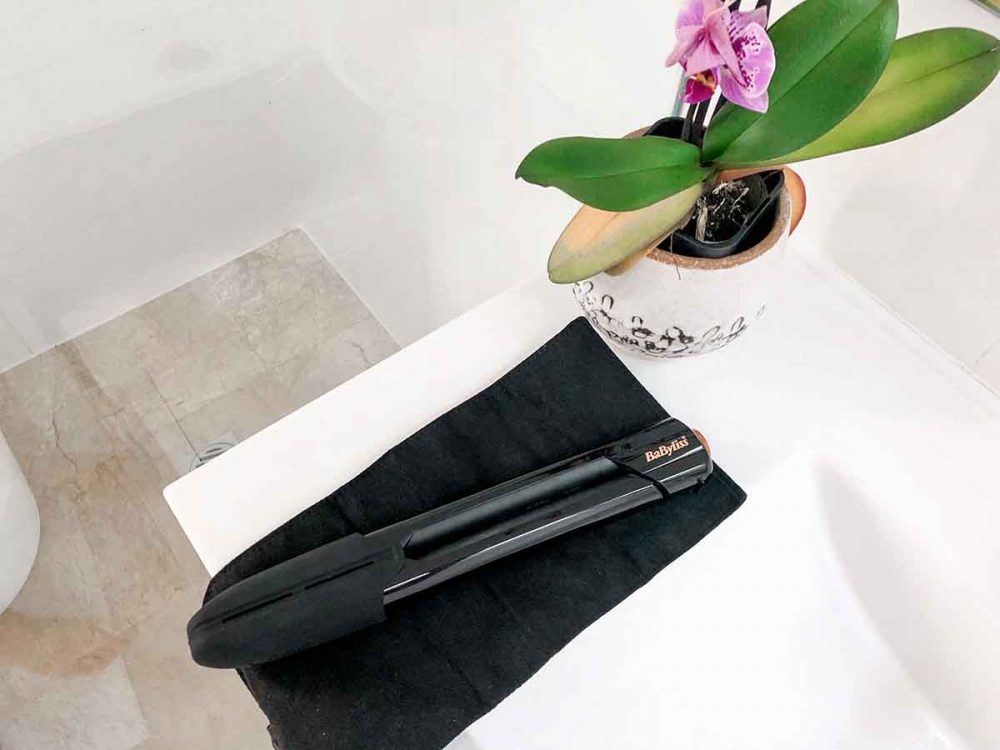 Unboxing a Premium Cordless Hair Styler
The BaByliss 9000 Cordless Hair Straightener itself is black and sleek, with shiny copper accents. It not only looks premium, but feels it too due to the balanced bodyweight and ergonomic design.  The magnetic charging cable attaches effortlessly to the straightener, and the adaptor is designed to be interchangeable with different power plugs, the perfect feature for globe-trotters. You'll also find a handy heat mat included in the box to keep your countertop protected when using your BaByliss.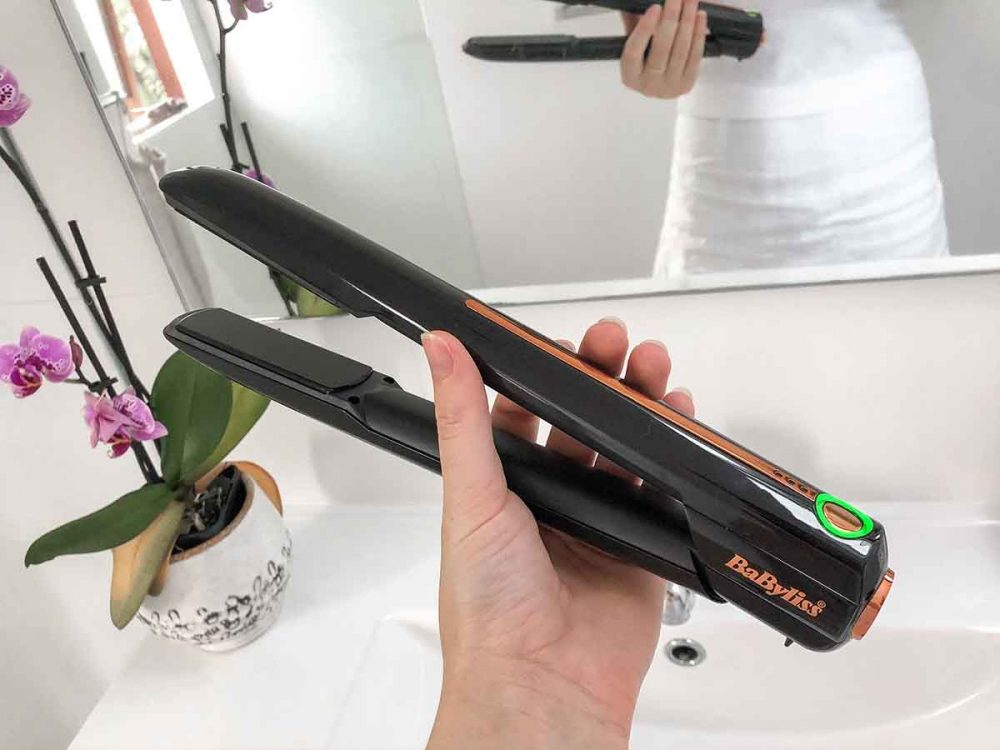 BaByliss 9000 Cordless Hair Straightener: Favourite Features
I love the digital design of this straightener. Small LED lights indicate the temperature level, and a light around the power button flashes when heating up, also glowing green through to red to indicate the charge level.
The BaByliss 9000 Cordless Hair Straightener comes with a silicon plate guard that keeps the plates pressed together, enabling the straightener to quickly cool down when on the go, assisting with neat storage, and also working hand in hand with my favourite feature – the fact that the straightener will not switch on if the plates are closed.
Anyone who uses heat styling tools knows the anxiety of accidentally switching something on and forgetting about it, and with a portable hair straightener heat safeguards are even more important. With this safety feature you don't have to worry about it accidentally turning on in your bag, and in terms of forgetting about a hot straightener, this BaByliss hair styler has been cleverly designed to reduce temperature to 120°C and enter sleep mode after 5 minute of non-use. On top of that, the hair straightener will also turn completely off after 5 minutes in sleep mode. Genius!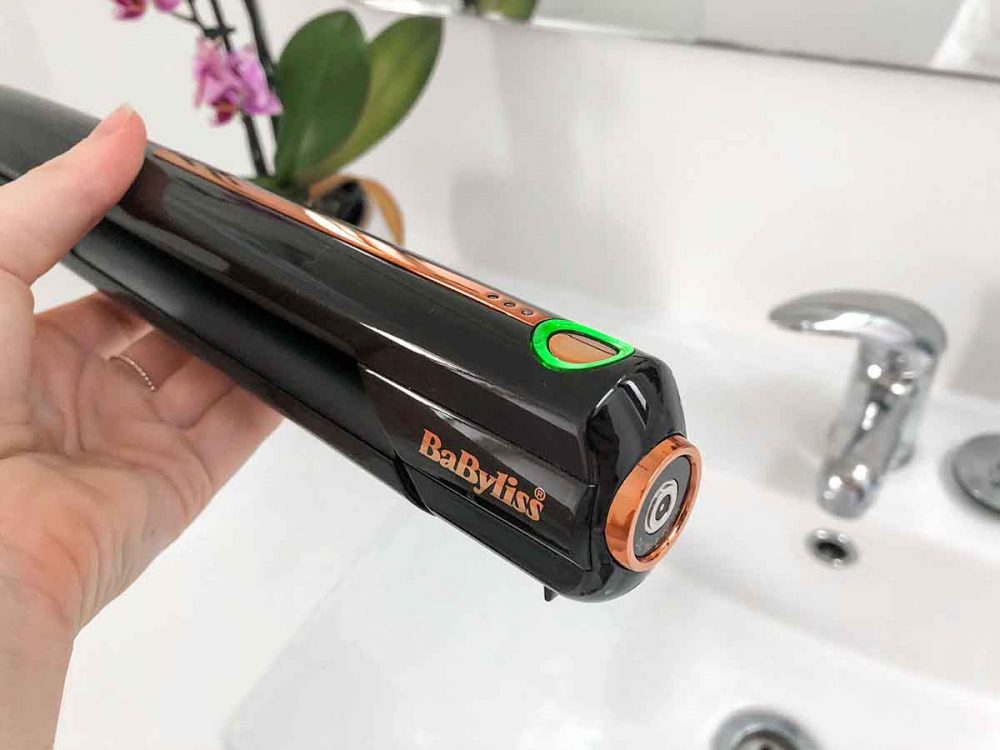 Putting the BaByliss 9000 Cordless Hair Straightener to the test
I tested out the BaByliss 9000 Cordless Hair Straightener on freshly washed, blow-dried hair. Heat-up time was super quick and the floating ceramic plates glided along my hair, leaving it feeling super smooth and glossy. I also tested it out as a hair curler, and was pleasantly surprised.  Curling with my old hair straightener is pretty impossible due to the flat body design, but the curved edges and rounded body of the BaByliss cordless hair straightener meant that it was really easy to create a beautiful medium sized curl, to the same effect as if I'd used my curling wand.
I also absolutely loved the freedom of the cordless design. There was no awkward re-adjusting of the cable to do the other side of my head, plus I had the flexibility to move around the bathroom.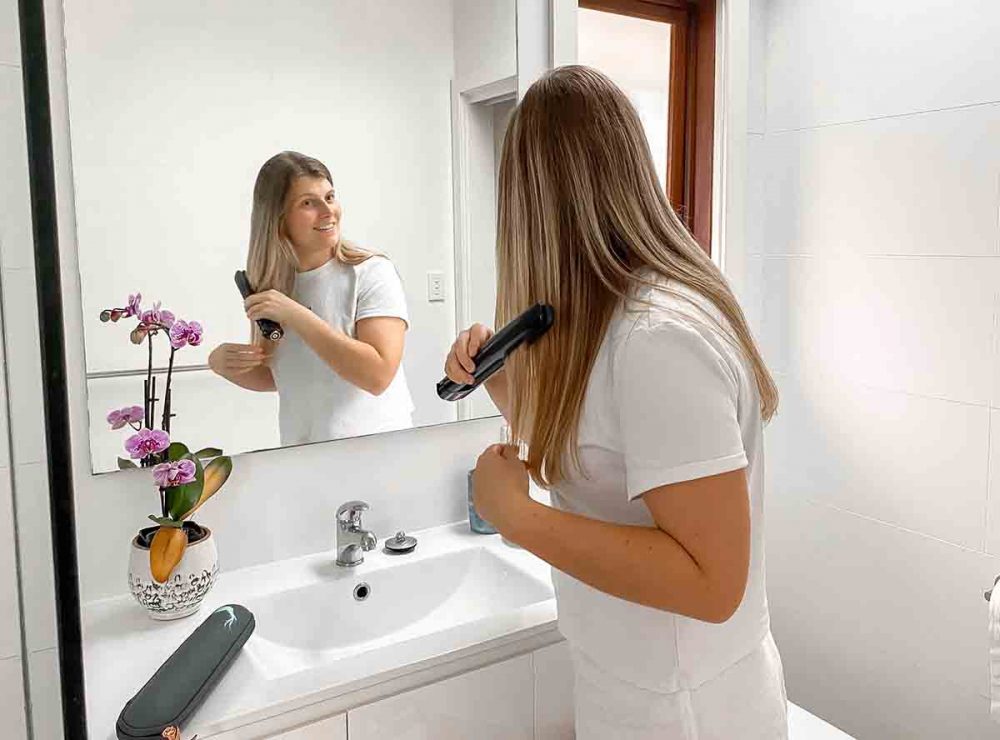 My BaByliss 9000 Cordless Hair Straightener Review – The Final Verdict
I'm obsessed. In my opinion the clever design of the BaByliss 9000 Cordless Hair Straightener, both aesthetic and functional, make it the best cordless hair straightener out there.  The digital display and advanced safety features are all huge ticks from me, but what really makes it a game-changer is the high level of performance it delivers while being completely cordless. Safe to say this travel-friendly hair straightener has fast become the beauty tool I can't live without.
Where To Buy The BaByliss 9000 Cordless Hair Straightener
Want to try this revolutionary cordless hair styler for yourself? The BaByliss 9000 Cordless Hair Straightener is available now exclusively at Harvey Norman – shop online today or chat with one of our friendly, expert staff.
Read More Product Reviews
If you enjoyed this BaByliss 9000 Cordless Hair Straightener review, then check out some of our recent product road tests. They're always a whole lot of fun!