Do you have a love/hate relationship with your hair styling devices? Don't worry – you're not alone!
On the one hand, they've rescued you from many a bad hair day, and transformed your limp locks or unruly mane into luscious curls, pin-straight tresses or beachy waves. But on the other, they have a tendency to pull your hair out, burn your scalp, take up too much of your time and, in the case of hair dryers, blow your hair into an even bigger frizz ball than you began with!
When the team at Harvey Norman brought out the new VS Sassoon Digital Sensor Hair Dryer to be tried and tested, I was keen to find out just how 'intelligent' it really was. To do that, I enlisted the help of my mother – Martha – who has gone through her fair share of hair dryers, and my friend – Emily – who understands the difficulties of thick, curly hair.
To make sure we all got the most out of the experience, I sought out advice from the experts themselves. The VS Sassoon blog contains very helpful information and tips on hair styling, including a hair drying do's and don'ts list that I consulted before beginning the trial.
Curious to learn how the VS Sassoon Digital Sensor Hair Dryer performed? Read on to find out what the ladies thought.
What's in the Box?
✓ VS Sassoon 'Intelligent' Digital Hair Dryer
✓ 4mm x 75mm concentrator styling attachment
✓ 6mm x 90mm concentrator straightening attachment
✓ Professional diffuser attachment (130mm diameter)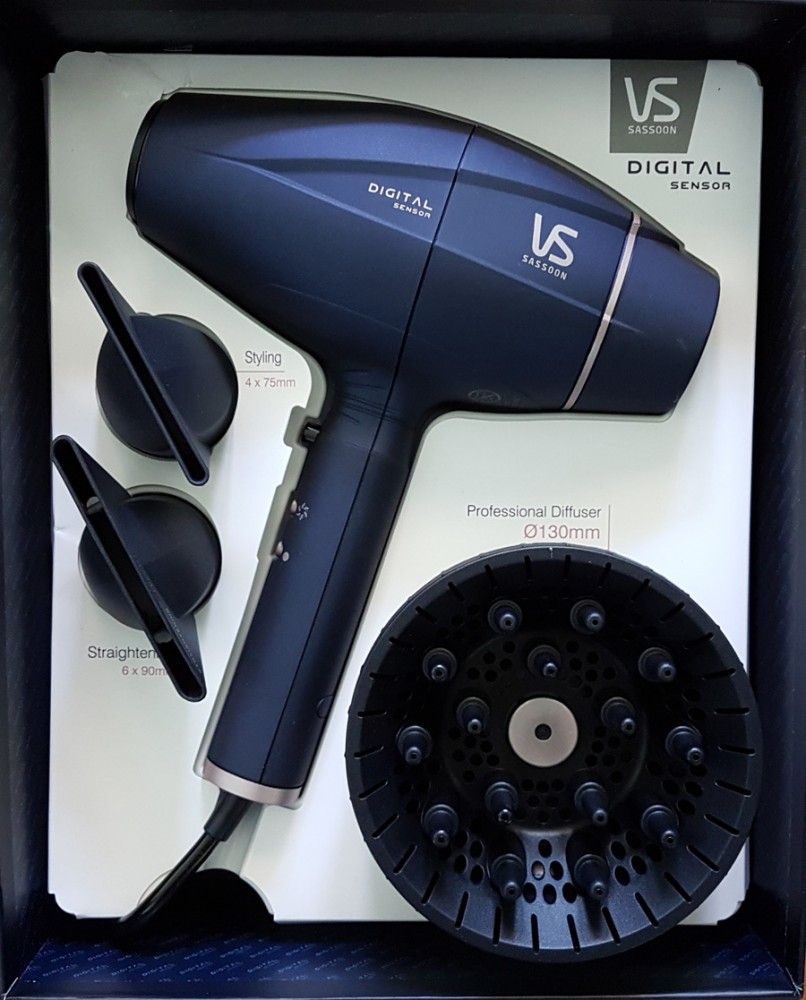 It's all in the detail
VS Sassoon is one of the biggest, most trusted names in the bizz and has been around for yonks, so whenever they conjure up a new hair styling device, you just know you're going to be blown away. Sure enough, their latest innovation does not disappoint. Engineered in Italy, the new VS Sassoon Digital Sensor Hair Dryer boasts a stylish, intelligent design and premium, Italian quality.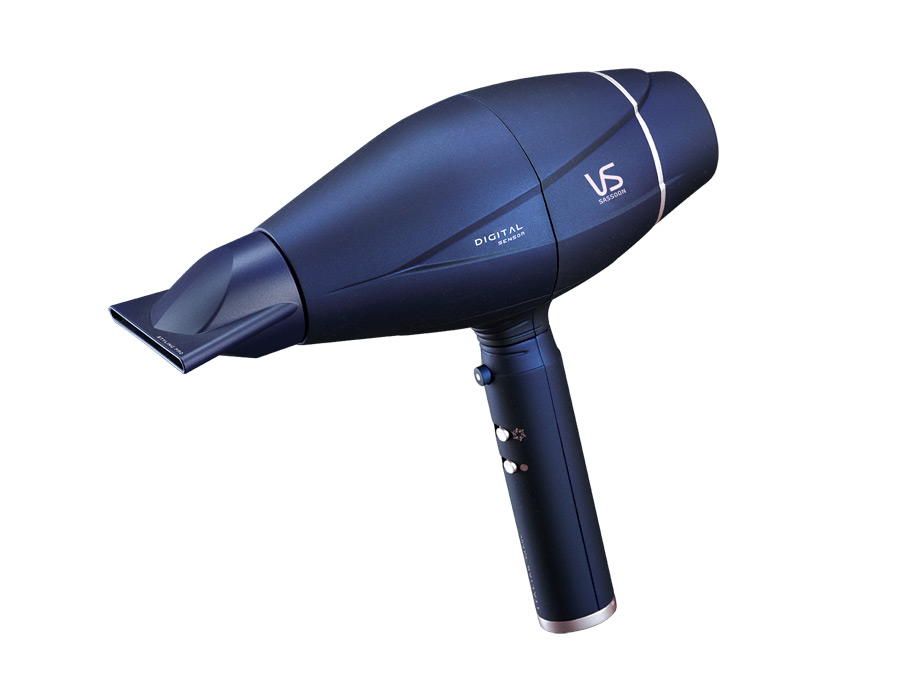 Let's pop the hood and take a closer look at what this intelligent hair dryer has to offer:
✓ Hair Protect Technology: An intelligent, digital sensor maintains a constant, optimal temperature of 70°C on the hair surface during drying, without hot spots that damage the hair fibre. Plus, the powerful digital motor creates optimised airflow at an ultra-fast 208km/h to protect your hair from overexposure to heat.
✓ High Ionic Technology: Superior ionic technology actively eliminates static and tames frizz, leaving your hair soft and silky smooth.
✓ EC Digital Motor: This top-of-the-line motor uses magnets and electronics to provide up to 10,000 hours of motor life – that's 20x the life of a standard AC motor hair dryer.
✓ Easy Control: Choose from the low or high speed setting. Lock in your style with the True Cold Shot function.
✓ Italian Made: The VS Sassoon Digital Sensor Hair Dryer is designed and engineered in Italy, and backed by a 5 year warranty for your peace of mind.
Mother Knows Best
First in the hot seat, my mum, Martha. As is her preferred look, I blow dried her hair, and then styled it with the straightening and styling attachments.
Before I set the hair dryer controls, I had a look to see what the VS Sassoon experts had to say on their blog:
The different heat settings are there to choose the right setting for your hair type. The high heat settings are for those with really thick or coarse hair. If you use a really high heat setting on fine or fragile hair you risk overheating the locks, making them very dry.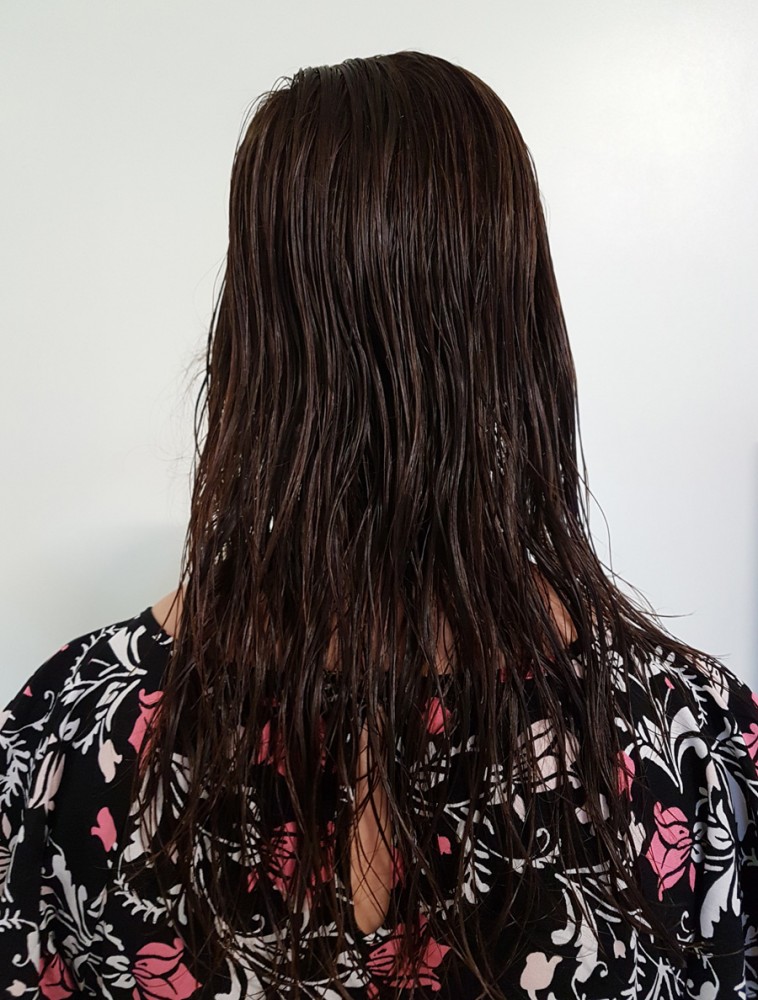 Like any busy mum, every morning is a race against the clock, so Martha turns to hair dryers for styling her hair. However, without the option to choose a lower heat setting to suit her hair type, her locks have been overexposed to heat and left feeling very dry. With the VS Sassoon 'Intelligent' Digital Hair Dryer, she could feel the difference of the lower heat level, and didn't experience burns to her scalp.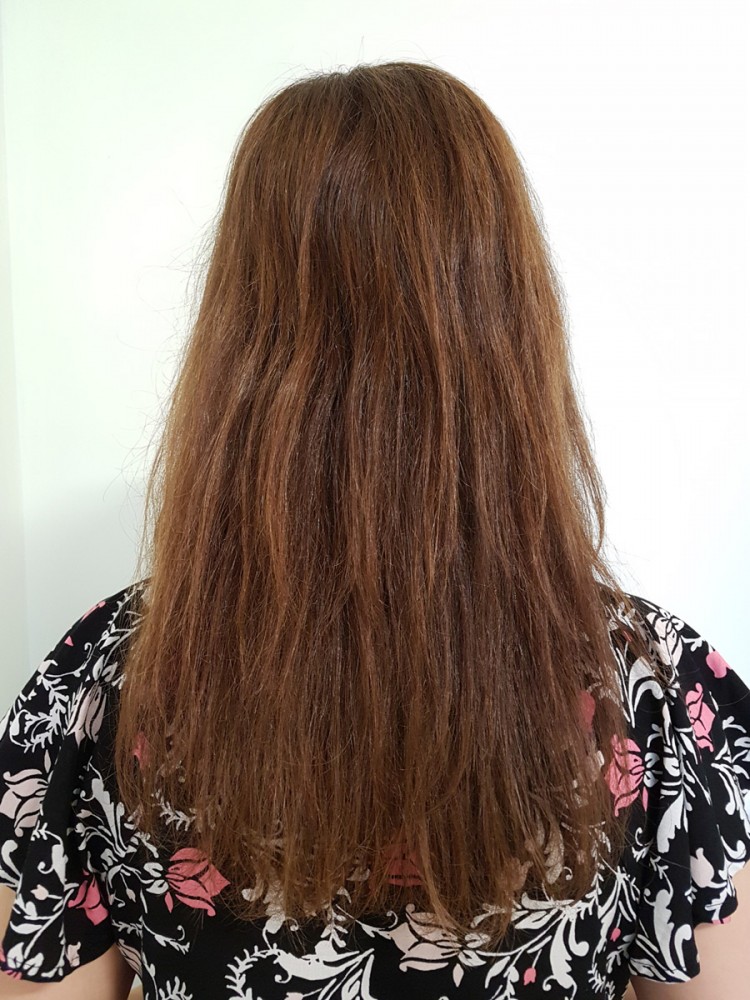 Mum and I were both very impressed with just how quickly her hair dried with the VS Sassoon Digital Sensor Hair Dryer. The top-of-the-line EC digital motor provided a powerful, consistent airflow that got the job done in under five minutes, leaving Mum's hair well-conditioned and frizz-free.
The digital sensor shot into action when I added the 6mm x 90mm straightening attachment to the dryer, automatically regulating the temperature and airflow to achieve the best possible results.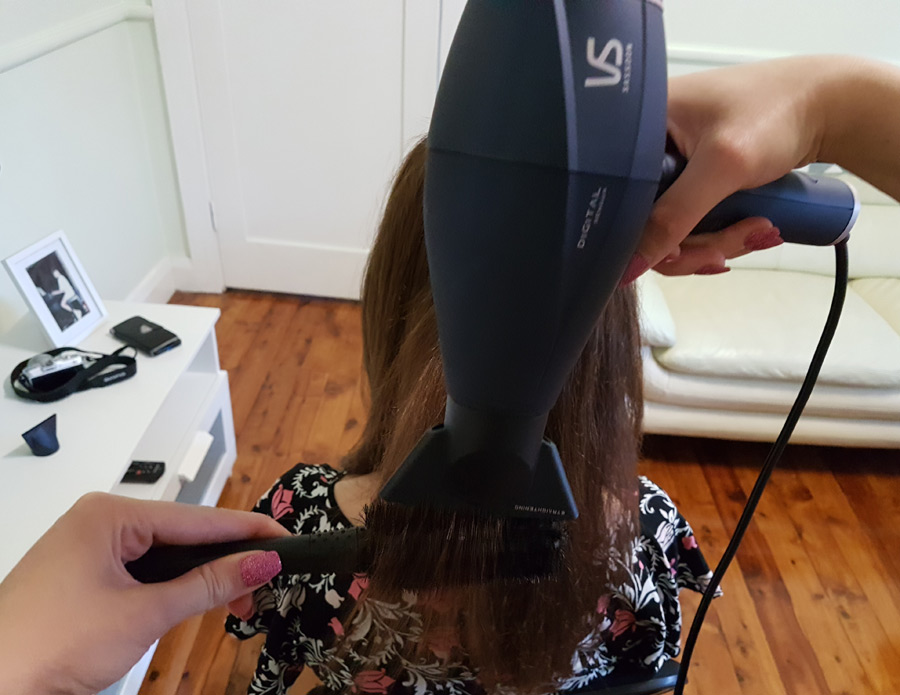 I divided Mum's hair into sections and aimed the hair dryer down the hair shaft. The slim, wide nozzle concentrated the airflow on each hair section, and made quick work of Mum's hair, leaving it smooth, straight and well-conditioned.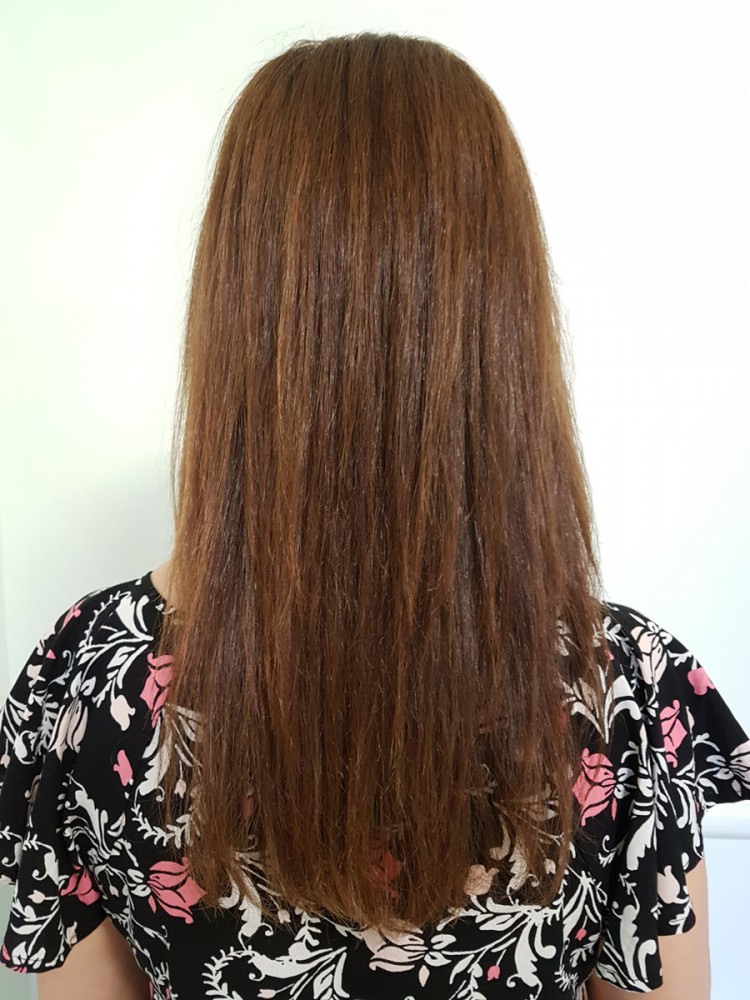 When the back of Mum's hair was set, I moved on to the front until she decided to take control. She locked in the 4 x 75mm ultra-fine styling attachment for even greater precision, and used a round brush for a slight inward curve to frame her face.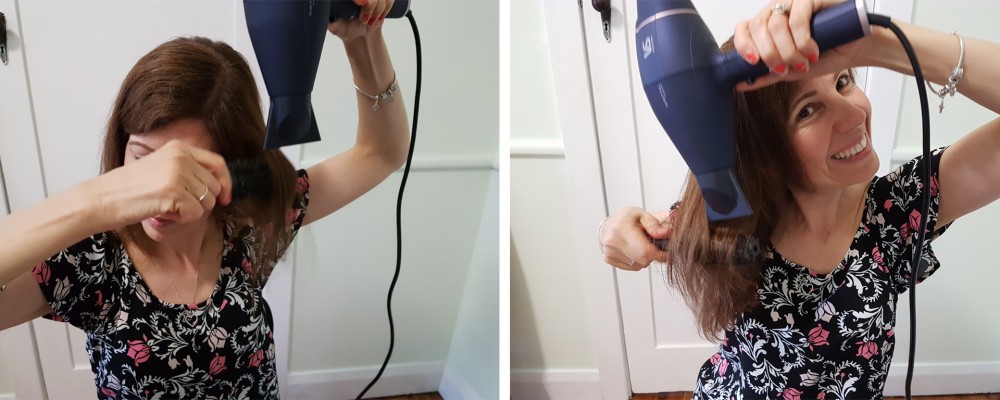 To finish off, I used the Cold Shot function to lock in Mum's style. No fly-aways, no frizz. Just smooth, soft, straight hair!
The verdict? Mum says,
'I enjoyed using this new hair dryer; it's comfortable to work with and very easy to use.
It's very powerful, even working at a lower temperature. It took shorter time to dry and style my hair compared to some of my previous hair dryers.
My hair feels soft and smooth, and there's no burnt smell. I'm very happy with the results, and I would definitely use this hair dryer again!'
Ready, set, diffuse!
If you're like Emily, who has thick, curly and frizzy hair, a hair dryer is probably not your hair styling tool of choice. Hair dryers take forever to dry thick hair, and by the time you're done with it, it's doubled in volume and frizz!
I've never used a hair diffuser, and neither has Emily. This is what we learnt over on the VS Sassoon blog: they're not just an accessory in the box – they're there to help you! If you have curly hair, then using a diffuser will help reduce frizz to your curls because the air is emitted more softly.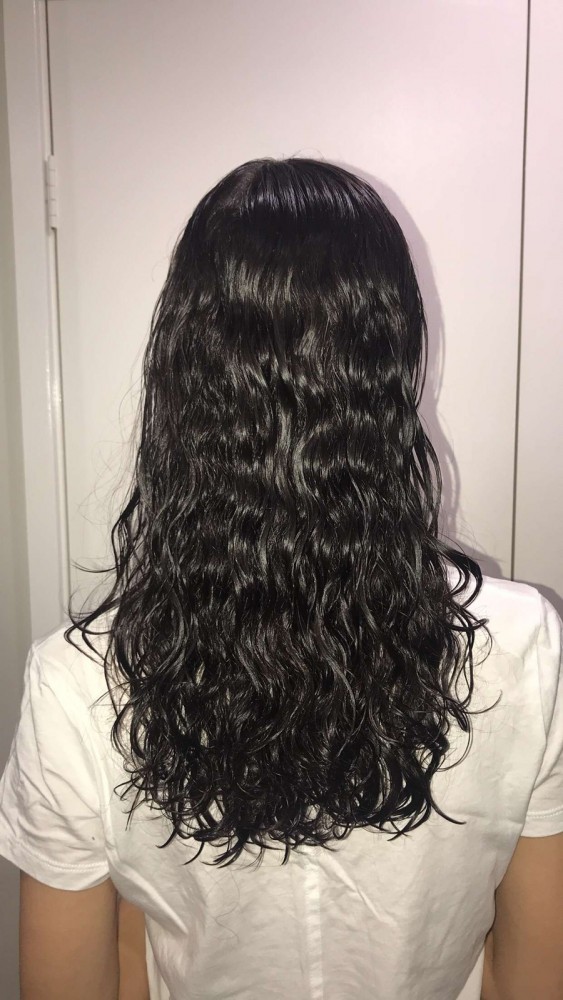 Before: Emily's hair was thoroughly towel dried to avoid burning.
To begin, we rubbed in a small amount of curl leave-in moisturiser to prep Emily's hair. We set the VS Sassoon Digital Sensor Hair Dryer to the lowest speed setting, and when the diffuser attachment was locked in, the airflow automatically became even softer.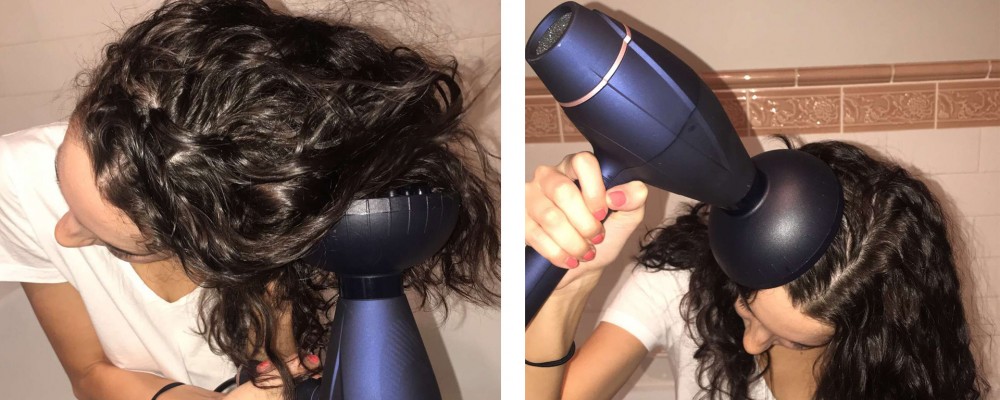 Working in sections, Emily dropped her hair into the diffuser cup, lifted it to her scalp and repeated those steps. Before long, her thick hair was completely dried, her curls had been softened to a natural, frizz-free wave and her hair was feeling silky smooth.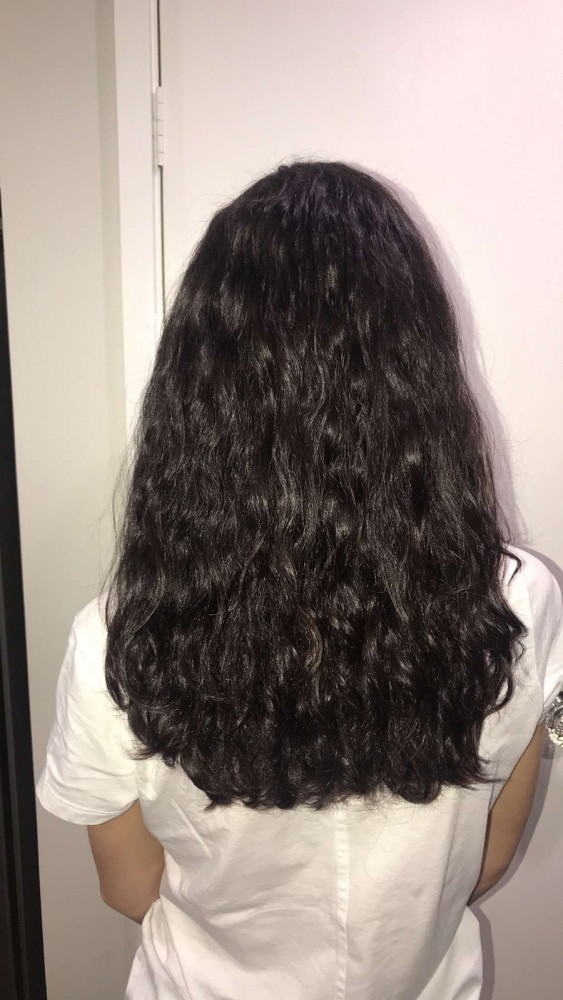 What did Emily think of the performance of the VS Sassoon Digital Sensor Hair Dryer?
'I'm very impressed! This is one clever hair dryer. I'd never used a diffuser before, and it definitely left a great first impression. It didn't take long to dry my thick hair, my curls have maintained their natural shape, and my hair is not frizzy as it usually is after drying with a hair dryer. It's smooth, shiny and bouncy!
The dryer is so easy to use – I love that it has multiple settings to work with that assist so much with styling my hair type, and the device is super lightweight! I give this intelligent hair dryer 5 out of 5.'
Want to try out the new VS Sassoon Digital Sensor Hair Dryer for yourself? Head to your local Harvey Norman store or jump online to get your hands hairs on one of these smart styling tools today!