For beauty lovers and hair stylists alike, there's a lot of excitement surrounding Dyson's latest hair tool, the Dyson Corrale Cordless Hair Straightener.
Following Dyson's launch of the revolutionary Airwrap and Supersonic Hairdryer, and as world leaders in home appliance innovation, it's no surprise that big things are expected of the Dyson Corrale™. Recently I was given the opportunity by Harvey Norman to test it out for myself, and let me tell you, excited was actually an understatement.
Being someone who frequently uses heat stylers on her hair, I'm always eager to try out new styling tools, especially when innovative technology is involved. And the Dyson Corrale's new flexing plate technology sets it apart from other ceramic straighteners on the market, as does the convenient cordless design. But how does it perform compared to these other straighteners? Read my Dyson Corrale review below to find out!
Dyson Corrale™ Hair Straightener: How does it work?
Like the Dyson hair tools already in the market, the Corrale™ has been designed to style with less heat than conventional competitors, in order to reduce damage to your hair. However, unlike the Dyson Airwrap and Dyson Supersonic Hairdryer, the new Dyson Corrale™ does not use air, but instead introduces innovative new copper alloy 'flexing' plates, that flex and gather the hair together for enhanced styling with less heat. The product's name is actually derived from the word 'corral' meaning 'to gather together'. According to Dyson, this technology means that the straightener can achieve the same sleek looks faster, with reduced reliance on heat, as well as reduced frizz and flyaways*1.
In addition to this, the Dyson Corrale™ is a cordless straightener, a feature long awaited by those tired of dealing with messy cords on their bathroom vanities.  The Dyson Corrale™ hair straightener uses a four-cell lithium-ion battery, which provides up to 30 minutes cordless use when fully charged. There are 3 heat settings, with the intelligent heat control regulating the temperature 100 times per second so you never exceed your set temperature.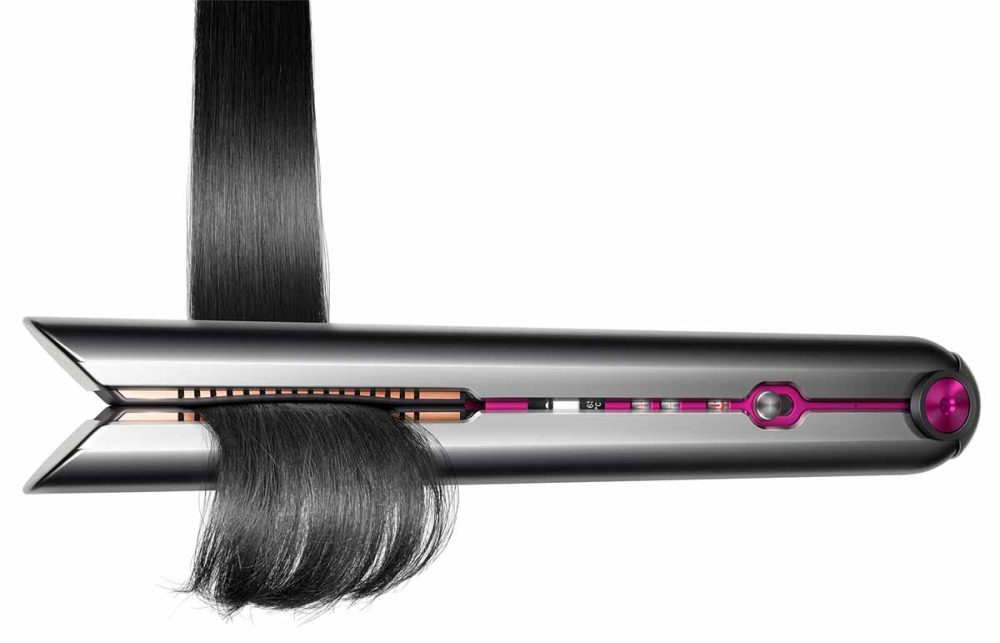 So, what's in the Dyson Corrale™ box?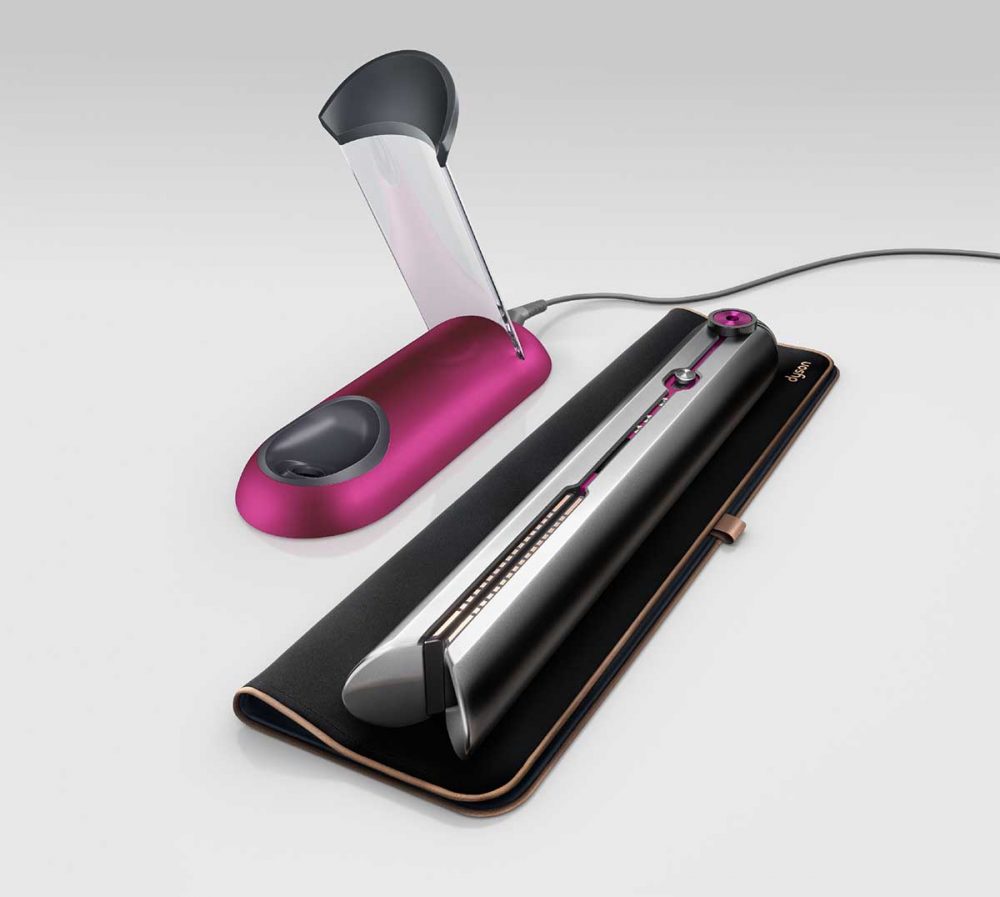 When unboxing the Corrale™, it's clear that not an ounce of Dyson's dedication to beautiful yet functional design has been lost on this product. The straightener looks incredibly premium, with a sleek metallic finish and a pop of signature Dyson fuchsia.
Along with the hair straightener itself, the Dyson Corrale™ comes with a futuristic looking charging dock/heat stand, a magnetic charging cable, plus a luxurious travel case which also functions as a heat mat. I really loved the dock as it helped maximise space on my vanity top, plus the ability to stand the straightener up meant I didn't have to worry about heat damage to the bench surface when not in use. Super handy!
The Dyson Corrale™ also has an aesthetic digital interface to clearly indicate power on/off, the 3 heat settings, and battery level, so there are no surprises with your straightener running low on charge.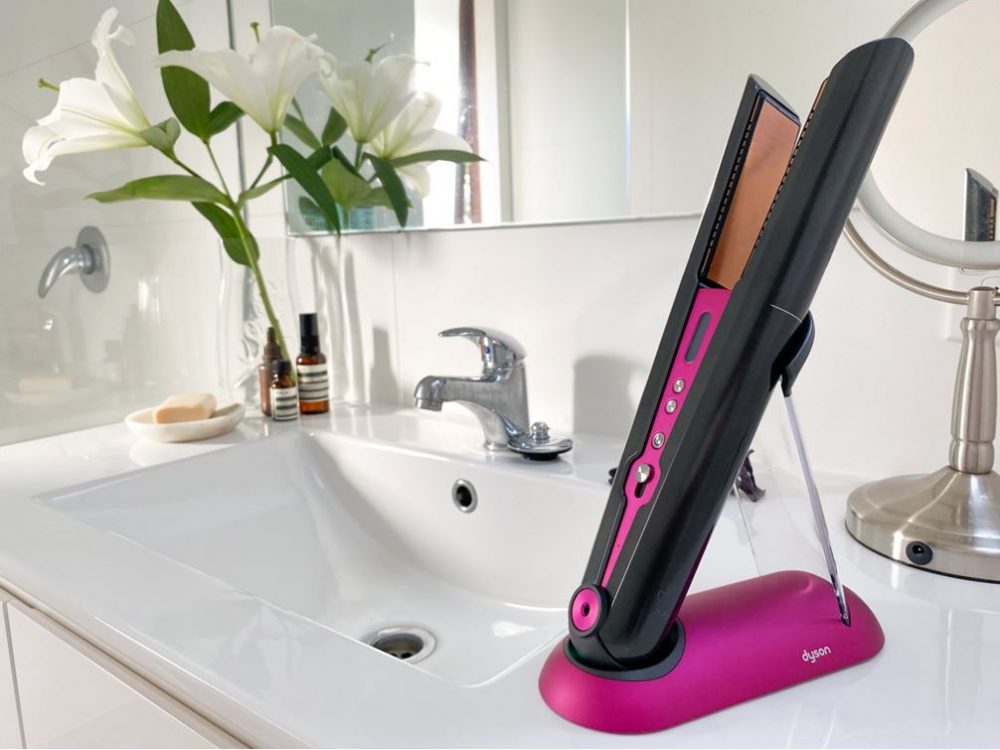 Taking the Dyson Corrale™ for a test drive.
I have naturally wavy hair of medium thickness, and so usually when using a straightener I need to go over the same sections a few times to achieve the desired silky smoothness. What really struck me with the Dyson Corrale™ was how quickly and efficiently it worked, without leaving my hair feeling too hot or dried out. It didn't clamp my hair in the same way as my older ceramic straightener, with the flexing plates gathering my hair to ensure no rogue strands splayed out and suffered from un-even heat distribution. The copper plates glided over my hair, leaving it smooth and frizz-free. I found the whole process super satisfying, and I don't think I've ever finished styling my hair so quickly.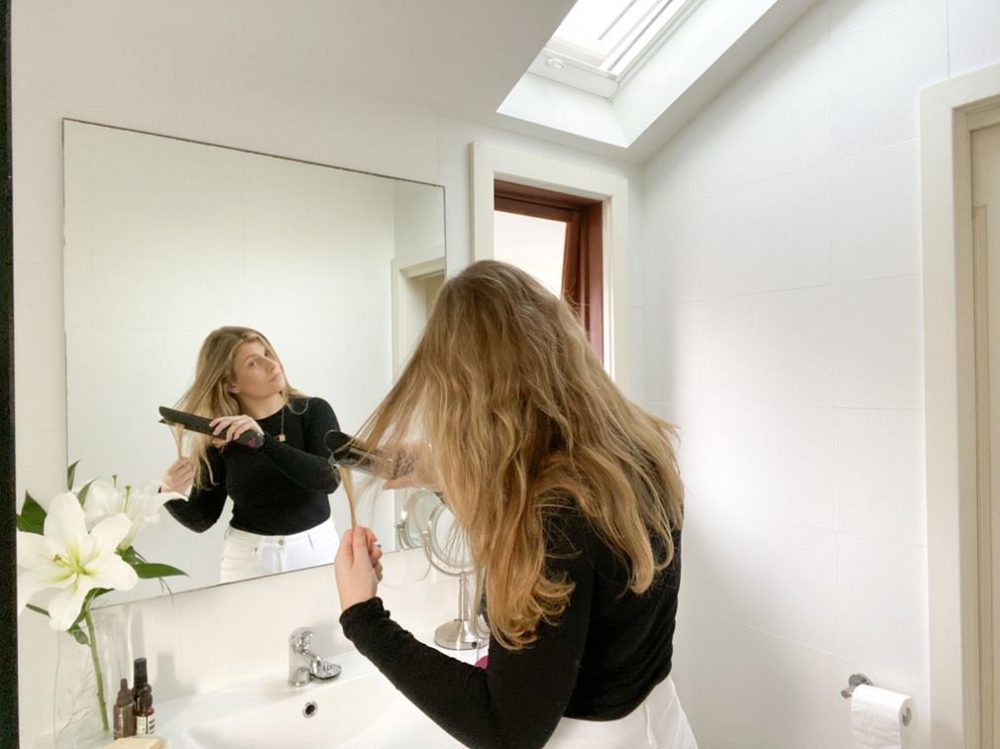 I loved the cordless design which not only meant I could move around the bathroom, but made it really easy for swapping sides and styling the back of my head.
The 30 minute charge provided the perfect amount of time for me to straighten my whole head; however those with thicker hair types may find that they need to plug in the straightener if styling is going to take a little longer. The unit was definitely heavier than my ceramic straightener due to the battery, but I didn't find this an issue, and, if anything, it felt more satisfying to hold.
Overall I was really impressed with the result. The Dyson Corrale™ transformed my messy, wavy locks into sleek, straight tresses with reduced frizz, fewer flyaways*1, and no extreme heat exposure.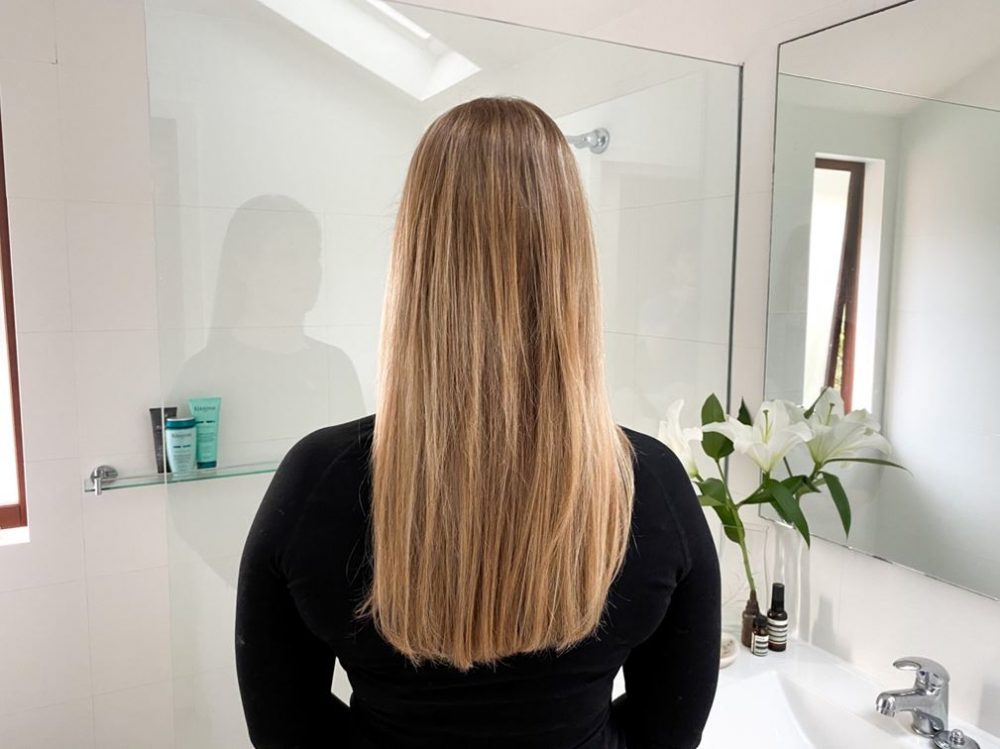 Dyson Corrale™; What's the verdict?
Given it's the latest innovation from Dyson, there's understandably lots of hype around the Corrale™. From my personal experience, this hair styler certainly lives up to it, and in my opinion is one of the best hair straighteners on the market.  The combination of the new flexing plate technology allows you to use less heat, without compromising on your style. Plus, the cordless design makes it a stand-out in the world of hair tools and is a sure-fire replacement for my corded ceramic straightener.
For those who straighten and style their hair often, and want the flexibility and travel convenience that a cordless straightener offers, I believe the Dyson Corrale™ is worth the investment.
Where to buy the Dyson Corrale™.
If you're like me and are excited to get your hands on Dyson's latest hair styling tool, the Corrale™ Cordless Hair Straightener is now available online and at selected Harvey Norman stores, where our friendly, expert staff can help with all your queries.
Appliance Reviews
You can discover more of the innovative appliances and products we've been road-testing right here!
*1. Direct image analysis vs untreated hair.