Fitness is not a fad – it's a way of life. The Fitbit Flex™ Wireless Activity & Sleep Wristband is the motivation you need, challenging you to be more active daily. During the day, it tracks steps taken, distance covered, and calories burned. At night, it measures sleep quality and wakes you silently in the morning. Here's how it works: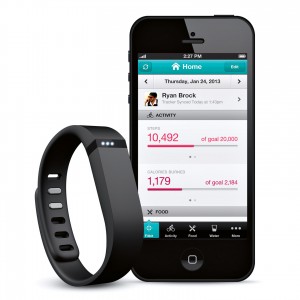 Track Your Activity… Day And Night
The Fitbit Flex™ is your perfect companion, always by your side, reminding you to keep on moving. It fits comfortably around your wrist so you can wear it day and night; it's even water-resistant. During the day the wristband tracks: steps taken; distance travelled; calories burned; and active minutes. It lets you set goals and uses LED lights to display how you're performing. Wear it all night and the Fitbit measures your sleep quality — like how long and how well you snooze — plus how many times you wake up in the middle of the night. Then, it wakes you in the morning with a silent alarm that gently vibrates.  
Sync Your Stats Wirelessly And See Real-Time Progress
The Flex™ automatically synchronises your data — to PCs, Macs, iPhones 4S and 5, iPad 3, iPod touch, selected Android phones and more — giving you real-time access to your progress on the Fitbit dashboard throughout the day. Free online tools and a mobile app that come with the Flex™ let you set goals and follow your progress — log food intake, workouts and more — through graphs and charts.
Make Your Health And Fitness Routine Fun
Knowing you're close to reaching your goals is a great motivating factor – that's just human nature. With the Fitbit Flex™ you receive weekly emails on your progress, plus "achievement alerts" when you're nearing your objectives. Each time you reach a new target, you're awarded with Fitbit badges for daily, weekly, even lifetime successes. Compete with family and friends on Fitbit.com, compare numbers and see how your improvement compares. Plus, the slim and stylish Fitbit Flex™ tracking device fits into any of Flex's colourful bands, so you can look good no matter what you're wearing.
Get Your Fitbit Flex™ From Harvey Norman
Stay tuned to the Harvey Norman blog as a couple of staffers test-run the Fitbit Flex™ in an intra-office fitness challenge. Run into your nearest Harvey Norman store — or shop online — to purchase your very own Fitbit Flex™ and start your journey to good health today.