Michael Potter, the Digital Marketing Manager at Harvey Norman, talks about his time with the Fitbit Flex Wireless Activity & Sleep Wristband.
What was your initial motivation for taking on the Fitbit Flex fitness challenge?
I'm getting married in five months – I wanted to start monitoring my normal regime so I could then devise a fitness plan to get into tip-top shape. I'm quite active anyway — I play soccer twice a week, swim, cycle and walk a lot — but I still put on weight in the last 12 months. It was time to get serious and shape up!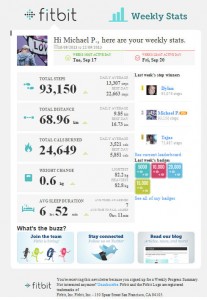 What sort of activities did you do?
Generally, the Fitbit Flex only tracks steps in terms of activities, but I've found that it also monitors how many revolutions I do when cycling (although it counts them as steps). I can't wear the wristband for competitive soccer but I got around this by having the monitoring device under my sweatband. It was really motivating knowing my steps and distance were being monitored in that match – I certainly worked harder!
Where did you take the Fitbit Flex?
Since I got the Fitbit I've worn it every day. The first two weeks I was on an adventure holiday in New Zealand, so it was the perfect setting to put it through its paces – excuse the pun! I noticed that I checked my progress several times a day, which made me more determined to reach my daily goal. It became quite addictive, but that was a good thing as it was an incentive to be even more active.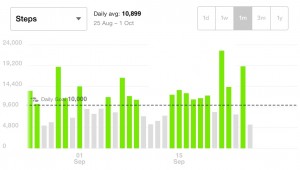 What do you think is the coolest feature?
The integration with your smartphone, by far… When you have Bluetooth on it automatically syncs, so you can pop into the app and see your stats in real time. It's quite amusing to look down at it as you walk and see the step count upwards! I like the fact you can add in any activities that you did (such as swimming) that will give you an approximate calorie burn rate, too. It's become my fitness diary now as well as a step counter. The same is true of your weight, so you can monitor your Body Mass Index (BMI) and muscle versus fat content (you do need scales to measure this though).
What's the most significant change you've noticed since wearing the Fitbit?
It's made me more aware of my sleeping patterns because the Fitbit Flex has a sleep mode which you activate before going to bed. It monitors quality and length of sleep. Although it cannot help you sleep, it definitely has made me more consistent with my sleep patterns and I feel better for it. Mentally, I feel fresh every day. Physically, I'm quite often aching, but that's a result of all the extra activity I'm partaking in to keep my stats high. But I don't mind that, it shows I'm pushing my body and getting fitter – no pain, no gain!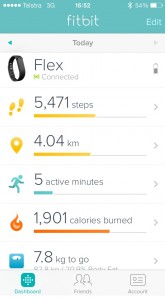 Has the Fitbit Flex encouraged you to continue working out?
Absolutely – I'm really enjoying it. One Saturday I played golf and my total daily steps were 23,000. That was more than double my daily target – I was pretty chuffed! In theory, I could've taken it easy the next day but I still went for a long walk with the dog as I just wanted to keep exercising and get closer to my ideal weight.