Hello again, my hair-removing heroes. 
Are you ready to embark on another smooth escapade? Today we're looking at the wonderful world of epilation. 
An epilator (for the adorable rookies who don't know) is an electrical device which pulls out multiple hairs with mechanical tweezers. Doesn't that sound stimulating?
I tried epilating years ago. I remember that it hurt like hello and left my skin feeling disappointingly spiky – certainly not as smooth as I had anticipated, considering the ouchies I endured.
But technology has been steadily creeping onwards and upwards. Phones are smaller, televisions are bigger – so perhaps epilators can successfully (and less painfully) remove hair now?
Let's investigate.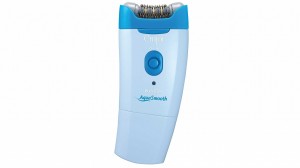 The BodyBare 'AquaSmooth' Epilator from Emjoi boasts about having wonderful waterproof capabilities. Not only does it have 'aqua' in its name, but the device itself almost resembles a big blue raindrop.
Using it in the shower would certainly be an awesome time-saver, and warm water is rumoured to de-sensitise the skin, so that sounds like a double whammy to me.  
Time to take it for a spin.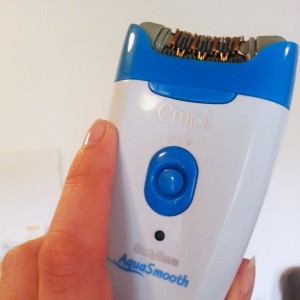 Several attachments are hiding in the box alongside the baby blue epilator. Ah, I see – there's a shaver attachment as well as an exfoliation attachment. So this device is multi-talented. Very clever, Emjoi.
The exfoliation attachment is for buffing my feet to make them super smooth, like my skin. Double whammy! Or… is that triple now? Shave, exfoliate, epilate, plus a waterproof feature… Quadruple whammy?
Plug in epilator, wait several moments while it charges. A clever green light lets me know when it's ready to go.
Hop in shower, lather up, rinse. Reach for raindrop.
Switching it on, the tiny tweezers become a shiny blur as the device begins buzzing with enthusiasm.
Closing eyes, press against underarm. Slide device along skin with a quick buzzzz; slight stinging sensation. It mustn't have worked properly.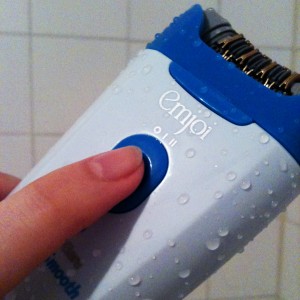 Open eyes, observe result. Hair-less skin.
Really?
Repeat with eyes open; watch the device snap up the hair in an instant as it moves across the skin.
I'm impressed! The myth is true – warm water really has desensitised my skin – it's practically painless, and my skin is exceptionally smooth afterwards.
If epilation is your method of choice, I recommend the 'AquaSmooth'. Cleaning it couldn't be easier (just rinse it while you're still in the shower), and the shaver attachment means you can swap between the two methods using the one device.
Ciao, fellow smoothness-seekers.
• Check out Harvey Norman's other epilators.