Let's talk about hair removal. The glorious, fabulous, uplifting hobby that women around the globe enjoy on a daily basis
Ahem.
Was that sarcastic enough?
Hair removal is an annoying little chore, in my opinion. Shaving, waxing, plucking, trimming… *Sigh*. I'm always on the lookout for something easier, faster and less painful – the latest trend, the hottest revolution.
One popular method is laser therapy. I know plenty of people who've had it done; they gleefully tell tales of the process, the pain, and the pennies.
The many, many, many pennies.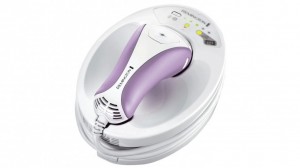 I was intrigued when I heard about Remington's hot new product, the i-Light Pro IPL Hair Removal System. Similar to laser hair removal, IPL (which means Intense Pulsed Light) is a light-based therapy which targets hair follicles: a flash of broad-spectrum light penetrates the skin and essentially vaporises the root of each hair, minimising hair growth.
Sounds rather exhilarating, to be honest.
If this little device really works, it would be an awesome in-home alternative to salon-based laser therapy, and cost a lot less in the long run.
So I decided I'd better get my hands on one and take it for a test drive.
As someone who has never undergone any kind of laser therapy before, I was apprehensive about using it alone for the first time. So, I enlisted the help of a laser-savvy friend. Together, we set it up:
Step one – Remove from packaging. Step two – Place on table.
Oh… That was embarrassingly easy.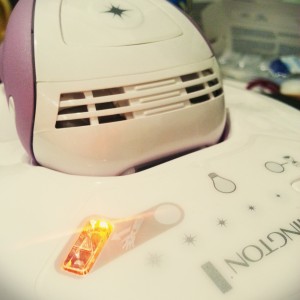 Switching it on, it began to whir gently like a tiny purple beast waking up. I held my wrist over the small analysis window on the base of the system and it announced with a quick 'beep' that my skin type was suitable for IPL therapy. Very professional indeed.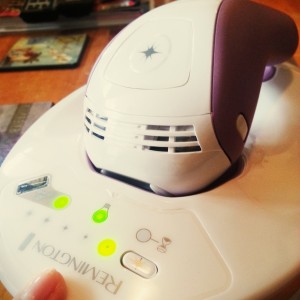 I placed the hand-held device against my freshly-shaven leg (as the instruction booklet advises me to do) being careful to hold it correctly in position with the guidance of my laser-loving friend (although, admittedly, it was very easy to do. Sorry, friend, I really thought I'd need your help…).
With eager anticipation, I held my breath and pressed the button.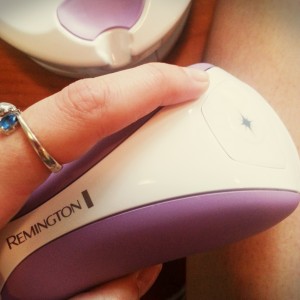 A momentary flash of red light filled the room and a tiny zap tingled against my skin. Exhilarating. Several moments later, I began to really get the hang of it, zapping it across my leg like an expert.
Zap. Slide. Zap. Slide.
In some areas it felt warm like a pin-prick, and in others I hardly felt anything at all.
Each leg only took a couple of minutes to complete. My excitement was definitely beginning to build. Could this simple little device truly free me from my razor…? Here's hoping!
My friend gave it a whirl too and declared that it was significantly less painful than professional laser therapy. Hurray!
The instruction booklet advises users to zap their skin once every two weeks in order for hair growth to gradually become weaker. So, this has officially been Phase 1.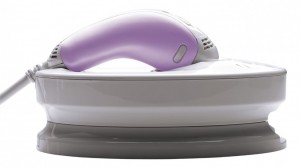 Stand by for Phase 2, after I've used it a few more times. I'll report on my progress and present you with a verdict.
Au revoir, my fellow fuzz-removers.
• Check out "Never Bring a Moustache to a Beard Fight" for some astoundingly furry facts about hair removal.
• Click here for all of Harvey Norman's hair removal options.
Psssst… Remington is currently offering a 90 Day Money Back Guarantee*. Great, right? It's peace of mind with your purchase.
*Via redemption. Terms and conditions apply.