Whether it's at work or at home, I enjoy being set a challenge. But when Ben, my editor, said he had a challenge that was perfectly suited to my face, I was at first a little confused. Then Ben handed me the new Philips Series 9000 Prestige Wet & Dry Electric Shaver to review  and I quickly realised what he meant.
See, I'm a man who doesn't like to shave daily. In fact, I've been doing it once a week for a while now, using a trimmer in between shaves to keep my stubble or facial hair growth neat and tidy. It's not out of laziness, mind you. I prefer a bit of stubble of my face, plus I find that shaving too often can leave my skin a bit irritated – regardless of what method I use.
So when Ben was told that the Philips 9000 Electric Shaver – now available at Harvey Norman – had the ability to closely shave a 7-day growth, he knew my face would be a great candidate to test out that claim.
Features of the Philips 9000 Prestige Shaver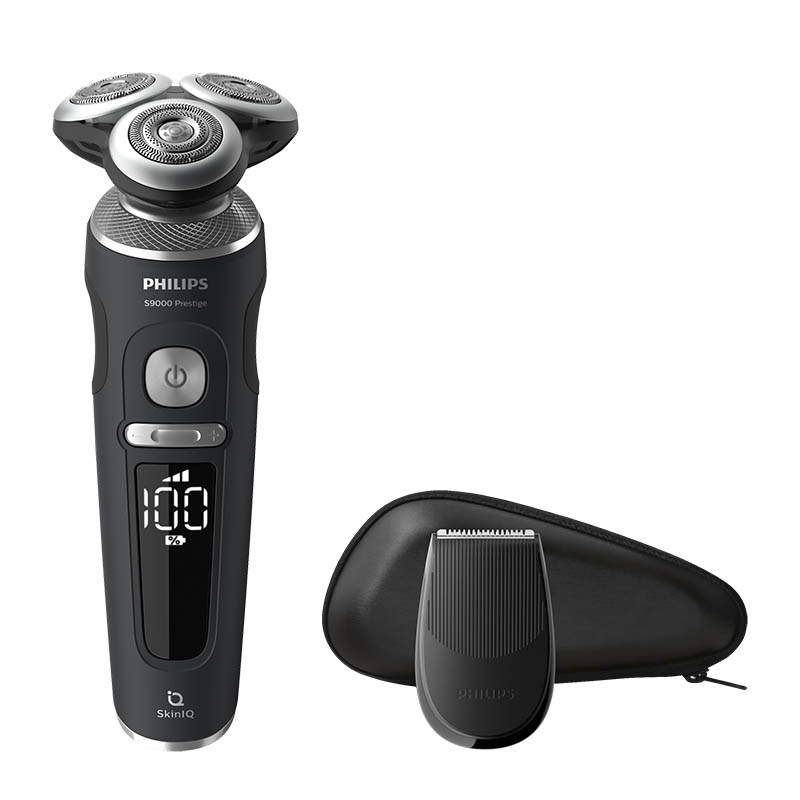 When Philips named this shaver the Prestige, they weren't kidding! It's premium all over, from the travel pouch to the way the shaver feels in your hand. It's both light and solid, and feels like it's going to last me for many years to come.
Described as being Philips' closest electric shaver, the Series 9000 Prestige offers up to 150,000 cutting actions per minute, and the 72 shaving blades, hardened with nano particles, are also self-sharpening – so it should be able to handle a week's beard with ease.
The top-of-the-line Philips 9000 electric shaver comes equipped with SkinIQ technology – where the shaver senses and adapts to your face for a better shaving experience. The intelligent facial-hair sensor reads hair density 500 times per second, auto-adapting the cutting power to make shaving as effortless as possible. Furthermore, the rings are coated with metallic pigments for improved gliding along your face, and there are three personal shaving modes to give you even more control in your shaving routine.
This Men's Philips electric shaver also comes with a click-on precision trimmer, which is designed to make it easy to maintain a moustache or trim sideburns.
This model is also a Philips wet and dry electric shaver, and they say it can also be used under the shower – which is how I normally shave. I was very keen to try it under those conditions.
Putting the Philips Series 9000 to the Dry Test
Now it was time to put the hypothesis to the test. Could this new Philips Series 9000 Prestige Shaver handle a week's worth of beard?
With it only taking an hour to fully charge the battery, I was soon ready to go.
Since I only have one beard but wanted to try a few of Philips Series 9000's shaving options, I decided to go for a split approach – one side would get a dry shave on medium, while the other would get a wet shave on high power.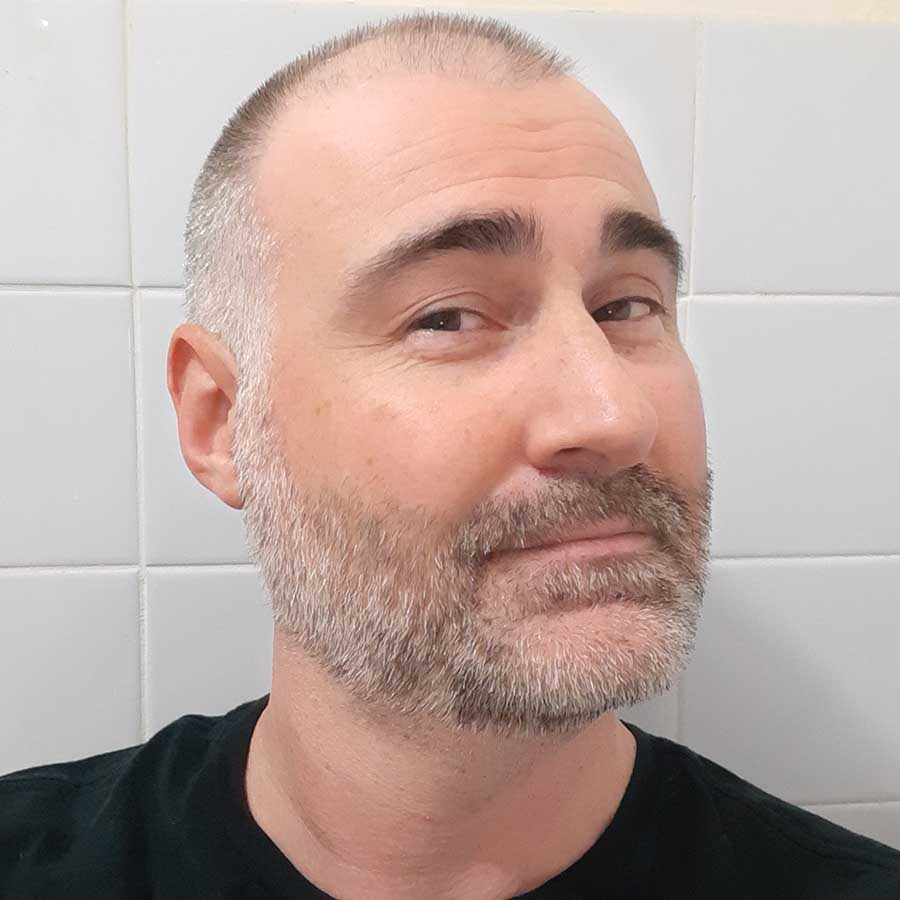 With my beard at the ready I got to work. The first thing that I was shocked by was how smoothly the Philips Series 9000 Prestige Electric Shaver was cuting my beard. I was expecting to feel the 'pulling' sensation that can come when longer hair is being hacked away by a shaver that can't handle the forest on your face – but the Philips shaver 9000  wasn't fazed by it at all.
I thought maybe it wasn't cutting anything, so I turned it off and had a closer look. My cheek was looking as smooth as silk where I'd started. Pleased with this progress I carried on, using the recommended circular motion to ensure the three razor heads were getting good coverage of that side of my face.
The word 'smooth' is going to get used a lot here, and that's because it is very much how it feels. Before long, half my beard was gone, and the sensation was so smooth, when compared with other shavers I've used, that it felt more like my face had just had a massage – one that also happens to remove the hair!
The result? Take a look for yourself: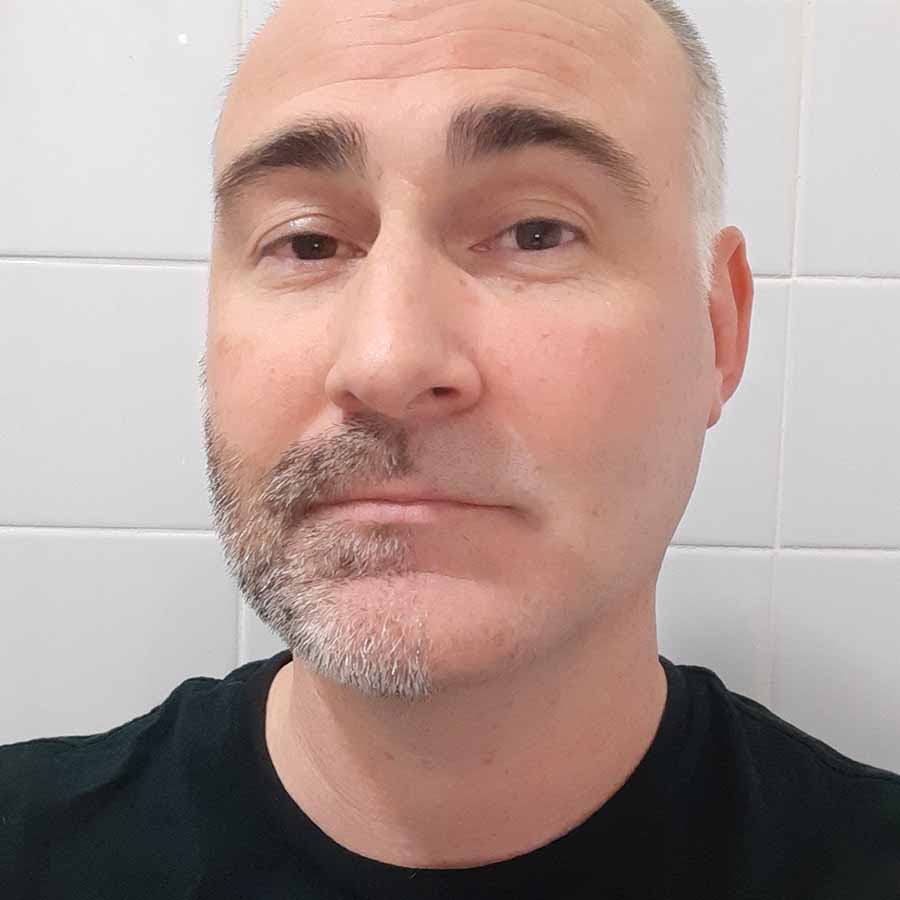 Now for the Philips Series 9000 Wet Shaving Test
The Philips Series 9000 Prestige Electric Shaver had well and truly cleared the first hurdle, but could it handle (half) a beard in a wet shaving test?
It was time to get out the shaving gel and see how the other side went.
I turned the power up to high, and got to work. It felt even better than the dry shave, with the shaving gel helping things stay even smoother. The shaver had no problems at all working through what remained of my beard, and before I knew it, I was once again a clean-shaven man.
Running my fingers over my cheeks and chin, I immediately knew this was the best shave I'd had in a long time. Much more effective than the manual razor I'd been using, the Philips Series 9000 Shaver got a much better result thanks to the flexing heads that adjusted to the contours of my face, allowing it to get to all those difficult spots. And because the blades use a circular motion my hair was getting shaved using way more angles than usual – which made shaving the neck a very easy experience.
The result was much better than I was anticipating, and streets ahead of how I was usually shaving. It's the smoothest I've felt after a shave in, well, forever!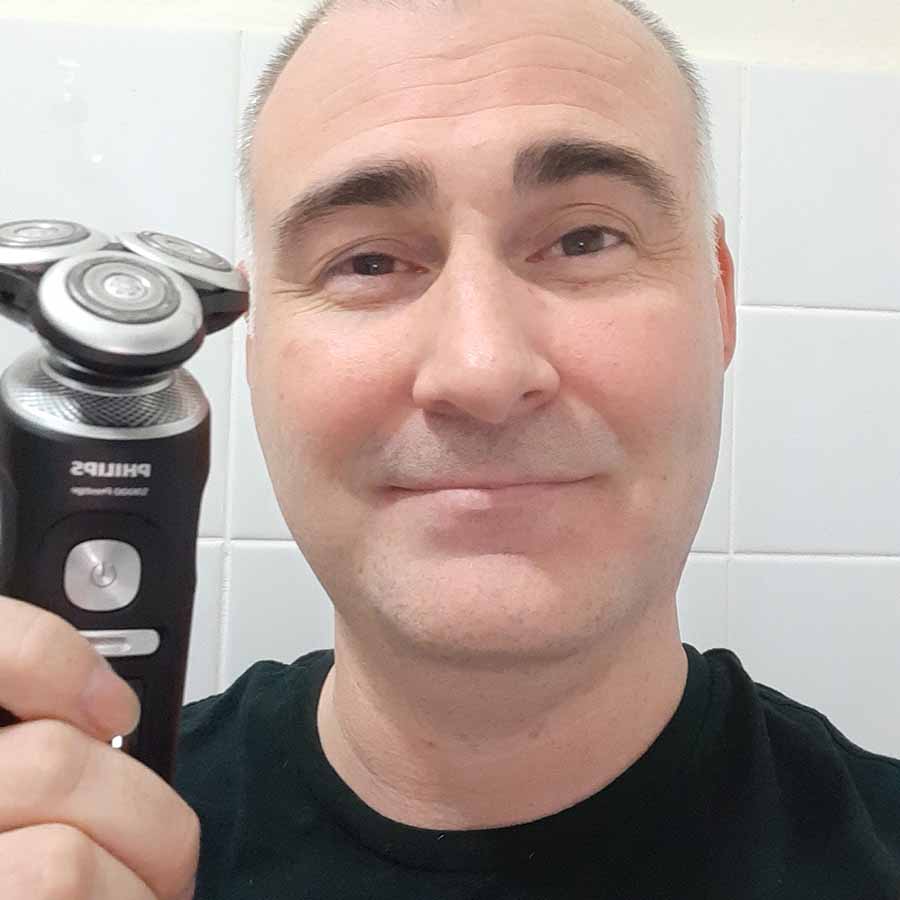 Can you use the Philips Series 9000 Prestige Shaver in the Shower?
Having passed with flying colours, there was one last test I wanted to put to this electric shaver – the shower test!
Being someone who shaves in the shower normally, I wanted to see if it could be integrated into my existing routine. I find I get less skin irritation if I shave in the shower, and since Philips said it would be fine I definitely had to give it a go.
A few days later, having regained some decent stubble, I took the the Philips Series 9000 Prestige Electric Shaver into the shower with me, and lathered up my face with shaving gel. I didn't take any photos of that test (for obvious reasons), but the results were even better yet again. Yes, this Philips electric shaver keeps on winning!
A quick tidy up of the sideburns with the click-on precision trimmer, and I was feeling like a million dollars. Looks like I've found a much better way to shave from now on.
Want better shaving results? This is where to buy the Philips Electric Shaver in Australia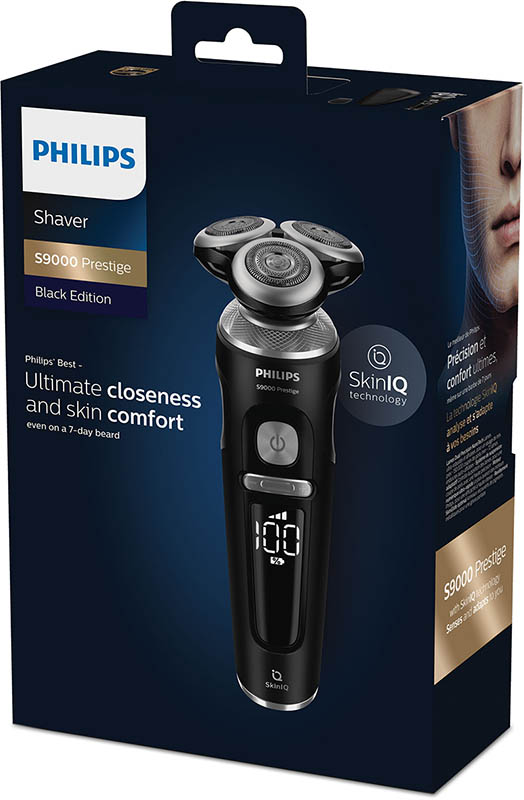 If you or someone in your life could use a better shave, the Philips Series 9000 Prestige Wet & Dry Electric Shaver will certainly make that happen.  You can buy one of these online, or go and check it out at your local Harvey Norman store.