It's time for the World's Greatest Shave, so trim those tresses in the name of leukaemia research – all the cool folks are doing it!  
It's a harsh reality that blood cancer affects the lives of 11,500 Aussies every year and the Leukaemia Foundation is there to provide free services and support to families. In the past 14 years, over one million folks have shorn or coloured their locks for the World's Greatest Shave, raising more than 138 million smackeroos; that's around half the cash needed to fund the Leukaemia Foundation's multi-million dollar research each year.
If you're nervous about a naked noggin, don't fret – it's the "in thing". In fact, plenty of notable figures proudly sport shorn skulls.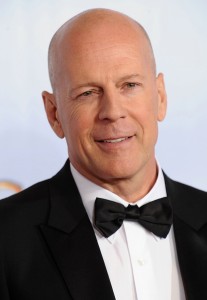 Thatchless thespians: John Malkovich, Samuel L. Jackson, Jason Statham, Woody Harrelson, Vin Diesel, Dwayne "The Rock" Johnson, Yul Brynner, Patrick Stewart, Telly "Kojak" Savalas…
The real deal: A proper man's man, Bruce Willis once stated "I'm a man and I will kick anybody's arse who tries to    tell me that I'm not one because my hair's thinning". 'Nuff said!
Music men sans manes: Michael Stipe (REM), Joe Satriani, Seal, Phil Collins, Tupac Shakur, Peter Garret (Midnight Oil), LL Cool J, Billy Corgan (Smashing Pumpkins), Moby…
Numero uno: Angry Anderson – The gravel-voiced lead singer of Aussie band Rose Tattoo is also a political activist and men's health advocate. Small man, big heart.
Notable chrome domes of sport: Shaquille O'Neal, Kelly Slater, Andre Agassi, Kobe Bryant, Michael Klim, Georges St Pierre, Zinedine Zidane…
The main man: Michael Jordan – Arguably the greatest basketballer of all time and a baldie to boot, who wouldn't want to be like Mike?
The bald and the beautiful: Natalie Portman (V for Vendetta), Sinead O'Connor, Sigourney Weaver (Alien 3), Britney Spears (epic mental breakdown…), Demi Moore (GI Jane)…
She's got the look: Grace Jones – Singer, actress and model, the alluringly androgynous Jones was born to be bald.
Visit Harvey Norman and buy yourself a new pair of clippers – be brave and shave for a great cause!