Fitbits. You've heard all about them, right?
It seems like everyone's got one. Your friend who's looking to get into shape. Your neighbour who's training for a triathlon. Your workmate who wants to improve their nightly sleep. They've all told you just how amazing these crafty little gadgets are. Guess what? They're right!
There's one thing they haven't told you though. So, allow us to let you in on a very exciting piece of news.
Fitbits, those innovative and life-enhancing devices, are now about to become more! They're about to become more than an all-day activity tracker. More than a continuous heart rate monitor. More than a nightly sleep tracker.
Fitbits are about to become high fashion.
Welcome the new Fitbit Blaze and the new Fitbit Alta. You won't ever have to worry about taking these off – they go with everything!

A smart watch? A fitness watch? A workout watch? An exercise watch? An activity tracker? The Fitbit Blaze is all that and more! Say hello to the best smart fitness watch going around.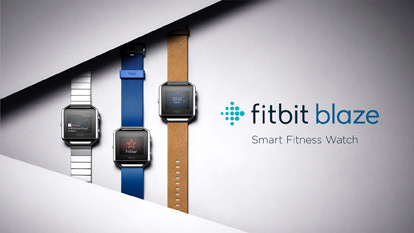 What's the one thing that every Fitbit user hates to do? Take their Fitbit off, of course! Taking off your Fitbit means you won't be tracking your full day's worth of activities. To do this is a Fitbit user's worst fear, especially when you're competing against your best mates.
With Fitbit allowing you to enter into a bit of friendly competition with your friends – whether it's daily or weekly step tracking – taking off your Fitbit just isn't an option. In the past, a more discerning fashionista might have said that this stubbornness would inevitably result in a fashion faux-pas. Not so any more. The beautifully designed Fitbit Blaze truly can be worn with anything.
With its sleek, striking design, the Fitbit Blaze is more than just an activity tracker. It's a smart fitness watch that will look good with everything from formal or corporate attire, to smart-casual and everyday activewear.
When it comes to styling, the best news of all is that Fitbit gives you the option of purchasing additional bands, enabling you to mix and match them to make your Fitbit Blaze truly yours. Whether you want to work or socialise in Luxe fashion or work out in classic comfort, Fitbit Blaze has you covered.

For poise and elegance, look no further than the range of Luxe leather and metal bands. Black leather, camel leather, mist grey leather or stainless steel links – all have been designed with premium materials.
For a trendy, casual approach, the classic bands – available in black, blue or plum – are perfect to wear by day and by night.

Of course, as smart as the Fitbit Blaze looks, it's an even smarter performing fitness watch.
One of the coolest things Fitbit Blaze offers are onscreen workouts with FitStar. Choose from Personal Training or Yoga, and FitStar will craft your ideal workout and provide you with step-by-step instructions on how to carry it out.
You'll also be able to track your heart rate 24/7 with Fitbit Blaze's PurePulse Heart Rate Technology. PurePulse uses safe LED lights on your wrist to detect blood volume changes that occur every time your heart beats. No annoying chest straps!
Plus, let's not forget some of Fitbit's wonderful staples such as sleep monitoring and continuous daily activity tracking – including steps taken, distance moved and elevation climbed.
Oh, and there's the option of receiving calls, texts and calendar notifications right there on your wrist, it also gives you up to 5 days battery life, as well as the ability to customise your clock interface.
So, with all that said, it's probably not a surprise that we're super excited about this amazing new device. However, it's not the only thing we're excited about…
From the best fitness watch to the best fitness tracker. It's time for the newest Fitbit fitness band – Fitbit Alta!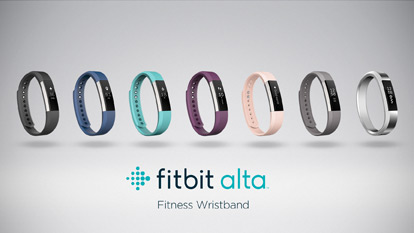 What could be more exciting for us Fitbit fanatics than the release of the Blaze? The fact that Fitbit are also about to release the Fitbit Alta.
Like the Blaze, the Fitbit Alta is a super stylish fitness tracker that can be worn with anything. With a range of additional accessory bands available – including metal, leather and classic designs – you can create a look for any occasion.

Beyond its outstanding slimline design, the Fitbit Alta also offers automatic workout detection and automatic sleep detection. By tracking these daily activities you'll be able to set and achieve fitness goals.
Oh, and if you've been sitting down for an extended period, distracted by work, TV or a great book, the Fitbit Alta will look after you by giving you a friendly reminder to get up, move about and stretch those legs! Don't worry though, just because you're up and about doesn't mean you'll miss out on any important reminders. Fitbit Alta will alert you to any calls, texts or calendar notifications that you've received.
Fitbit Alta has arrived, and not a moment too soon!
Going out for a night on the town? Running to the gym? Off to an important business lunch? Whatever you're doing, do it in style with the Fitbit Blaze and Fitbit Alta. Check out these wonderful products online with Harvey Norman or head into your local Harvey Norman store. Looking good while keeping fit has never been this easy!