Ever put off visiting the dentist because you know they'll ask you how often you floss, and you'll have to say "Um… What's the date?" around a mouthful of rubber glove and mirror-on-a-stick? Even though we know we should floss daily, we all struggle with it at times. Developing consistent, healthy dental hygiene habits is hard when there's just so much to do!
The theme for this year's Dental Health Week (August 7th-13th ) is Oral Health For Busy Lives, so read on to find out what happened when I tried out two Harvey Norman products designed to make looking after your teeth effectively as simple and convenient as possible – the Philips Sonicare AirFloss Ultra Interdental Flosser and the Philips Sonicare DiamondClean Rechargeable Toothbrush.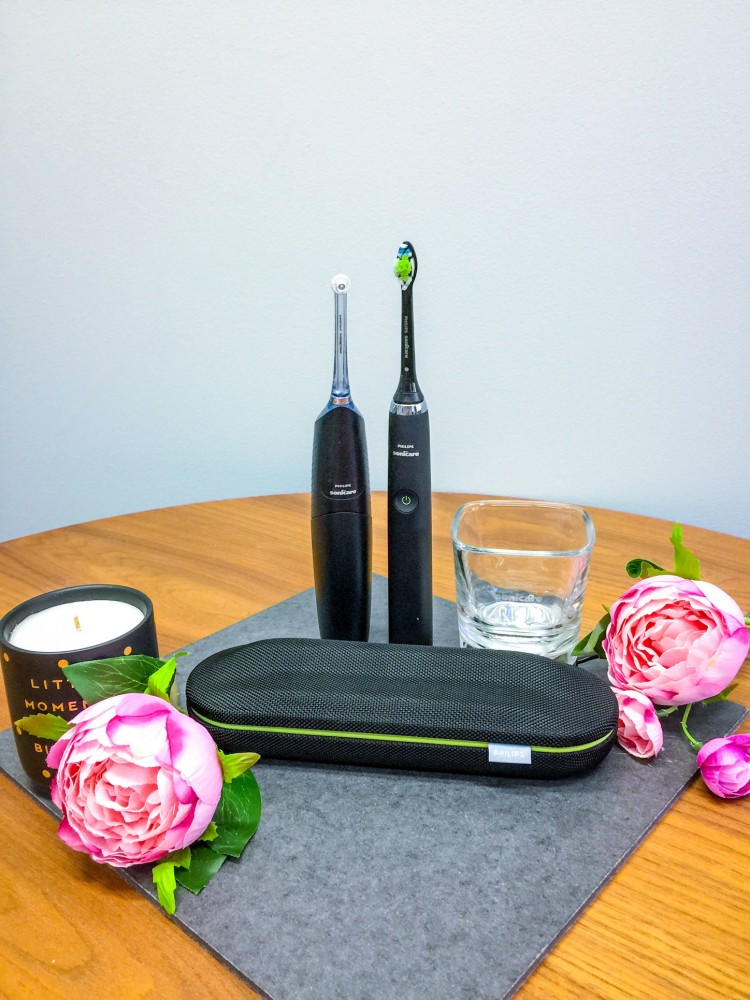 Flossing Simplicity
Why is flossing so important? Dentist David Dunn says that with brushing alone, "approximately 20% of the tooth surfaces are left uncleaned. These surfaces are very susceptible to decay. Plus, removal of plaque in between teeth is important for periodontal or gum health."
So flossing after you brush helps keep your teeth and your gums healthy, but most people floss less often than they should because of the time, effort and discomfort involved. The Philips Sonicare AirFloss Ultra Interdental Flosser aims to reduce all three with a gentle, automatic and efficient cleaning action.
The high-performance nozzle sprays air and either mouthwash or water between your teeth and along the gumline to minimise the risk of cavities forming. For a personalised cleaning experience, the flosser has three burst frequency settings available: single, double, and triple burst. It can also be set for either automatic or manual burst mode – and I tried them all! I started with manual single burst, and worked up to triple as I figured out the right angles and got used to the feeling. Manual mode allows me to make sure the nozzle is in the right position before I press the button, but once I've had a bit more practice I might start using automatic for a true 60-second floss.
Using regular floss often makes my gums bleed, so that's one point in favour of the AirFloss right away – no bleeding whatsoever. I found it hard to believe that such a gentle clean could work just as well, but in-lab studies found that this flosser removes up to 99.9% of plaque that brushing missed from treated areas*  – wow! Philips Sonicare recommends you still use regular floss when larger bits of food are stuck in your teeth, but for daily use, the Airfloss Ultra is perfect – running late is no longer an excuse!
And it really is so much quicker and easier – especially on those tricky back teeth where unseen cavities could be lurking.
Dr Dunn says the AirFloss Ultra is especially useful "for those patients with reduced manual dexterity or with complicated prostheses such as implants, bridges, orthodontic wires, etc, that can make flossing very difficult."
In my case, my teeth are a little crowded, so getting regular floss in there can be quite difficult. The long, slim nozzle of the AirFloss Ultra is a million miles away from trying to manoeuvre a string of floss around my reclusive wisdom teeth with my fingers. It only takes a minute, which makes the entire process much less daunting. Plus, you can choose to use your favourite anti-microbial mouthwash to fill the reservoir instead of water – two important dental health habits in one!
Here's a little user tip about shooting sprays of liquid through your teeth – close your lips around the nozzle and position it by feel, to avoid unnecessary mess. Practice with water before you try the mouthwash.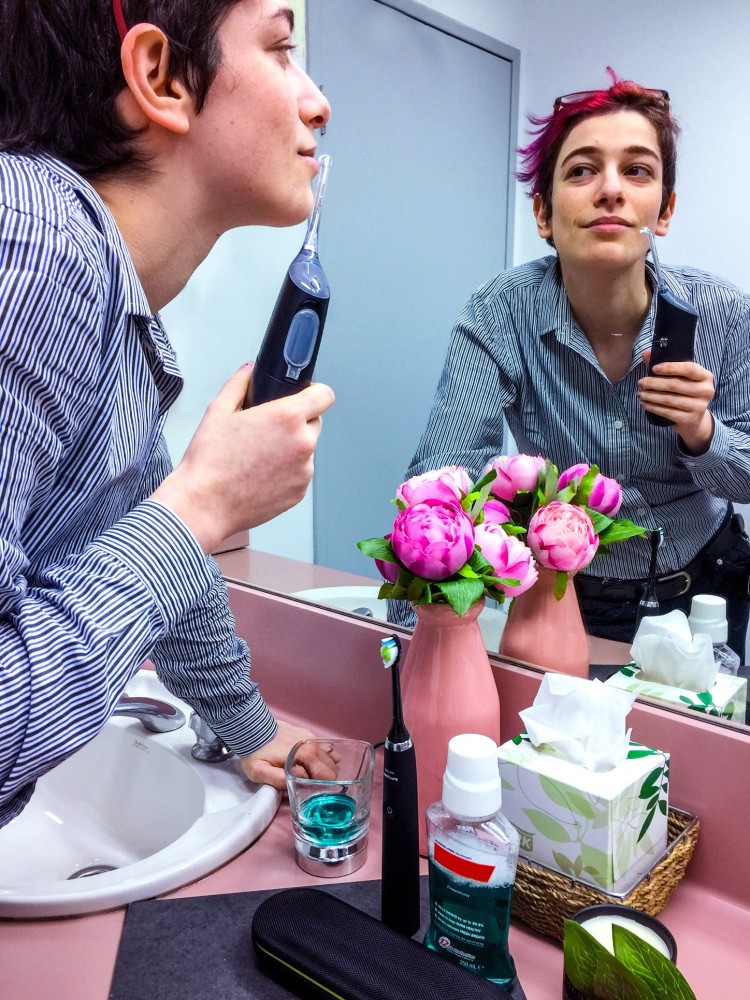 A Powerful Polish
Call me old-fashioned, but it's never occurred to me to try out an electric toothbrush before. "Time, technique and efficiency are the three variables that determine the effectiveness of your oral hygiene procedures," says Dr Dunn. "While some people can use a manual toothbrush effectively, most people tend to have an inappropriate technique with a scrubbing motion, use too much toothpaste, and do not have a methodical brushing technique for at least two minutes, morning and night."
Oops! What's been happening to my teeth for all these years I've been haphazardly brushing with too much toothpaste?
"Gum recession and damage to the tooth surface leading to sensitivity are the main issues with manual brushing," says Dr Dunn, "Let alone their reduced effectiveness in plaque removal, compared to electric toothbrushes."
Well, I'm sold. Never mind electric, though – now it turns out toothbrushes can be sonic! The powerful sonic vibrations of the Philips Sonicare DiamondClean Rechargeable Toothbrush whip up your toothpaste into plaque-fighting bubbles and drive them deep between your teeth and along your gum line, while providing 62,000 gentle but effective brush strokes in just two movements. That's something I just had to experience for myself.
As a total newbie to the world of non-manual toothbrushes, I found the buttons intuitive and easy to use. The thing that took the most getting used to for me was the sonic vibrations themselves. Sonicare DiamondClean packs quite a bit of power beneath that sleek exterior. It took me a bit of practice just to avoid losing my toothpaste when I switched it on!
The Philips Sonicare DiamondClean comes with five modes:
• Clean mode for daily dental hygiene
• Gum Care for healthier gums
• Polish to brighten your smile
• Sensitive for a gentle yet effective clean
• White – the ideal mode to remove surface stains for whiter teeth
The Sensitive mode was just right for my front teeth, which are in fact quite sensitive, while the more powerful Clean mode turned out to be more appropriate for my sturdy back teeth.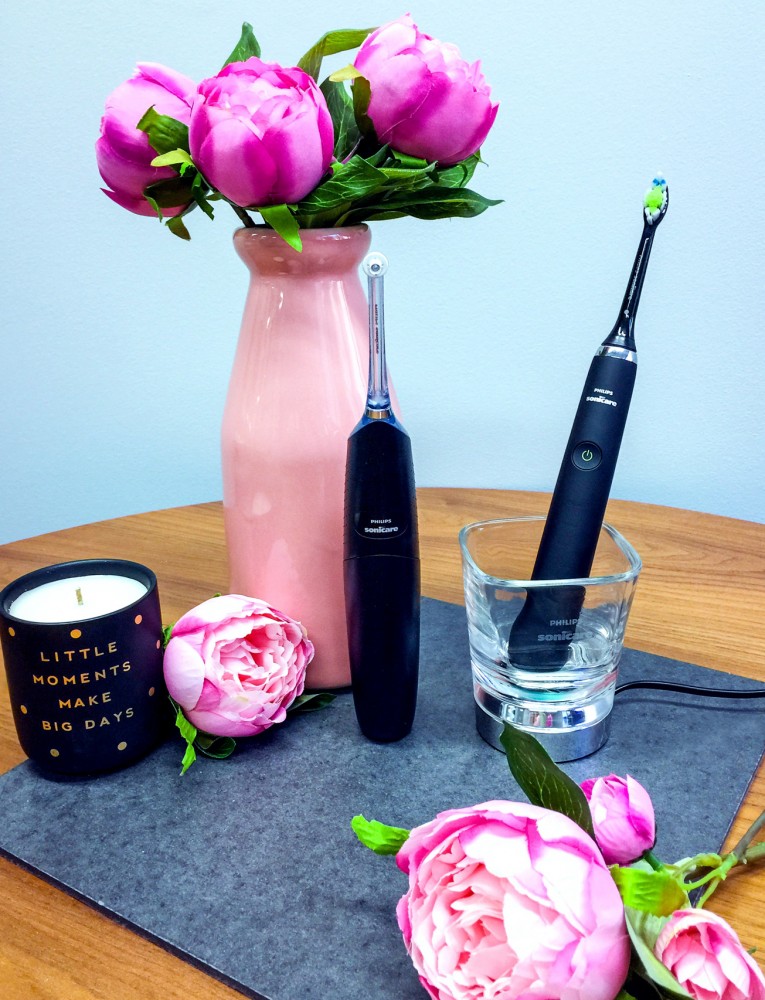 My favourite thing about the Philips Sonicare DiamondClean might be the timing function. It's handy to be prompted to move on to the next section of teeth, and to know I've brushed for two minutes without having to actually use a stopwatch. I also think the charging glass is super-stylish and kind of magical. You just put the toothbrush in the glass and it starts charging – I feel like some kind of wizard! Plus, of course, you can use it to rinse.
The USB travel charging case is pretty cool as well. It connects by USB to your laptop (or wall socket) for convenient charging on the go. The DiamondClean's battery should last up to three weeks**, so I might not even need to use it for charging, but it's a handy and stylish travel case all on its own, so this is definitely accompanying me on my next holiday!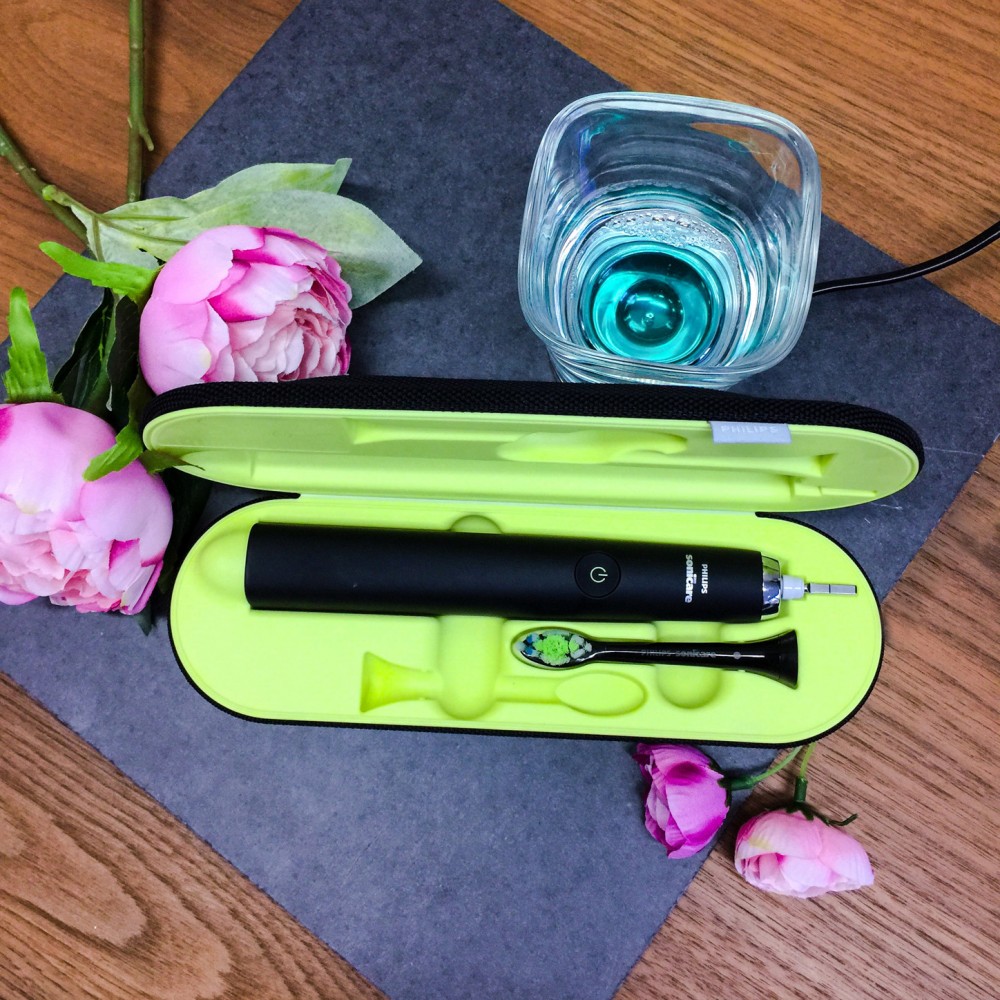 No matter how busy your life is, with Philips Sonicare, you've got time for professional dental care at home. You can buy the Philips Sonicare AirFloss Ultra Interdental Flosser and the Philips Sonicare DiamondClean Rechargeable Toothbrush online or in store. As for me? I'm looking forward to my next dentist appointment, when my dentist will stick a tiny periscope into my mouth and ask how often I floss, and I can proudly say "Ehhry dah."
*In-mouth results may vary.
**Based on two periods of two-minute brushings per day, on clean mode.