I'm still learning the art of stylising my beard. I always struggle to get the look I'm after, and end up walking away feeling frustrated and looking scruffy.
So when Harvey Norman asked me to review the Philips OneBlade Pro, I was excited… but also a little nervous. I knew that Harvey Norman had a wide range of grooming devices on offer, but I was still new to the game. The Philips OneBlade Pro looked simple, sleek, and high-tech… but could a grooming noob like me actually handle it?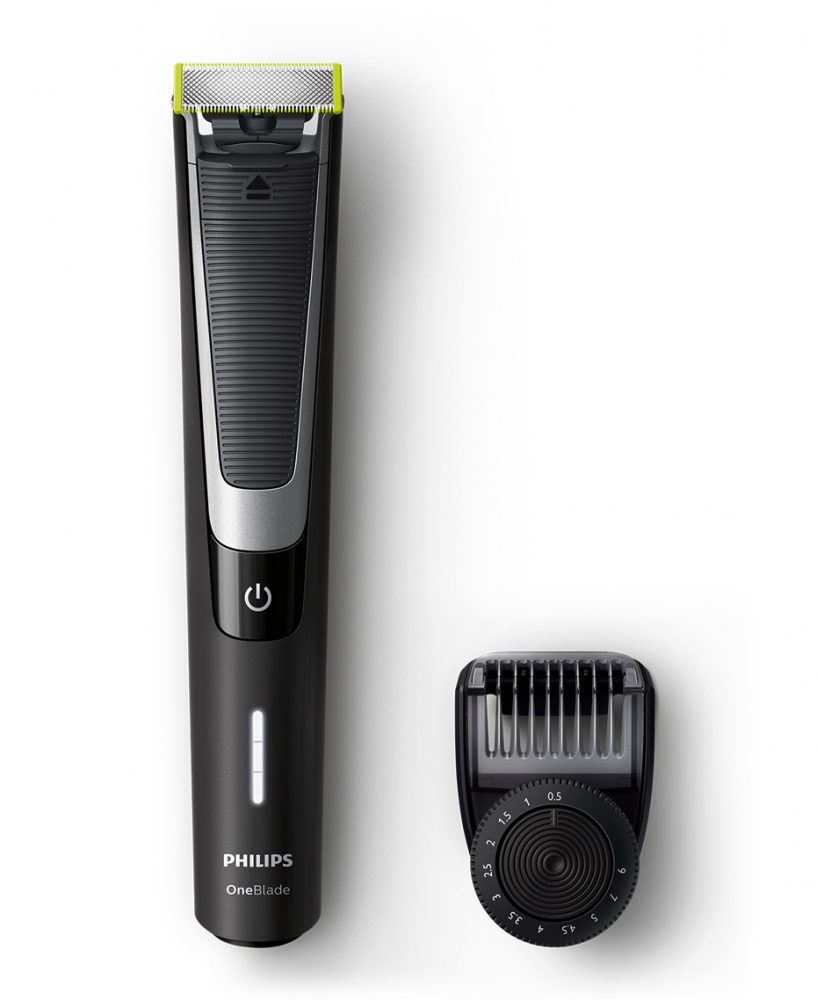 What You Need To Know About the Philips OneBlade Pro
The OneBlade Pro has some pretty incredible features. At a glance, here are some of the coolest things I noticed:
▶ With OneBlade you can trim, edge & shave any length of hair.
▶ The fast moving cutter (200x per second) powers through even the longest hair.
▶ The dual protection system of glide coating and rounded tips are designed to make shaving gentler on your skin.
▶ The Adjustable Trimmer Comb has 12 different lengths, from 0.5 – 9mm, that you can set just by turning the dial.
▶ Rechargeable batteries last 60 minutes between charges, and battery life is indicated by an LED display.
▶ The handle is water-resistant, so you can easily rinse it off, and shave either wet or dry.
▶ Replacing blades is really easy thanks to the OneBlade's simple design and the fact that you can purchase replacement blades in 1 packs or 2 packs at Harvey Norman.
Beyond those features, here are the four best things I learned while using the Philips OneBlade Pro:
1) Using an electric grooming device isn't complicated
Turns out, grooming with the Philips OneBlade Pro is about as simple as it gets. The blade and rechargeable batteries were already installed. All it took was a one button press to turn it on, and I was ready to go. I wanted to test out the adjustable comb trimmer. I was delighted to find that it clicked in place as easily as putting a lid back on a can of shaving cream (which I had just done five minutes earlier, after remembering that you don't need shaving cream to use an electric groomer).
Once the adjustable comb trimmer was locked in place, all I had to do was turn the dial to select the length I wanted – 12 different options between 0.5 and 9mm. Really easy, and I couldn't believe I had so many different options without needing a drawer full of different trimmer combs.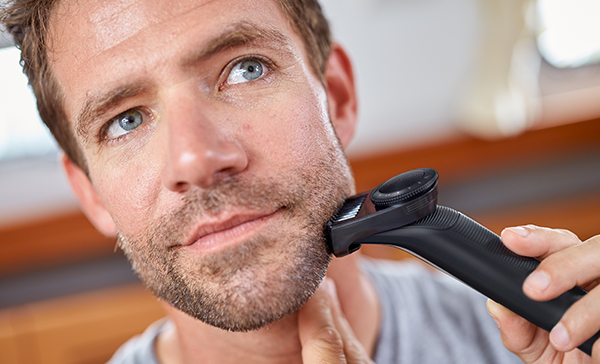 2) Styling your facial hair is easy
Previously, my only two options for facial hair style had been "unkempt mess" and "absolutely nothing". However, I quickly found that using the OneBlade Pro for trimming and edging was super convenient. With the adjustable trimmer set to 1mm, I was able to corral my prickly scruff into nice, even-length stubble, before removing the trimmer and using the precise and manoeuvrable blade to straighten out the edges. The contour-following technology of the OneBlade really helped me get the precise control I needed, and for the first time in my life, I had stubble that actually looked good.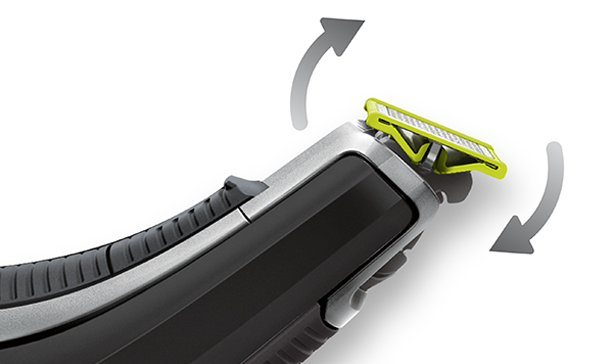 With the trimming and edging complete, I might have left it there – but my Philips OneBlade review wouldn't be complete until I used it to give myself… horror of horrors… a close shave.
That's when I learned my greatest lesson…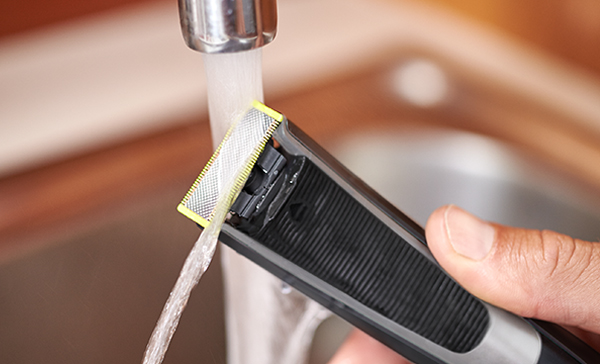 3) Shaving can be painless and comfortable
When I put away the adjustable trimmer comb and started shaving using the OneBlade itself, I realised something incredible: I wasn't bleeding all over the place! In fact, shaving with the OneBlade Pro was totally smooth and gentle, even when going against the grain. I had previously had trouble finding a shaver for my sensitive skin, but with the OneBlade Pro, this wasn't an issue. Thanks to its dual protection system, with rounded tips and glide coating, it slid smoothly across my short-lived cool stubble, revealing a beautifully clean-shaven chin.
I kept shaving, feeling more and more confident. The flexible head perfectly followed the contours of my face and neck. The precise blade, designed for edging, easily shaved clean the weird, creasy areas around the side of my mouth, nose and philtrum. Not only did the OneBlade Pro give me a smooth, easy, and totally hassle-free shave, it also gave me the opportunity to show off that I know the word "philtrum". Best groomer ever!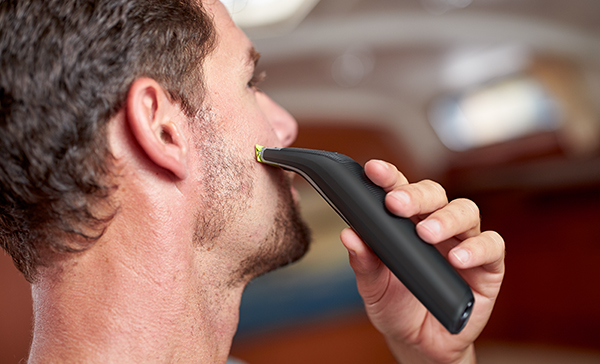 4) Shaving with the Philips OneBlade Pro is quick and easy
Even after all of my stalling, I had finished shaving before I knew it. There was no need to switch between various devices and attachments to handle different tasks, because the OneBlade Pro was versatile enough to handle trimming, edging and shaving for any length of hair. The OneBlade Pro has a 60 minute battery life, but I didn't need anywhere near that long to give myself a great, easy shave.
All of a sudden, I was actually looking forward to my next trim.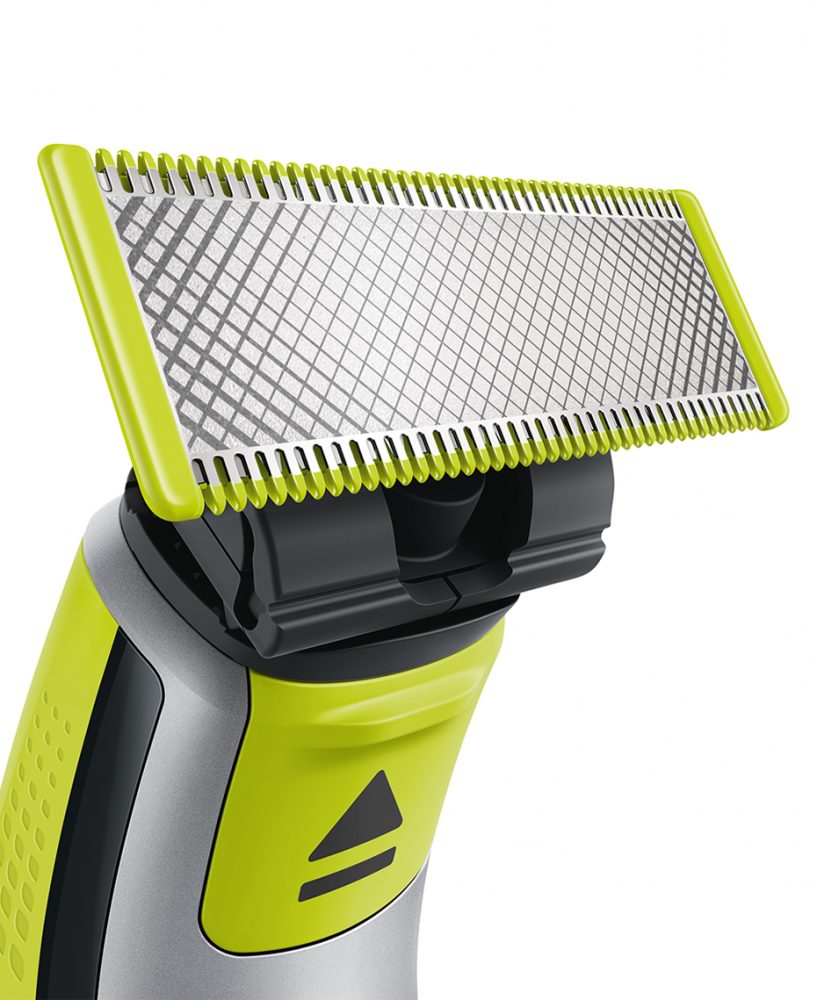 Final Thoughts
It's pretty obvious how much I enjoyed using the Philips OneBlade Pro. I would absolutely recommend it to anyone who's looking for a way to make shaving easier, more efficient, and totally stress-free. The unique OneBlade technology allows for a gentle, fast, and great-looking shave and the adjustable comb trimmer is perfect for trimming and styling, meaning all your facial hair needs are covered by one product.
If you're wondering where to buy the Philips OneBlade Pro with Adjustable Comb Trimmer, or if you're looking for replacement blades, have no fear: just shop online or head into your local Harvey Norman store and talk to our friendly experts today.
Philips OneBlade Pro with Adjustable Comb Trimmer