"Summer bodies are made in winter" – The Internet
"But it's cold outside" – Me
One of the top fitness trends right now is wearable technology, a convenient and stylish way to track your fitness and monitor your health. One of the top fitness tracker brands – Fitbit – offer a great range of fitness wristbands and smart fitness watches with a suite of cool features, including continuous wrist-based heart rate monitoring, guided breathing sessions and automatic sleep tracking with sleep stages to help you better understand your sleep quality. As someone who could definitely do with some more exercise and has *terrible* sleeping habits, I was super excited to give them a shot. I've asked two of my workmates – Dave and Karthiga – to help me test them out. We're going to see if Fitbit can give us the motivation to get healthier and fitter in just three weeks.
We're trying out: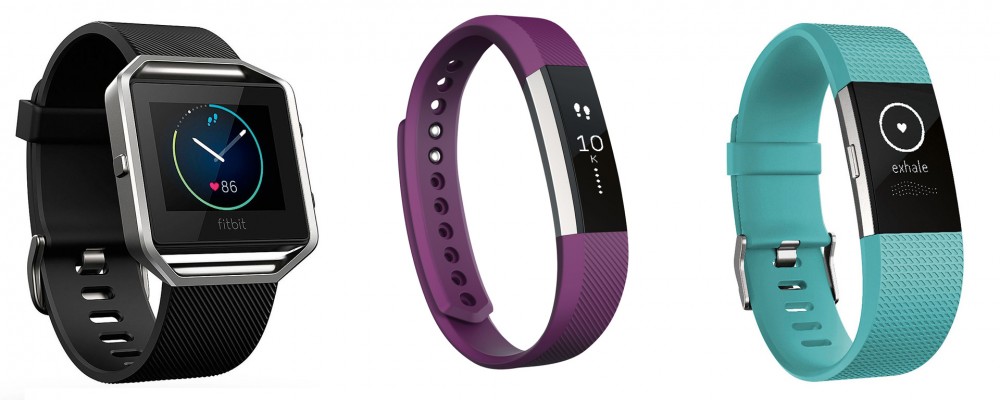 MEET THE TEAM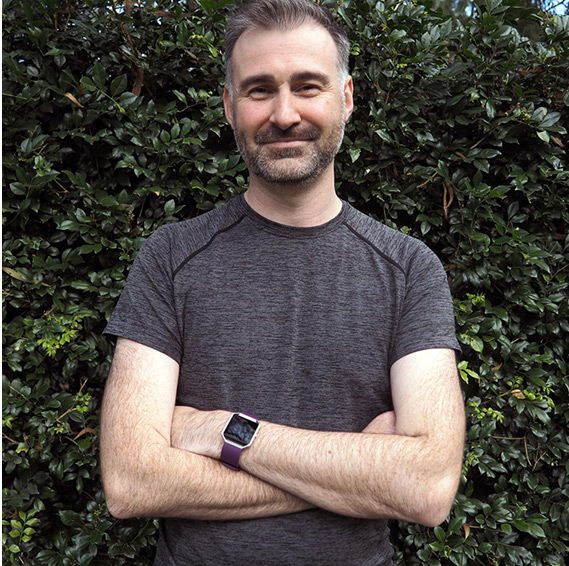 Dave: I'm just getting back into fitness and fighting the lazy version of myself who likes to have lots of breaks. I've been using a fitness tracking app on my phone for a while – it's okay, but as I don't always have my phone on me, I don't get a very comprehensive idea of my day. In summer I like to get out on my bike, but in winter it takes a lot of effort to get out of the house, make progress, form new habits and push myself beyond my comfort zone of 'semi-fitness'.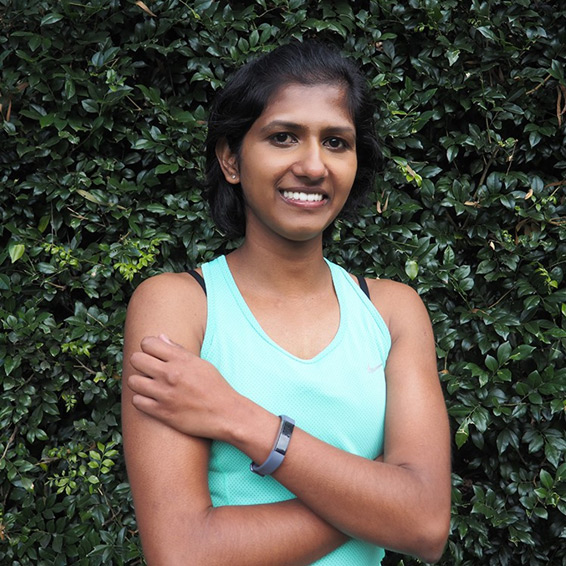 Karthiga: I have been sticking to a routine for about a month now – boot camp class two times a week and I go for a run on the weekend. Depending on how busy I am though, the weekend run may not happen. I feel energetic during the day but my energy level decreases at night, so all I want to do is watch Netflix.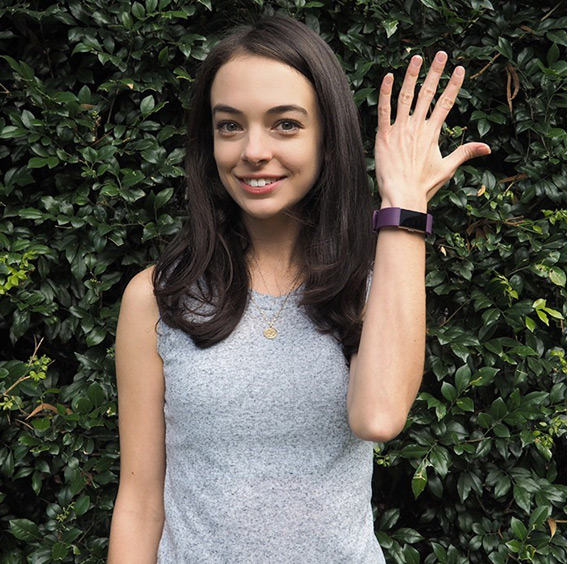 Crystal (Me!): What's the opposite of a weekend warrior? I play sport once a week with my roller derby team, but other than that, I think I'm pretty inactive, mostly because I am *always* tired! After a long day at my desk, I find it difficult to find the energy and motivation to go exercise, particularly when it's cold. My bed is legitimately one of my best friends.
HEALTH AND FITNESS GOALS
D: My main motivation is to be more active and increase my general fitness, and see how that improves various areas of my health and well-being, including physical and mental health. In the short term, I want to improve my 1km lap time (from about 6'20" now), and start working my way up to a longer run like the City2Surf (14km).
K: I would like to see some data on my lifestyle and what improvements I can make to be more energised. I want to be able to do the Bay Run (about 7km) in 40 minutes.
C: I want to develop an exercise routine and some healthy sleeping habits. I'm aiming for at least seven and a half hours sleep and going for a run three times a week.
STYLE AND COMFORT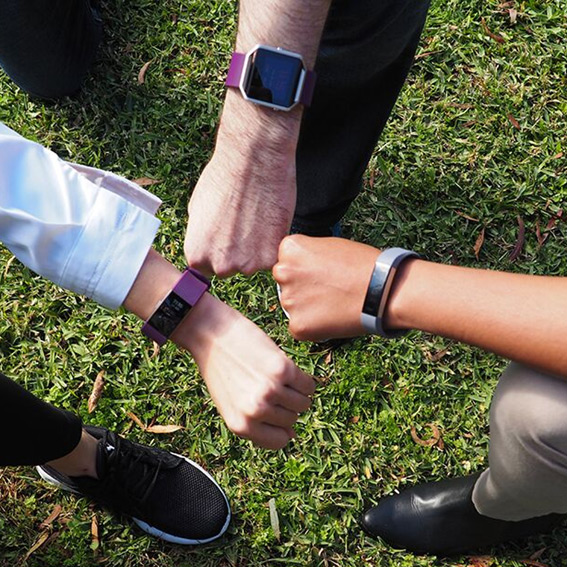 D: I really like the look of the Blaze. It's got a certain 'functional elegance' going on, and the big screen is great. Being able to customise the display means I can see the info and stats that interest me most. It's also very comfortable – even when sleeping.
K: The Alta HR is really compact – it's bracelet sized – and looks cute on my wrist.
C: The face of the Charge 2 is just the right size for being able to read all your stats without looking clunky. I'm not usually a watch wearer so I thought it might be annoying, but after about half an hour, I forgot I had it on. The silicone band is so comfortable that I wear it to sleep without any trouble… and more than once accidentally walked into the shower with it (Unlike the Fitbit Flex 2, which is swim-proof, these models are only splash-proof – do not try that at home). I also like the look of the accessory bands for work and nights out.
BASELINE
STEPS
The team went about their average day without checking their Fitbit. According to the 2011-12 Australian Health Survey, the average Australian covers about 7400 steps (about 5.6km) a day, which is considered a 'low activity lifestyle'. How active did our team think they are?
D: Based on the app on my phone, it looks like an average of around 5200 steps – but because my phone isn't on me at all times that's a bit of a guestimate. Some days are less than that, some days are more. It will be good to see a more accurate number with a new device.
K: I would like to think I have a relatively active lifestyle, so on average I would say, I walk 8000 steps per day.
C: I have a desk job in an office, so my lifestyle is probably even less active than that. Maybe 5000 – 6000 steps?
And how did that stack up against their Fitbit results?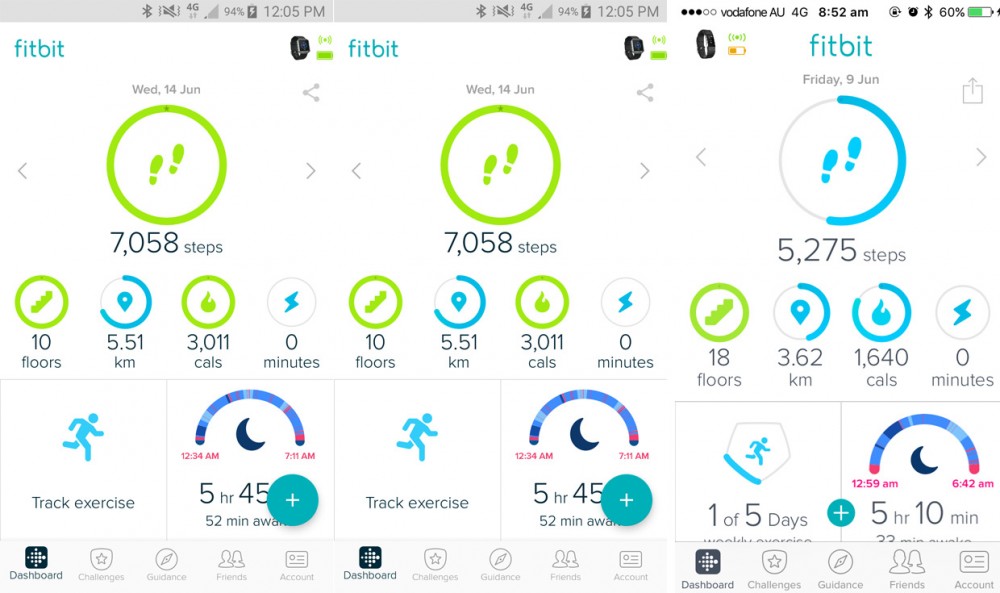 D: It was a day where I went for a run, so it was a decent number. Having a number though makes me want to improve. I think ten-twelve thousand would be a better base number for days when I exercise, so hopefully I'll get to that zone quickly as I improve.
K: This is definitely going to motivate me into going for a run at least once on the weekend.
C: It's what I expected, but that's not a good thing! I need to work on my step game.
AUTO SLEEP TRACKING
Then they tested out the sleep tracking feature. Did they gain any insights into their sleeping patterns?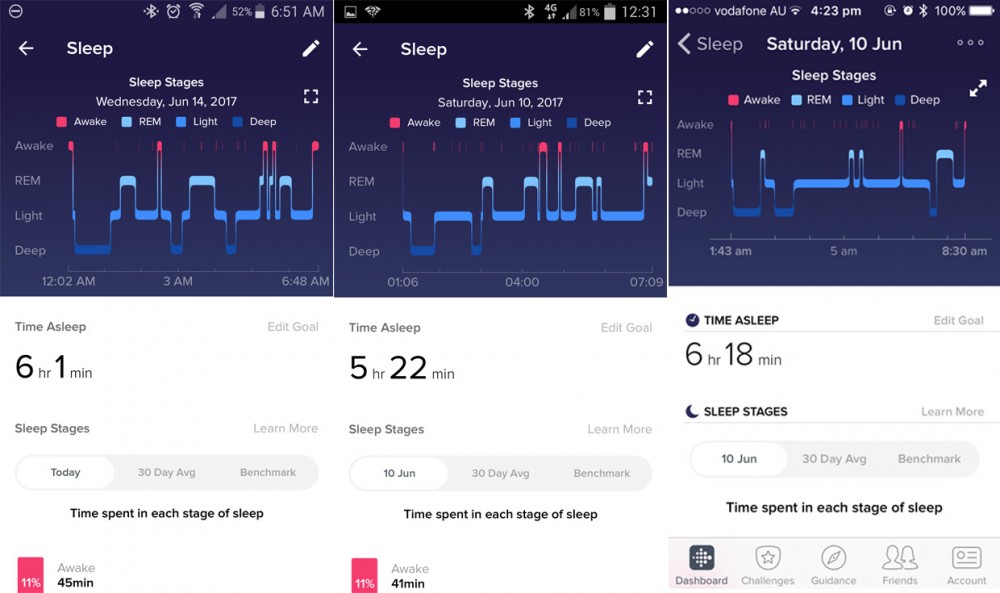 D: It was very interesting to learn how much time was spent in the various sleep stages – light sleep compared to deep sleep, and just how many times during a night you're actually awake – almost an hour a night for me!
K: I had a late night and an early morning, and it shows! I was also super surprised – I didn't realise deep sleep is only one hour of my whole sleeping pattern. This made me a bit worried, but the benchmark feature showed that this was average for women my age.
C: Once I'm asleep, I stay asleep, but I struggle to get there in the first place. I had no idea just how much sleep I was missing out on. No wonder I'm always tired – I'm losing a whole night of sleep over the course of a week! I'm keen to try out the reminders to sleep and silent alarms.
Then we sent them for a run! How did they fare?
D: I got through 3km of light jogging before I needed a break.
K: I did 5km relatively comfortably. I probably could have done more, but I kind of lose motivation to keep going.
C: I could only do 2.5km before I was totally wrecked!
Then we let them loose for three weeks with their new Fitbits to get them motivated!
BATTERY LIFE
How long did you use your fitness tracker for before it needed charging?
D: 3.5 days, with all the phone alert options turned on – which I believe would drain the battery more.
K: It lasted 5 days before it emailed me to charge it.
C: I used the Charge 2 for 6.5 days before it needed charging! I am definitely the type to forget to put it on, so this was great.
FAVOURITE FEATURES
CHALLENGES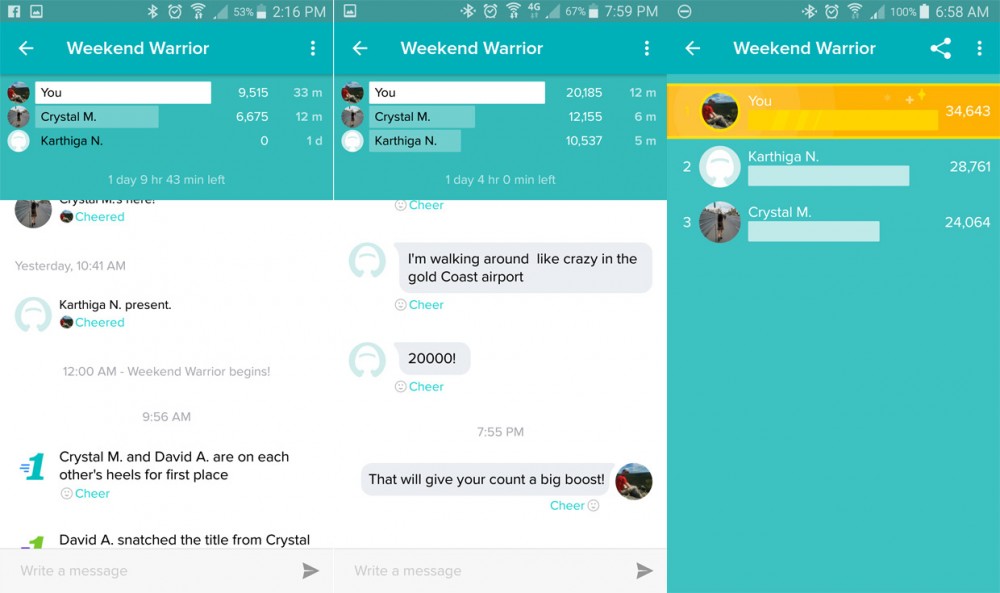 D: The Challenge function is great. It's one of the fun group fitness ideas in the app that encourages a little bit of competition so you and your friends can motivate each other to do more. I set up the Weekend Warrior challenge – who can do the most steps over the weekend. The Fitbit was really motivating me to do more. Being able to see my stats and the stats of my co-workers in real time pushed me to do one more lap to reach the next 1000-step increment. By the end of the Saturday, I'd passed 20,000 steps! This is something I'll be using a lot in the future.
FITSTAR WORKOUTS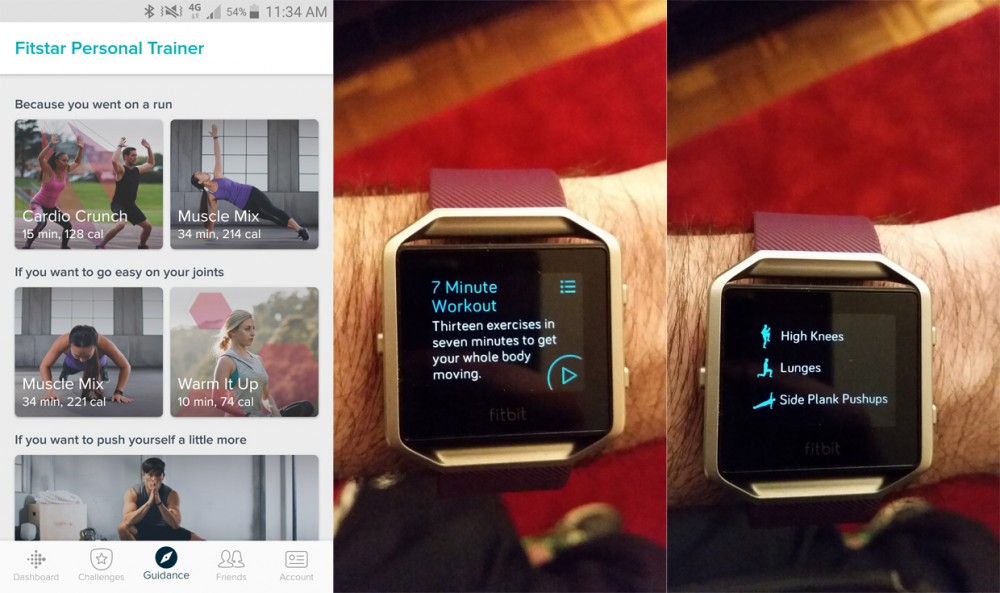 While the other models have workouts you can follow on the app, the Blaze has workouts direct to your arm. This works really well, as before each specific exercise or stretch it gives you a demo on the screen then lets you know how long to do it for. The Blaze then vibrates when the timer runs down so you know when to stop and look for instructions on the next exercise. This was really helpful as it lets you focus on holding the pose or working hard at the exercise, knowing it will tell you when you're done. Not having to look between devices is also very handy.
ADVENTURE RACES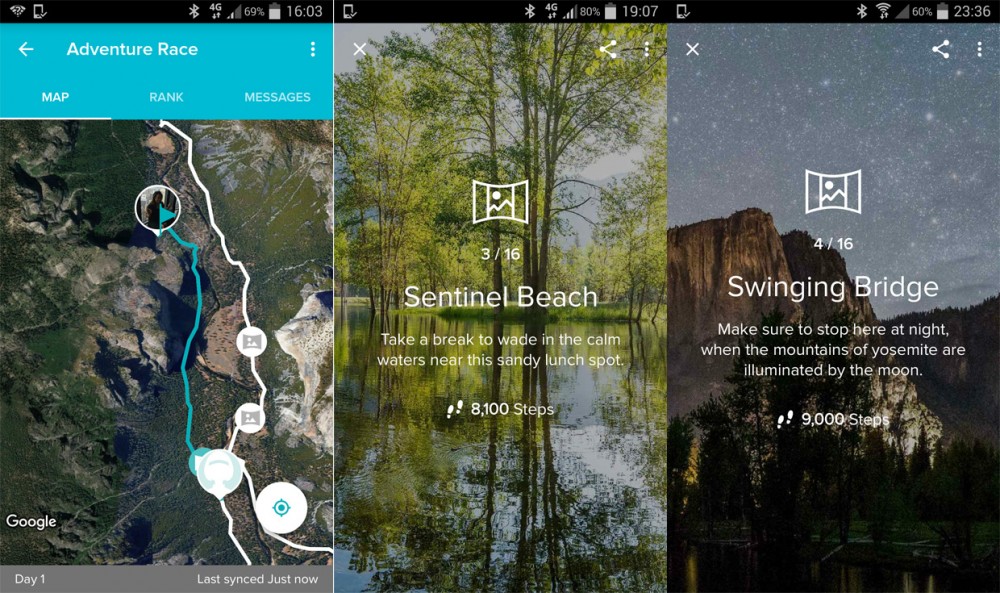 K: I really like the Adventure Racing feature – you go on a virtual hike and unlock beautiful photos as you step. You can either do it alone, or do what I did and remotely race against a friend. It's also a nice little bonus for doing the things you love doing anyway – my favourite way to 'race' is in my salsa class or going shopping.
REMINDERS TO MOVE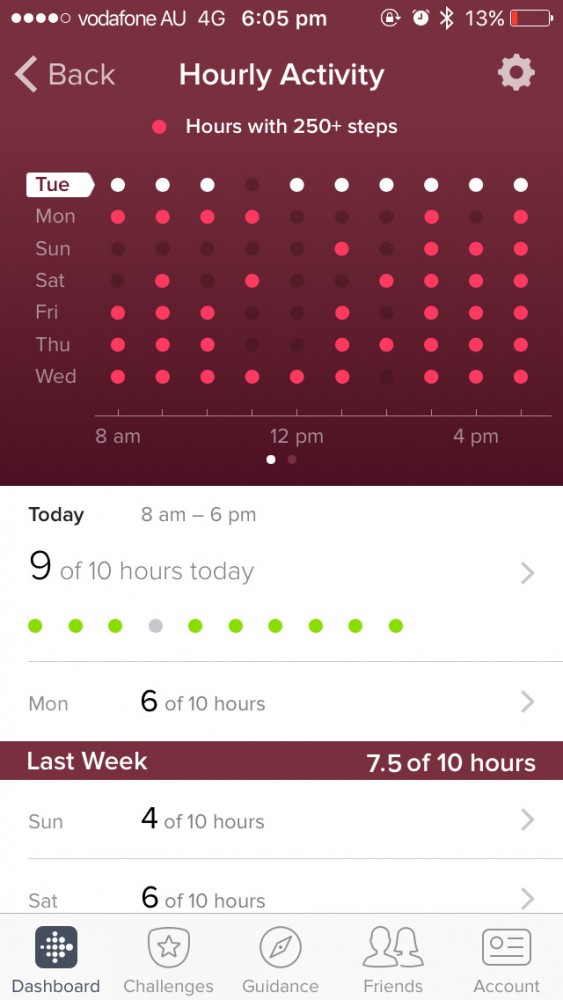 C: I'm a big fan of the Reminders to Move. If you've taken less than 250 steps that hour, it reminds you to go for a short walk (only about two or three minutes). I find myself talking to people in the office rather than emailing them, and filling up my water bottle more often – being more hydrated is a great side effect of our fitness challenge! I also feel more alert and able to concentrate with my work because I have to break it up with a bit of movement.
BREATHING EXERCISES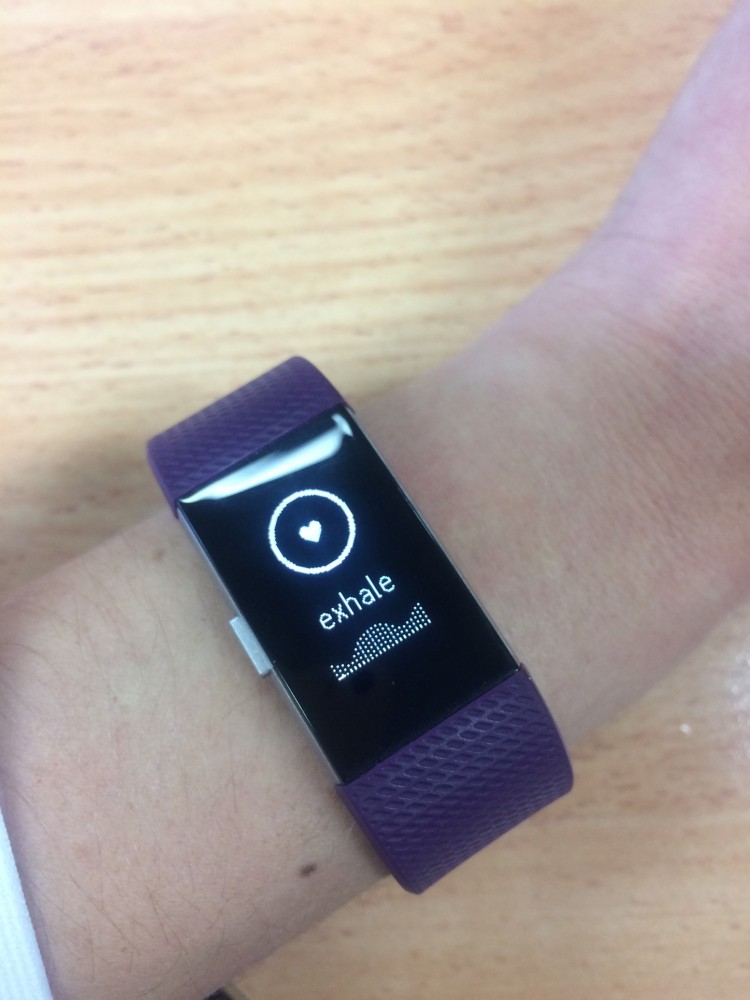 I found the Guided Breathing sessions great for when you just need a moment of calm in a stressful day. The breathing exercises are personalised based on your heart rate, and you can do either two or five minute sessions. It vibrates when you should inhale or exhale so you don't need to look at the screen, and it doesn't make a noise that will alert people around you. It's really easy to do while you're working or commuting.
WEEK 3 CHECK IN
We checked back in with the team after three weeks of use to see how they went.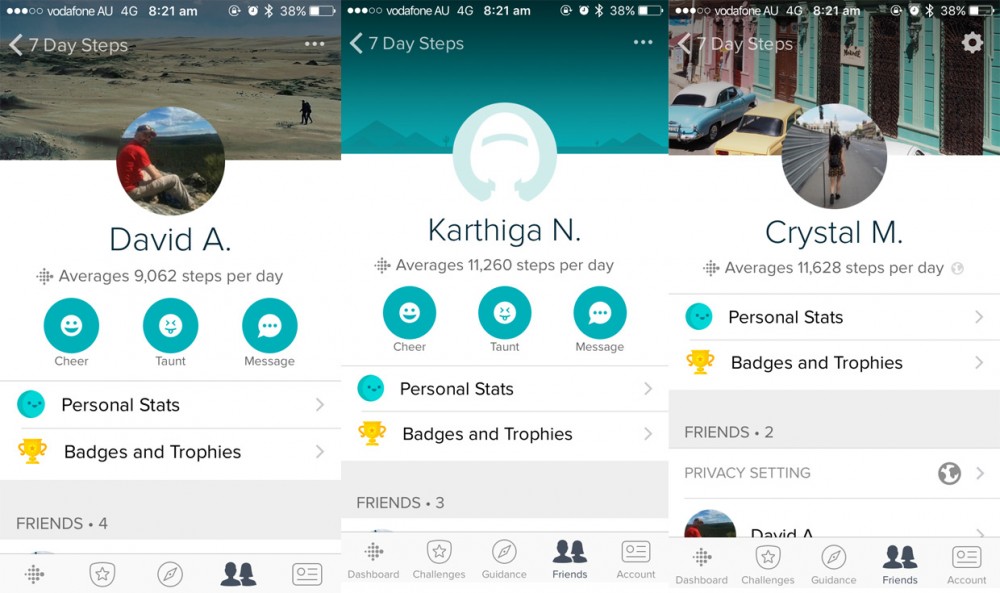 Everyone improved out of sight! And how did they go with their goals?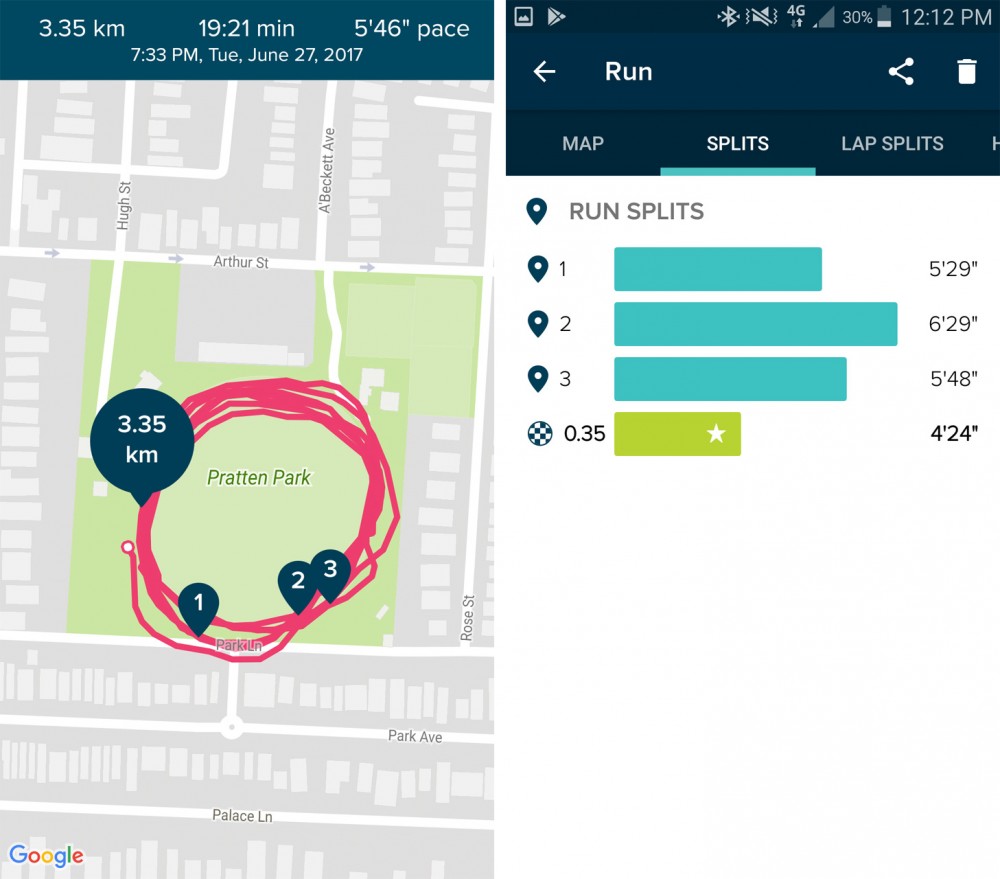 D: I've been doing laps of a local park, and over the three weeks I've gone from an average of 6'18" a lap to 5'46" – with my best lap time going from 5'59" to 5'29". The Connected GPS function connects to my phone's GPS and provides me a split time for each lap. This is great for motivation as it lets me know if my pace has slowed and encourages me to go faster for the next one.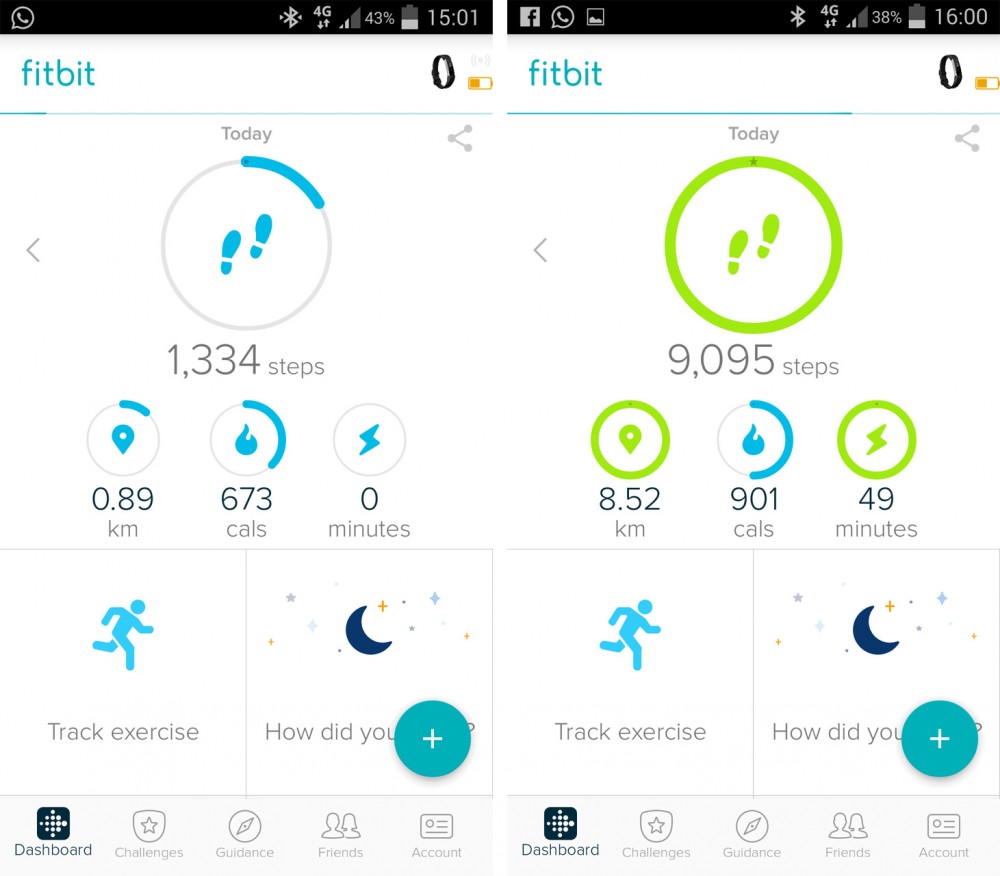 K: I did the Bay Run (7.6km) in 49 minutes, or 6.45min/km. I'm just shy of my 40 minute target, which is a huge confidence boost for just three weeks of training. I remember being unable to complete the run without stopping, and now I've got a really great time. The Fitbit was a huge motivating factor – knowing that I had a goal to meet kept me going.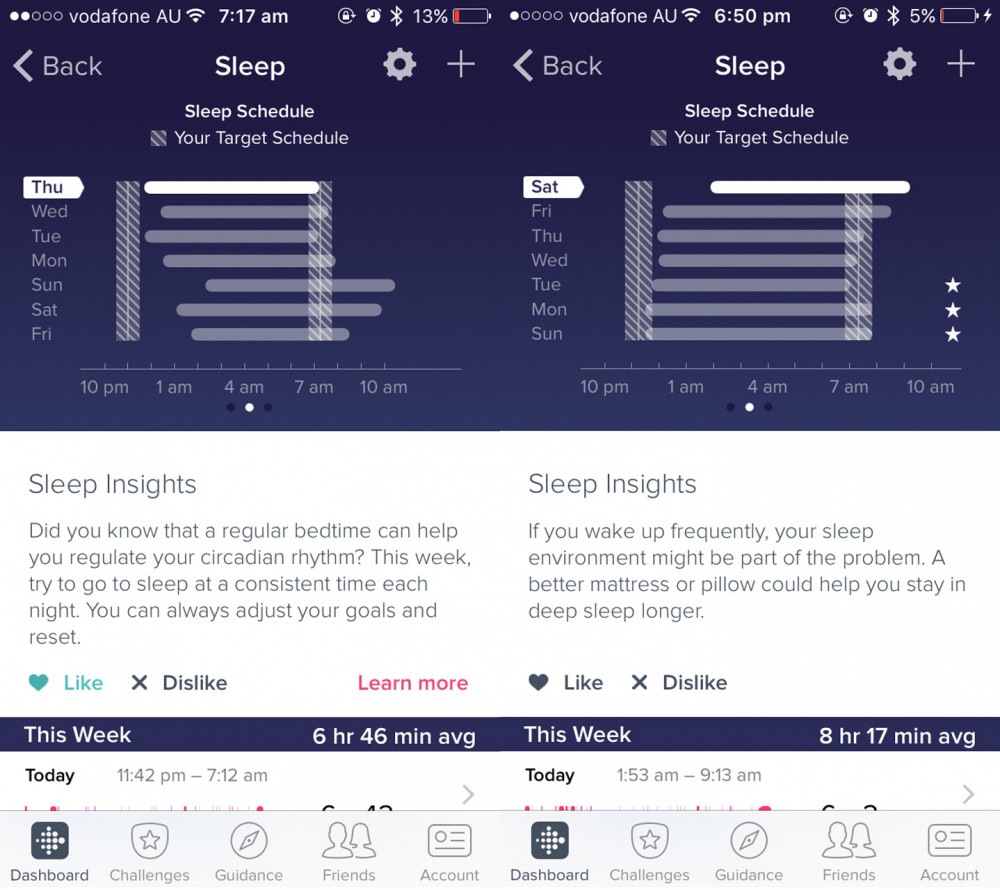 C: The big improvement for me was my sleeping habits – my week one to week three stats show such progress! I found myself super motivated to get those stars; I went to bed earlier and waking up each morning was so much easier. I got an average of an hour and a half more sleep every night, and can really feel the difference.
Between the Challenges with my workmates and trying to keep my steps up each day, I've been going for a run four times a week, and my most recent run was 4.66km without stopping at an average pace of 6.8min/km. It turns out exercise is easy once you make it part of your routine. The first step is the hardest!
Would you recommend it to a friend?
D: I would totally recommend the Blaze. It's got great smartwatch featureshich are just plain cool, and it's such a great fitness tool. Seeing my improvement over time helps me maintain an exercise routine, giving me a nudge of motivation when I need it.
K: Definitely. Get some friends and get active!
C: 1000% – I love my Charge 2. Not only would I recommend it to my friends, I'd also encourage them to recommend it to their friends – I'm confident that I only saw this much improvement in such a short space of time because I was accountable to other people who could see my results.
We had so much fun doing the Fitbit challenge! Do you want to improve your health and fitness? Then get some friends together and get equipped with the right gear today. Find out more about our great range of fitness wristbands and smart fitness watches online or visit your local Harvey Norman store.