Courtesy of my mates at Harvey Norman, I just tried out the new Sunbeam Halo+ Air Fryer. Was it good? Yeah – it was seriously amazing.
It was so simple and easy to use – intuitive is the word. Quick (no heat-up time!) and powerful with mouth-watering results. Oh, and it's soooo much healthier than using a deep fryer.
So, what'd I cook? A couple of delicious delights, both of which I made with only three ingredients.
Yep, that's right – only three ingredients! Check this out:
Jalapeño Poppers
Ingredients: Jalapeño Chillies, Light Cream Cheese, Bread Crumbs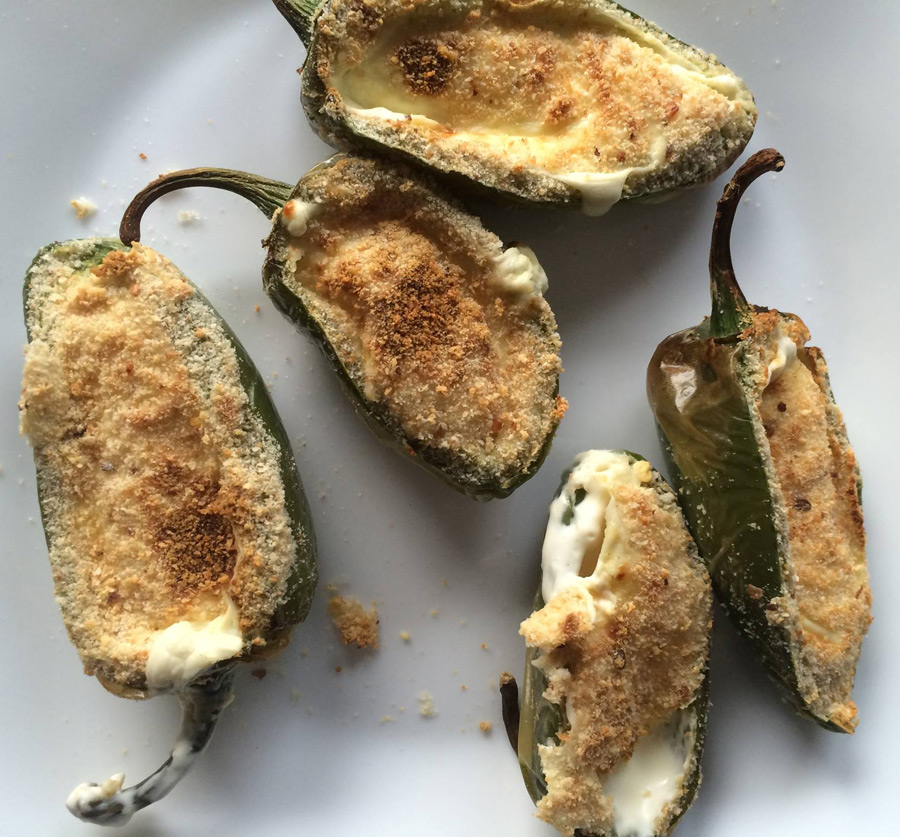 Sweet Potato Chips
Ingredients: Sweet Potato, 10ml of Vegetable Oil, a few dashes of Salt (NOTE: Alternatively, can be made without oil or salt!)
EVERYBODY LOVES AIR FRYING
Given the mouth-watering treats my Sunbeam Halo+ Air Fryer has been tossing up, you're probably not surprised that I've been telling everyone I know about it. And, in turn, everyone I know has been asking me a ton of questions about air frying.
It seems everyone's curious about this culinary revolution.
So, without further ado, I've compiled a list of the top ten questions people have been asking me about air fryers.
TEN QUESTIONS ABOUT AIR FRYERS
What is air frying?
Contrary to the name, this method of cooking doesn't actually involve frying. Rather, air frying involves placing food inside a special appliance that circulates hot air – up to 200°C – at high speeds. This allows the appliance – known as an air fryer – to crispen the outside of the food whilst simultaneously cooking the inside, making it an excellent alternative to methods such as deep frying.
Is air frying healthier than deep frying?
Air frying is much healthier than deep frying. Whereas deep fried food is cooked in a vast quantity of oil, air fried food can be cooked with extremely minimal amounts of oil – or none at all. This means the fat content is dramatically less than that of foods that have been deep fried.
Does air fried food taste good?
Yes, air fried food is very flavoursome. You can air fry countless varieties of food, from all styles of cuisine, with the food tasting as good – if not better – than using traditional cooking methods. An air fryer can achieve the same crisp texture a deep fryer would, yet you won't be left with that lingering oily aftertaste.
What air fryer do you use?
I used the Sunbeam Halo+ Air Fryer which offers a number of distinctive features that make it stand out from other air fryers on the market:
It has a unique tilt and rotate action. As the heat circulates, the internal bowl is rotated at a tilted angle, meaning the food is constantly being tumbled in a gentle manner. This allows the food to achieve even browning results.
The cooking pan is coated with Sunbeam's non-stick DuraCeramic™ coating. Not only does DuraCeramic™ make cleaning very easy, it also cooks food faster.
Sunbeam Halo+ Air Fryer is in fact more than an air fryer, it's a versatile multi-cooker. With it, you can bake, sauté, grill and roast.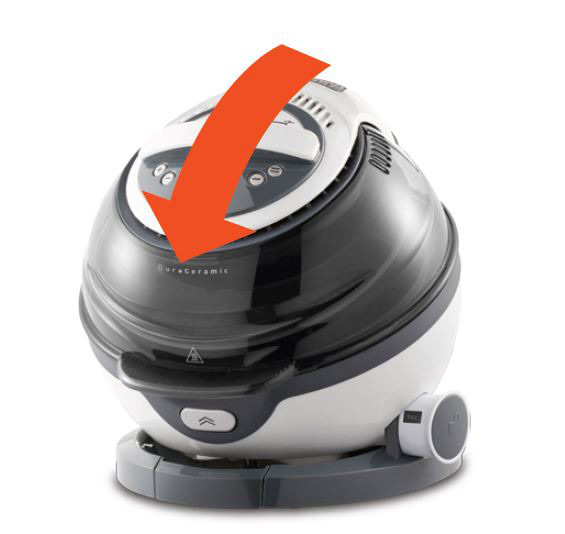 How do you use the Sunbeam Halo+ Air Fryer?
The Sunbeam Halo+ Air Fryer is incredibly easy to use. Just follow these steps:
Open the lid of the Sunbeam Halo+ Air Fryer by pressing the lid latch button.
Once open, you can either place food straight into the included non-stick DuraCeramic™ inner bowl or atop the included roasting rack. The Sunbeam Halo+ Air Fryer also comes with a 15ml oil measuring spoon that you can use to drizzle your food with oil if you so desire.
With food inside, shut the lid and then select the length of cooking time by using the increase-time and decrease-time buttons. A single press of a button shall increase or decrease time by one minute, while holding down a button will rapidly change the time setting.
Select the style of heat you want to apply to your food by pressing either the Grill or Dual Heat button.
For certain foods, such as chips, you may want to tilt the Sunbeam Halo+ Air Fryer to evenly crisp up every single chip. To do this, simply pull out the tilt mechanism lock and tilt the Sunbeam Halo+ Air Fryer into position.
The cooking display timer will countdown the remaining cooking time, and the Sunbeam Halo+ Air Fryer will beep to let you know when your food is ready.
To remove the DuraCeramic™ inner bowl after cooking, just clip on the included detachable bowl handle. You'll then be able to manoeuvre the bowl to your desired location as if it were a pan.
To clean the Sunbeam Halo+ Air Fryer, unplug it and allow it to completely cool before wiping down outer body, removable lid and any oil splatter on the heater/fan assembly cover. The roasting rack, oil measuring spoon and drip tray can be placed in the dishwasher or cleaned with warm soapy water. As the inner bowl is non-stick it is simple to clean, though it should be washed by hand only in order to preserve the DuraCeramic™ coating.
What food can you cook in the Sunbeam Halo+ Air Fryer?
With the ability to bake, sauté, grill and roast, as well as being able to replicated deep frying results, you can cook any number of foods with the Sunbeam Halo+ Air Fryer. To get you started, Sunbeam have included a recipe book with a variety of flavourful suggestions for meals, snacks and desserts, including:
Cajun-Style Wedges
Stuffed Jacket Potatoes with Sweetcorn and Capsicum
Roasted Mediterranean Vegetables
Baked Salmon with a Parmesan Crust
Prosciutto Wrapped Chicken
Spicy Lamb Burgers
Bread and Butter Pudding
Plus many more!
Of course, you can also use my 3-ingredient air fryer recipes! Which brings me to:
How do you air fry jalapeno poppers?
Slice the top off the jalapenos and remove the membrane and as many seeds as you wish. Note: The membrane and seeds house a lot of the jalapeño's capsaicin, so if you'd prefer your popper spicier, leave more seeds in.
Fill the hollowed out inside with light cream cheese.
Dip the jalapeno in a bowl of bread crumbs, allowing a generous amount to stick to the cheese.
Place the jalapenos on the roasting rack inside the Sunbeam Halo+ Air Fryer.
Close air fryer lid, set timer to ten minutes and place on grill setting.
After cooking, allow jalapeno poppers to cool for a couple minutes.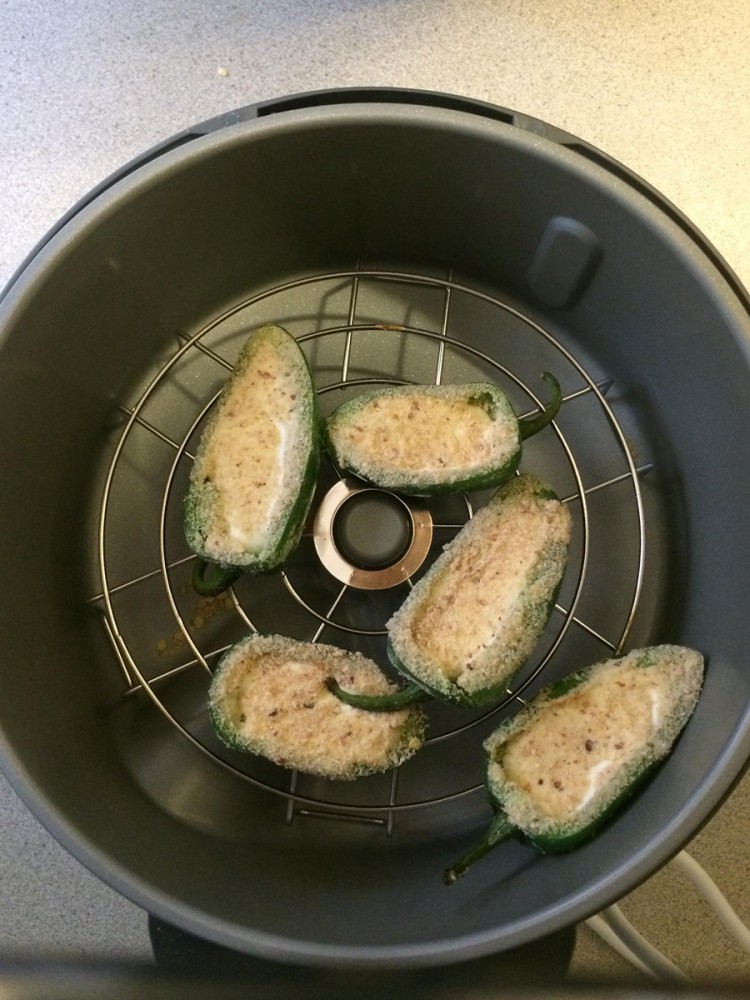 How do you air fry sweet potato chips?
Cut a sweet potato up into chip-shaped slices.
Place the chip slices into a zip-lock bag and drizzle with approximately 10ml of vegetable oil. NOTE: Alternatively, the chips can be made without any oil at all.
Shake the bag so oil goes over chip slices.
Pour the chip slices into the Sunbeam Halo+ Air Fryer DuraCeramic™ inner bowl.
Close air fryer lid, set timer to 30 minutes and select dual heat mode.
Use the tilt mechanism to place the Sunbeam Halo+ Air Fryer on an angle. The Sunbeam Halo+ Air Fryer's tilt and rotate action will help the chips achieve even crispiness.
After cooking time has finished, open the Sunbeam Halo+ Air Fryer lid and sprinkle chips with salt if you wish or leave as is for a healthier option.
Use the detachable bowl handle to remove the inner bowl.
Serve chips. Feel free to complement with your choice of dip or sauce.
Should I get the Sunbeam Halo+ Air Fryer?
I highly recommend the Sunbeam Halo+ Air Fryer. If you want to delve into the wonderful possibilities that air frying offers, the Sunbeam Halo+ Air Fryer is a standout appliance to do so with. It's incredibly easy to use and the food it produces tastes fantastic. Anyone, from novice to expert, can use the Sunbeam Halo+ Air Fryer to create top-notch meals, snack and desserts.
Plus, with its 1.25kg bowl capacity, you'll always be able to feed the entire family!
Where can I buy the Sunbeam Halo+ Air Fryer?
The Sunbeam Halo+ Air Fryer is available at Harvey Norman, both at your local store and online.
If you have any queries, Harvey Norman's expert staff would love to tell you more about this terrific appliance.
Happy air frying!