Whether you grew up in Australia or just moved here recently, there's a good chance some of your fondest memories involve hanging out with friends, soaking in the great outdoors, and enjoying a classic Australian summer BBQ. Honestly, there's nothing that could make this great Australian ritual of ours any better – well, almost nothing. Indeed, the one and only thing better than a BBQ is an Outdoor Kitchen!
The ultimate in al fresco entertaining, premium Outdoor Kitchens feature high-powered BBQs and combine their cooking prowess with a range of stylish and functional kitchen features that will help you host the best outdoor entertaining get-togethers – from summer soirees to peaceful evenings under the stars.
To see exactly what we mean, join us as we explore 3 of the best Outdoor Kitchens – all of which are available at Harvey Norman:
1) Neo Kitchen 6-LPG Burner Island Module BBQ
2) Masport Ambassador V2 3-Piece Outdoor Kitchen
3) Riverina Outdoor Kitchen with Hooded BBQ
1) Neo Kitchen 6-LPG Burner Island Module BBQ
Pure bliss is a home cooked meal enjoyed in the serenity of a gorgeous summer sunset. And with a Neo Kitchen, it's an easy piece of magic to make happen.
The Neo Kitchen's 304-Grade Stainless Steel Outdoor Kitchen comes equipped with a 50/50 flat/grill plate, a warming rack and a large cooking surface of 109.5 x 47.5cm – making it perfect for creating home cooked meals for the whole family to enjoy outdoors. The state-of-the-art BBQ's large viewing window on the roasting hood even has lights so you can keep an eye on your food, ensuring it's always cooked the way you… and your family… and your guests like it!
The Neo Kitchen, of course, is more than a just BBQ.
It's an outdoor BBQ with a bar fridge – a 208L bar fridge to be exact! It's also an outdoor BBQ kitchen – a fully equipped outdoor cooking space with a porcelain tile work bench that provides ample room for food prep and a WELS certified tap conveniently located next to the grill. And that's not even mentioning the large storage space that's available.
Like we said, pure bliss!
2) Masport Ambassador V2 3-Piece Outdoor Kitchen
If you're serious about entertaining, then the Masport Ambassador V2 Outdoor Kitchen is the al fresco kitchen for you. Its grand design will enhance your outdoor space and – maybe even more importantly – impress your guests!

Featuring a spacious workspace with folding side tables and a superb 304-grade stainless steel exterior, this Outdoor Kitchen design also comes with a 124L beverage cooler, 3 utensil drawers and large storage areas – meaning you won't have to worry about leaving the party to fetch something from inside.
Your tastebuds are also going to be blown away with all those tender meals you'll create! The Masport Ambassador V2 Outdoor Kitchen's 6-burner BBQ comes complete with roasting hood, large grill and flat plate cooking surface, warming rack, wok burner, viewing window and electrical rotisserie. To make things even more convenient, the Ambassador V2 Outdoor Kitchen is Natural Gas compatible and available in separate modules, so you can tailor the kitchen to suit your space. Plus, it's also available in Stone Top!
3) Riverina Outdoor Kitchen with Hooded BBQ
Let's admit it, the traditional Aussie BBQ was never a bastion of style. But times have certainly changed – and nowhere is that more evident than the completely customisable Riverina Outdoor Kitchen with Hooded BBQ.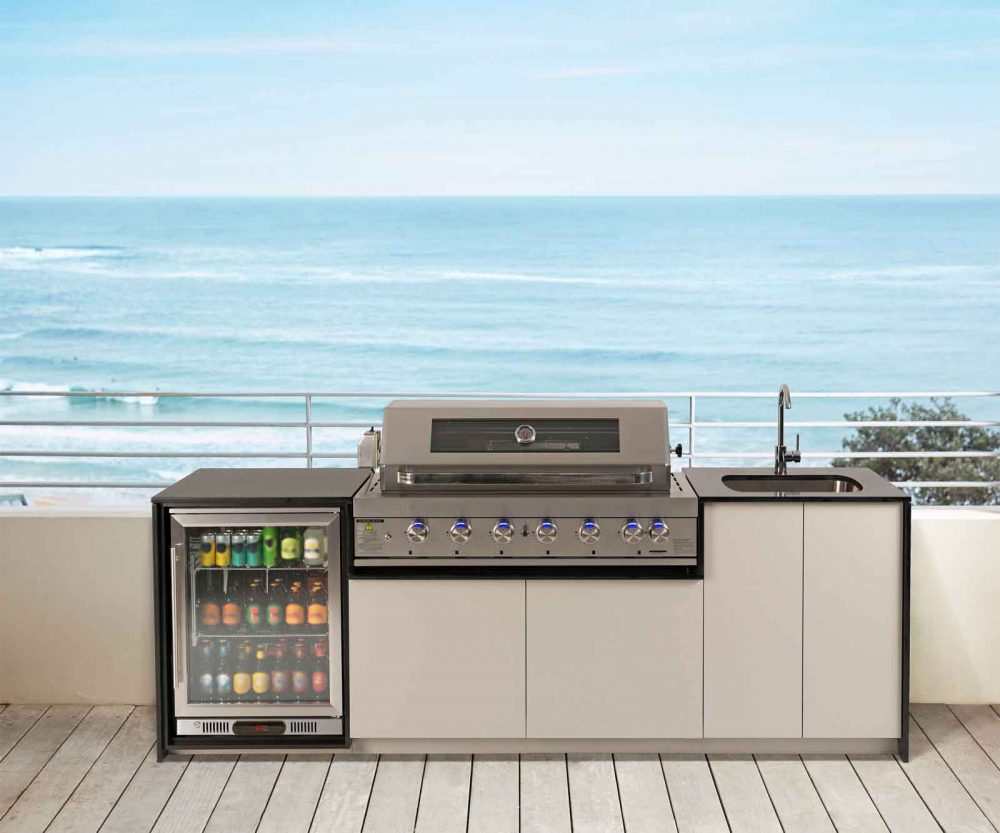 A beautiful addition to your al fresco setup, you can select a pre-designed Riverina Outdoor Kitchen with Hooded BBQ, consisting of a 4-burner BBQ, a single door beverage cooler, sink and tap module, and storage space – or you can design it suit you. With a range of outdoor BBQ ideas to choose from, you can select a 4-burner or 6-burner cooker with dual gas jets, each compatible with Natural Gas or LPG. You can also decide between a stainless steel or black finish on the BBQ to suit your outdoor space's aesthetic. Plus, further customise your Outdoor Kitchen with your choice of Tepenyaki plate, deep fryer, wok burner or side burner.
Beyond the BBQ centrepiece, you can also customise the stone bench top design and laminate colour on the doors and panels, to truly give your Outdoor Kitchen the wow-factor.
Manufactured with V-Lite internals, the Riverina Outdoor Kitchen with Hooded BBQ is durable and will last for many summers to come. Again, this is an outdoor BBQ with bar fridge, featuring a 138L beverage cooler that's spacious enough to cool drinks for the whole party!
Where To Buy Outdoor Kitchens
Get your outdoor space ready for an endlessly gorgeous al fresco entertaining season! For the ultimate outdoor cooking solution, shop some of the best Outdoor Kitchens in Australia online now or head in to your local Harvey Norman store to view the range in person and to get advice from our friendly, expert staff.
How To Design Your Own Outdoor Kitchen

If you want to discover more great Outdoor Kitchen ideas – and learn further about how you can design your own customisable Outdoor Kitchen at Harvey Norman – we recommend reading our previous blog The Easy Way To Design Your Own Outdoor Kitchen.