Usually, there's nothing quite like a fresh cup of coffee and a mouth-watering slice of hot, buttery toast to kick start your day. But if your worn-out toaster and kettle have started to make breakfast time a little dreary, it could be time for a much-needed update. And the easiest way to add flair back into your morning routine is with all-new small kitchen appliances – in oh-so-stylish colours, of course!
Do you prefer the minimalist elegance of Scandi-inspired kettles, the sheen of metallic-coloured coffee machines, mixers in muted matte tones, or a toaster with a trendy cork accent? Whatever style you prefer, Harvey Norman has a wide range of trendy small kitchen appliances to suit any taste.
Read on for a few of our favourite picks. It's time to bring the fun back into breakfast time and those lazy weekend brunches.
1) Trending: Cork
Functionality is essential when choosing a new toaster or kettle, but style and good design should never be overlooked. And that's why small kitchen appliances are such an appealing option. Cork offers practicality with its water-resistant and natural thermal insulation capabilities, while also bestowing small kitchen appliances with a fabulously memorable aesthetic.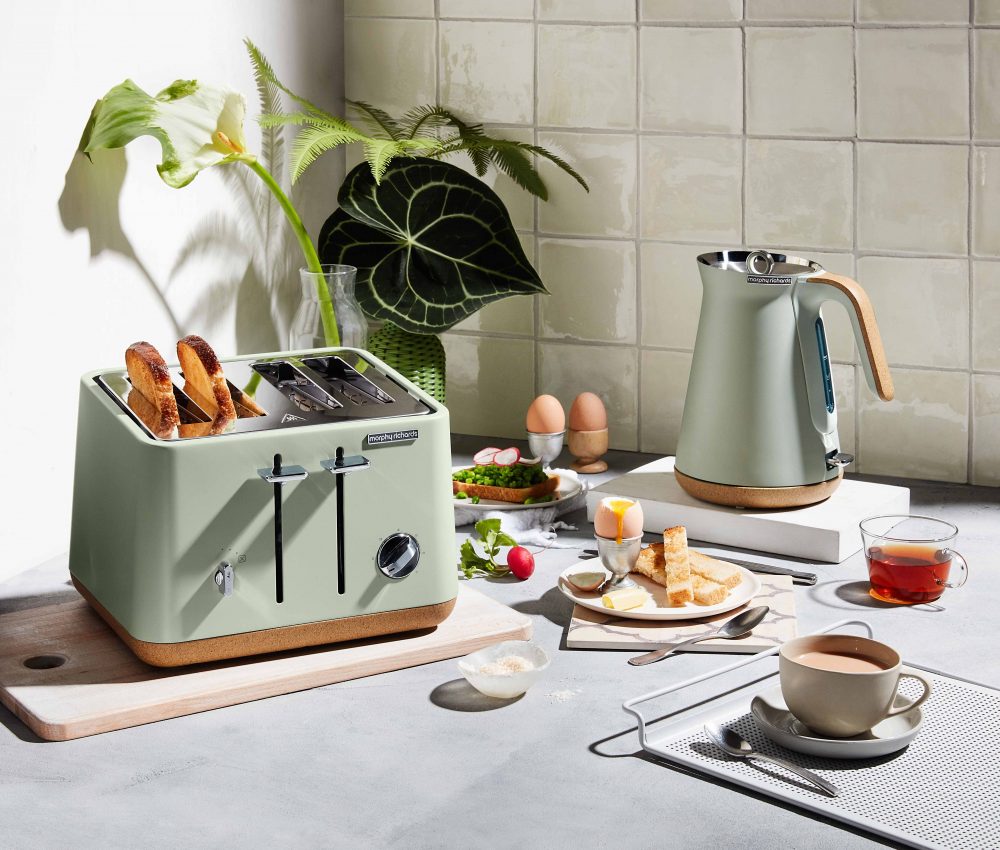 A perfect combination of form and function, the Morphy Richards 'Cork' Collection blends stunning modern styling with all the features you need to make a delicious breakfast. With this collection's elegant colour palette and minimal silhouette with cork trim accents, your kitchen will look like it's straight out of an interior design magazine!
The 'Cork' Kettle features a 1.5-litre capacity and convenient cord storage to keep your benchtop free of stubborn cords, while the 'Cork' Toaster is equipped with variable wide slots, browning control and a removable crumb tray for easy cleaning. Available in a range of beautiful colours, this collection will effortlessly complement the existing décor in any contemporary kitchen.
2) Trending: Matte
Bright colours and bold designs aren't for everyone. If you're a fan of subtlety and simplicity, then opt for a muted matte palette in your small kitchen appliances. The subtle shades of matte toasters and kettles are great for creating a warm and inviting atmosphere.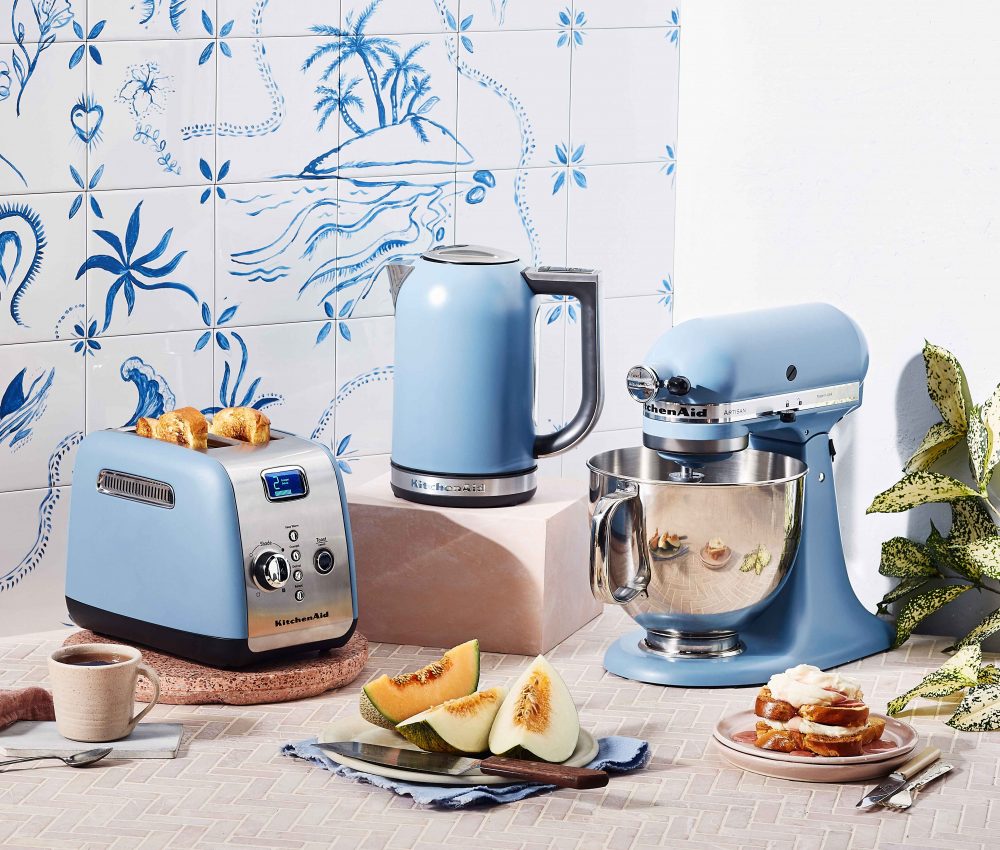 Add a hint of colour and classic KitchenAid style to your kitchen with the KitchenAid 'Matte' Collection. Available in a subtle shade of Blue Velvet, which is exclusive to Harvey Norman, this collection will look gorgeous against the neutral backdrop of any contemporary kitchen.
The 'Matte' Mixer features an attachment hub to transform it into a pasta maker, food grinder, vegetable slicer, and much more. With ten different speed settings to choose from, it's powerful enough for any cooking or baking task.
The 'Matte' Kettle features an intuitive design with a 1.7-litre capacity, water filter, water gauge window and a power cord wrap on the underside of the base for a clutter-free benchtop.
Make deliciously golden toast and crumpets with ease using the 'Matte' 2-slice toaster or 4-slice toaster. The blue LCD display keeps track of your personal settings – enjoy your toast just the way you like it, every morning!
Keep it classy with the Trent & Steele 'Hygge' collection. Bring a classic Nordic touch to your kitchen with the collection's simple yet stunning design in matte shades of Egret, Forged Iron or Stratosphere – all exclusive to Harvey Norman.
The 'Hygge' Kettle is very easy to use and offers a 1.7-litre capacity, perfect for a family breakfast or entertaining a large group. It also boasts a water level indicator for convenience and concealed element for a rapid heat-up time.
Start your morning with perfect slices of toast using the 'Hygge' Toaster. Use its variable browning setting to personalise each toast to your taste. For convenient food preparation, this toaster also has defrost and reheat functions, and two removable crumb trays to make cleaning a breeze.
Complete your collection with the 'Hygge' Nutritional Blender featuring a powerful 1000-watt motor, up to 20,000 RPM speed, and efficient extractor blades for crushing ice and breaking down fruits, vegetables, seeds, and nuts into their most absorbable state. This blender offers a fabulous way to create healthy and delicious breakfast smoothies and juices to make your mornings even better.
3) Trending: Metallics
Give your kitchen a new glow by opting for small kitchen appliances in metallic finishes. Pick neutral shades to complement a minimalist scheme or if you're daring, choose bolder colours to create a striking new look.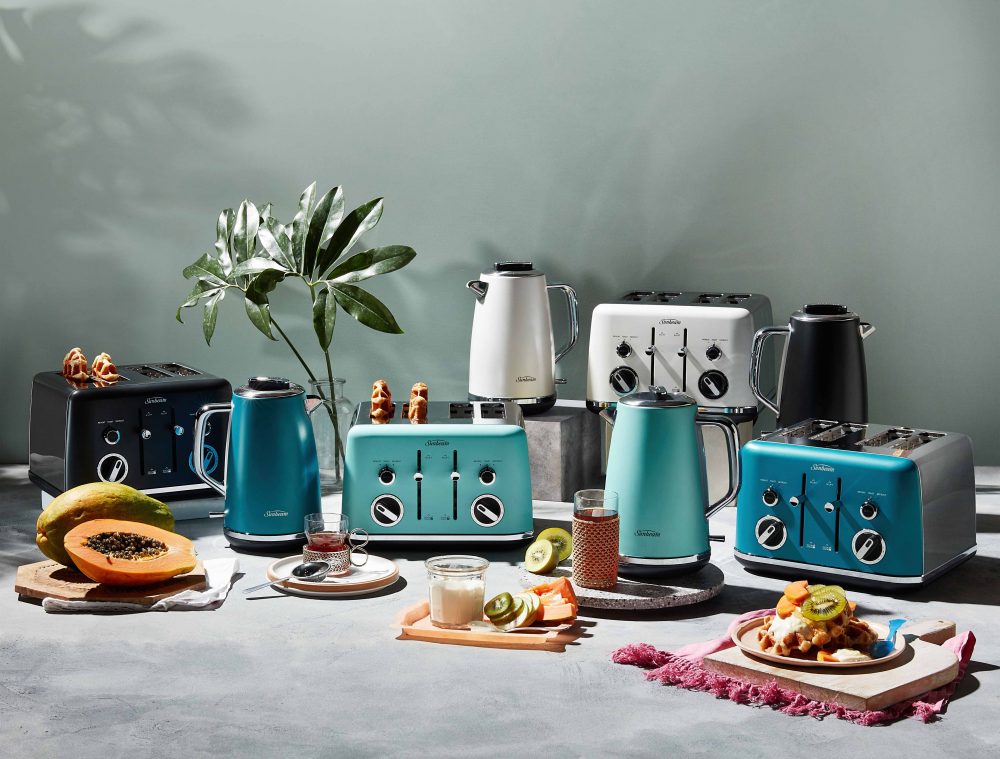 Flaunt a bit of sophistication in your kitchen with the timeless style of the Sunbeam 'Gallerie' collection. With a satin metallic finish available in a variety of luxurious colours exclusive to Harvey Norman – Blue Peacock and Green Aqua – this collection is the simplest way to introduce a pop of colour to your home.
The 'Gallerie' Kettle features a 2200-watt concealed element for fast heat-up and a 1.7-litre capacity, meaning it's ready to go anytime guests pop by.
Toast 2 or 4 slices in the 'Gallerie' Toaster at different browning levels – you get nine different settings to choose from! Plus, never burn another slice of bread again with the QuickCheck™ feature that allows you to monitor your toast's progress without interrupting the toasting cycle.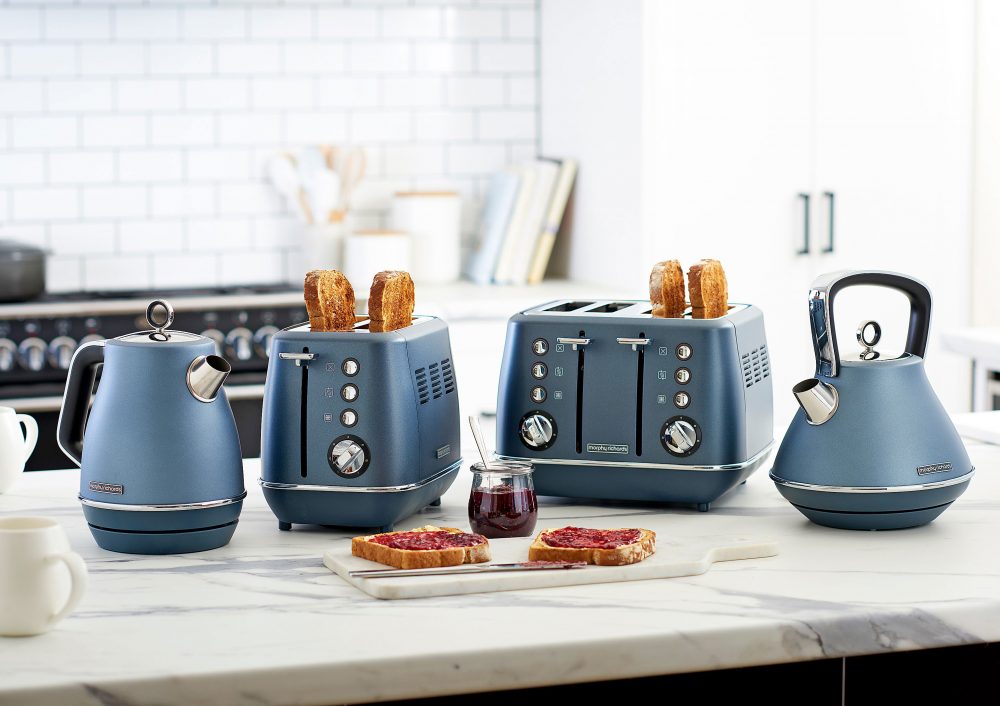 Have your current toaster and kettle seen better days? It's time to let go and breathe new life into your kitchen with the exquisite Morphy Richards 'Evoke' collection – the perfect balance of form and functionality.
The 'Evoke' Kettle is available in a modern jug shape or a traditional pyramid kettle design. Available in a subtle shade of Blue Steel, exclusive to Harvey Norman, you can pair it with a matching 2 or 4-slice toaster and a coffee machine to instantly revamp your kitchen.
The 'Evoke' Kettles feature a 1.5L capacity, cord storage and wide handles for convenience, while the 'Evoke' Toasters offer wide slots to accommodate various thickness of bread slices, and seven browning settings.
Kick start your morning with a fresh cup of coffee using the 'Evoke' Filter Coffee Machine, which features a 12-cup capacity, a keep warm feature, and an Aroma function that allows you to select the strength you prefer.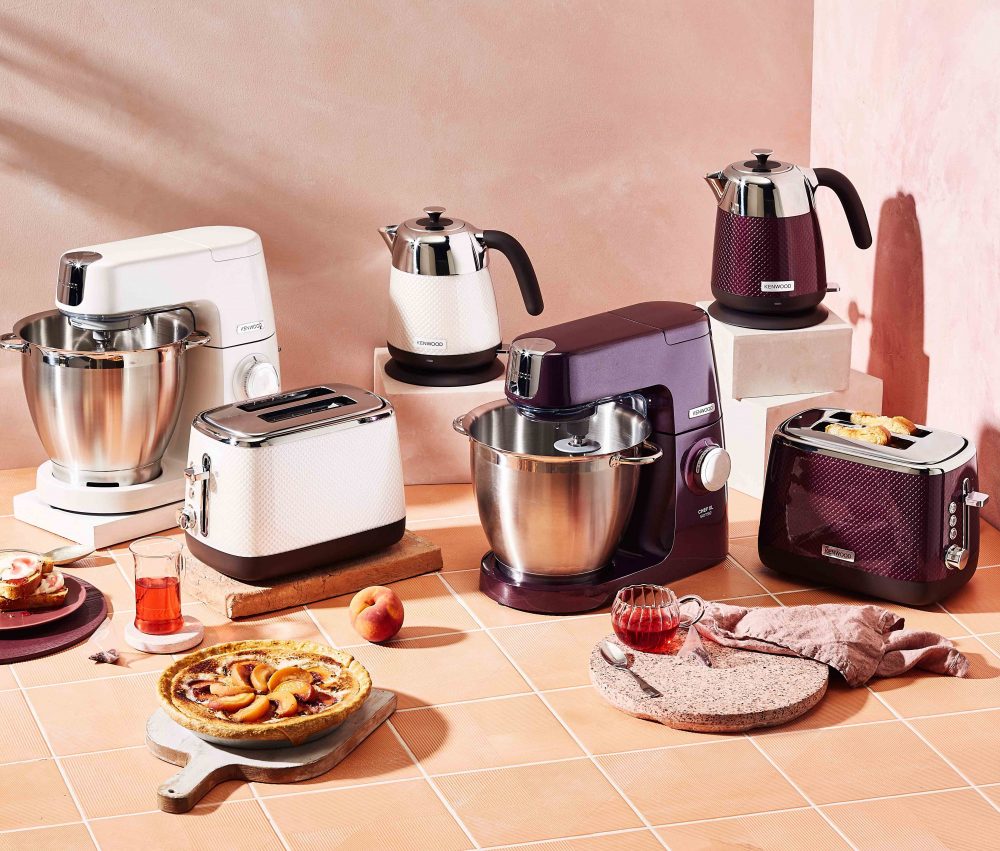 The Kenwood 'Mesmerine' collection will bring excitement back into preparing breakfast with its mesmerising design that immediately catches your eye. Available in shades of Violet or Ivory (exclusive to Harvey Norman), the toaster and kettle boast an exterior with a diamond pattern complemented by a chrome top that will stand out on any benchtop.
The 'Mesmerine' Toaster features a dial for adjusting browning levels, while the 'Mesmerine' Kettle offers a 1.6-litre capacity and a smooth-to-touch surface for easy cleaning.
Complete your enthralling collection with the extremely versatile 'Mesmerine' Mixer. Mix, knead, blend, whisk – this mixer can do it all!
4) Trending: Scandi
Characterised by their simplicity and flawless design, Scandi-inspired stylish kitchen appliances will give your kitchen an enviable aesthetic that is sure to make it #Instaworthy.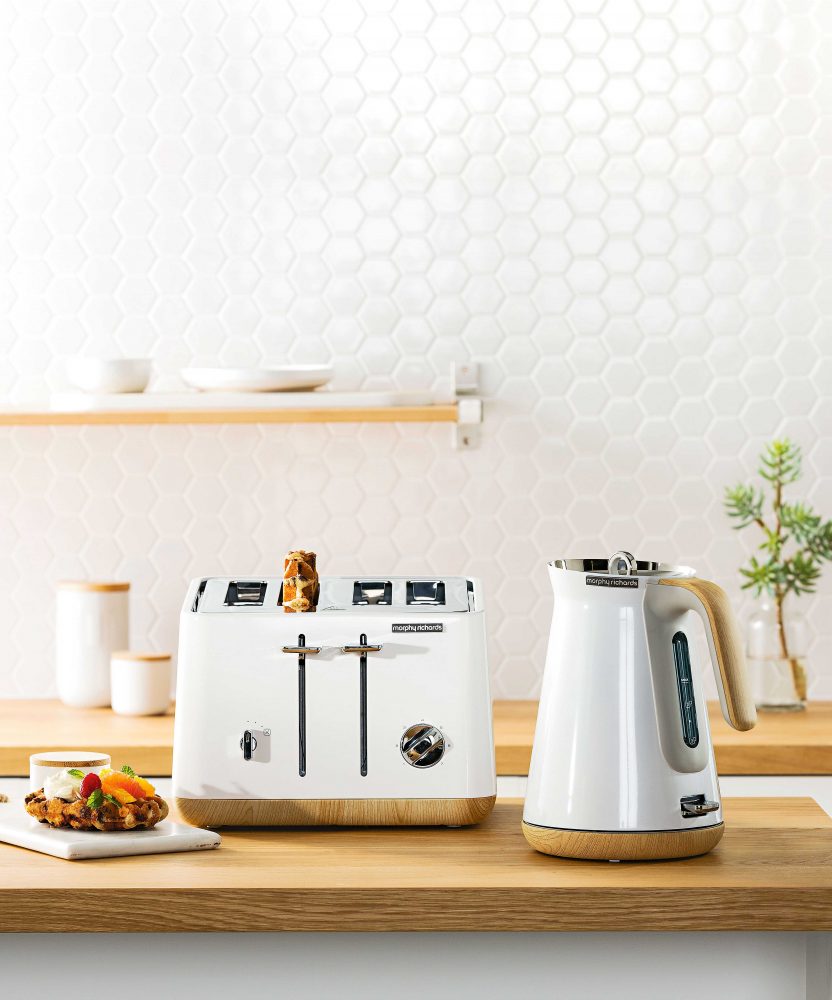 To introduce Scandinavian design sensibility and sophistication to your kitchen, look no further than the Morphy Richards 'Scandi' Collection. Create a bold statement with the Titanium shade or keep it classy with White. Featuring an effortless design punctuated by a wooden trim base, this collection will feel right at home in a contemporary kitchen while seamlessly blending in with your marble or timber benchtop and modern cabinetry.
The 'Scandi' Kettle features a 1.5-litre capacity – perfect for those weekend tea parties! It also has a 360-degree cordless base, and convenient cord storage to keep your benchtop clutter-free.
Make the perfect toast every time with the 'Scandi' Toaster's seven different browning settings. Cleaning is also made simple thanks to the toaster's removable crumb tray.
Bring Back The Flair With Colourful Small Appliances!
Are you ready to revamp your kitchen and make breakfast time exciting again? Head into your local store or jump online to view our full range of stylish toasters, kettles, mixers, blenders and coffee machines.