I certainly enjoy a nice glass of wine, whether that's with a meal, when out with friends, or to celebrate a happy occasion. But by no means would I consider myself to be a wine expert; far from that, actually. However, it was when I was asked about wine storage, and in particular how the conditions that wine is stored in can affect the quality and longevity of the wine – and how that can lead to wine spoilage – that I had to admit that whatever I did know about wine just barely scratched the surface. It was certainly a case of not knowing what I didn't know.
Fortunately, Harvey Norman had organised a wine education night and I was lucky enough to get an invitation. There we found out about the four main causes of wine spoilage:
1) Oxidisation
2) Over-Chilled Whites
3) Overly-warm Reds
4) Long-Term Damage
For a more in depth look at these wine spoilage causes – and the best ways to prevent them – read on for all of the wine storage tips I learnt on a fascinating night.
Wine Storage with Peter Bourne
After work, I made my way to the inner-Sydney suburb of Woolloomoolloo, and down the wharf to Otto Ristorante where the event would take place. A stunning location, I was already impressed before making my way up to the Rosso Room where we'd get down to business – and when I say business, I mean the kind of business that includes a 4-course dinner matched with wines curated by the good folks at Gourmet Traveller WINE magazine.
Our host, guide and teacher for the evening was Peter Bourne – known in the industry as 'The Wine Man', and for good reason. He's been in the wine business since 1976 and has seen it from all angles – customer, merchant, writer, critic and collector.
Our evening was broken up into four brackets, each featuring a dish served with three wines – two of which we would be briefed on and a third 'mystery wine' that would have suffered wine spoilage by being inappropriately stored. These damaged wines would help us understand four common ways that wines can be spoiled, and how that damage affects the taste and overall experience of the wine.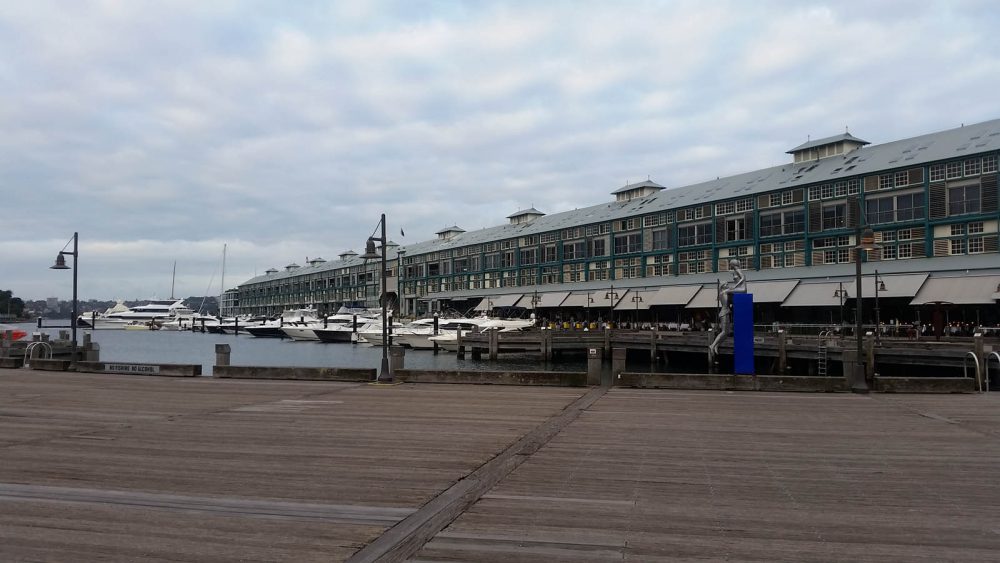 Wine Spoilage Cause #1: Oxidisation
After some introductory remarks from Peter Bourne, our first bracket of wines for the evening was poured – featuring a 2017 Eden Road 'The Long Road' Sauvignon Blanc from Murrumbateman in the Canberra District, and a 2017 Pewsey Vale Eden Valley Riesling from South Australia. Our mystery wine would be one of these two wines, but affected by poor storage.
To accompany these wines we were also served our first course for the evening – a pickled golden beetroot carpaccio with spanner crab, salmon roe and preserved lemon dressing.
Now, each wine varietal will have a slightly different ideal serving temperature. This temperature will best show off the flavour and taste of your wine. Thanks to the wine cabinets in use at Otto, we were getting each wine served at those ideal temperatures.
The 2017 Eden Road 'The Long Road' Sauvignon Blanc, which has an ideal serving temperature of 6-8°C, was a delightful drop – showing intense passionfruit and lemon aromas and flavours, with a palate that Peter described as being 'mineral and long with a perfect acid balance'.
The 2017 Pewsey Vale Eden Valley Riesling – ideally served at 8-10°C – had an intense aroma, reminiscent of fine dried herbs, white flowers, lemon and lime. Peter was a big fan, telling us that this Riesling was great on its own, but was fantastic with a serving of fish and chips on a sunny summer evening. "It doesn't get much better for me," said Peter.
Our mystery wine turned out to be a sample of the Eden Road Sauvignon Blanc which had been oxidised and served at too warm a temperature. Oxidisation is what happens when wine is exposed to air, and a certain level of oxidisation is a normal part of the maturation of wine. This would normally be a gentle process that happens in a controlled environment. When this process is not controlled it badly damages the quality of the wine. This problem can be exacerbated when your wine is exposed to too much heat in storage.
"A lot of people will cellar or store their wine under the stairs or under their bed, but the problem with somewhere like Sydney is it's very hot in summer, and more temperate in winter," said Peter.
"One of the worst things for wine is change. If you get a big change in temperature from day to night, and from summer to winter, that will damage the wine pretty quickly. If you've got more optimal cellaring conditions – something like 18-20°C – then you'll generally be okay. It may just hurry-up the process, but it won't badly damage your wine."
To accelerate the wine spoilage process in order to show us the effects of oxidisation on an identical wine, ten days before the event Peter took the lids off a few bottles of the Eden Road Sauvignon Blanc and left them in a warm environment.
"There are many circumstances where people don't look after wines. One common one is where they store the wine in their kitchen right alongside a fridge motor, which pumps out a lot of heat," said Peter.
This can lead to the wines being 'stuffed' – which Peter assured me is a technical term in the industry for wine spoilage.
The damaged Sauvignon Blanc certainly was different. Quite yellow in colour, it had an aroma which was accurately described as being 'essence of feline'. Most of my fellow attendees weren't game enough to try it, but I had a sip and can confirm that the wine was definitely 'stuffed'.
Peter's advice? "Getting a maximum and minimum thermometer is key to see the temperature variation in the place where you're storing your wine. 14-16°C is what I'd recommend for a good cellar."
Wine Spoilage Cause #2: Over-Chilled Whites
In our second bracket of wines we explored another common issue affecting the way we enjoy wine in Australia: over-chilling.
The first of the wines poured was a 2016 Tyrrell's Hunter Valley Chardonnay, which Peter felt was a textbook example of a modern Hunter Valley chardonnay – medium in colour with a great mixture of citrus, white stone fruit and some oak spice in the nose. A chardonnay like this should ideally be served at a temperature of 12-13°C.
Alongside that was a delightful 2017 Tulloch Vermentino Cellar Door Release from Orange in NSW. Vermentino is a grape variety that's originally from Sardinia in the Mediterranean that's grown in warmer regions, and which Peter thinks is fantastic for growing in most Australian conditions. It has a lively palate with flavours of green apple and fresh acidity to the taste. Ideally served at around 6-8°C, this wine was a standout for me on the night.
The dish served with these wines was an absolutely delicious Gnochetti Sardi with Clarence River braised baby octopus, cherry tomatoes, olives, capers and spicy bread crumb. The benefits of serving this dish alongside an acidic wine like the Vermentino meant that each mouthful of wine helped cleanse the palate, meaning I could experience the flavours anew with each bite. That's another thing I learned on the night: If you've got something oily in your mouth, a drink of water isn't going to be very effective, whereas the acidity of something like the Vermentino helps break down the protein and refreshes the mouth.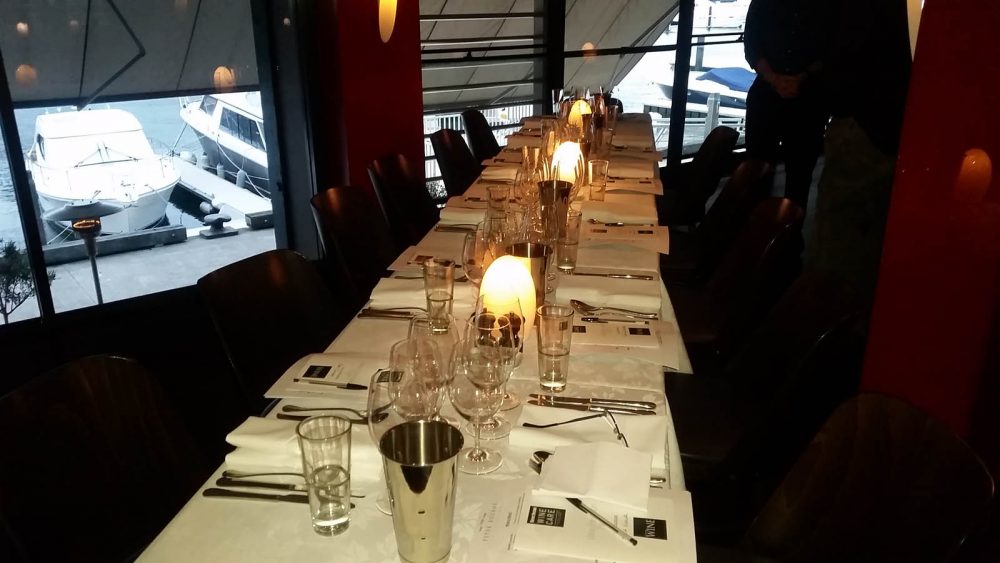 Speaking of the Tulloch Vermentino, this was also the mystery wine of this bracket, so we were served an example of this wine that was deliberately served too cold.
This is a super-common error in Australia – not just at home but in some restaurants as well. It's easy to accidentally over-chill wine, especially if you're keeping them in the same fridge as other beverages like beer – which should be stored at around 4°C or less. That temperature is much too cold for wine, and something like a Chardonnay can be particularly hurt by over-chilling. Over-chilling can have a freezing effect that essentially knocks out the fruit flavour from the wine, draining it of the more lively characteristics that distinguish each varietal.
The over-chilled Vermentino we tried definitely tasted lifeless compared to its temperature-enhanced twin – so next time you're having people over, it'll be a good idea to not leave the bottle in the fridge overnight with your other beverages.
Wine Spoilage Cause #3: Overly-Warm Reds
As we moved on to some red wines, we were served a delectable dish of confit duck leg with parsnips, preserved cherries and pistachios which made all our mouths water.
The first wine in this round was a 2016 Handpicked Collection Grenache from the Watunga Road vineyard in South Australia's Barossa Valley, which had been aged in French Oak for 10 months and had a generous and juicy flavor with just the right amount of spice. Peter's tip: serve this one at 12-14°C for best results.
Alongside this was a 2018 Shaw & Smith Pinot Noir from the Adelaide Hills in SA – a medium-bodied wine but with deceptive power and silky tannins, making it a great partner with spicy dishes. This would be ideally served from 14 to 16°C.
Peter told us of a session he had with a journalist where they were experimenting with wines at different temperatures, and they found that Pinot Noir (probably the most sensitive of red wines), really lost its fruit flavour once it hit 20°C – leaving it tasting flabby and out of balance.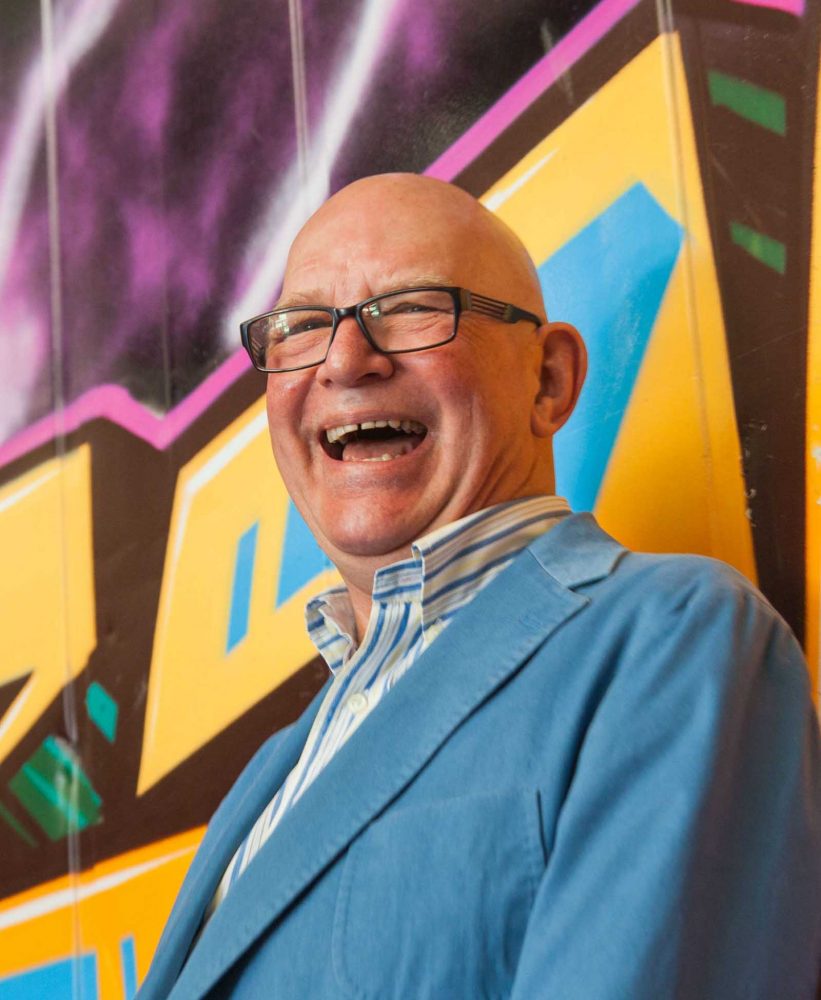 This was part of a common red wine spoilage problem in Australia: they're served at too warm a temperature.
"Imagine you're at a BBQ and someone offers you a glass of red wine served at ambient temperature," said Peter.
This image sounded very familiar to me, and I'm sure it may to you too!
"Now, ambient temperature in Australia could be 35°C outside, which is way past ideal for wine," said Peter. "The concept of serving red wine at ambient temperature comes from Europe, where the ambient temperature is less than 20°C – so quite a difference from our local conditions."
Our mystery wine for this round was a twin of the Shaw & Smith Pinot Noir that was served too warm. Tasting them side-by-side, the warmer one didn't have close to the flavour of its twin. I made a note to myself to rethink my idea of room temperature for next summer!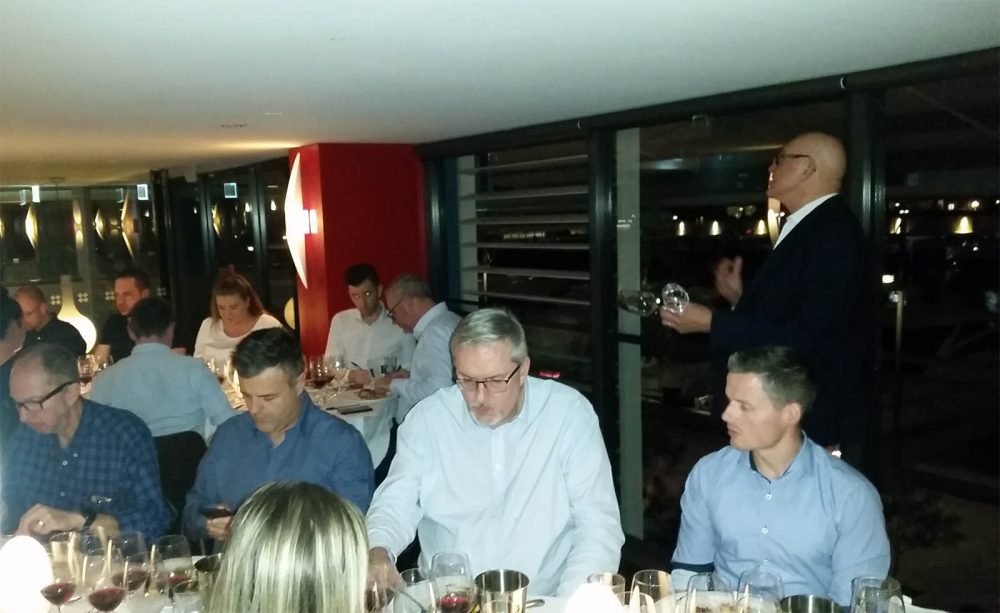 Wine Spoilage Cause #4: Long-Term Damage
Wine can often be a long-term investment, with some wines often improving in quality after years of storage – not to mention also potentially increasing greatly in value. With that in mind, our last bracket of wines for the evening was designed to show us how badly a quality wine can be damaged if kept in poor conditions for an extended period of time.
Served accompanied by a Rangers Valley Wagyu chuck tail MBS5+ with mushroom, pancetta, onion and veal jus, we sampled a complex but lovely 2015 Eden Road Syrah from Murrumbateman in NSW, and a 2016 Wynns Coonawarra Estate Cabernet Sauvignon – an absolutely smooth polished-gem of a red that became my new favourite of the night.
And the final damaged wine? This was a special 'red from the shed' that Peter had brought along to show us.
This red was a Pinot Noir that came from the estate of a man who lived on Sydney's North Shore. He was a bit of a wine collector, so his wines had been stored in relatively good conditions. After he passed away his children were in charge of sorting out the estate and had to clear out the cellar. Intimidated by the whole process, the wines were all put into storage on a rural property and were stored in a hot tin shed for about three years.
This is what you might call a wine spoilage nightmare. Exposure to heat over such a long time had a catastrophic effect on every bottle of wine stored in that shed. This collection that had taken years to gather was basically a write-off. The wine had oxidised to the point where it started to evaporate inside the bottles, and then degraded to the point of being undrinkable.
If you're looking to keep your wine long term, whether for your own enjoyment or as an investment, there are really only two options: a proper wine cellar that has a stable temperature and environment, or a wine cabinet.
While a wine cellar may be beyond the realms of possibility for many of us, the good news is that a wine cabinet is much more possible – and affordable!
Wines cabinets have been created to emulate the conditions of a European wine cellar, but with the ease and convenience of being able to store them anywhere in your home. There's a wide range of models available, so I'll just cover a couple to give you an idea of what's on the market.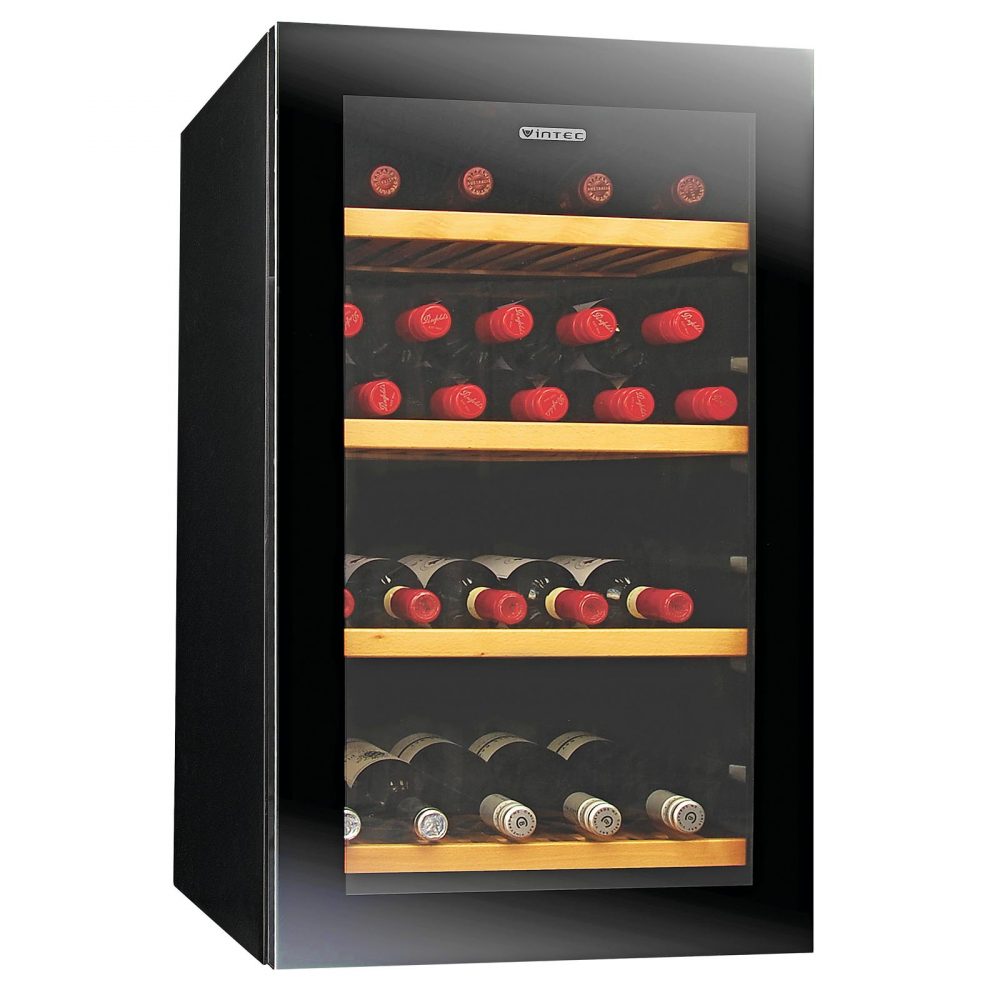 If you're looking to get started in the wine world, then this is a great place to start. This model is really affordable and can store up to 35 bordeaux-shaped bottles at a wide temperature range, so you can keep your wines at their optimum condition for longer. Equipped with adjustable wooden shelves, it lets you customise storage space for larger beverage containers.
Ready to take things to the next level? This Vintec Multi Zone Wine Cabinet has ample space to accommodate up to 170 bottles – and has two separate zones that can be set at different temperatures, allowing you to store different types of wine in the same cabinet.
Everything You Need To Know About Wine Cabinets
Want to learn more about the difference a wine cabinet can make to your wine collection? In our previous blog, we answered 7 of the most asked questions about wine cabinets – plus, Harvey Norman have also put together the Ultimate Guide to Cellaring and Serving Wine which you can find here. To shop wine cabinets, head online or see these amazing appliances for yourself at your local Harvey Norman.