When shopping around for a new fridge the first thing you'll notice is the wide variety of models available to choose from. Even if you already know what format you want (like a French door fridge), you've still got to go through the various models and brands that are out there. Yes, the amount of choice we have today can be a great thing, but it can also take what you think will be a straight-forward process and make it more complex and time-consuming.
The solution? Look for a fridge that stands out from the crowd. One that's more stylish than the rest. An innovative fridge with handy features that will make a difference.
The LG 708L InstaView Door-in-Door® French Door Fridge in Matte Black is just such a fridge. Exclusive to Harvey Norman, this smart fridge will not only make entertaining at home easier, it'll look great doing it.
To ensure you're as convinced as we are, we'll go through our top five reasons why this LG fridge could be your perfect match.
1. You can see inside without opening the door
Here's a situation we're all familiar with. You've got people coming over and want to make sure you have everything you need, so you're going back and forth to the fridge to check on supplies (or even standing there with the fridge door open while your mind goes into 'stare and think' mode). Not only can that be frustrating, you're also letting all the cold air out – meaning your fridge needs to work harder to stay cool and uses more power to do so.
And then you've got a similar issue when everyone's arrived. Everybody loves a cool beverage on a hot day, so that fridge will be in constant use, with a lot of back and forth just to use the same few items.
Well, this is where the LG InstaView Door-in-Door® comes to the rescue. It features an innovative mirrored glass panel that at first just looks like the outside of the fridge – but with two quick knocks it becomes transparent so you can see what you've got in your fridge without letting the cold air out. That's pretty cool tech right there.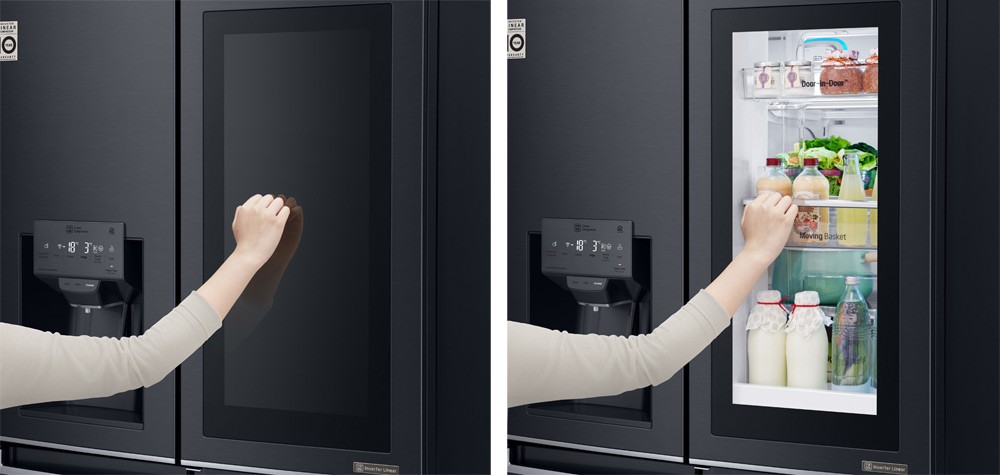 Even cooler is that this is an InstaView Door-in-Door®, meaning you can put your frequently-used items like snacks and beverages in the Door-in-Door® compartment. This way they'll be more convenient to access and you'll also be making your fridge more energy efficient at the same time.
2. It features a smart storage system
You really want a fridge to be able to handle whatever you throw at it, with a flexible format that can suit whatever the occasion may be. It's a good thing then that this fridge is playing it smart when it comes to storage.
The clever design features start with the slim in-door icemaker. What makes this handy? Well, some in-door icemakers are quite bulky, and effectively take away any door-based storage options behind the icemaker while also impacting on that side of your fridge shelves. Not so with this fridge; LG have created the SpacePlus™ Ice System that is surprisingly slim and built into the fridge door without any impact on your shelving space. In fact, it's so slim that they've also managed to put racks on the back of the door as well so you've actually got more space than you think!
This LG fridge is really an entertainer's delight, with a retractable shelf that lets you store tall and bulky items when you need a bit more room (like large bottles and pots for a banquet), but can be simply extended back out when you want more shelf space for smaller items. Want somewhere to place those small but delicate items like eggs so they won't get bumped around? Maybe you've got some deli items you want to stash away for making a party platter. Just pop them in the convenient Extra Space compartments in front of the crisper.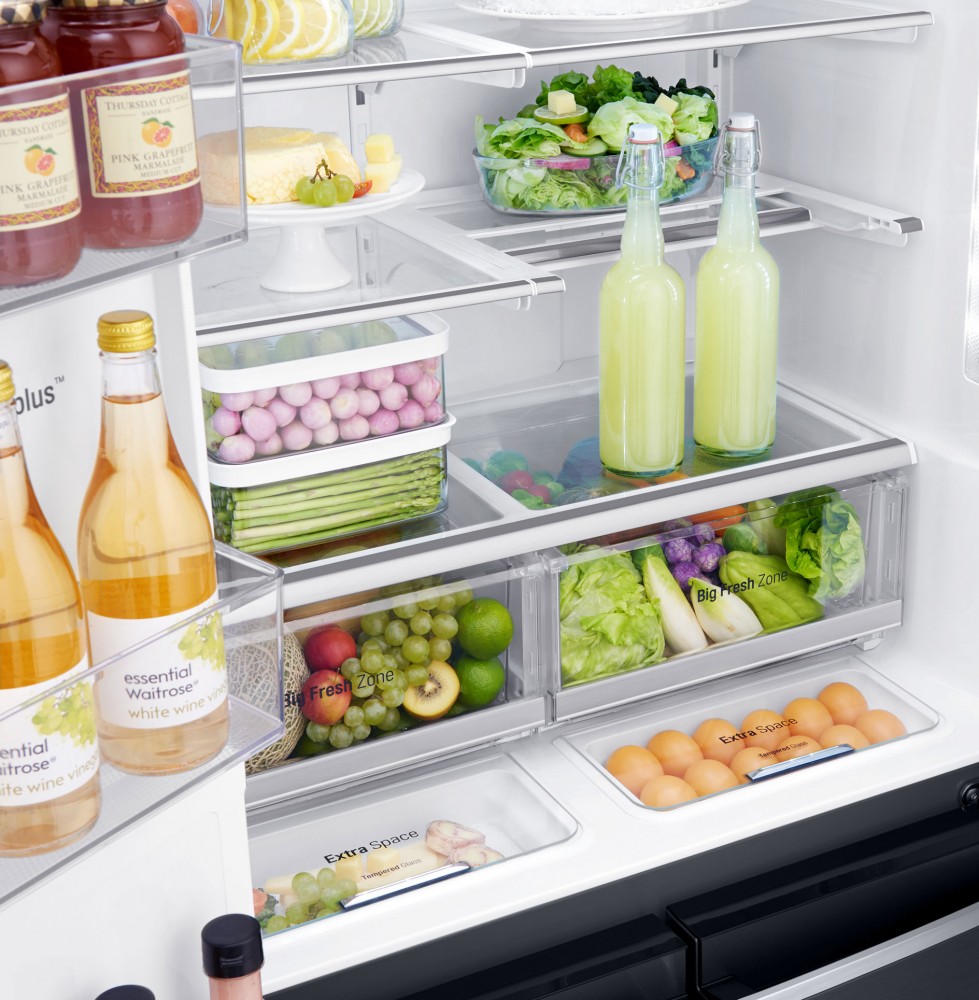 You can also buy this fridge in a 910L capacity model if you've got a larger family or want to be the host with the most!
3. It minimises odours to keep the air fresh
There's nothing worse than opening the fridge and being confronted by a funky smell. The food hasn't gone off, and it's not one thing in particular, but the natural odours of your food have combined to make something truly original and awful. If you've ever encountered such a stink cloud then you'll really appreciate the unique Pure N Fresh air filtration system in the LG 708L InstaView Door-in-Door® French Door Fridge, which features a fan that actively forces air through a carbon deodoriser and re-circulates it back across the shelves. Say goodbye to odours and say hello to crisp freshness.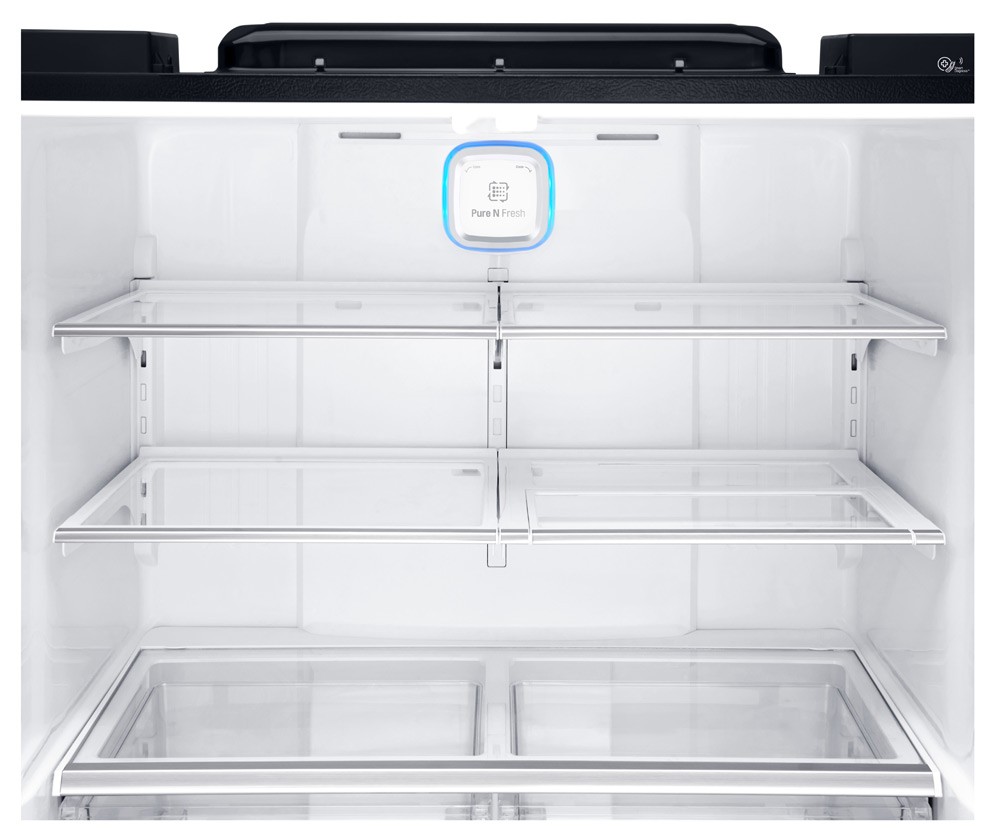 4. It has smart settings controls
This fridge works with the LG Smart ThinQ™ app, which links to your compatible smartphone* so you can remotely adjust the temperature settings. This can come in handy when you're at the supermarket getting a big load of groceries, or have something special to accommodate. Just pull out your smartphone, access the app and change the settings of that area of the fridge or freezer to the temperature you require.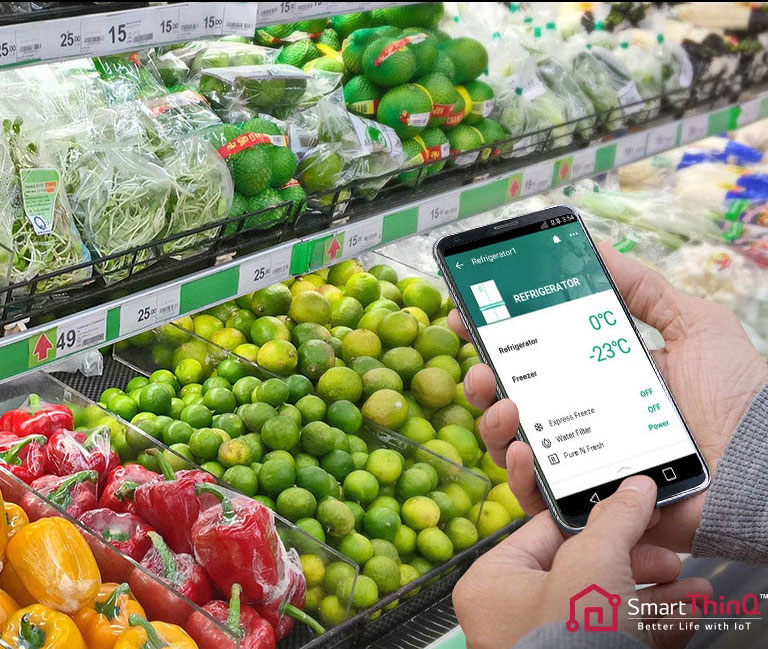 This smart fridge will also send you an alert if you've accidentally left the fridge door ajar, so you can keep the air inside nice and cool, and save on energy wastage.
*Compatible smartphone with Android 4.1.2 (JellyBean) or later or iOS 8 or later required for LG Smart ThinQ™ app. Phone and Home Wi-Fi Data connections required.
5. It looks great in a stylish matte black finish
Have we pointed out the matte black stainless steel finish on this fridge? Here's another image so you get the full picture: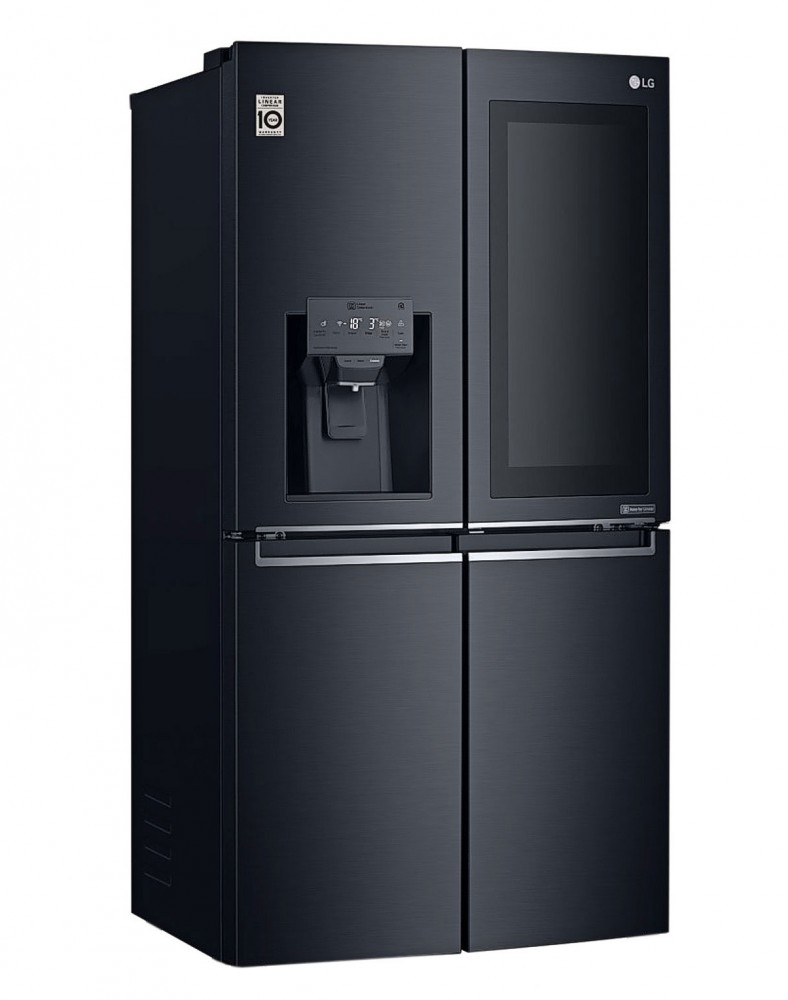 Now that's a stunning fridge! It's not often that you can say that a fridge has got the goods in the looks department, but this is certainly one of those times. It's got a sleek and premium feel, with a streamlined design that has craftily hidden the hinges and handles to keep the profile nice and trim. It's not just a fridge – it's a stunning work of appliance art that will take pride of place in any kitchen.
Want to update your fridge to either the 708L or the 910L  InstaView fridge? You can easily shop online, or head in to your local Harvey Norman store to chat to your local experts and get the best advice in town.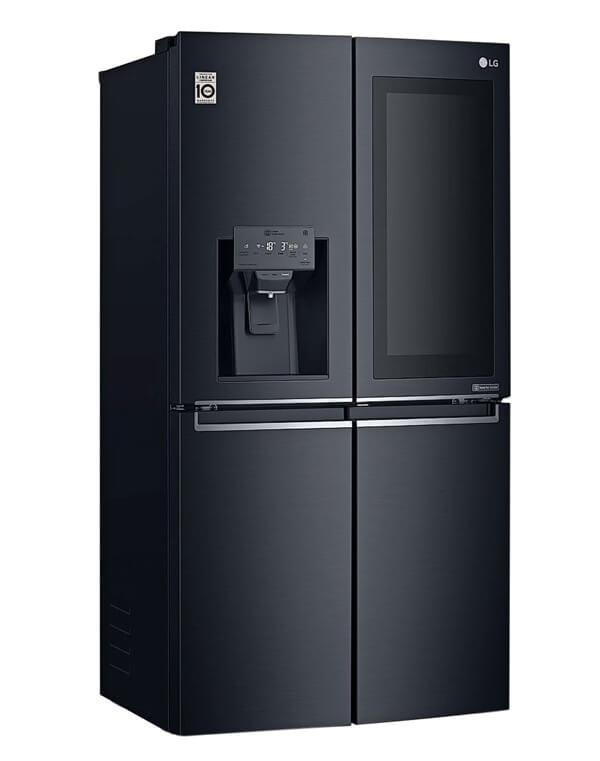 LG 708L InstaView Door-in-Door French Door Fridge