Knowing that I've done a bit of research on quality kitchen appliances in my time, my mate Dave came to me with three requests:
1) He wanted to upgrade his kitchen with a range of cooking appliances that would enable him to knock up the delicious culinary dishes he'd always dreamed of.
2) He wanted his new range of appliances to look stunning and to complement the aesthetics of his kitchen.
3) He didn't want to just take his mate's word for it. Beyond listening to my opinion, he wanted to see the appliances in action for himself.
I had one obvious answer to meet all of Dave's criteria: Miele!
The Miele cooking appliance range not only offers innovative functionality and serious performance, it also showcases some of the most sleek and stylish designs on the market. And best of all, Miele offers complimentary introduction product demonstrations at their Experience Centres so you can view and experience their range of products for yourself, helping you to decide exactly what you need for your place.
After letting Dave in on that info, he was super excited to go and check out the Miele Experience Centre, and I was more than happy to accompany him (I hadn't yet told Dave that not only do they show you how to use the innovative kitchen appliances at these classes, their in-house chefs actually use the appliances to cook you up amazing meals!)
So, I got in touch with the friendly staff at my local Harvey Norman store and they promptly booked us in to an Miele Kitchen Experience class at our nearest Miele Experience Centre.
THE MIELE EXPERIENCE CENTRE EXPERIENCE!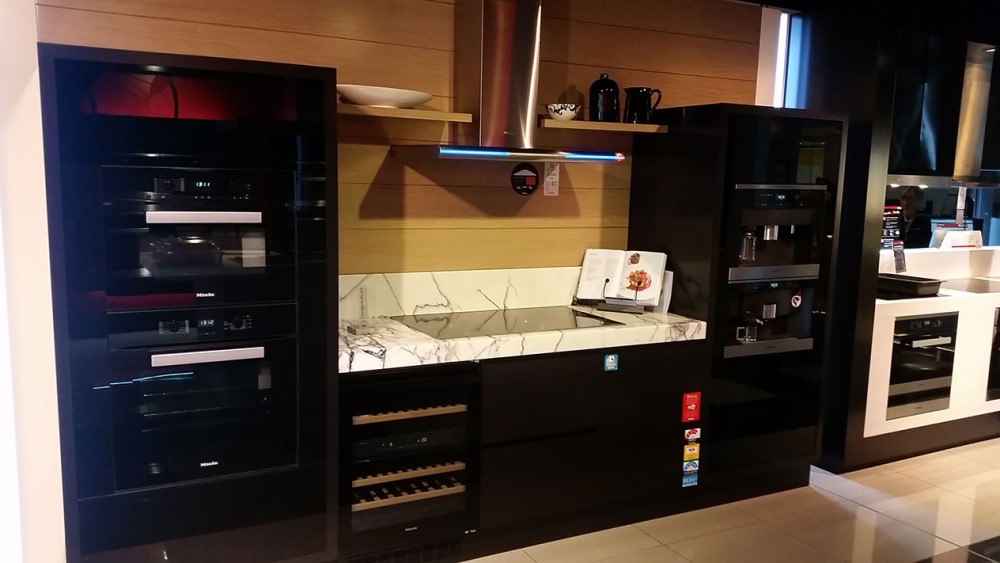 Dave and I arrived at the Experience Centre at 1pm, just in time for lunch. I couldn't wait! (And make sure you keep reading until the end of this blog, because you're not going to want to miss this meal either!)
As we entered the centre, we were greeted by a sea of brilliant looking appliances. Fridges, coffee machines, dishwashers – you name it, it was all there.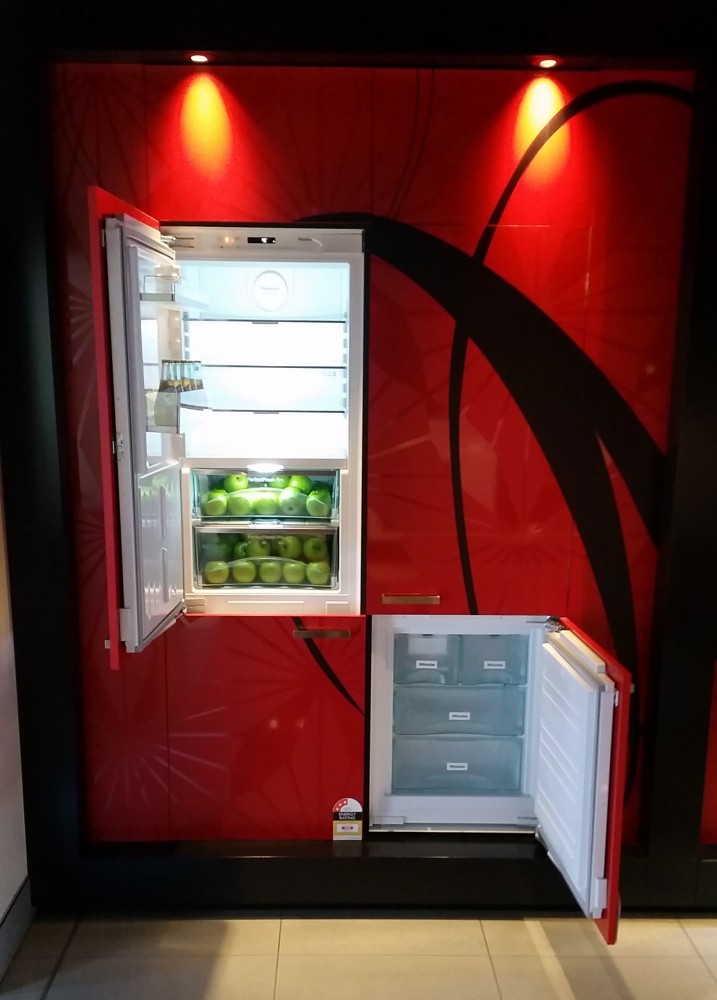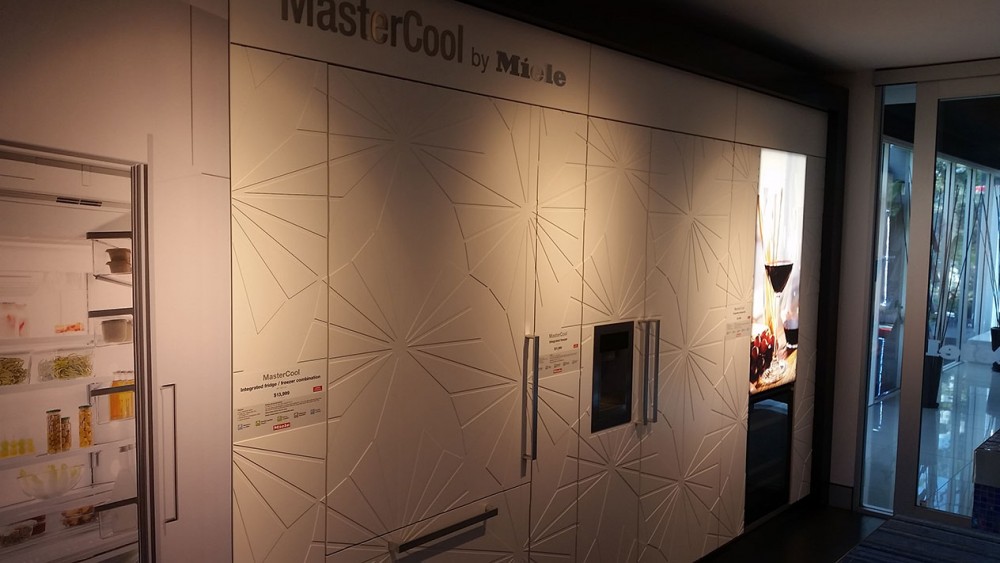 As we went to take our seat in the centre's kitchen, we walked passed a display of products that the bulk of our class would focus on: Miele's PureLine and ArtLine series of ovens plus warming and sous-vide drawers.
The sleekly designed PureLine series is notable for the seamless manner in which it blends in with the aesthetics of the modern kitchen. Available in Obsidian Black, Havana Brown and Brilliant White this range has been designed with a high proportion of glass, creating an exceptionally elegant look. One of the great pleasures of this range is your ability to customise the handles of the appliances to match the style of your kitchen. You have the option to select from Gold, Nature, Vitro or Classic and truly make your kitchen yours.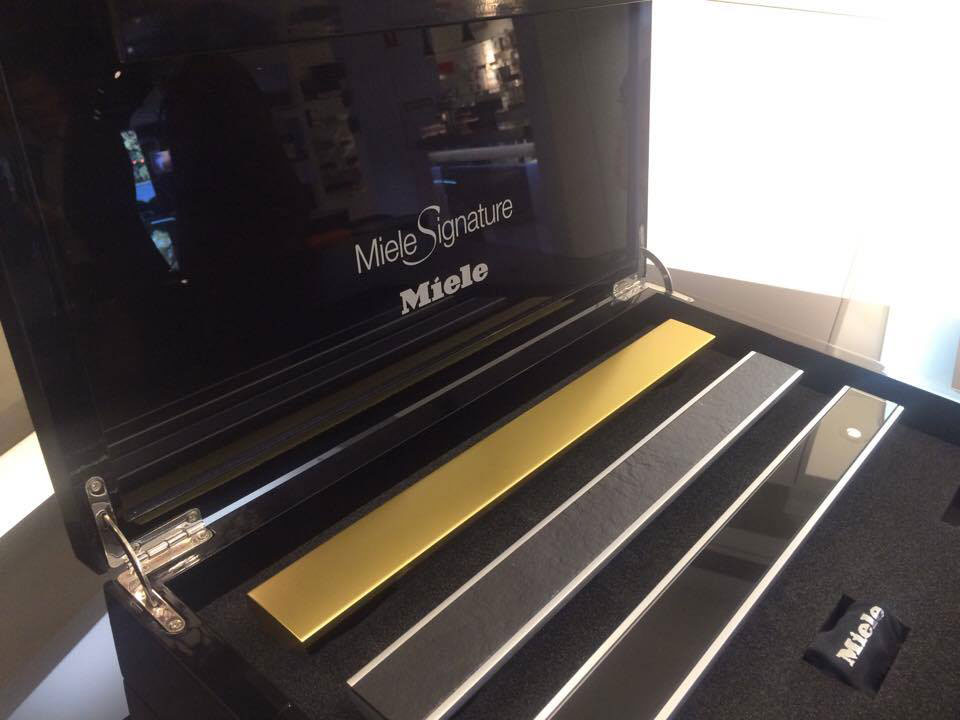 The ArtLine series also possesses a streamlined look, though the major difference is that the products feature a handle-less design. With SoftOpen and Touch2Open technology, a touch of the sensor button is all that is required to open the doors. The handle-less effect seamlessly integrates the appliances into the décor of the kitchen.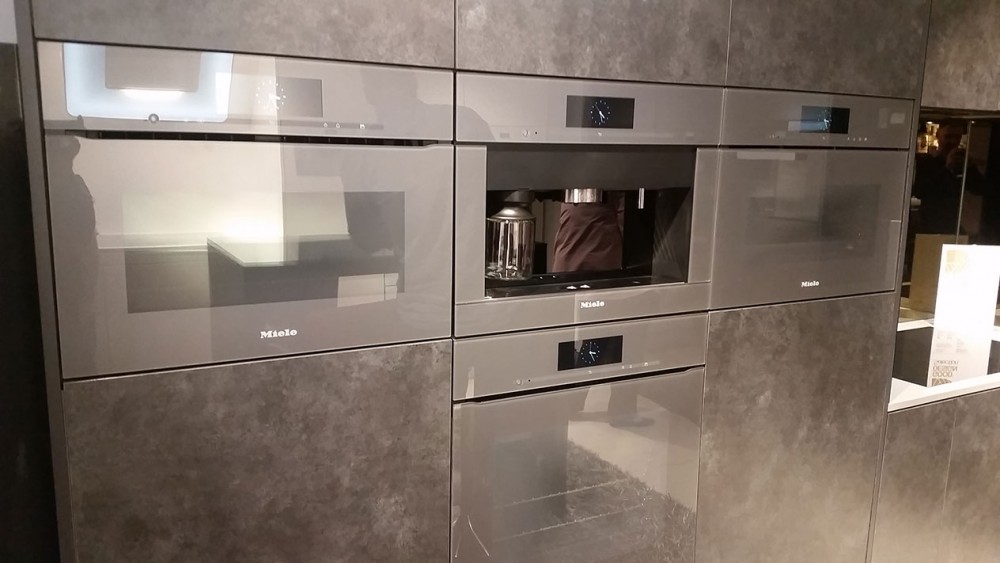 After thoroughly inspecting the superb make and look of these products, we eagerly took our seats, keen to find out what features they contained within.
CHEF ESTHER
Miele's super-friendly and knowledgeable culinary expert, Esther, welcomed us to the class. Before exploring the products, Esther presented our menu for the day:
Fetta and Oregano Chips
Brioche Slider Buns
Sous-Vide Eye Fillet, Cauliflower Puree and Salad
Fig, Almond, Anise and Custard Crostata
Upon hearing the menu, I could see Dave licking his lips. Esther hadn't even said a word about the products yet, but I think Dave was already convinced!
Before getting to the food, Esther turned our attention to the wall of PureLine appliances behind her. Ovens abound, each with a different interface. The variety of interfaces included:
M Touch – An innovative and intuitive display, where you can select your settings by touching or swiping the screen – just like a smartphone.
SensorTronic – A simple touch interface with sensor pushbuttons on the sides of a 5-line TFT display.
DirectSensor – Touch symbols on the left are used to select an operating mode, while the touch elements on the right are used to navigate through the different setting levels.
EasyControl – An interface featuring a classic knob design. The left-side knob is used to select operating mode, while the right-hand knob is used for settings such as temperature.
DirectControl – The same as EasyControl, but also features sensor-touch controls to confirm settings such as temperature and time.
With such a cool variety available, the choice really is up to you in terms of what you want out of an interface and what model you select.
Esther then began to show us the varying styles of ovens, with every style having a variety of models to choose from – each with their own set of individual features.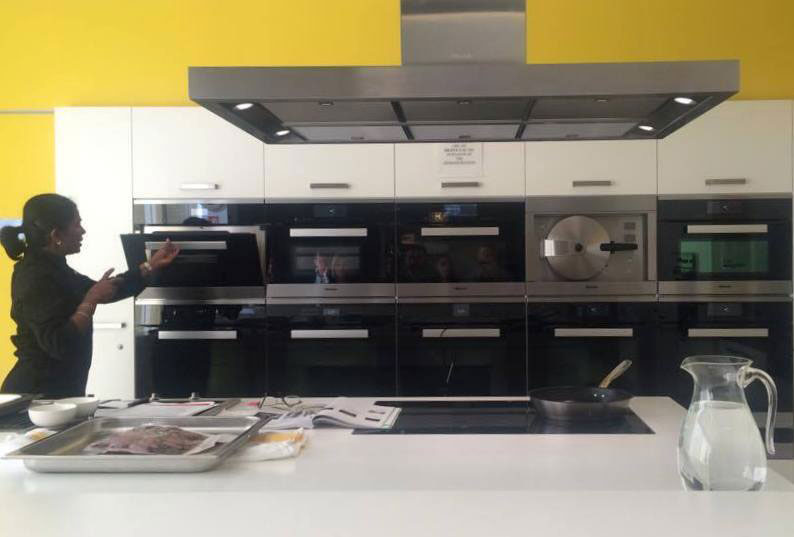 Built-in Ovens
Miele's PureLine and ArtLine series each have a huge range of built-in ovens to choose from in a variety of sizes. Depending on which model you choose, you'll have a certain set of brilliant features at your disposal.
Esther explained that one of the interesting points of difference between the models is that they feature either one of two types of expert cleaning systems – Pyrolytic Cleaning or PerfectClean. Pyrolytic Cleaning is an automated process where very high temperatures are used to incinerate residue in the oven to an easily removable ash. PerfectClean is a Miele exclusive feature, where components such as the oven interior, baking trays and baking and roasting racks feature a unique non-stick coating, making it so easy to remove any leftovers with a sponge and little bit of washing up liquid.
While each built-in oven had a huge number of functions at their disposal, Esther focussed on some of the Miele exclusive features that selected models may include:
Wireless Food Probe – Stored in the oven door, the Wireless Food Probe can be placed in the fish, meat or poultry being cooked to provide precise information about when the food will be ready.
Moisture Plus – Upon selecting, the Moisture Plus function and the specific programme related to the food you're cooking, you'll be prompted to feed a container of water into the water intake pipe which is then transformed into bursts of steam that allow you to create dishes such as tender and succulent meats with beautifully browned crusts, or wonderfully soft breads with a magical aroma.
Special Automatic Programmes & Special Applications – Depending on the model, Miele ovens can offer automatic programmes for over 100 dishes. Relevant to whatever dish you select, these programmes automatically adjust your oven's settings so that you'll get professional results every time. One feature within this – that's exclusive to Miele – is the Special Automatic Programmes; five programmes that have been tailored for favourite local cuisines. No food lover will want to miss this! Another exclusive feature is the Special Applications, providing automatic settings for specific food preparation tasks such as drying fruit and proving dough.
FlexiClip Fully-Telescopic Runners – The FlexiClip Fully-Telescopic Runners allow baking trays, racks or Gourmet oven dishes to be pulled out of the cooking compartment, so you can turn meat or baste without a risk of getting burnt.
Crisp Function – The Crisp Function is designed to remove excess moisture when preparing certain foods, creating a wonderfully crispy finish.
Built-In Speed Ovens
Esther told us how Miele's 45cm-high speed ovens are essentially your proper built-in oven – with cooking modes such as Fan Plus – combined with a powerful microwave. You can cook a roast, microwave a cup of hot chocolate or combine the oven and microwave modes to reduce cooking times by up to 30%! Just like Miele's regular built-ins, selected speed oven models may offer over 100 automatic programme settings, allowing you to cook a huge number of dishes like a pro.
A couple of the Miele exclusive features that selected built-in speed ovens may include are:
Stainless Steel Cabinet with PerfectClean Finish and Linen-Weave Pattern – The stainless steel inner cabinet with linen-weave structure makes it less susceptible to scratches, while the PerfectClean finish makes it easy to clean.
Popcorn Button – Officially the Popcorn Button allows you to make popcorn at the touch of a button thanks to pre-set times and wattages. Esther said that unofficially, lots of Miele customers love to use it as a reheat setting for all sorts of food!
Steam Ovens
Esther showed us how selected Miele steam ovens may feature some exclusive features such as an Automatic Cooking Menu – which determines the temperature, cooking duration and sequence in which food is added – and a Keep Warm Function.  Miele's steam ovens use one of four different steam technologies:
MonoSteam  – You'll find MonoSteam in ovens with smaller cooking cabinets. The steam generator is found within the water container and enters the inner cabinet through a steam inlet port.
PowerSteam – Believe it or not, PowerSteam was the first pressure steam system introduced to domestic built-in products over 30 years ago. Despite its storied history, it's still going stronger than ever as it provides the fastest steam generation and fastest heat-up times.
External Steam Generation – With External Steam Generation, the steam is created outside the oven cabinet.  This helps provide an ideal steam quantity, optimal temperatures and rapid heating.
MultiSteam – Miele's exclusive MultiSteam is offered on all their 45cm steam ovens. It's an external steam generation system that's been designed specifically for large cabinets. The powerful 3.3kW means fast generation of steam and fast heat-up. Their eight steam inlets have been arranged specifically to ensure the quick distribution of steam in the cooking compartments.
Steam Combination Ovens
Miele's Steam Combination Oven's offer the benefits of a steam oven as well as a number of conventional oven functions. This means you can cook, roast and bake with near unlimited combinations. Using either MonoSteam, External Steam Generation or MultiSteam, these ovens are all demonstrative of Miele's impeccable steaming standards.
Again, Esther pointed out a number of the Miele-exclusive features available on selected models:
Motorised Lift-Up Fascia Panel – This convenient panel opens at the touch of a button, revealing essential features including the water container and Miele-exclusive Condensation Container – for collecting excess steam – and Wireless Food Probe.
Keep Warm Function, PerfectClean and Automatic Menu Cooking can all be found in specific Miele Steam Combination Ovens.
Built-In Microwave Ovens
Esther then turned her attention to Miele's built-in microwave ovens which all feature controls positioned at the top of the designs, making them very user friendly. The sleekly designed machines (H45 x W60cm) offer a spacious 46L cabinet. With selected models having features such as Popcorn Button and Quartz Grill – for perfect browning of food – these appliances are an excellent tool in the kitchen.
Of course, if you want to stick with the classic benchtop microwave design, Miele offers that as well in the form of a powerful 26L model.
Gourmet Warming Drawers and Vacuum Sealing Drawers
Miele's Gourmet Warming Drawers and Vacuum Sealing Drawers are designed in such a way as to complement ovens and other products within the Miele family.
The Gourmet Warming Drawers are so versatile in the sense that they can be used to warm crockery, keep food that has been cooked at a serving temperature or to completely slow cook a meal to a high-quality restaurant standard.
Meanwhile, Esther showed us how the Vacuum Sealing Drawers can be used to vacuum seal food – perfect for not only air-tight storage, but for preparing to sous-vide your food. Sous-vide is the art of slow cooking vacuum-sealed food in water at low temperatures – which is why Miele's Vacuum Sealing Drawers are a foodie's dream!
Fetta and Oregano Chips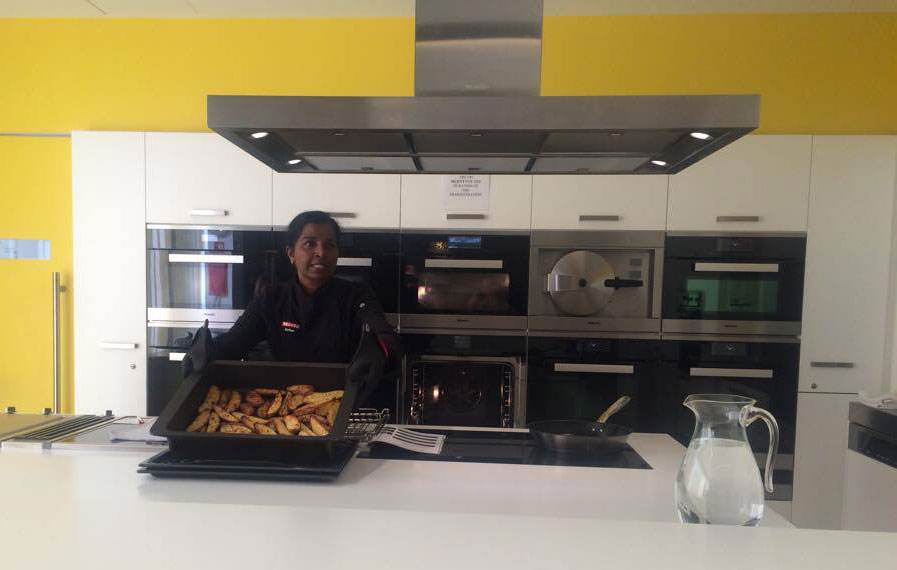 After hearing about all the brilliant things these appliances could do, we were definitely feeling hungry!
So, to get our fiesta started, Esther cooked up some mouth-watering Fetta and Oregano Chips.
To cook up the chips, Esther turned to a built-in oven and took advantage of the Fan Plus function as well as the Crisp function in order to remove the chips' moisture and give them a perfect level of crispiness.
With the Crisp function and Fan Plus on at 190°C, Esther had previously popped in 500g of baby Kipfler potatoes that had been halved and tossed together with dried oregano, 60mls of extra virgin olive oil and one tablespoon of salt.
As they baked for 40 minutes, Esther had set one of Miele's high performance cooktop hobs to induction setting 3, in order to cook 3 cloves of garlic on a low temperature.
After the chips were ready – baked to complete crispy perfection – Esther tossed everything together – the chips, garlic, fetta and little bit more dried oregano and salt.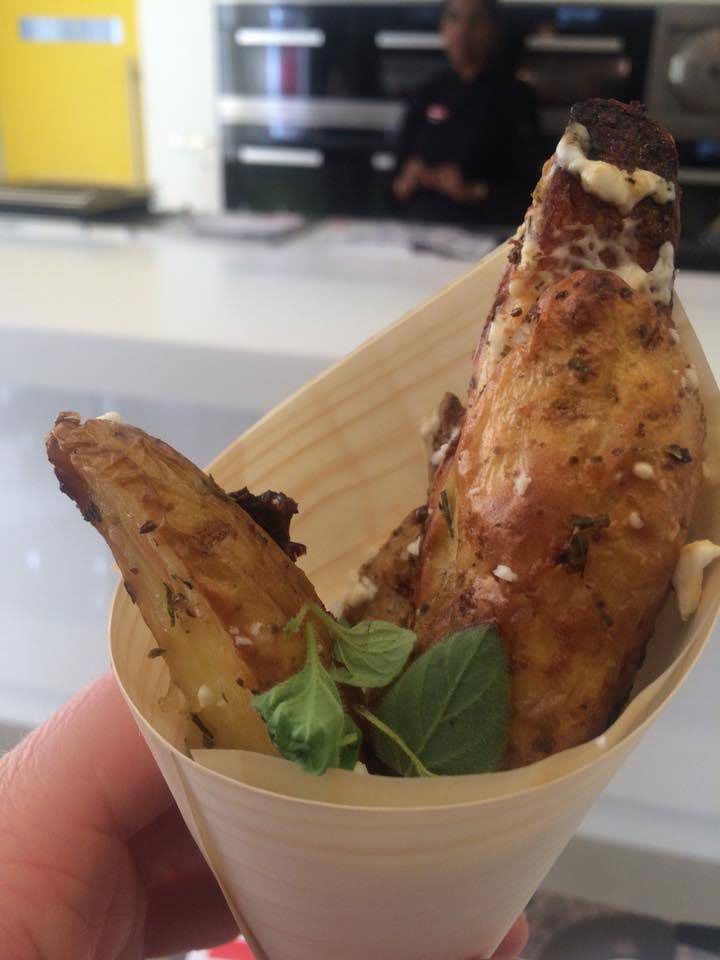 Wow – Miele's Crisp Function had done such a superb job. Crispy, crunchy, delicious! This was such an amazing start to our lunchtime extravaganza.
Brioche Slider Buns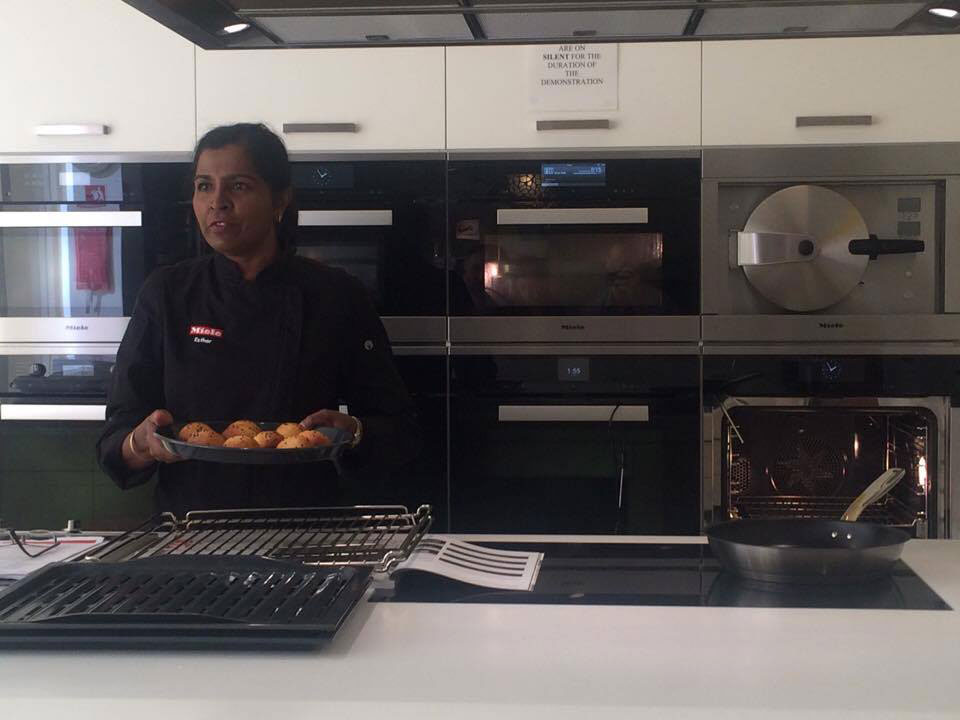 Could Esther top the chips? She was certainly going to give them a run for their money with Brioche Slider Buns.
To cook these, the previous day Esther had mixed together 360g of bakers flour, 1 teaspoon of dry yeast, 20g of caster sugar, 4 eggs, 6g of salt and 120g of cold butter.
With the resulting dough having set in the fridge over night, Esther had today had worked the dough into slider-sized buns and then placed it in a Miele built-in oven with the Special Applications Feature. She selected Prove Yeast Dough for 30 minutes, and let the oven get to work on the dough, doubling it in size.
She then switched the oven over to Moisture Plus at 200°C with Automatic Burst of Steam, resulting in blissfully soft buns.
To glaze the buns, Esther brushed them with a lightly beaten egg white and sprinkled them with sesame seeds before placing in the oven on shelf position 2 and letting them bake for 8 minutes.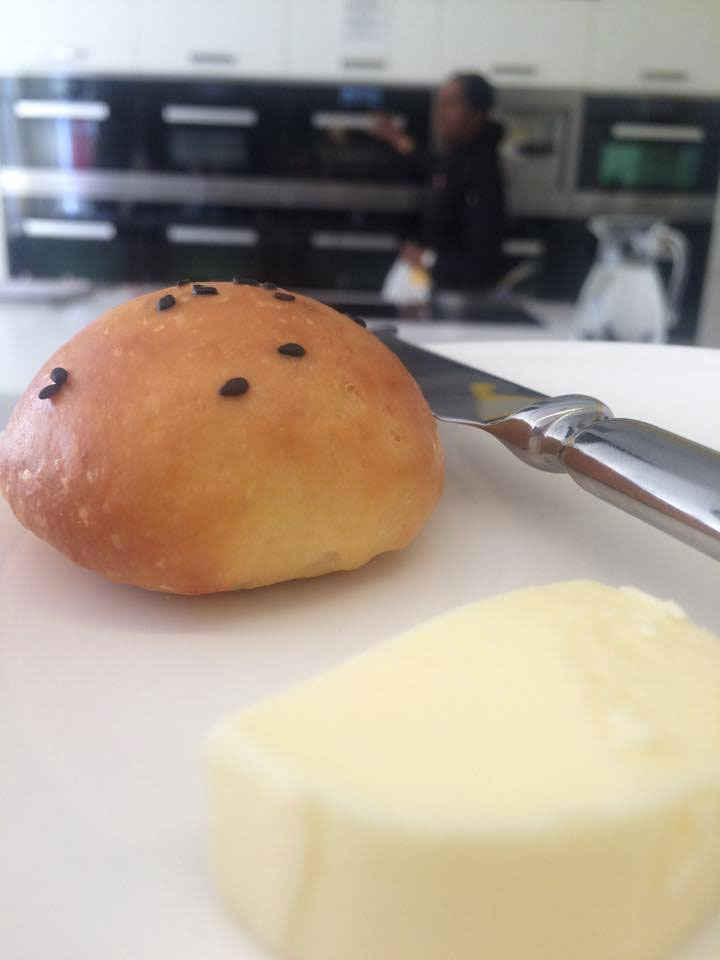 The verdict? Outstanding! These buns were so good, and a lot of that came down to Miele's awesome Moisture Plus feature.
Sous-Vide Eye Fillet, Cauliflower Puree and Salad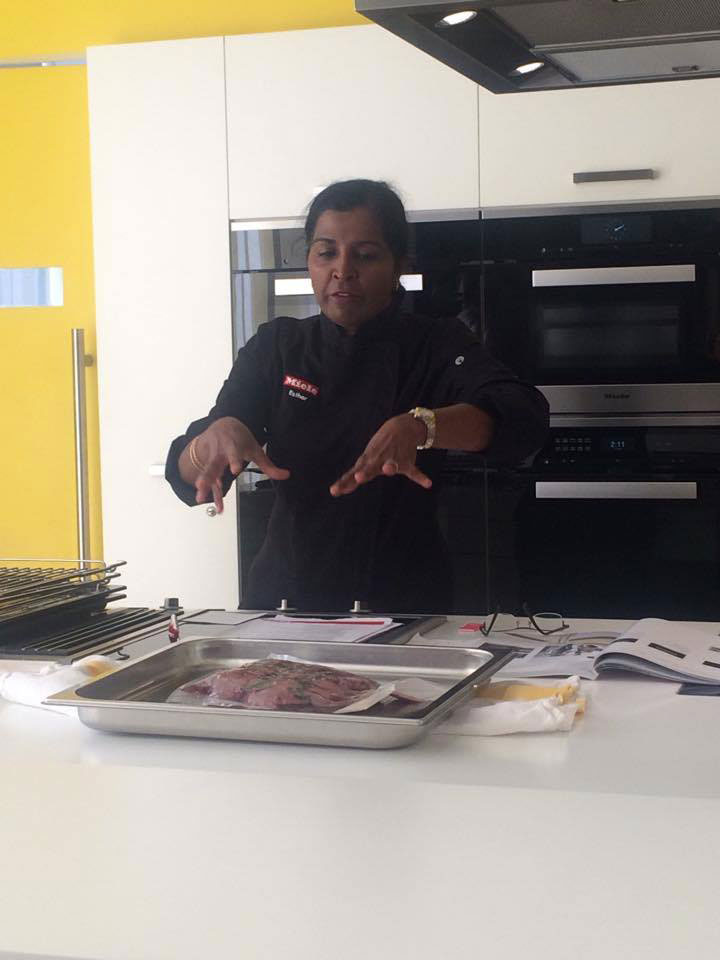 Earlier in the day, Esther had used a Miele Vacuum Sealing Drawer to vacuum seal some eye fillet steaks in a large vacuum seal bag. To do this, she placed the sealing drawer's vacuum and seal both to level 3. She then placed the steaks in a pot of water at 55°C for one hour in order to sous-vide them up!
While the steaks slowly cooked, Esther took a cauliflower and divided it in half before breaking each half up into florets. She took the first lot of cauliflower florets and placed them on a multi-purpose tray along with a coating of oil and salt. She then placed the tray in a Miele steam combination oven with Fan Grill at 200°C, and grilled them on shelf position 5 for 10 minutes, resulting in a softened cauliflower with a golden look. She then took the cauliflower and combined it in a bowl with nuts, herbs, lemon zest and currants.
After taking out the first lot of florets, Esther switched the oven to steam at 100°C and placed the second lot on a solid steam tray – along with butter, milk and salt – for eight minutes. Once steamed, Esther put ingredients into a blender and pureed them before sprinkling with salt.
With the steaks by now having successfully been cooked in the sous-vide drawer, Esther took them out and placed them in a pan on a Miele induction hob for 30 seconds to give them a seared finish.
The steaks were then plated, alongside the cauliflower salad and cauliflower puree.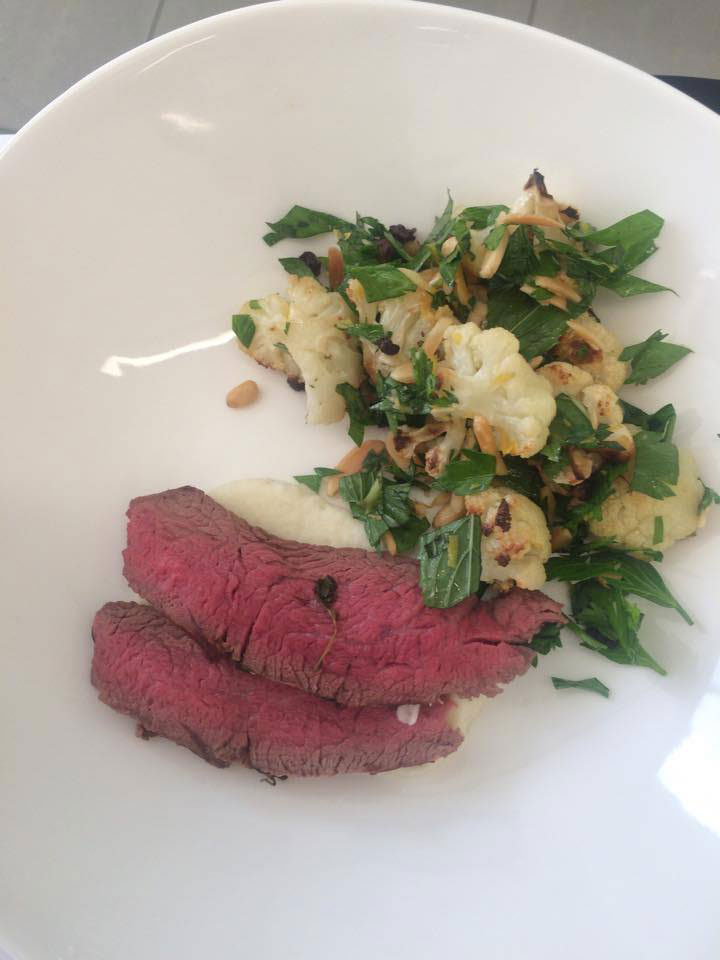 After taking one bite of the sous-vide steak, I knew I'd come across sous-vide perfection. So soft and tender – to my mind, it was better than restaurant quality! Not only that, but the delightful cauliflower salad and puree both wonderfully complemented the steak. The big grin on Dave's face told me he felt the same way!
Fig, Almond, Anise and Custard Crostata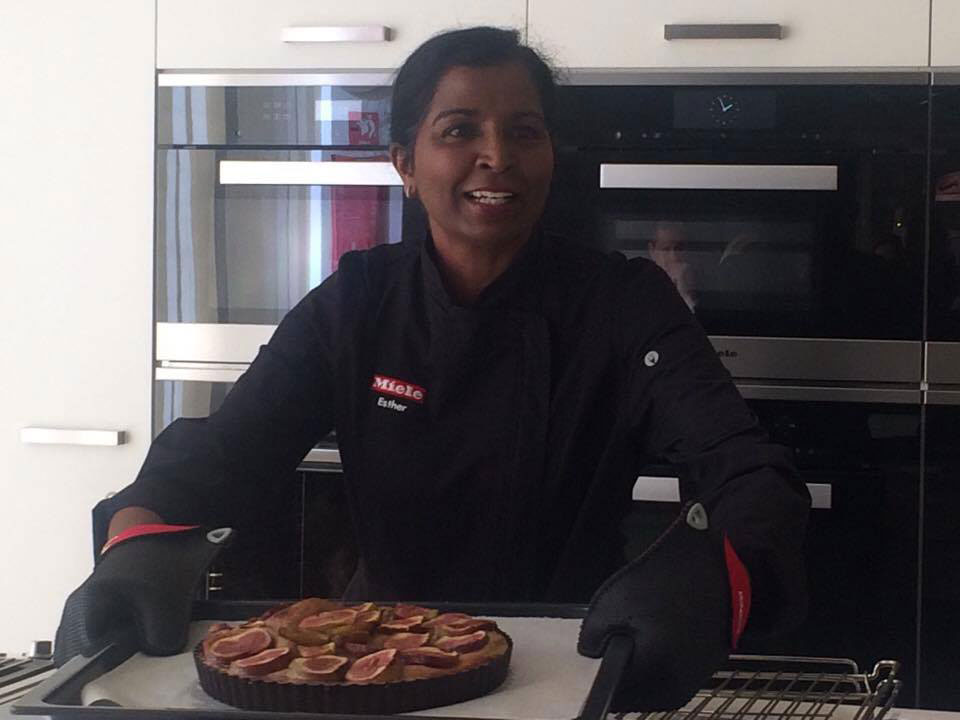 Esther had one last treat in store for us – dessert!
After creating an almond pastry out of butter, sugar, egg, flour, almond meal and salt – Esther used a Miele induction hob on induction setting 6 at a simmer to infuse cream with fennel seeds, bay leaves, cinnamon and honey.
She then rolled the pastry out into a tart shell, before spreading jam over its base. After that, the infused cream was mixed into a bowl with whisked eggs, sugar and vanilla to create a custard.
The mixture was then poured into the tart shell and placed in a Miele built-in oven with Intensive Bake feature at 170°C for 20 minutes.  Fig slices were then arranged on top of the tart's custard filling, before then being placed back into the oven to bake for a further 25 minutes.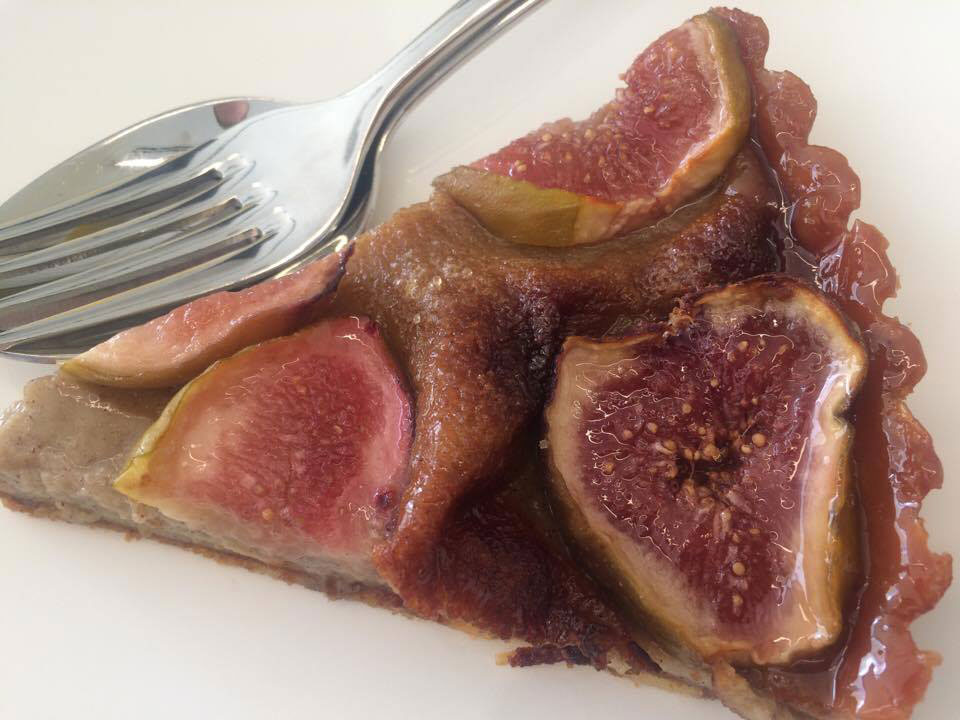 Now look, I'm not always a dessert person. But this Fig Crostata blew all my expectations out of the water! In fact, I might even say that this was my favourite of all four of the awesome dishes we'd been served today – an absolute indication of just how amazing both Esther and the Miele appliances had been.
Dave Loves Miele!
"So," I turned to Dave, "what are your thoughts?"
"I'm 100% going with Miele – now I've just got to work out exactly what to get!"
Beautiful and stylish, and with so many amazing appliances to choose from, I knew that Miele was going to be Dave's new best friend. The Miele Kitchen Experience class had opened his eyes to the amazing options available – and the awesome food had opened his tastebuds up to what he could now achieve with his own home cooking.
Dave now just had to narrow his selection down by figuring out what look and features would best serve him. As he ran through the possibilities, he decided it might be beneficial (to him and his stomach) to sign up for another complimentary introduction product demonstration – Introduction to Steam. He then decided that it couldn't hurt to preemptively sign up for some post-purchase classes either – Steam Oven Owner Demonstration, Steam Combination Owner Demonstration, Speed Oven Owner Demonstration, Oven Owner Demonstration and Induction Cooktop Owner Demonstration. Yep, Dave was hooked!
Want to live the Miele experience? Talk to the friendly staff at your local Harvey Norman store to book yourself in for a Miele Experience Centre product demonstration. Your delicious future awaits!
Miele Experience Centres are located in Adelaide, Brisbane, Gold Coast, Knoxfield [Melbourne], South Melbourne, Perth and Sydney.