Modern living places all kinds of pressure on our time, energy and space, and it can sometimes feel like the latest technology is only making things more complicated. Enter the multicooker – and, in particular, the Philips 8L All-in-One Cooker. This cooking innovation is all about simplifying life, saving you time and hassle.
Once considered something of a novelty, the newest generation of multicookers has transformed cooking culture in the USA in recent years and looks set to now have a similar impact in Australia. It's not hard to see why.
Combining an array of cooking functions like baking, pressure cooking, slow cooking and sautéing in one compact, user-friendly package, modern multicookers and all-in-one cookers make it easier than ever to prepare healthy, varied and delicious meals at home – even when time isn't on your side.
The Philips 8L All-in-One Cooker, now available at Harvey Norman, looks set to be amongst the best all-in-one cookers on the market.
To see if it lives up to the hype, our Philips All-in-One Cooker reviewer, Adriana, took a brand-new model home to cook up some of the dishes found in the included Philips multicooker recipe booklet.
But, before we get to Adriana's Philips All-in-One Cooker review, let's talk a bit more about what makes this Philips multicooker so special.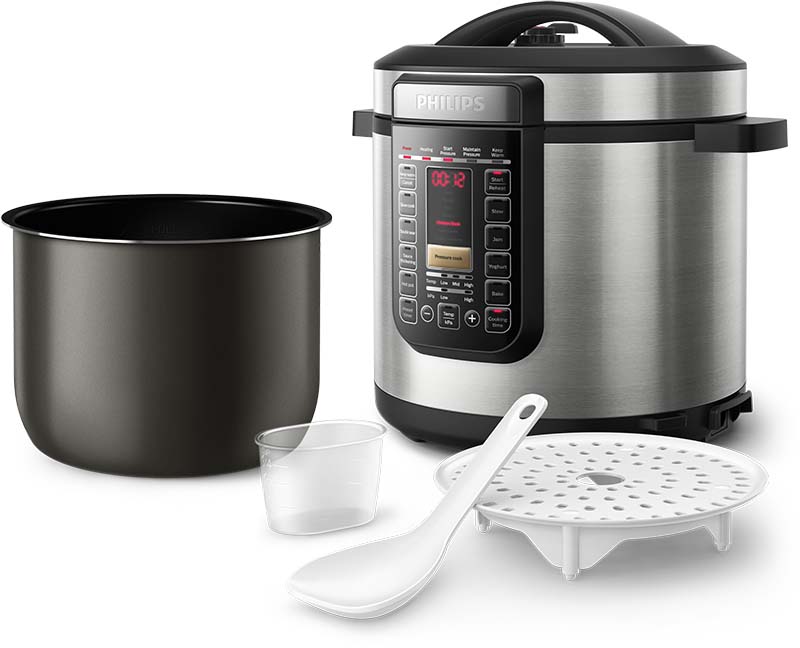 Saving space and time with multicookers
By incorporating a range of cooking functions in one device, a true all-in-one actually allows you to prepare a meal all in one cooker. This doesn't just help you save kitchen space – a huge boon in smaller modern homes – it also saves on clean-up time and cooking time that would otherwise be spent transferring food between pots and pans.
The Philips 8L All-in-One Cooker stands out from the competition with its extra-large capacity. Fitting eight litres of cooking space in an only slightly larger shell makes this the perfect solution for big families – cooking enough to serve up to 14 people – or for anyone who wants the convenience of making dinner for multiple nights in one go.
The magic of pressure cooking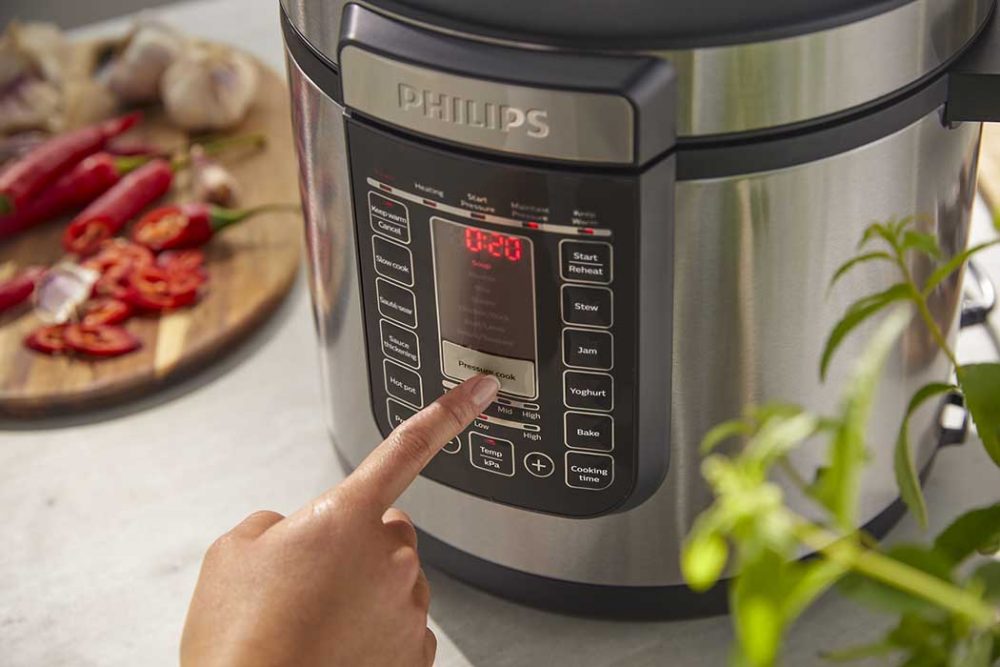 When it comes to convenience and efficiency, the most important feature of the Philips All-in-One 8L Cooker, and the one you might be least familiar with, is the pressure cooker.
Because the boiling point of water is higher as pressure increases, pressure cookers can cook foods at very high temperatures without boiling or burning. This allows for significantly faster cooking times than conventional methods. The sealed environment of a pressure cooker also ensures that foods retain bright, rich colours and enhances flavours.
Even for a pressure cooker, the Philips All-in-One 8L Cooker is fast. With impressive 1500W heating power, this model provides 35% faster* cooking times than a comparable Philips pressure cooker.
Requiring constant stirring and gradual additions of stock, risotto is one example of a dish that requires serious investments of time and care when cooked with traditional methods. Adriana tested the Philips pressure cooker's potential on the no-stir mushroom and chicken risotto recipe, found in the included Philips All-in-One Cooker recipe booklet.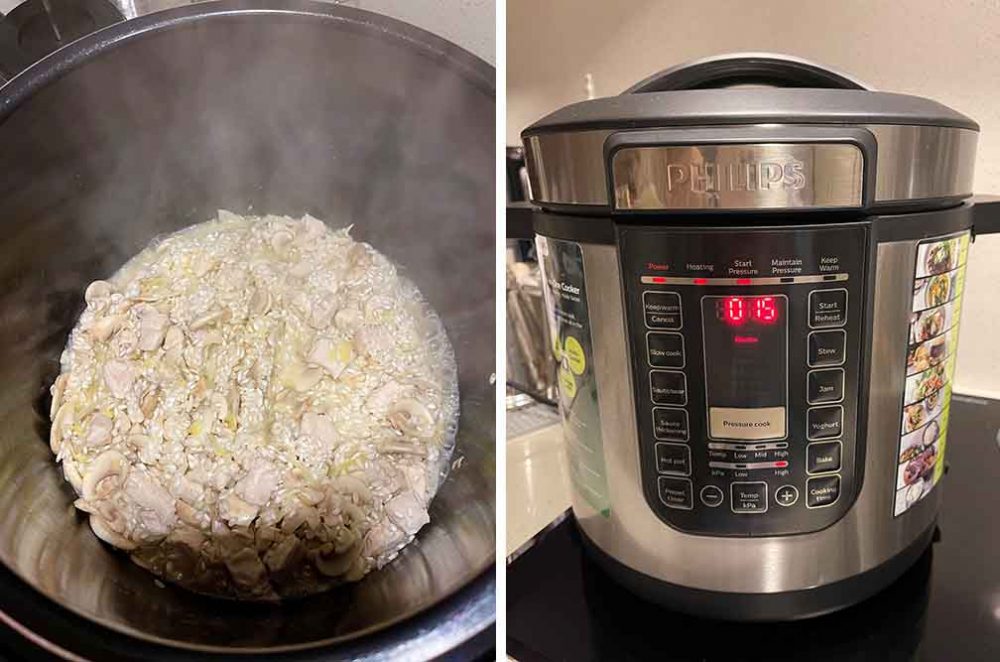 By utilising the Philips 8L Al-in-One Cooker, she found she was able to cut her total cooking time in half, and the results had an even better consistency than she was used to from conventional cooking methods.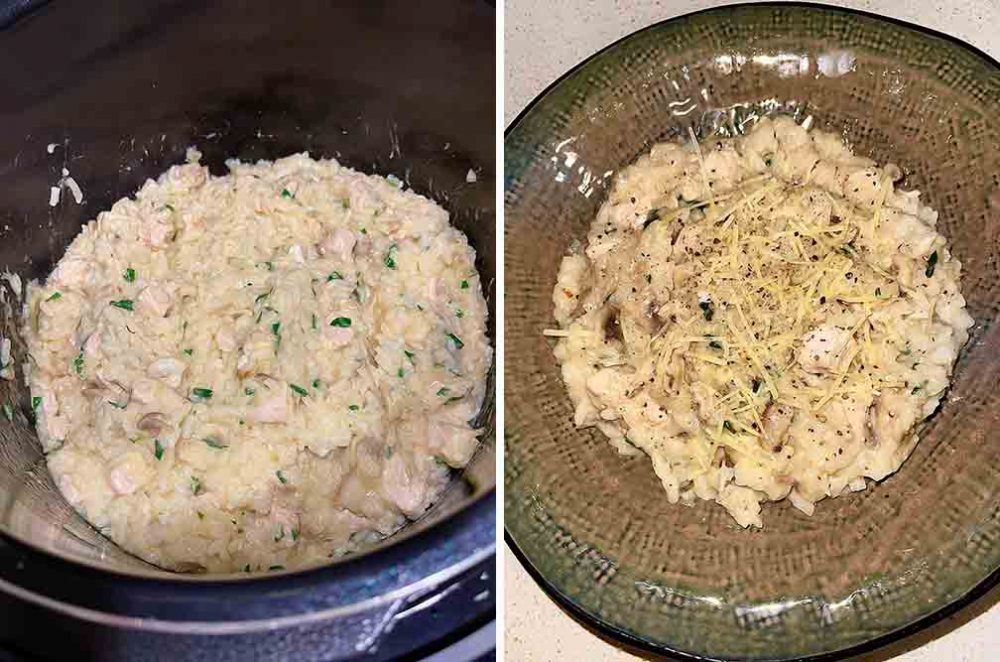 Philips 8L All In One Cooker: A world of options at the press of a button
The Philips All-in-One 8L Cooker doesn't just promise superior convenience and speed, it also offers an amazing level of variety.  With 20 pre-set cooking programmes, including a range of familiar staples as well as global cuisines, you could also call this device a 20-in-1 food cooker.
All of the 20 pre-set cooking programmes deliver optimised cooking times and conditions at the touch of a button, making it easier than ever to enrich your day-to-day by experimenting with new dishes. Some of the more unique options include quick and effortless programmes for homemade jams and yoghurts.
Just as importantly, the Philips 8L All-in-One Cooker provides all the flexibility and customisation you would expect from a traditional cooker. Intuitive, user-friendly controls let you adjust the cooking time, temperature and pressure of pre-set programmes to suit your personal tastes and the specific ingredients you're working with.
This chicken and broccoli hotpot was another of the Philips All-in-One Cooker recipes that our reviewer Adriana decided to test out, utilising both the Sauté/Sear and Bake cooking functions.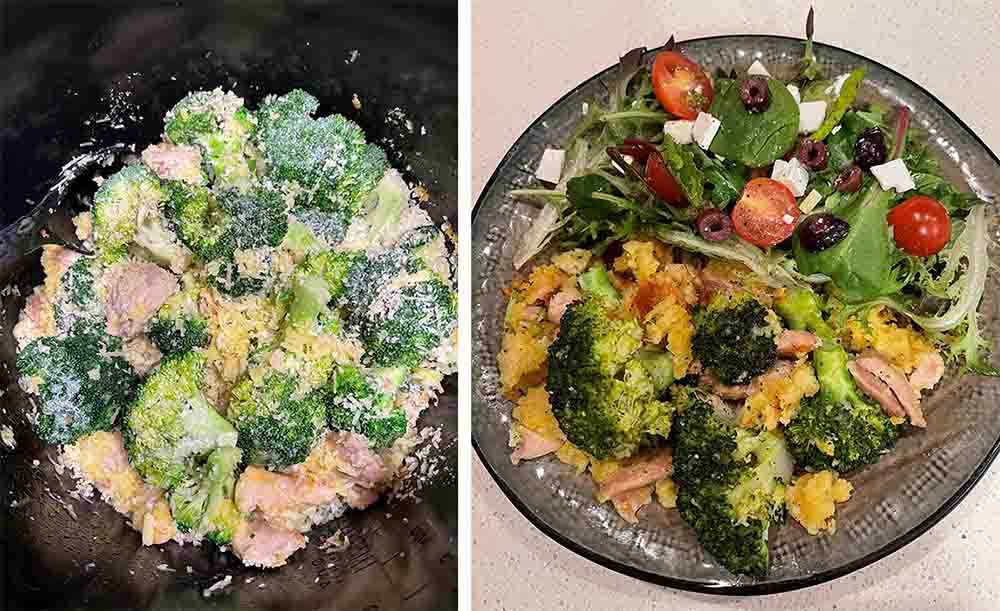 From perfectly sautéed chicken fillets to a crispy-baked cheese and breadcrumb topping – all with a cooking time of just 22 minutes – it's a great showcase for the versatility and efficiency that make this Philips multicooker arguably one of the best all-in-one cookers available today.
An interview with our Philips All-in-One Cooker reviewer
Without further ado, lets find out how our reviewer Adriana got on when she tested out this brand-new product for her Philips All-in-One Cooker review!
Have you had any experience with multicookers in the past?
I'd never had the opportunity to use a multicooker myself, but I had heard a lot of good things about their ease of use, faster cooking times and overall convenience, which is why I was curious to test out the Philips All-In-One Cooker.
What were your first impressions when you got the Philips 8L All-in-One Cooker out of the box and tried it out?
When I heard about the extra-large 8L capacity, I was a little hesitant about the size and where it would be stored. However, I was extremely impressed with the Philips All-in-One Cooker once out of the box as it is surprisingly neat and compact, and very versatile. After trying it out a few times, I was further impressed with how easy and simple it is to make meals. The various cooking functions make it so convenient for someone like myself who is usually pressed for time when it comes to cooking meals in general.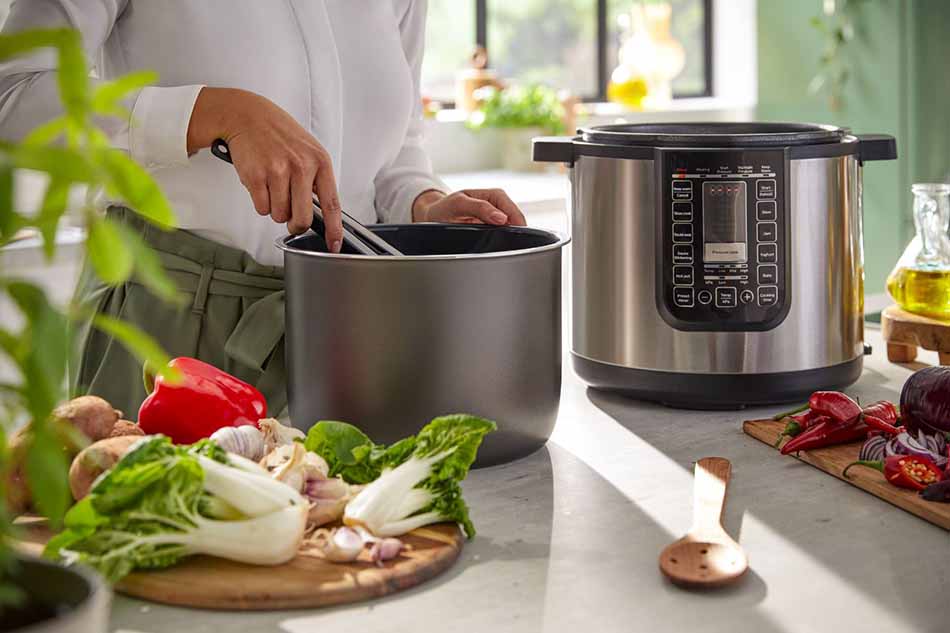 How did you go with the dishes in the included Philips multicooker recipe booklet?
Really well! There were good multicooker recipes to choose from for breakfast, lunch and dinner, as well as side dishes and desserts. The multicooker recipes were detailed and easy to follow with clear prep and cooking instructions. Because I'd never used a multicooker in the past, I was a little unsure how I'd go my first time. But, after a quick look over the Philips All-in-One Cooker manual, I realised how straight forward it would be.
How does cooking with the Philips 8L All-in-One compare to what you normally use?
This particular Philips multicooker is quite different from what I normally use to cook meals. Rather than needing multiple appliances, pots and pans to cook different elements, the Philips 8L All-in-One Cooker allows you to cook various dishes all in the one pot – whether it be to pressure cook, slow cook, sauté or even bake.  It is time-efficient, fast and easy to use with the press of a button and removes the need for multiple kitchen appliances.
What was your favourite multicooker recipe?
My favourite multicooker recipe so far is the mushroom and chicken risotto. It was easy to follow and turned out thick, creamy and full of flavour. Normally it would take just over an hour to cook this dish and would involve multiple appliances. However, with this Philips multicooker, the cooking time was cut in half, and only took about 35 minutes including prep time. Also, the consistency turned out better than usual thanks to the pressure cook function, as it was all cooked in the one pot rather than multiple pots and pans.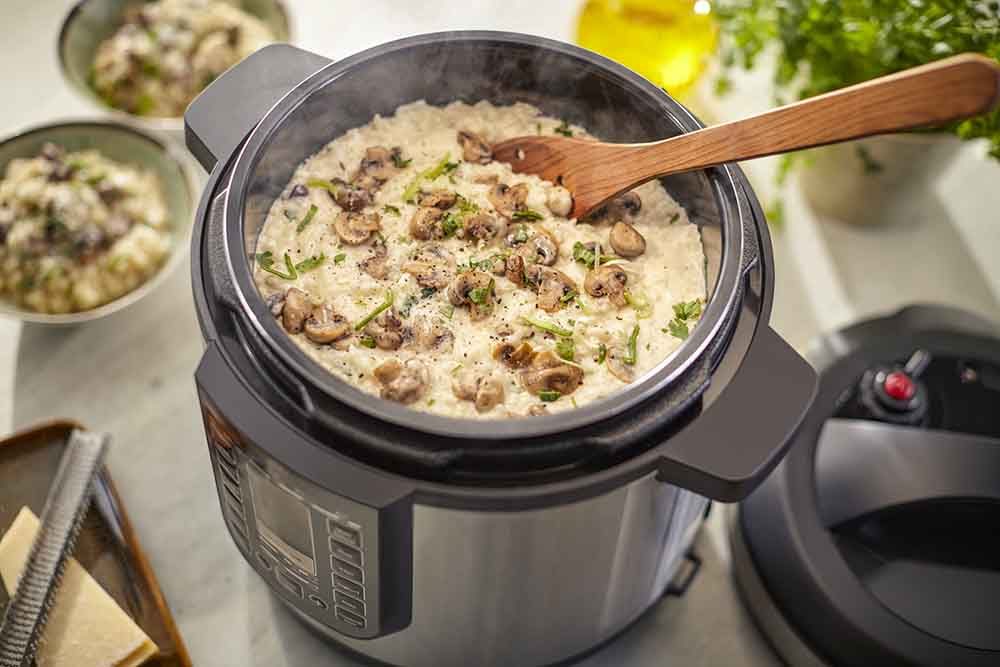 Can you imagine using the Philips 8L All-in-One Cooker on a regular basis?
I can definitely see myself using this Philips multicooker for dishes I cook on a regular basis due to the ease, convenience and time-efficiency I've experienced so far.
Which feature of the Philips 8L All-in-One Cooker impressed you the most?
The Philips All-in-One Cooker's heat-up time on any function you set it on – whether it's pressure cooker, slow cooker or sauté/sear – is certainly impressive. It takes no time at all to pre-heat before being able to cook, which makes the whole process so much faster.
I also really appreciated the Philips 8L All-in-One's automatic keep warm and reheat functions, which gave me the option to keep my meals warmer for up to 12 hours and serve them any time. This was wonderfully convenient, especially when the family wasn't able to sit down and share a meal all at the same time. It allowed them to serve themselves instantly later without having to waste time reheating.
Would you recommend the Philips 8L All-in-One Cooker for busy people who work full time and also have to cook for a family?
I would highly recommend this multicooker to anyone. Most of all to time-poor and busy people with families, simply due to how fast, easy and convenient it is to cook a range of different meals in only a matter of time without having to spend hours in the kitchen.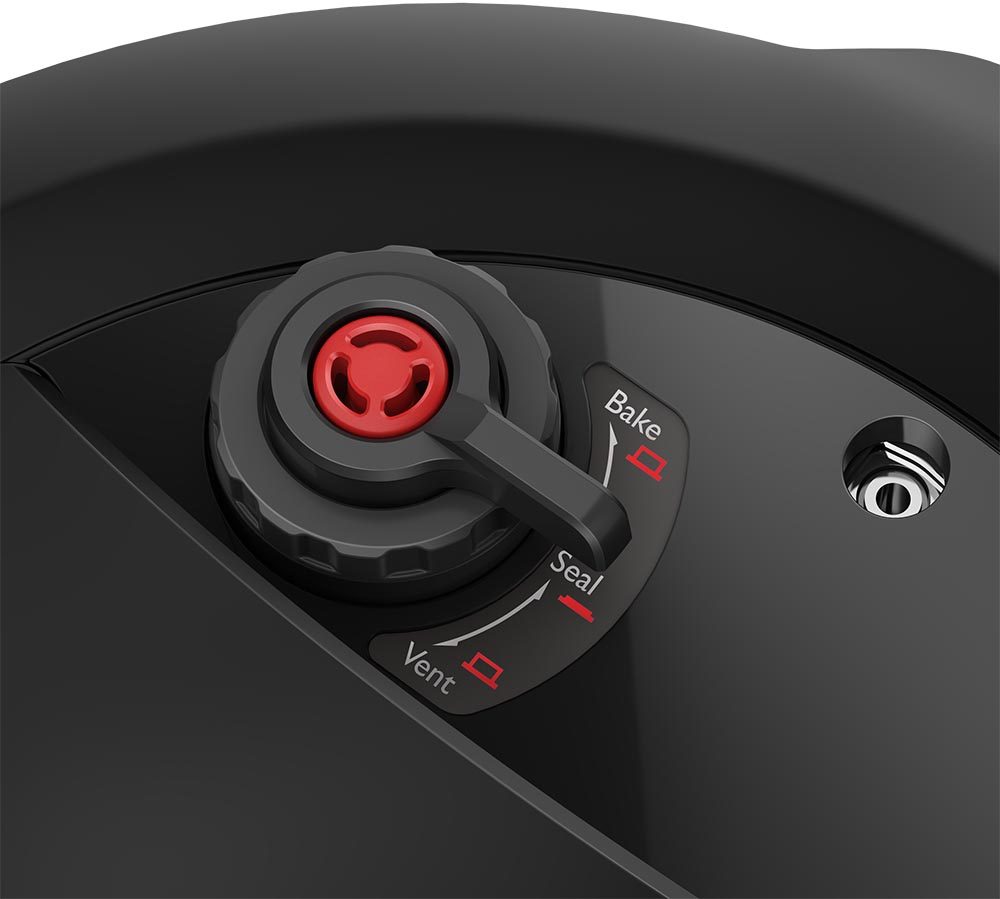 What about cleaning and packing up after use? Is the Philips 8L All-in-One Cooker easy to maintain?
This Philips multicooker is very easy to clean and maintain in my opinion. Minimal washing is involved and it takes just minutes. As for packing up the cooker, it is quite compact and neat to store, with the only accessory being the inner pot which fits nicely back inside and doesn't take up much space.
How did the overall experience of testing out the Philips 8L All-in-One Cooker compare to your expectations? Did anything surprise you?
Overall I had a very positive experience testing out the Philips All-in-One. It definitely exceeded my expectations!
Aside from being a slow cooker, pressure cooker and multicooker all in one, which is amazing in and of itself, this product is quick and easy to use especially for time-poor people. It's also simple to clean and store, saves the need for multiple cooking appliances, and allows you to cook a vast variety of meals from simple to complex dishes for breakfast, lunch and dinner thanks to the range of cooking functions available.
Again, I can definitely see myself using the Philips All-in-One Cooker from now on to cook my daily meals. It's an all-round convenient appliance that saves you time and effort in the kitchen without the hassle and mess.
Where to buy the Philips 8L All-in-One Cooker in Australia
If you're ready to join Adriana in the multicooker revolution and pick up the best Philips All-in-One Cooker Australia has seen, you can get yours online today. Or, head to your Harvey Norman store, where our friendly, expert staff will be happy to answer any questions you have.
*Tested on Rice function with difference in whole cooking time vs. Philips HD2137.