It goes without saying that some days at work are more exciting than others, but the day I got to take the new Vitamix Professional Series 500 blender for a spin brought a new level of excitement to the office – not to mention my jaded tastebuds! It was like discovering a whole new side to blending that I'd never experienced before.
Blending at home had always been a rather lacklustre experience for me. I'd been using a nondescript blender that'd been sitting around in my cupboard for years, so it's no surprise that my smoothies were more like 'chunkies' – and I didn't even attempt to blend ice cubes for fear of completely ruining the pitiful blades! What I've learnt since putting the Professional Series 500 through its paces is that there are blenders, and then there's the Vitamix blender.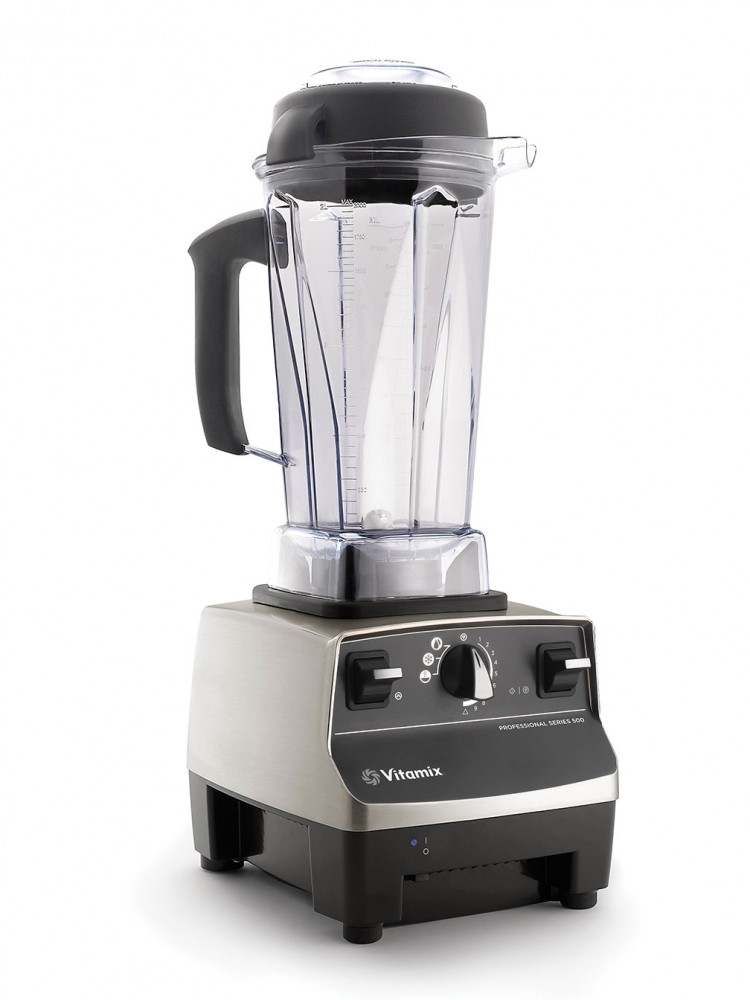 Great for the Health-Conscious
No matter what your age or stage of life, it's always a good idea to try to minimise the amount of processed food and drinks we consume to stay healthy. One of the easiest ways to increase the amount of fresh fruits and vegetables in your diet is through making your own juices and smoothies. So when the word got around that we'd be whipping up afternoon treats in the work kitchen, we had no shortage of volunteers for taste testing. When it comes to your typical blender (like my prehistoric appliance), you quickly come to realise that they don't have the kind of power required to pulverise your juice or smoothie ingredients into a smooth, even liquid. The good news is that the Vitamix is the best blender for smoothies and juices because its motor is powerful enough to blend all the pulp and all the antioxidant-rich skin to maintain the complete nutritional benefits of the fruit and vegetables. The Vitamix is the industry standard found in many of your favourite juice bars and is also endorsed by high-profile Nutritionist Dr Joanna McMillan. Check out this video of Dr Joanna talking about why the Vitamix is a must-have for getting the very best out of your vegies and fruit.
Following some mouth-watering research with the included Vitamix recipe book, we selected a number of inspiring recipes to try – the only difficult thing was deciding which to try first! After a shopping trip at lunchtime to gather our fresh and frozen ingredients, we set up the Vitamix in the break room then chopped up all our fruits and vegetables. We decided that as a bit of a warm up we'd go a little off-piste and try some freestyling with a refreshing and healthy smoothie of our own design. Our version of a 'green smoothie' consisted of coconut water, baby spinach, a handful of juicy strawberries, two bananas, two Lebanese cucumbers, half a mango and some ice.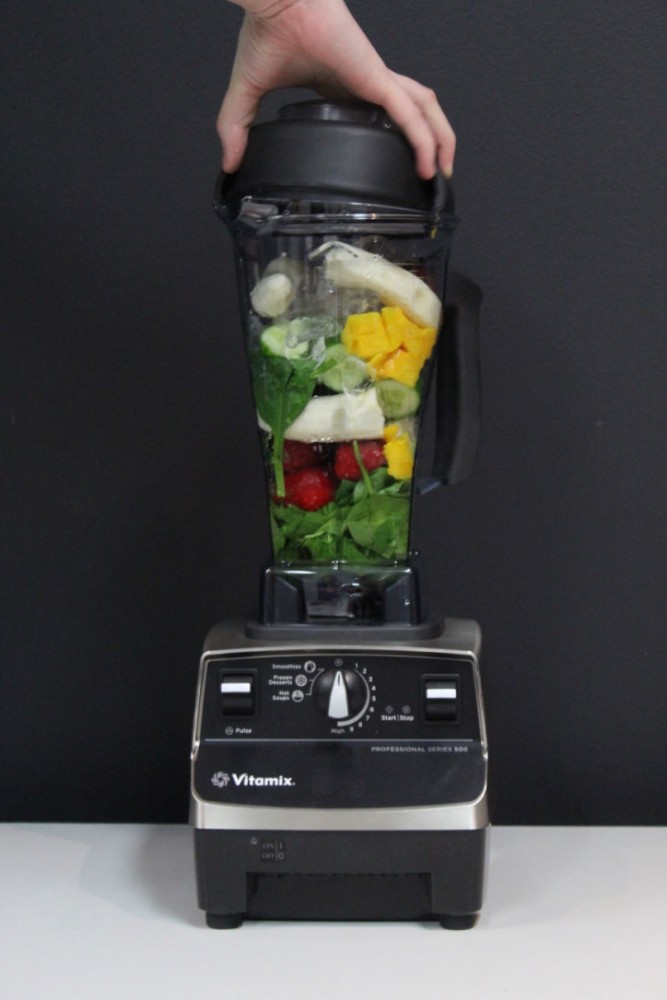 Turning the dial to the smoothie setting, we blitzed all the ingredients together then prepared to sample our creation. The result was incredibly smooth and consistent so that we could easily drink it through a straw without any chunks of pulp ruining the enjoyment – it's the difference between drinking a smoothie and eating one! With the cucumber adding a refreshing taste to the deliciously 'moreish' mix, we knew we were onto a winner with this little concoction.
The next thing we tried making was an almond milk – an increasingly popular alternative to dairy milk. Since I always have a packet of raw almonds sitting in my desk drawer for snacking emergencies, I figured we may as well have a go at making our own. Checking the Vitamix recipe book, we soaked about a third of a cup of almonds in water overnight (being sure to label it clearly – because #workfridge). The day of the test drive we simply drained the nuts, popped them in the Vitamix with a cup of water, powered up and blended until it was creamy. Our almond milk was wonderfully high in fibre and full of nutrient-rich goodness and, because the blades of the Vitamix reach speeds of up to 384km/h, all the nuts were broken down to such a smooth consistency you'd forget they were even there in the first place. Suffice to say, we all had milky moustaches of satisfaction.
While the smoothie and almond milk were very well received, our resident office snackaholics wanted to mix up something they could really sink their gnashers into. Perusing the abundance of tempting recipes for dips and spreads, we decided to try a Tropical Avocado Salsa. As per the recipe, we added avocado, mango, red onion, coriander, half an orange and a pinch of salt, selected the appropriate setting and voila! It was amazing that something so simple to whiz up could be so nutritious and delicious. Better still, we could decide if we wanted a chunky texture or a smooth and silky salsa – for the record, we kept it a bit chunky.  Our happy-snackers scooped up the zesty dip with carrot sticks and corn chips and before long they'd finished the lot. Another lip-smacking success thanks to Vitamix!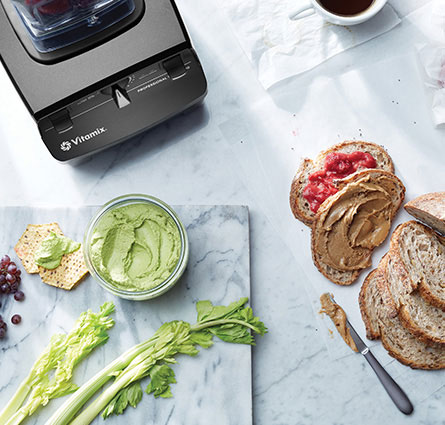 Great for Parents
As many parents can attest, catering for fussy eaters can be a frustrating, if not downright disheartening, endeavour. Many parents resort to cooking a few different dinners to satisfy the tastebuds of different family members – or to accommodate those with special dietary needs. In these cases where you'll have multiple meals on the go at once it's so important to be able to prepare dishes quickly with a minimum of fuss. This is where the Vitamix Professional Series 500 comes in really handy. One of the main things I've learnt from taking the Vitamix out for a few laps was just how versatile it can be.
Imagine a typical day for your family. We all want our kids to start the day with something healthy, but it also has to be something they'll actually eat. Peanut butter on toast is a favourite, and if you want to ensure your kids aren't getting a lot of additives and artificial stuff in their food then you can whip up some homemade peanut butter in next-to-no-time in the Vitamix. If you've got toddlers at home and want to try making your own purées, the good news is the Vitamix is also the best blender for baby food. We gave this great recipe for homemade purée a go using banana and mango, just adding some water and following the directions. While it's been a while since I've tasted baby food, this little mix tasted yummy and it's all 100% natural.
With the colder months encroaching, we thought it was the perfect time to test out the Vitamix's capabilities as a soup blender. I've always been a huge fan of my mum's homemade pumpkin soup, so it's great to know I can use the blender to help create something myself in just a few minutes. This recipe for Butternut Pumpkin Soup is super easy – just follow the instructions and in just 10 minutes you can serve it steaming straight out of the blender. We added a generous dollop of sour cream, a  sprinkle of parsley and some crusty bread, and let me tell you – it was the best soup I'd ever tasted (just don't tell Mum).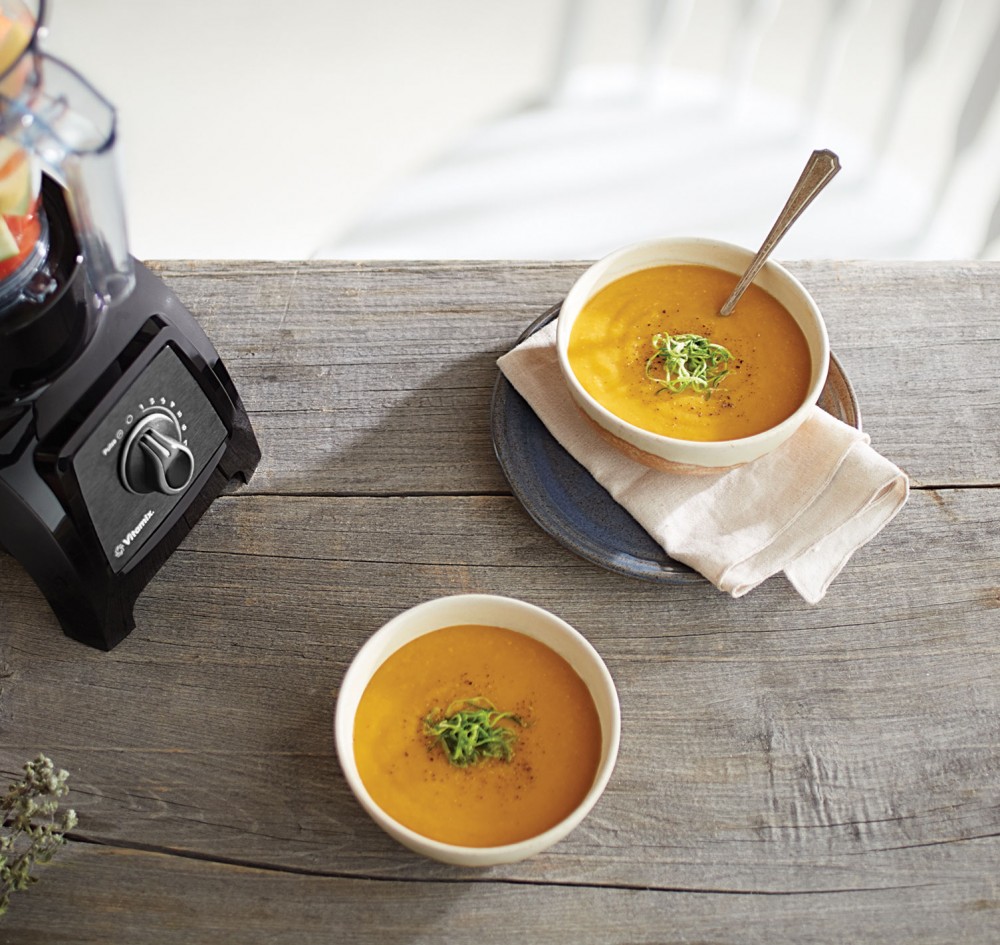 The pre-programmed setting for smoothies, hot soups and frozen dessert recipes made it so easy to get consistent results. We just added the ingredients, set the dial and started the machine. The power and indicator lights automatically flashed when the pre-programmed cycle was almost finished, and the blender turned itself off when done. This is great for parents, meaning you can focus your attention on the kids while the Vitamix does all the work for you.
While the office snackaholics had enjoyed their tasty treat, the sweet-tooths were demanding dessert! With that in mind we decided to try a healthy ice cream recipe for Real Strawberry Ice Cream. Following the directions, we added in full cream milk, thickened cream, caster sugar, vanilla bean paste and frozen strawberries.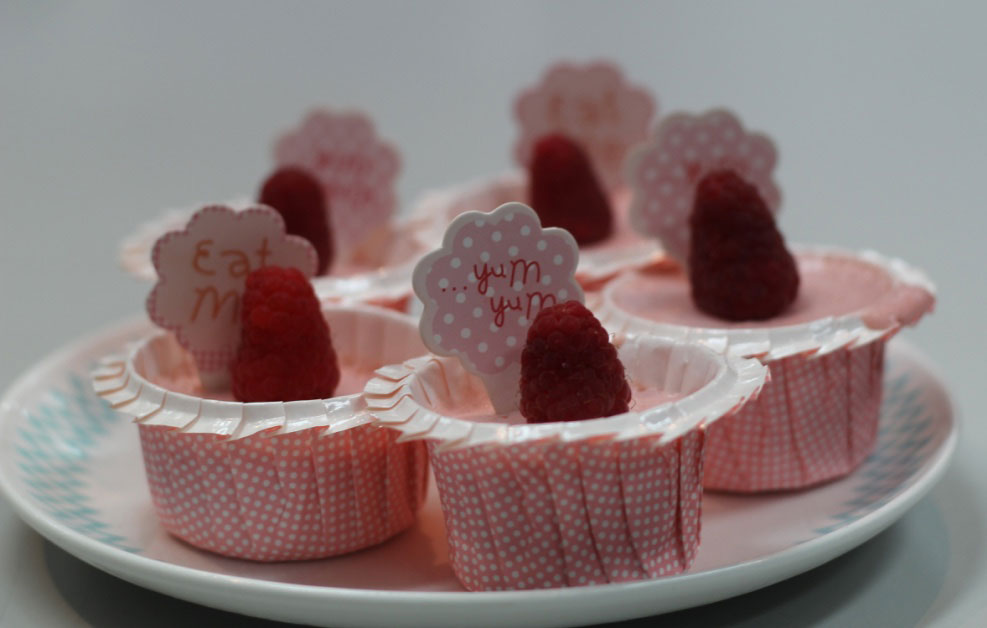 Setting the Vitamix as directed, we slowly increased the speed to high, using the patented tamper to help process the frozen fruit. This is truly a powerful machine, and I know I was surprised by just how fast it goes. The motor in my little old blender at home would have well and truly burnt out, but the Vitamix handled warp speed like it was born to do it. The result? Delicious ice cream ready to serve that was a hit with everyone and would also be great for parents looking to treat their little ones to something homemade, sweet and undeniably nutritious.
Discover how a versatile Vitamix can work for your family.
Great for Culinary Creatives
As you may infer, taking the Vitamix Professional Series 500 blender for a road test really brought the office gourmands out of the woodwork. The comprehensive hardbound recipe book that comes with the machine is full of recipes both mouth-watering and healthy, so it's easy to get excited about creating something delicious. The three pre-programmed settings take the guess work out of the equation, making it simple to start making drinks, soups and frozen desserts, and the variable speed control gives you the precise processing flexibility to take things further and get truly creative.
And that's the point really. Half the fun of cooking is trying new things and making it up as you go, experimenting with variations on recipes and using fresh ingredients to create something new. Awaken your taste for adventure and create your own soups in time for winter: creamy and silky-smooth or chunky and full-bodied – find the texture and taste that works for you. Like grinding your own blends of coffee? Yep, the Vitamix can help you get the mix just right. The power and performance of the machine means that once you find the style you like you can be certain you'll get consistent results every time. Whether you're just starting to stretch your legs in the creative department or you're looking to take your culinary endeavours to further heights, the Vitamix Professional Series 500 is a passport to new horizons.
Are Your Tastebuds Tingling?
I swear, if we weren't limited by the sizes of our stomachs, we could have happily kept trying new Vitamix recipes all afternoon. Impressed by the power and versatility of the Vitamix, I know the way I think about blenders has changed for the better. The sheer versatility of the machine, the power and speed at your fingertips, the ease of operation and the consistency of the results – it's truly a premium experience and more than just a blender. It's a complete nutrition centre.
Say Hello to Our Little Friend – the New Vitamix S30
Looking for something a little more compact? Vitamix have created the new S30 blender with you in mind! Featuring the same premium high-performance Vitamix technology as the Series 500 but in a conveniently compact design, the S30 is available in eight fabulous colours and is a great portable blending solution for making your favourite recipes. Easily store it on your countertop for daily use or take it to the office for a healthy pick-me-up. The S30 comes with two 'blend and go' tapered beverage bottles that are ideal for creating individual smoothies and have been designed to fit into standard cup holders – great for those mornings when you're in a rush. Also included is a 1.2 litre container so you can create smaller batches of your favourite soups, dips and dressings.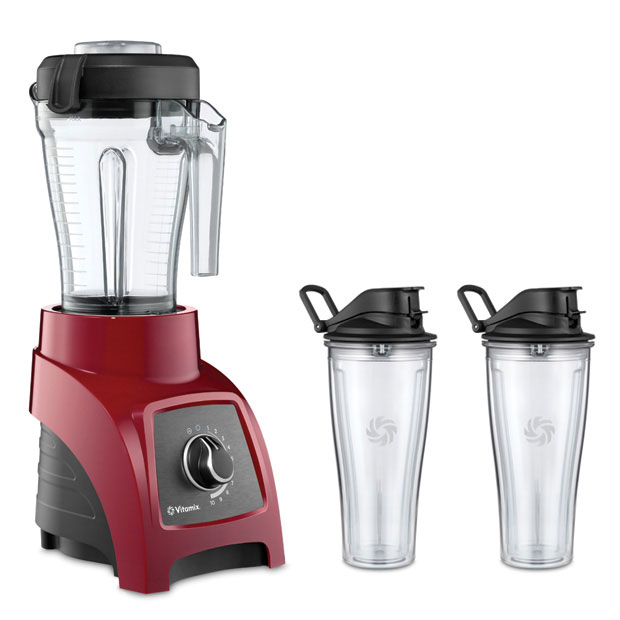 If you're interested in trying the Vitamix experience for yourself you can order online or head down to your local Harvey Norman store.