We love summer in Australia. Nothing beats that combination of trips to the beach, long hours of sunlight, backyard cricket and of course, the classic barbecue. There's no better way to spend those long, lazy hours than with a beautiful meal out on the back deck with the people that matter.
But there's really no reason to limit the delights of barbecue and outdoor cooking to the warmer months of the year. After all, a hearty home-cooked meal is a terrific way to stay warm as the temperature drops. And, if you're a bit of a foodie, mastering the art of outdoor cooking is a great way to try new things and hone your skills. There's a wide range of barbecue and cooking styles from all around the world just waiting for you and the family to experiment with and enjoy.
Are you ready to open up a whole new world of flavour right in your very own backyard? Here's three great BBQ ideas from Harvey Norman that will suit everyone from the outdoor cooking newbie to the experienced backyard chef.
Authentic Woodfired Pizzas
If you're a fan of authentic Neapolitan-style pizza, you'll probably know that making it at home is no easy task – at least without the right equipment. Getting that authentic flavour and texture isn't really possible in your standard fan-forced electric oven. They simply do not get hot enough or produce the right types of heat to char the base and crust without overcooking your delicate toppings.
One great way you can achieve succulent-yet-crispy pizza at home is to use a woodfired pizza oven – just like your local pizzeria. One of the best woodfired pizza oven options to take a look at is the Masport Woodfire Pizza Oven. It comes complete with four large pizza stones, which are great for evenly cooking those homemade pizzas, calzones and even artisan breads.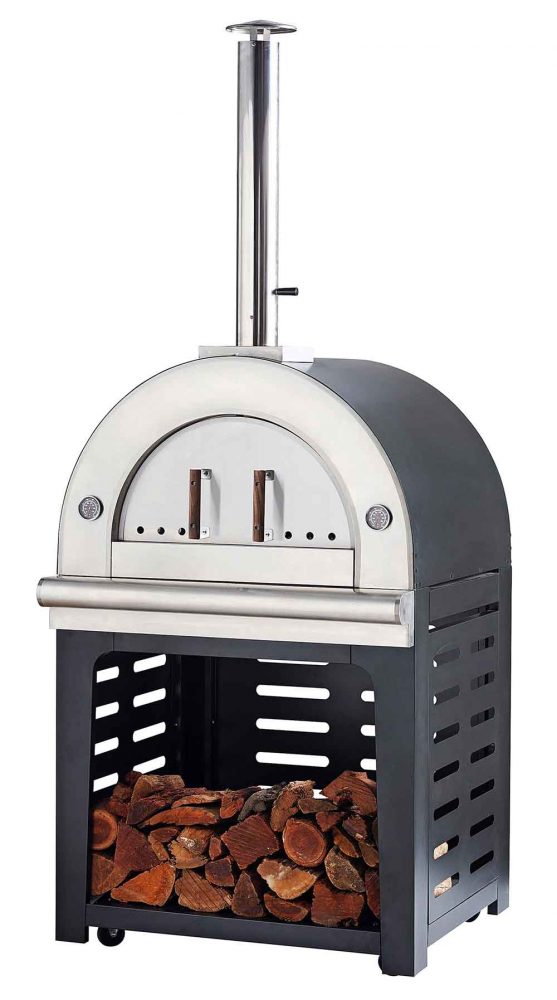 There's two independent temperature gauges (one on each side of this outdoor pizza oven), allowing for dual-zone temperature control – so you can have one side hotter or cooler than the other, providing great versatility when cooking. With plenty of space within the heavily-insulated oven, it's a good option for infusing any dish with that classic smoky flavor. When used at a low heat setting, it's a great slow cooker as well. And because there's a fully-fledged wood fire providing the heat for your cooking, it's also pretty effective as an outdoor heater. Who said a winter's night on the back deck can't be toasty!
There's two handles on the oven door, which makes it easier and safer to get those delicious dishes in and out of the oven cavity. And with durable 304-grade stainless steel construction, it's sure to stand up to both extremes of Aussie weather – those baking-hot summers and cold, wet winters.
This Masport woodfired pizza oven is great for experimenting with all different types of pizza from around the world. If you need a little inspiration, one of many great BBQ ideas is this delightful smoky barbecue chicken and caramelised onion woodfire pizza recipe. This sure-fire crowd pleaser is packed full of the good stuff – and the best part is, you might even get some help from the kids!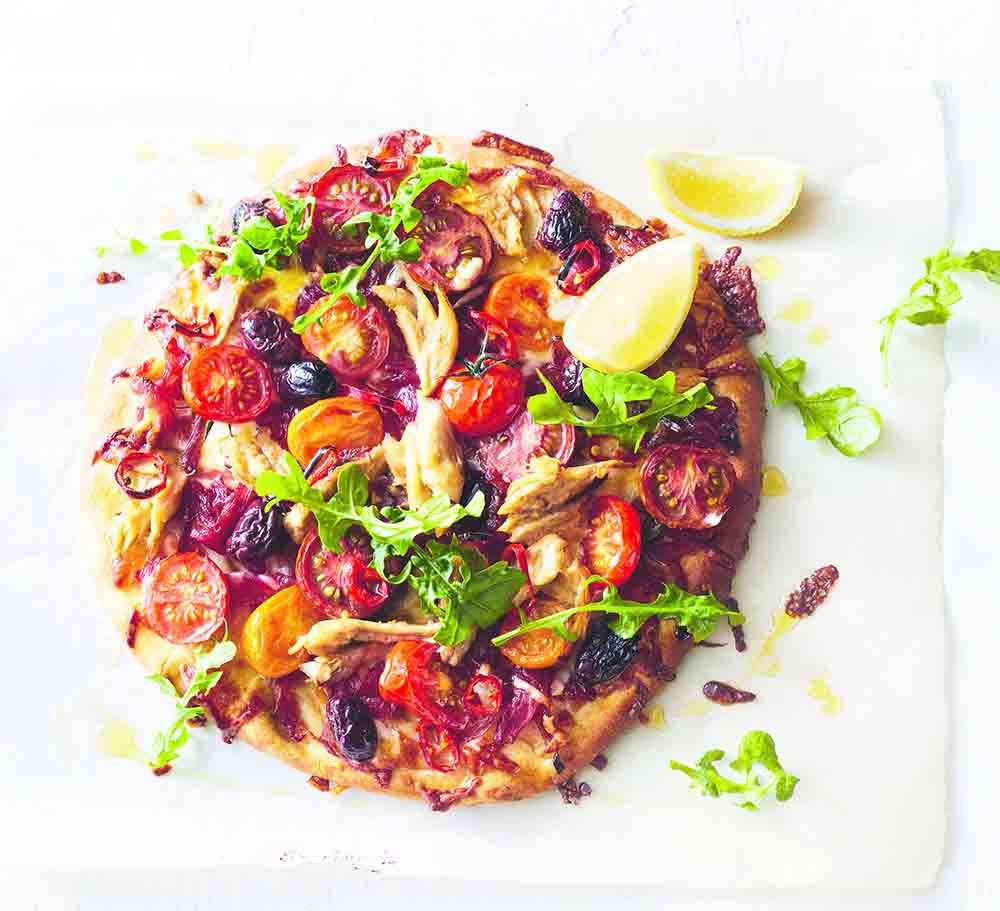 Classic Smoky Meats
If you're one of the many workers who have been able to arrange a work-from-home setup over the past 10 years or so, you'll know how much time and freedom it gives you – especially when it comes to food. Without the commute, there's no need to rush to the shops on your way home and you can really spend some quality time making something special. If you're a fan of smoked, slow-cooked meats, then it's a real treat. You've got all day to check on your feast as it cooks, and no longer does it have to wait until the weekend. Start in the morning, and by dinnertime you've got something delicious that everyone can enjoy.
Whether you're a seasoned smoking pro or just getting started, it's always important to have the right equipment.  Outdoor smokers come in many shapes and sizes but one great all-round option is the Oklahoma Joe's Highland Reverse Flow Charcoal Smoker. Just as the name implies, this is one very easy way to enjoy superbly tender and smoky old-school Southern-style barbecue in your own backyard.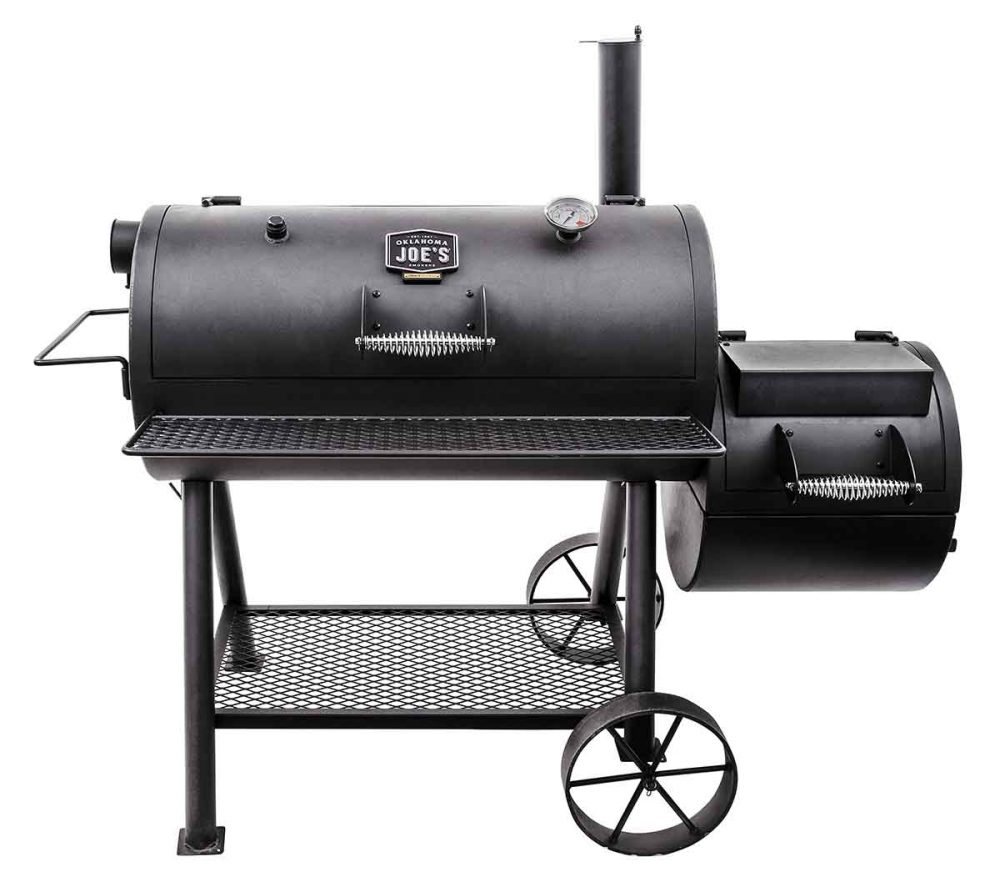 But, what is a reverse-flow smoker? Well, it simply means that there is a metal plate within the smoker that separates your meat from the intense heat of the fire. This helps prevent burning, reduces the need to turn the meat mid-way through cooking, and better infuses the meat with delicious flame-grilled flavour. Seasoned barbecuers might prefer to flex their skills with a more manual way of cooking, so the Highland allows you to move the smokestack so the meat is directly exposed to the fire's heat (otherwise known as offset smoking).
This outdoor BBQ smoker also includes four specially-designed baffles under the cooking grate, which directs and channels heat and smoke under, over and all the way around your food. This means all of your meats will be evenly cooked and infused with that classic smoky flavour. Another impressive feature of this smoker is that you'll have about 3993cm² of cooking area to work with. That's enough for about seven whole 2kg chickens in one go!
The Highland outdoor smoker has a separate chamber for your charcoal, so there's no need to open the lid and lose heat during the cooking process. It even incorporates another separate access door to the fire, allowing you to stoke or add fuel again without disturbing your meat as it cooks. Handy!
This stylish meat smoker comes complete with a temperature gauge, so you know exactly when to add or remove fuel to maintain that perfect smoking temperature. As a general tip, that's between 90 and 115°C. So if you have a craving for authentic Southern-style barbecue and want a smoker BBQ in Australia, this is one option that's hard to look past.
Easy Rotisserie BBQ
While there's no question the above options would be ideal for the experienced outdoor cook looking to hone their skills, they may perhaps be a little daunting for the beginner.
Enter the FUSION, from Everdure by Heston Blumenthal. This outdoor pedestal BBQ, smaller but no less mighty, is packed with tech that makes great results a little less labour-intensive. The handiest of these would have to be the Fast Flame Ignition System™. With the FUSION outdoor BBQ, you can forget about waiting around for your charcoal fire to start, because this electric ignition system helps things get going in as little as 10 minutes.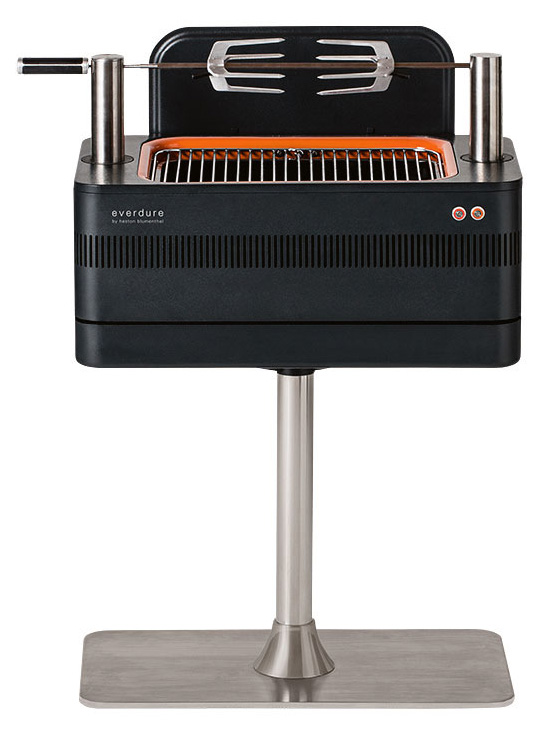 Once the charcoal is glowing nicely, the FUSION again makes things easy with its rotisserie cooking system. It's got a capacity of 15kg, which should be enough to feed even the hungriest of parties. The ClipLock Fork system holds the meat securely in place, and you can adjust the height of the rotisserie at three different levels to suit the style and size of your meats.
If things become a little cool and you need to add charcoal, the hinged chrome grill means this is as easy as simply opening the grill up and adding as much as necessary. Plus, once you've enjoyed your fancy feast, cleanup is simple with a porcelain enamel tray and firebox that easily wipes clean.
With a compact footprint, this outdoor BBQ would be the ideal option for a smaller backyard where space is limited. With its easy-to-use nature, you'll achieve results similar to Heston himself in next-to-no-time.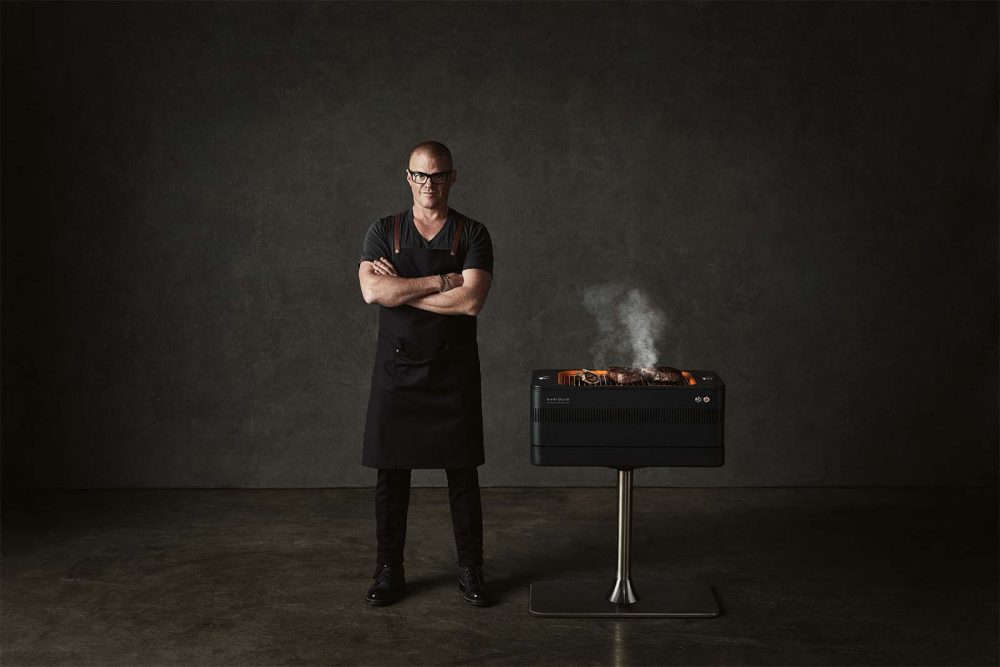 Where To Get Your Next Barbecue
Keen to start showing off those BBQ skills? You can shop each of these great options online today, or speak with our friendly, expert staff for tips and advice on how to make the most of your outdoor cooking space.