Some of my most treasured childhood memories come from spending time in the kitchen, creating delicious meals with my family. There is truly no better feeling than being surrounded by your loved ones, laughing and enjoying each other's company whilst cooking family-friendly recipes that have been passed down through the generations. So you can imagine my excitement when I was handed the Westinghouse Kids in the Kitchen recipe book. As I flicked through the recipe book, I discovered recipes (churros in particular) that I could see myself creating with my nephew.
Westinghouse have been an iconic part of Australian homes for decades, and they are on a mission to bring cooking back and revive the heart of the home. They have created a recipe book filled with fun cooking ideas for kids to help families experience the fun, mess and entertainment of cooking together. Learning how to cook from scratch is one of the most vital life skills you can teach your children. It is a fun, communal activity where every member in the family can get involved, even little kids – thanks to the Westinghouse range of kid-friendly cooking appliances that are designed to ensure safety in the kitchen.
Our Mission
Harvey Norman and Westinghouse have teamed up to put four of these Kids in the Kitchenrecipes to the test by letting two youngsters loose in the kitchen (with adult supervision, of course) and filming the results. The recipes that the kids got stuck into included beef 'n' bean nachos with all the toppings, pancetta and vegetable fritters, fish tacos and churros (my personal favourite). You can view the videos and download the full recipe book here. I had the privilege of attending the shoot and witnessing the magic happen, so strap yourselves in and enjoy the ride as I take you behind the scenes of the Westinghouse Kids in the Kitchen video shoot.
Behind the Scenes at the Westinghouse Showroom
Upon entering the amazing Westinghouse showroom, my mouth instantly watered over the smell of nachos being prepared. To my left were three test kitchens set up with Westinghouse's latest innovative kitchen appliances, and to my right were the two very excited little chefs: Sienna (10) and Josh (7) as well as their very proud Dad, Gary. I quickly discovered Sienna and Josh were two very competitive siblings – both with completely different tastes in food, but the exact same passion for cooking. We sat back and observed while they actively assisted the Westinghouse in-house chef, Lauren, prepare all four recipes. The 'anything you can do, I can do better' attitude made for great entertainment!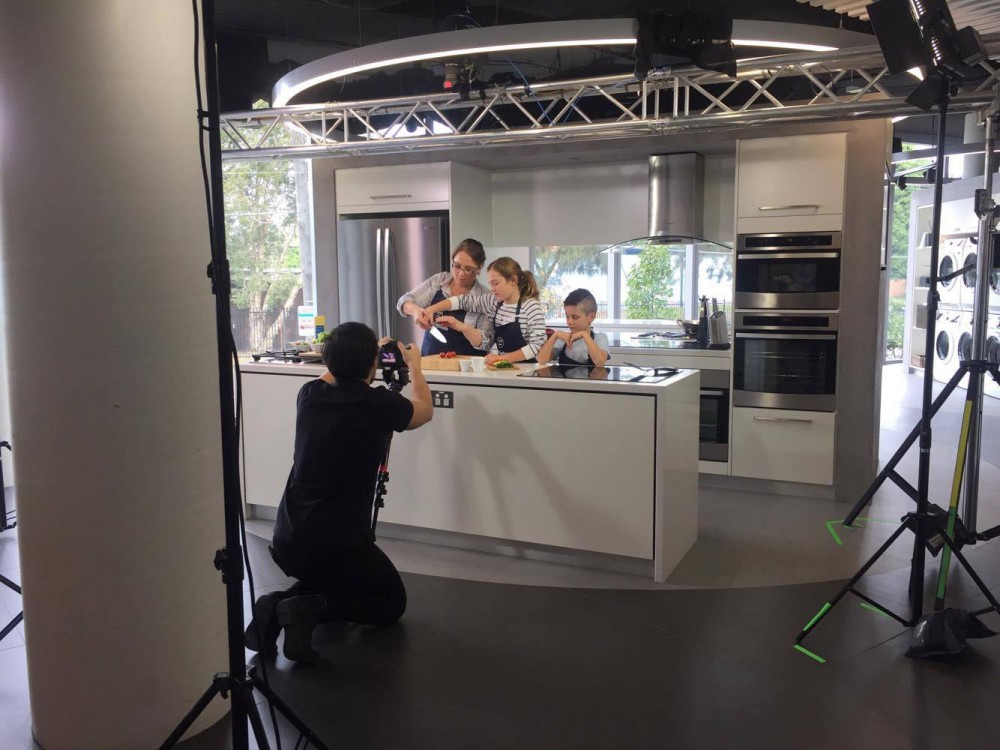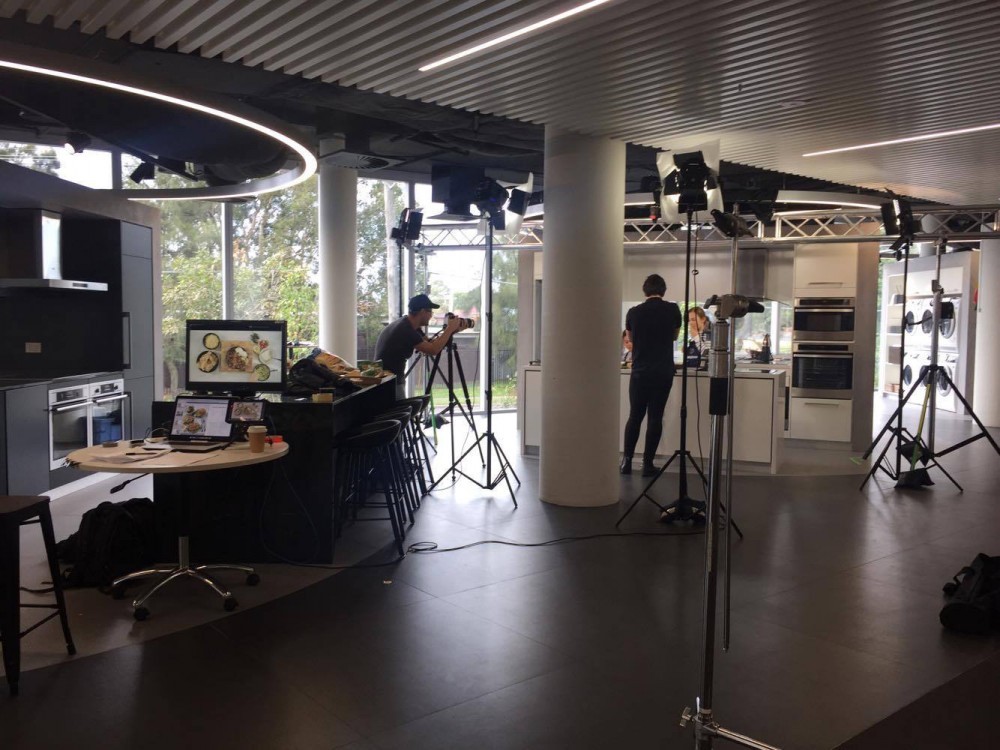 Little Chefs, Big Personalities
Watch the video and see what our little chefs thought of their day in the kitchen.
Dad's Thoughts
We caught up with Gary to get his take on cooking with kids.
1. What's a family favourite that you and your kids prepare together?
For meals it is either pizza or tacos while for desert it's usually cupcakes or butterfly cakes – either way it involves baking!
2. Kids love helping prepare sweet treats because they know they'll get to eat something special at the end of it. In your experience, does getting kids to help prepare a healthy meal incline them more towards eating it?
Well they did eat the pancetta and vegetable fritters that they made today!
3. In your opinion, how important is it to involve children in meal preparation?
Very. You are never too young to learn some basic cooking skills. It's amazing how easy it is to get them involved and keep them interested. They also love cooking shows.
4. How important is it to teach kids kitchen safety and cooking skills from an early age?
Again, it's very important, as safety is a key part of the basics in the kitchen.
5. While your kids participated in the filming of these recipes, you watched on. How impressed were you with the safety features of the Westinghouse appliances?
They were certainly impressive. Although most brands have some of these features, Westinghouse is a brand that actually promotes them. Also, some of the safety aspects are based on innovation rather than feature set.
6. Were you surprised by how well your children did in the kitchen – be it slicing tomatoes, searing fish, whisking eggs or plating up their proud achievement?
We were more proud of them holding their focus for the entire day. The cutting, grating and slicing they are always happy to help with, but I'm hoping that one day that list will also include cleaning up.
7. Is there anything you learnt as a parent at the shoot that you'll take back into the kitchen while cooking with your kids?
The latest innovations in products make the kitchen environment safer for both adults and kids. Meanwhile, the induction and steam ovens and other products will improve your cooking results regardless of what level of cook you are. Technology these days make it easier to get better results as long as you can follow a recipe and trust the product. Cooking is all about confidence and kids aren't scared of technology, hence they test it always.
Family Friendly Appliances
Although cooking with beginners in kitchen can bring so much joy, when you're surrounded by hot ovens and stoves it can also be quite stressful. When learning about the Westinghouse quality kitchen appliances range, I was amazed to find out how safe the products are. You'll make your child's introduction to home-cooking a safe one with these kid-friendly appliances that are designed to protect little hands and curious minds from any mishaps. These appliances have the added parent-friendly benefit of being easy to clean and maintain.
Induction Cooktops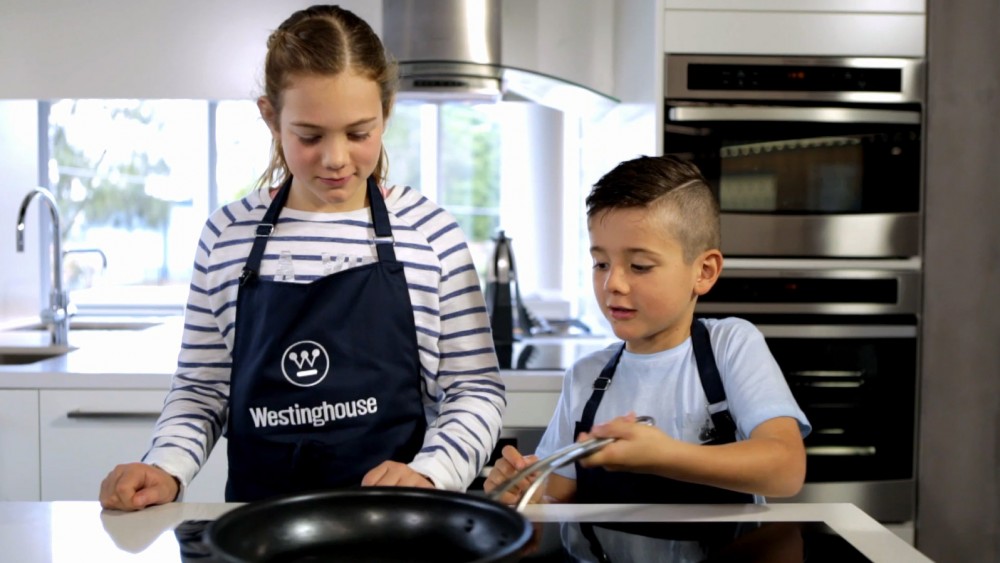 Avoid accidental burns in the kitchen with high performance induction cooktops that only generate heat in the cookware. The no-flame design creates a safe environment where kids can help you stir pots and pans without any worry, while the pause button lets you switch to keep-warm mode if you need to step away from the cooktop. The child safety lock is another great feature that ensures your kids don't accidently switch the cooktop on in your absence.
Child-friendly Ovens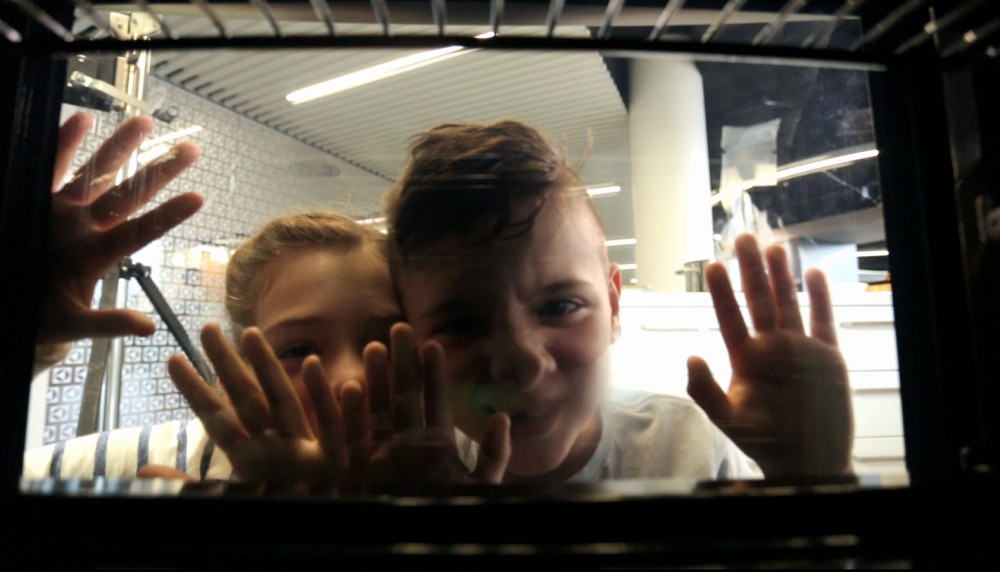 Westinghouse's child-friendly Oven range ensures your children don't burn themselves while accidently leaning on the oven door or while watching food cook with FamilySafe™ cool doors that feature multiple layers of glazed glass. Budding chefs can now monitor the oven safely, while the food cooks and transforms right before their eyes. Plus, parents will appreciate the easy-to-clean fingerprint resistant stainless steel exterior, which will keep the oven looking brand new. Another great feature of this FamilySize™ oven is its 80L capacity – cooking for the entire brood can be done in one easy go.
Clever Dishwashers
As well as child lock on control, the range of Westinghouse dishwashers includes a water safety system to protect your kitchen and your family against flooding. The added benefit of a hygiene option enables you to get the best clean possible on high risk utensils, such as chopping boards, knives and baby products, in order to protect your family against bacteria and sickness-causing germs. Another important feature for families with small children is the FlexRack cutlery tray that allows dangerous items, such as knives, to be placed lying down.
Compact French-Door Fridges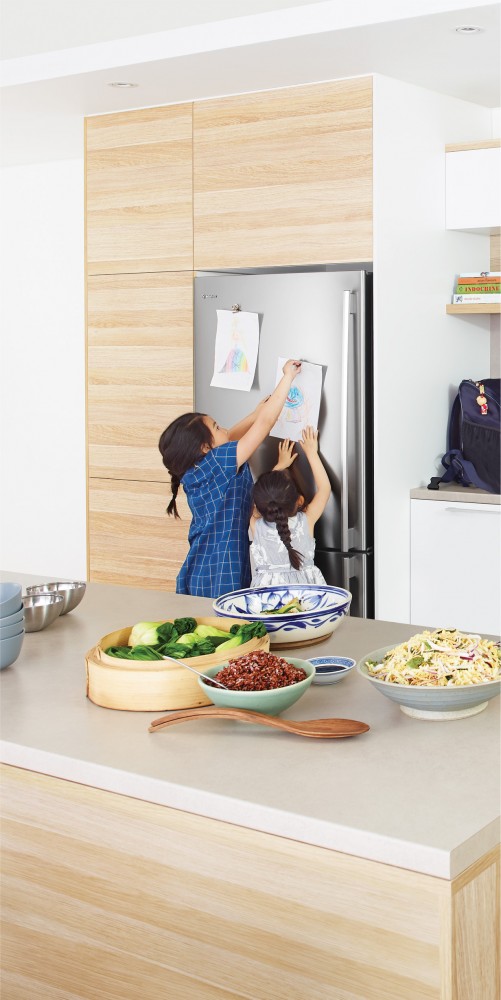 As well as offering a great fresh food storage solution for households with little kids – where having fruits and vegetables on hand is crucial – Westinghouse's range of compact French-door fridges also offer FamilySafe™ lockable storage, allowing you to safely store items such as medicine away from inquisitive little fingers. Day-to-day spills are part of daily life for a parent of little kids, which means the SpillSafe™ glass shelves, that can contain spills of up to one litre, will come in handy often.
Ready to introduce your kids to the joy of cooking? Equip your kitchen with a reliable appliance from Westinghouse. Browse online or visit your nearest Harvey Norman store to talk to our friendly and helpful in-store team today.