The truth is that I've been thinking about getting a new blender for a while. My old blender – admittedly a fairly basic model – has seen plenty of service and is well and truly due for retirement. It would be more accurate to describe the smoothies I've been making lately as 'lumpies'. So when Breville's The Super Q™ Blender and Vac Q™ Bundle came across my desk to review it was like manna from heaven.
Breville The Super Q™ Blender – The Key Features
One of the many innovative kitchen appliances available from Harvey Norman, this powerful blender certainly looks the goods. It's got a luxe stainless steel design, which will complement the look and feel of your other kitchen appliances.
Under the hood it features a 2400 Watt motor (with the highest possible motor rating), and boasts blade tip speeds of up to 300km/h when tested with 1.6L of water. It's basically a commercial-grade blender that's been designed for the home kitchen, so that's the grunt taken care of.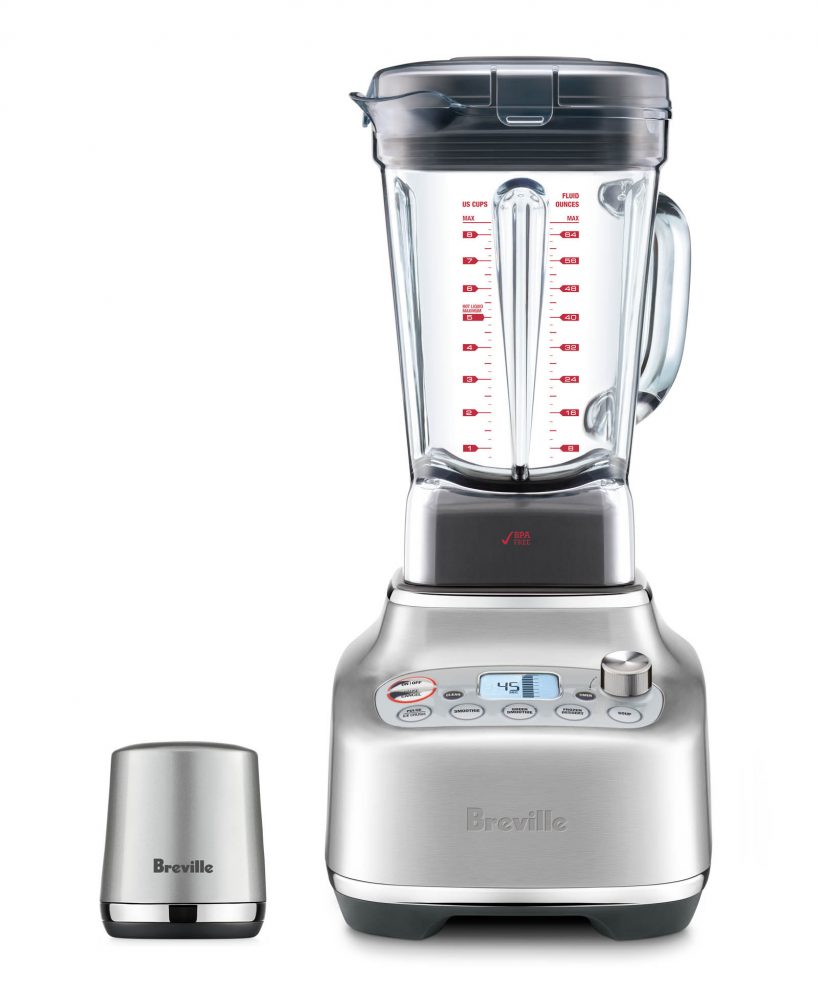 Speaking of home kitchens, The Super Q™ Blender has also been built with noise suppression technology, which means it's easier on the ear. It uses a unique cooling system to reduce operating noise, making this the perfect blender for when you're sharing space with other people (and don't want to wake them up). No more guilt about those early-morning green smoothies!
All looking good so far, right?
Well it gets even better! You see, this blender isn't just for smoothies or juices – you can use it to make desserts, nut butters, soups and so much more!
Breville The Super Q™ features five handy one-touch programmes that optimise the time and speed of the blender to produce the tastiest results for the task at hand. This means you can enjoy silkier dairy smoothies and smoother green smoothies without hassle. Just push the button for the programme you want and hey-presto it's all done.
Maybe it's getting cold outside and you want something to warm you up? Create your own hearty soup using the Soup programme. Want a frozen yoghurt desert instead? I know I did – so I made use of the Frozen Dessert function.
There are so many things you can do with this super blender – you can mill grains, munch through fibrous greens, create your own sauce or prepare some tasty dips!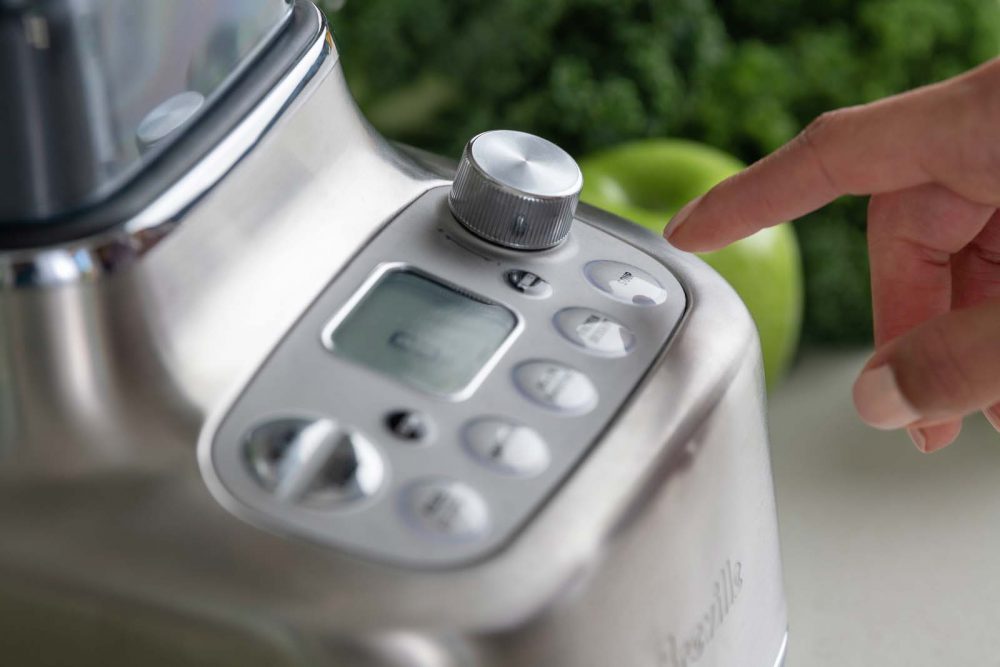 What is Breville The Vac Q™?
Before I get too deep into my review and talk about the marvellous creations I made (and they were indeed marvellous), it would be remiss of me to not point out that this blog isn't just about Breville The Super Q™ Blender – it's also about Breville The Vac Q™ vacuum pump. See, this is a super blender that has the added benefit of vacuum technology.
What's The Vac Q™, you might ask? I know I did! Turns out, it's a super-handy little addition that can make a lot of difference in the texture, colour and flavour of what you're blending.
See, the air in the blender has an effect on your fresh ingredients. Air causes oxidisation which negatively impacts the nutrient content and how long you can store your smoothies. How do we combat this? When making a green smoothie you just simply place The Vac Q™ vacuum pump attachment on top of the blender and use it to draw the air out from inside the chamber. Not only will you preserve the nutrient content of the ingredients, you'll also enjoy a much smoother green smoothie with a deeper flavour experience with less ingredient separation. This process also helps provide a creamier finish when making spreads and dips, and will even improve the texture of your soups.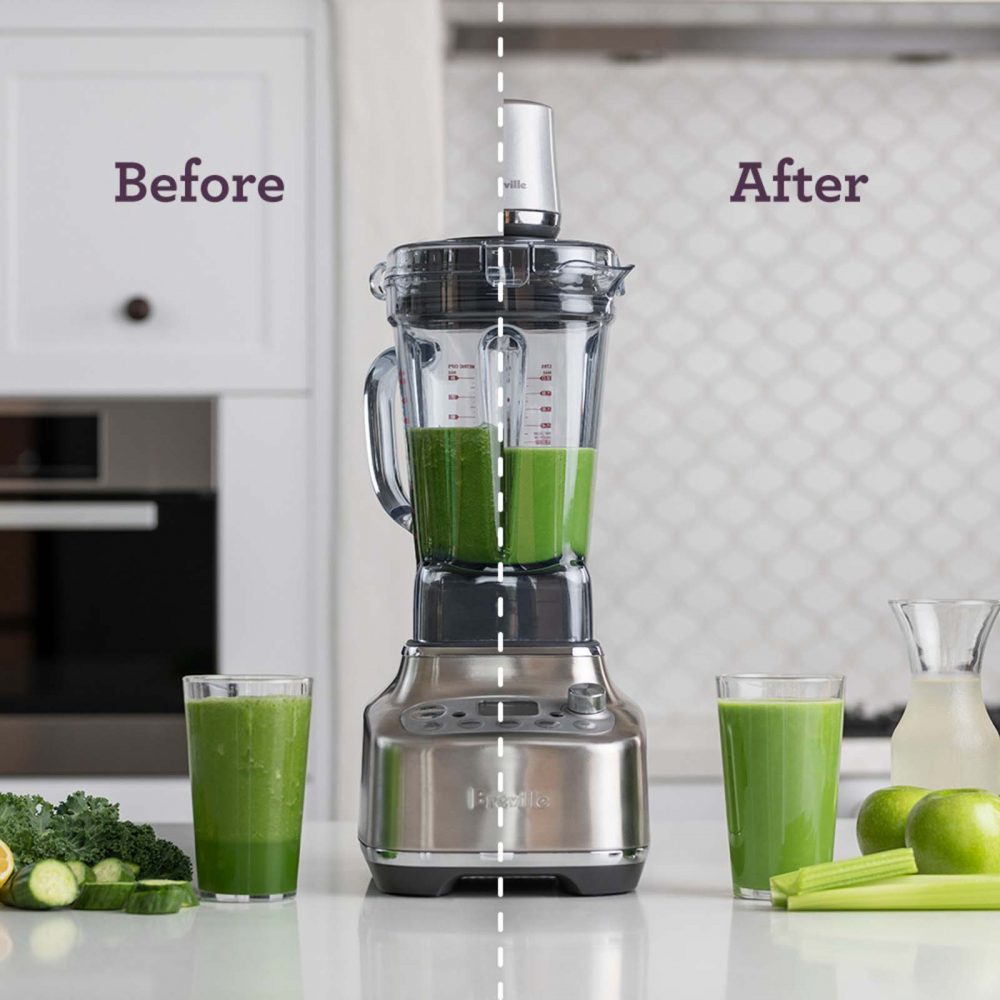 Some recipes – especially those that use dairy products like a milk-base shake or smoothie – will benefit from having the air left in, as it's the air that's whipped through and trapped into the shake that gives you that light and bubbly texture that you want from a milkshake. For those recipes you won't need the Vac Q™ – and helpfully, the Vac Q™ comes with a handy little guide so you'll know exactly what to use it for.
Breville The Super Q™ Blender Recipes
Speaking of recipes and guides, Breville The Super Q™ Blender & Vac Q™ package comes with a beautiful hardback recipe book called 'Simply SuperBlending' that is filled with brilliant recipes you can create at home – everything from a Tropical Green Smoothie or Bircher Smoothie Bowl, to Thai Spices Butternut Pumpkin Soup or a Pistachio & Hazelnut Dukkah. It even has recipes for flour mixes, sauces, spice mixes and cocktails – all which can be made with The Super Q™ Blender.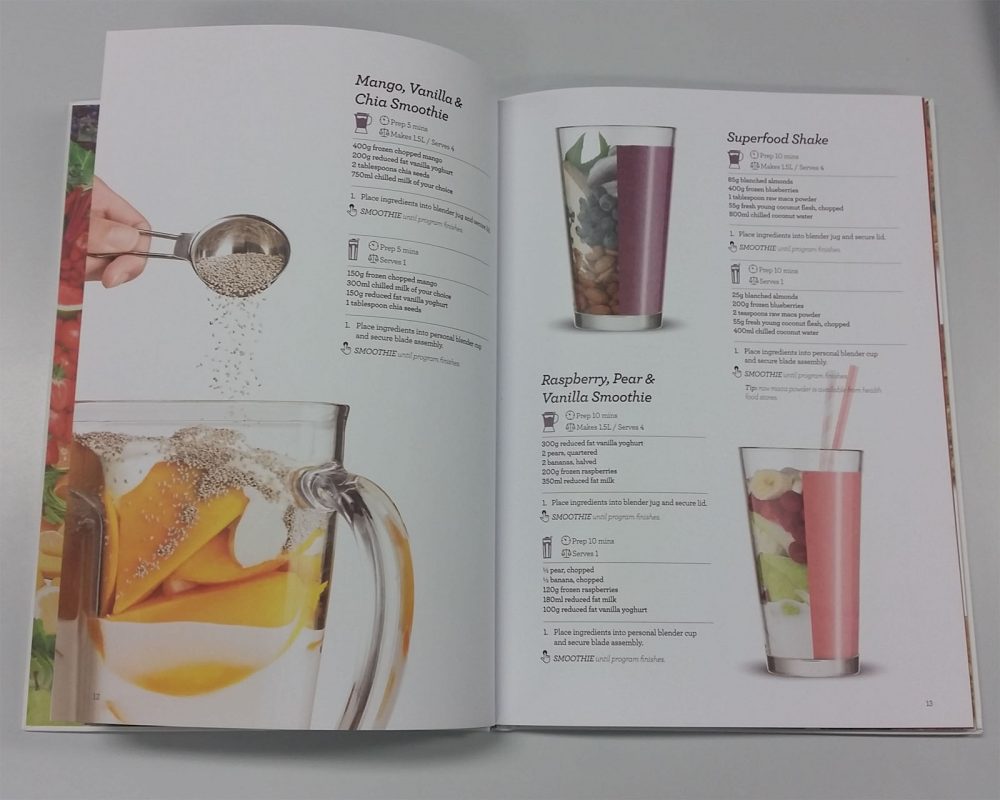 With all that inspiration, off I went to the supermarket to pick up some ingredients to get creating. As it was a Saturday morning, I started thinking ahead to that evening and decided to make a dessert to enjoy later. My choice? The Banana, Pecan & Honey Frozen Yoghurt recipe.
The recipe was super easy to follow and once I placed all my ingredients in the blender it was simply a matter of pushing the right programme button – Frozen Dessert – and using the tamper to press the ingredients firmly into the blade for consistency.
Once done, I just transferred the mix into a container which I popped in the freezer for 30 minutes to set. So easy!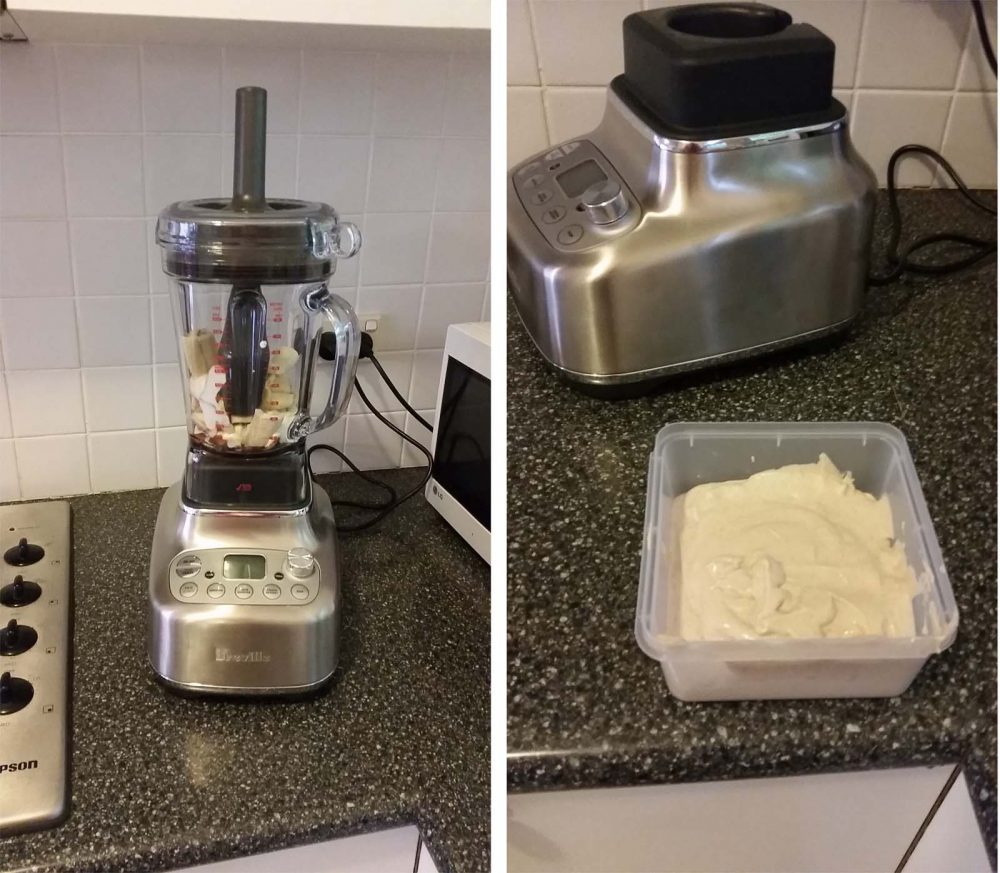 While the mix sat in the freezer, I decided to whip up a green smoothie for lunch. Well, not exactly 'green' per se. You see, all these creations had me inspired, so I did a variation on a few recipes to give it my own twist – a combination of mango pieces, raspberries, chia seeds and coconut water. This was a perfect chance to use The Vac Q™ to remove the air from the equation.

The Vac Q™ is impressive to behold. As you can see, air bubbles are drawn up through the ingredients and sucked out of the blending chamber. After The Vac Q™ finished doing its thing, I just pushed the Green Smoothie button on the Super Q™ and sat back to watch. The automatic programme did all the work for me, while the display screen counted down the seconds remaining until it was ready.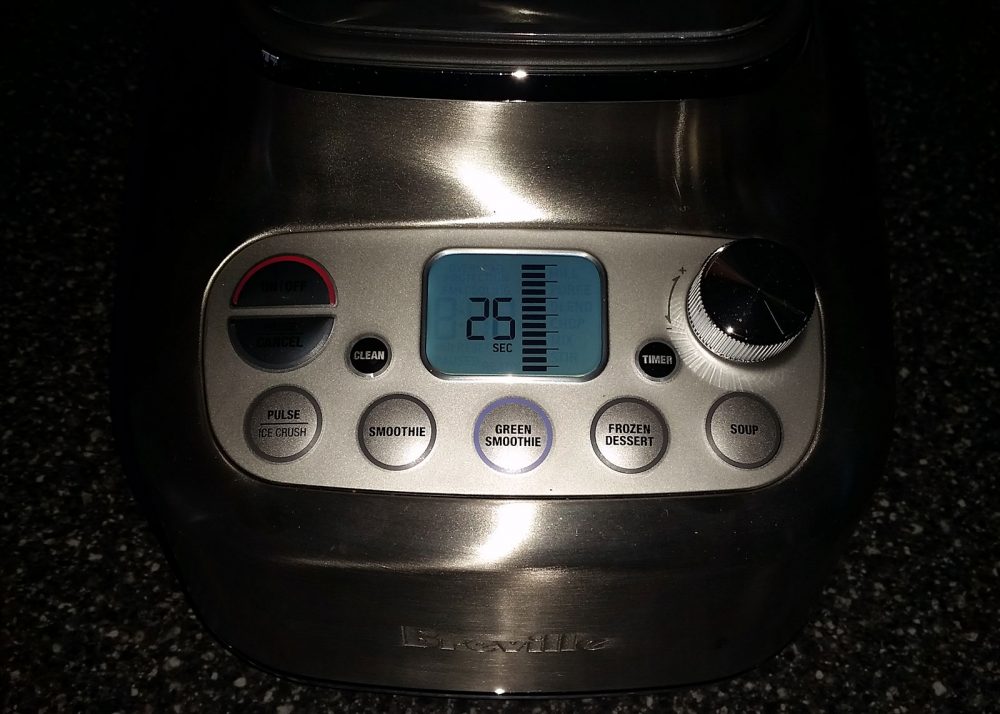 The results of both my creations? Delicious!
Since then I've found myself using Breville The Super Q™ blender every day – and it's always amazing. It's also amazingly easy to clean; simply add 4 cups of warm soapy water to the blender jug, pop the lid back on and press the Clean button. It doesn't get much simpler than that!
Where Can I Buy Breville The Super Q™ and Vac Q™ Bundle?
If you'd like to treat yourself and get a hold of a Breville The Super Q™ and Vac Q™ bundle for your home then simply shop online or head in to your local Harvey Norman and speak to the friendly, expert staff – they'll get you sorted.