So much in our world seems to have been disrupted lately, but thankfully there is plenty that's going strong after all this time. Like Nan's top-secret Christmas pudding or the family fruit cake recipe that gets passed down from generation to generation. Cooking and good food is one thing that just brings people and families together.
Playing a part in so many of these cherished moments is one of the great names in kitchenware – KitchenAid. For nearly 100 years, KitchenAid has reinvented and revolutionised home cooking and can lay claim to the best kitchen appliances on the market today.
To celebrate its centenary, KitchenAid is launching a new collection including the stunning Limited Edition 100 Year Anniversary Mixer, available now at Harvey Norman.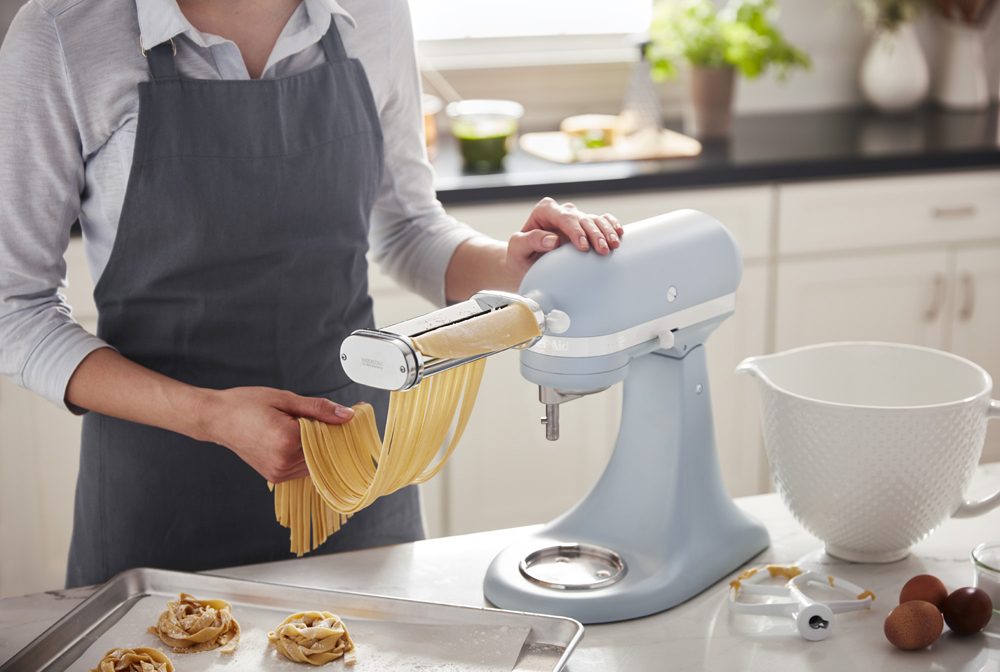 A delicious history
Legend has it that the idea for the original stand mixer was born after the KitchenAid's inventor, Herbert Johnson, observed a baker mixing dough using a heavy iron spoon.
Four years of prototypes followed and the idea was a hit. One early owner helped to name the new machine:
"I don't care what you call it, but I know it's the best kitchen aid I've ever had!"
And the famous brand was born.
In the 1930s the Model K was introduced. It not only introduced the classic KitchenAid styling, it also debuted the Power Hub attachment system. Every KitchenAid mixer since features the same system, meaning that Grandma's classic attachments would still work with a brand-new one.
KitchenAid didn't just take the effort out of cooking, it also gave it colour. The bright colours that the stand mixer was available in were a stark contrast to other kitchen appliances of the time – and choosing the right colour remains a big part of the KitchenAid experience today.
Still made in Ohio, just as the first was 100 years ago – today's mixers continue to enliven homes both with their sense of style and their state of the art technology. That's why it's with great excitement that we introduce you to KitchenAid's 100 Year Anniversary range.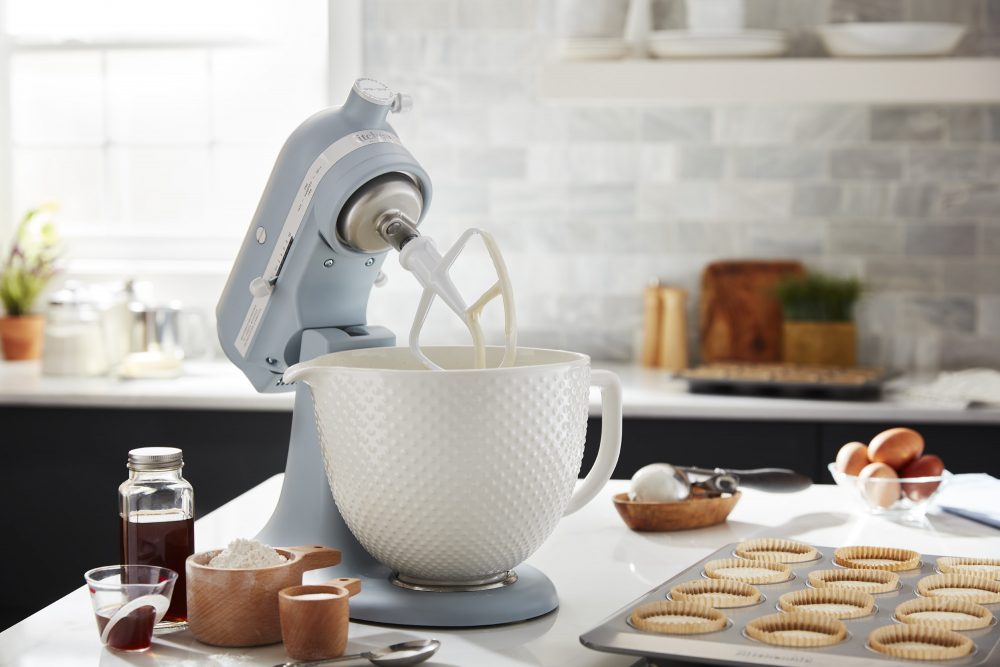 The 100 Year Anniversary Mixer is the epitome of the style and ease that KitchenAid has brought to home cooking.
The limited edition Misty Blue colour – a nod to the classic KitchenAid pastel shades – will look completely at home in your kitchen, whether rustic or ultra-modern.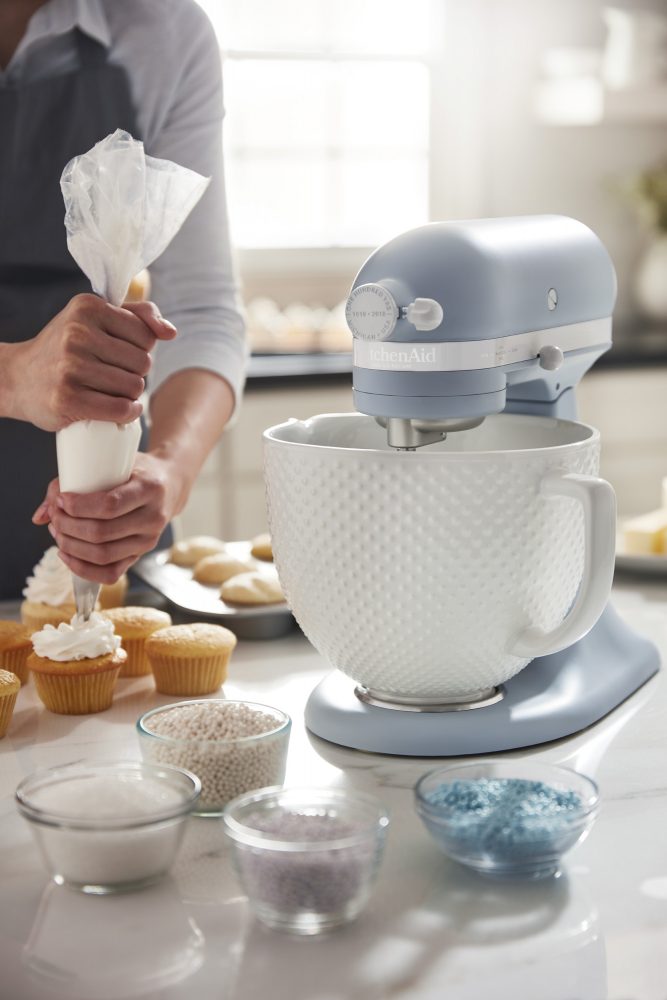 The classic colour is complemented by a retro variation of the KitchenAid logo on the Power Hub cover, as well as a 4.7L white ceramic bowl.
Plus, with 10 speed settings to choose from and a classic tilt-head design that lets you easily add ingredients to the bowl on the fly, cooking up a storm is as easy as it's ever been.
With just 1,000 made, the 100 Year Anniversary Mixer is one for the collectors!
Taking the exhaustion out of cooking is the KitchenAid way, even for the most serious bakers and home chefs. The KitchenAid Sifter+Scale attachment makes it easy to ensure just the right measurements are going into your mix. The scale can even be used on its own on your kitchen benchtop, without the mixer!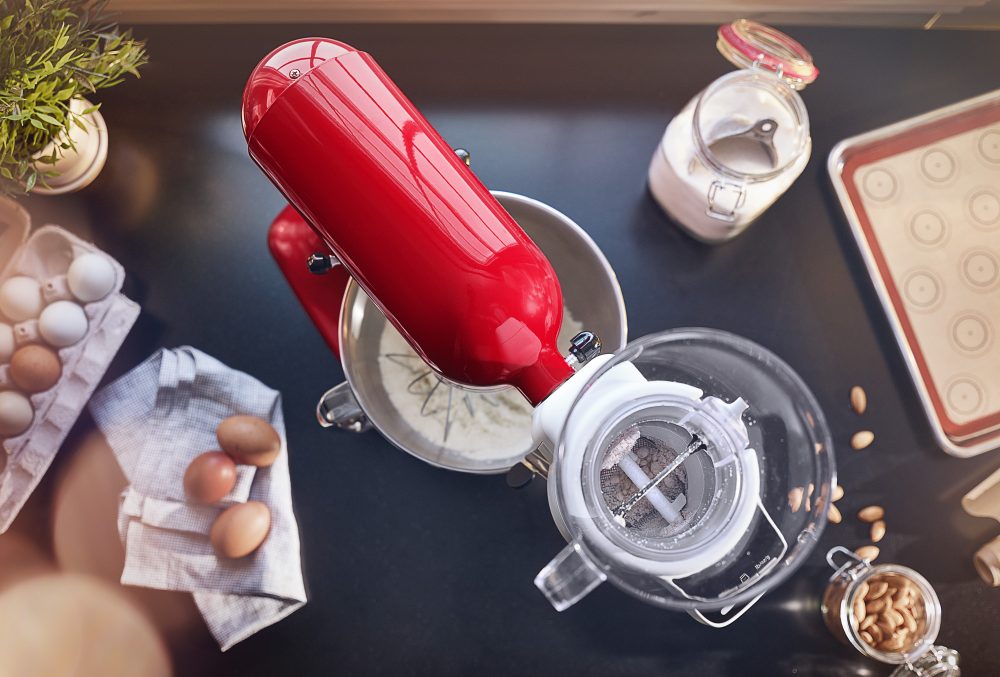 On top of this, the attachment's automatic sifter evenly sifts and gradually adds your ingredients to the mixture, ensuring your muffins and cakes will be fluffier and more delicious than ever.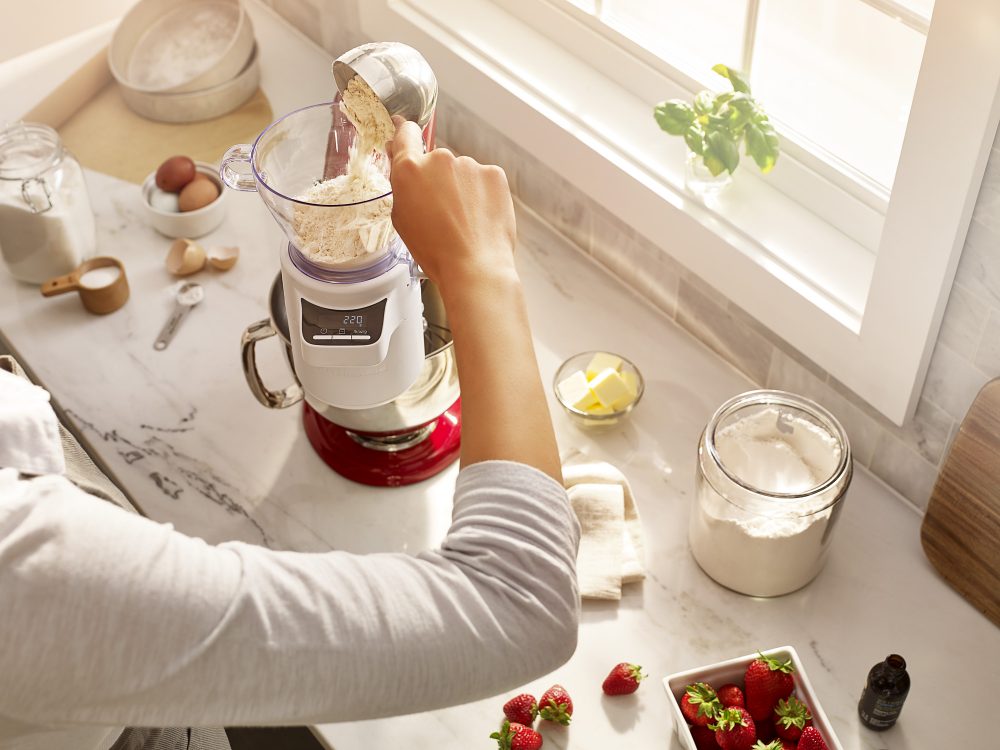 On paper, 240 watts, a 3.5 cup capacity and 22.2cm in height doesn't sound like much.
But for blending a sauce, salad dressing or even a single-serve of soup, there's nothing more perfect than the Mini Chopper.

Available in a range of classic KitchenAid colours, this tiny but mighty processor is just right for when you want to make a little, but don't want to clean up a lot.

Just one button makes it as easy as it gets to chop, puree and juice.  If you're short on time and space, the KitchenAid Mini Chopper is your best friend!
You would expect a food processor made by KitchenAid to make life easy – and the 7-Cup Food Processor is one of the best food processors there is in that regard.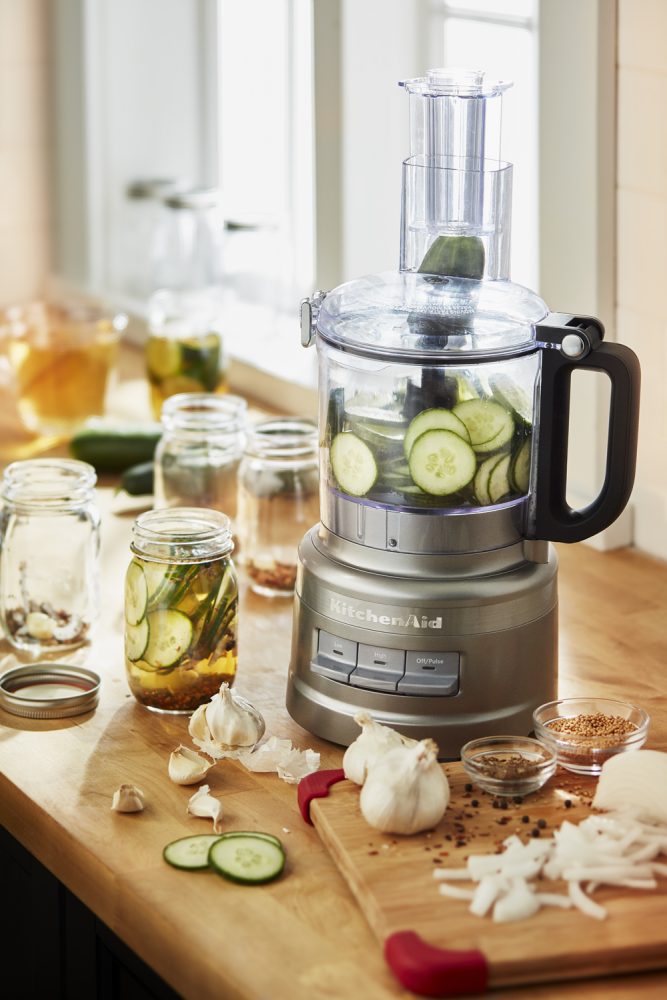 With a twist-free lid and base, 3 simple speed options (high, low and pulse) and easy-to-press paddle buttons, the 7-Cup is a breeze to use.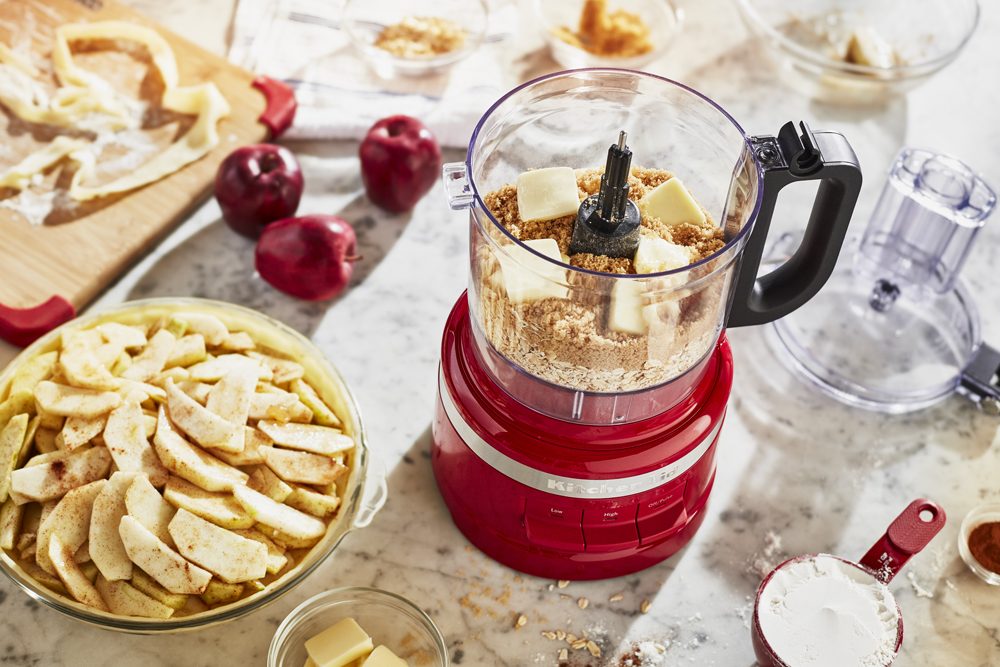 Few ingredients will stand a chance against either the multi-purpose blade or the 4mm disc designed to slice and shred your fruits and veggies. If you need to add something while you're processing, just pop it down the tube on the lid. The tube even has a drizzle opening for adding oil to sauces and dressings. Plus, if you're one that enjoys cooking for family and social gatherings, there is also a larger 9-Cup version available.
The smooth finish and edge-free design are not just for show – that's so you can easily wipe down the 7-Cup when you're finished.
And even putting it away is simple. Just place the attachments inside the bowl and you'll never forget where they are!
Blue Velvet is a brand new shade for KitchenAid in 2018. Continuing KitchenAid's legacy of style, this magnificent matte blue will certainly stand out in your kitchen.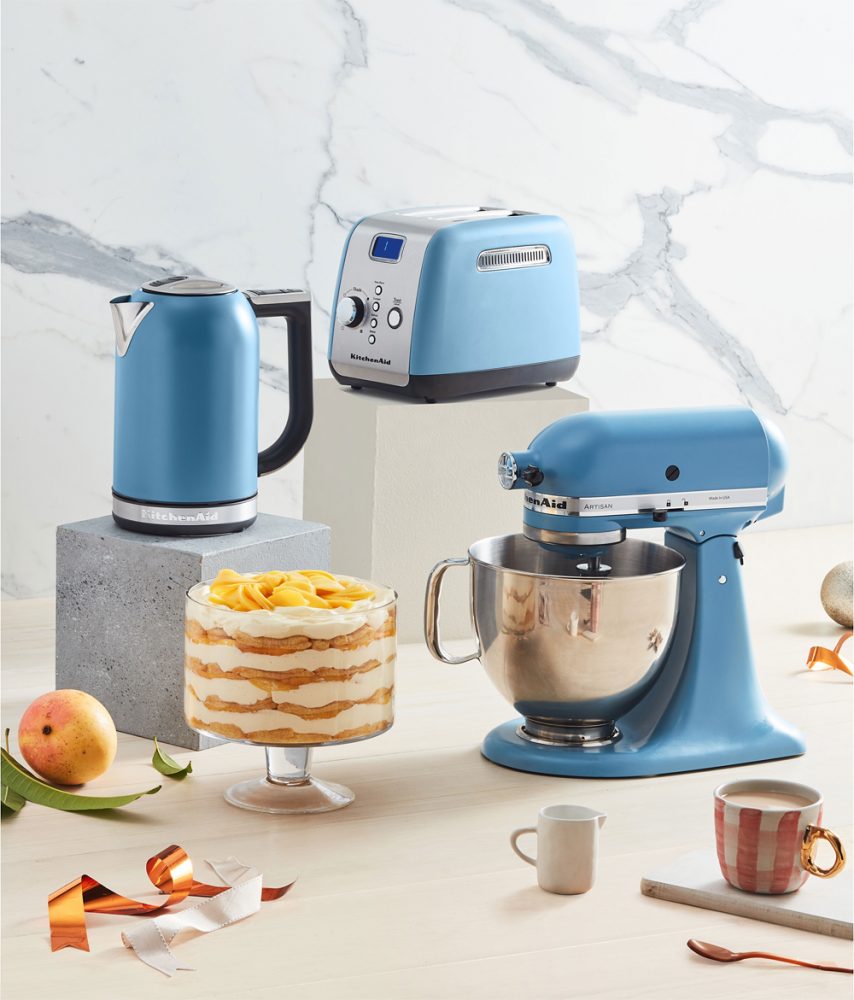 The Blue Velvet Artisan range includes an electric kettle which every tea lover is sure to adore. It can be set to any temperature between 50 and 100°C, which is great for those exotic blends. It can even keep water warm in case tea time gets delayed.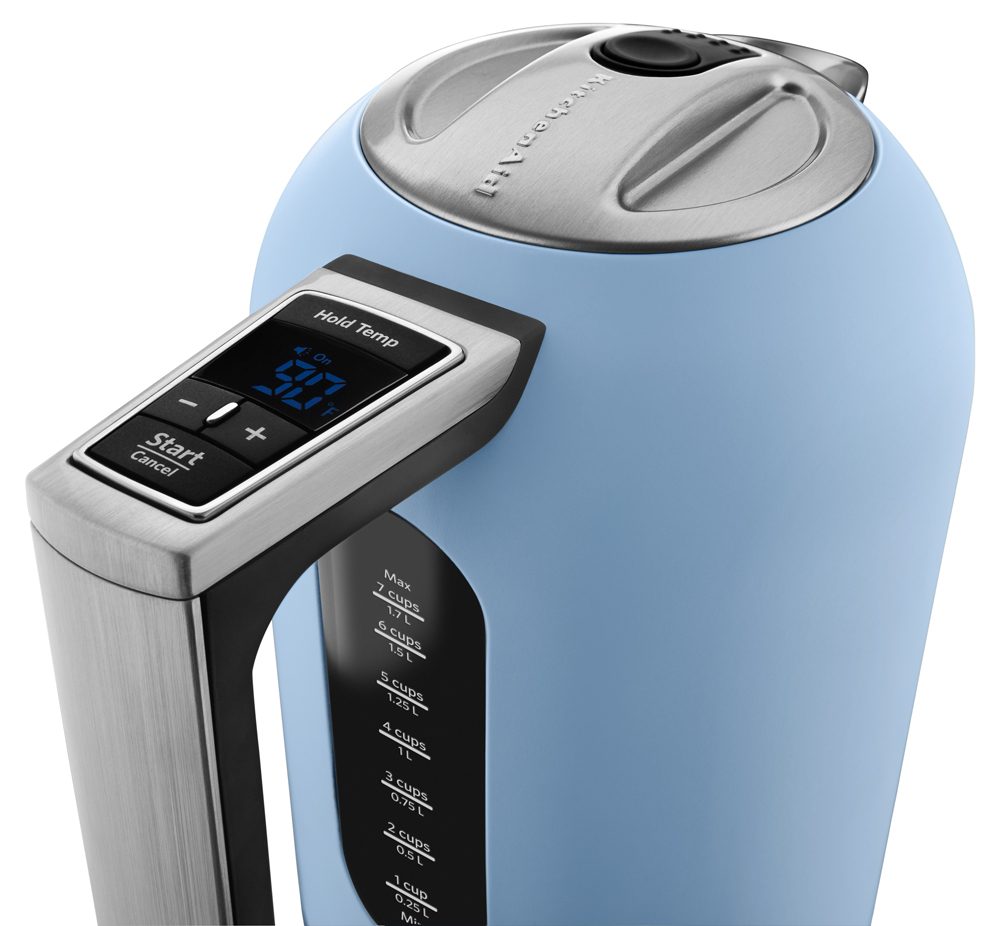 Alongside the electric kettle is the 2 and 4-slice Artisan toaster range. If you are someone that does not tolerate toast that is slightly too under- or over-done – then the Artisan is your friend with a rotary dial for precise control of just how 'done' your toast should be. The 4-slice model can even cook the two sides independently of one another, if your partner likes their toast done in their own unique way!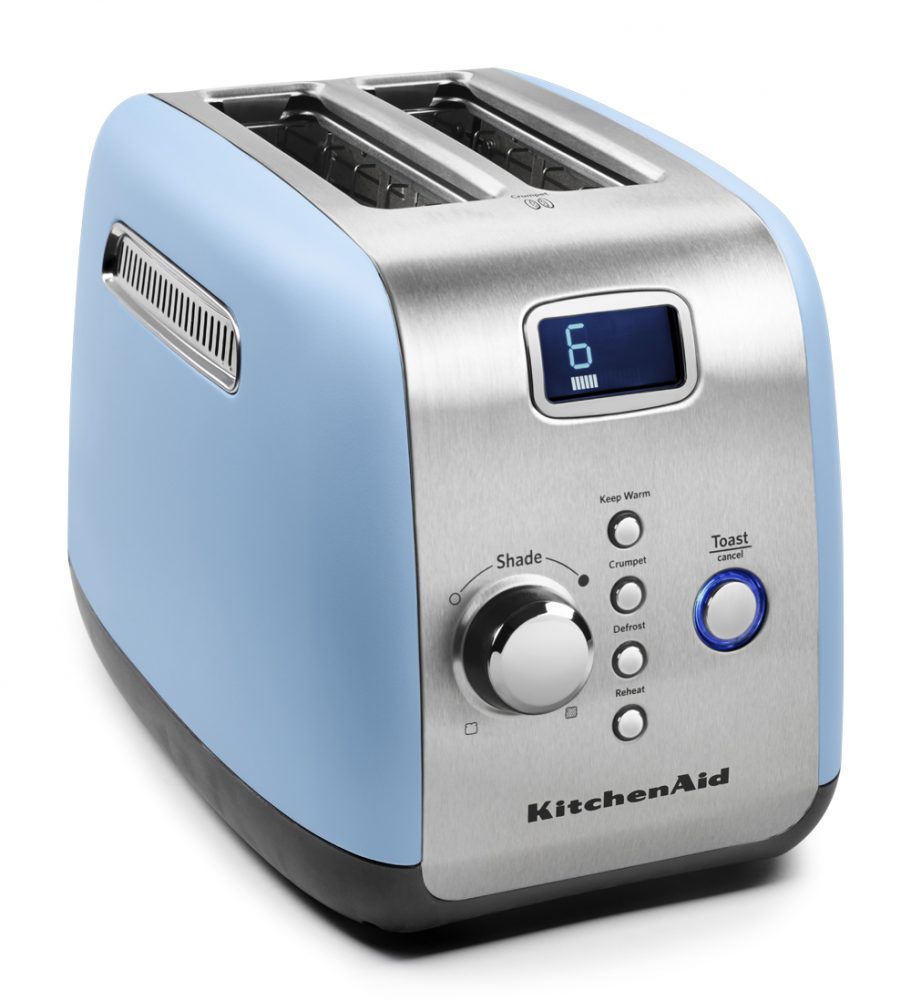 Best of all, the Blue Velvet Artisan toaster will remember your settings for next time.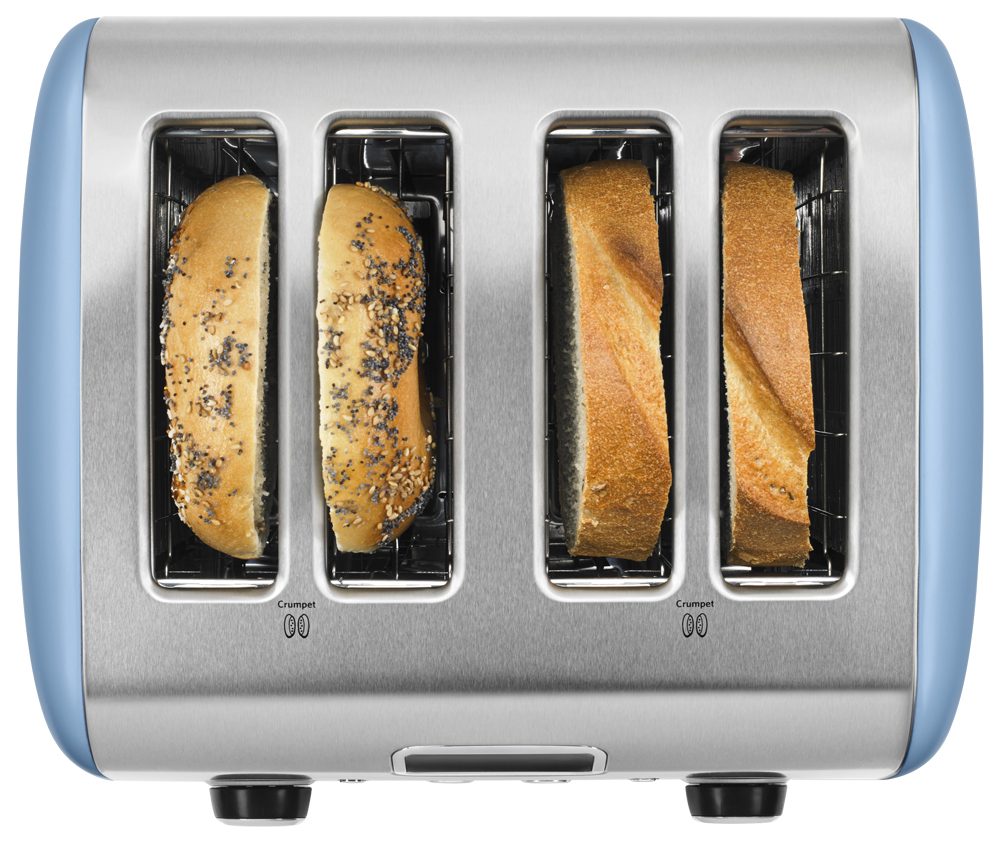 The best kitchen appliances for ease and style
Even after a full century, it's great to see that some things don't change. KitchenAid's legacies of ease-of-use, quality and style are very much alive and the range of 100 Years products really underlines this.
With this wonderful collection, you won't be hard pressed to find a KitchenAid mixer or appliance that fits in with your kitchen decor.
Shop online or see the range in person at your local Harvey Norman, where our friendly, expert team can talk you through all the amazing features. It's time to share many more glorious meals with friends and family and start passing down your recipes and traditions to the next generation!