Whip up this delectable coffee panna cotta thanks to the recipe from goodfood.com.au plus Jane and Jeremy Strode: "We have served this as part of a coffee dessert including a golden syrup and coffee tartlet, and a chocolate and coffee soufflé. We love the layers that form as the panna cotta sets and the coffee settles".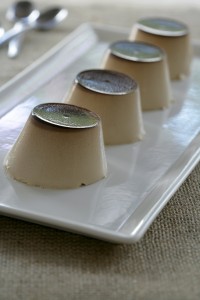 Coffee Panna Cotta (serves 6)
Ingredients
55g castor sugar
280ml milk
20g freshly ground coffee
2 tsp gelatine powder
270ml pouring cream
Method
1. Place the sugar, milk and coffee in a saucepan and bring to a simmer. Stir to dissolve sugar.
2. Add gelatine and stir to dissolve.
3. Remove from the heat and allow to cool slightly.
4. Add cream and pass through a clean tea towel, or four layers of muslin, into a jug.
5. Pour evenly into six lightly oiled 150ml plastic dariole moulds*.
6. Allow to set in the fridge overnight.
7. Serve with a coffee biscuit or chocolate tuile.
*Or use teacups, but they are harder to turn out than a flexible mould.
What a delicious way to celebrate Australian Coffee Week at Harvey Norman, your number one destination for coffee machines and coffee accessories.