One of my favourite things about winter is the food. Roasts, pudding, pies, fries, soup – steaming-hot meals that warm your heart and everything else when the weather outside is biting.
The team at Harvey Norman recently procured four Sunbeam kitchen appliances to be tried and tested:
✔ Sunbeam Pie Magic® Traditional Size 4 Up Maker
✔  Sunbeam Big Fill Toastie™ Sandwich Press for 4
✔  Sunbeam Multi-Cooker Deep Fryer
Four innovative machines designed to lend a hand in the kitchen and help you create delicious winter warmers.
I tested the Sunbeam Pie Magic® Traditional Size 4 Up Maker and the Sunbeam Big Fill Toastie™ Sandwich Press for 4. Lani, an aspiring My Kitchen Rules contestant, trialled the Sunbeam Aviva Muti-Cooker, while Latika, an everyday home cook, reviewed the Sunbeam Multi-Cooker Deep Fryer.
Keep your eyes on the pies
Nothing warms my heart (and stomach) like a steaming hot, delicious pie on a cold winter's day. A crispy, golden pastry stuffed with all sorts of yummy goodness – magic!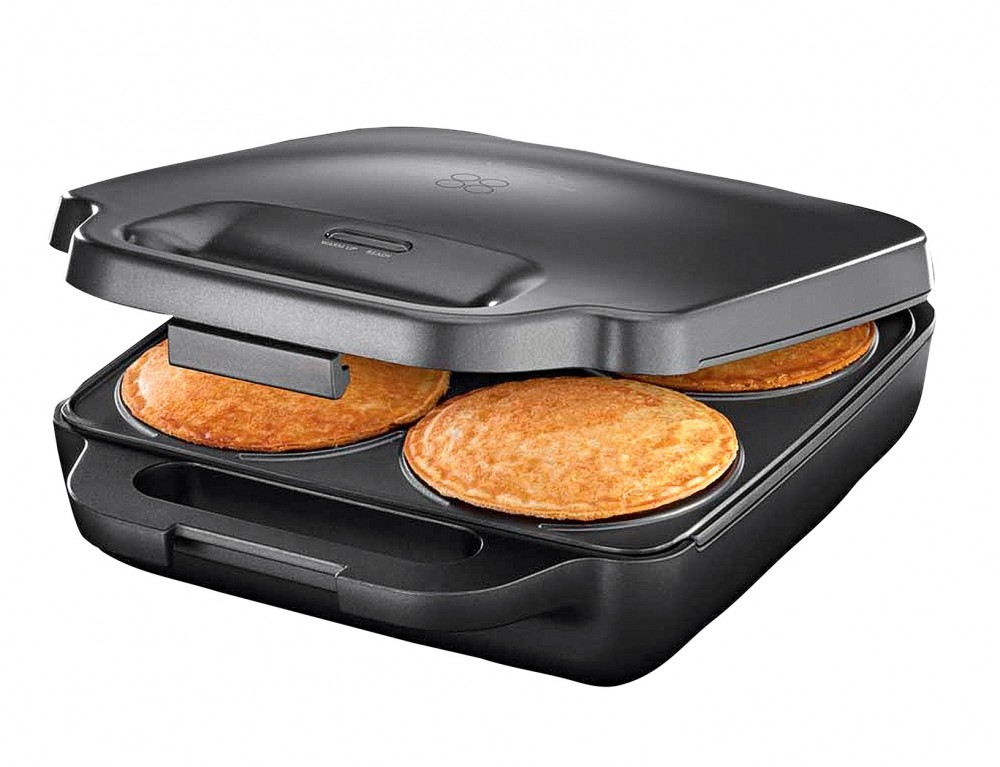 Whether it's pre-made filling or leftover meals, quiches or dessert pies – the Pie Magic® can do it all. Before I give you the details of my successful pie-making adventure, here's the lowdown on this impressive pie maker:
✔ The pie base and top plates are extra deep, so you can make 4 large pies with extra Plus, the plates are conveniently large enough to heat your favourite store-bought pies!
✔ Cooking time varies between 12 to 15 minutes. That's right. Full-fledged pies. In 15 minutes. The Pie Maker® comes with a double-sided pastry cutter accessory, so you can easily cut large round bases and smaller tops for perfect shaped pies.
✔ The crimper seal locks in your tasty fillings, and gives your pies that traditional look we all know and love.
✔ The Easy Clean plates have a non-stick coating, so when you're finished, you can simply wipe them clean with a damp cloth. Easy!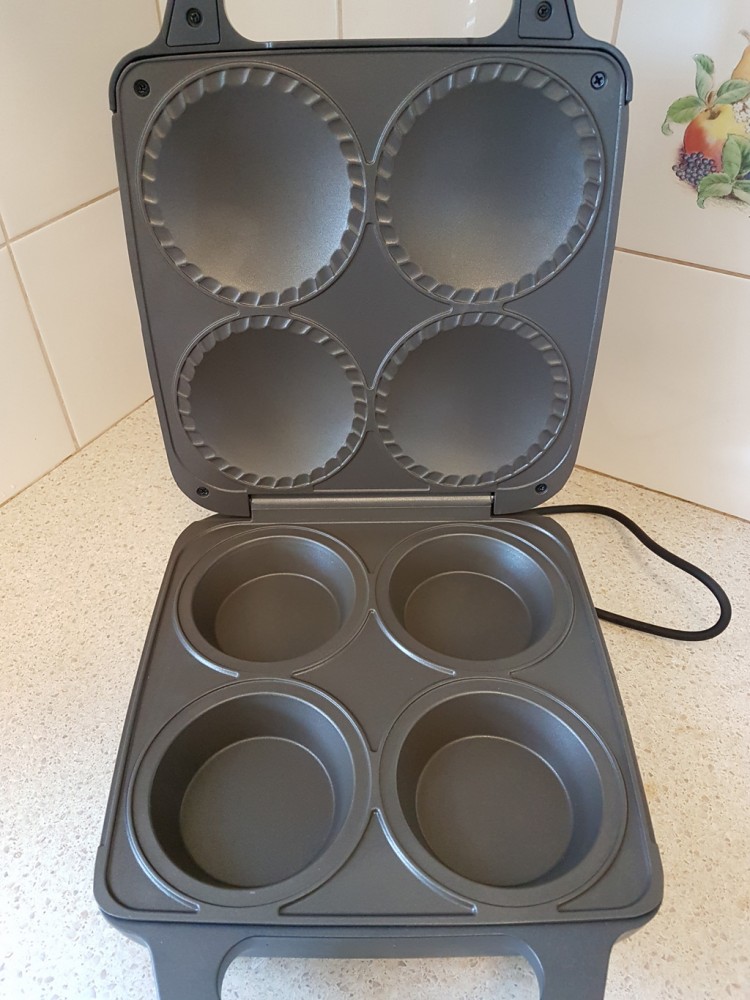 There were no leftovers in my fridge so I prepared two quick and easy pie fillings – chicken and leek, and lamb and carrot. Yum!
Using the double-sided cutter accessory, I cut out my pie bases from shortcut pastry and my pie tops from puff pastry as recommended in the instruction booklet. This proved to be a very helpful tip – the shortcut pastry was the perfect thickness to carry the pie filling and the puff pastry delivered a perfectly golden, flaky top.

After I had lightly buttered the Pie Magic® plates, I lined them with my perfectly shaped pie bases, added the filling and topped them off with my pastry lids. It was as simple as that!
While my pies were cooking, I cut out another lot of pastry bases and tops. Before I knew it, the indicator light had flicked over from 'warm up' to 'ready'. In just under 15 minutes, the pie maker had worked its magic and produced four large, gorgeous, steaming hot pies!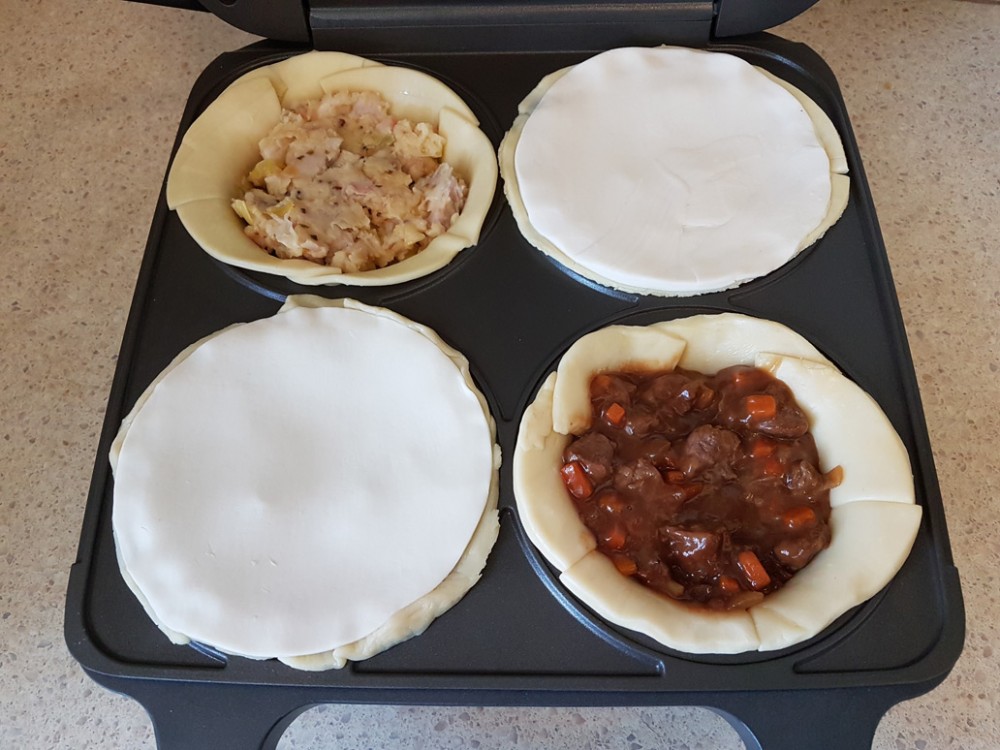 While my pies were cooking, I cut out another lot of pastry bases and tops. Before I knew it, the indicator light had flicked over from 'warm up' to 'ready'. In just under 15 minutes, the pie maker had worked its magic and produced four large, gorgeous, steaming hot pies!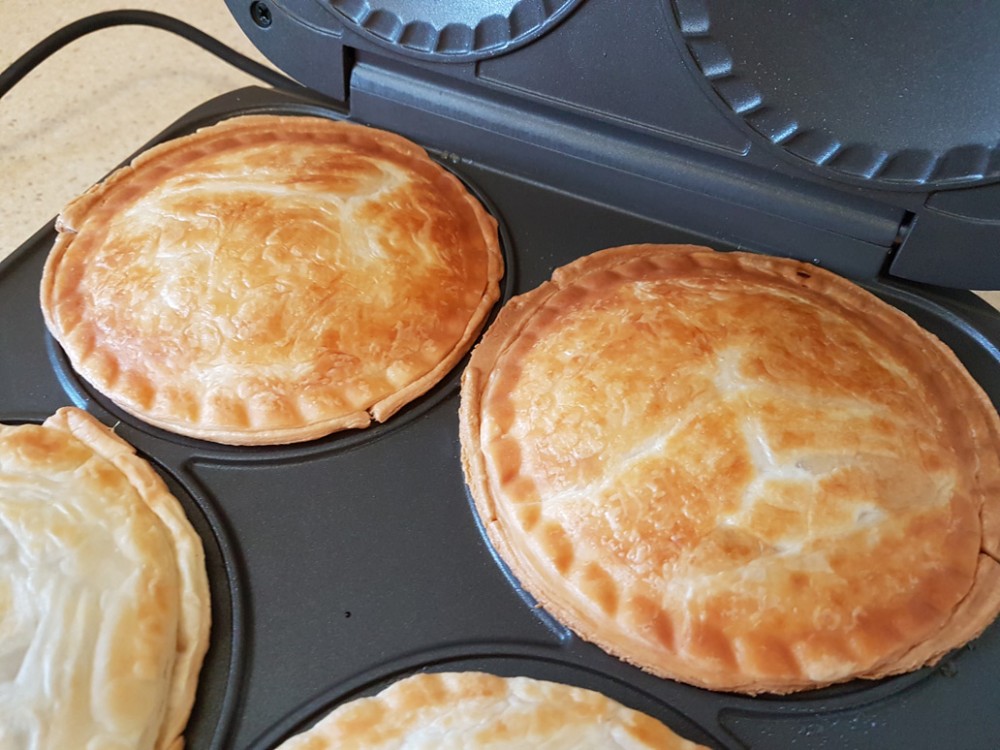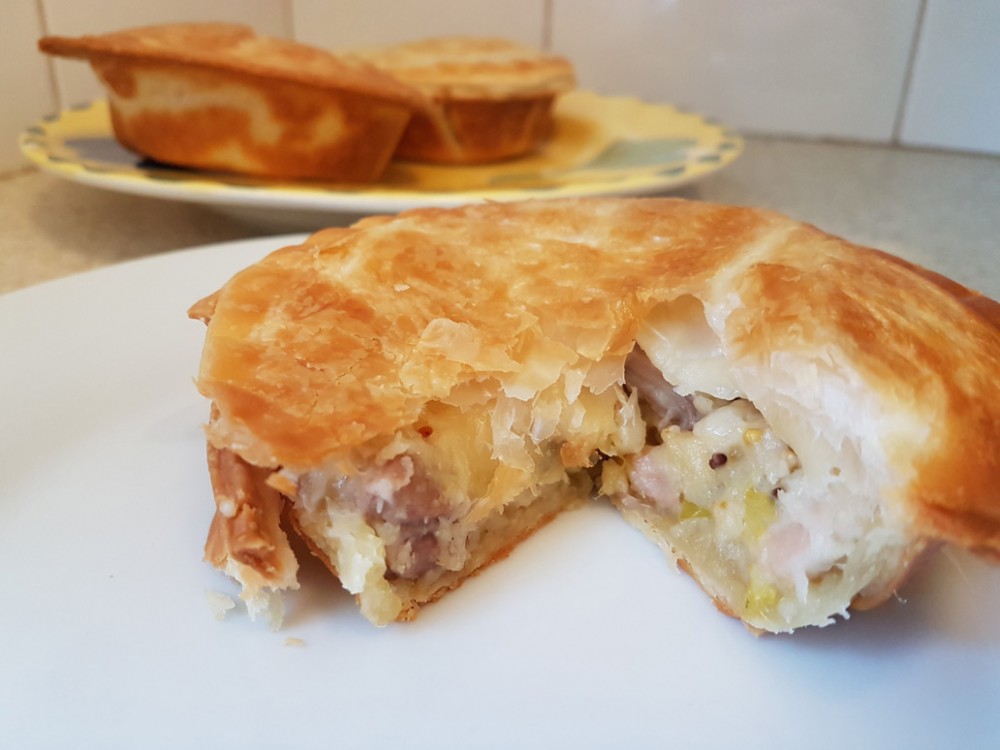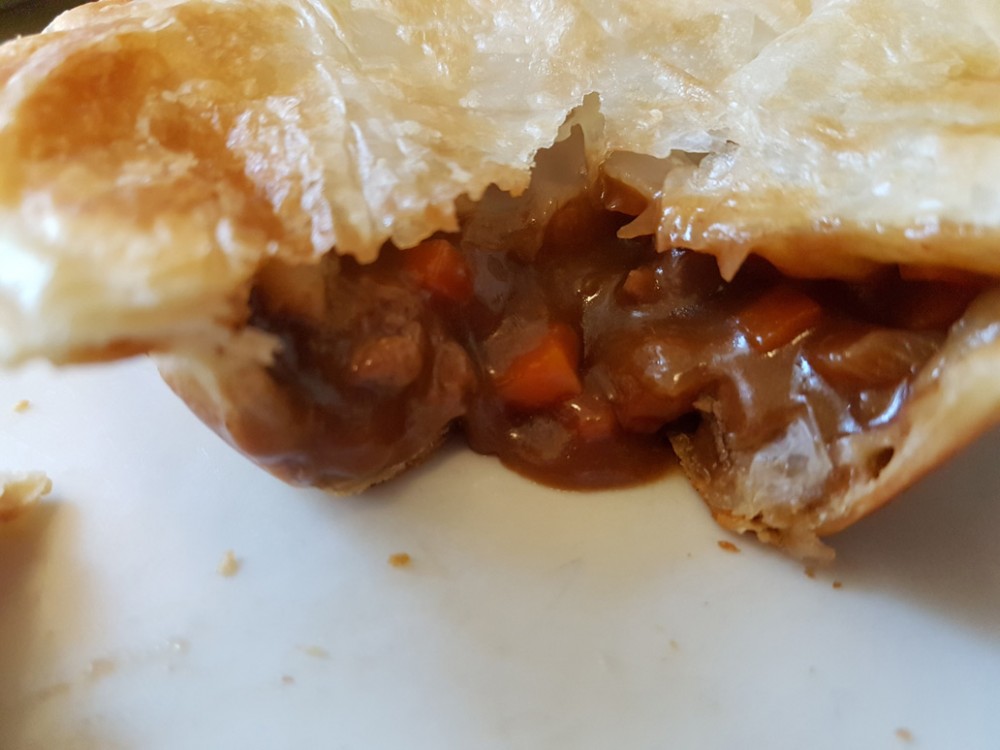 The Sunbeam Pie Magic® Traditional 4 Up Pie Maker performed very well. Nice and compact, it didn't take up much room on my kitchen bench. It was very easy to use, and didn't give me any trouble. The pies were the perfect size and perfectly cooked, inside and out. I loved how easy it was to prepare my pastry and how quickly my pies were ready! It's the perfect machine for a quick snack or a regular entertainer.
After the success of my savoury pies, I made a simple but delicious dessert pie – banana with chocolate hazelnut spread. They took just ten minutes to cook, and only five to be gobbled up!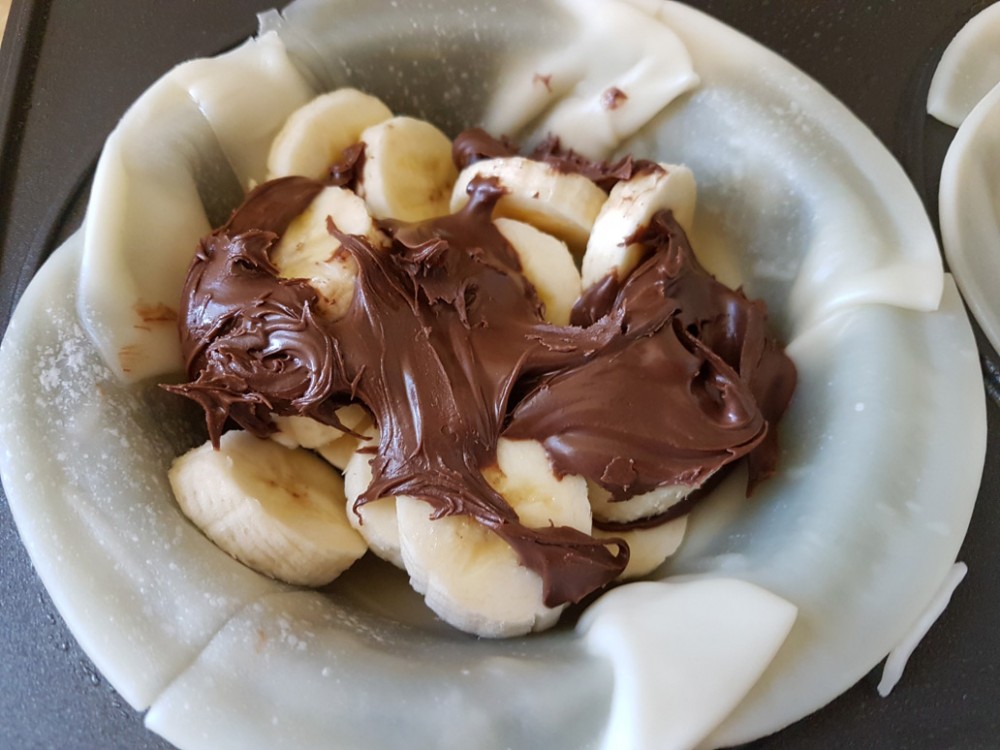 View the video below for a delicious nacho pie recipe, great for game night or an awesome idea for dad this Father's Day, which is right around the corner!
Taking Toasties to the next level
The next Sunbeam kitchen appliance I had the pleasure of testing is the Big Fill Toastie™ Sandwich Press for 4. Quick and easy, toasties are my absolute favourite, especially with the classic combo of ham, cheese and tomato.
✔ The Big Fill Toastie™ Sandwich Press for 4 has upped the toastie game. Check out its
✔ The more, the merrier! The Big Fill Toastie™ is designed with deeper and larger plates so you can fit 50% extra of your favourite filling! It's also designed to fit today's larger bread slices. It's a toastie, but BIGGER.
✔ The Cut & Seal Scissor design cuts each sandwich into 2 chunky triangles, and then seals the edges so your extra filling is locked in.
✔ This small appliance is designed to take more than just traditional ingredients. You can replace bread with pizza dough to create calzones, or use filo pastry topped with stir-fried veggies and hoisin sauce to create spring roll triangles!
✔ The EasyClean™ Non-Stick Coating makes cooking and clean up very simple – just wipe the plates clean with a damp cloth.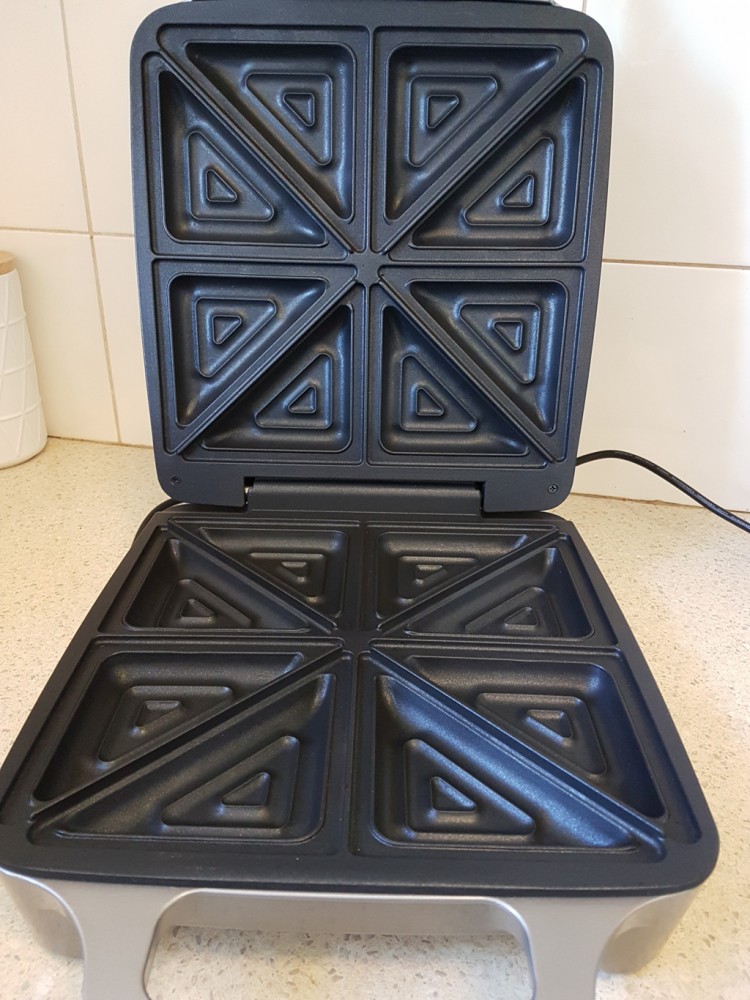 I decided to make pizza toasties to test just how much the Big Fill Toastie™ could handle. Using Helga's thick-cut café style bread in white, I piled up layers of sliced ham, salami, tomato, pineapple, black olives, baby spinach, and mozzarella cheese, topped with barbeque sauce. To mix things up, I topped some wholegrain café style bread with mozzarella cheese, black olives, diced bacon and cooked mushroom.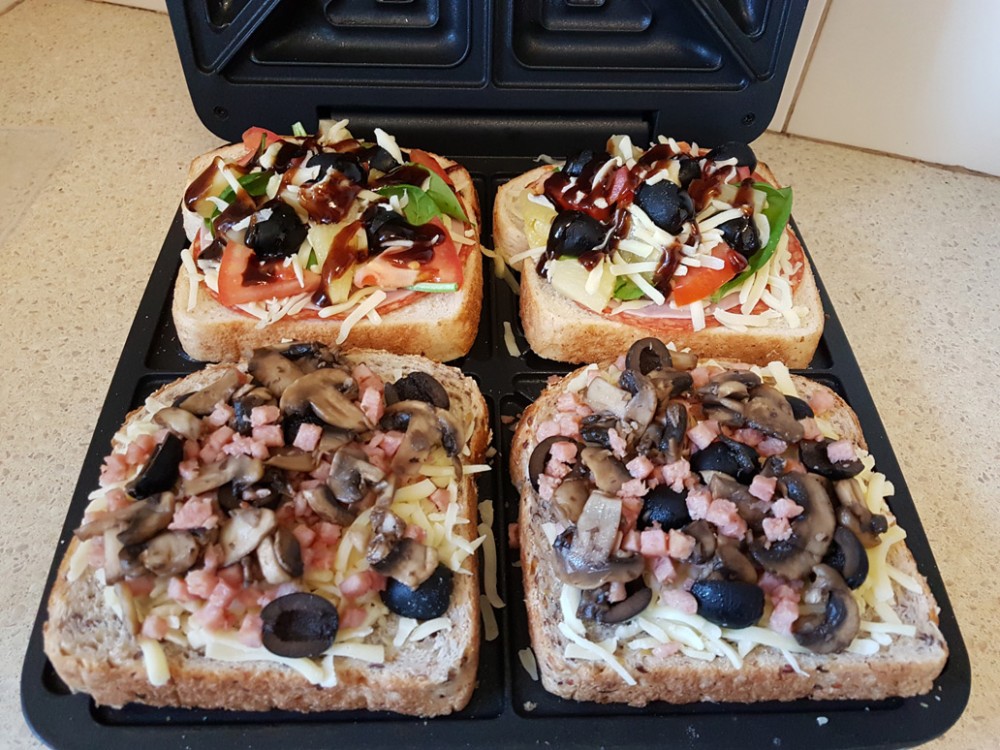 My sandwiches were ready in just a couple of minutes, revealing crispy golden edges and eight chunky triangles ready to be eaten. As you can see in the pictures below, the Big Fill Toastie™ Sandwich Press for 4 sealed my jam-packed sandwiches – leaving no ingredients or mess behind. The extra filling was safely locked inside, so no mess was made during consumption either. I thought toasties couldn't get any better – or easier – but this machine proved me wrong!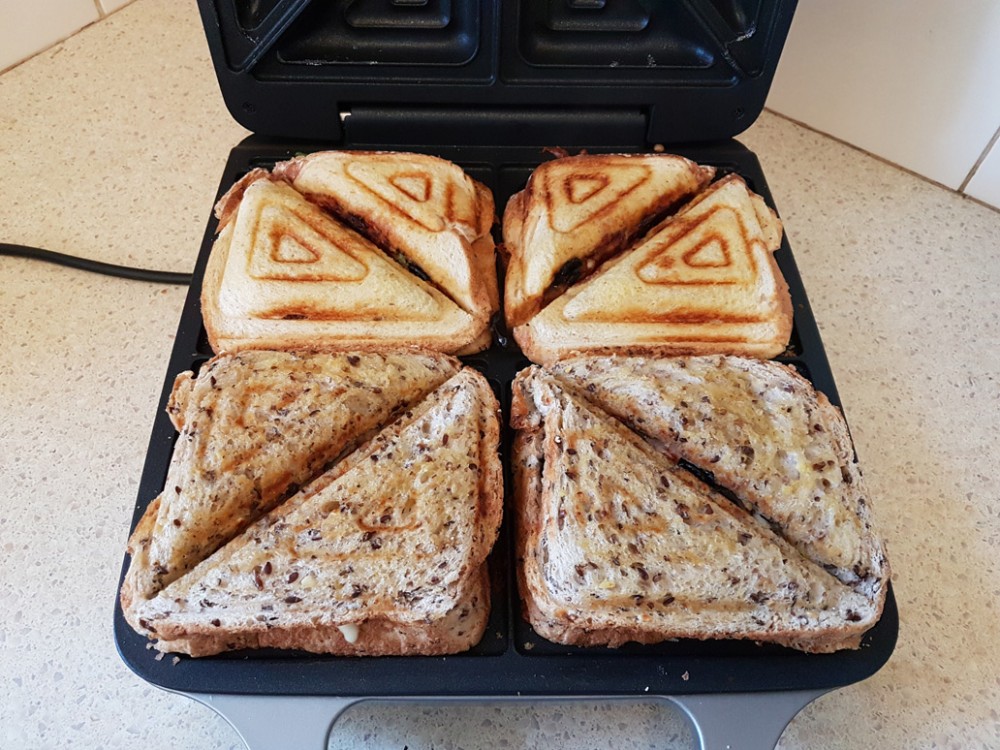 Later that same day…
I tested the Big Fill Toastie™ again, this time to make some dessert snacks. I made a dark chocolate and marshmallow toastie, and a cinnamon pear pastry. The appliance worked just as well on the filo pastry. I loved that I could make dessert snacks in such a short time and using the same machine I'd used for lunch!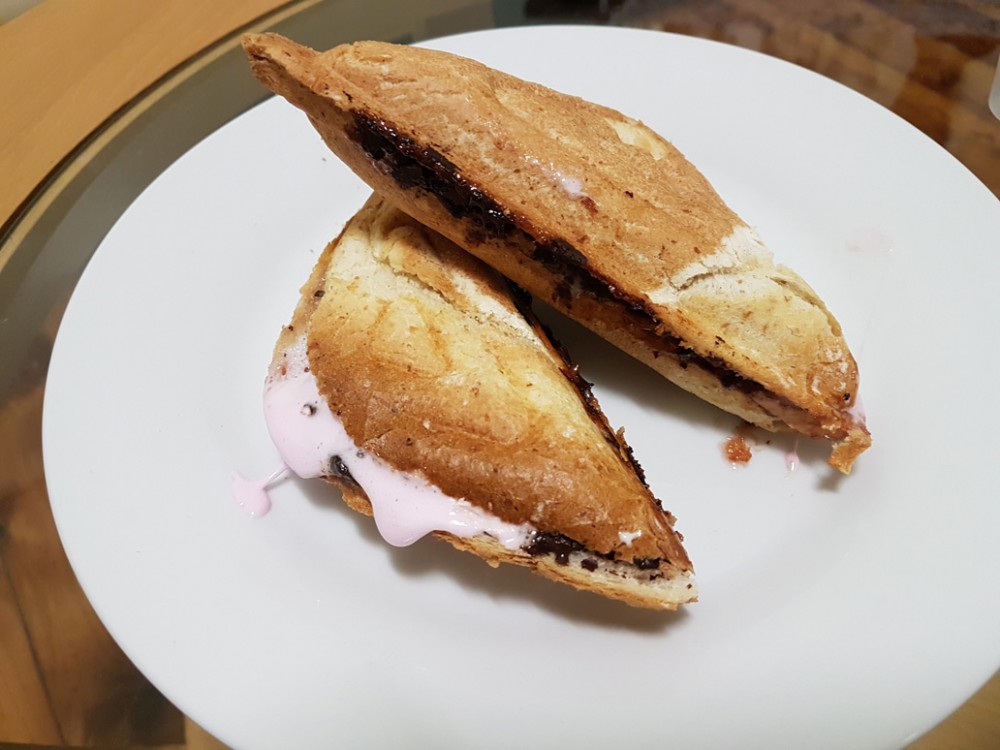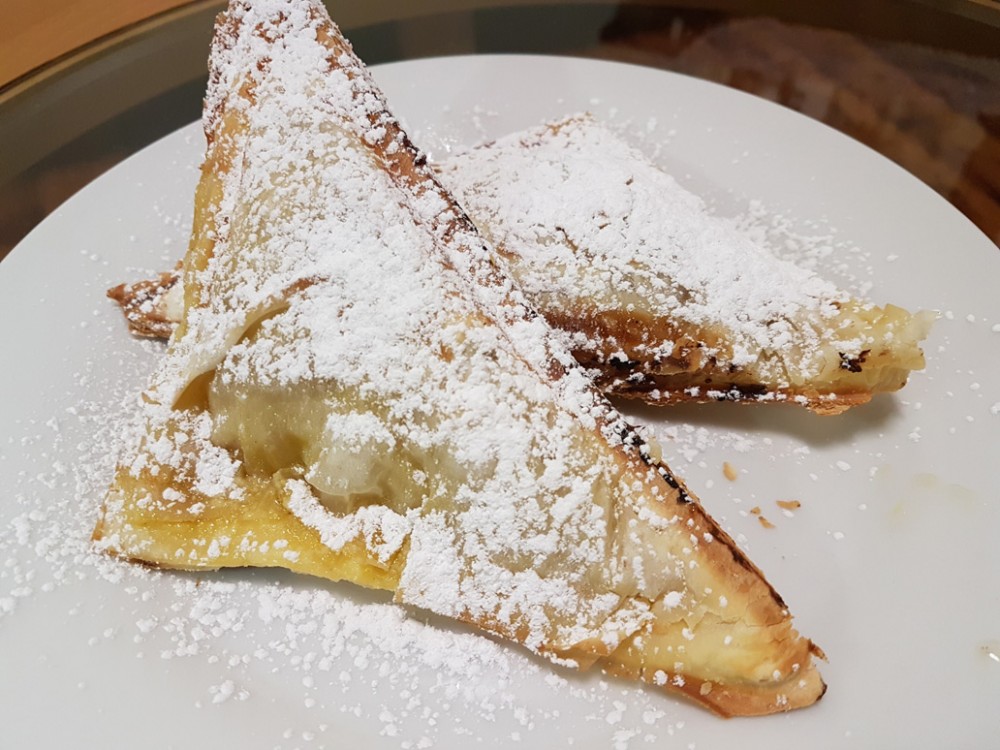 No job too big
If you're looking for a single machine to do all the cooking for you this winter, the Sunbeam Aviva 6L Multi-Cooker is the one for you. It's designed to cook fast or slow – the pressure cooker delivers quick, succulent meals, or you can use the slow cooker for more traditional cooking.
Lani took the Multi-Cooker through its paces with three heart-warming dishes. So what did it have to offer?
✔ An impressive choice of 7 menus: Pressure Cooker, Slow Cooker, Rice Cooker, Steamer, Brown, Sauté and Simmer. Plus, it has keep warm and delay start functions. Is there anything this small appliance can't do?
✔ A huge 6L capacity means you can fit more food – perfect for entertaining!
✔ The pressure cooker can cook large, whole potatoes in 20 minutes – ready for roasting or mashing.
✔ The rice cooker features a generous 12-cup capacity, trapping steam for extra fluffy rice!
✔ The large user panel is easy to read and displays the menu, remaining cooking time and pressure levels.
✔ The slow cooker features low and high settings for slower or speedier cooking, as well as an auto keep warm function, so your winter meals are always ready for serving.
✔ The box includes a rice measuring cup, rice spoon, serving spoon and steam rack.
The pressure is on – Chicken Cacciatore
Lani knows her way around the kitchen and, like me, pretends she's on My Kitchen Rules when she cooks. Her first dish using the Sunbeam Aviva Multi-Cooker was a delicious Chicken Cacciatore. Made from local ingredients, this meal is a definite crowd-pleaser and Lani's crowd consisted of 13 hungry carnivores!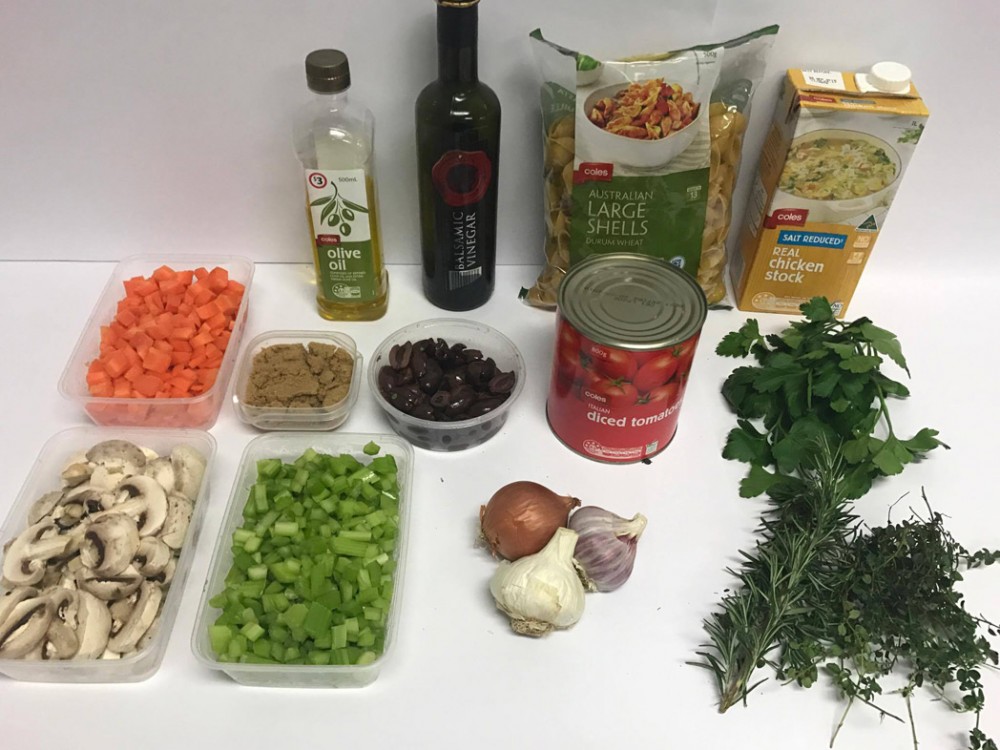 Lani describes herself as a fan of slow cooking, so how did she like the pressure cooker function?
'Pressure cooking is a cooking technique I've always been interested in trying, but it has always freaked me out. When it came to using this pressure cooker, I didn't fear for my life opening the steam valve – it was very safe.'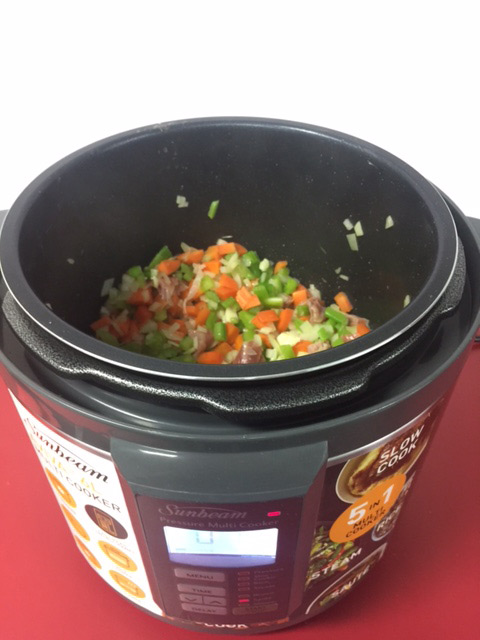 Lani says, 'Even though I am 100% a slow cooker kind of girl, pressure cooking won me over with how quickly my food was cooked. Time is important to me, and the Multi Cooker achieved results that normally take 6-7 hours to get in just 2! The chicken was falling off the bone and the sauce was jam-packed with flavour.'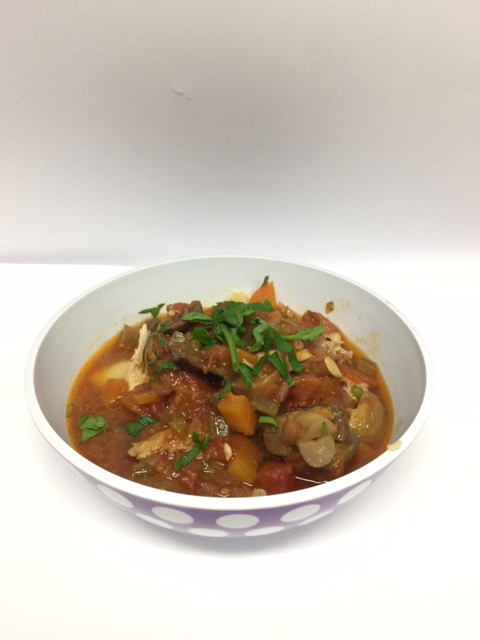 Round 2 – Arancini Balls
Next, Lani tried out the Sauté and Rice Cooker settings to whip up a batch of risotto which she then turned into Arancini balls. Yum!
How did the Multi-Cooker perform this time round?
'The sauté setting was great – it saved me from having to pull out a pan to get the onions and garlic organised. Once the onions and garlic were sautéed, I simply pressed stop and changed the setting to Rice, secured the lid and set the time.  Once the risotto was done, cleaning up the machine afterwards was a piece of cake. No sticky risotto stuck around the sides. My risotto was full of flavour and a good consistency.'
Two thumbs up!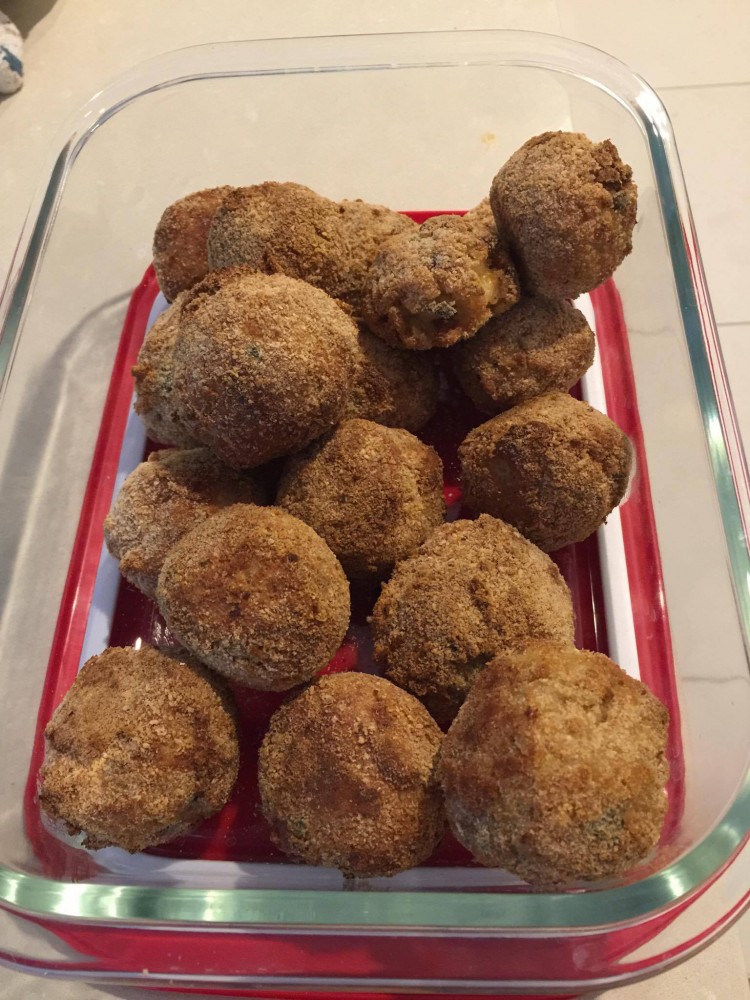 Just another success story – Savoury Mince
Last but not least, Lani used the Sauté and Simmer functions of the Sunbeam Aviva Multi-Cooker to satisfy her boyfriend's cravings and make a tasty savoury mince.
Lani says she's had bad experiences cooking savoury mince in the past.
'When you cook savoury mince on the stove, the curry sauce splashes all over the cooktop and the saucepan is left smelling like curry for days!'
So did her experience using the Sunbeam Aviva Multi-Cooker revive her love of cooking savoury mince?
'Sautéing my vegetables was a breeze. The machine regulated the temperature to ensure the onions didn't burn while I wasn't paying attention! I popped the rest of the ingredients into the machine and turned it over (?) to simmer with a press of a button. I loved that the appliance displayed the remaining cooking time, so I could keep track of my food.
And the aftermath?
'Cleaning was a breeze! No residual curry smell and no time wasted scrubbing away at the cooktop!'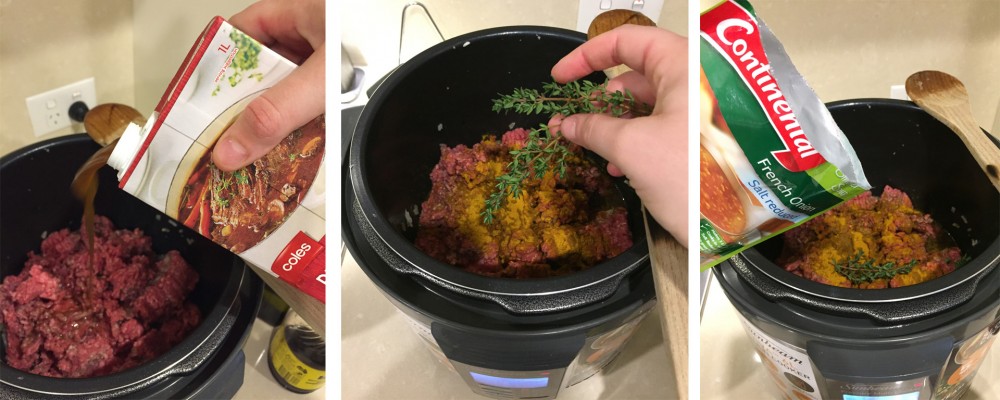 Do you have any tips to share after using the Sunbeam Aviva Multi-Cooker?
'Do not overfill the machine! Overfilling will make the juices of your delicious meal splutter out from the steam valve. Make sure you stick to the measuring lines inside the machine.'
Three-in-one
Think homemade donuts. Sweet potato chips. Samosas! These are just a few of the delectable delights that you can make with the Sunbeam Multi-Cooker Deep Fryer. It's not just any ordinary deep fryer. This machine can be used as a deep fryer, a saucepan or a small frypan. Three-in-one convenience, using less power than an oven or grill? Tick!
Latika offered to road test this innovative Sunbeam kitchen appliance, so let's find out what she was working with:
✔ The Multi Cooker Deep Fryer boasts a large 5 litre capacity, so it's an ideal saucepan for boiling, roasting, braising, stewing and soups!
✔ The stainless steel basket is perfect for deep frying and draining food like pasta and vegies. Plus, the basket handles fold inwards for easy storage.
✔ You can even use the basket as a steamer or poacher – simply add water to the saucepan!
✔ The fryer features a Teflon® Platinum Pro™ non-stick coating for easy cleaning, and a tempered glass lid so you can view your food while it cooks.
✔ The 1600W cast-in element heats up the machine quickly so you can spend less time in the kitchen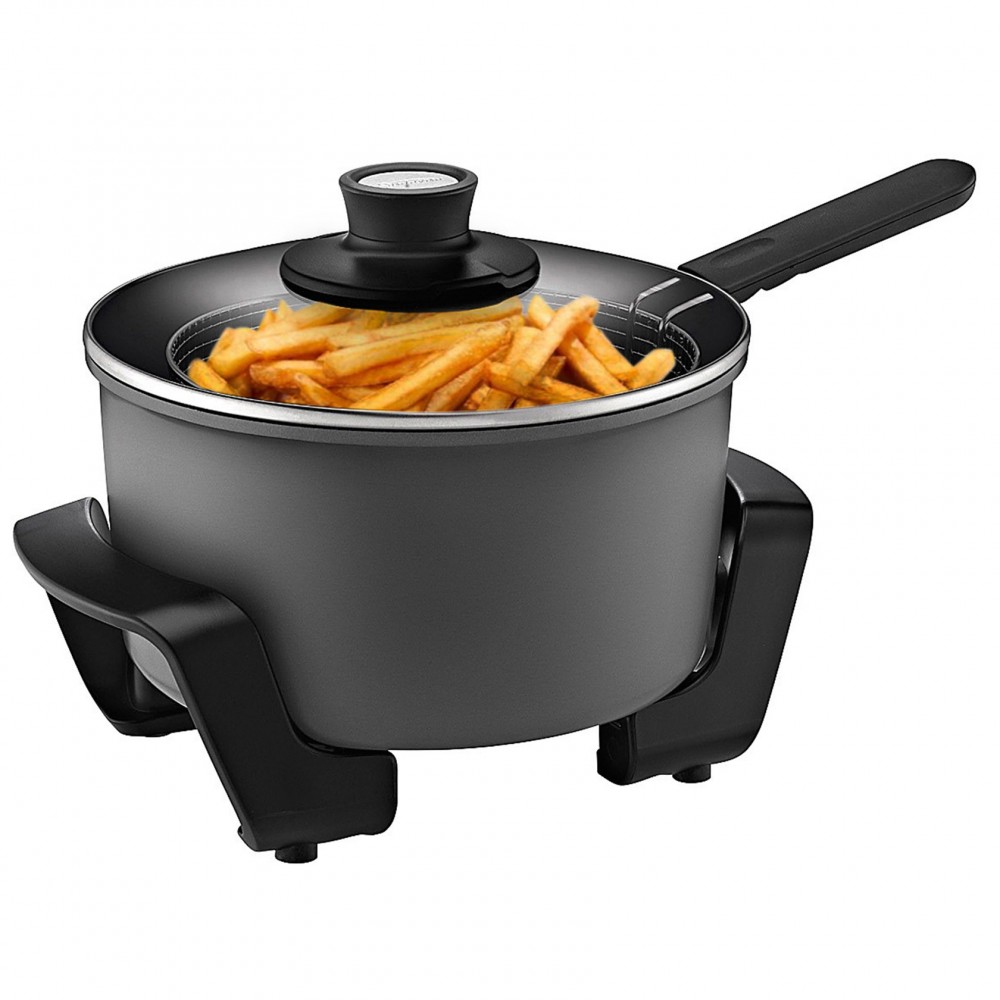 So, what was on Latika's menu using the Sunbeam Multi-Cooker Deep Fryer?
'I used the deep fryer to make crunchy sweet potato chips and I fried some pappadums in there as well. Since it's a multi-cooker that can be used to do a host of other things, such as roast, boil or steam – I decided to make some dal as well, which is an Indian lentil soup. I served it topped with sweet potato chips. Also used the pappadums to scoop dal with. Yum.'
As a regular home cook, Latika has used her fair share of small kitchen appliances. So how did this one fare?
'It's a very straight forward product. Its 5 litre capacity meant I could prepare a lot of soup – not only was there plenty for seconds for four people and leftovers for everyone's lunch; I still had another four servings that I froze in individual containers! That'll come in handy on a busy weeknight.'
'The deep fryer was great – I flash-fried the pappadums one at a time and it took hardly any time at all, a mere 5-10 seconds per pappadum.'
'I peeled the sweet potatoes into ribbons with a vegetable peeler and fried batches until they curled up and went crispy. These were super tasty and the first to disappear.'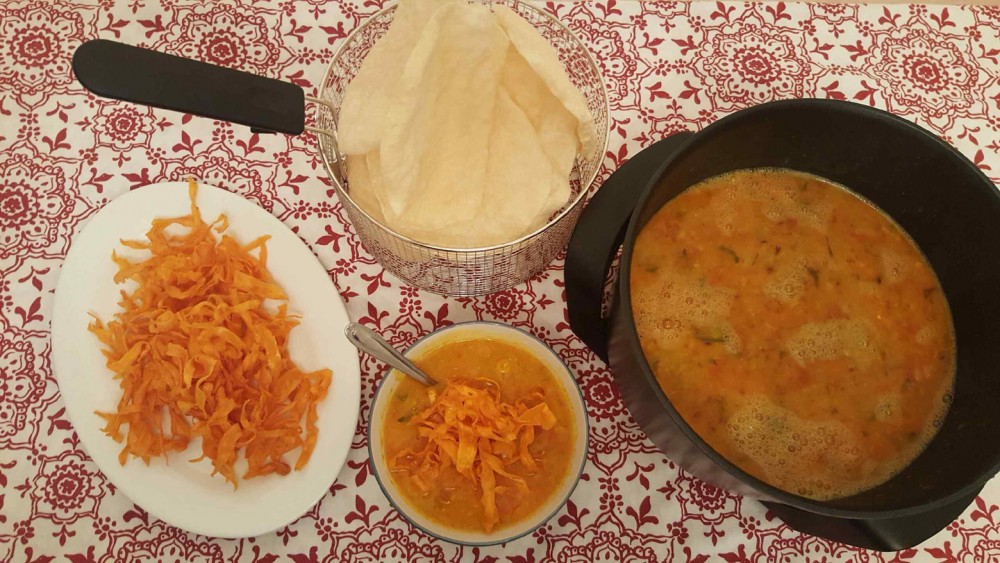 What did she love most about this Sunbeam kitchen appliance?
'Its compact size and lightweight design means it takes less space on my benchtop and is easy to clean. The user guide is full of great information, which made operation and preparation of different types of dishes quite easy. It's full of great sounding recipes for both the multi-cooker and the deep fryer. There are a few different types of batter recipes in there that I'm keen to try out – crispy sesame batter and sweet fritter batter. The golden syrup dumplings also sound good!'
Check out the video below for a great recipe idea that combines two great foods into one tasty morsel – cheese burgers and spring rolls. Why not make it for dad, this father's day? Note the date: 3rd September!
Feeling inspired to create your own winter warmers? Head to your local Harvey Norman store or jump online to shop these four Sunbeam kitchen appliances and discover winter cooking at its best.