Harvey Norman has partnered with Home Beautiful to bring you the Cooks Co-op original web series, which has followed chef Martin Boetz on his passion project as he transforms a quintessentially Aussie shed into a farm to table restaurant.
Our writer Chloe was invited along to the filming of the final episode of Cooks Co-Op to celebrate the end of this culinary journey. Find out what Martin Boetz and Gerry Harvey had to say about their experiences, and what Chloe thought of the delicious food being served up. Haven't read the first Cooks Co-op blog yet? You can catch up right here.
A Feast over the Hawkesbury
It was a beautifully sunny Sunday as I made the trip to chef Martin Boetz's Cooks Co-op restaurant. Little white puffs of cloud dotted the bright blue sky, and as I drove past grassy paddocks and down winding roads, I was so distracted by the gorgeous vistas before me that I missed the turn-off for the restaurant. I drove for another ten minutes before I realised my mistake and found a place to turn around.
Before the restaurant's driveway, there's a huge rock with the words "Cooks Co-op" emblazoned on it, and I couldn't believe that I'd managed to miss the sign. Well, the view across the way was pretty spectacular, so it was kind of understandable.
As soon as I had parked and gotten out of the car, I could hear half a dozen different kinds of bird calls. This little corner of the Hawkesbury truly is a paradise.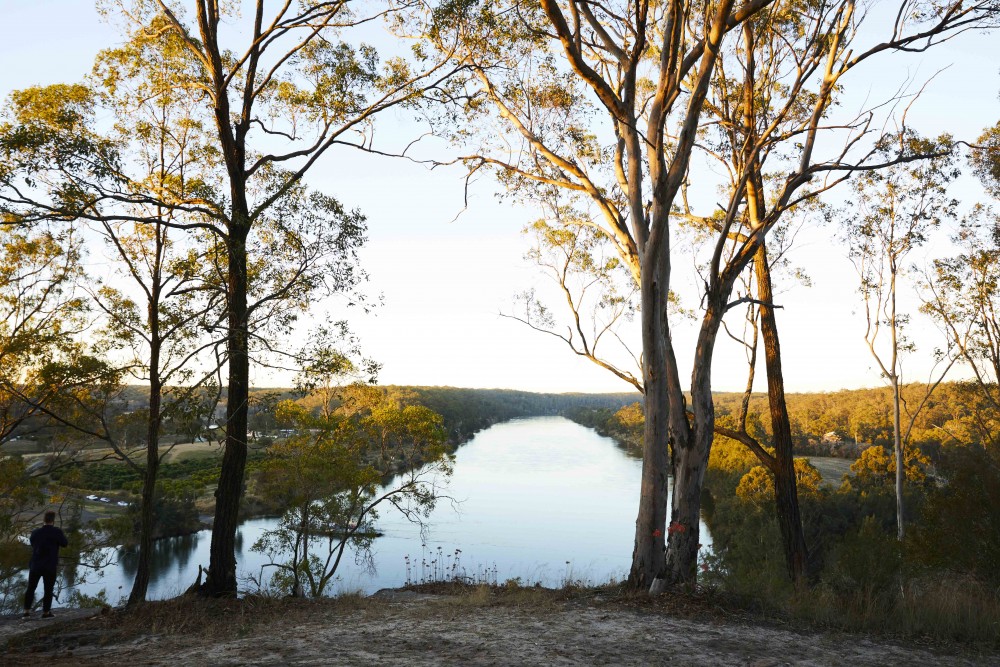 Martin Boetz's world-class paddock to plate restaurant is located just over an hour's drive from the Sydney CBD, yet it feels like it's half a world away.
Overlooking the Hawkesbury River, this place is a culinary wonderland. Not only is the view simply breathtaking, but the buffet of local Aussie food on offer here truly is incredible. It's no wonder Marty Boetz fell in love with this place. The view, the people, the fresh produce… welcome to foodie heaven.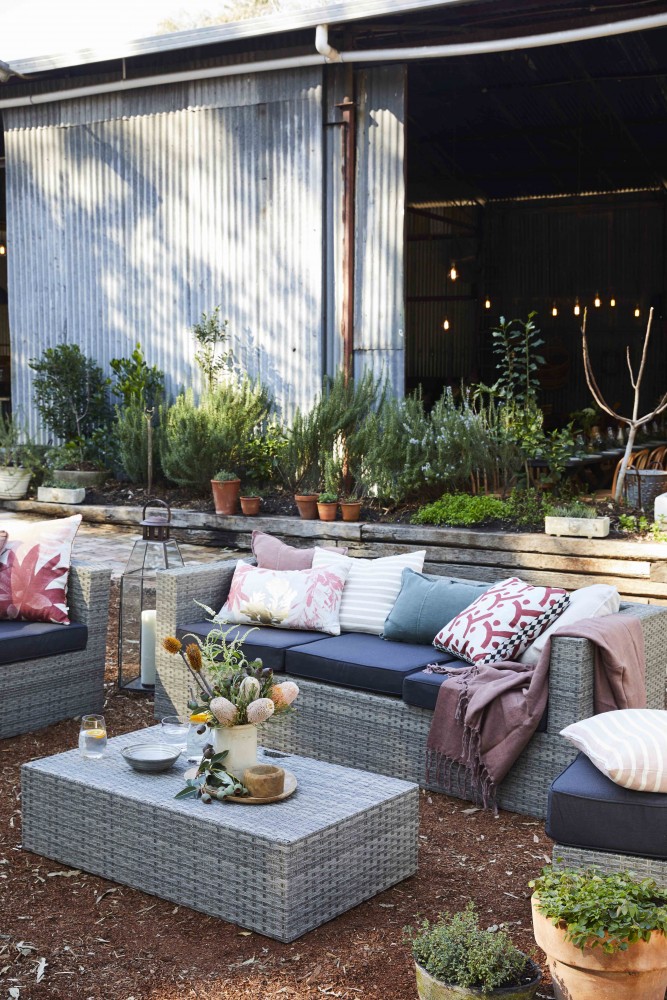 Over the course of the Cooks Co-op series, Marty met with a number of local producers who shared their knowledge and skills with him. The series isn't just about the transformation of this old shed into a world-class restaurant; it's also focused on learning more about where our food comes from and the hard work and dedication that goes into bringing that food to our tables.
Talking to Marty Boetz on the day, I asked him what it was like getting to know his neighbours and getting up close and personal with their vocations and farming in Australia.
"Every single one of my neighbours – who are creating amazing artisan products – love sharing knowledge and telling their stories, so for me that is interesting, exciting and ever inspiring," said Marty.
"By far, the most stand-out thing that I've learned on this journey is that farming ain't easy! We need to respect our farmers and food producers because it's bloody hard work for not a lot of return."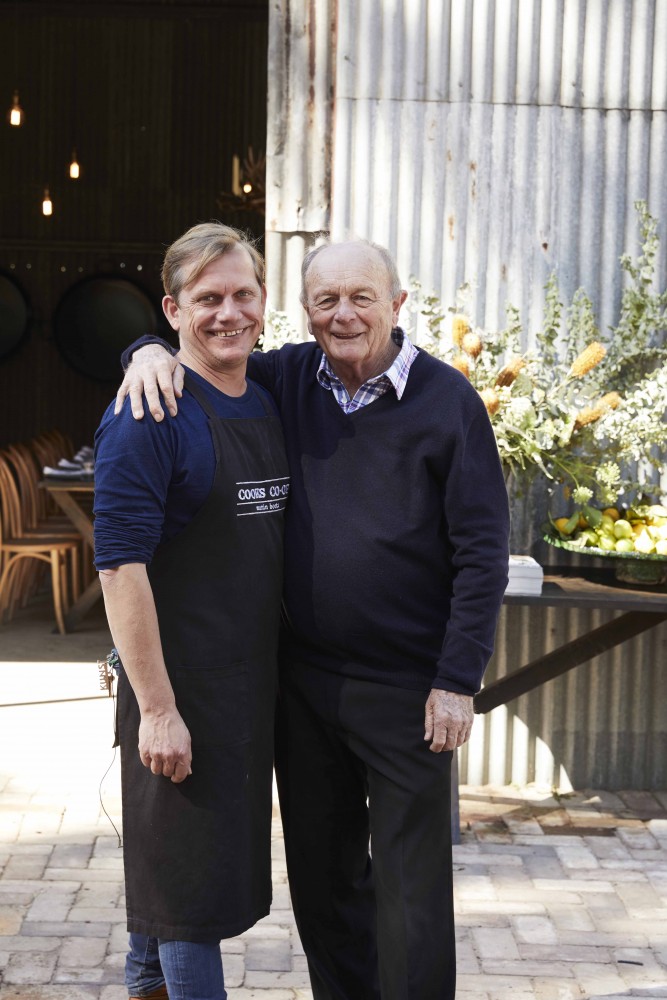 As well as promoting agriculture in Australia, Marty also fully supports the idea of getting to know your own neighbours, and supporting local growers and producers.
"Many farmers love a chat, so getting to know the food growers, producers and fisherman at your local farmer's or fish market or on a drive out to the country is really important. And you also learn about the seasonality of locally grown products, which is a connection that we have lost. I believe we all need to get a sense of that back in our daily lives."
Chatting to Marty is a real treat. This is a man who truly believes in what he says, and he lives what he believes. Marty really does put the "passion" into "passion project". His enthusiasm is contagious, and I can see why the web series has been such a huge hit with a man like Marty at its helm.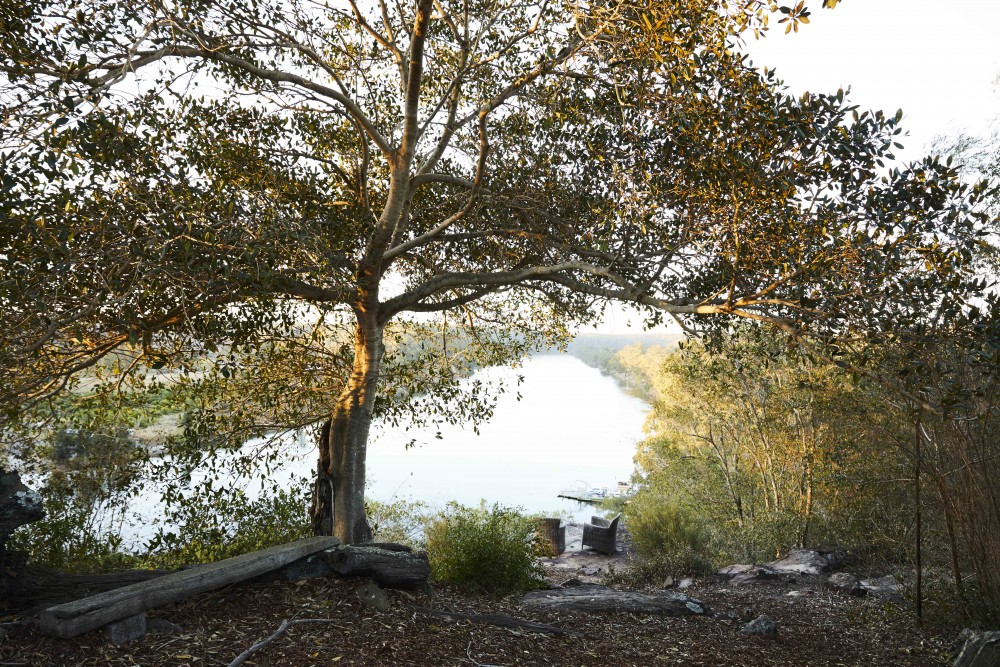 But it's not just Marty Boetz steering this ship. Wendy Moore, the Editor-in-Chief for Home Beautiful magazine, was also one of the brains behind this incredible project.
Wendy is just as passionate as Marty when it comes to the Cooks Co-op web series. As the Editor-in-Chief for one of Australia's best-known homemaker magazines, Wendy is an avid advocate for local producers and organic food.
"When you live in a city, the 'farmers' seem so far away, so it's hard to make a real connection. But this series was made only an hour from the biggest city in our country and we discovered a thriving community of producers. If they are here, then they are everywhere."
Wendy hopes that people watching the series have been just as inspired as she has been by the stories shared.
"I hope that they have loved watching the series and going on this journey with us. I hope that in watching it more people have become advocates for local producers and understand how much passion goes into growing the food that lands on the table."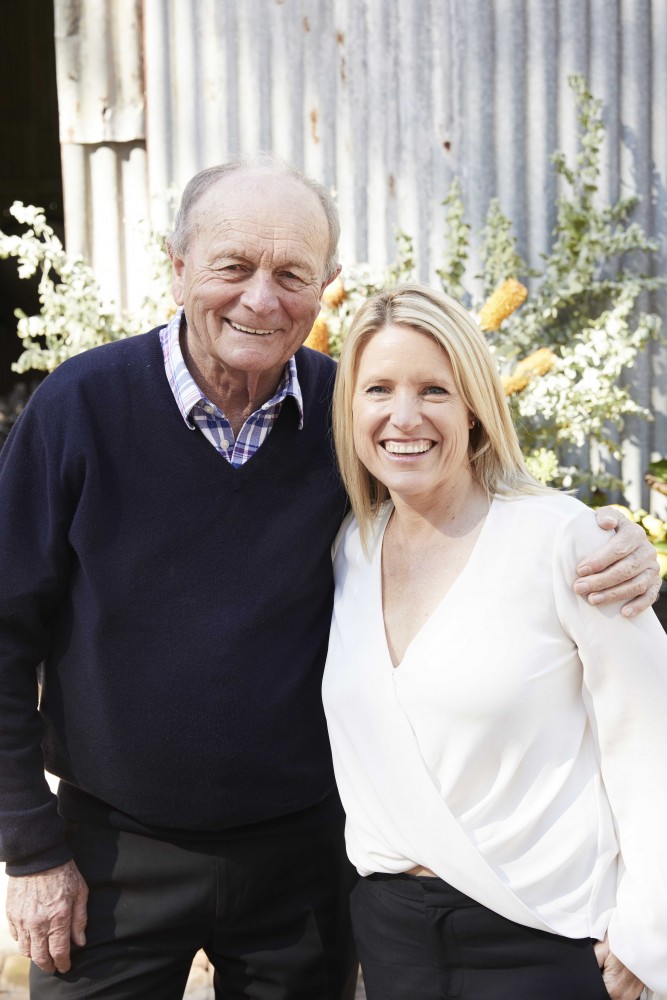 Before lunch was served, the guests at the Cooks Co-op were treated to some delicious, locally sourced finger food.
One such offering was the cucumber kimchi as seen in Episode 16, Part 2, using local producer Gerry Harvey's cucumbers.
I love kimchi, and I couldn't wait to try Marty's fast and fresh kimchi recipe. I was so wowed by the kimchi's flavour and the cukes' freshness and crunch, I went back for seconds… and then thirds!
Also on offer were some absolutely mouth-watering crisp-fried Hawkesbury River school prawns, as well as carrot and pecorino fritters and a mashed pea and fetta dip served with crisp bread.
I was most excited to try the Hawkesbury River school prawns after hearing Gary Howard's story in Episode 17 , Part 1. The prawns certainly lived up to the hype – and I'm sure my fellow guests would have agreed. As soon as the waitstaff brought around another plate of those deliciously sweet prawns, everyone immediately pounced on them! Within moments, there was nothing left but an empty plate and a slightly dazed waiter.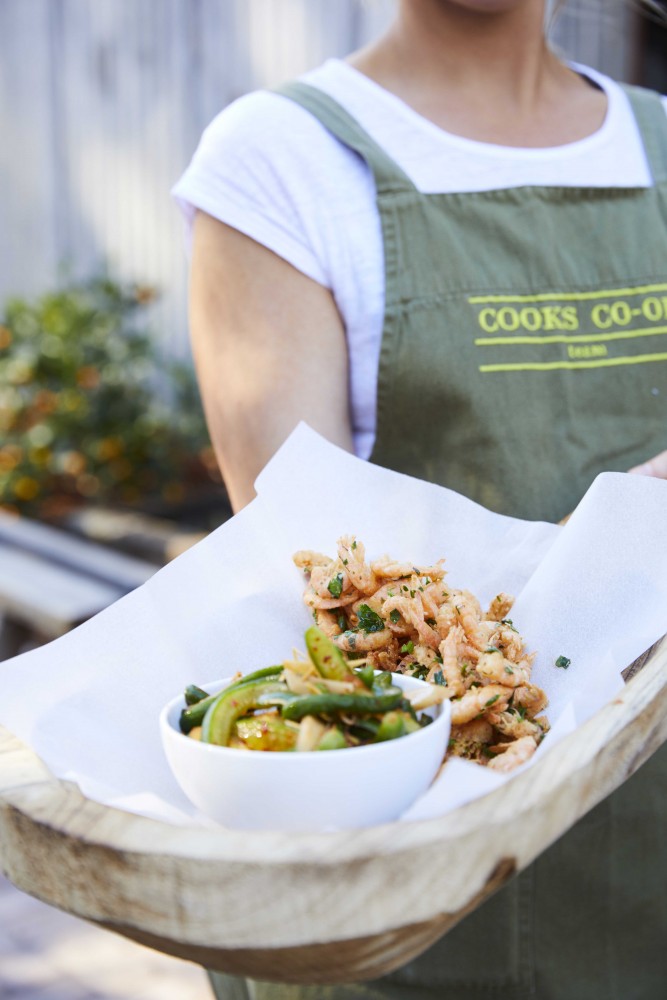 Then it was time for the main event: lunch.
Marty and his team personally cooked all the food for the guests, and we were lucky enough to sample firsthand some of the incredible recipes as seen on the Cooks Co-op web series, including  twice-cooked beef ribs using Gerry's top quality wagyu beef.
Gerry himself had a chat with me, and talked about his passion for farming and high quality, locally sourced food.
"'Foodie' was once a term used to describe a small group of people who celebrated fine dining, particularly in restaurants," he said. "Today's foodie is you and I – we love what good food brings to our lives. We want to know the origin of our ingredients – a farmer or local producer we know and trust. It's getting back to what is important – sharing the source and the techniques to feed those you love.
"Marty understands that locally grown produce is bringing families back to the dinner table. He is all about creating meals that are so full of taste, but they are prepared using techniques that you and I can replicate at home."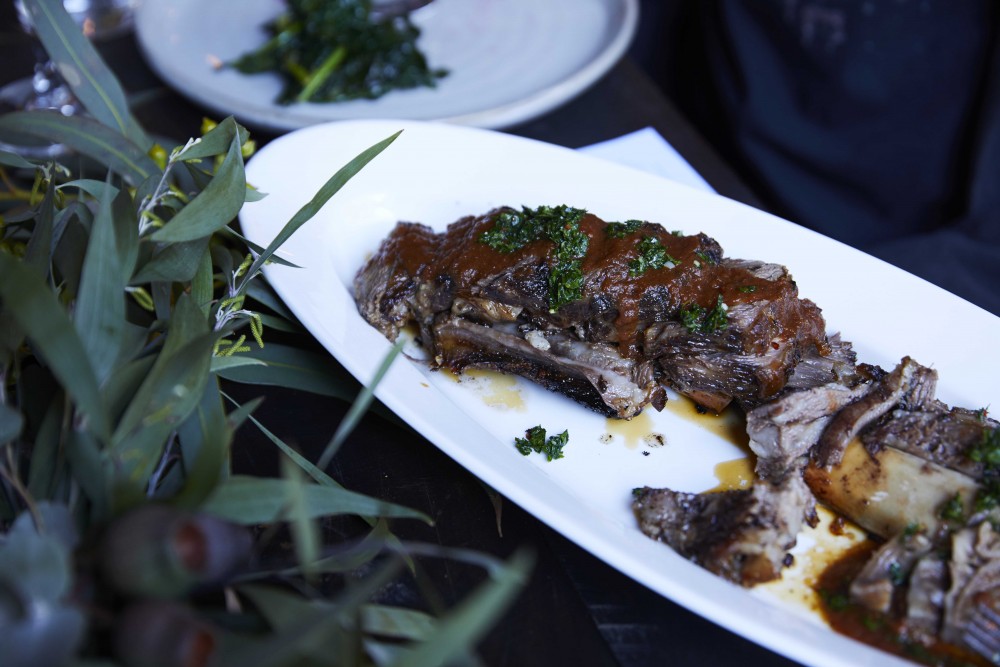 After lunch, Gerry thanked the team and the producers for all their hard work in putting the series together and for making it such a success. There were a lot of proud and happy faces in the room.
It's easy to feel inspired in a setting like this – surrounded by proud, passionate local producers in a postcard-perfect place like the Hawkesbury River. But after speaking to these dedicated producers and keen supporters like Marty Boetz, it's clear that this isn't just a fleeting fad. Australians are more interested than ever in where their food comes from, and they want to be involved in sustainable practices that help our local farmers and our economy. Farmers markets are becoming an ever more popular alternative to supermarket fruit, veg, fish and meat, and people genuinely care where their food comes from and whether it's locally and sustainably sourced.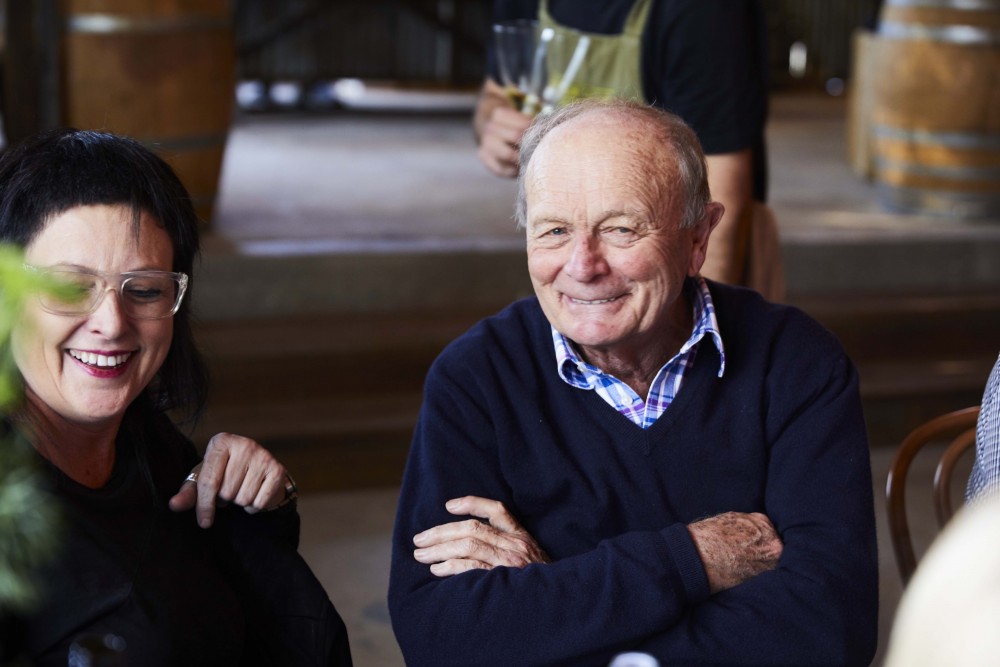 As Wendy Moore said, "Connecting with a producer in your own area actually does make a difference. The pride they feel in their produce really does make you appreciate it more. Also, that fresh food does really taste better! Cooking a great meal from scratch is not just good for your body, it's good for your soul – and it's not as hard as it seems."
Are your tastebuds tingling?
Marty Boetz may be a world-class chef, but you don't need his experience and training to create simple and delicious meals at home – all you need is his enthusiasm!
Get inspired with more of Martin Boetz's recipes right here, plus shop for the latest and greatest cooking appliances online or talk to our expert staff in store.
So what are you waiting for? Start talking to your local producers and get inspired to embark on your very own culinary adventure!