The delicious. Harvey Norman Produce Award winners for 2019 were announced at a spectacular gala event held at the Sydney State Theatre on Monday 19th August. The event, a crescendo of perfect produce and fabulous food, celebrated the achievements of the most passionate food producers from around Australia.
The energy and passion these wonderful farmers and growers put into their craft is truly amazing, yet not always appreciated – and, for that reason, we here at Harvey Norman were honoured to sponsor this year's event and show our gratitude. We couldn't be happier that the 2019 delicious. Harvey Norman Produce Awards saw farmers, growers and innovators of high quality produce receive the recognition they deserve, celebrating them for all their tireless work.
Read on to find out what went down on the night and discover the 2019 Produce Award winners!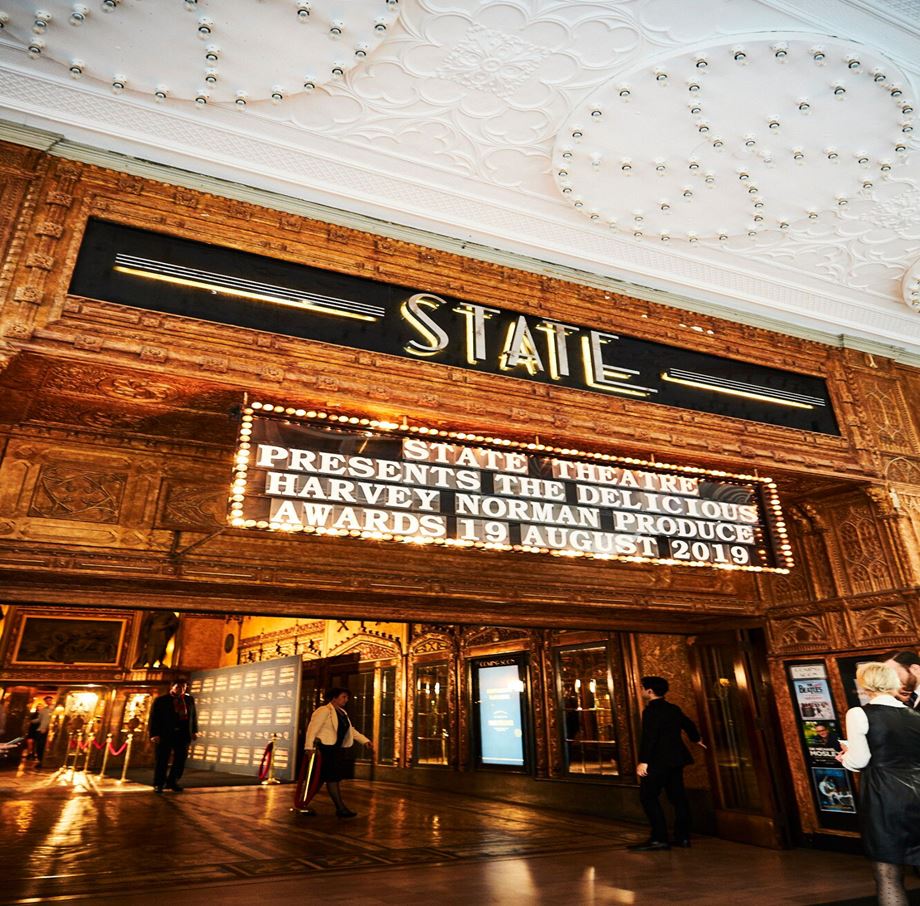 Celebrating the Best Australian Produce in Style
Some of Australia's most renowned chefs and food industry leaders enjoyed the festivities alongside the country's most innovative, passionate and dedicated producers. In the midst of all the celebrities, it was the producers who received the red-carpet treatment. Revered by all who attended, the farmers, foragers, growers and catchers nominated for the awards soaked up the atmosphere, and enjoyed the fruits of their labour.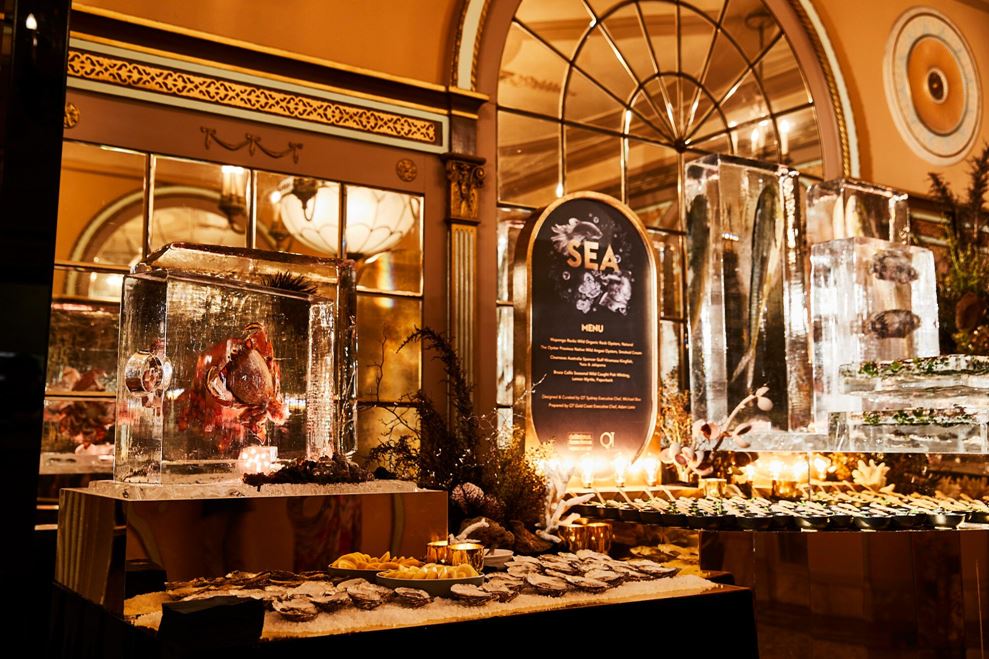 The gala itself offered only the finest in dining pleasures, from tantalising appetisers to satisfying samplers of the finest foods from around the country. The wonderful menu of canapés was created by five executive chefs from QT Hotels and inspired by the 2019 Produce Awards winners and gold medallists, with wines from Qantas Wine and Four Pillars cocktails.
The canapés were divided into four stations of categorised deliciousness, Earth, Paddock, Dairy and Sea. Each station offered a hero sampler, complemented by mouth-watering sides and delectable teasers.
From the Earth, the big hit was Moonacres Farm Brandade of Smoked Potato, Freeze Dried Apple along with Silverbeet and Burraduc Buffalo DolceNina Fresh Buffalo Curd Parcel.
The Paddock offered Schultz Farming Co Suckling Pig Rolls on Sourdough and Spit Roasted and The Farm House Margaret River Arkady Lamb on Flatbread, with meat so perfect, guests need only use their teeth for the bun and flatbread on which it was served.
Popular among cheese enthusiasts was the Dairy station, providing a selection of Artisan, Bloomy, Venus Blue, Curly Red, and Gold Washed Rind cheeses accompanied by Muscatels, Sonoma Sourdough and Lavoche.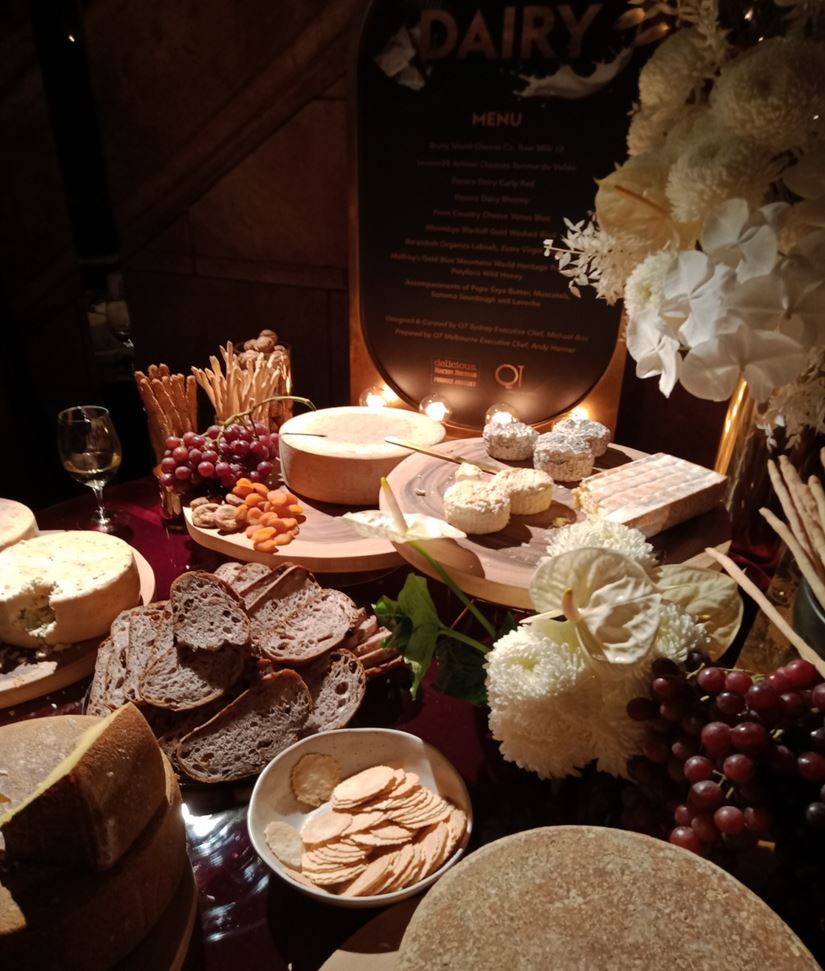 The final and most popular station, The Sea, sampled some of the most beautiful oysters from the Tasman. Big, fresh and succulent; they wowed the guests and even a few celebrity chefs.
Tying everything together was the glorious champagne tower, shining bright in the centre of the celebration, and complementing the ambience of the evening.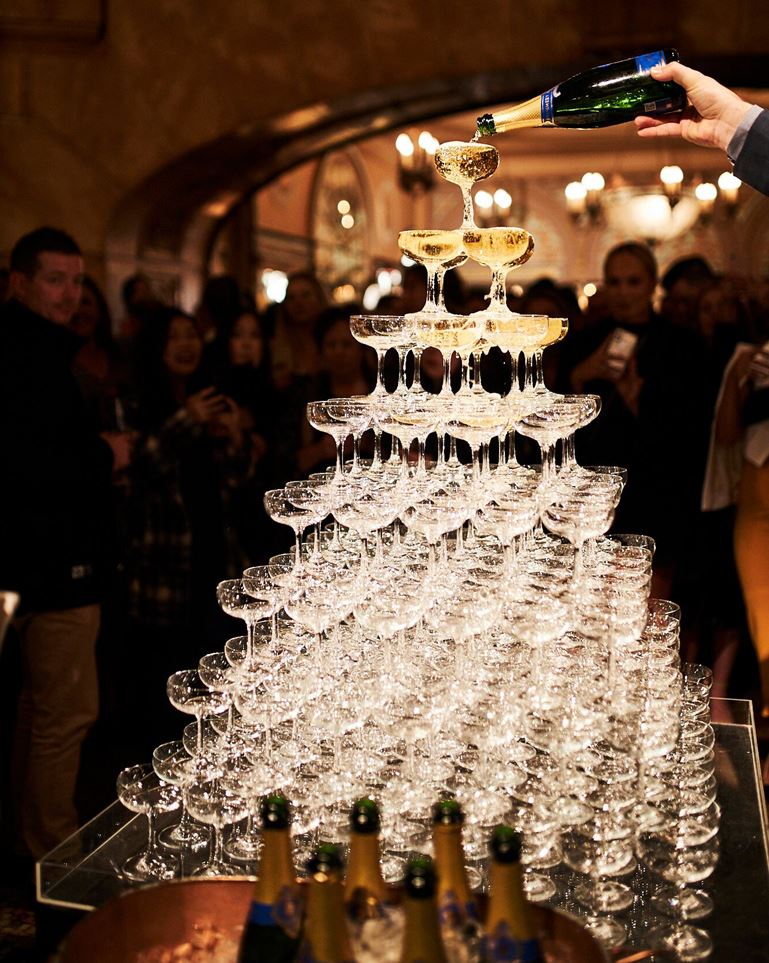 Upon entry to the ceremony, guests were greeted with their choice of Salted Caramel Choctops and Popcorn infused with Pecorino Cheese and Truffles, perfect choices for those of a sweet or savoury disposition, while adding to the experience of attending the State Theatre.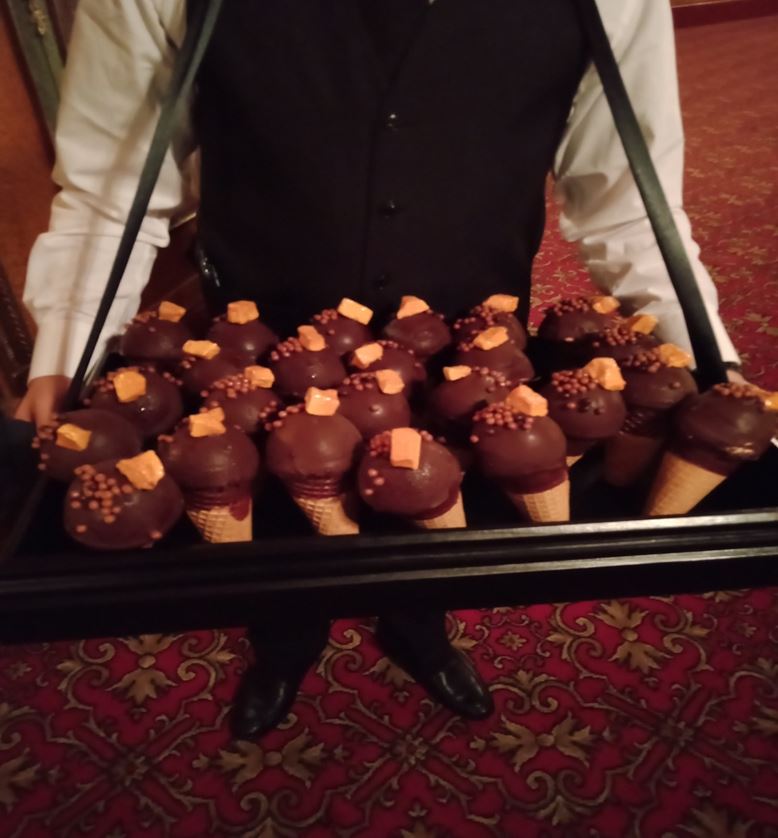 The People Behind Australian Produce
The most prestigious food industry event on the Australian calendar, the delicious. Harvey Norman Produce Awards were hosted by delicious. magazine's senior editor Matt Preston and delicious. magazine's editor-in-chief Kerrie McCallum.
Speaking about the awards, Kerrie McCallum said:
"The delicious. Harvey Norman Produce Awards not only influence what you may see on restaurant menus for the next year to come, but most importantly give credit to the people who care for the produce that lands on our plates. It has never been more important to get behind our farmers and small producers. They need our help. I thank all of our judges for the time and passion they give to these awards, and congratulations to this year's winners."
Gerry Harvey, executive chairman of Harvey Norman and a passionate local producer himself, said:
"Tonight we applaud the winners – you truly are the best of the best, but tomorrow we need to turn our applause into action. We need to buy from these wonderful producers and all the finalists. Do our homework; who do they supply and where are they stocked? We need to build their market – it will only raise the standard of the food served on our kitchen and restaurant tables, it will improve our health. It is that important.
"Fresh produce is everything – if it is locally grown, even better. Our quality of life depends on the skill and experience of our producers – without them our markets, restaurants, supermarkets and kitchen tables are empty.
"Our Harvey Norman partnership with the delicious. Produce Awards is a wonderful opportunity for us to celebrate those who make food and cooking possible. Top-quality produce provides nutrition as well as the pleasure of cooking for family and friends. However, the contribution of our producers runs deeper – farmers and their produce create jobs in the journey from paddock to plate and improve our community health standards.
"Our economy and Australian way of life depends on the extraordinary contribution of our producers."
One thing that was very evident on the night is that beyond championing the best produce, the delicious. Harvey Norman Produce Awards also recognise the people behind it. This appreciation is thanks to a passionate network of food industry experts who nominate outstanding produce and producers from all over Australia, and the insight of the critics panel and the members of the National Judging Panel including Alla Wolf-Tasker, Andrew McConnell, Christine Manfield, Colin Fassnidge, Guillaume Brahimi, Maggie Beer, Matt Moran, Neil Perry, Peter Gilmore and Shannon Bennett.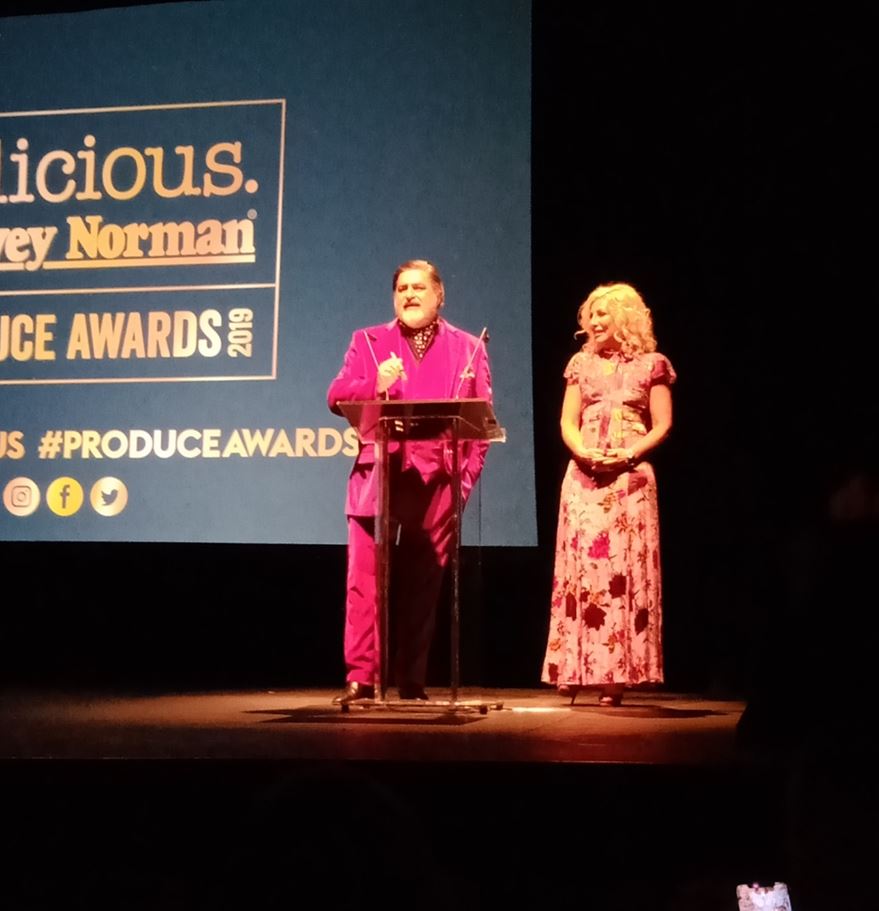 As the winners were announced, each accepted their awards with grace and humility. There was an overarching theme of appreciation for both the recognition they received and the awareness that our farmers and produce innovators are a vitally important part of our ecological future. The satisfaction each winner shared was the result of their hard work, arduous commitment, and a lifetime of application.
The whole delicious. Harvey Norman Produce Awards sparked a new appreciation for the otherwise unrealised work of our nation's farmers, their commitment to quality, and overall determination to make Australian produce the best in the world. Ultimately, it's the total commitment of these amazing individuals that provides us with the food we enjoy every day.
We look forward to seeing more beautiful Australian produce in the future!
delicious. Harvey Norman Produce Awards 2019 Gold Medallists and Trophy Winners
From the Dairy – Trophy Winner
Pecora Dairy Raw Milk Feta NSW
From the Dairy – Gold Medallists
Bruny Island Cheese Co. Raw Milk c2 TAS
Burraduc Farm DolceNina Fresh Buffalo Curd NSW
Elgaar Farm Fresh Organic Milk TAS
L'Artisan Cheese Marcel VIC
Mungalli Creek Pot Set Bio-dynamic Natural Yoghurt QLD
Prom Country Cheese Venus Blue VIC
From the Earth – Trophy Winner
Spurrell Foraging Native & Seasonal Edible Plants VIC
From the Earth – Gold Medallists
Malfroy's Gold Blue Mountains World Heritage Post Brood Polyflora Wild Honey NSW
Moonacres Farm Seasonal Fresh Produce (Selection of Best in Field) NSW
Mushroom Forestry Shiitake Mushrooms VIC
Newcastle Greens Calvin Lamborn Snap Green Varietals NSW
Ngeringa Produce Biodynamic Salad Greens SA
Tuerong Farm Premium Stoneground Flour VIC
From the Paddock – Trophy Winner
Eugowra Game Birds Pastured Quail NSW
From the Paddock – Gold Medallists
Brooklands Free Range Farms 100% Grass Fed British White Beef VIC
Grassland Poultry Sommerlad Chicken NSW
Mayura Station Full-blood Wagyu Beef SA
Saskia Beer Farm Produce Chicken SA
Sher Wagyu F1 Black Label Ribeye VIC
Taluca Park Pasture Raised Rare Breed Pork NSW
The Farm House Margaret River Arkady Lamb WA
Torello Veal Rosé Veal NSW
From the Sea – Trophy Winner
Chris Bolton Fishing Wild Red Emperor QLD
From the Sea – Gold Medallists
Bruce Collis Seasonal Wild Caught Fish VIC
Collison Reef Fish Coral Trout QLD
Fraser Isle Spanner Crab QLD
Murray Gold Australia Murray Gold Cod NSW
Rocky Point Aquaculture Giant Grouper QLD
Tathra Oysters Nelson Lake 5 Year Old Sydney Rock Oysters NSW
The Oyster Province Native Wild Angasi Oysters TAS
Two Gulfs Crab Blue Swimmer Crab SA
Walker Seafoods Australia MSC Certified Swordfish QLD
Wapengo Rocks Wild Organic Rock Oysters NSW
Best New Product
Tuerong Farm Premium Stoneground Flour VIC
Producer of the Year Presented by Harvey Norman
Bruce Collis Seasonal Wild Caught Fish VIC
In the Bottle Presented by Qantas Wine
Hartshorn Sheep Whey Vodka TAS
Outstanding Viticulturist
Melissa Brown Gemtree Wines SA
Outstanding Farmers' Market – Finalists
Margaret River Farmers' Market WA
Mullumbimby Farmers' Market NSW
Willunga Farmers Market SA
Outstanding Farmer's Market – Trophy Winner
Willunga Farmers Market SA
Outstanding Design Presented by QT Hotels & Resorts
Tracey Deep Floral Sculpture Artist
Outstanding Region Presented by Huon Salmon
Scenic Rim QLD
Outstanding Innovation, Sustainability & Community Presented by Thankful
Charlie Arnott
Unearthed Next-Gen Chef
Alanna Sapwell ARC Dining QLD
Outstanding Native Producer
Clarence Slockee & Christian Hampson, Yerrabingin NSW
Outstanding Artisan
Leo Gelsomino Lello Pasta Bar VIC
The Alla Wolf-Tasker Good Food Maters Scholarship
The Oyster Province TAS
Maggie Beer Award for Outstanding Contribution to Australian Food
Joost Bakker
Australian Produce Recipe Ideas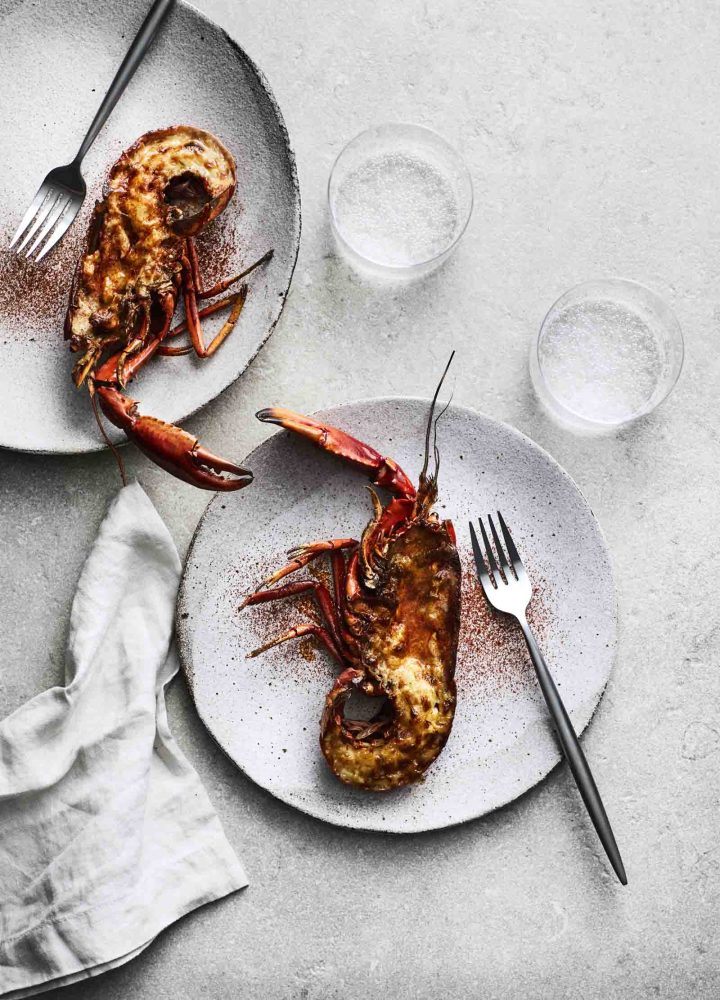 Looking for creative ways to use the best Australian produce? Have a look at these beautiful recipe ideas, each of which is inspired by some of the finest produce in Australia.
► Western Australian Marron Thermidor with Bush Tomato, created by Paul Farag.
► Roasted Rib of Beef with Witlof, Soft Garlic and Lardo Jus, created by Jordan Toft.
► Rich Chocolate Yoghurt Cake with White Chocolate Ganache and Poached Quince, created by Lauren Eldridge.
► Roasted Purple Cauliflower with Harissa, Macadamia and Pickled Currants, created by Adam Wolfers.