We don't tend to take things too seriously in Australia – except for coffee, of course! Throughout the nation, you'll find artisanal cafés just waiting to serve you an excellent cup done just the way you like it. Our very own coffee culture exports – the Flat White and McCafé – are now enjoyed worldwide. Global coffee chains have come and gone from our shores, unable to satisfy the nation's sophisticated palate.
The one thing many of us Australians crave, however, is the ability to recreate that premium coffee taste in our own home – a difficult task to achieve. It's a field riddled with fiddle around dosing, roast levels, grind settings, tamping style, portafilter types, thermoblock vs boiler…oh, for an easier way.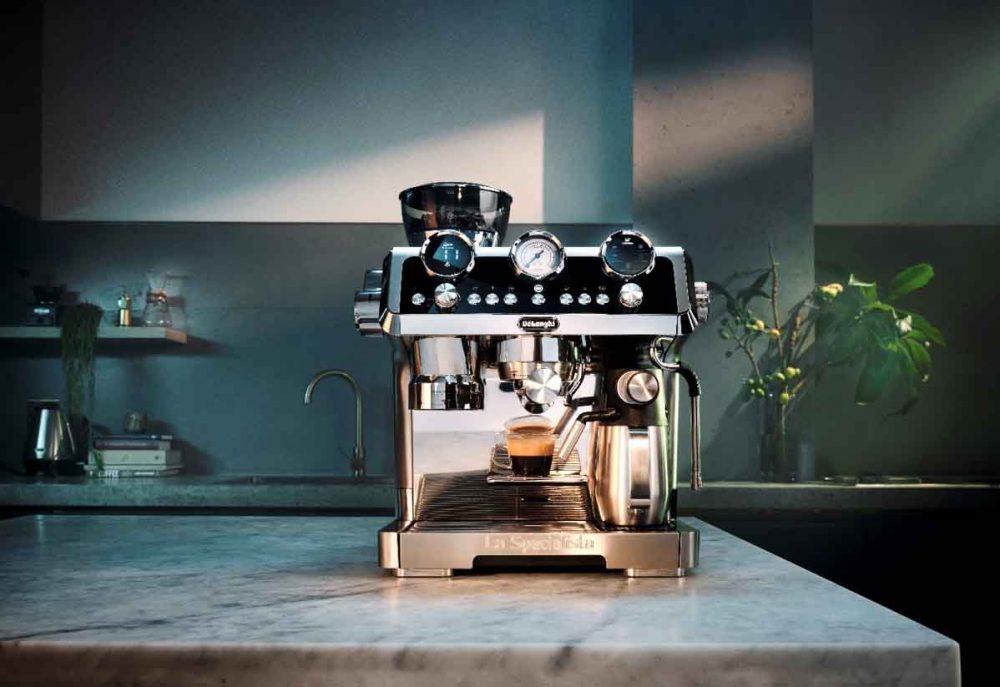 Enter the new De'Longhi La Specialista Maestro available at Harvey Norman in Australia. A coffee machine that gives you just enough control over things to make you feel like a coffeehouse superstar, while taking care of all the hard stuff behind the scenes for you. Can it live up to the challenge? Let's find out in this De'Longhi La Specialista Maestro review!
First impressions of the De'Longhi La Specialista Maestro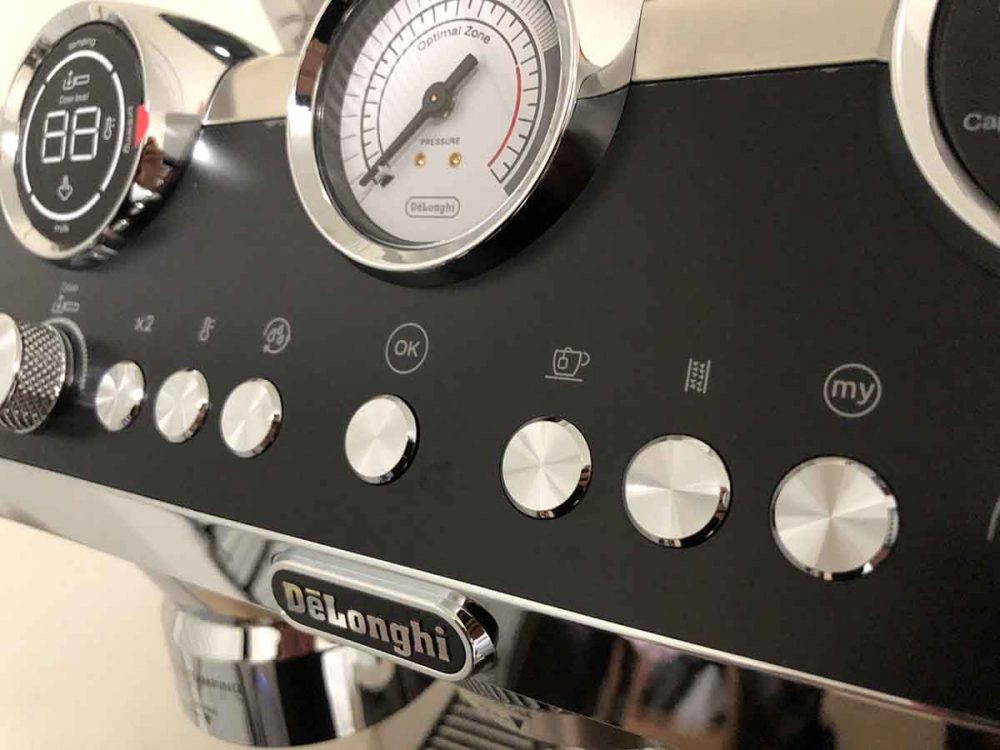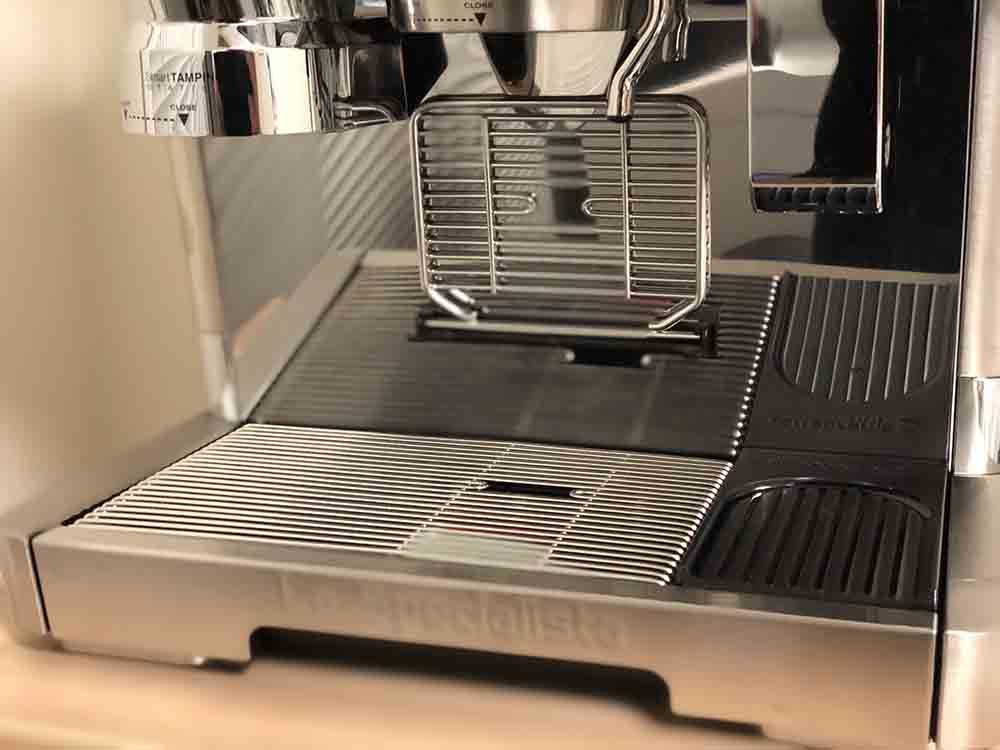 This De'Longhi coffee machine really does gleam. Made from stainless steel with mirror-finish inserts, the De'Longhi La Specialista Maestro brings the commercial café look to your home. All the switches and buttons have a solid, precise feel to them that really give a sense of quality, while the digital readouts hint at technological wizardry beneath the classic exterior.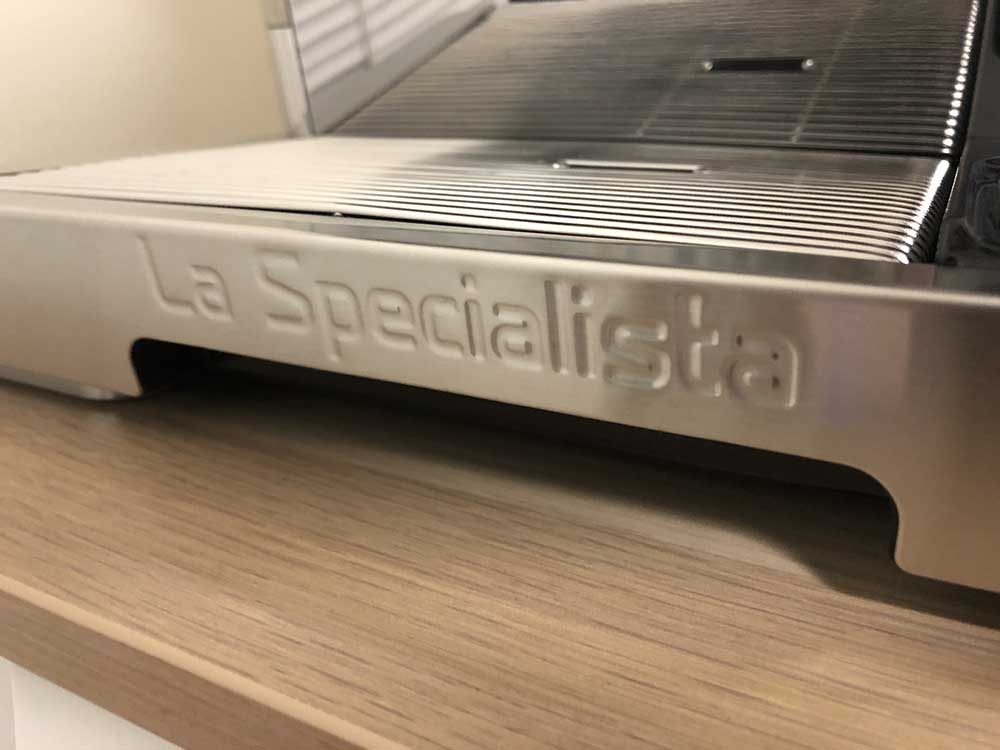 A detail I noticed straight away with the De'Longhi La Specialista Maestro was options for both Long Black and Flat White, two of Australia's favourite coffees. De'Longhi in Australia says that it helped influence the Italian design team to incorporate Australian coffee culture into this new machine, and the presence of those recipes is a very cool nod to our home-grown tastes.
How To Use The De'Longhi La Specialista Maestro
When it comes to De'Longhi coffee machine reviews, the most important thing you're going to want to know is "how's the coffee?" (or, essentially, is it up to Australian coffee standards?!). In the case of the De'Longhi La Specialista Maestro, the short answer is the coffee is excellent – and how you get there is the key attraction of this wonderful machine.
The same basic steps are there as on any other coffee maker. Grind, tamp, and extract. But the genius of the De'Longhi La Specialista Maestro is in how each of those steps have been made easy, allowing you to contribute to the coffee making process.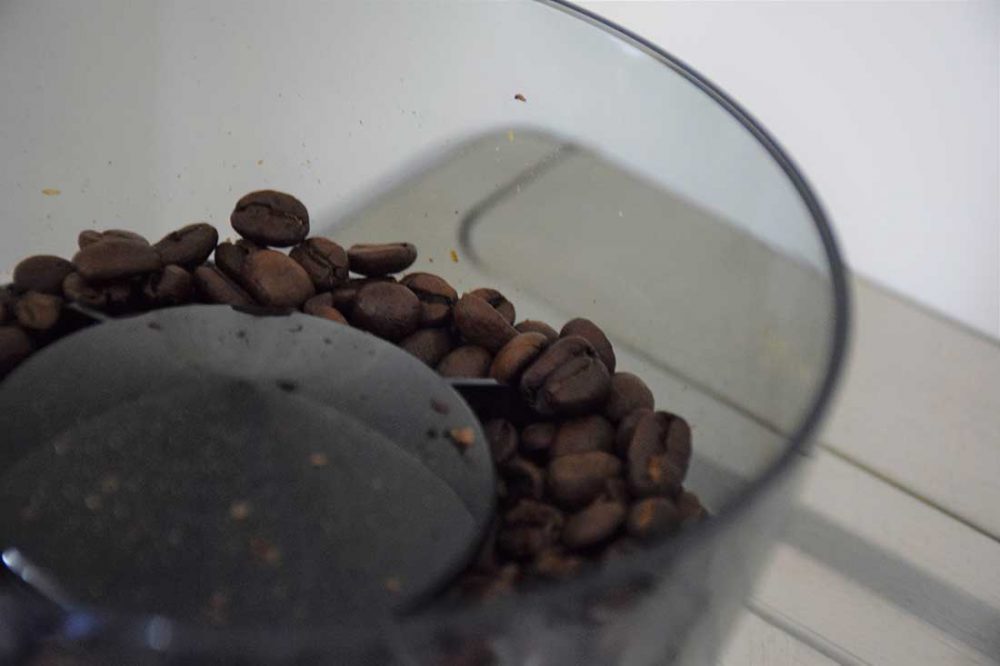 Step 1: Grinding & Dosing
Once you've filled the De'Longhi coffee machine bean container, the first stage is grinding and dosing. There are 30 dose sizes available, as well as eight grind levels, to suit basically every type of coffee bean out there.
To grind, you simply lock the very well-weighted portafilter into the combined grinder and tamper (officially, the Smart Tamping Station) on the left of the machine and lock it in. Automatically, the burr grinder turns your beans into grounds, dispensing the desired amount straight into the portafilter with no mess or waste.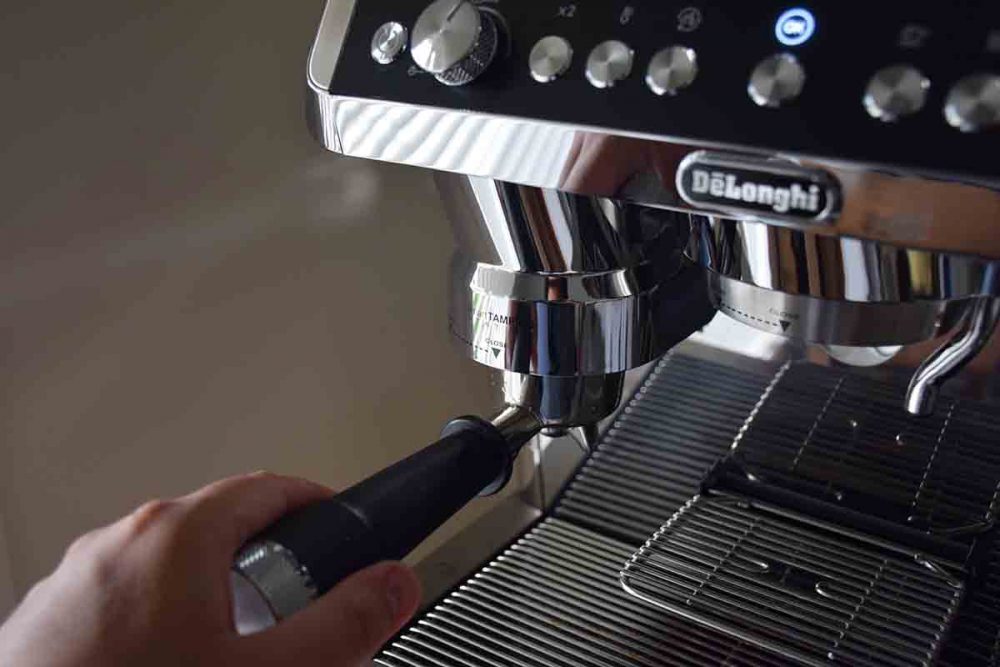 Knowing how much to dose is usually a case of trial-and-error, but with this De'Longhi coffee machine you can forget about weighing your grounds or anything like that. The De'Longhi La Specialista Maestro comes with a little marker just underneath the rim of the portafilter. The goal is to get the grounds level with the top of the marker (after tamping, but more on that later). Once that's achieved, you have the perfect dose.
Although there is some minor trial and error involved in getting this right, that's just the nature of espresso coffee and it's still a very easy process overall. Thankfully there's only two variables involved, which is your dose level and grind type. The latter influences the former, with coarser grinds taking up more space within the portafilter and requiring a smaller dose, and vice-versa.
Step 2: Tamping
Once grinding has been taken care of, the next step is tamping. Tamping the grounds ensure that the water runs evenly and gradually through the 'puck', to use the correct term for grounds compacted within the portafilter. It also helps to avoid 'channelling', which is what happens when the hot water finds its way through a loose or cracked part of the puck instead of slowly progressing through it, essentially ruining your shot.
With the De'Longhi La Specialista Maestro portafilter still locked into position at the aptly-named Smart Tamping Station, all that's required is for you to simply pull on the lever until the maximum pressure has been reached. That's it – no heaving on a tamper with all your strength or making a huge mess across your workspace with stray grounds. It's always at the correct 19-20kg of pressure and the correct 90-degree angle.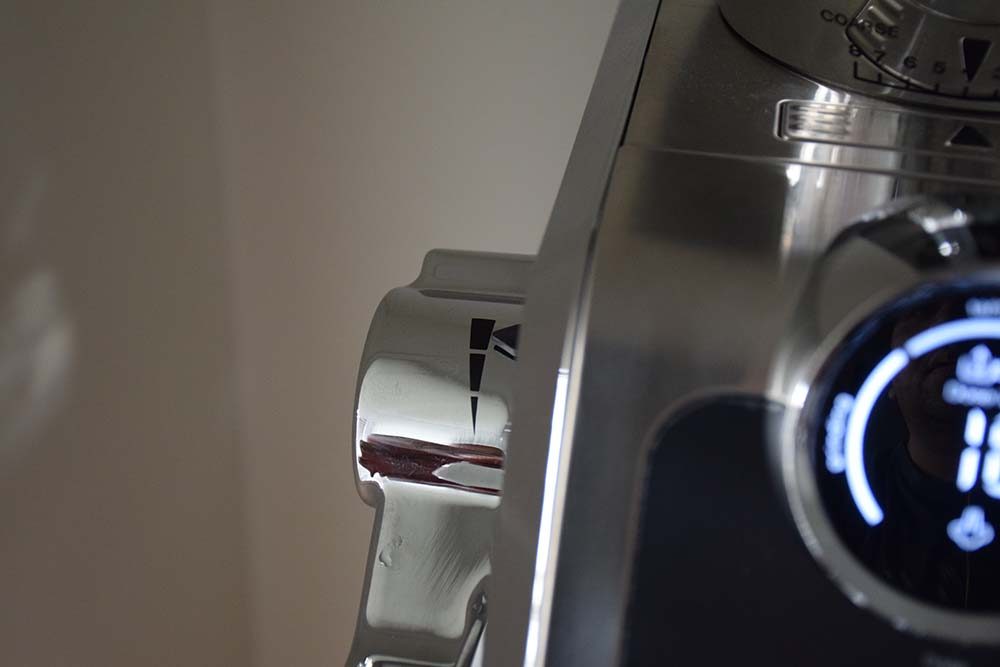 Unlock the portafilter and what should come out is a beautiful, smooth puck that's perfectly dosed and just bursting with a wonderful aroma.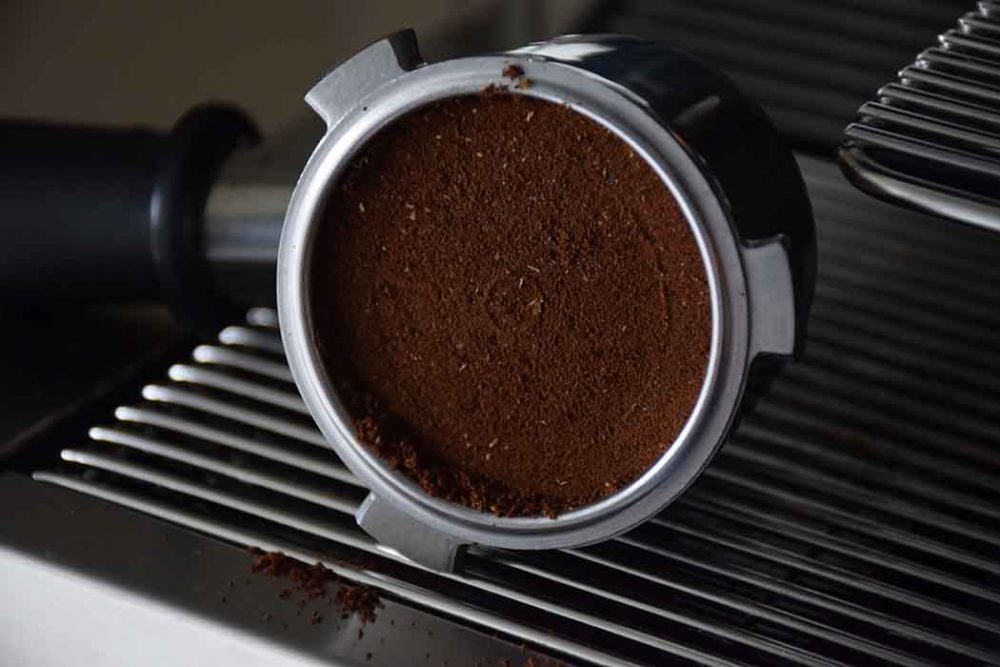 Step 3: Extracting
Now it's showtime. Lock the portafilter under the main group head for brewing, and all that's left is to choose your desired beverage. It's worth noting that the De'Longhi coffee machine takes about 30 seconds to be ready for action, so you'll never be left waiting.
With Active Temperature Control, it's also possible to choose from five extraction temperatures between 92 and 98°C to suit all types of roasts and beans and really bring out the maximum flavour in each. According to the included guide, darker roasts tend to like a relatively cooler extraction temperature of 94°C or lower, while medium to light blends benefit from a higher water temperature.
Simply press 'OK', and the De'Longhi La Specialista Maestro will start to gently infuse the puck with a small amount of water. This process is known as pre-infusion and helps to ensure the actual extraction is even, smooth and full of flavour.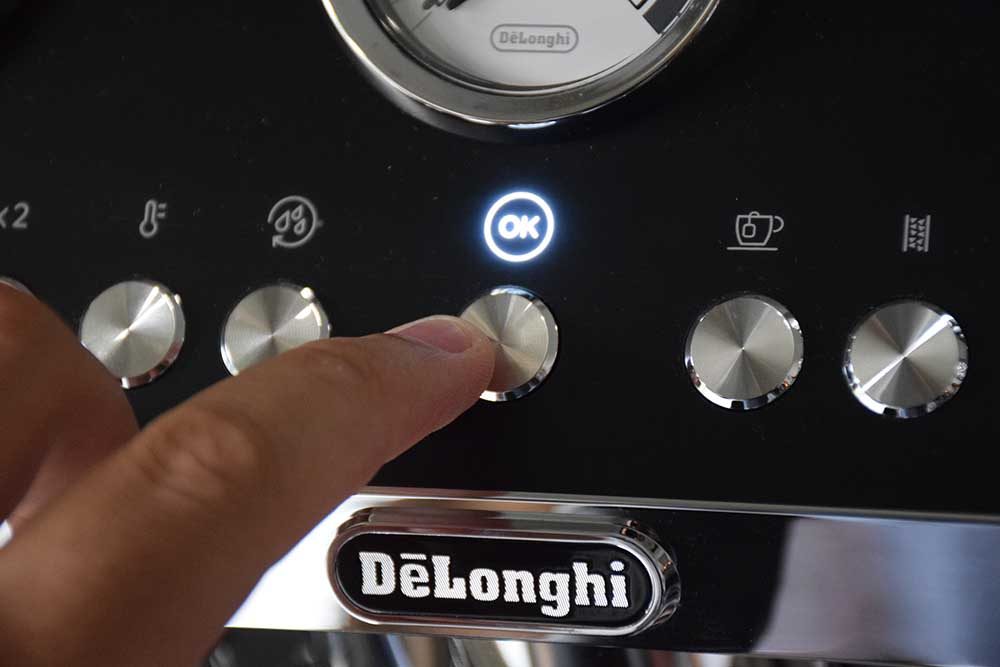 Once the pre-infusion is complete, out comes the first stream of dark, relatively thick espresso, followed by the lovely mix of light browns and hazelnut that make up the rest of the coffee as well as the all-important crema on top.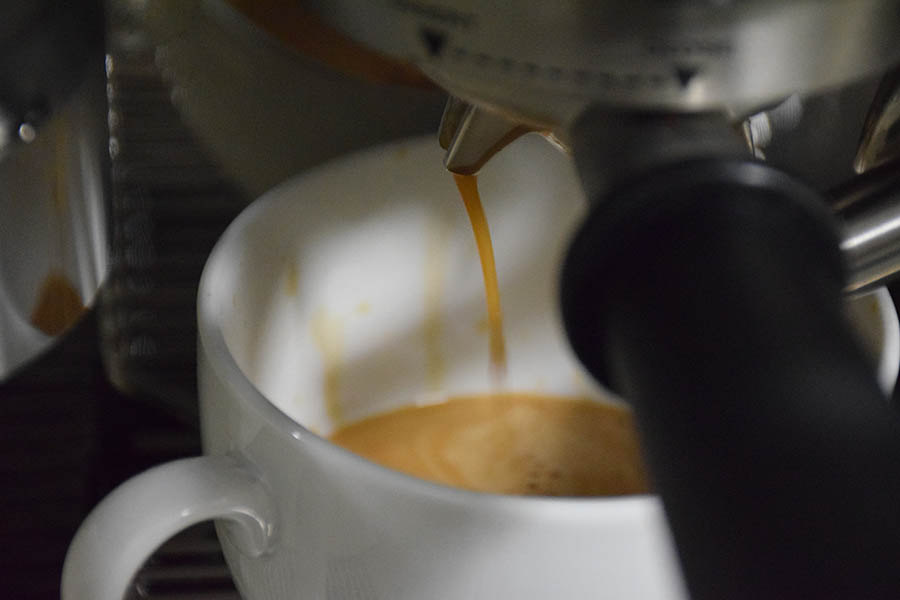 This De'Longhi Coffee Machine Knows Flavour!
The De'Longhi La Specialista Maestro's pressure gauge lets you know if your grind settings are on target or not. A properly-compacted puck at the correct grind settings would require at least 15 bars of pressure for a good extraction. As I started pulling my shot, I was hoping I'd hit the target!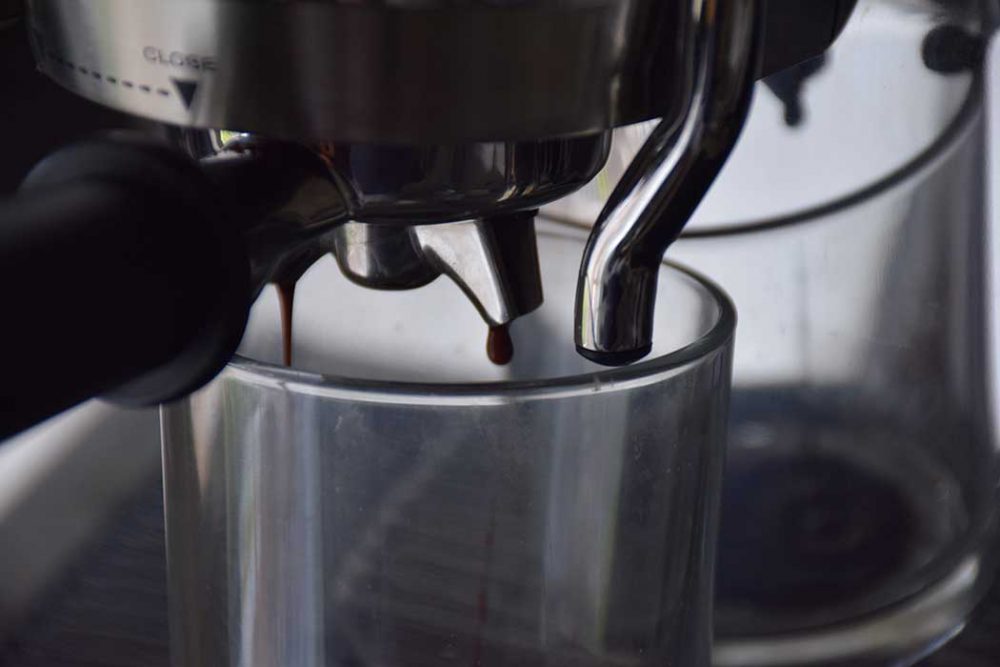 It took a second or two for the shot to start pulling, upon which the rich, slow, thick, dark first few drops indicated a lot of flavour was on its way. With a few millimetres of hazelnut-coloured crema on top, it was clear that this was going to be good. If the visual indication wasn't enough, the pressure gauge made me very confident with a reading of bang-on perfection.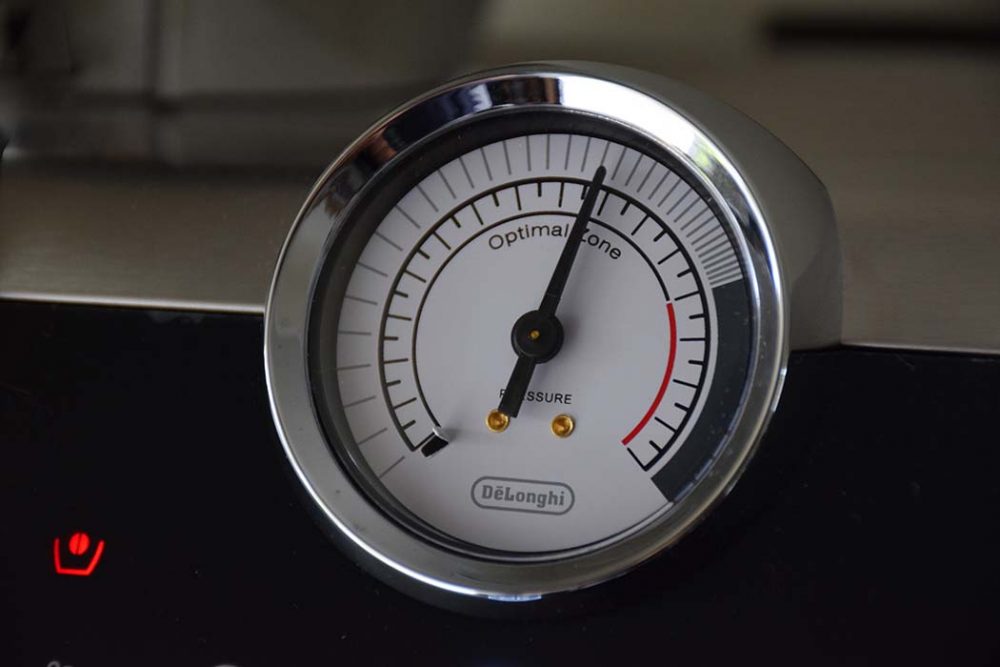 With a full body, strong aroma and not too much bitterness, I knew the settings were on target. Even though the De'Longhi La Specialista Maestro took care of all the hard stuff, it was still satisfying to get my part right.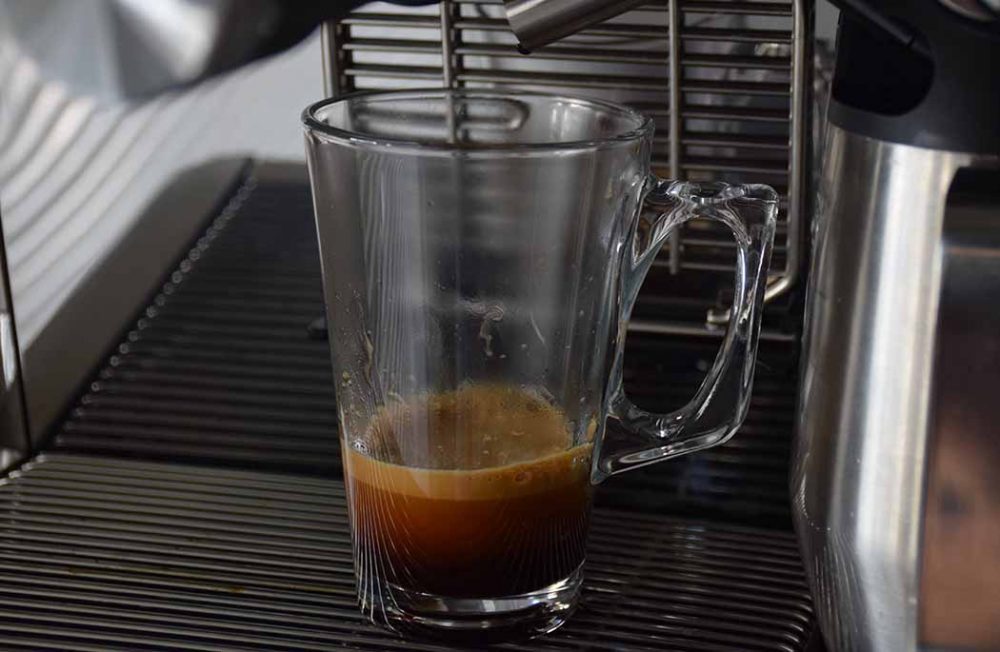 Steaming Milk Automatically…
There's always exceptions to any rule, but broadly, Australians take coffee with milk. We even invented a totally new way of steaming milk for coffee, known as microfoaming, which is key to the famous Flat White developed in the cafés of Melbourne during the late 1980s.
With the De'Longhi La Specialista Maestro, you have two options for adding milk. You can try your skills as a barista with the professional steam wand or use the fully automatic LatteCrema system.
I elected to use the LatteCrema system first, partly out of curiosity at how well technology can replace the skills of a real barista, and partly out of trepidation at steaming the milk manually.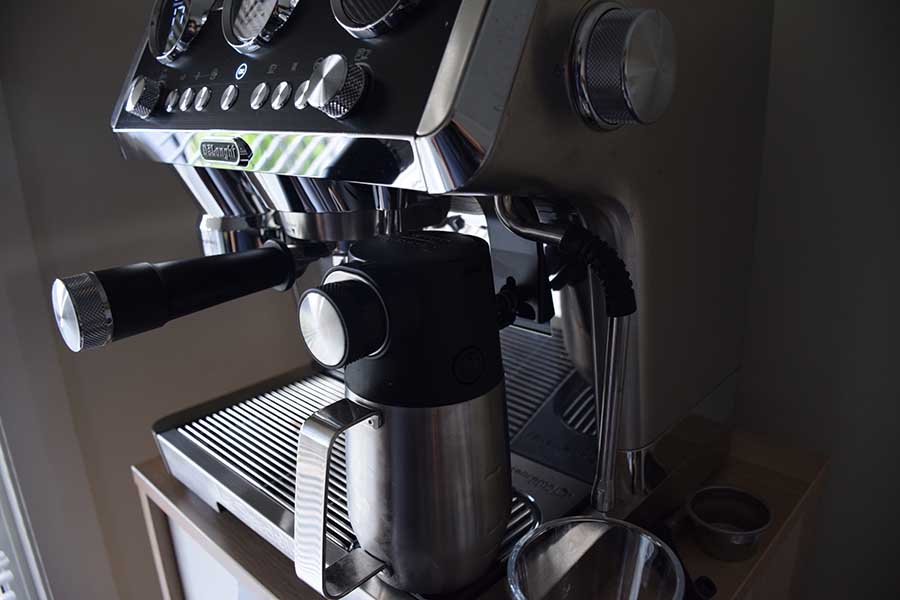 How do you use LatteCrema? It's easy. All I had to do was pour in milk, replace the lid, and slot the jug onto the steam valve. There's three levels of foam to choose from with the De'Longhi La Specialista Maestro, each made to match the three milk recipes on offer: Flat White, Latte, and Cappucino (in ascending foam order).
Having tried and enjoyed the Flat White and Latte options, I felt like a cappuccino was in order. An old Italian favourite, the cappuccino is a shot of espresso with a very strong head of foamy milk on top.
The LatteCrema jug did the job admirably. All I had to do was adjust the spout into my cup and twist the dial to the foam level required. A little trick I figured out was to have the spout tilted up as far as possible, so that the milk would get right to the bottom of the cup instead of settling on top of the espresso shot.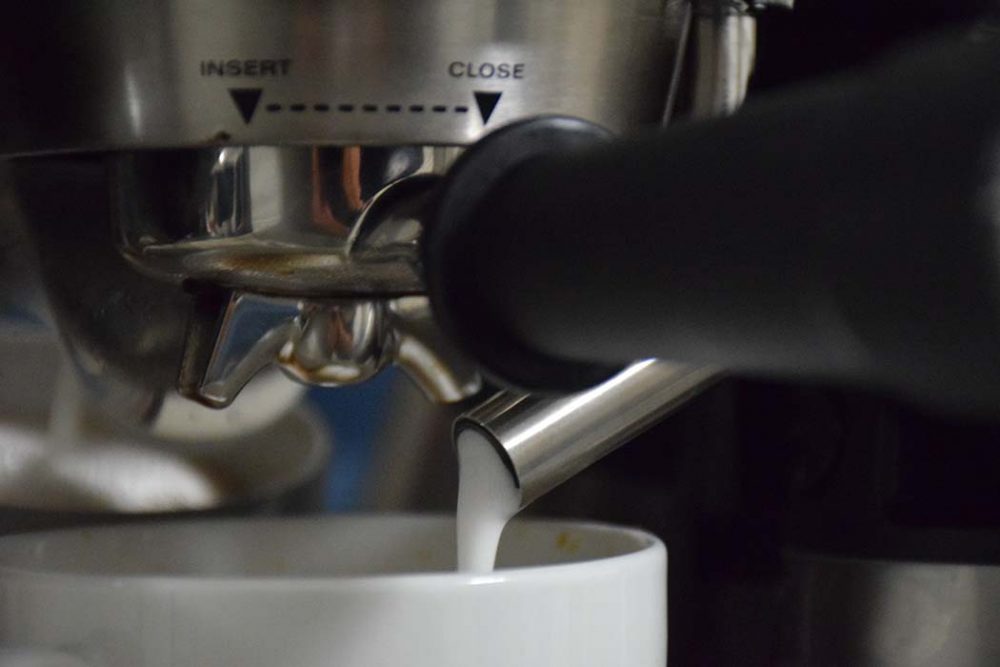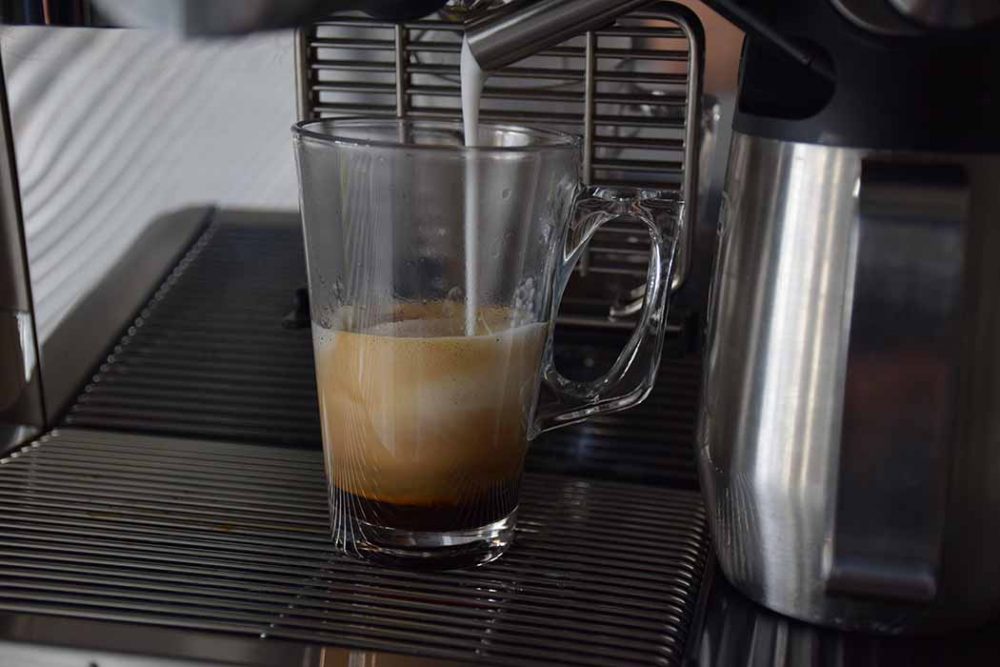 …and Steaming Milk Manually
Having put the automatic option to work, it was time to go old-school with the manual steam wand.
Perhaps the kindest words to describe my first attempt would be 'messy'.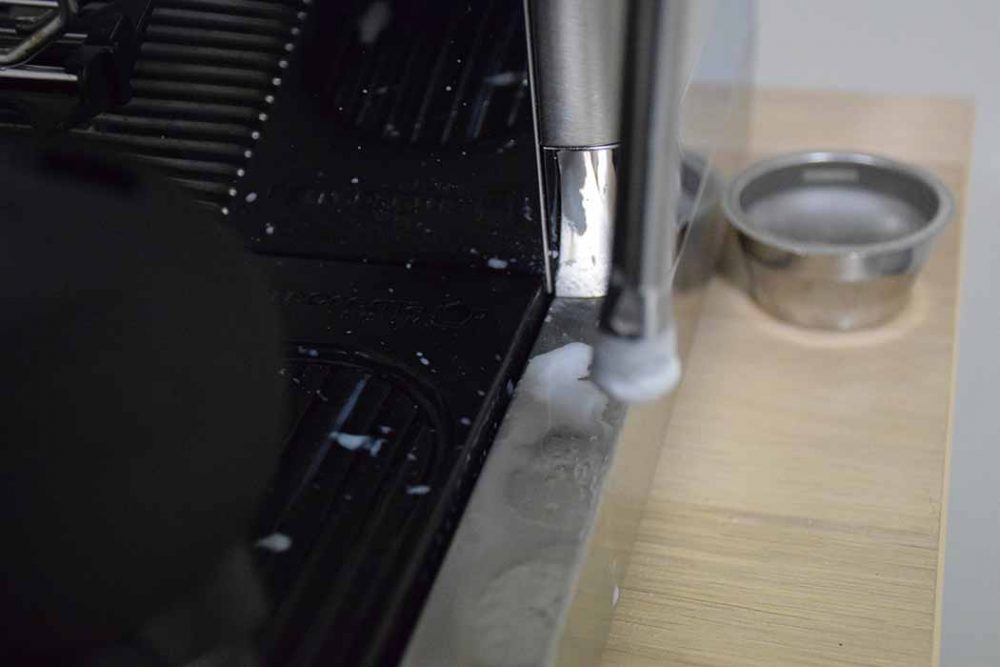 But with a bit of research, I'd improved from total amateur to, well, amateur who has at least read up on the subject.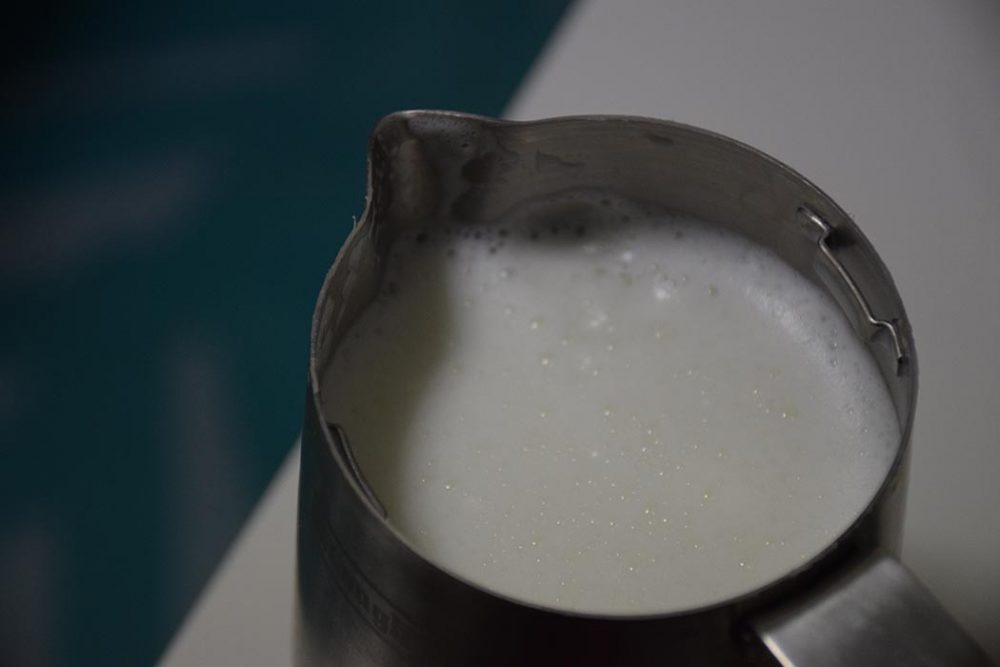 After a few tries, my end results started to look pretty decent. Perfect Melbourne microfoam it may not have been, but it was sufficiently drinkable. Perhaps Harvey Norman and De'Longhi should let me keep the La Specialista Maestro coffee machine a while longer, to allow me to become a milk steaming expert.
No? Oh well – you can only try.
Where to buy the De'Longhi La Specialista Maestro in Australia
To achieve Australian café-quality results at home with none of the fuss, the De'Longhi La Specialista Maestro is without a doubt the ideal coffee machine. It strikes a brilliant balance between giving you control over how you want your coffee to be made, and taking care of the difficult, fiddly bits behind the scenes. If you simply want great coffee, time after time, without having to get into the excruciating minutiae of espresso and milk steaming (which you can still do manually if you want!), it's completely worth the investment.
Shop the De'Longhi La Specialista Maestro online in Australia or head to your local Harvey Norman store to chat with our coffee experts about making a huge upgrade to your daily coffee routine with this De'Longhi coffee machine!