Are you the kind of person who can smell freshly-ground coffee a street away? The type of person who simply can't function until the first morning mug? Or perhaps you're more of a tea lover, or a fanatic of those warm, milky mugs of cocoa?
Whatever your brew of choice, I'd highly recommend getting your hands on the DeLonghi PrimaDonna Elite Experience coffee machine, available now at Harvey Norman.
Having just tested out this amazing innovation for myself, I can tell you that DeLonghi truly understands the varied tastes that make this world more interesting, and they have embraced that in this superb machine – because everyone deserves the elite experience, whether you're a skinny-extra-hot-double-shot-flat-white drinker, a short-black-throw-it-back-like-a-shot drinker, an Earl-Grey-with-one-and-a-half-sugars-and-no-milk drinker, or, like most of us, a combination of all three depending on the time of day, your mood, the phase of the moon, whatever.
DeLonghi has you covered.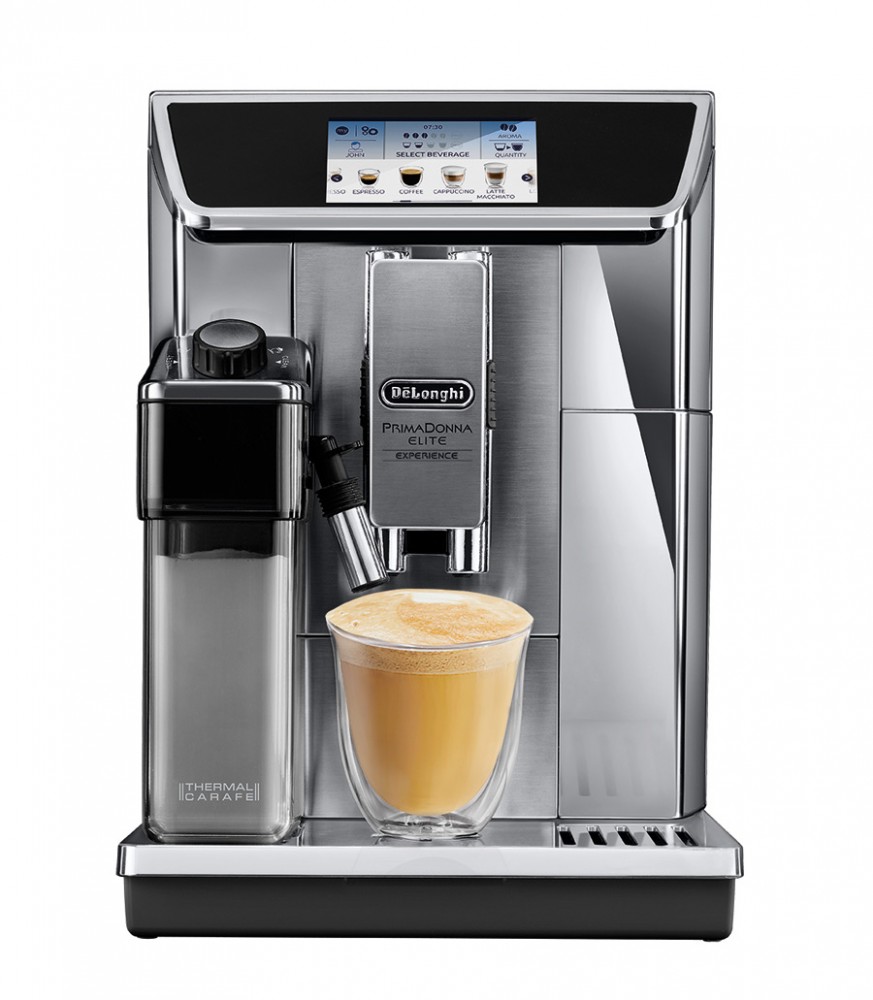 Testing the hot, hot waters
I was lucky enough to be able to test out the PrimaDonna Elite Experience Coffee Machine, and right from the get-go I was impressed. As it sat gleaming on my kitchen counter, and I felt like a barista in one of those trendy, converted warehouse cafés – and I hadn't even plugged it in yet!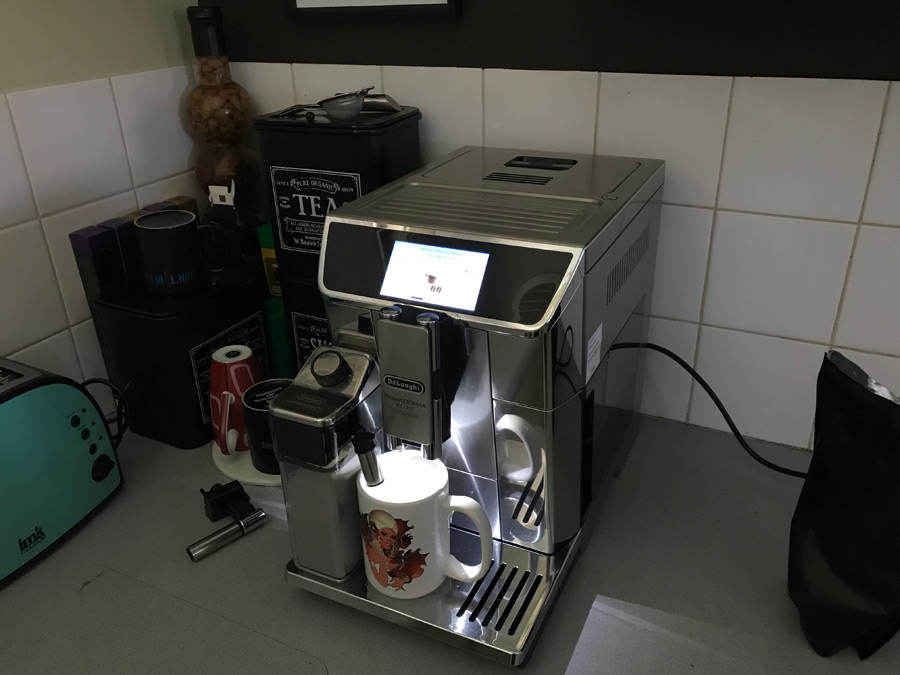 After a quick flip through the instruction booklet (which was easy to read and understand, unlike some manuals I've had the, er, pleasure of perusing), I filled the tank with water and the hopper with extra-strong beans. I also noticed that you could use pre-ground beans: this machine does it all!
The touchscreen immediately lit up when I pressed the on button, and the machine started to hum. Slightly too late, I realised that I should have put a cup under the spouts as it heated up internally, but the machine has been well designed and the base caught the small amount of water I missed, leaving no mess at all. It'd be a small thing to have a spare cup ready for warm up, I thought, but if I forgot, the drip tray was easy to rinse and was actually dishwasher-safe. Score!
Soon, the aroma of the beans had filled the kitchen and my partner had emerged, mug in hand like Oliver Twist asking for some more gruel. Except, of course, coffee is much, much better than gruel.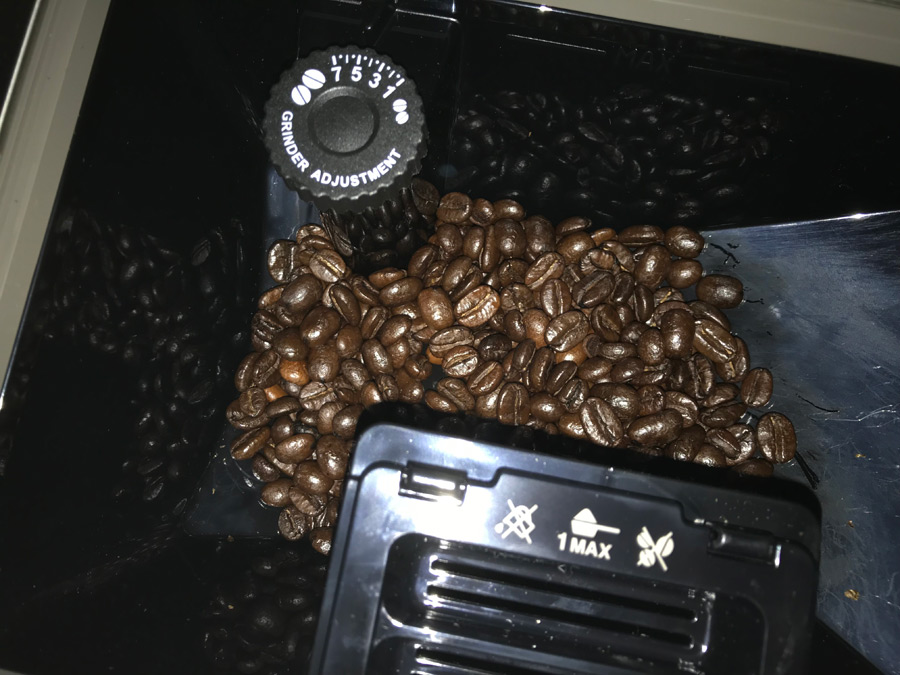 On the touchscreen, I scrolled through the many options to acquaint myself with the menu now at my fingertips. There were options for short blacks, long blacks, caffelattes, flat whites, cappuccinos (mixed or not mixed), iced coffees, hot milk, hot chocolate and even a tea setting, which would make waiting for the jug to boil a thing of the past.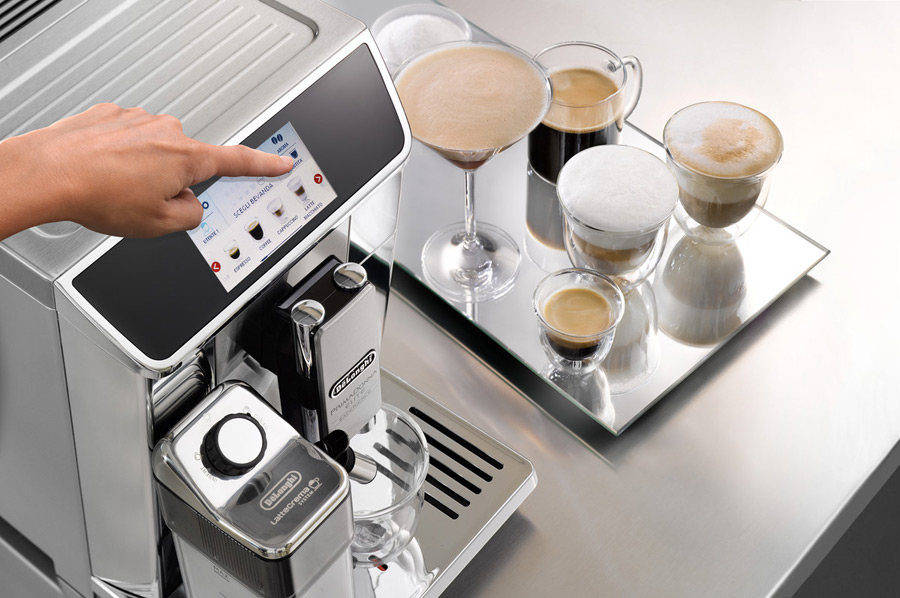 Amazed at the selection available to me, I decided to go with a Cappuccino+. Before I pressed the right icon though, I upped the aroma to 4 out of 5 beans and changed the cup size to extra large (my partner likes his coffee in big quantities, hence the plus, but the large or extra large settings would be perfect for making two coffees at once, if needed). This was as simple as pressing the appropriate symbol a few times – seriously, it's that easy.
I poured the milk into the LatteCrema jug and then clicked the lid into place. I put my partner's mug under the coffee taps, and slid the LatteCrema into place with a small, encouraging beep. Then I pressed 'Cappuccino+' and let the fun begin.
As per the touchscreen's instruction, I turned the milk-froth dial to maximum and very quickly the spout was pouring a thin stream of steamed milk into the waiting mug. The touchscreen displayed a horizontal bar that gradually filled as the process continued – much like a 'loading' bar on the computer. Always good to know exactly how long your coffee will take!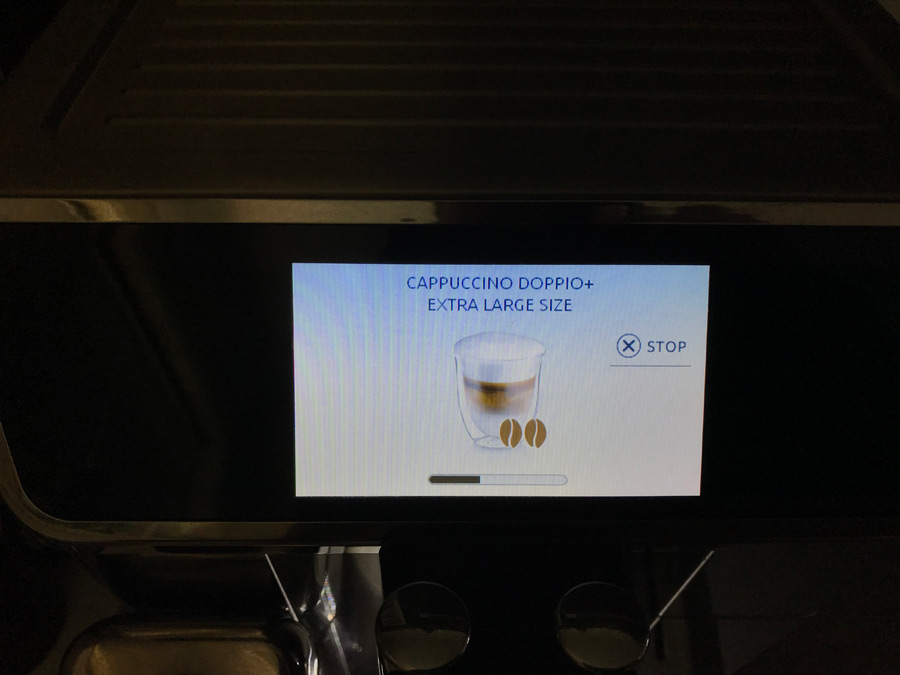 After it had finished dispensing the milk, the DeLonghi PrimaDonna Elite coffee machine worked its magic with a whirring noise, and the beans were freshly ground, tamped and the dribble of that liquid gold made its way into the mug of milk, mixing perfectly to create that beautiful brown coffee-lovers the world over recognise as a truly transcendent colour.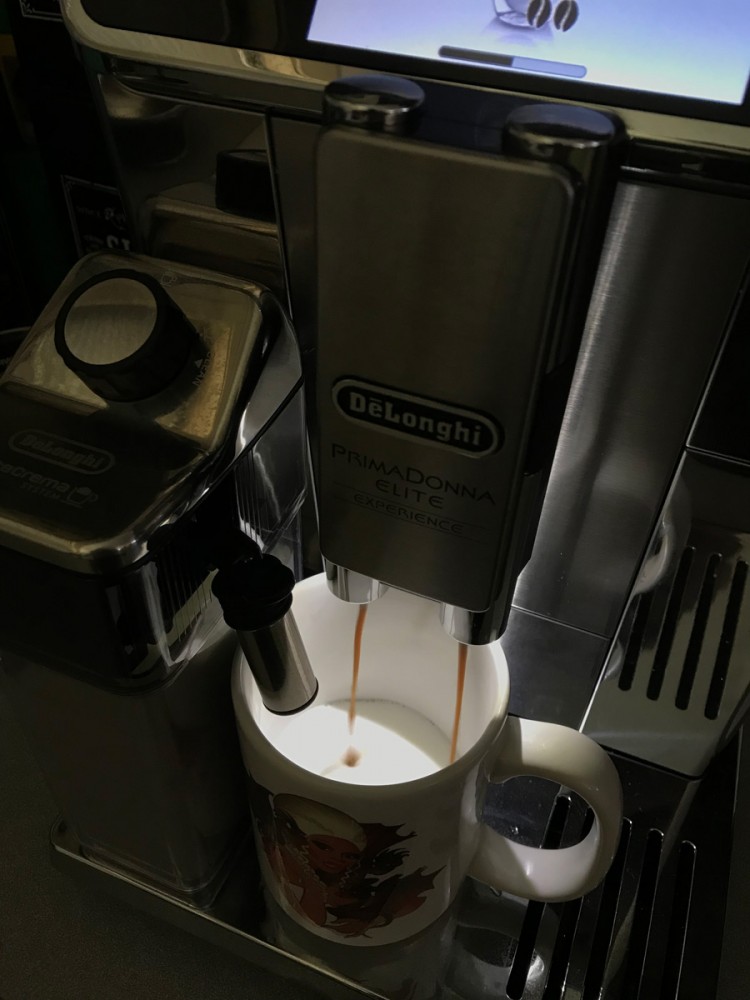 I didn't really want to hand over that mouth-watering mug of coffee to my partner, but I'm a good boy and know which battles to pick – ones about coffee are just not worth it! From his first sip, I could tell my partner no longer had eyes for me: he was enveloped by the transformative taste of rich, bitter coffee perfectly melded with sweet, creamy milk. I couldn't wait for my turn. I repeated the process quickly (and easily), except this time making a Caffelatte, and soon enough we were both enjoying the elite experience – and elite is not an understatement. It's hard to even get this kind of caffeinated perfection in a café.
After you've made your coffee, you have the option to let the milk steamer clean itself. When I finished the first coffee, I pressed the escape button in the top left of the screen so that I could make another. However, after I'd finished making the second coffee (my coffee), I let the machine do its thing. It was seriously as simple as can be.
So, the lid had cleaned itself and the rest of it was dishwasher-safe – which would have been good if we actually had a dishwasher. As it was, it was as easy as rinsing the clear, straw-like tube from the inside of the jug, and washing out the jug itself before setting it on the drying rack. Of course, if there's still milk remaining inside the jug, you can simply click the lid back in place and put it in the fridge.
As quickly as that, we both had our coffees and the machine was clean and ready for a second go later on (and third, and fourth, and, well, you know how it works).
Cooling down
It was fairly warm around lunchtime, so I thought it was as good a time as any to try an iced coffee – and I was so glad I did. The PrimaDonna Elite comes with two silicone trays to make ice in the shape of cute little coffee beans – and because they're silicone, you can even use them as chocolate moulds for any coffee-flavoured desserts you might make.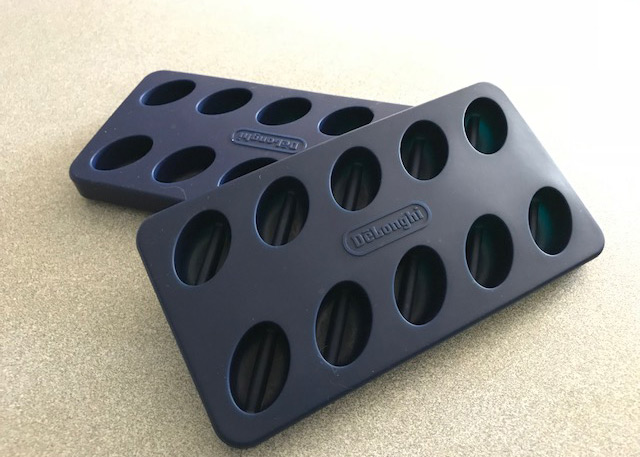 Anyway, back to the iced coffee: this wonderful coffee machine comes with a MixCarafe, which is created especially with beverages other than the traditional hot coffee in mind. Making the iced coffee was as simple as pressing the 'Cold Coffee' button and following the prompts. I selected the required coffee aroma, cup size, froth quantity and then followed the clear instructions on the touchscreen, adding the cute coffee bean ice cubes (if 'cubes' is the right word) and a spoonful of sugar. Within a couple of minutes, I had a couple of quite fancy-looking iced coffees, with plenty of delicious froth.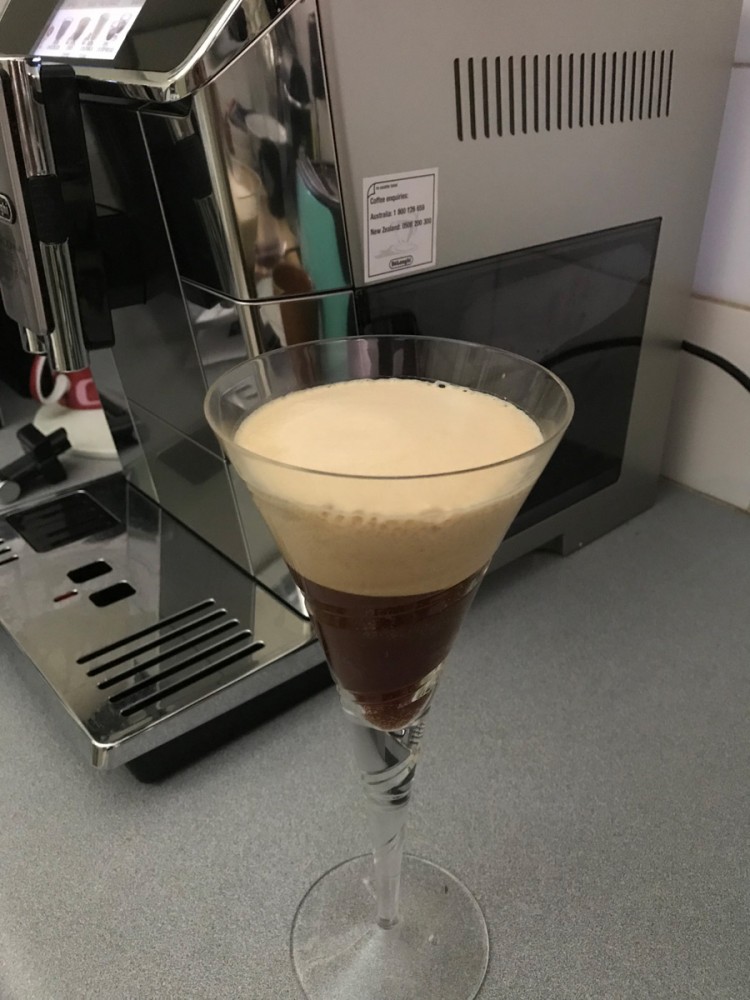 The iced coffees would have been enjoyable as is – and looked like a great base for espresso martinis, if you were that way inclined – but I made some foamy cold milk to lighten the iced coffees a bit, which was as easy as pouring some milk into the MixCarafe and selecting 'Cold Milk Foam' from the on-screen options.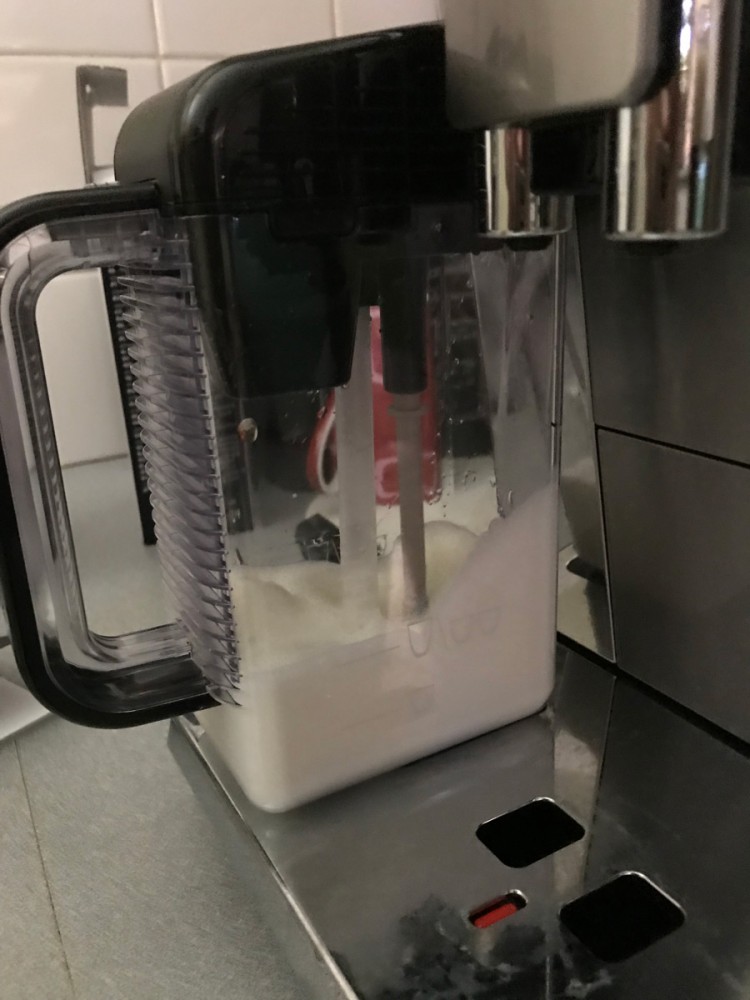 An evening cuppa
That night, as he usually did, my partner had a cup of tea after dinner. Instead of waiting for the jug to boil, I simply switched the DeLonghi PrimaDonna Elite coffee machine on. I put the teabag in his mug (chamomile, honey and vanilla) and pressed the 'Tea Function' button. I then chose how much water I needed, and was given a choice of what kind of tea I was making: white, green, oolong or black. The brilliant thing about selecting your tea type is that the DeLonghi PrimaDonna Elite boils water to the ideal temperature required.
I chose the black tea option, meaning the DeLonghi PrimaDonna Elite brewed the beverage at 100°C. If, for example, I'd chosen green tea, it would have brewed it at just under 80°C (the perfect temperature for green tea, helping it avoid tasting bitter or grassy). No more fiddling around with pouring boiling water and then quickly splashing some cold in, and no more guesswork. The DeLonghi PrimaDonna Elite truly does have it all.
It was the easiest tea I've ever made – the press of a few buttons and the mug was filled with the right temperature water. I let it steep while I moved on to my own beverage: a hot chocolate.
I'm not normally a hot chocolate drinker, but in the interests of trying out this wonderful machine, I thought I could manage to enjoy some cocoa goodness. Using the MixCarafe, I replaced the aero stirrer with the choccy mixer and clicked the lid into place. I poured a couple of spoonfuls of cocoa powder and a spoonful of sugar through the opening and then poured the milk up to the right level for a large mug.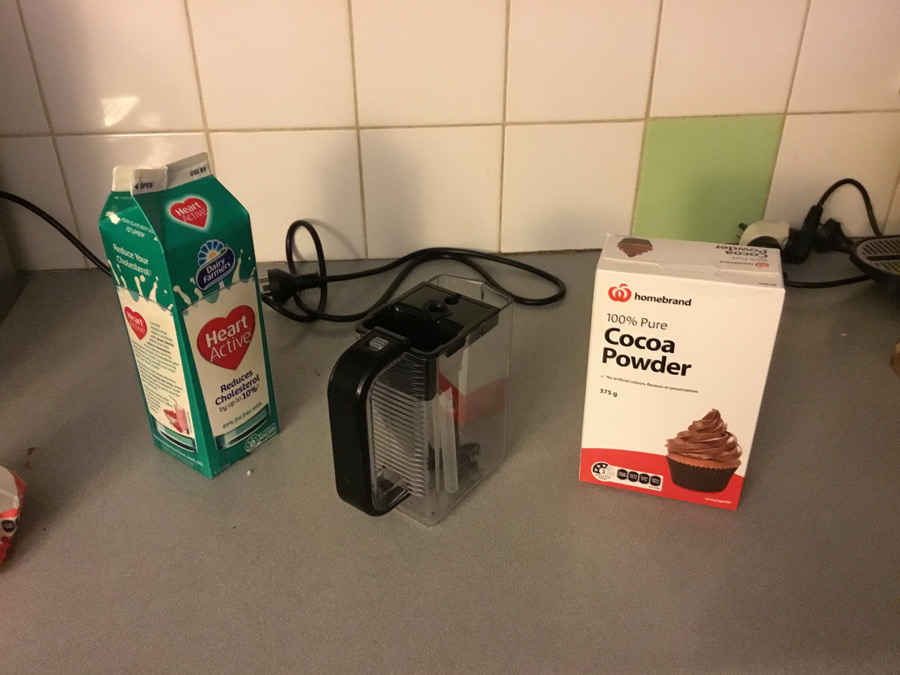 I then scrolled through the menu on the touchscreen until I reached 'Hot Chocolate'. I pressed the button, followed the prompts and in barely any time, I had a warm, frothy mug of cocoa, that tasted absolutely perfect.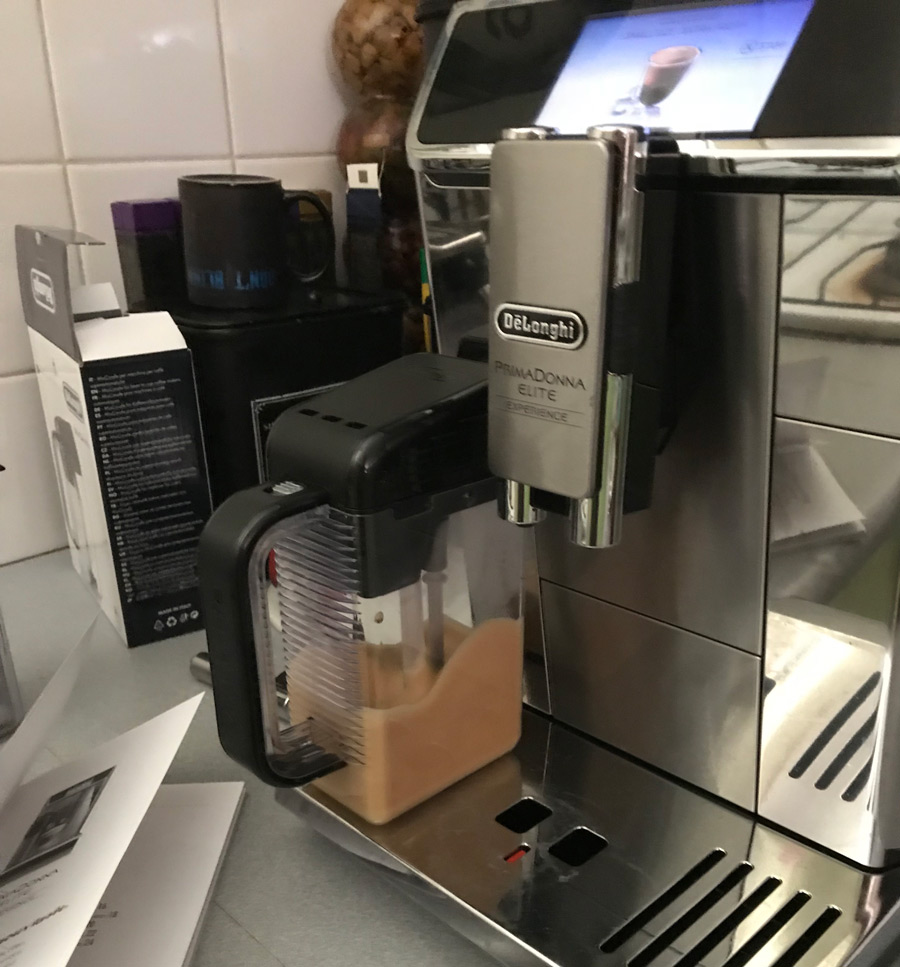 Clean-up was a simple process: rinse out the milk containers and their bits in warm soapy water, put in the drying rack, empty the water tank and dry that out, empty the drip tray, empty the coffee grounds, remove any remaining beans and wipe the hopper out with a damp sponge – and the machine was as good as new!
A modern kitchen appliance
While the machine can make a number of beverages, it also goes a step above. You can have up to six different profiles on there and set favourites: mug size, amount of coffee, aroma strength and so on. You can also make your own recipes and save them to your profile so there's no more being difficult and having to fiddle around every time.
Plus, you can also download the DeLonghi Coffee Link app onto your smart phone or tablet, and connect it to the machine. Even if you're not that good with technology, once you've downloaded the app, you're shown step-by-step how to connect to the DeLonghi PrimaDonna Elite coffee machine. And from there, it takes you through just exactly what it can do – which is a lot. There's no longer any need to get off your phone to make yourself a cup of coffee (or whatever takes your fancy), and if you need any help you don't even have to read the instruction manual – all the assistance you need is right there in front of you.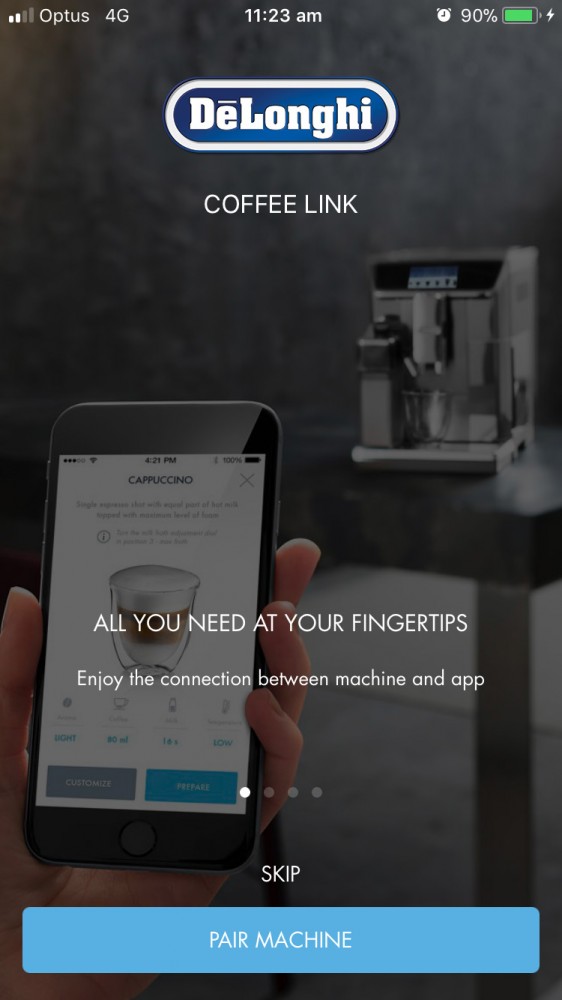 In my opinion, the Delonghi PrimaDonna Elite is the best coffee maker (and more!) available right now, so why not treat yourself and buy this quality coffee machine online? You can also visit your local Harvey Norman store and talk to our friendly and knowledgeable team today. Remember, the elite experience is for everyone.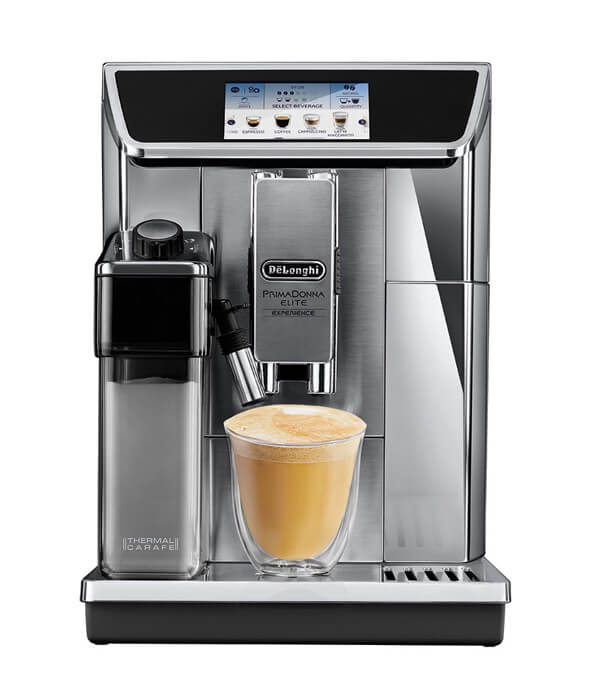 DeLonghi Primadonna Elite Experience Coffee Machine