I'll always look up to my dad, no matter how tall I grow.
Is your Dad the Barbecue King?
"It is better to have burnt and lost, than never to have barbecued at all."
Fire up the barbecue this Father's Day and let Dad get his grill on. Check out this melt-in-your-mouth lamb recipe:
SPICED LAMB SKEWERS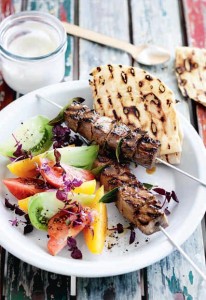 INGREDIENTS:
• 800g lamb backstrap, cut into 2cm cubes
• 24 fresh bay leaves
• ¼ cup (60ml) malt vinegar
• ¼ cup (45g) brown sugar
• 4 cloves garlic, crushed
• 1 teaspoon ground coriander
• 1 teaspoon mustard powder
• 2 tablespoons extra virgin olive oil, plus extra, for brushing and drizzling
• Sea salt and cracked black pepper
• 4 x store-bought naan breads
• 1 cup (240g) Greek-style (thick) yoghurt
• Sliced heirloom tomatoes and baby basil leaves, to serve
METHOD:
• Thread the lamb and bay leaves onto skewers and place on a baking tray.
• Place the vinegar, sugar, garlic, coriander, mustard, oil, salt and pepper in a bowl and stir to combine. Pour the marinade over the skewers, turning to coat evenly, and place in the fridge to marinate for 30 minutes.
• Preheat a char-grill pan or barbecue over high heat. Cook the skewers for 2–3 minutes each side for medium-rare or until cooked to your liking.
• Brush the naan bread with oil and cook for 1 minute each side or until just charred.
• Serve the skewers with the bread, yoghurt, tomatoes, basil and drizzle with olive oil to serve.
Makes 8.
(Recipe: Donna Hay. Photo: Ben Dearnley.)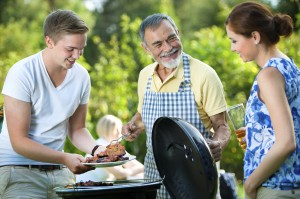 What happens when you combine vanilla, orange and coffee? A beverage that is refreshingly delicious and simply gorgeous, that's what. The perfect accompaniment for lamb skewers:
FRESHPRESSO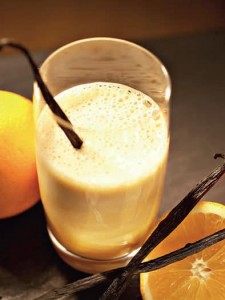 INGREDIENTS:
• 45ml espresso
• 30ml vanilla-flavoured syrup
• Freshly juiced oranges
• 4 ice cubes
METHOD:
• Place the ice cubes and vanilla syrup in a blender with a little orange juice and the freshly prepared espresso. Blend until smooth.
• Pour the drink into a decorative glass. Decorate the Freshpresso with a slit-open vanilla pod or a little orange zest.
Harvey Norman is your one-stop destination for all things delicious-making, juice-creating and everything-baking. Check out the huge range:
• Innovative juicers
• Blokey barbecues (both mini and mammoth)
• Essential barbecue accessories
• Modern kitchen appliances
Sit back, catch up and have a wonderful Father's Day.
My dad, my teacher, my mentor.