When I was asked to test and review the Sunbeam Food Lab™ Electronic Dehydrator for Harvey Norman, at first I thought I might struggle for ideas on what to make using a food dehydrator. I imagined something along the lines of the classic dried fruits – sliced apricots, mangoes and seasonal berries. Beyond that, I imagined making some sort of dehydrated meat product like beef jerky.  And yes, I admittedly was very excited to make all of those thing – but little did I realise just how much more could be made using this versatile Sunbeam dehydrator!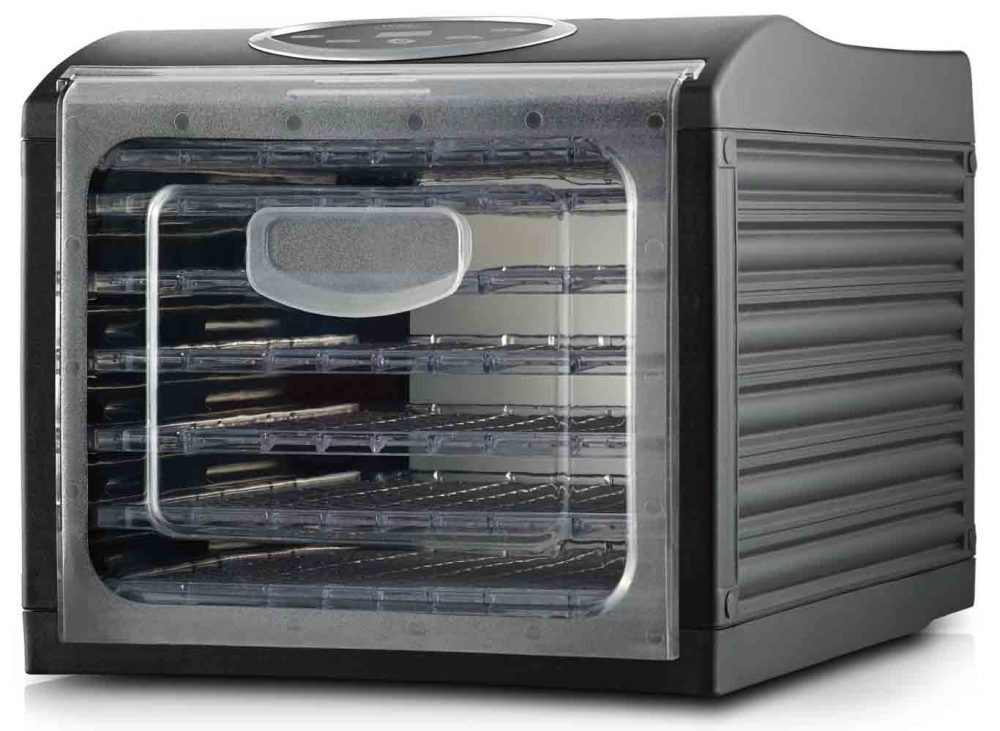 How Does the Sunbeam Food Lab™ Dehydrator Work?
Before I made anything, I needed to learn a little bit about what exactly a food dehydrator did.
Basically, it's a handy appliance that provides a gentle, natural way to remove moisture from food. This method of drying seals in the flavours and nutrients of the food, while also preserving it so it will last much longer. In fact, some dried foods can last up to six months in an air-tight container, letting you enjoy your food year-round.
The Sunbeam Food Lab™ Electronic Dehydrator uses a controlled heat temperature and horizontal air flow to circulate air around the unit to each of the six large drying shelves. All I needed to do was load up the racks with my chosen food, close it up, then set the temperature and timer to suit the dehydrating task.
Couldn't be easier!
To kick-start my kitchen creativity, Sunbeam has provided Harvey Norman customers access to an exclusive dehydrator recipe book filled with creative ideas that I wouldn't have thought possible to make using a food dehydrator.
Want to create some Cheesy Kale Chips? Interested in making your own Greek Yoghurt at home? Yep, you can make those using the Sunbeam Food Lab™ Dehydrator.
With recipes covering everything from Classic Beef Jerky to Strawberry Fruit Rolls and Rosemary & Basil Crackers, the hardest choice was which of these food dehydrator recipes I was going to try making first.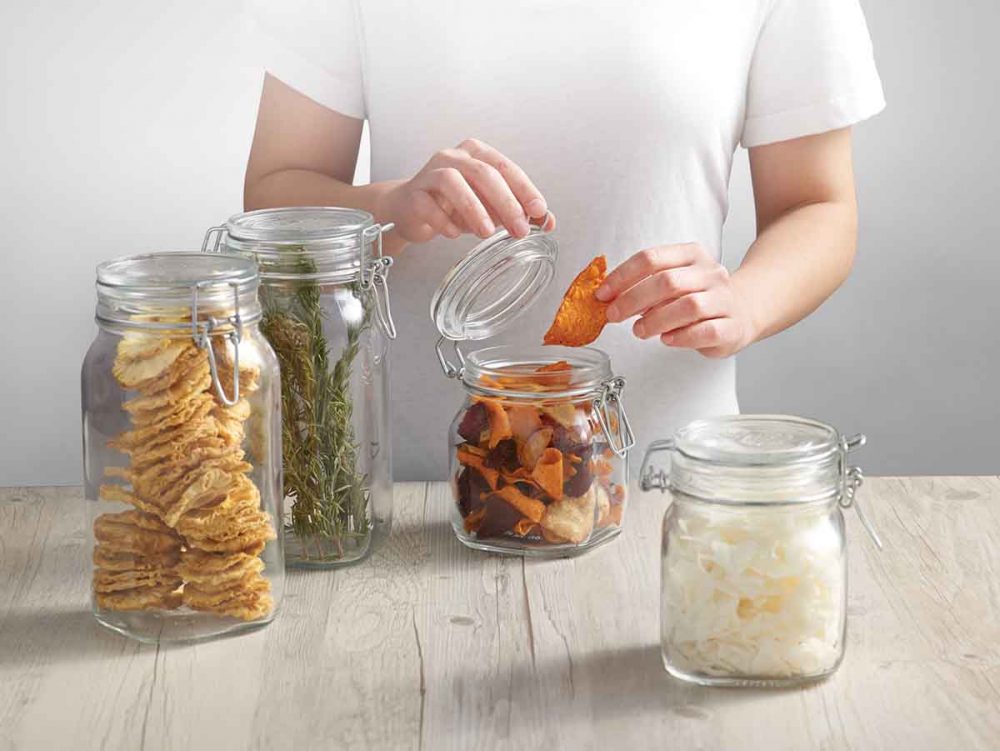 Sunbeam Food Dehydrator Recipe: Spicy Cauliflower Popcorn
As I'd had a few goes at something similar in the past, I decided to try making the Sunbeam food dehydrator Spicy Cauliflower Popcorn recipe.
I'm quite partial to a spicy little snack.
The prep time for this one was listed at 15 minutes, but after doing this once I think you could easily get this one ready for the Sunbeam dehydrator in half that time.
All I had to do was get a head of cauliflower, rinse it, then chop it into bite-sized florets. Then, in a bowl, combine with a mixture of coconut oil, Siracha sauce, paprika, cumin and smoked cayenne spices.
After that, all that was left to do was to spread the coasted cauliflower pieces onto a couple of the Sunbeam dehydrator trays, slide them into the appliance, then turn it on to the desired setting. The recipe suggests a setting of 60°C for 8-12 hours.
Now, at this point you might be thinking what I was thinking: "that's a long time to wait for some popcorn!" Well, yes and no.
Yes, that's a fair chunk of time, but do you know what you can do in that time? I went to bed and slept. The timer on the Sunbeam Food Lab™ Electronic Dehydrator means it turns itself off, so I could put it on in the evening and then wake up to some tasty treats to have with me throughout the day.
I gave my Spicy Cauliflower Popcorn 10.5 hours in the food dehydrator, as the size of my florets were a little inconsistent and I really gave them all a thorough coating of the spice mixture.
The result? An extremely delicious food dehydrator snack that can keep in a container for up to two weeks. Or it would have lasted that long if I didn't get stuck in and eat most of it that day!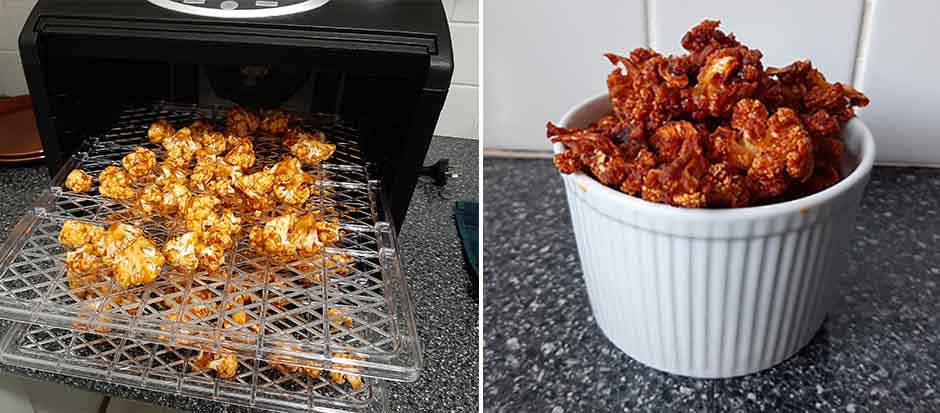 Sunbeam Food Dehydrator Recipe: Chocolate Chip Cookies
Just about everyone I know enjoys a good Chocolate Chip Cookie, and with a fair amount of experience of eating them myself for comparison purposes, I found it was an easy choice for my next dehydrator recipe.
All I had to do was mix up the right ratio of rolled oats, oat flour, sea salt, cashew butter, honey, maple syrup, coconut oil, vanilla extract and dark chocolate bits, then form the mixture into balls and flatten down onto the Sunbeam dehydrator trays.
With plenty of racks to use, I spread mine out a bit and put five on a rack, as you can see below.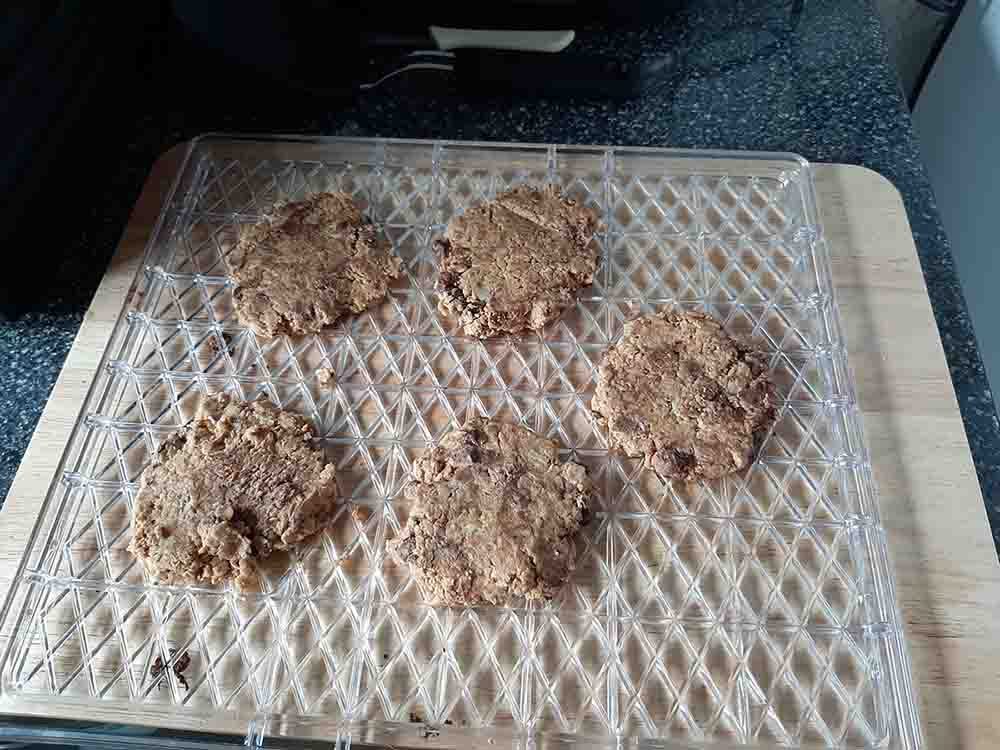 Once I loaded the racks back into the Sunbeam dehydrator, I simply changed the settings to 50°C and put the timer on for 10 hours.
I went to bed that night dreaming of the cookies to be discovered the next morning, and my dreams certainly came true. It's not often I'll be having a cookies with my breakfast, but I just had to see how they turned out.
What I got was a nutty, chocolatey, biscuity goodness that was very moreish. I found it hard to stop at just one food dehydrator cookie, so it's just as well that I had 16 to work with. Unlike the Spicy Cauliflower Popcorn, this time I was going to conserve my bounty to enjoy over the next week (if there are any left after my team at work claim dibs on them).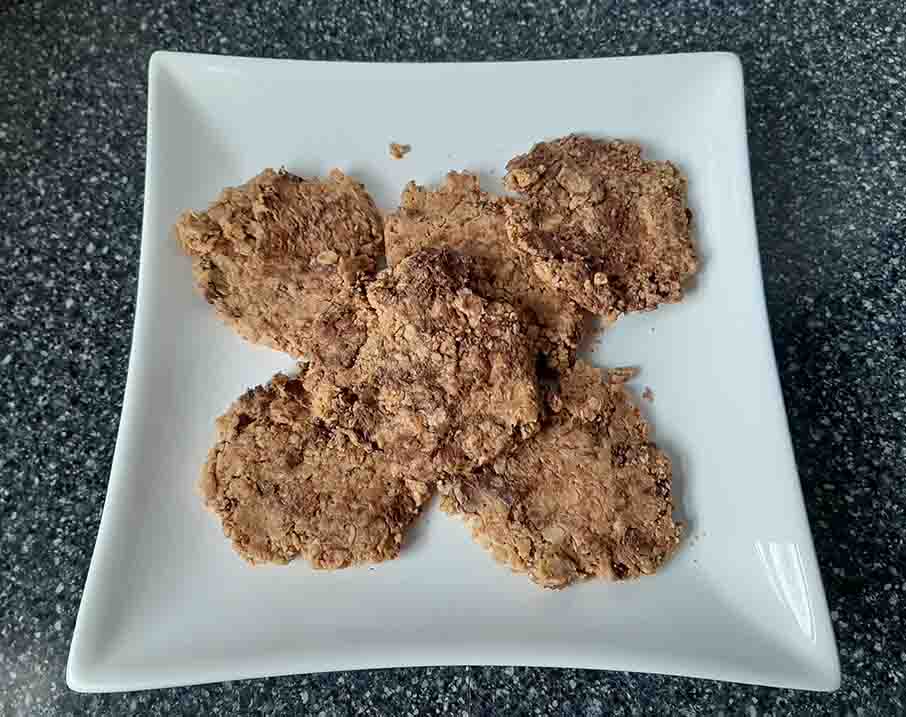 Peronsally, I found both these Sunbeam food dehydrator recipes super easy to make, and being able to put them in to cook overnight made it feel like I was saving time in the long run while still having tasty treats to enjoy.
I never would have thought about making dishes like these in a food dehydrator, but now I'm wondering what else might be possible with this versatile appliance.
Where To Buy The Sunbeam Food Lab™ Electronic Dehydrator
If you're inspired to give the Sunbeam Food Lab™ Electronic Dehydrator  a go for yourself, you can buy it online or find it at your your local Harvey Norman store – where our friendly, expert staff will help with any questions you might have.