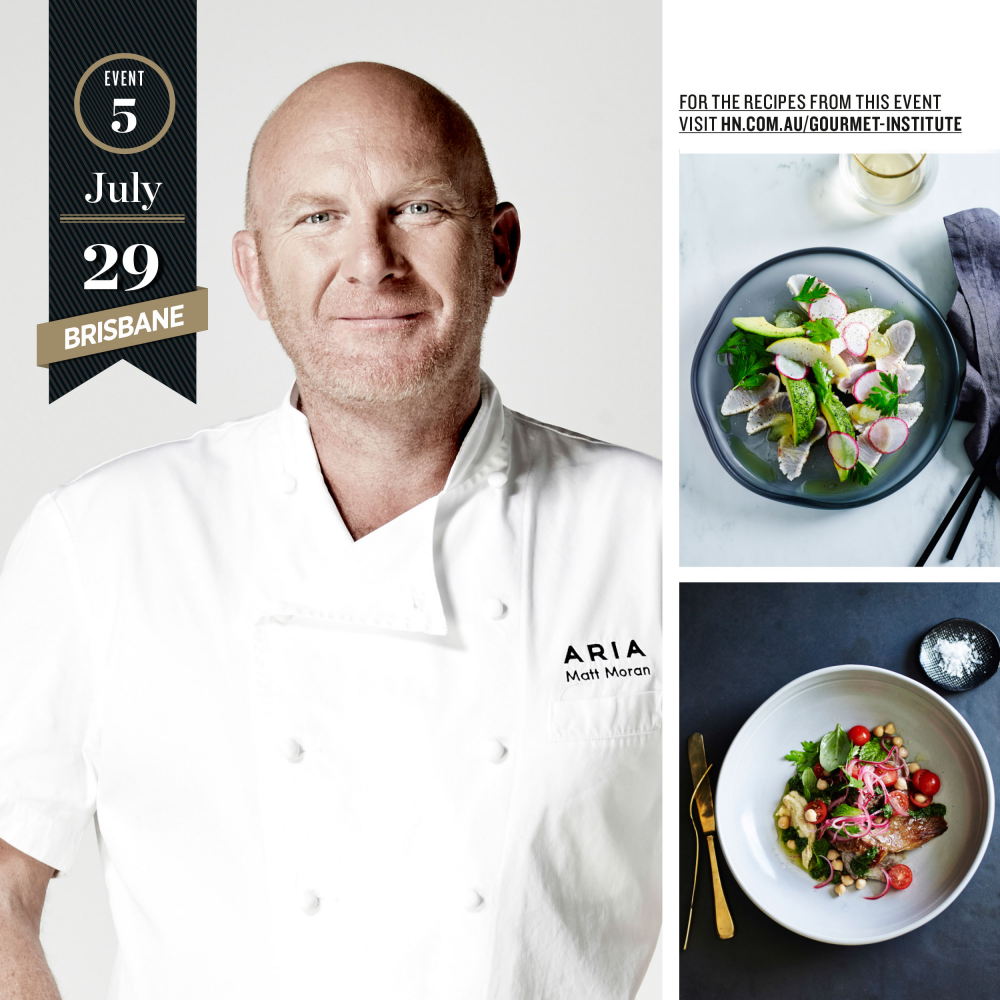 From starting out as a fresh-faced 15-year-old apprentice to owning five successful restaurants, from having his own lifestyle show Paddock to Plate to writing four cookbooks, iconic Aussie chef Matt Moran remains as dedicated to his craft as ever. Whether he's cooking at home, impressing celebrities at his award-winning restaurants, ARIA, North Bondi Fish and Chiswick, or whipping up a cocktail at Opera Bar and Riverbar & Kitchen, you can be sure Matt is using local, seasonal produce to deliver fresh and delicious spreads.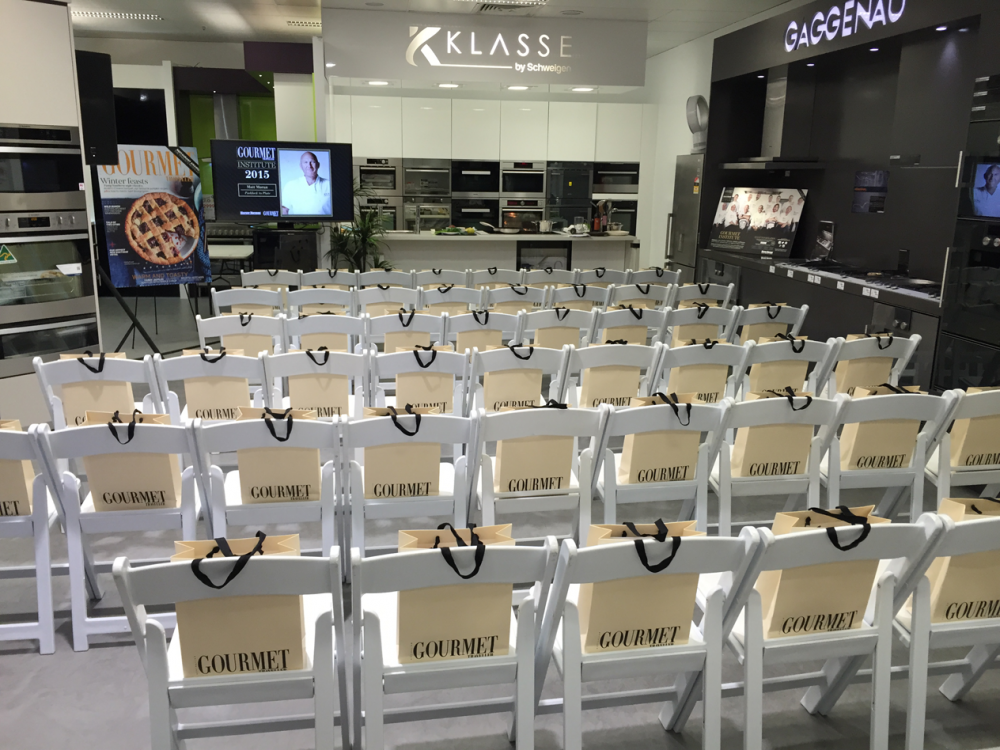 The dishes Matt served up at our recent Gourmet Institute event at Harvey Norman Aspley were no exception. With his customary charm, Matt worked his way around our demonstration kitchen with ease and wowed the crowd with his colourful, captivating creations full of fresh ingredients and sassy textures. We savoured every burst of flavour, starting with his gorgeous, slow-cooked lamb with hummus, tomato salad and mint salsa before indulging in deliciously seared kingfish with radish, avocado and wasabi. Matt's flavoursome dishes were accompanied by matching wines from Cracka wines, including a 2012 St Hallet The Reward Barossa Valley Cabernet Sauvignon that complemented the lamb with its rustic tannins and berry flavours, and a 2014 St Hallett Eden Valley Riesling that added a zesty trimming to the kingfish.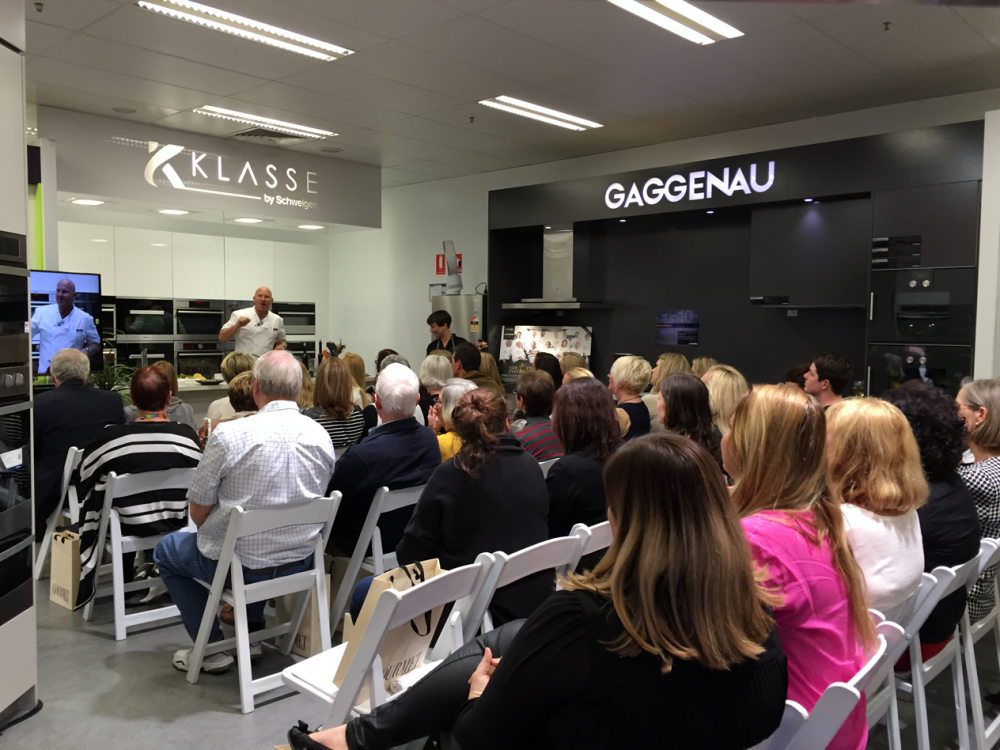 At the end of an inspiring night, Matt Moran sat down to join us for a chat:
What triggered your passion for cooking?
People often think I'll have a romantic tale to tell about great cooks in my family and recipes passed down through the generations, but the truth is that, when I was 15-years-old, I decided school wasn't for me, and I wanted to leave. I got a job as an apprentice in a renowned Sydney restaurant, and that was it – I just fell in love with it. It opened my eyes to a whole other world – I was so inspired by the dishes they were creating. I knew from then on that it was absolutely, without question, what I wanted to do.
What's your fondest cooking-related memory?
I'm lucky enough to have lots of great memories when it comes to food, but scones always take me back to my childhood. I remember making them with my nan – she made the best scones I've ever had, and no matter how hard I try, I can't seem to replicate them. There's no recipe – she did it all by memory, taste and feel.
What's the most exciting city you've worked in?
I love travelling and visiting new places – anywhere that I can experience different cultures and food excites me. But I really do love home! I've worked in Sydney for most of my career, and there's no place quite like it, but I'm lucky that I get to travel a lot, too. Australia in general has an amazing food culture and scene, and it's only growing and getting better. We're incredibly lucky to have some of the best produce in the world at our doorstep, too!
What are your sources of inspiration when developing a menu?
Nature first and foremost! I always look to what's locally grown and in season when designing any menu. I'll think about flavour combinations, texture and creating balance on the plate. I just love good, honest, delicious food.
Who are your culinary muses?
I'd have to say all the great chefs of the past – Bocuse, Escoffier, the Troisgros brothers. I could go on.
What can diners expect when visiting your restaurant?
Each of my restaurants offers a different dining experience. ARIA Sydney and Brisbane are fine dining, while Chiswick in Woollahra and the Art Gallery of NSW is a more casual experience with a focus on shared menus. North Bondi Fish is fresh, simple seafood, and then, of course, there are the two bars – Opera Bar and Riverbar & Kitchen. What they all have in common, though, is that the menus are all focussed on the seasons and sourcing the best produce possible.
Who is the most famous person you've cooked for?
That's a tough one to answer! I've cooked for all sorts of people; diplomats, royalty and actors and actresses. One that pops to mind was Leonardo DiCaprio and Blake Lively having dinner together in the kitchen table at ARIA. From memory, they had a tasting menu and a lot of wine!
Have you had a particularly disastrous or comedic cooking experience?
On my first day as an apprentice, I was asked to strain a game stock. So I did. I promptly poured the stock down the sink and presented the bones to the chef – I didn't know you were meant to keep the liquid!
What's your go-to dish when you're at home and short on time?
There are a few classics we love in my household, but we always come back to my poached chicken in master stock – it's a winner every time.
What are two or three ingredients that you particularly enjoy working with?

I am really into aged beef at the moment as well as new-season truffles! As we're in the midst of the colder months, I love anything slow-cooked or braised.
What's the one simple cooking tip that you believe everyone needs to know?
Always use the freshest, local, seasonal produce that you can get your hands on. I know everyone says it, but I can't reinforce the importance of it. Using quality ingredients is the best place to start!
Finish this sentence: "If I wasn't a chef, I'd probably be…"
I don't know – I've never known anything else! I'd probably say a surgeon, as I have good knife skills!
What advice would you offer anyone wishing to become a chef?
It's hard work, but know what you want and go for it.
What's something you're excited about working on right now?
It's a secret! I'm always looking for new opportunities and have some plans in the pipeline that I'm really excited about. You'll have to wait to find out what.
If you could sum up your cooking style in three words, what would they be?
Seasonal, honest and tasty!
Tools of the Trade
Chef Matt Moran's dishes for the night required chill times during preparation, like the all-important brine for the lamb, and delicate vodka gel for the kingfish. With the LG 450L Bottom Mount Fridge, he had plenty of room to fit everything in. The ingredients were chilled quickly and equally thanks to the Multi-Airflow system, which ensures uniform cooling, and the Moisture Balance Crisper kept the vegies fresh and ready for Matt to use in his dishes.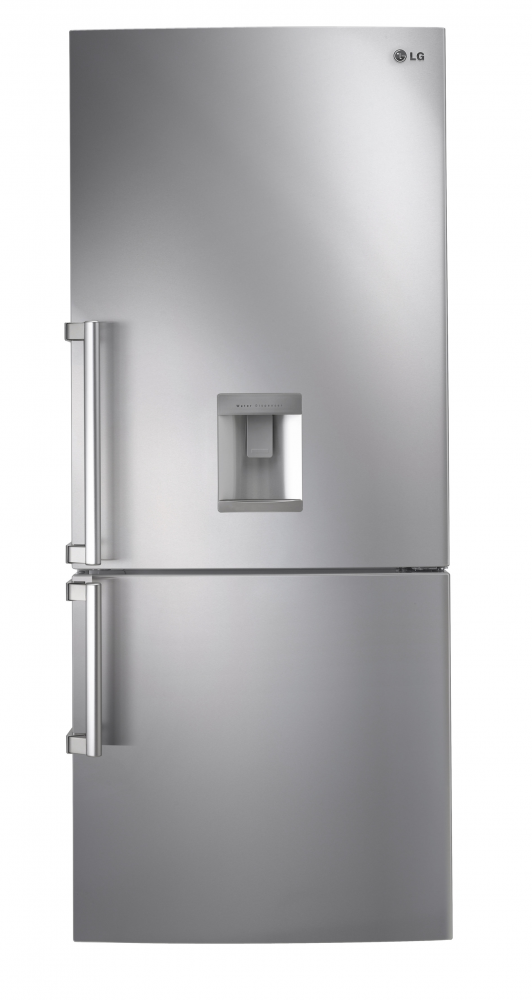 Matt slow-cooked the lamb with rosemary, garlic and stock in the AEG 600mm ProCombi Steam Oven. The meat emerged perfectly braised after cooking in a combination of steam and hot air, designed to draw out flavour and produce moist textures. He later lured the flavour from his wasabi salt mixture after drying it in the oven, ready to be crushed to spice up his fabulous kingfish dish.
Matt took advantage of the large, flexible cooking surface that the AEG 800mm OptiZone Induction Cooktop offers. With four, unrestricted cooking zones and OptiHeat control, he delivered several, sophisticated creations with undivided attention, including a sweet and sour dressing for his tomato and pickled onion salad and a sugar and agar-agar syrup to go with his vodka gel.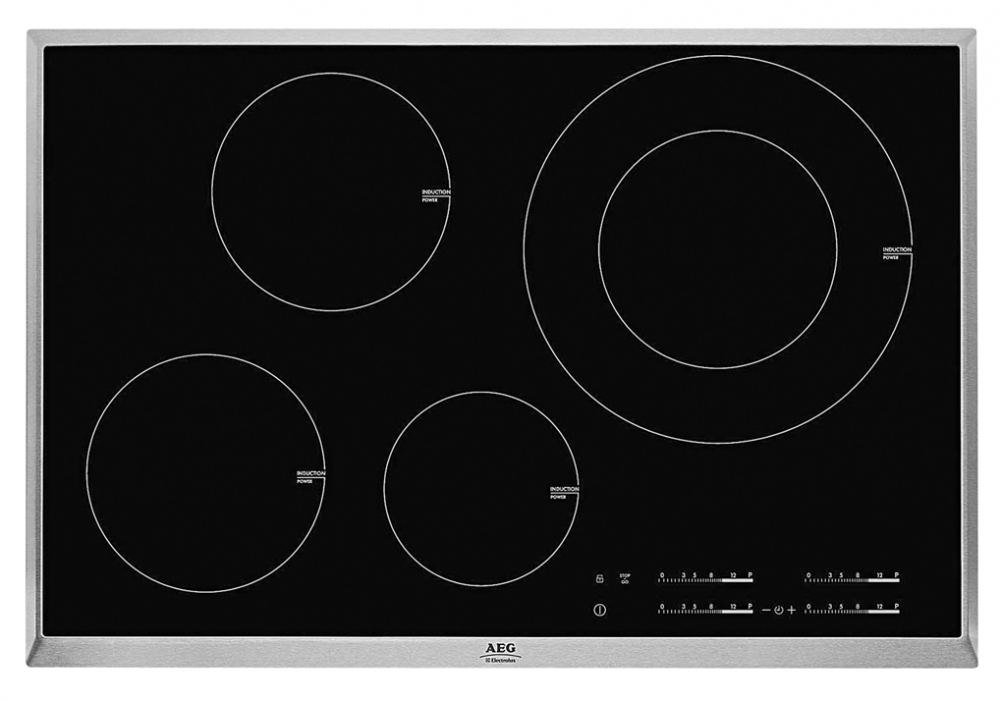 Missed out on this masterclass? Click here to catch up on Matt Moran's recipes, videos and more. To browse our extensive range of innovative cooking appliances, shop online or head down to your local Harvey Norman store to chat to our friendly staff.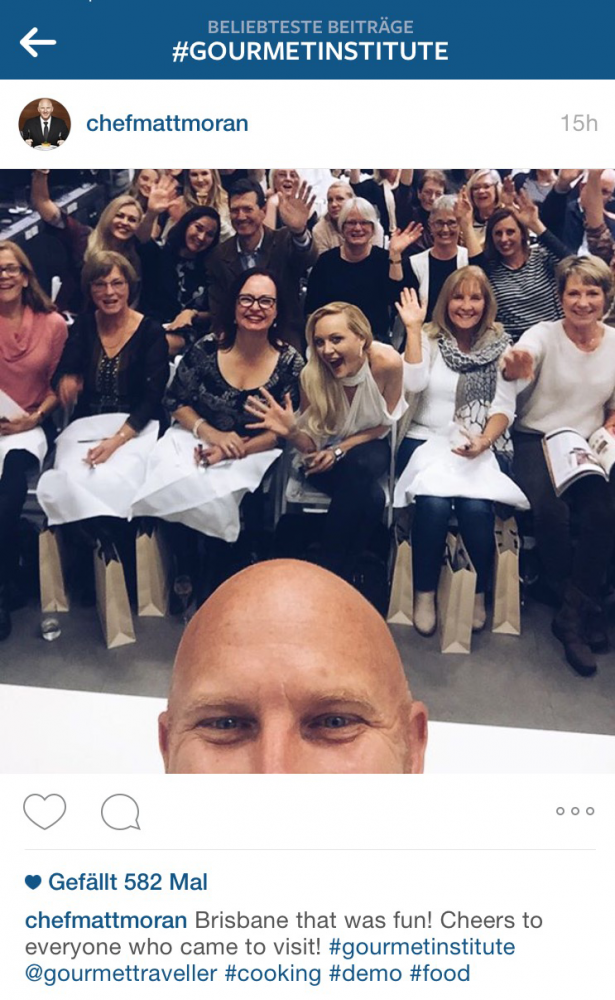 Book your tickets now for our next Gourmet Institute session in Melbourne on August 19th with MoVida chef Frank Camorra and look forward to some Spanish-inspired fun!