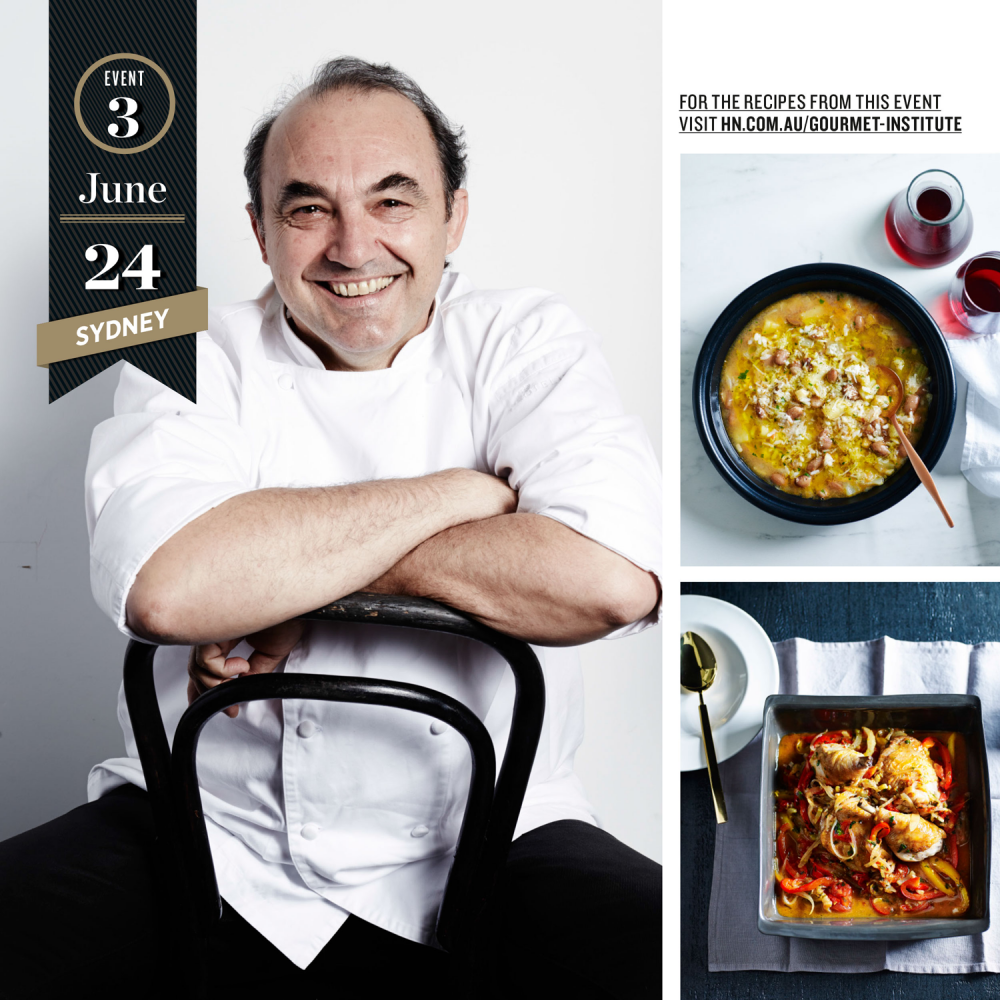 Chef Stefano Manfredi is one of Australia's great pioneers of modern Italian cuisine, bringing his wealth of talent and experience to restaurants including Balla at The Star and Bells at Killcare. It was a pleasure to welcome him to the Gourmet Institute for 2015, and Stefano wowed the appreciative audience with both his passion for traditional Italian flavours and his culinary skills in the kitchen.
After whetting our appetites with a variety of tasty canapés, we sampled a range of matching wines provided by Cracka Wines (the Nonna Gisella from Pizzini being a favourite) as Stefano's tales of regional delicacies and traditional techniques combined with the mouth-watering aroma wafting out across the audience to create a convivial atmosphere in the kitchen. Our first course for the evening was a rice and bean minestrone (Minestra di riso e fagioli) served with a rustic crusty bread. This soup possessed flavour that enticed without overpowering, inspiring many to take notes on how to create their own version at home.
As our journey into Italian flavour continued, Stefano treated us to a Roman-style chicken (Pollo alla Romana) that gave us all pause to consider how easily we could transform the humble chook into something truly memorable. Stefano's relaxed style and exhaustive knowledge made for a fun evening that felt like a gathering of friends in the kitchen exchanging stories and techniques.
A Quick Q&A with Stefano Manfredi
Who/what sparked your initial passion for cooking and how old were you?
I've always been around food. For the first six years of my life in a small northern Italian town, my mother, grandmother and aunties would cook great food for their families, from ingredients grown by them or someone they knew, and all from scratch. One uncle made salumi from his own pigs, and another made cheeses. When we came to Australia my mother continued the cooking traditions, so good food has always been a part of my life. I trained as a teacher but was always cooking at home, so when I was 22 and got fed up with teaching I started to work in kitchens.
What's your fondest cooking-related memory?
There are so many – choosing just one is difficult. My most recent is perhaps the best one to choose. It was eating freshly-made buffalo milk ricotta, still warm and sweet, in view of the water buffalo in the paddocks of Barlotti – a great producer of mozzarella di bufala at Paestum in the Italian region of Campania.
What's the most exciting city you've worked in and why?
It has to be Sydney simply because it presents so many possibilities. Sydneysiders appear more open to new ideas, whether it's a restaurant concept, a dish or a wine style. They are not as parochial as other Australian cities. To me, Sydney feels like Australia's most cosmopolitan city.
What are your sources of inspiration when developing a menu or new dishes?
Mostly inspiration comes from our vegetable garden at Manfredi at Bells. Whenever I travel to Italy I try and bring back seeds of vegetables that aren't found here. It's often a challenge to grow them in a different climate, but when they succeed the reward is well worth the effort. Inspiration also comes from travel, art, music, books and good company.
Who are your culinary muses?
When I was younger it was the great Italian chefs like Gualtiero Marchesi and Angelo Paracucchi. Now I'm inspired by the people I work with who are much younger than I am. Of these, my head chef at Balla, Gabriele Taddeucci, and my head chef at Manfredi at Bells, Marco Ribechini, are both sources of inspiration to me. Over the last couple of years I have developed a great working relationship with Antonio Pappalardo, who has one of the most highly regarded of the "new wave" pizzerie in Italy. Though he is less than half my age, his knowledge and professionalism are shining beacons.
What can diners expect when visiting your restaurant?
At all our restaurants we are promoting the culture of Italian hospitality in all that we do. Of course we are in Australia and much of the produce is the best that this country produces, but when that produce enters our kitchens we teach it to speak Italian.
Who is the most famous person you've cooked for – and what was the dish?
Over a 30+ year career there have inevitably been a lot of 'famous' people through our restaurants, so the 'most famous' is really difficult to gauge. From my perspective, it would have to be my daughter Isabella, and the dish is always octopus – her favourite since she was small.
What's your go-to dish when you're at home and short on time?
It's either pasta or a soup. Both can be made in a short time with ingredients in the cupboard and fridge.
What are two or three ingredients that you particularly enjoy working with? Why?
Flour firstly, because with it I can make staples like bread, pizza and many other things with the addition of little more than water. But it has to be good, strong, stone-ground flour.
Secondly, good extra virgin olive oil. I use it everywhere, even for deep-frying. Don't let anyone tell you that you can't do this. They are misinformed on so many levels- scientifically, practically and health-wise.
Thirdly, I love good Parmesan. It's the one cheese I always keep in stock. Unique, versatile and healthy, Parmesan can be used all over the menu.
What's the one simple cooking tip that you believe everyone needs to know?
Keep your knives sharp.
Finish this sentence: "If I wasn't a chef, I'd probably be…"
If I weren't a chef I'd probably be a musician.
What advice would you offer anyone wishing to become a chef?
Read as much as you can and practice cooking for your friends and family.
What's something you're really excited about working on right now?
Pizza!
If you could sum up your cooking style in three words, what would they be?
Italian Modern Provincial.
Tools of the Trade
Taking advantage of the state-of-the-art appliances in the Gourmet Institute kitchen, Stefano had his crusty bread baking away in the AEG MaxiKlasse Pyrolytic Oven, filling the room with a welcoming aroma upon arrival.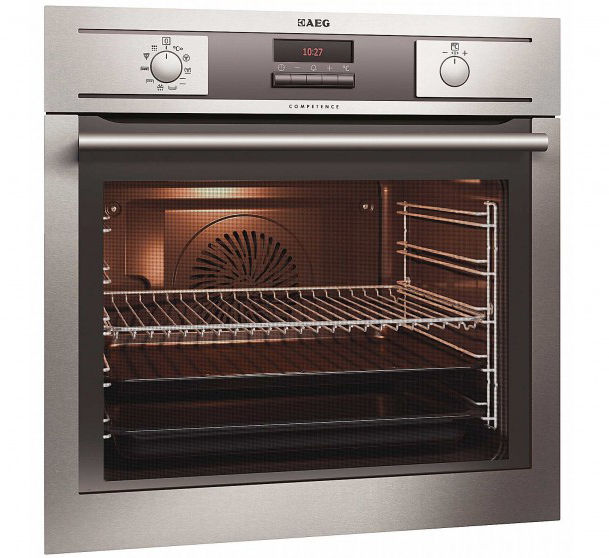 Stefano then utilised the expanded cooking surface and flexible heat zones provided by the Electrolux 3-Zone Induction Cooktop to prepare both his minestrone and Roman-style chicken. This innovative Maxisense cooktop mimics the speed and efficiency of gas burners while providing the precision control needed for professional results.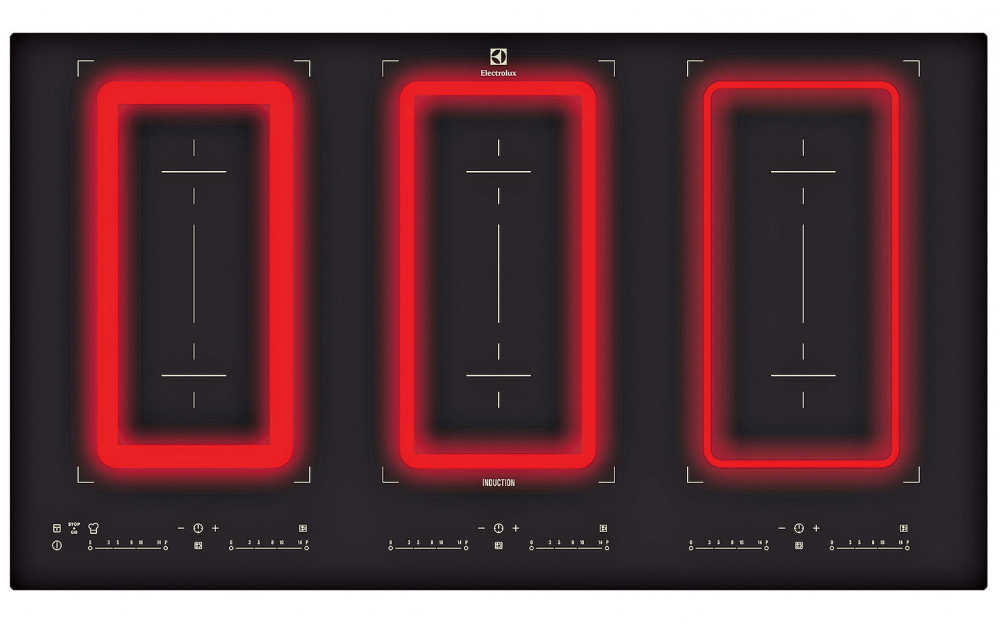 Did you miss out on this Stefano Manfredi Gourmet Institute masterclass?
No worries! For all the latest Gourmet Institute event info, simply click here. To browse our extensive range of innovative cooking appliances, shop online or head down to your local Harvey Norman store to chat to our friendly staff.