Chef Neil Perry's curiosity and passion have kept him at the forefront of contemporary cooking in Australia, making his award-winning Rockpool Restaurant Group an industry leader. Having focused on the tastes of France, Italy, China, Malaysia, Korea, Vietnam and Thailand at various points throughout his celebrated career, his current fascination is Mexican cuisine – one, it seems, that many Sydneysiders find themselves sharing.
It was a pleasure to welcome Neil to our  Gourmet Institute for 2016, and by the time we arrived at Harvey Norman Alexandria the sense of anticipation was at a fever pitch to not only discover what lay in store for us as part of his Mexican feast, but also to view his new range of kitchen appliances – the Neil Perry Kitchen by Omega.
Before getting down to the main event, we started the evening with a range of tasty canapés and some refreshing beverages courtesy of Cracka Wines. For the fans of elegant whites, the St. John's Road 2015 PL Chardonnay was a delightful drop of the pale, golden Eden Valley variety – presenting a complex nose of under-ripe stonefruits with a hint of lemon zest. For those who enjoy a full-bodied red from time-to-time, the St. John's Road 2014 Block 8 Shiraz boasted fragrant varietal characteristics. With an enticing aroma of mulberry and musk, the shiraz was gentle on tannins and tasted of dark plums and savoury herbs with a subtle undertone of liquorice. This one certainly was a keeper, and the friendly experts from Cracka Wines suggested it would offer an even richer taste if cellared for a few years.
The opening salvo in the evening's Mexican feast was a roast chicken dish with green salsa. Neil displayed his skills in the demonstration kitchen – roasting succulent chicken in the Neil Perry Kitchen by Omega 60cm Electric Oven while preparing the salsa on the induction cooktop, simmering the tomatillos and chillies until tender. Once combined and served with fresh or fried tortillas, the result was absolutely delicious.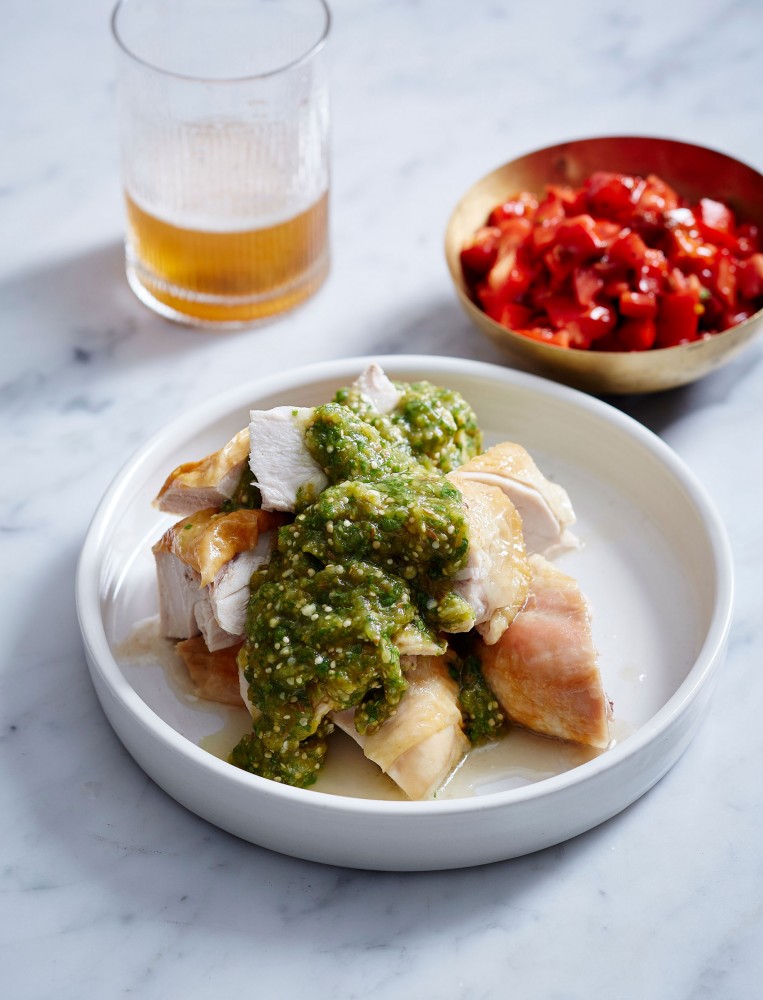 We've included the recipe below so you can try it for yourself. You can also find a copy here to download or print for use at home.
Roast Chicken with Green Salsa
Prep time 30 mins, cook 1 hr 10 mins (plus resting)
Serves 6 as part of a feast
2 kg chicken, at room temperature
1 tbsp extra-virgin olive oil
Fresh or fried tortillas, to serve (optional; see note)
Green Salsa
800 gm canned tomatillos, drained (see note)
2 jalapeño chillies, coarsely chopped
3 small garlic cloves
1 tsp cumin seeds
½ cup coarsely chopped coriander leaves
Step 1: Preheat oven to 180°C (160°C fan). Place chicken on a roasting tray (unlined), rub with olive oil and season to taste. Put the bird on its side and transfer to the oven. After 20 minutes, turn over onto other side, then after a further 20 minutes, turn it on its back and leave it to roast for a final 20-30 minutes. Insert a meat thermometer in the thigh of the chicken, avoiding the bone; the temperature should be 68°C-70°C, and will rise further with residual heat on resting. Place chicken in a bowl breast side down. Skim and discard fat from juices in tray, then pour juices over chicken. Cover with foil and set aside to rest for 20 minutes; internal temperature will rise while resting.
Step 2: Meanwhile, for salsa, bring tomatillos, chillies and enough water to cover (about 1¼ cups) to a simmer in a small saucepan over medium-high heat. Reduce heat to medium-low and simmer gently, stirring occasionally, until tomatillos are tender, but not falling apart (15-20 minutes). Drain, then pulse in a blender or food processor with garlic, cumin seeds and a good pinch of salt until coarsely chopped. Add coriander and blend until smooth.
Step 3: Place bird on a chopping board and remove legs with a sharp knife. Halve legs by cutting through joint between drumstick and thigh. Remove breasts from frame with wings attached. Cut wings from breasts, then cut breasts into chunks and transfer all the chicken pieces to a serving platter. Heat salsa in a saucepan over medium heat, pour salsa over chicken and serve with fresh or fried tortillas as part of the feast.
Note: Canned tomatillos and good tortillas are available from Mexican food suppliers, such as Fireworks Foods, or from The Essential Ingredient.
The finale for the feast was a generous serving of beef and pork meatballs in chipotle sauce, served with a side of cabbage salad with cucumber and coriander, and a tomato and chipotle salsa. Delicious!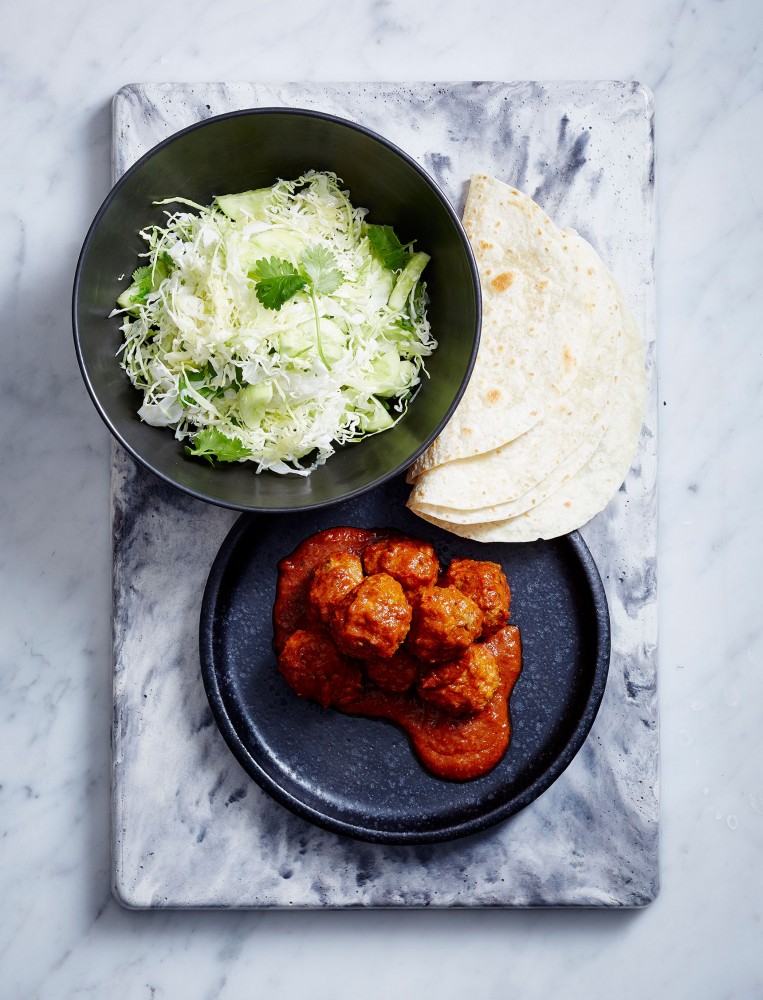 We've also got a copy of this recipe to download or print, but here's a quick look:
Meatballs in Chipotle Sauce
Prep time 30 mins, cook 35 mins
Serves 6 as part of a feast
300 gm coarsely minced beef
300 gm coarsely minced pork
½ tsp ground cumin
1 garlic clove, finely chopped
70 gm (1 cup) day-old crustless medium-coarse breadcrumbs
2 eggs
1 tbsp milk
1½ tbsp extra-virgin olive oil
Grated Manchego or pecorino, to serve (optional)
Chipotle Sauce
600 gm (about 4) ripe tomatoes, coarsely chopped
250 ml (1 cup) chicken stock
80 gm (about 6) chipotle chillies in adobo sauce (see note)
2 garlic cloves
½ tsp dried oregano
¼ tsp ground cumin
Step 1: For chipotle sauce, process ingredients with ½ tsp sea salt in a blender until smooth and set aside.
Step 2: For meatballs, combine beef, pork, cumin, garlic, 1 tsp sea salt and a grind of black pepper in a bowl, and mix well. Add breadcrumbs, eggs and milk, and mix until well combined. To check seasoning, fry a small amount of mixture and taste it. Form mince mixture into walnut-sized balls (about 3cm in diameter) and set aside on a tray.
Step 3: Heat a large non-stick frying pan over medium heat (30 seconds to 1 minute), then add olive oil, and meatballs, and fry gently, turning occasionally, until browned all over (2-3 minutes). Add chipotle sauce and cook gently until sauce starts to thicken (6-8 minutes). Reduce heat to medium-low and simmer until sauce reduces by half and coats meatballs well (25-30 minutes). Serve meatballs and sauce topped with grated Manchego or pecorino as part of the feast.
Note: Chipotle chillies are smoked and dried red jalapeños. Adobo sauce is usually flavoured with herbs and spices such as paprika, bay leaves and oregano. Chipotles in adobo are available in tins at select delicatessens and Mexican food suppliers such as Fireworks Foods (fireworksfoods.com.au).
Tomato and Chipotle Salsa
Prep time 5 mins
500 gm (about 5) Roma tomatoes, finely diced
50 gm (about 4) chipotles in adobo, finely diced (see note above)
2 tsp salsa macha (see note)
Step 1: Mix ingredients together in a bowl, season to taste and serve.
Note: Salsa macha is a chilli salsa from the Oaxacan and Veracruz regions of Mexico and is available from select delicatessens and specialty Mexican food suppliers such as Fireworks Foods (fireworksfoods.com.au).
Cabbage Salad with Cucumber and Coriander
Prep time 5 mins
2 cups finely shaved cabbage
2 Lebanese cucumbers, peeled, halved lengthways & cut into 5mm slices
½ cup coriander leaves
Step 1: Toss ingredients in a mixing bowl to combine well, season to taste then transfer to a serving bowl.
After showcasing his techniques for preparing a Mexican feast, Chef Neil Perry joined us for a quick chat:
What's the most important thing you learnt as an apprentice?
I never did an apprenticeship but rather worked round Australia for ten months in 1982. I then worked for Damian Pignolet, Stephanie Alexander, Jenny Ferguson, Gay Bilson and Tony Pappas before taking control of my own kitchen. Those experiences taught me that there are many ways of arriving at the same position. Those chefs all had different ways of doing things, but all produced wonderful food.
What inspired you to work with the good folk at Omega to bring the Neil Perry Kitchen range into the domestic kitchen?
They were very interested in making sure my design principles were adhered to. We worked on trying to bring commercial power and control to the domestic kitchen, with beauty as well as power. They were happy to take their time; the most important thing was we were all very proud of the end product.
How do you believe your range will transform the way people cook at home?
Hopefully they will have the ability to get the sort of flavours and textures we can in a commercial kitchen as they will have the ability to brown, sear, and cook rather than stew and will have the ultimate control of a very precise oven.
What's your go-to dish when you're at home and short on time?
It would be something Mexican – we like chicken, prawns or fish, marinated, seared and served with warm tortillas, tomato and chipotle salsa, cabbage and cucumber salad.
How has your approach to cooking changed over the years?
I have always been focused on sourcing the best, most sustainable produce, but the process has become more multicultural with age, with the basis always around good shopping.
Besides your new range of appliances, what's something you're really excited about working on right now?
I have a really awesome project coming up that I can't talk about yet, but as soon as it is signed I'll tell you all about it!
Tools of the Trade
It's always inspiring to see a master at work, and witnessing one of Australia's top chefs truly in his element and using appliances that he helped design, was an unforgettable experience. The culmination of 3 years hard work testing and designing, the Neil Perry Kitchen by Omega range sets a new benchmark in power, performance and beauty for domestic cooking equipment – truly letting you cook like a chef at home. We've had the pleasure of testing this range for ourselves, and you can read all about that experience in the full blog here.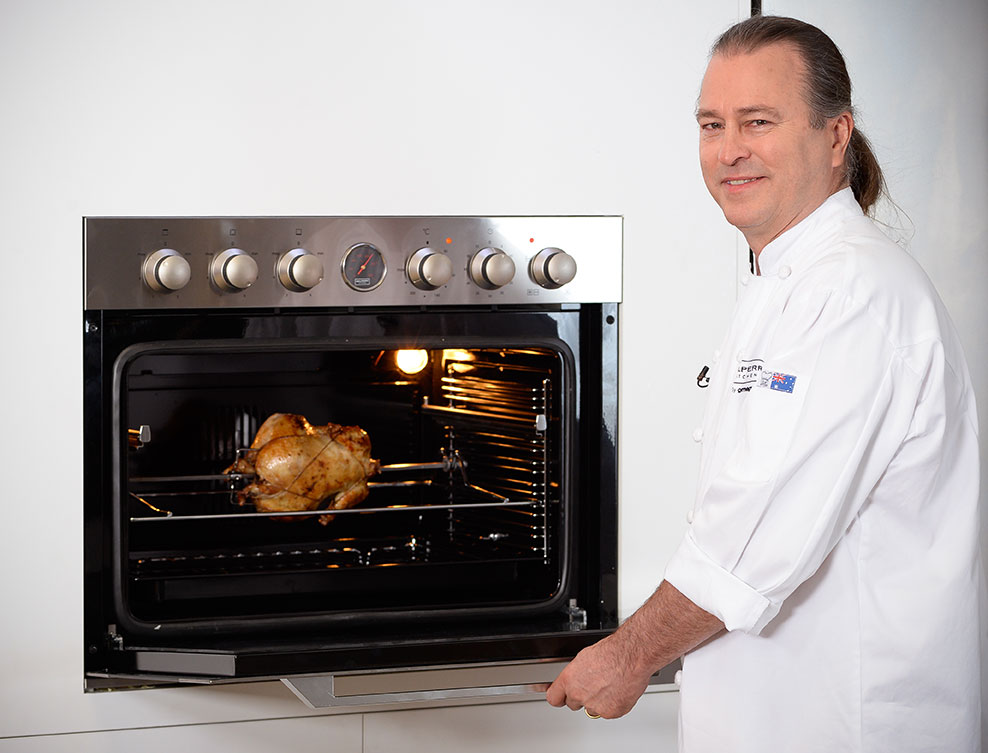 The Neil Perry Kitchen by Omega 60cm Electric Oven offers a large 66L cavity and nine shelf positions to provide great versatility, while the individual element controls provide the specificity a chef like Neil desires in an oven.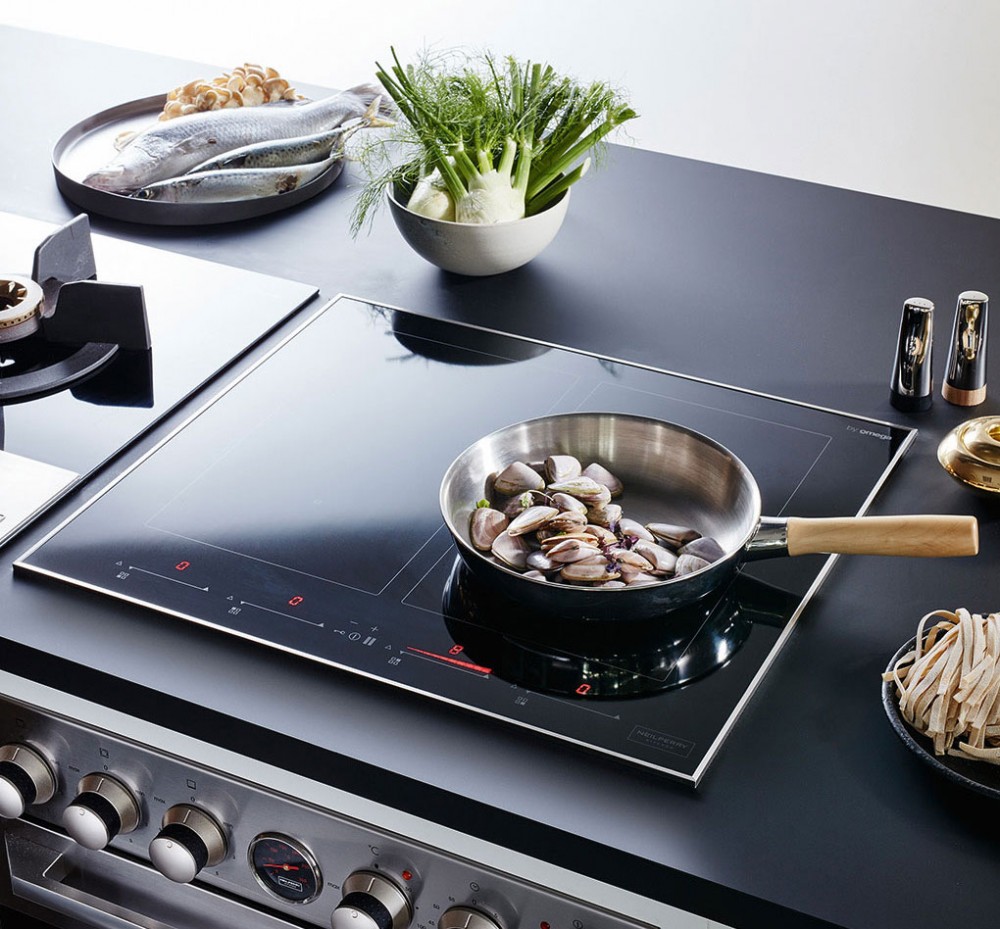 Stylish yet incredibly powerful, the Neil Perry Kitchen by Omega 60cm Induction Cooktop features an impressive 7,400W of power and generous twin zones with slide control temperature settings so you can accurately set your desired level of heat within each zone.
You can browse our range of cooking products online or head into your local Harvey Norman store where our friendly and knowledgeable staff can help you find the appliance that's right for your kitchen and your cooking style.
Interested in adding a little beef to your banquet? Find out more about our next Gourmet Institute event featuring Chef Jake Nicolson from Brisbane's Black Bird.