For Ben Williamson, successful head chef at Gerard's Bistro in Fortitude Valley, creating meals is about bringing people together. Sitting down for a meal is a social event, and the enjoyment of the food becomes a shared experience, so with that in mind an invitation to share his culinary skills with a Gourmet Institute audience was a no-brainer.
Ben's culinary playlist for the recent Gourmet Institute evening, held at Harvey Norman Aspley, was in keeping with this familial philosophy, with Iranian Jewelled Rice served up, in conjunction with mouth-watering Duck Fesenjan. Ben's take on this popular Persian savoury duck stew is an example of how this eclectic chef successfully works with exciting flavour combinations to creative meals that provide a collective culinary experience.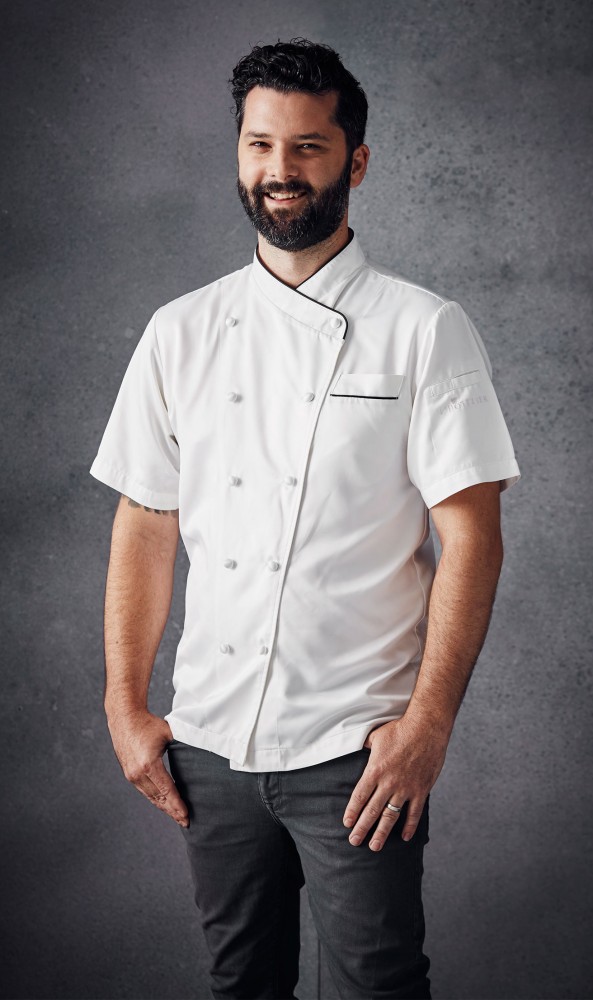 While anticipating chef Ben Williamson's middle-eastern inspired menu, the evening's Gourmet Institute audience indulged in a range of carefully chosen wines courtesy of Cracka Wines.
Their velvety smooth red 2014 Farnese Fantini Montepulciano D'Abruzzo, with its vibrant purple with satin-textured bramble, black cherry and wild berry flavours, was a great accompaniment to the unique and vibrant flavours of Ben's dishes. Full bodied and fruity, we can see why this drop is a gold medal Italian red.
Cracka Wines also poured its fruit-driven, rich medium-bodied 2016 Lisa McGuigan Victorian Pinot Grigio on the night, appearing as a wonderful pale straw colour in the glass, this delicious wine pairs nicely with many dishes and leaves subtle citrus blossom and musk characters on the palate.
Ben shared his experiences of working in the Middle East whilst preparing his dishes and his Iranian Jewelled Rice – laden with saffron, orange zest, a selection of nuts and quality basmati rice – was well received by the eager Gourmet institute audience.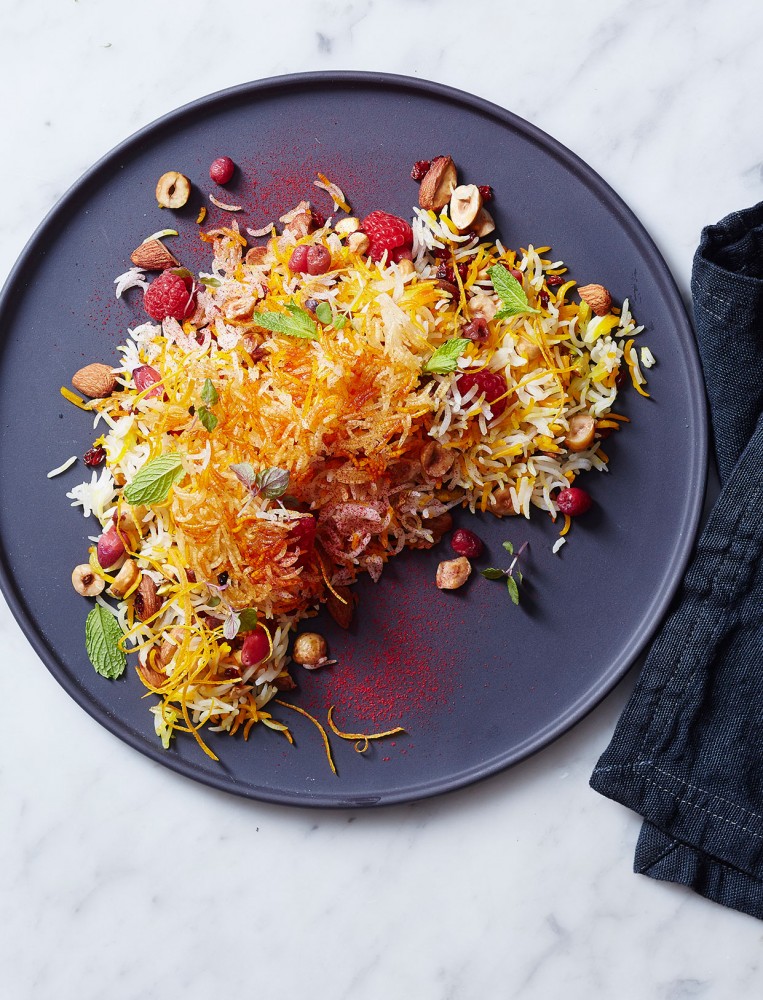 A must-have for the home chef to create, Ben's recipe for Iranian Jewelled Rice (read below), is available to download or print here.  
Iranian Jewelled Rice
Prep time 30 mins, cook 1 hr 35 mins (plus resting, cooling)
Serves 4
Ingredients
1 tsp saffron threads
150 gm (¾ cup) basmati rice (see note)
40 gm dried barberries (see note)
40 gm fresh or frozen riberries (see note)
35 gm (¼ cup) hazelnuts, roasted, peeled, roughly chopped
40 gm (¼ cup) almonds, roasted and roughly chopped
35 gm (¼ cup) pistachios, roughly chopped
40 gm fresh raspberries
Freeze-dried raspberry powder, to serve (see note)
Red shiso micro-cress, mint leaves and seasonal edible flowers to garnish (see note)
Shallot oil
100 gm (about 3 large) golden shallots, sliced
150 ml grapeseed oil
Candied orange zest
1 orange
50 gm caster sugar
Step 1: For shallot oil, simmer ingredients gently over the lowest possible heat until shallots are very tender without being coloured (1 hour), then set aside in a warm place for another hour to infuse. Strain (reserve confit shallots for another use), cool oil, cover and refrigerate (keeps for 3 months).
Step 2: Meanwhile, for candied orange zest, remove zest from half the orange with a potato peeler, then remove and discard any white pith from zest with a sharp knife. Finely slice zest lengthways, combine with sugar and 50ml water in a small saucepan, bring to a simmer over medium-high heat, then reduce heat to medium-low and simmer until translucent 2-4 minutes). Drain on paper towels, then dry in a dehydrator in an 85°C oven on a tray lined with baking paper until crisp (35-45 minutes).
Step 3: Preheat oven to 180°C. Bring saffron and 250ml water to the boil in a saucepan, then simmer over medium heat until reduced to 80ml and water is a deep-red saffron colour (10-15 minutes). Pass through a fine strainer.
Step 4: Combine 100gm (½ cup) rice with 150ml boiling water and a pinch of salt in a large ramekin (about 1½ cups), and tightly cover with foil. Combine remaining rice with saffron water in a second ramekin and cover with foil, then bake both until liquid has been absorbed (12 minutes). Uncover, allow rices to cool (15-20 minutes), then combine in a bowl.
Step 5: Heat 1 tbsp shallot oil in a medium saucepan over medium-low heat, add two-thirds of the par-cooked rice and leave\ undisturbed for 4 minutes to allow the bottom to caramelise gently. Add barberries and riberries, candied orange zest, nuts and remaining rice, leave rice undisturbed, cover with a tight-fitting lid and cook on the lowest possible setting until a golden crust of rice has formed on the base of the pan (about 5 minutes). Remove from heat, gently mix nuts and berries through rice with raspberries, then transfer to a serving plate with broken crust on top. Season to taste and serve dusted with raspberry powder, and garnished with micro-cress, mint and edible flowers.
Note: Use the best-quality basmati rice you can find, such as India Gate or Persian Gate brands, available at Indian food stores. Dried barberries are available from Persian food stores such as Super Sahel in North Willoughby. Frozen riberries are distributed through T&F Allstates (tandfallstates.com.au). Freeze-dried raspberry powder is available at The Essential Ingredient (essentialingredient.com.au). Shiso micro-cress, produced by Export Fresh (exportfresh.com.au), is available from select greengrocers on advance order.
Chef Ben's Duck Fesenjan, packed with the rich flavours of duck, pomegranate juice, walnuts and the traditional herbs and spices used in Middle Eastern cooking – cumim, cardamom and turmeric to name a few, was a success.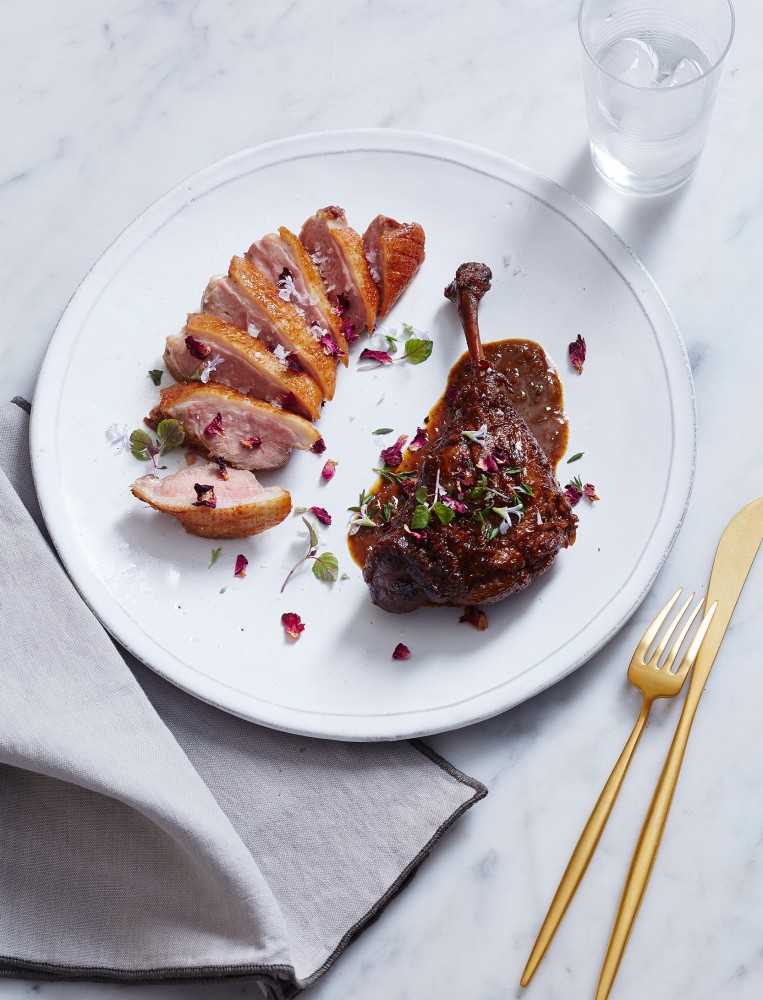 We have a copy of Ben Williamson's recipe to download or print here, or have a read below.  
Duck Fesenjan
Prep time 1 hr, cook 7 hrs (plus resting)
Serves 4
At Gerard's Bistro, Ben Williamson serves this dish with a sour cherry gel.
Ingredients
2 ducks (about 2kg each), legs and breasts separated (ask your butcher to do this)
1 litre (4 cups) chicken stock
2 tsp grape seed oil
150gm butter, coarsely chopped
10 golden shallots, finely sliced
250gm walnuts, toasted and ground
4 cinnamon quills
500ml (2 cups) pomegranate juice
1 tsp saffron threads
2 tbsp pomegranate molasses, or to taste 1 tsp rosewater, or to taste
2 garlic cloves, bruised
6 thyme sprigs
50gm walnuts, toasted and shaved (optional)
Edible flowers, such as dried rose petals, and linaria or rosemary flowers, to serve (see note)
Advieh
1 tsp cumin seeds
½ tsp coriander seeds
½ tsp cardamom seeds (from 8 split cardamom pods)
¼ tsp black peppercorns
½ tsp ground golpar (see note)
½ tsp ground turmeric
½ tsp ground dried black lime (see note)
1 tsp ground cinnamon
1 tsp freshly grated nutmeg
2 tsp dried rose petals
Step 1: Preheat oven to 200°C. Trim fat neatly around duck breasts, then remove wings and tenderloin from breasts and score breast skin in a cross-hatch pattern. Remove thigh bones from legs and truss thighs with kitchen string to keep neat. Refrigerate legs and breasts uncovered, skin-side up to dry skin.
Step 2: Line 2 oven trays with baking paper, chop duck frames and wings, transfer to trays and roast until golden all over (30-40 minutes). Place in a saucepan with tenderloins, cover with chicken stock and a small plate to keep submerged. Bring to a simmer, then reduce heat to low and simmer very gently until very well flavoured (3-4 hours). Strain (discard bones, wings and tenderloins), skim off fat and reserve.
Step 3: For advieh, dry-roast cumin, coriander and cardamom seeds in a frying pan over medium heat until fragrant (1-2 minutes). Combine with remaining ingredients and grind to a fine powder in a spice grinder or with a mortar and pestle. Makes about 2tbsp.
Step 4: Preheat oven to 180°C and season duck legs well. Heat oil over medium-high heat in a heavy-based ovenproof saucepan large enough to fit legs snugly, then place legs skin-side down in pan and fry until skin is browned (6-8 minutes), then remove from pan. Reduce heat to low, add 100gm butter and shallots and sauté until shallots are tender and translucent (2-3 minutes). Add ground walnuts and cinnamon and toast, stirring frequently, until fragrant (2-3 minutes), then add reserved stock, pomegranate juice and saffron, and simmer over medium-high heat until reduced by a third (15-20 minutes). Add duck legs, cover pan with a lid, transfer to oven and bake until duck is very tender when pierced (about 2 hours). Carefully remove legs from pan and set aside covered to keep warm, then reduce liquid over medium-high heat stirring often until rich and thick (15-20 minutes). Add pomegranate molasses, rosewater, 1½ tsp advieh, or to taste, season to taste with salt and keep warm.
Step 5: While the sauce is reducing, season duck breasts well, place skin-side down in a large heavy-based frying pan over medium heat and fry until golden brown and fat renders (5-8 minutes). Turn breasts, add remaining butter, garlic and thyme, and baste breasts until cooked medium-rare to medium (4-6 minutes). Rest for at least 6 minutes, then slice breasts and serve with warm duck legs, topped with sauce, and scattered with shaved walnuts (if using) and edible flowers.
Note Linaria, grown by Export Fresh (exportfresh.com.au) under the Petite Bouche label, is available from select greengrocers on advance order. Golpar is an aromatic herb that grows wild in the mountains of Iran and is available from Persian food stores such as Super Sahel in North Willoughby, Sydney. Dried rose petals and black lime powder are available from Herbies Spices (herbies.com.au).
After Ben had finished creating his mouth-watering menu, the inspirational chef joined us for a chat:
Having worked in Bahrain in the Middle East, how have your experiences influenced your approach to creating a menu?
Travelling through Middle Eastern countries taught me a lot, not only about regionality and flavour profiles but also about the communal table, dining bringing people together, as an important social event. This is essentially what influenced the menu and the shared concept in Gerard's
How has your approach to cooking changed over the years?
I don't really think it has changed much. It's always been about finding exciting flavour combinations and refinement. Everything evolves naturally for me. If anything it was only later that I realized the importance of contrasting textures.
What would your team at Gerard's make themselves for lunch on a typical day?
Ha ha, in all honesty they would probably pour some of the Bekaa wing sauce and dunk fresh bread into it. Very tasty but not too healthy. Otherwise we often go straight after service for ramen.
What dish would you make yourself as a guilty pleasure?
I never feel guilty when I eat but if I were cooking for myself I usually would make something like an orichiette with anchovies, porcini and cime di rapa. I'm a sucker for rich salty pasta dishes or a big plate of jamon and preserves with the best baguette I can get my hands on.
What's the most interesting encounter you've had with a patron?
I was talking recently a photographic journalist who has been based in morocco and North Africa for the last 15 years. He had great insight into some of the more subtle references in our dishes. It's always great to get affirmation of your food references when 90% of patrons don't pick up on it. We ended up having a few drinks together comparing stories and it took me right back to a place that seemed a world away.
You've shared your love for craft brewing on the restaurant site. When did you start 'crafting' and is that something that you will be expanding?
No, sadly this has fallen to the way side lately I was dabbling in it quite a lot around 8 years ago but I'm drinking far less beer now. I'm afraid I've become a total wine tragic!
Tools of the Trade
Chef Ben Williamson's outstanding Duck Fesenjan and Iranian Jewelled Rice were created using top of the range, innovative AEG Appliances. It was a pleasure to watch him at work using AEG's Pro-Combi Steam Oven, which helped to achieve the rich, textured flavours and colours of Ben's delectable cuisine.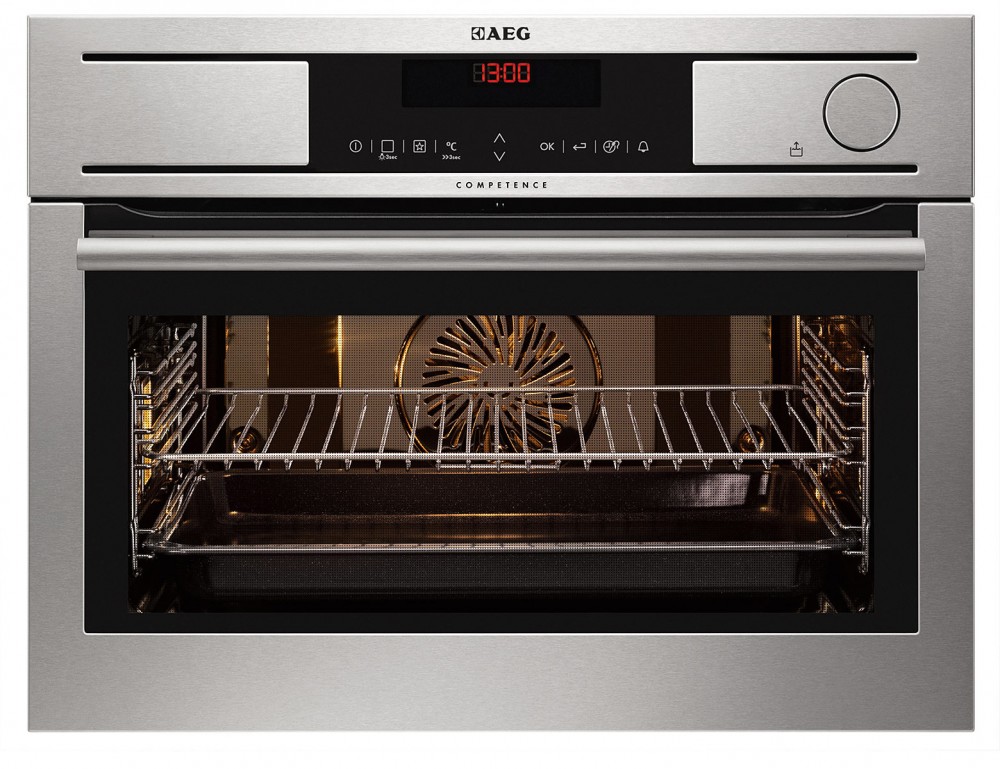 The efficient use of heat the AEG 80cm Optizone Cooktop is renowned for,  was on display as the highly anticipated Duck Fesenjan was created right before our eyes, and we witnessed pure creative innovation come together. The clever Cooktop, provided our guest chef the platform in which to create the essential flavours of this exotic Middle Eastern-inspired rice dish.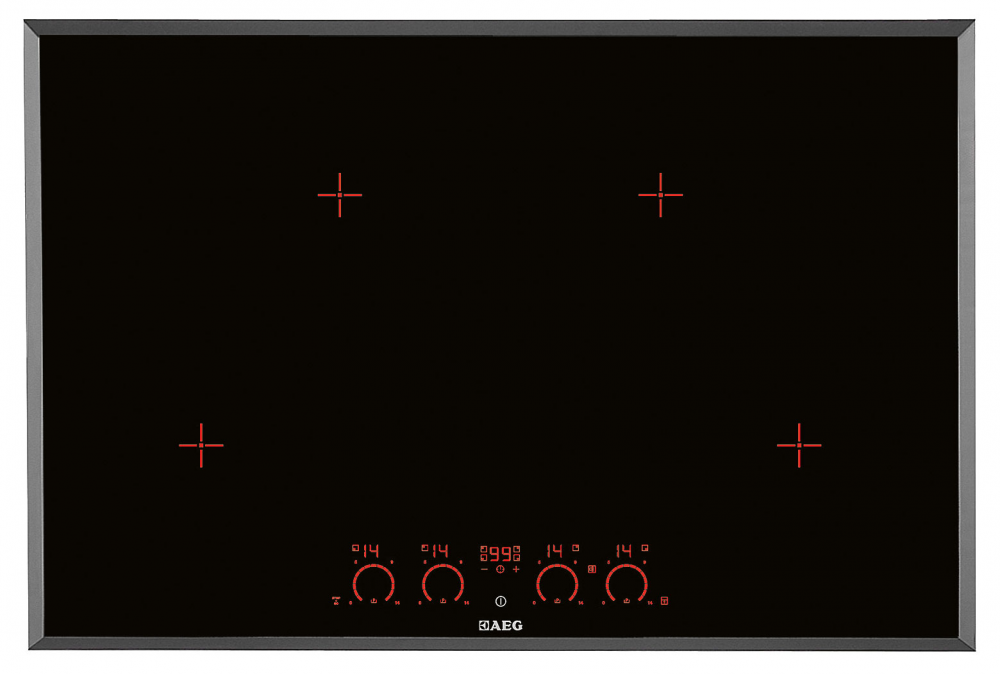 You can view Ben Williamson's recipes, videos and more here.
To browse our extensive range of innovative AEG appliances online, visit our website or head down to your local Harvey Norman store and chat to our friendly staff about your cooking appliance needs.
Want more? Learn more about our Gourmet Institute events, see which of Australia's talented chefs will be in the kitchen next time and check out our recent Gourmet Institute event with Guillaume Brahimi.