Pasta has got to be one of the greatest culinary all-rounders. It goes with just about everything and it's perfect for people of all cooking skill levels. You can easily throw together a quick after-work spaghetti Bolognese or lovingly prepare your own handmade ravioli, depending on your available time and expertise.
Orazio D'Elia recently demonstrated his great love for this versatile ingredient at Harvey Norman Alexandria as part of Gourmet Institute.
Originally hailing from Naples, Italy, Orazio is a young chef at the top of his game. Combining his home country's love of cooking with modern methods, Orazio was able to create mouth-watering pasta dishes that delighted the Gourmet Institute audience with their delectable simplicity.
Upon my arrival at Harvey Norman Alexandria, I was treated to some delicious canapés and a selection of wines courtesy of Cracka Wines. To start the evening, I began with a 2014 Wither Hills Marlborough Pinot Gris. With layers of fruity aromas and a vibrant palate, this white wine was balanced nicely by refined spicy pear skin notes. I sampled the 2015 St Hallett Barossa Black Clay Shiraz next, a robust red with generous blackberry and liquorice flavours, as well as the 'aperitif' style Petaluma Croser Non Vintage Sparkling. The Sparkling is a full blend of Pinot Noir and Chardonnay which offers a rich palate with layers of flavour and a fantastically creamy finish.
It wasn't long before Orazio got started on the first dish of the evening, utilising the Electrolux 90cm Maxisense Induction Cooktop to create a flavoursome Tagliatelle alla Bolognese.
The innovative Electrolux Maxisense allows you to cook multiple dishes at once with relative ease, which Orazio himself demonstrated. With precision control, he was able to bring the beef to a simmer until mouth-wateringly tender.
Served with al dente tagliatelle pasta and sprinkled lightly with fresh parmesan and thyme, the end result was absolutely delizioso.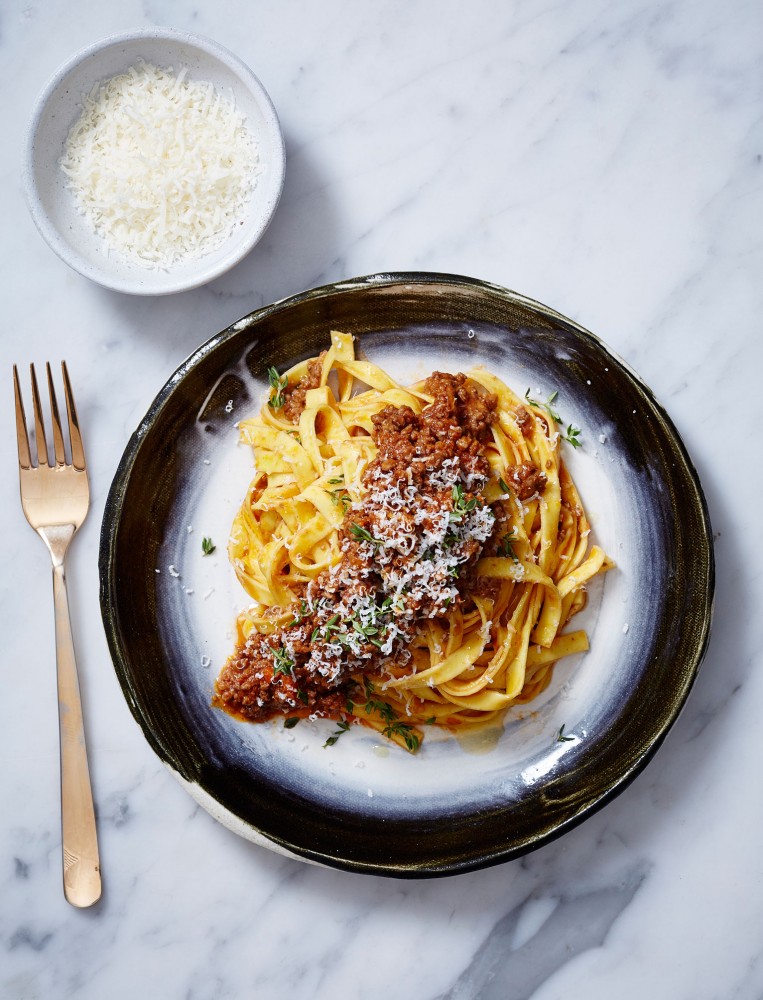 We've included the recipe below so you can try this easy and delicious dish yourself. You can also find a copy here to download or print for use at home.
Tagliatelle alla Bolognese
Prep time 30 mins, cook 2 hours
Serves 6
125 ml (½ cup) extra-virgin olive oil
100 gm (1 medium) carrot, finely chopped
100 gm (2 medium) celery stalks, finely chopped
100 gm (1 small) onion, finely chopped
3 garlic cloves, finely chopped
4 fresh bay leaves
2 kg coarsely minced beef
250 ml (1 cup) red wine
45 gm tomato paste
1 litre (4 cups) tomato passata
500 gm dried tagliatelle
300 gm (3¾ cups) parmesan, grated, plus extra to serve
Fresh thyme, to serve
Step 1: Heat olive oil in a large saucepan over medium heat. Add carrot, celery, onion, garlic and bay leaves, and fry gently until vegetables are softened and aromatic (5-7 minutes). Add beef, increase heat to high and cook until juices reduce to a coating consistency (8-10 minutes). Add wine, boil until reduced to a quarter of the original volume (3-4 minutes), then add tomato paste and passata, season to taste, then simmer, stirring occasionally, until meat is tender and the oil rises to the surface (about 1½ hours).
Step 2: When sauce is almost ready, cook tagliatelle in a large saucepan of boiling salted water until al dente (about 2 minutes less than given on the packaging). Drain, then toss in saucepan with half the Bolognese sauce and the parmesan.
Step 3: Transfer pasta to serving bowls, top each with remaining Bolognese, scatter with thyme and extra parmesan, and serve.
The next dish on the menu was Orazio De'Elia's recipe for Spaghetti alla carbonara, cooked to perfection.
Orazio used the intuitive touch and slide control of the Electrolux 90cm Maxisense Induction Cooktop to manipulate the exact heat required for sautéing his delicious guanciale (cured pork cheek). The simple controls made his job evidently easier, as he adjusted the heat with just a touch of his finger.
Orazio's decision to add guanciale to the recipe made this dish all the more delicious. Its strong, distinct taste added a new layer of flavour to the meal that was appreciated by all.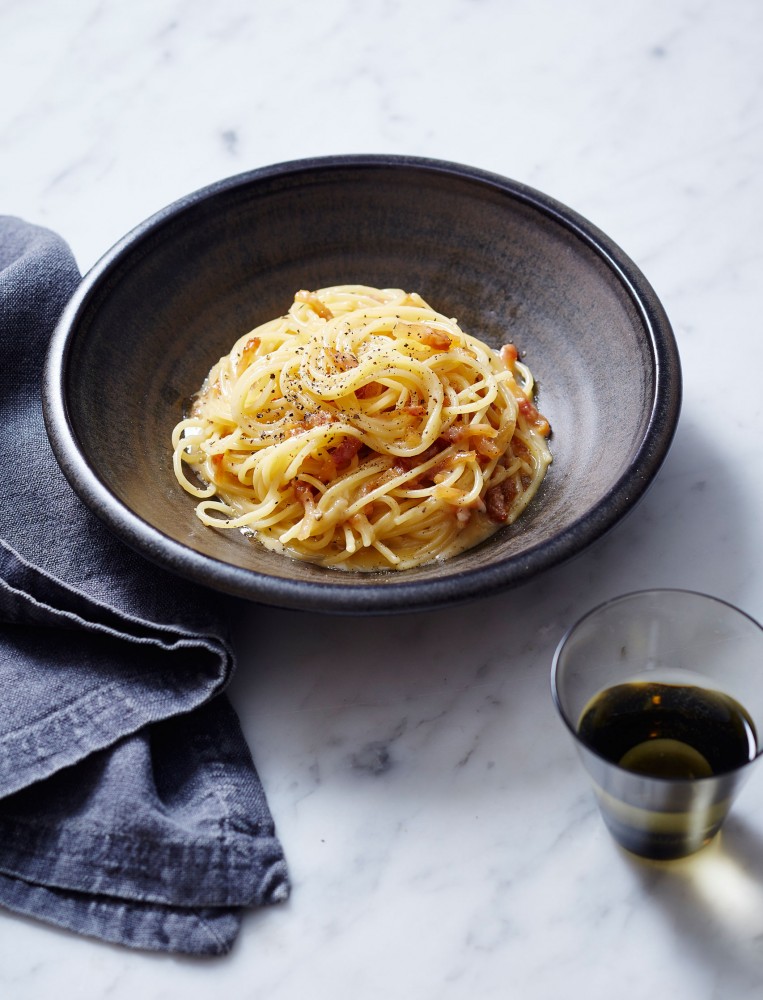 Again, we've included the recipe below, so you can experience this tantalising dish for yourself. You will find a copy here to download or print for use at home.
Spaghetti alla Carbonara
Prep time 15 mins, cook 10 minutes
Serves 4-6
5 egg yolks, at room temperature
1 egg, at room temperature
100 gm parmesan, grated
100 gm pecorino Romano, grated
500 gm dried spaghetti
300 gm guanciale (see note), cut into 5mm julienne
2 tbsp olive oil
1 fresh bay leaf
Step 1: Bring a large saucepan of lightly salted water to the boil.
Step 2: Meanwhile, whisk egg yolks, egg, parmesan, pecorino, 1 tsp sea salt flakes and a generous amount of freshly ground pepper (about 1 tsp, or to taste) in a large bowl.
Step 3: Add pasta to boiling water and cook until al dente (5-6 minutes).
Step 4: Meanwhile, add guanciale, oil and bay leaf to a large frying pan (not preheated) over medium heat and sauté gently until guanciale is well browned (4-5 minutes).
Step 5: Drain pasta (reserve water), add to egg mixture along with 80ml reserved cooking water, add guanciale with oil from pan (discard bay leaf), and toss with tongs until sauce thickens and coats pasta. Serve scattered with freshly ground pepper.
Note: Guanciale, a speciality of central Italy, is available from Italian butchers and specialist delicatessens. But don't worry if you can't get your hands on some – pancetta also makes a good substitute.
After displaying his impressive culinary skills, chef Orazio D'Elia sat down with us for a quick chat.
 1. What's the most important thing you learnt as an apprentice and what's the first dish you ever learnt to cook?
As an apprentice I remember the chef and teacher at school said to me: "before you start to cook you need to listen, be clean and humble". This resonated with me as the most important thing I learnt. This teacher also taught me the first dish I cooked, Rigatoni alla Norma.
2. How has your experience working in different parts of the world influenced your cooking philosophy?
Working in different parts of the world has influenced my philosophy, which is to be open-minded – you need to take into consideration the customers, the area in which you are working, the produce and you need to get out of your comfort zone.
3. What's your go-to dish when you're at home and short on time?
Definitely a quick pasta. Spaghetti, oil, garlic, chilli and anchovies is always a winner.
4. Have you had a particularly disastrous or comedic cooking experience that you can share?
My best friend, Claudio, and I learnt how to make arancini at school. When we got back home to my grandma's house we tried to replicate it. She was out at the time. Claudio and I disagreed on a few steps and had an argument. This turned into a rice fight. You can only imagine the state of her kitchen when she came home. We were 14 and my grandma still reminds me of it to this day.
5. What is the one cooking tip that you think everyone should know?
Keep it fresh and simple.
6. What's something you're really excited about working on?
As a chef, definitely working on new dishes excites me, especially when produce comes into season.
Tools of the Trade
Making himself at home in the Harvey Norman demonstration kitchen, chef Orazio D'Elias demonstrated his superior skills in the kitchen by making use of the intuitive Electrolux 900mm Maxisense Induction Cooktop.
Offering maximum flexibility in the kitchen, the Maxisense Cooktop features high performance induction technology, intuitive touch and slide control and Maxisense pan detection technology. And, as if all that wasn't enough, it features divine Halo lighting at its edges for a truly stunning design.
By adjusting the heat ever so slightly with the intuitive touch and slide control, Orazio was able to ensure that the pasta was desirably al dente, the Bolognese was tender and tasty, and the Carbonara was perfectly creamy.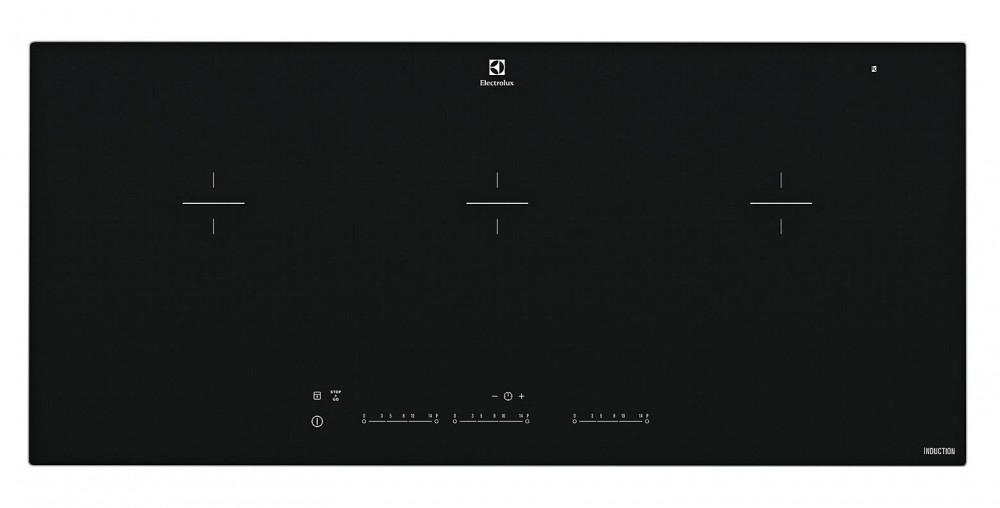 Browse our range of advanced kitchen appliances online or visit your local Harvey Norman store and chat to the experts about updating your kitchen today.
Learn more about this year's Gourmet Institute events featuring Australia's finest chefs, and check out our recent Gourmet Institute event with Scott Huggins.