I love being the hostess with the mostest – throwing parties for friends and family is one of my life's great pleasures. That's why  I was super excited to attend renowned chef Mark Best's Gourmet Institute event at Harvey Norman Alexandria, where he would be focusing on the art of throwing the perfect party and creating simple yet delicious finger foods.
Mark solidified his reputation as one of Australia's most innovative and exciting chefs with Marque, his pioneering Surry Hills restaurant (which closed its doors after 17 years last June). However, tonight's demonstration promised us a simpler (yet flavoursome) fare, more reminiscent of his hugely successful Pei Modern brasseries, found in both Sydney and Melbourne.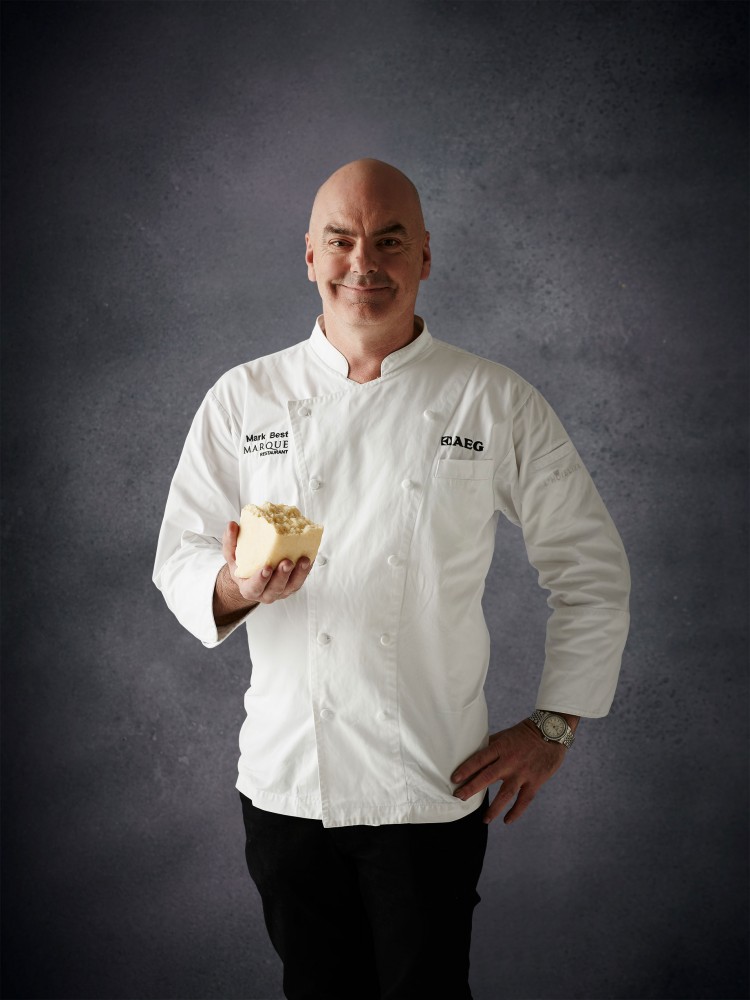 The night began with a selection of delicious canapés and wines courtesy of Cracka Wines.
Being a fan of '70s punk, I couldn't say no to the Claymore 'London Calling' Cabernet Malbec .Its delicious plum notes and rich bouquet of flavours had hints of dark fruits, violets and liquorice notes, which offered a rounded-mouth feel.
The Claremore 'Purple Rain' Sauvignon Blanc 2015 held an enticing bouquet of gooseberry, passionfruit and guava, delightfully fresh and light on the palate; while the Claremore 'Bittersweet Symphony' Cabernet Sauvignon 2014 exhibited a fruity, rounded flavour and a lush bouquet of violets, raspberries and cherries.
Before long, Mark kicked things off with his delectable, bite-sized cheddar and pea tartlets. He demonstrated just how easy it was to create delicious finger food that would leave your dinner guests wanting more.
The tiny tartlets were the perfect canapé – small enough to hold easily in one hand – they were full of  light and fresh flavours.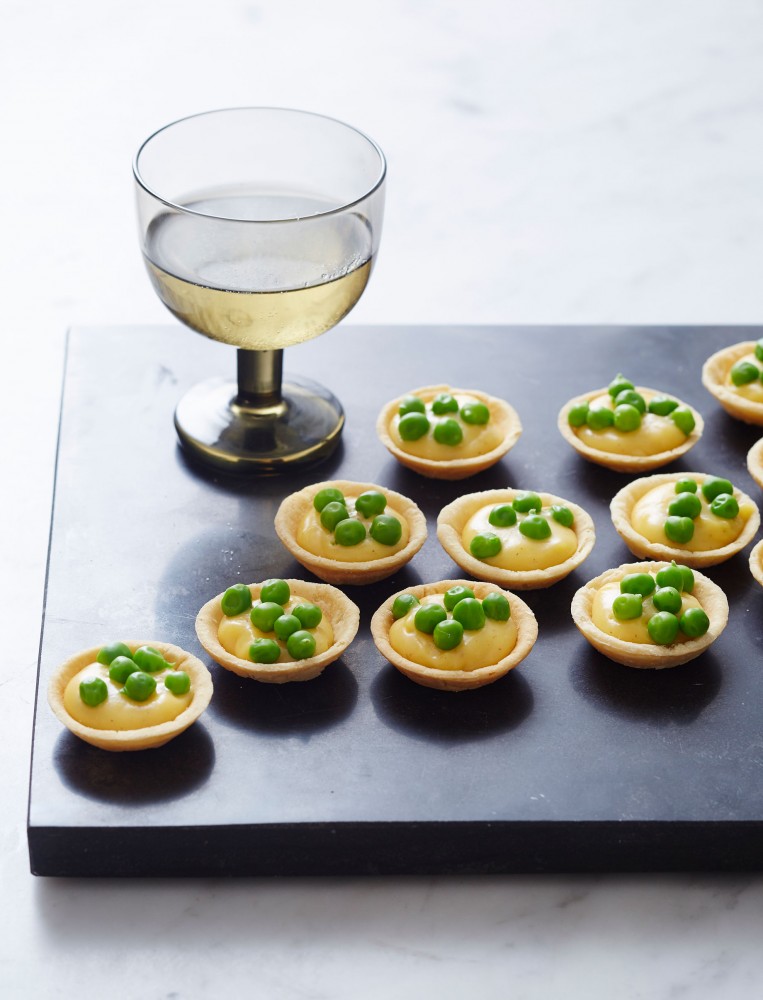 We've included the recipe below so you can try this easy to achieve and utterly satisfying dish for yourself. You can also find a copy here to download or print for use at home.
Cheddar and Pea Tartlets
Prep time 25 mins
Cook time 20 mins (plus cooling)
Makes 40
Ingredients
100 ml pouring cream
100 gm Pyengana cheddar (see note), coarsely grated
⅛ tsp freshly grated nutmeg
⅛ tsp finely ground white peppercorns
3 eggs, at room temperature
40 flaky pastry tart shells, 1¼ tsp capacity each (see note)
60 gm podded fresh peas (about 300gm unpodded)
Method
1. Preheat oven to 180°C. Fill a large saucepan a quarter full with water and bring to the boil, then reduce heat to medium-low until simmering gently.
2. Bring cream to a simmer in a small saucepan over medium heat, stirring occasionally, then reduce heat to low, add cheese, nutmeg and peppercorns, and stir until cheese melts (4-6 minutes). Transfer to a jug and blend with a hand-held blender until smooth. Whisk eggs in a stainless-steel mixing bowl, add cheese mixture and whisk to combine. Place bowl over a saucepan of simmering water and whisk continuously until thick (5-6 minutes). Remove bowl from saucepan and stir with a whisk until tepid (5-7 minutes), then cover bowl with plastic wrap.
3. Meanwhile, refresh tart shells in oven for 5 minutes, then set aside to cool. Blanch peas in salted boiling water until tender (3-4 minutes), refresh in iced water and drain well. 4 Fill tart shells with a slightly rounded tsp of cheese custard, scatter with peas and
Notes: 
• Pyengana cheddar is available from specialised cheese shops and select delicatessens. If it's unavailable, substitute with a traditional cloth-bound cheddar. Mark reckons the best cheddar comes cloth-wrapped, and should be hard and a little crumbly.
• A Thermomix or similar machine will make light work of the cheese custard. Set the temperature to 80°C and blend at speed 3-4 for 12-15 minutes.
Later in the evening, Mark presented us with some appetising tempura Yamba prawns, head and all. I found that the legs were full of crunch and flavour, while the meat was tender and tasty. The light and creamy hazelnut mayonnaise made the perfect accompaniment without being overpowering.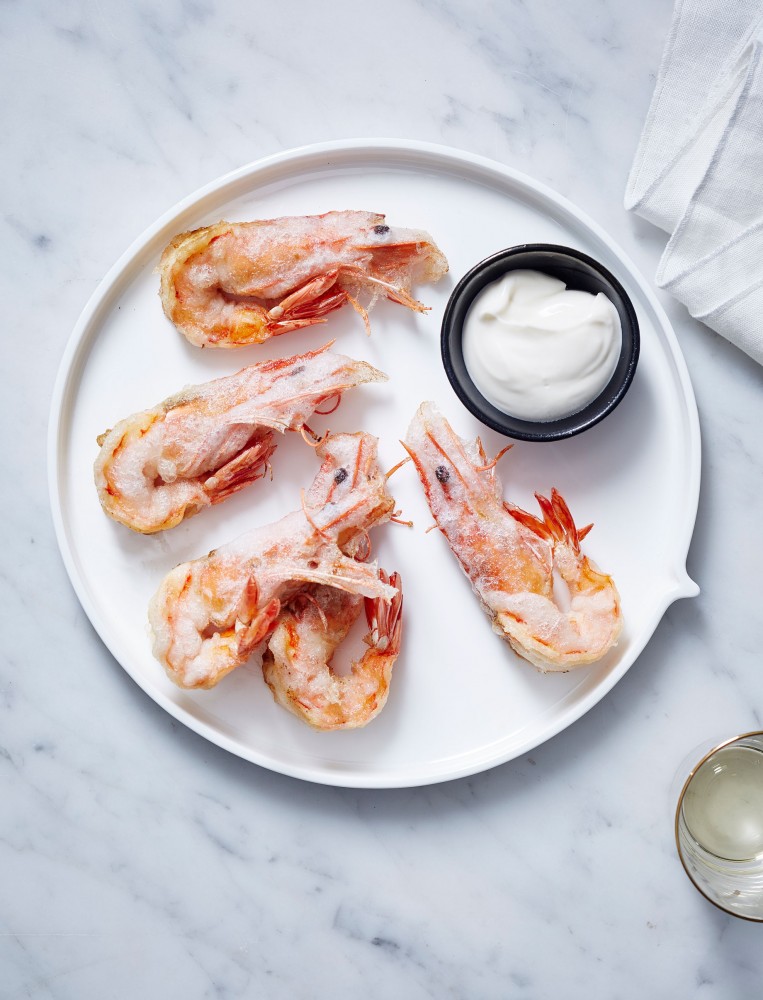 We've included the recipe below so you can prepare these deep-fried delights at your next dinner party. You can also find a copy here to download or print for use at home.
Tempura Prawns with Hazelnut Mayonnaise
Prep time 15 mins
Cook 15 mins
Makes 12
Ingredients
Sunflower oil, for deep-frying
12 (600gm) extra-large uncooked tiger prawns (see note), peeled with heads and tails intact
 Batter
50 gm tapioca flour (see note)
50 gm rice flour ¾ tsp xanthan gum (see note)
Hazelnut mayonnaise
75 ml sunflower oil
50 ml hazelnut oil (first pressing; see note)
60 ml (¼ cup) soy milk (see note)
2 tsp apple cider vinegar
Method
1. For batter, combine flours, xanthan gum and ¾ tsp fine salt in a jug with 250ml water. Blend with a hand-held blender (or regular blender) until smooth (20-30 seconds), then transfer to a bowl, cover and set aside until required.
2. For hazelnut mayonnaise, combine ingredients with ¼ tsp fine sea salt in a jug, blend with a hand-held blender until thick (5-10 seconds), cover and refrigerate until required.
3. Preheat oil to 170C. Butterfly prawns from the back, cutting three-quarters of the way through, remove intestinal tracts and dry between paper towels, ensuring the heads are as dry as possible. Holding prawns by the tails, dip in batter, shaking off excess, then fry in small batches, turning occasionally, until light golden and crisp (2½-3½ minutes). Season lightly with salt and pepper, and serve immediately with hazelnut mayonnaise.
Notes:
• Mark Best recommends tiger prawns from Yamba or Skull Island. Yamba prawns are available from select seafood retailers. For Skull Island prawns, see skullisland.com.au for retailers.
• Tapioca flour is available from Asian grocers, while xanthan gum is available from select health food shops. Hazelnut oil is available from finefrenchfood.com.au.
After demonstrating his impressive culinary skills before an avid audience, Mark kindly took some time out to answer a few of our questions.
1. What inspires an electrician working in the gold mines of Western Australia to become a chef?
I don't think electrician was my calling. It was a good job chosen for me by my parents. Cooking was a vocation I chose for myself.
2. What's the first dish you ever learnt to cook?
I always helped mum in the kitchen. Spaghetti Bolognese was one of the first dishes I remember being trusted with. It consisted of a tin of tomato soup, a couple of pounds of beef mince, a chopped onion and a dried bay leaf.
3. What elements of French cuisine first captured your attention?
I think it was purely the romance of France, with its markets, produce and its chefs writing beautifully evocative books.
4. How did your time studying overseas enrich your culinary approach?
I would say that my time in France completely defined my approach to ingredients and gave me the structure to eventually develop my own culinary voice.
5. You've described yourself as having an 'eternal dissatisfaction'. Is perfectionism a quality needed for success as a chef?
You have to be driven by the idea of perfection. The dissatisfaction comes from never being able to reach your goal. As they say on Masterchef: "It's the journey."
6. If you could pick any dish as your last meal, what would you choose?
Elizabeth David's ragù Bolognese and freshly made tagliatelle
Tools of the Trade
A bona-fide industry expert, Mark admitted that he prefers induction cooking over gas during his Gourmet Institute presentation. Making himself comfortable in the Harvey Norman demonstration kitchen, Mark put the AEG 80cm Induction Cooktop through its paces.
Thanks to the DirekTouch™ system, Mark was able to utilise the low heat setting to obtain the exact temperature required to gently melt the cheese for the tartlet fillings. With its fast heat-up time and precision temperature setting, Mark demonstrated how flexible this induction cooktop can be.  After finishing the tartlets, he turned the heat right up to get the oil to its optimum temperature in order to deep fry his prawns.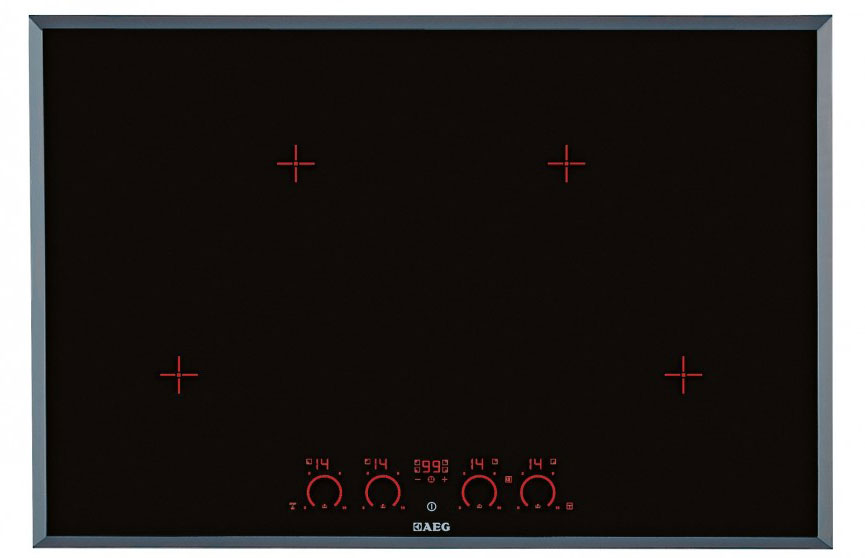 In order to keep the tempura prawns warm and to retain their freshness, Mark popped them into the AEG ProSight Steam Oven for a few minutes. With its cutting-edge SousVide system and precision temperature setting, the meat stayed succulent, while the crisp tempura coating maintained its fantastic crunch.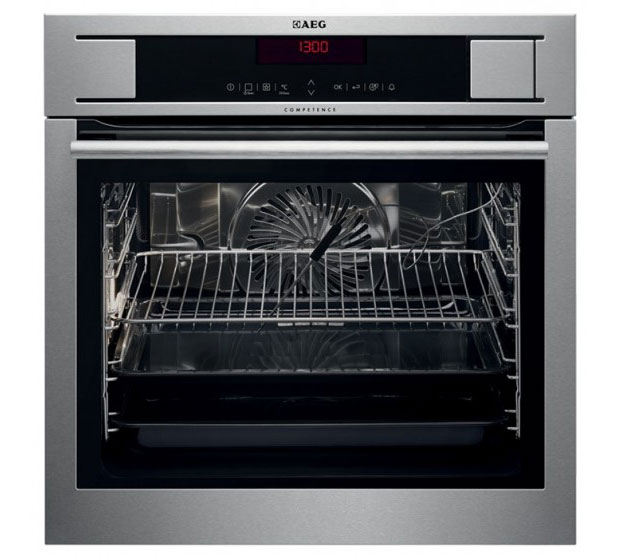 Mark used the AEG ProCombiPlus Steam Oven to gently warm the delicate pastry shells before adding his pea and cheddar filling to them. This innovative steam oven was the ideal appliance for the job, with its ability to gently introduce steam heat to the oven cavity for best results.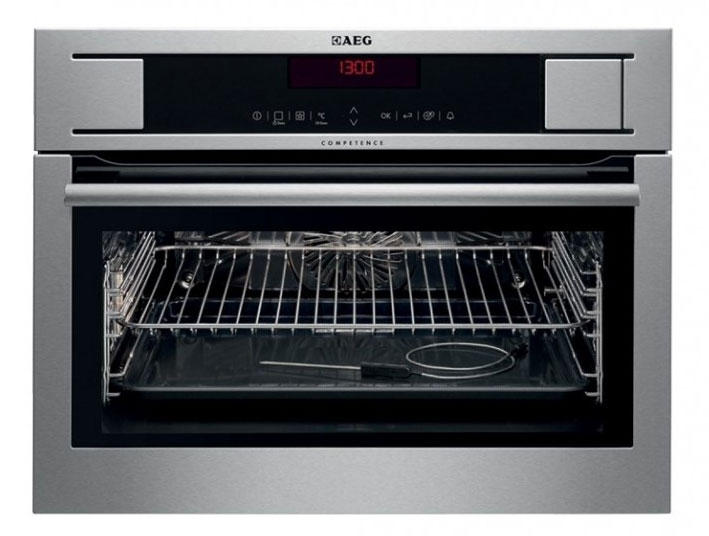 And that wraps up the Gourmet Institute for another year! But foodies and home chefs need not worry – we will return next year. Stay tuned for updates!
In the meantime, try Shannon Bennett's French-inspired recipes by checking out our previous Gourmet Institute blog.
If your mouth is still watering, you can start cooking up a storm in your own kitchen with Harvey Norman's extensive range of AEG appliances. Check online or head into your local store and speak with our friendly kitchen appliance experts.