When South African-born chef Duncan Welgemoed arrived in Adelaide after years of culinary training in Europe, the skill and passion that helped him master European cuisine saw him rise to become Head Chef at Bistro Dom. It was only a matter of time before Duncan decided it was time to return to his roots, leading him to open Africola in 2014 – a restaurant that reflects both his personality and heritage in every dish. With a roaring charcoal spit and wood-fired oven at its centre, and unconventional dishes like cow's head on the menu, Africola is an exciting mixture of food, culture and creativity. At the recent Gourmet Institute event at Harvey Norman, Gepps Cross, Chef Duncan Welgemoed gave us a glimpse into his world and the extraordinary tastes of South Africa.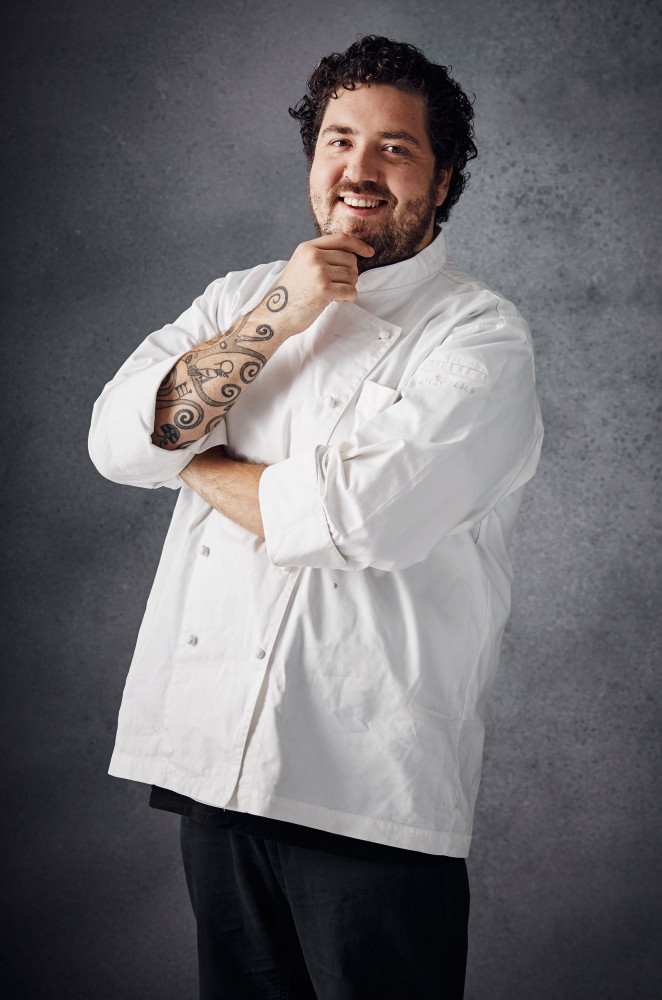 As the evening began, we were served a delightful array of delicious canapés with matching wines supplied by Cracka Wines. The Fox Creek McLaren Vale Shiraz 2013 exuded intense aromas of mulberry, plum and red cherries with currents of musk, coffee and roasted chestnuts. The Fox Creek McLaren Vale Chardonnay 2013 was a fruity, full-bodied delight with aromas of white peach, nectarine and rockmelon.
For his first dish, Chef Duncan Welgemoed showed us to how to prepare homemade Biltong – a traditional South-African delicacy of meat strips that are cured and dried in a process that can take up to 7 days. Duncan made it look easy, making clean incisions at either end of the strips he had prepared and threading them with strings to be hung. The long process of preparing Biltong is definitely worthwhile because the taste was simply divine. Unlike beef jerky, the Biltong is cut after drying, preserving the meatiness of the strip and resulting in a wonderfully robust flavour.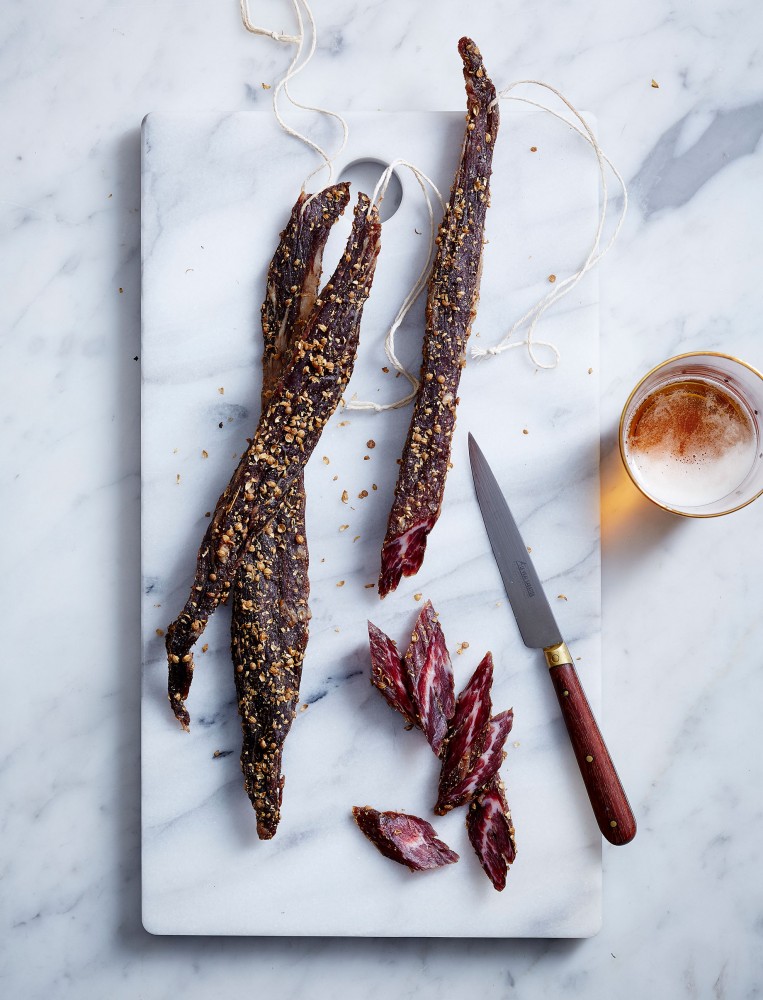 Check out the recipe below and try it for yourself. You can find a copy here to download or print for use at home.
Biltong
Prep time 15 mins. Note: You'll need to start this recipe five to eight days ahead to dry the meat.
Serves 8.
Ingredients:
1 kg red meat (such as ostrich, game, beef eye of round or beef flank
60 ml (¼ cup) white vinegar
1 tbsp coarse salt (or Kosher salt)
55 gm (¼ cup firmly packed) brown sugar
40 gm (½ cup) coriander seed, roughly crushed using a mortar and pestle
½ tsp freshly ground pepper
Equipment:
An electric fan
String
Step 1: Wash meat, dry well on paper towel and cut at a slight angle to the grain into roughly 2 ½ cm strips. Sprinkle with 1 tbsp vinegar, toss to coat. Combine salt, brown sugar, coriander and pepper in a large bowl, add meat and toss well to coat. Transfer to a large, nonreactive tray and refrigerate for 8 hours, or overnight. Drain any excess blood after a few hours.
Step 2: Combine remaining vinegar with 2 tbsp water in a large bowl. Dip biltong quickly into vinegar mixture to remove some of the spiced salt. Make a very small incision into one end of each meat strip. Cut string into about 20 cm pieces, thread through hole, and tie to form a loop. Repeat with remaining meat strips.
Step 3: Hang biltong over a rod or on hooks, close to an exposed light (to warm the air and lower humidity) with an electric fan circulating and blowing constantly on low speed over the meat. Leave to dry for 4-7 days depending on biltong size, humidity, temperature and preferred dryness. Cover and refrigerate once dried.
For his second dish, Chef Duncan Welgemoed turned up the heat at Gourmet Institute and treated us to the taste of 'proper' peri peri chicken. Working his way around the demonstration kitchen, Duncan roasted birds-eye chillies in the AEG 600mm ProCombi Steam Oven and moved on to the AEG 600mm 'Pure 3 OptiZone' Induction Cooktop where he produced his sizzling peri peri sauce. The peri peri chicken was perfect, bursting with flavour and spice, and complemented by a side of corn salad with prawn salt, and pap and sheeba – an African classic combining cornmeal and spiced tomato relish.
You can download and print this recipe here, or check it out below: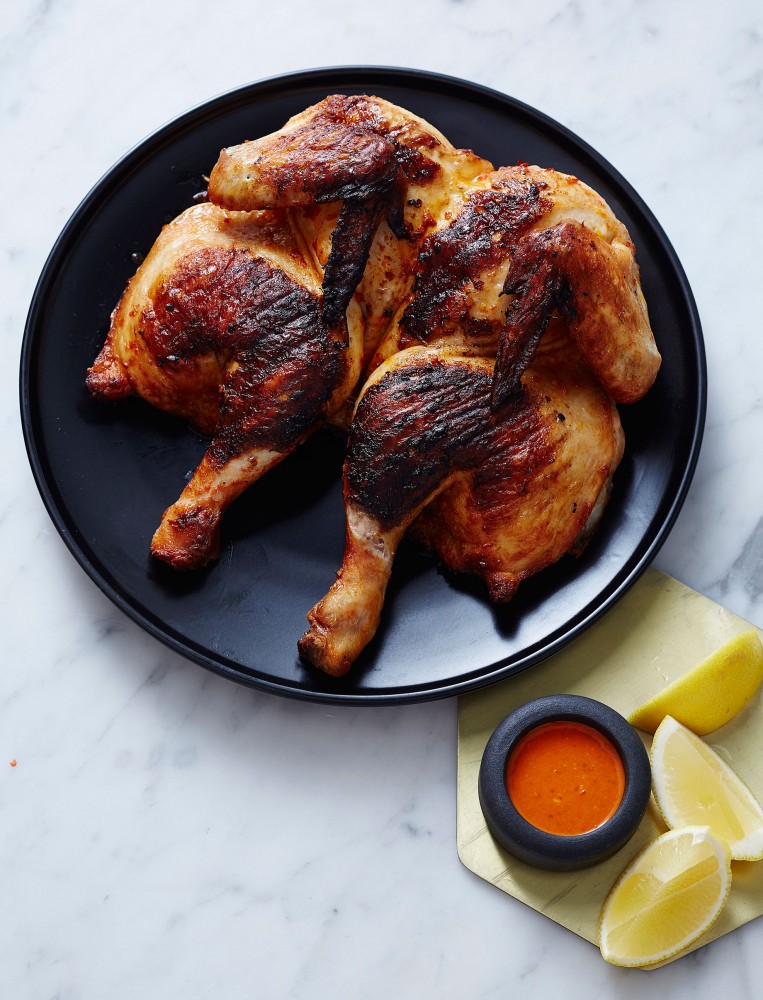 Peri Peri Chicken
Prep time 15 mins, cook 50 minutes, plus cooling, marinating overnight.
Note: You'll need to start this recipe one day ahead to marinate the chicken.
Serves 4.
Ingredients:
15 bird's-eye chillies
1 tbsp (about 3 cloves) garlic
½ tsp finely chopped bay leaf (2-3 bay leaves)
2 tsp smoked paprika
100 ml extra virgin olive oil
100 ml red wine vinegar
1.6 kg whole chicken, spatchcocked
Lemon wedges and soft bread rolls to serves
Step 1: To make peri peri sauce, preheat oven to 180C (160C fan). Transfer chillies to an oven tray and roast for 10-12 minutes, until softened and lightly coloured. Set aside to cool (5-10 minutes).
Step 2: Meanwhile, bring a small saucepan of water to boil over high heat. Blanch garlic for 1 minute, drain and roughly chop. Roughly chop chillies, transfer to a saucepan with garlic, 1 tsp salt flakes, bay, paprika, olive oil and vinegar. Bring to boil over medium-high heat, simmer for 2-3 minutes, until flavours are combined). Set aside to cool (5-10 minutes). Blend to a purée with a small blender or stick blender. Store in a lidded container at room temperature; it will keep for about a month. Shake before using.
Step 3: Transfer chicken to a large bowl, add half peri peri sauce, spreading evenly over chicken. Cover and marinate in refrigerator overnight. Bring to room temperature before cooking (1-2 hours).
Step 4: Light your braai (covered wood or charcoal barbeque), when the coals have a light ash coating (medium-high heat), transfer chicken to grill. Cover and grill for 30-40 minutes, turning about every 5 minutes to cook evenly, or until cooked through.
Step 5: Serve with remaining peri peri sauce, lemon wedges and soft bread rolls.
While the spices still lingered in the room, Chef Duncan Welgemoed joined us for a chat:
What's the most important thing you learnt as an apprentice and what's the first dish you ever learnt to cook?
The most important thing I learnt was that pressure makes diamonds. Putting yourself into environments that are out of your comfort zone teaches you to adapt and focus your craft. The first dish I learned to cook in a professional kitchen was foie grass parfait with fig purée and toasted brioche.
What's the difference between the Australian and South African styles of BBQ?
South African BBQ uses only charcoal or wood, no gas.
There are some unconventional ingredients in some of your dishes – what's the most left-field thing you've included?
Probably our cow's head. After cooking it for 24 hours we strip the meat off the skull, paint the head and then set it on fire at the table.
How has your approach to cooking changed over the years?
I've found my voice as a cook, that's the hardest part in cooking. Everyone can follow a recipe or be a food stylist but the true thing I've learnt is projecting my personality and who I am, onto the plate.
Have you had a particularly disastrous or comedic cooking experience that you can share?
Comedy and disaster pretty much sums up my general day in the office. It's a kitchen after all!
What's something you're really excited about working on right now?
We generally have many projects on the go which take us everywhere from rural Mexico to East Arnhem Land. I'm really excited about spending some time with my family and alone time with my Xbox.
Tools of the Trade
To roast and soften the birds-eye chillies for his delicious peri peri chicken, Chef Duncan Welgemoed used the AEG 600mm ProCombi Steam Oven which uses a combination of steam and hot air to extract maximum flavour while preserving nutrients.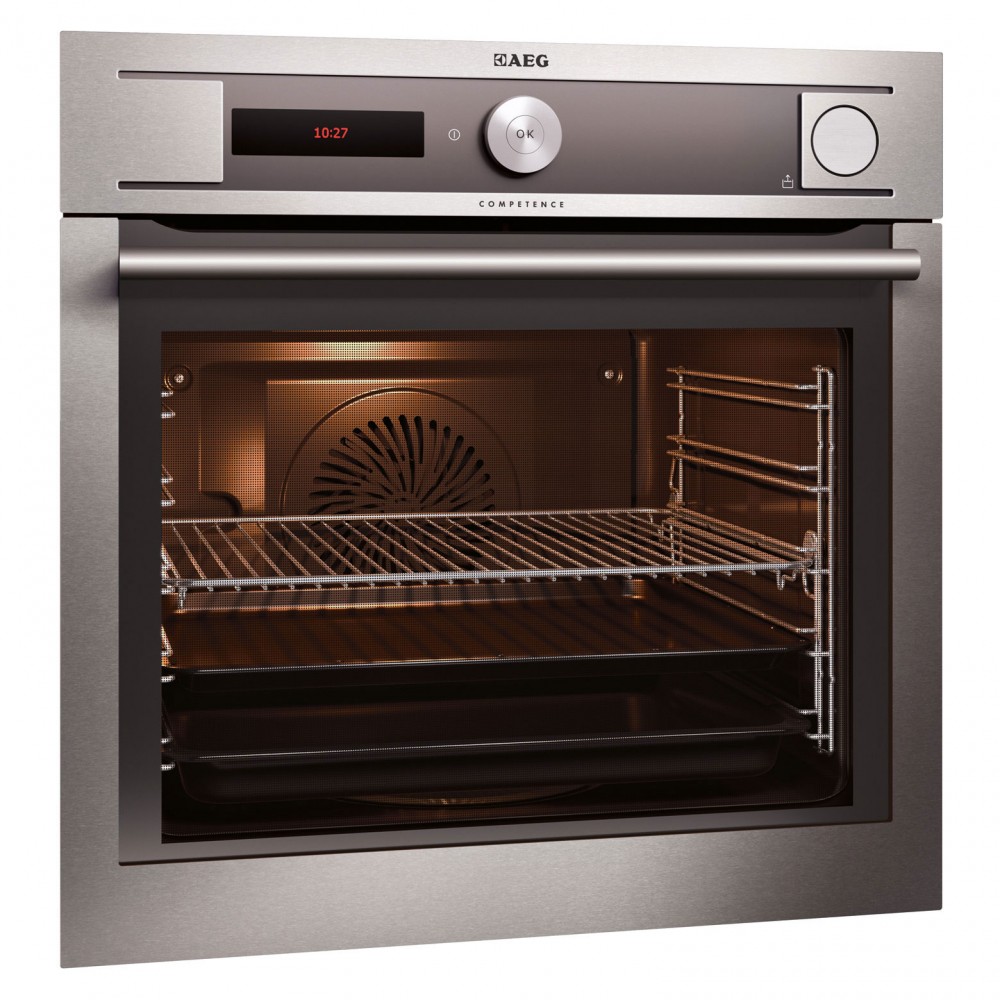 Duncan also used the AEG 600mm 'Pure 3 OptiZone' Induction Cooktop to make his sizzling peri peri sauce. The DirekTouch™ system gave him precise control over the hob to get the flavour and texture of the sauce just right.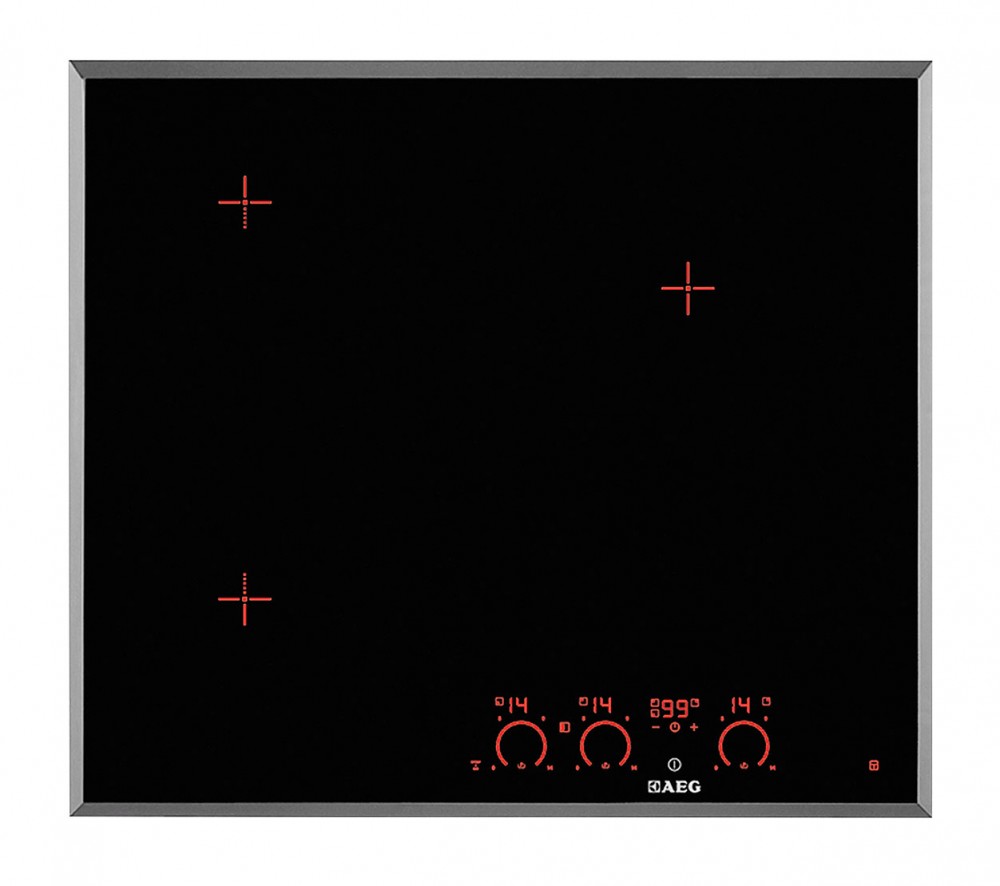 You can browse our extensive range of cooking products online or head into your local Harvey Norman store where our friendly staff can help you find the appliance that's right for you.
Click here to learn more about this year's Gourmet Institute events featuring Australia's most talented chefs.