For Scott Huggins, co-head chef at the picturesque Penfolds Magill Estate in Adelaide, the cooking process is about drawing inspiration from the local environment and the people that surround him.  Always inventive and evolving his craft, chef Scott sources local produce to create dishes that emphasise the famous winemaker's signature style and flavour.
The creativity and originality of this successful young chef is inspiring, and it was a pleasure to once again get a glimpse and a taste of his talent at the recent Harvey Norman Gourmet Institute event. Emma McCaskill, Scott's co-head chef was unfortunately unable to make it, but chef Scott did full justice to the menu. With spring in the air and an array of fresh local South Australian produce at his fingertips, he set about creating their seasonally-inspired menu for a very hungry and excited Gourmet Institute audience at Harvey Norman Gepps Crossing.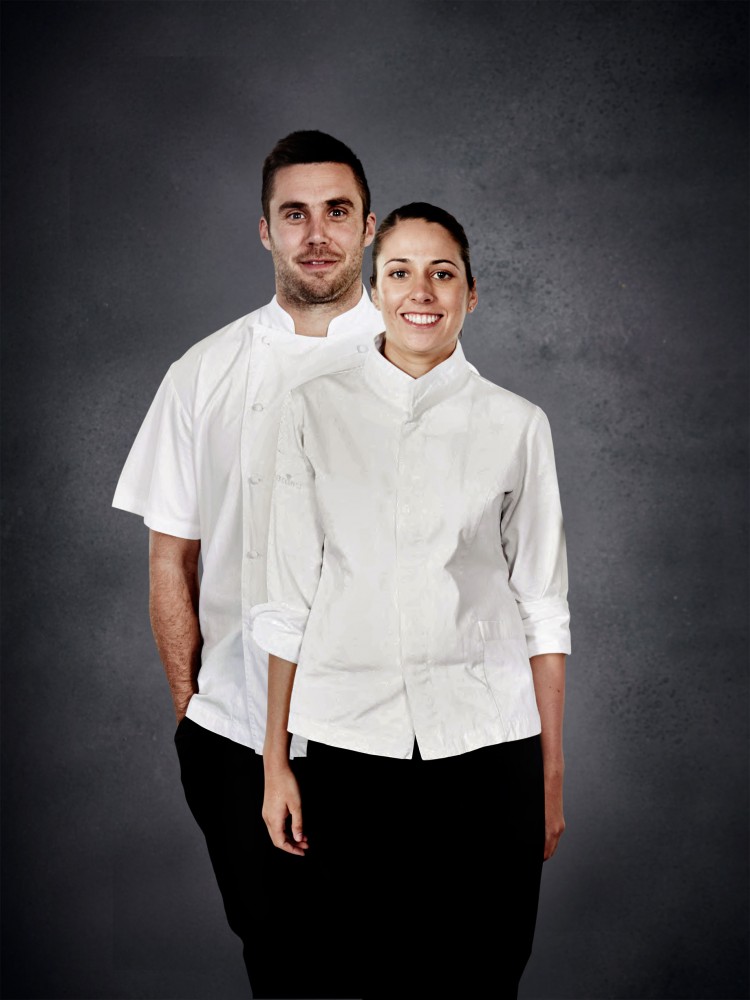 As we gathered in anticipation to experience this dynamic culinary duo at work we were treated to a selection of delicious wines courtesy of Cracka Wines.
We were instantly impressed by the delicious 2014 Hope Estate Chardonnay. This medium-bodied wine had a delicate peach, pear and ripe citrus aroma, making it the ideal accompaniment with chicken. The Sparkling Pinot Chardonnay showed off sweet strawberry, melon and pineapple flavours, and proved to be a wine perfect for the season. Finally, a glass of 2013 Tower Estate Hilltops Shiraz, with its delightfully purple aesthetic and rich plum palate, provided the perfect end to this delightful trilogy of taste.
Our first dish for the evening was poached chicken salad snacks, with pickled slaw and cucumber and radish salad – a perfect starter when entertaining this spring.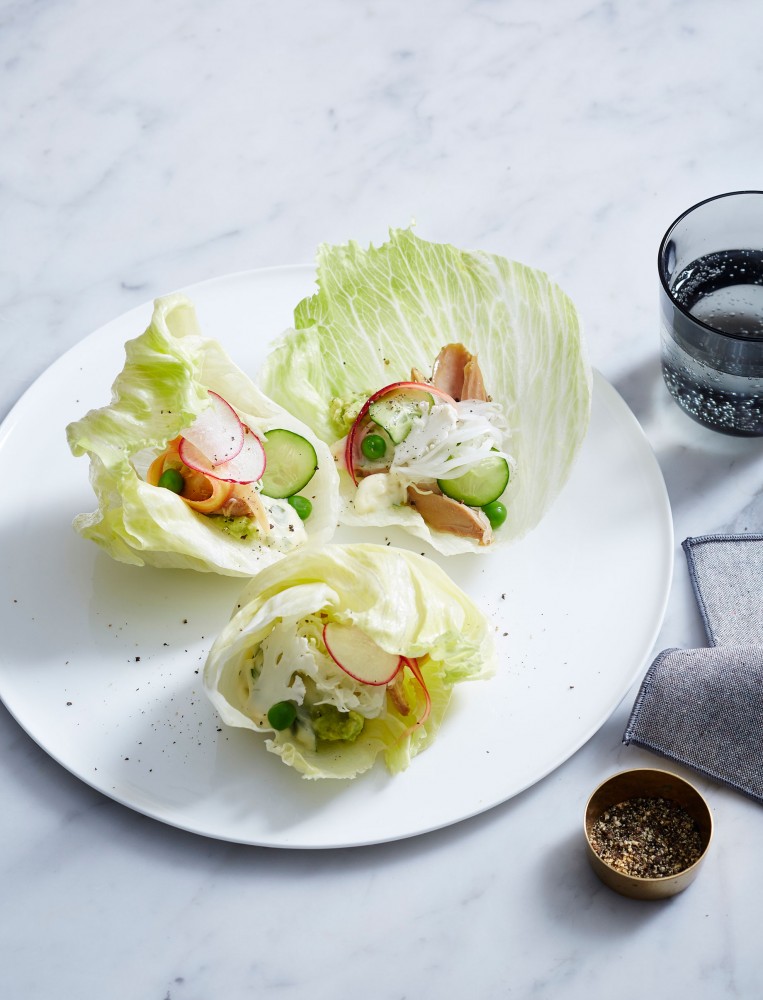 Read the recipe below. Also available to download or print here.
Poached Chicken Salad Snacks
Prep time 50 mins, cook 25 mins (plus cooling, pickling). Serves 6.
18 iceberg lettuce leaves (about ½ head)
Poached Chicken
250 ml (1 cup) sake
125 ml (½ cup) soy sauce
20 gm caster sugar
2 garlic cloves, thinly sliced
3 chicken Marylands (230gm each), halved to separate leg from thigh
Pickled Slaw
150 gm white cabbage, finely shredded on a mandolin
100 gm cauliflower, thinly sliced on a mandolin
50 gm (½ small) white onion, thinly sliced on a mandolin
30 gm (about 3) heirloom carrots, thinly sliced into ribbons on a mandolin, halved lengthways
100 ml apple cider vinegar
50 gm caster sugar
Garlic mayonnaise
150 gm (½ cup) mayonnaise
1 garlic clove, finely chopped
3 tsp finely chopped flat-leaf parsley
Mashed Avocado
1 avocado
1 tbsp lemon juice
Cucumber & Radish Salad
50 gm podded fresh peas (about 120gm unpodded)
50 gm (about 1) baby cucumber (cuke), thinly sliced on a mandolin
2 radishes, washed, trimmed, thinly sliced on a mandolin
Step 1: For poached chicken, bring sake to a simmer in a saucepan over high heat, then remove from heat and set alight, being careful of flames flaring up. Return to medium-high heat until flames die out (about 2 minutes), then add soy, sugar, garlic and 150ml water, and bring to a gentle simmer. Add chicken, cover directly with a round of baking paper, reduce heat to medium-low and simmer gently until almost cooked and juices run slightly pink when pierced with a skewer (20-25 minutes). Shred meat from bones (it should be slightly pink), transfer to a heatproof container, pour hot poaching liquid over and stand to finish cooking, and to cool (20-30 minutes).
Step 2: For slaw, combine vegetables in a bowl. Bring vinegar, sugar and 150ml water to the boil in a small saucepan, stirring to dissolve sugar, then stand to cool for 10 minutes. Pour warm pickling liquid over vegetables and set aside to lightly pickle (5-10 minutes).
Step 3: For garlic mayonnaise, combine ingredients in a bowl, cover and refrigerate to chill.
Step 4: Mash avocado with a fork until smooth, stir in lemon juice and season to taste.
Step 5:  For the salad, cook peas in a saucepan of boiling water until just tender (1-2 minutes), then refresh in iced water, drain and combine in a bowl with cucumber and radish.
Step 6: Wash lettuce leaves in a bowl of cold water, drain and pat dry with paper towels. Using scissors, trim stalk ends and trim leaves into rounds if desired, then fill each with a teaspoonful each of mashed avocado and garlic mayonnaise, drained pickled slaw, chicken, and cucumber and radish salad, and serve.
The finale for the evening was a delightfully season-appropriate main consisting of roast poussin, carrots, pumpkin and garlic yogurt.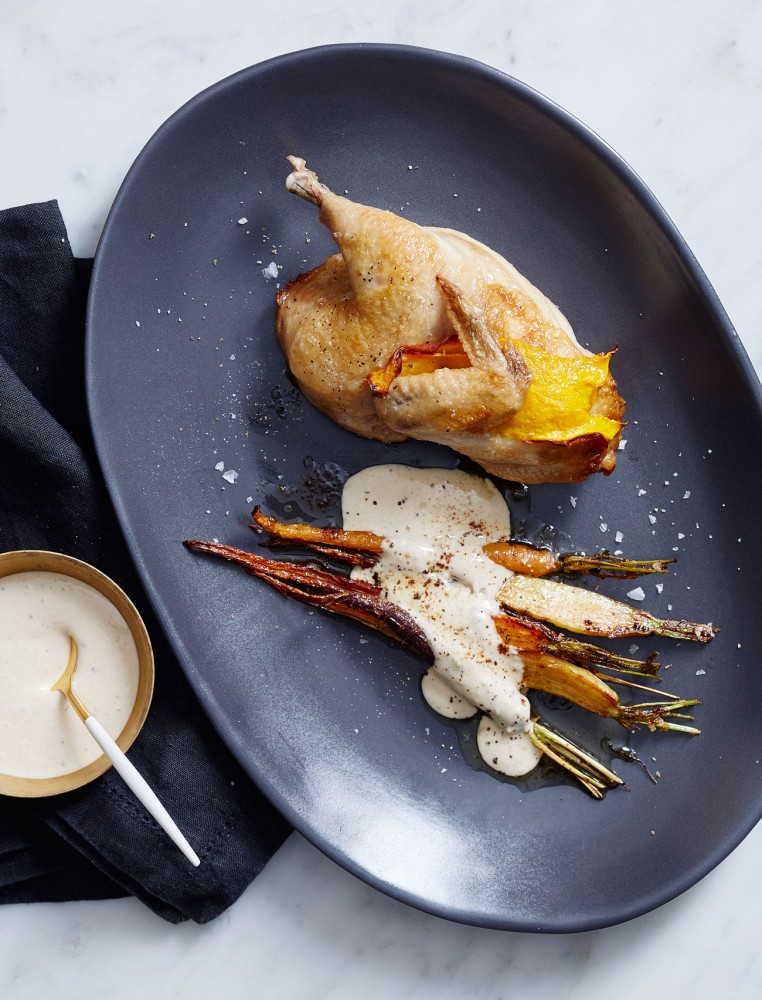 We have a copy of Emma and Scott's recipe to download or print here, or to read below.
Roast Poussin, Carrots, Pumpkin and Garlic Yoghurt
Prep time 35 mins, cook 25 mins (plus brining, resting). Serves 6.
100 ml sunflower oil, plus 1 tbsp extra
40 gm (⅓ cup) sea salt flakes
3 poussins (500gm each)
15 (about 2 bunches) heirloom carrots, halved lengthways
80 gm Jap pumpkin, peeled
Garlic Yoghurt
250 gm Greek-style yoghurt
1 tsp brown sugar
1 tsp maple syrup
1 tsp black garlic (see note)
½ garlic clove, finely chopped
Burnt-Butter Sauce
50 gm unsalted butter
1 tsp lemon juice
1 tsp orange juice
Step 1:  Mix fenugreek seeds, oil and sea salt flakes in a bowl, then generously coat poussins with the mixture, cover and refrigerate for 1 hour. This makes them juicier after cooking.
Step 2: Preheat oven to 200C (180C fan-forced). Wipe marinade from poussins over a bowl to catch oil and reserve. Rinse poussins well under cold running water, pat dry with paper towels, then cut each in half by inserting a knife through the cavity and cutting along backbone (discard backbones). Turn over and cut through breasts from inside. Heat a large ovenproof frying pan over high heat and add the extra oil. Season poussin halves with 1 tbsp fenugreek oil, then fry skin-side down until golden brown (5-7 minutes). Remove poussins from pan and reduce heat to medium-low. Add carrots to pan skin-side up, baste with oil from pan, season to taste and drizzle with 2 tsp reserved fenugreek oil. Rest poussin pieces on carrots breast-side up with legs touching the base of the pan. Shave pumpkin into fine strips with a peeler then place a few slices neatly over each breast to protect them from overcooking. Transfer pan to oven and roast until juices of poussins run clear when pierced with a skewer, and carrots are caramelised (12-15 minutes). Set poussins aside to rest without removing pumpkin (5 minutes; pumpkin should be tender and charred at the edges) and keep carrots warm separately.
Step 3: Meanwhile, for garlic yoghurt, whisk ingredients in a bowl to combine well.
Step 4: For burnt-butter sauce, melt butter in a frying pan over low heat, then increase heat to medium-high and stir occasionally until a deep brown colour and starting to smell nutty (1-2 minutes). Immediately stir in lemon and orange juices to prevent butter cooking further and burning.
Step 5: Transfer poussins to warm serving plates with roasted carrots, drizzle with yoghurt dressing and burnt-butter sauce, season to taste and serve.
Later in the evening, we sat down with Chef Scott Huggins for a chat.
Scott, how important are mentors to young chefs?
I believe mentors are integral to a young chef's progression. Over the years I've constantly taken advice and been steered in the right direction by many mentors – something I thoroughly enjoy and will never stop doing.
What's your current signature dish, Scott?
Roasted Hapuka, soured corn warmed with marrow, Nori
Scott, what's cooking for you in terms of projects in 2016?
This year is all about giving back. Emma and I are working closely with a number of Adelaide entities to help ensure that through our work, we are helping our local community and environment.
Even though, chef Emma McCaskill was unable to attend, she sent through answers to our questions.
Emma, what unusual or left-field things have been sources of inspiration for you when creating a menu?
Most of my sources of inspiration come from the people surrounding me. Ideas stem from conversations with Scott, our staff, wine makers, friends and my family – they are also the guinea pigs! It also makes the evolution, when the dish is complete, more interesting for those involved. I always keep my phone handy on me so when I have an idea, I can pop it into my notes straight away.
What dish would you make for breakfast to start the day well, Emma?
Scrambled eggs on left-over sourdough toast with Kasundi.
Emma, what's your philosophy as a chef?
Our aim is to constantly be inventive, drawing influences from season, flavour, aroma, wine and texture. We have a conceptual approach to cooking, which reflects on travels and exchanges of ideas. While we have an innate understanding of the Penfolds wine making philosophy and wine style, our passion lies in our natural and wild surroundings; seasons, flora and fauna. We hunt for rich produce from the local community and from the same region, earth, land and loam from which fruit for our wines is sourced. It is the diversity of South Australia's terroir that provides both the kitchen and winemaking team with a rich palette of regionally unique materials. We share a vision to deliver a clean and natural cuisine, with complex preparation however never complicated on the plate or palette.
Tools of the Trade
The flavoursome dishes were masterfully created using top-of-the-range AEG Appliances.
As innovative and impressive as our two talented guest chefs, AEG's Pro-Combi Steam Oven, knows how to bring out the flavours, textures and colours in your cooking, using a unique steam system to cook the food.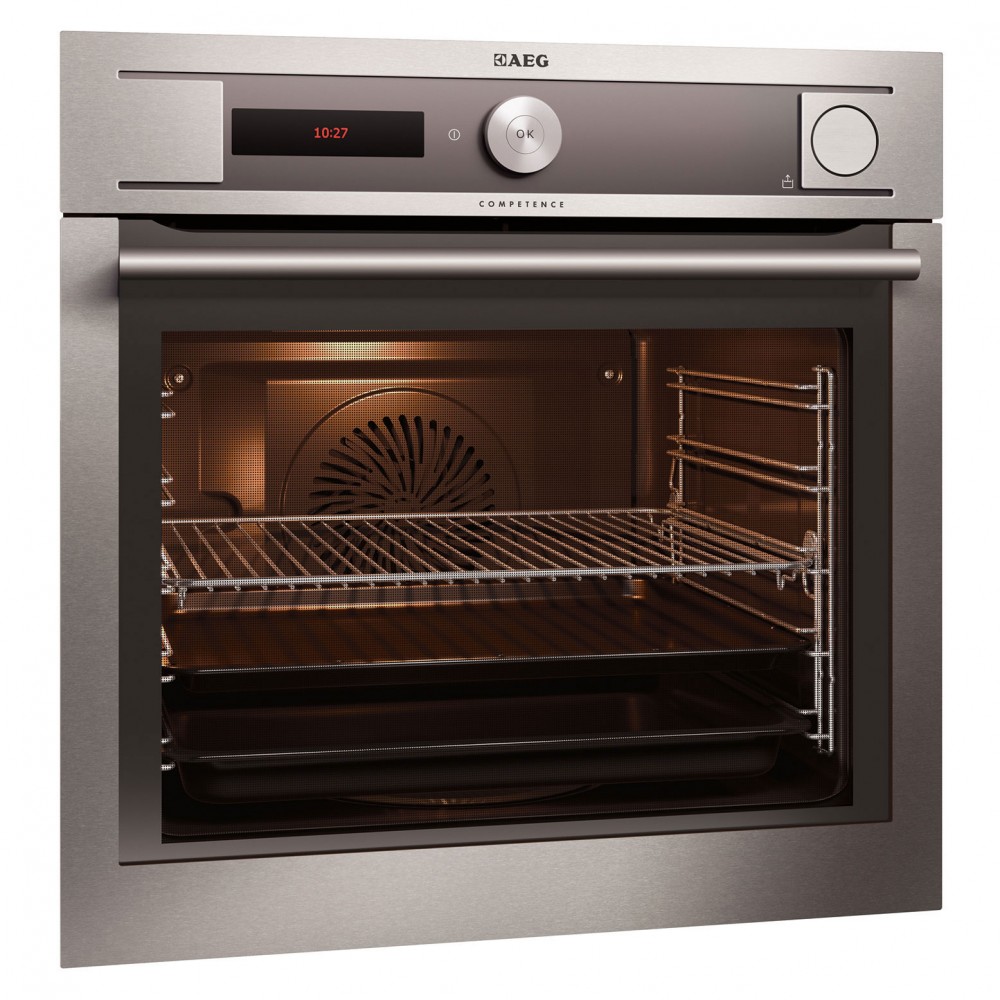 Scott's culinary genius was also on display using the AEG 60cm Pure 3 OptiZone Induction Cooktop. Providing superior cooking efficiency and flexibility for the modern chef, this cooktop utilises induction cooking technology that allows greater control over the cooking process.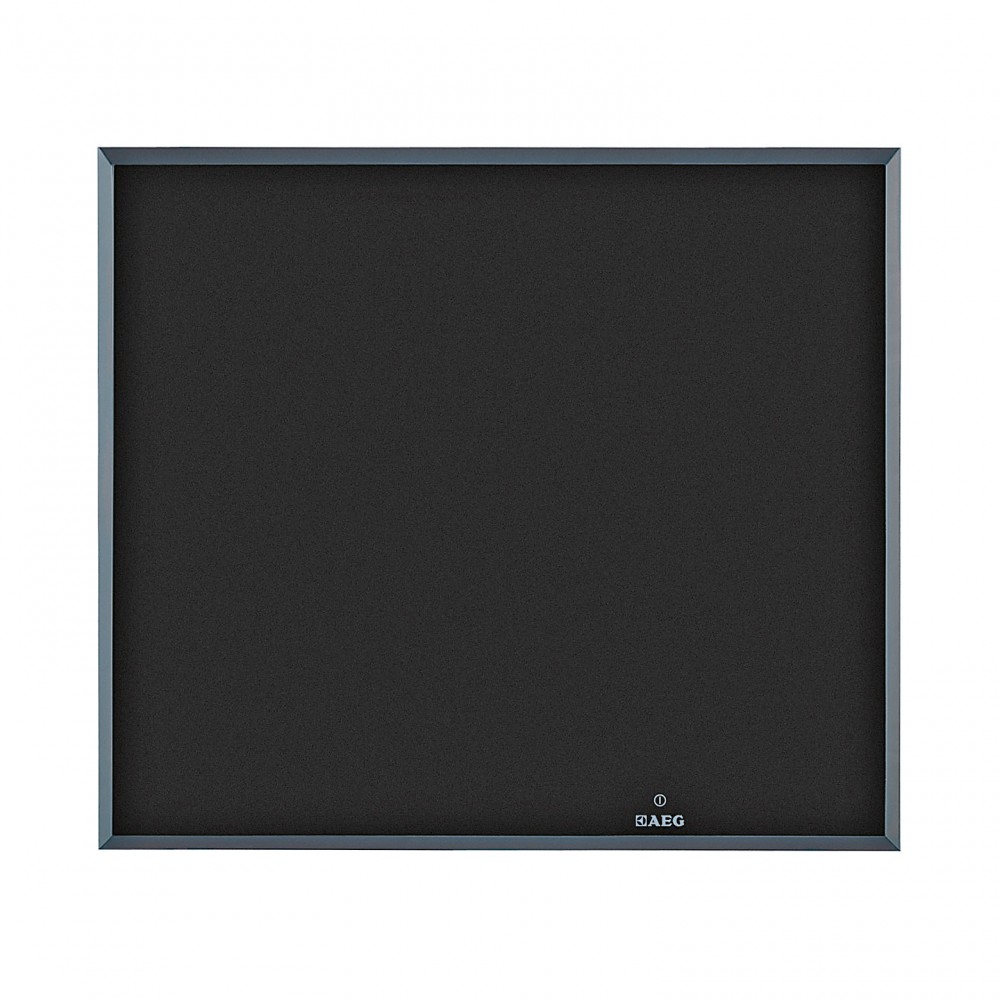 Browse our extensive range of innovative AEG appliances online or head down to your local Harvey Norman store and talk to our staff about what you're looking for in a cooking appliance.
Are you inspired? Learn more about our Gourmet Institute events, see which of Australia's talented chefs will be in the kitchen next time and check out our recent Gourmet Institute event with Matt Moran.