It was with great pleasure that we recently kicked off the Gourmet Institute for 2016, and who better to start this season with a bang than guest chef Dan Hong. From the beginning of his career in his family's Vietnamese restaurant, through winning the prestigious Best Young Chef Award at the 2008 SMH Good Food Guide Awards to the present day with his role as Executive Chef at four Merivale Establishments (Mr. Wong, Ms G's, Papi Chulo and El Loco), Dan has brought a sense of fun to his innovative blend of traditional Chinese influences and contemporary style. Dan Hong certainly knows oodles about noodles, so it was with a sense of anticipation that we arrived at Harvey Norman Alexandria to see him showcase his famed techniques.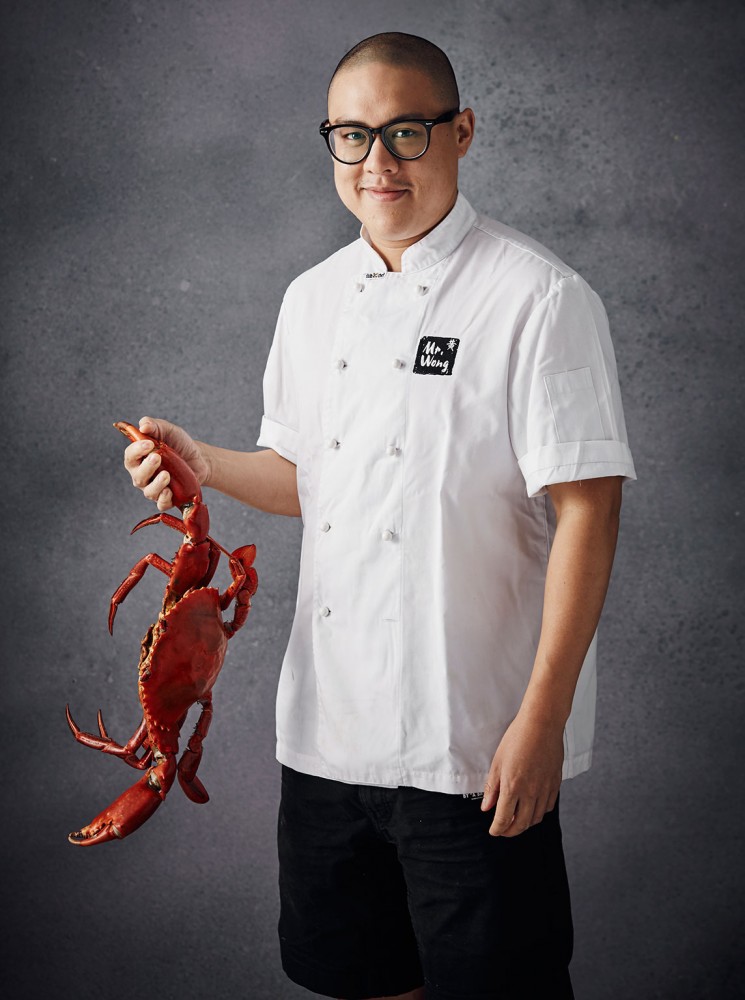 The event got underway with a delightful combination of canapés and some refreshing beverages courtesy of Cracka Wines. The Kaesler 2014 Old Vine Semillon had a powerhouse nose of pineapple, citrus and orange blossom – which the experts tell me is very unusual for a Semillon. It had a rich palate of fruits with a vibrant essence of lemon and lime, which made for a refreshing start to the night. Also on offer were a Kaesler 2013 Stonehorse GS and a Kaesler 2013 Stonehorse Shiraz. The former offered a combination of dark berries and fresh violet florals on the nose, with savoury notes, pepper spice and a fleshy fruit character with a nice length on the palate, while the latter had the aroma of a blood plum orchard, with elements of blackberry and boysenberry (a favourite of mine) mingling with a malty oak on the tongue.
The first show-stopping dish for the evening was a taste of Japan with cold somen noodles served with crab, leek and ginger. Dan dazzled us with his skills in the demonstration kitchen as he first infused his own ginger oil on the Electrolux 3-Zone Induction Cooktop. Setting that aside for the flavours to fully form, he then whipped up some bonito dressing before preparing the noodles. The result? Absolutely delicious.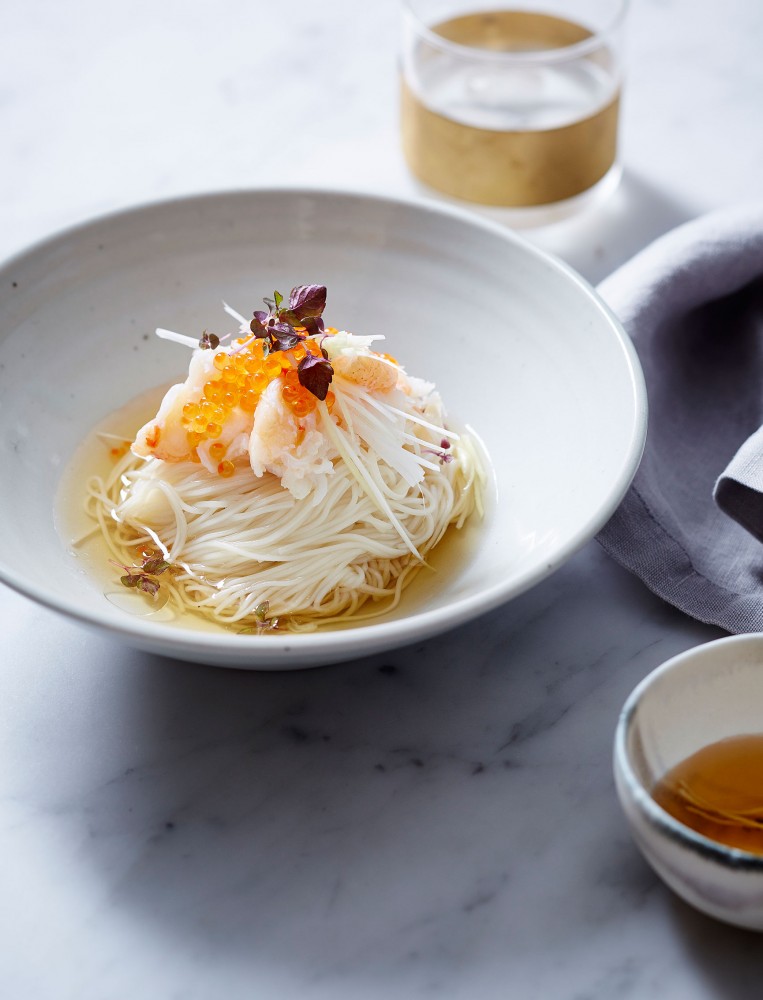 We've included the recipe below so you can try it for yourself. You can also find a copy here to download or print for use at home.
Cold Somen Noodles with Crab, Leek and Ginger
Prep time 20 mins, cook 10 minutes (plus cooling)
Serves 4 as a small meal
Ingredients:
180 gm (2 bundles) dried somen noodles
200 gm cooked crabmeat, drained
½ leek, white cut into fine matchsticks, and soaked in iced water 5-10 minutes, green reserved for ginger oil (below)
20 gm ginger, cut into fine matchsticks, peelings reserved for ginger oil
50 gm trout or salmon roe
Shiso microcress, to serve
Ginger Oil
125 ml (½ cup) grapeseed oil
10 gm (1 tbsp) ginger peelings
½ green section of leek, washed, drained well, finely chopped
Bonito Dressing
1½ tbsp caster sugar
100 ml shiro dashi (see note)
25 ml white soy sauce (shiro shoyu)
50 ml rice wine vinegar
2 tsp liquid konbu extract (konbu tsuyu)
Step 1: For ginger oil, combine grapeseed oil, ginger peel and leek in a small saucepan over low heat. When ginger starts to sizzle (2-3 minutes), remove from heat and set aside to infuse and cool (20-30 minutes), then strain. Makes about 80ml (⅓ cup).
Step 2: For bonito dressing, stir sugar and 1½ tbsp water in a small saucepan over medium heat until sugar has dissolved (1 minute). Set aside to cool, then whisk in a mixing bowl with remaining ingredients and 2 tbsp water.
Step 3: Bring a saucepan of water to boil over high heat. Reduce to medium heat, add somen and simmer for 2 minutes or until just tender. Immediately refresh in cold running water until cold. Drain well, divide among bowls, top with crab, generously spoon dressing over noodles so it's almost like a noodle soup. Drizzle some ginger oil over the top (about 1 tsp per bowl), then garnish with leek, ginger, roe and baby shiso.
Our second course for the evening was a lovely lo mein with Angus beef, mushrooms and spicy XO sauce. Lo mein is a traditional Chinese variation of a wanton noodle soup, but as we're cooking with Dan Hong you know he's put his own spin on this classic. The combination of textures was amazing, and the XO sauce added a nice spicy touch to the taste.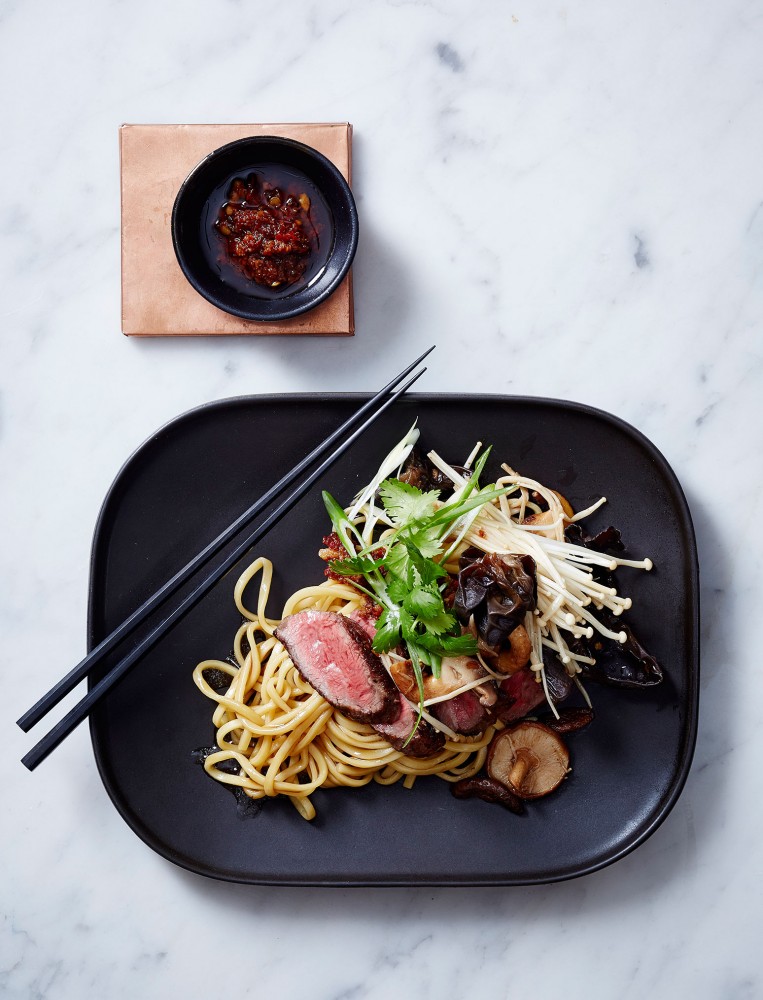 We've also got a copy of this recipe to download or print, but here's a quick look:
Lo Mein of Angus Beef, Mushrooms and XO Sauce
Prep time 25 mins, cook 5 minutes (plus resting)
Serves 4 as a small meal
Ingredients:
2 Angus grain-fed rump-cap steaks (300gm total; see note)
1 tbsp grapeseed oil
40 gm butter
1 garlic clove, finely chopped
100 gm fresh shiitake mushrooms, sliced 1cm thick
100 gm enoki mushrooms,
ends trimmed, separated
into small bunches
100 gm fresh wood-ear mushrooms, torn
320 gm fresh egg noodles
80 ml (⅓ cup) XO sauce
1 cup coriander leaves
2 green spring onions, finely sliced on the diagonal
Black Vinegar Sauce
60 ml (¼ cup) oyster sauce
3 tsp light soy sauce
1 tbsp Chinkiang black vinegar
1 tbsp ginger oil (see somen noodle recipe)
Step 1: For sauce, whisk ingredients and 3 tsp water together in a bowl.
Step 2: Heat a large frying pan over high heat and bring a large saucepan of water to boil over high heat. Season steaks, add 1 tsp oil to hot frying pan and fry steaks for 2 minutes on each side until medium-rare, or until cooked to your liking. Rest in a warm place.
Step 3: In same pan, over high heat, melt butter and add remaining oil. When butter is sizzling, add garlic and stir-fry for 30 seconds or until fragrant. Add shiitake, stir-fry for 30 seconds until lightly browned, then add enoki and wood-ear and fry for a further 30 seconds until the enoki have just wilted. Season to taste and keep warm.
Step 4: Meanwhile, drop noodles in boiling water for 15 seconds, then drain, refresh in iced water, drain and blanch again for 5 seconds (for al dente noodles and to wash off starch). Combine noodles in a mixing bowl with black vinegar sauce. Using chopsticks or tongs, stir noodles to coat, then divide amongst 4 serving bowls.
 Step 5: Slice steaks thinly, divide between bowls and add 1 tbsp XO sauce to each along with the mushrooms. Garnish with coriander and spring onion. Once plated, stir together with chopsticks so ingredients are combined.
After showing the audience how to use their noodles, Chef Dan Hong joined us for a quick chat:
What's the first dish you ever learnt to cook?
It was probably Instant noodles! Boil water, add noodles, cook for 2 mins, add soup sachet and serve!
What are your sources of inspiration when developing a menu or new dishes? What left-field things have found their way into your repertoire?
My inspiration can come from anywhere or anything. Like a certain new product, to new season or whatever I eat from fine dining to street food in Asia or junk food. One thing I put on the menu at Ms G's is a cheeseburger spring roll… I can't take it off now!
Your mother is also a chef – is there a friendly rivalry between the two of you?
Not at all! She is a master of Vietnamese cuisine. I am still learning from her every Monday when I go to her house for dinner.
What was in your school lunchbox as a child?
Usually it would be 'Banh Mi'. Growing up as a 90's Asian kid in Epping, I would always ask Mum to make me sandwiches because I wanted to be like everyone else, so Mum would get a Vietnamese baguette and put 'cha Lua' (Vietnamese pork loaf)  or chicken inside with some pickled carrots and coriander and Maggi seasoning.
Have you had a particularly disastrous or comedic cooking experience that you can share?
Not really, but when I worked at Tetsuya's I accidently sent a salad out with a snail in it – and the customer ate it!
What's your go-to dish when you're at home and short on time?
It's a Nong Shin Kimchi noodle bowl with 3 slices of processed American cheese!
Your love of sneakers is well publicised – what lengths have you gone to get a new pair? Do you wear them to work?
One time I went to Hong Kong to meet this guy I met over Instagram, just to pick up a pair of rare Nike Flyknits that I really wanted. I wear all my shoes, and I wear them on the way to work but never in the kitchen.
Tools of the Trade
It's always inspiring to see an expert at work, and watching Dan Hong weave his magic using the appliances in our demonstration kitchen was a true pleasure. Dan mostly utilised the speed and heat offered by the Electrolux 3-Zone Induction Cooktop, which made it easy to prepare his sauces – taking advantage of the fine temperature controls and multiple heat zones – and simmer his noodles to perfection.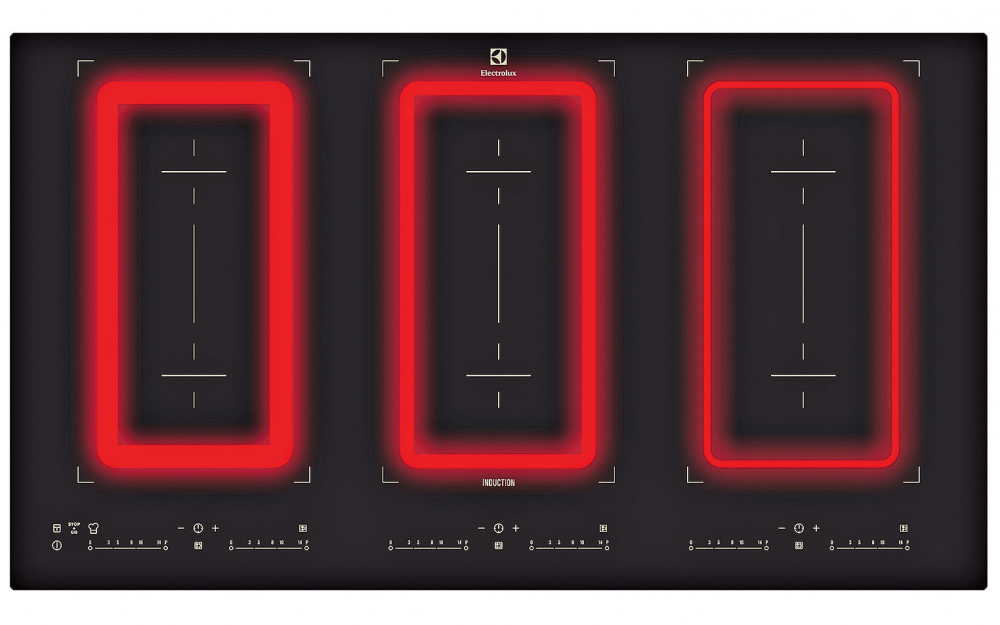 You can browse our range of cooking products online or head into your local Harvey Norman store where our friendly and knowledgeable staff can help you find the appliance that's right for your kitchen and your cooking style.
Interested in sampling some sizzling African flavours? You should look into attending our next Gourmet Institute event featuring Chef Duncan Welgemoed from Adelaide's Africola. You can find all the details here about future Gourmet Institute events and how to purchase tickets.