Croissants, baguettes and French dressing – that's about as far as my knowledge of French food goes. But at the final Gourmet Institute of the year, I discovered a whole new world of cooking, the wonderful flavours of Paris, and the magic of butter.
It was with the greatest pleasure that I joined the audience at the Harvey Norman Alexandria showroom to witness award-winning Guillaume Brahimi, Parisian chef extraordinaire, prepare three delectable dishes for a soirée to remember.
Chef Guillaume Brahimi is more than just a professional cook and butter enthusiast; he's a skilful craftsman, a passionate storyteller, a humble performer, and a culinary genius. Not to mention, he's got one heck of an accent, and an incredibly infectious smile.
Born and raised in France, Guillaume began cooking at an early age and quickly made his way up the kitchen ranks. After a two-year apprenticeship at the three-star Michelin restaurant La Tour d'Argent, Guillaume worked with Michelin-starred chef Joël Robuchon at Jamin restaurant in Paris before moving down under.
In 2001, Guillaume took over the flagship restaurant at the Sydney Opera House, Bennelong, and eventually transformed the venue into Guillaume at Bennelong. Since then, he has opened Bistro Guillaume in Melbourne, Perth and earlier this year, Sydney, and published two books: Guillaume: Food for Friends, and French Food Safari, which was also a TV series on SBS.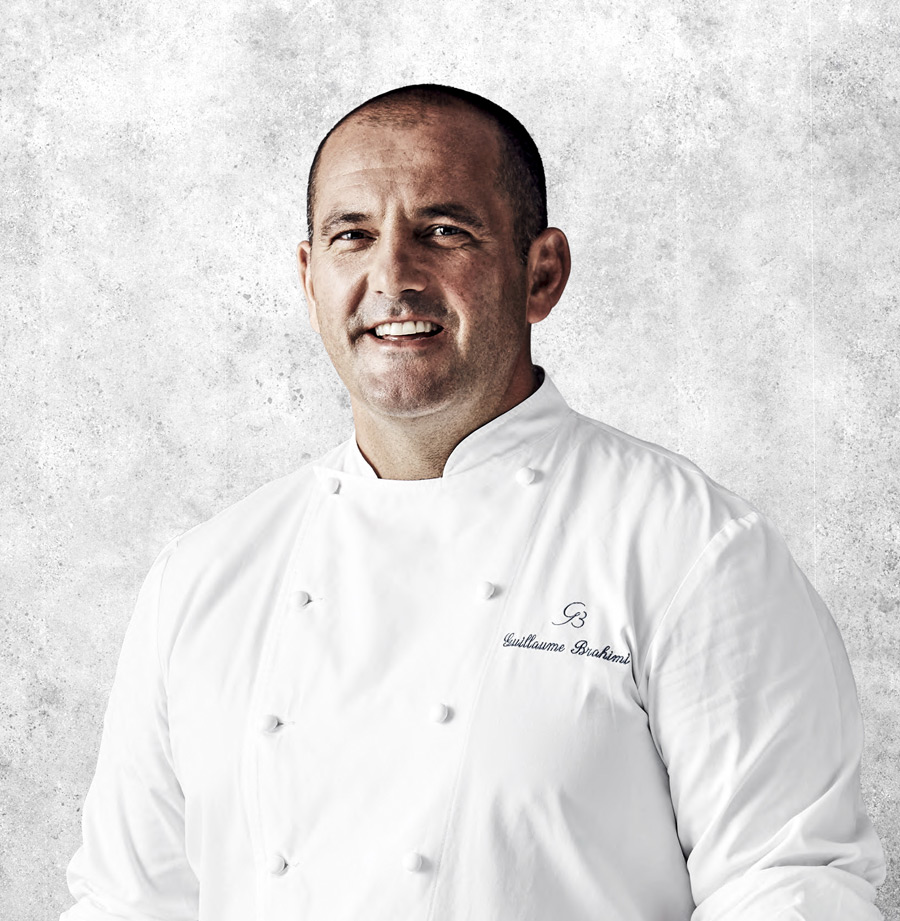 The evening kicked off with a pre-show cooking demonstration, showcasing the latest kitchen appliances alongside a tray of chocolate-dipped strawberries and a selection of mouth-watering canapés. My personal favourite was the wild mushroom, artichoke and truffle palmier with sherry cream and parsley dust, but the Yamba prawn brioche rolls with pickled fennel and saffron mayonnaise were a close second. These were followed by freshly shucked market best oysters with salmon roe pearls, shallot and champagne vinaigrette, and thyme-roasted beetroot tarts with goat's feta and candied walnut, to name a few!
We were met with the smiling faces of servers around every corner, bottles of wine provided by Naked Wines always at the ready. I accepted a glass of Obelisk Wines Ded Reckoning Pinot Noir Chardonnay 2016. The sherbet fruit palate and zesty, strawberry notes cut through the seafood perfectly. Other wines on offer included Andevine Hilltops Shiraz Grenache 2016, with floral red fruits and a light, toasty oak influence, and RT by Randal Tomich Adelaide Hills Chardonnay 2016 which had a rich, stone-fruit flavour and a bouquet of white nectarines and apple.
Gourmet Institute: Interview with Guillaume Brahimi
We caught up with Guillaume before the main event for a quick Q&A. Watch the video below to get to know one of Australia's most beloved French master chefs a little bit better.
To get the show on the road, Guillaume shared his recipe for a smashing party and what Christmas lunch would look like in the Brahimi household:
"A good party has plenty of good food that's easy to eat, cold drinks (there's nothing worse than warm champagne) and good music.
"At Christmas, we usually do a roasted, cold ham, might do some prawns and mangoes, and an ice-cream cake in the shape of a Christmas tree that we make every year – the kids love it!"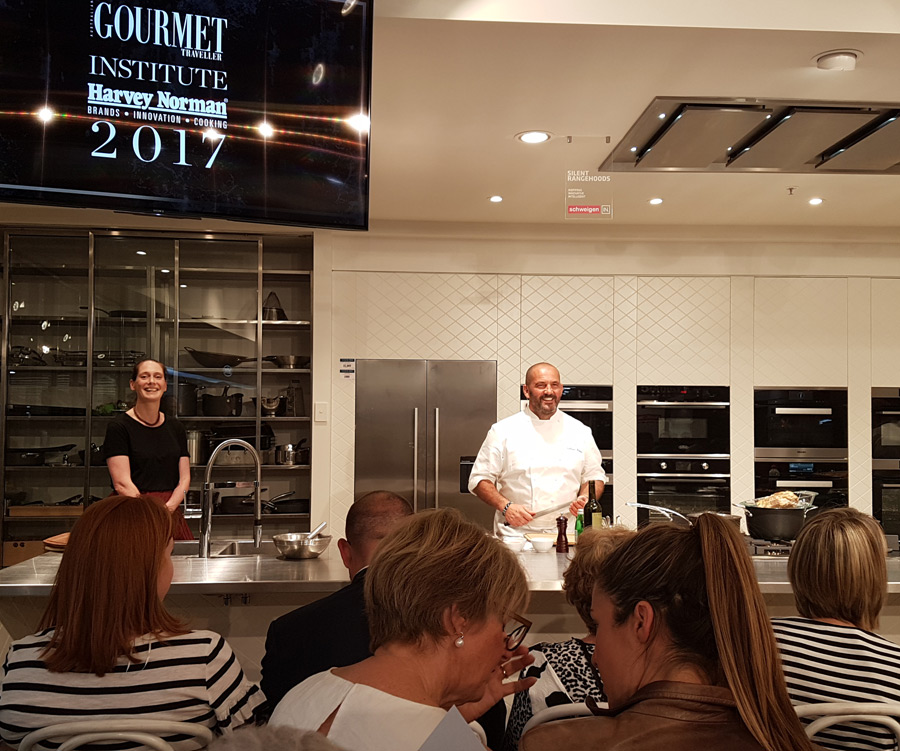 Mini Lamb Pithiviers
Download or print the recipe for Guillaume's Mini Lamb Pithiviers here.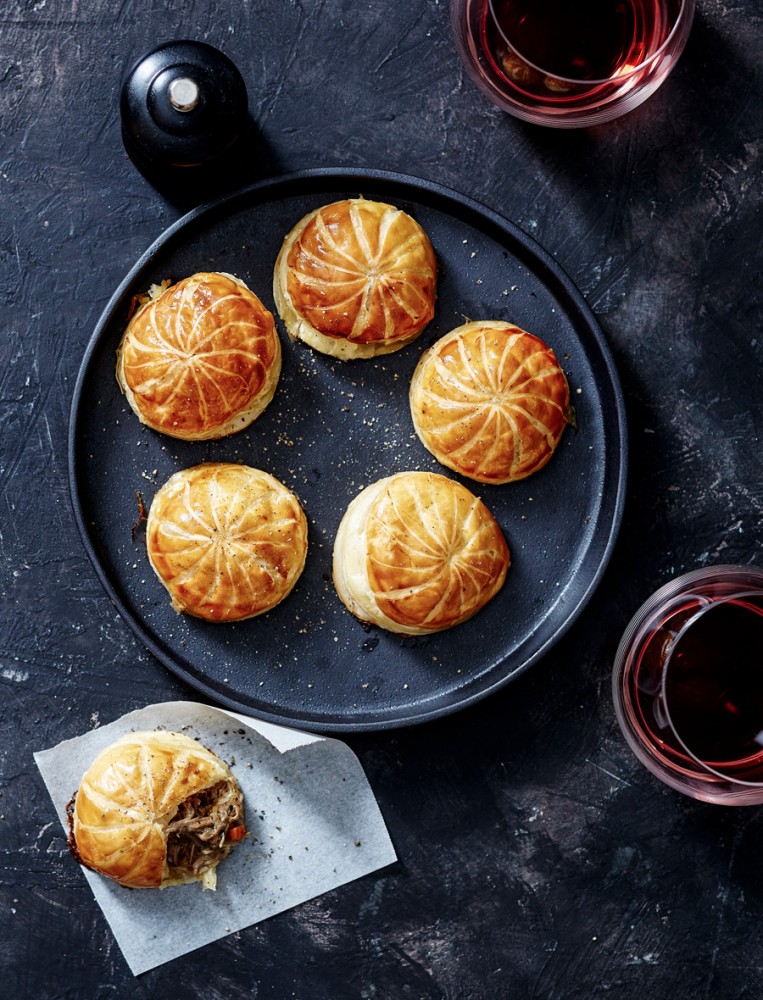 Named after the French town Pithiviers, where this dish is said to have originated from, these buttery pies are traditionally sweet and contain crème d'amandes, or almond cream. Guillaume's version – a mixture of braised lamb, eschalot dressing, lamb jus, vegetables and herbs enclosed in crunchy, golden puff pastry – were positively divine.
Guillaume brought a gorgeous shoulder of lamb that had been braising in the oven for four hours prior to our arrival into the spotlight. He gently tore it open to reveal perfectly pink meat that was falling off the bone. Everyone's oohs and aahs turned to laughter when the chef stole a cheeky bite.
"The hardest thing," he observed, "is resisting eating while you cook. If you start with 500 grams of lamb, you need to finish with 500 grams of lamb!"
After tossing some carrot, celery, eschalot, garlic and more together over the stove, the chef strayed from his recipe and combined the lamb with the vegetables in the pan instead of whizzing them together in a blender. The lamb jus had been pre-prepared, so Guillaume whisked together his eschalot dressing and mixed the two with the lamb mixture.
He advised, "Press the lamb mix to squeeze out excess vinaigrette and jus otherwise your pithiviers will be soggy.
"Make sure there is enough salt and pepper because puff pastry is sweet. Salt makes you happy, it makes you eat more – there is a reason for everything."
For the final step, Guillaume withdrew rolls of fresh, puff pastry from the fridge and lightly floured them on the kitchen bench. He used a cutter to form bases before placing balls of the lamb mixture in the middle and topping them with puff pastry lids to finish.
The mini mouthfuls were utterly delicious and my favourite dish on the menu. They emerged from the oven with a crispy, golden outer and a juicy, succulent inner. I'm a fan of pies, but these are in a whole other league of their own. The shredded lamb was so tender, juicy and full of flavour, and against the crunch of the puff pastry, they were nothing short of perfection. I'll definitely be adding them to my Christmas party menu!
Cone of Yellow Fin Tuna, Shiso Vinegar, Apple and Avocado
Download or print the recipe for Guillaume's yellow fin tuna cones here.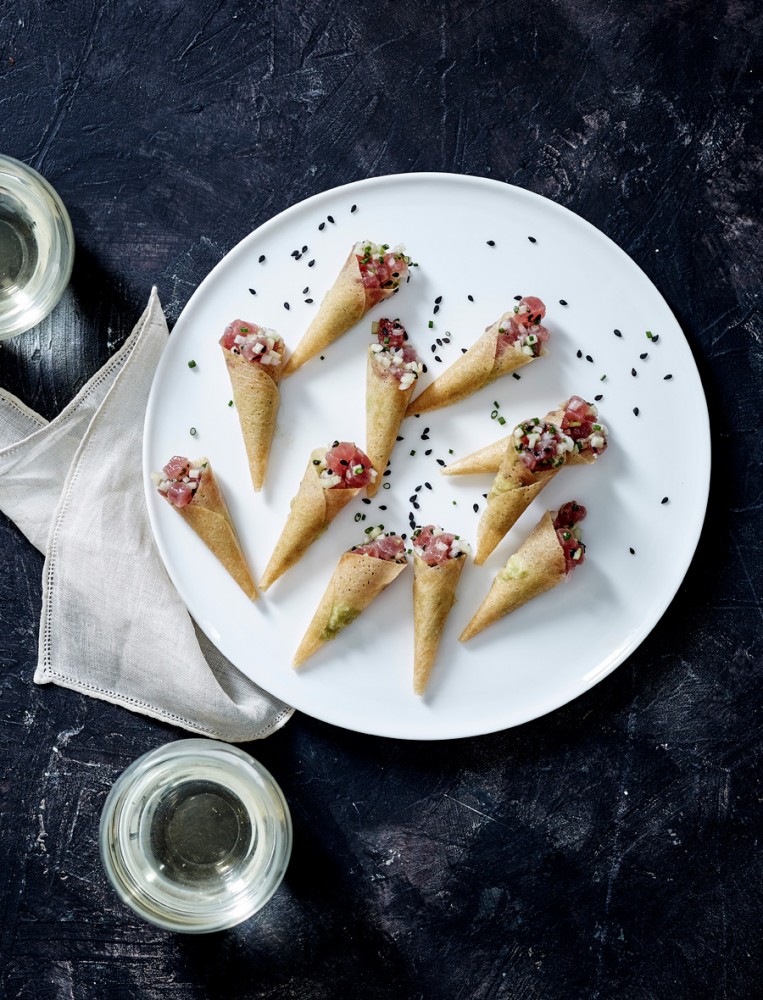 Guillaume's next dish was the most gourmet party finger food I'd ever had. Lightweight in size but loaded with flavour, these bite-sized cones were absolutely delicious and left me wanting more. This was the first time I'd ever tried raw tuna, and I was definitely not disappointed.
Holding up a giant slab of yellow fin tuna, Guillaume said the best quality tuna is wild, and that you can tell how fresh the fish is based on its depth of colour. This particular cut was a ripe watermelon red, and Guillaume used a large knife to dice it into small pieces.
To make the cones, he brushed brick pastry sheets with clarified butter, cut out discs which he rolled around pastry cones, and slid them into the oven for a few minutes. After an audience member inquired after the pastry he was using, Guillaume passed around the pastry bag for a closer look. Brick pastry is a Tunisian ingredient, and Guillaume proved that it was the best pastry for this dish because of its thin yet firm texture and excellent crunch.
Next, Guillaume prepared a quick avocado puree with Tabasco and lime juice. He then whisked together shiso vinegar with olive oil, and folded through a mixture of tuna, apple, eschalot, chives, shiso leaf and sesame seeds. While he mixed away, Guillaume revealed his favourite go-to vinaigrette, consisting of just three ingredients: shallots, grape seed oil and a touch of red wine vinegar.
When the cones had turned a lovely golden brown, Guillaume let them cool before filling them with avocado puree and the tuna mixture, topped with black sesame seeds. Although he made it look easy, there was a lot of effort and patience required to make these light, refreshing finger food, and it made the short-lived pleasure of eating them all the more worthwhile.
Duck Rillette, Foie Gras and Port Jelly
Download or print the recipe for Guillaume's duck rillette here.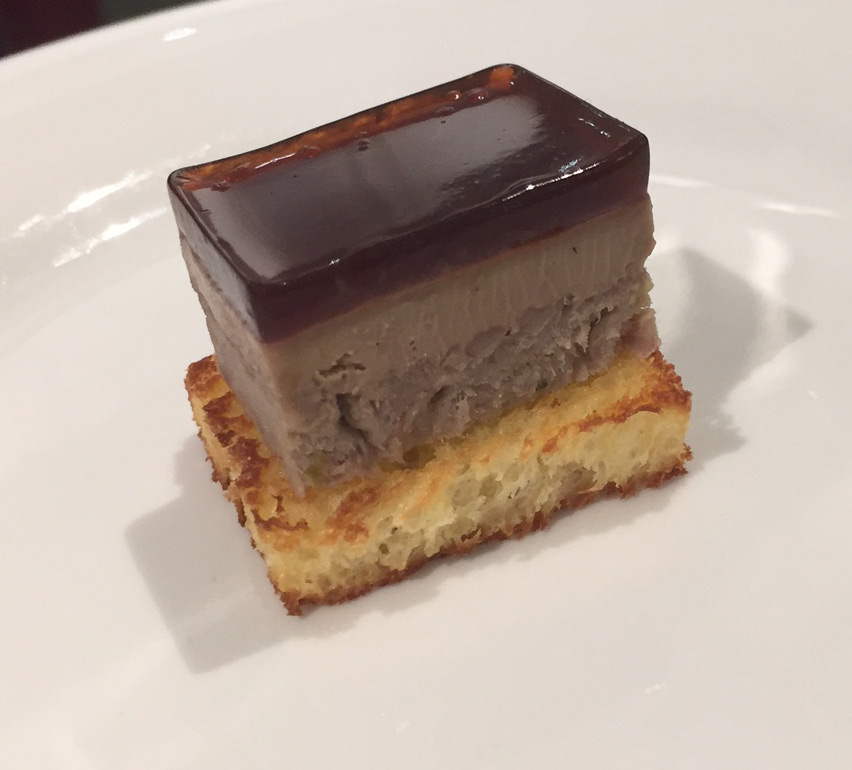 For his last dish, Guillaume chose duck, saying, "If you've got a duck in the house, it will end up in the kitchen."
Confit duck legs had been warmed in the oven, and now Guillaume shredded them roughly into a bowl, and added duck fat, cornichons, sherry vinegar and a splash of brandy. He placed the mixture into narrow, metal moulds and topped this with a layer of foie gras.
"Foie gras is a French tradition that shows respect for produce – you should have it only once a year. Refrigerate your duck rillettes and foie gras while you make your port jelly."
To make the port jelly, Guillaume soaked gelatine in cold water, brought port to a boil in a saucepan and then combined the two. He suggested using the strongest, platinum port for the jelly to achieve a rich and robust flavour profile. Guillaume carefully poured jelly over the rillette in the metal moulds and slid them into the fridge, swapping them for pre-prepared rillette which he sliced into small pieces and served atop of baked sourdough.
The dish had a similar texture to pâté, while the port jelly was a colourful addition that gave the dish its finishing touch. The crouton base cut through the gooey texture of the rillette and foie gras, and the combination of flavours and textures was definitely a winner.
Tools of the Trade
The Harvey Norman demonstration kitchen is equipped with the latest, innovative cooking appliances from the biggest brands, and Guillaume put them through their paces as he prepared his Christmas party finger foods.
There was plenty of room in the Fisher and Paykel 525L ActiveSmart Slide-in French Door Fridge for all of Guillaume's pre-prepared food. Trays of lamb pithiviers and duck rillettes, as well as large sheets of puff pastry all fit easily in the fridge thanks to flexible shelving and storage options. The flush-fit design created a seamless look in the kitchen, while the two-door design gave the chef quick and easy access to his ingredients.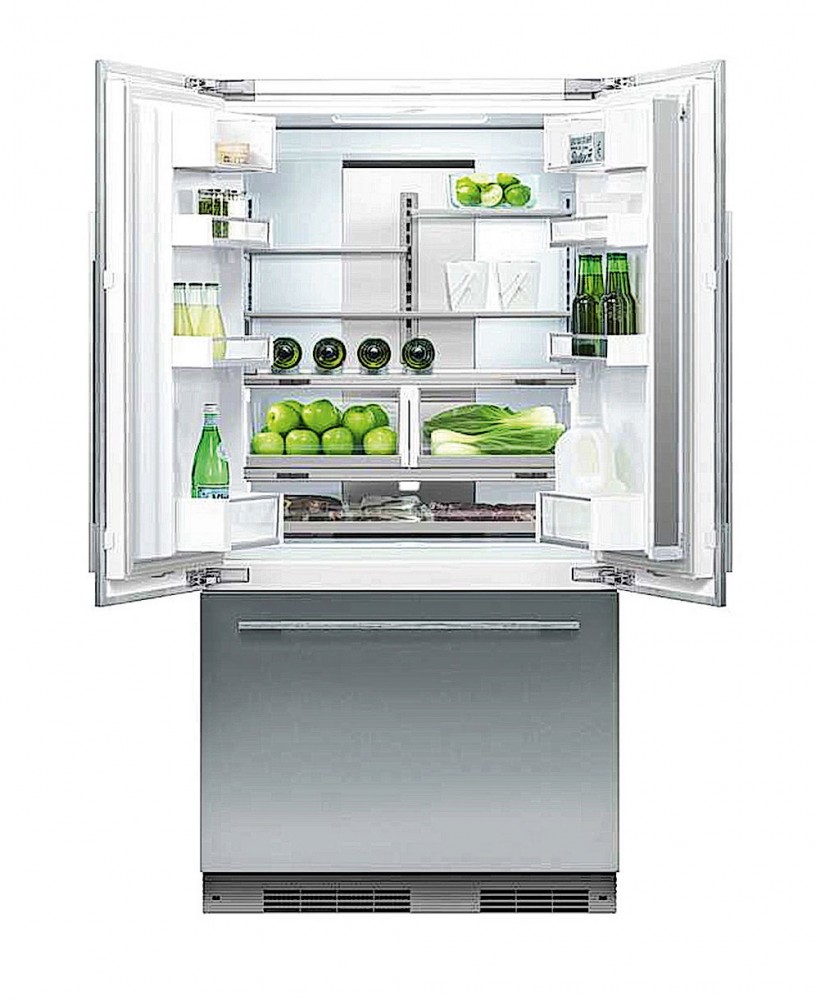 Guillaume used the Neil Perry Kitchen Gas Cooktop with a stainless steel and black glass finish to sauté the vegetables for his pithiviers, and to make his port jelly for the duck rillette. Made in Italy, the cooktop delivers precision heat control and high power fit for the needs of a chef. Tonight, it got the job done in no time at all with excellent results.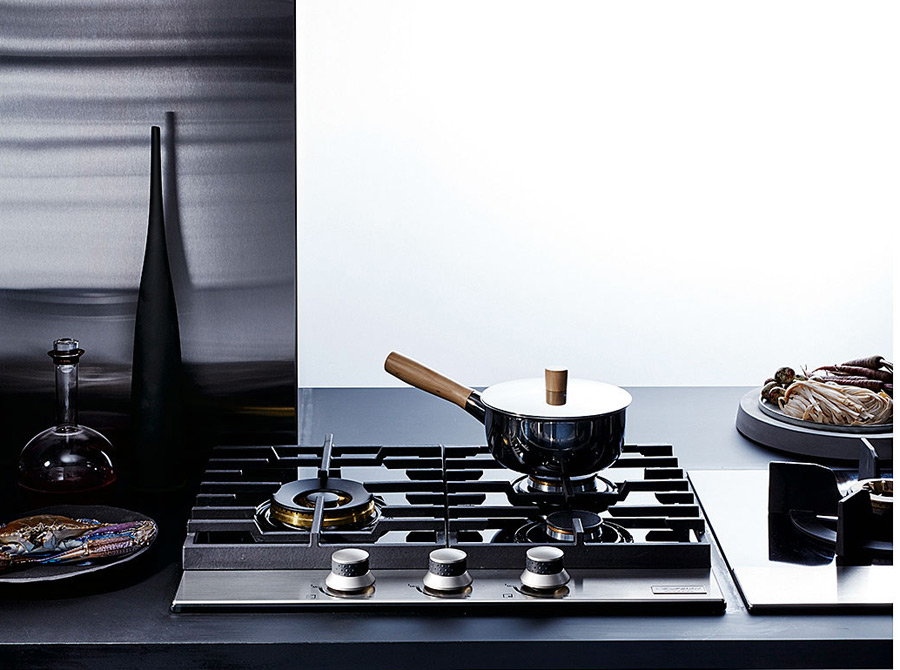 Last but certainly not least, the Miele Built-in Wall Oven impressed with its large capacity and Moisture Plus function, which uses bursts of steam to provide added moisture for optimum results. The braised lamb in the mini pithiviers was tender, falling off the bone and cooked to perfection, while the brick pastry cones emerged from the oven with a delightful crunch and golden brown finish.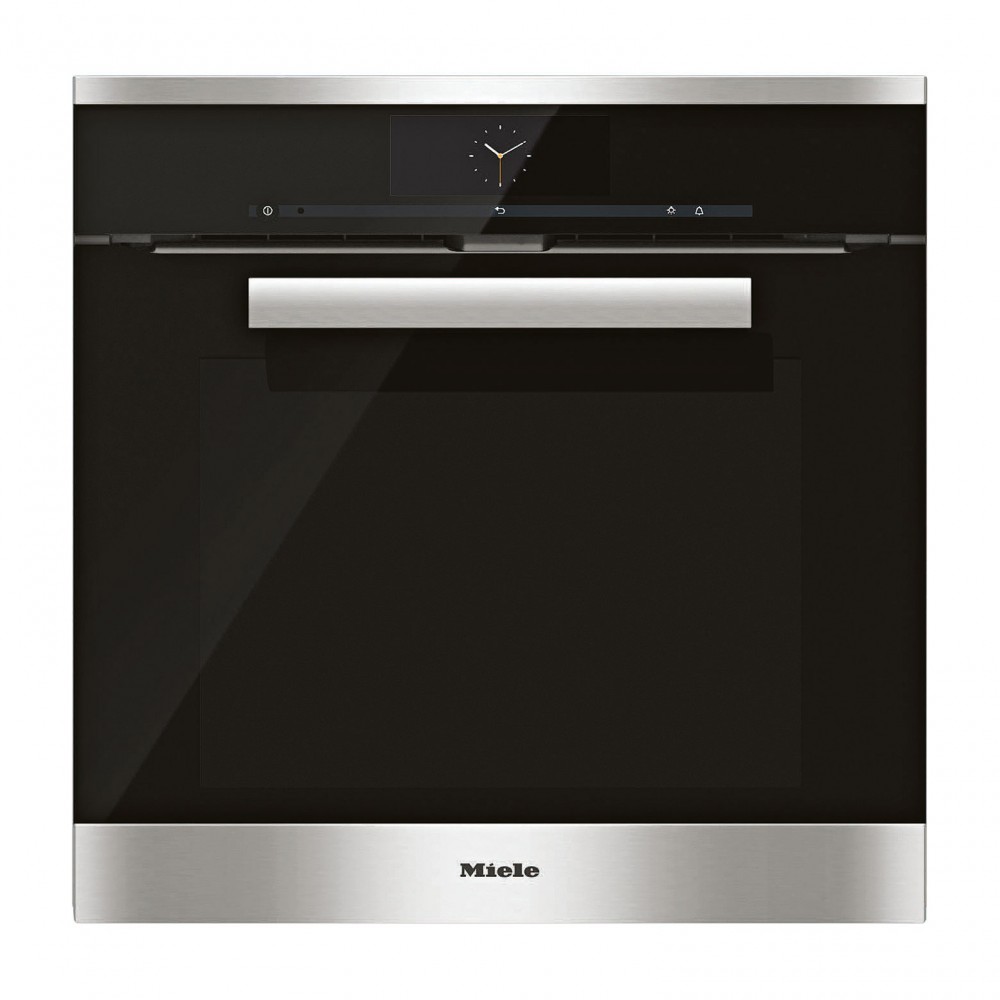 Feeling inspired to spruce up your Christmas party menu? Head to your local store or online to check out the latest, cutting-edge cooking appliances and discover what's in store for Gourmet Institute in 2018!