Analiese Gregory is known for pursuing great produce with passion and presenting it with flair, and all of those things were on display at the most recent Gourmet Institute 2017 event at Harvey Norman Alexandria. Each dish was delectably light, fresh and colourful – a sophisticated showcase of all the tastes and textures of spring.
Analiese is warm and relaxed in front of an audience, telling anecdotes about growing up on stir-fries and stroopwafels and her father's vol-au-vents shaped like New Zealand. Her recent move from Sydney's Bar Brosé to Hobart's Franklin had her enthusing about Tasmanian produce, delighting in the foraging opportunities and the 5am phone calls from fishermen to let her know what seafood ingredients she'll be working with that day.
"It's a trade-off," she explained, talking about the challenge of creating a menu based on available ingredients. "You lose that convenience, but what you do end up with is incredibly fresh."
The evening started with a casual pre-show demonstration featuring sous vide tips and tricks. We assembled in the sleek and modern Harvey Norman kitchen appliances centre and nibbled on smashed green pea and mint crostini with burrata and lemon anchovy crumb, balsamic glazed figs with prosciutto crudo and dolce latte gorgonzola, cured ocean trout with blood orange and ginger vinaigrette, braised lamb ribs with pomegranate glaze and fresh herbs, and spiced duck sausage rolls with quince chutney. These delicious canapés were accompanied by a choice of drinks from Naked Wines. Showcased this evening were the fruit-forward style of the Obelisk Wines Ded Reckoning Pinot Noir Chardonnay 2016, the unique floral notes of the Andevine Hilltops Shiraz Grenache 2016, and the crisp and fresh RT by Randal Tomich Adelaide Hills Chardonnay 2016.
Before we got into the main event, we sat down for a quick chat with Analiese about her international influences, gourmet toasted sandwich enthusiasm and plans for future menu additions.
First to the plate was Jersey milk ricotta with broad beans and artichokes – with the fascinating addition of the saltbush leaves Analiese had brought in her suitcase from Tasmania, where it grows wild all along the coast, because, in her words: "You never know where it might come in handy." Since her move to Tasmania, Analiese confessed that she has to stop herself from adding it, either deep-fried or roasted, to every dish.
She also described becoming excited about cheesemaking in a big way. Apparently there's something about the Tasmanian hills that calls for a truly great cheese, and Analiese wouldn't settle for less – a perfectionism dating back to her childhood as a picky eater – even if she has to make it herself. Another item baffling airport staff in her saltbush suitcase was a deliciously creamy homemade soft cheese with a distinctive aftertaste provided by foraged wild mushrooms. She's impatiently waiting for her harder cheeses to be ready, so Franklin patrons who are playing the long game have something to look forward to.
In the meantime, there's her light and fluffy ricotta – which Analiese likes best when it hasn't even seen the inside of a fridge, explaining that the most "Nonna" method is to just skim a bit out of the pot whenever it's needed. In response to an audience question, she also suggested half a dozen creative uses for the leftover whey, including to caramelise onions or as a replacement for buttermilk in muffin batter.
Download or print the recipe for Analiese's Jersey milk ricotta with broad beans and artichokes here.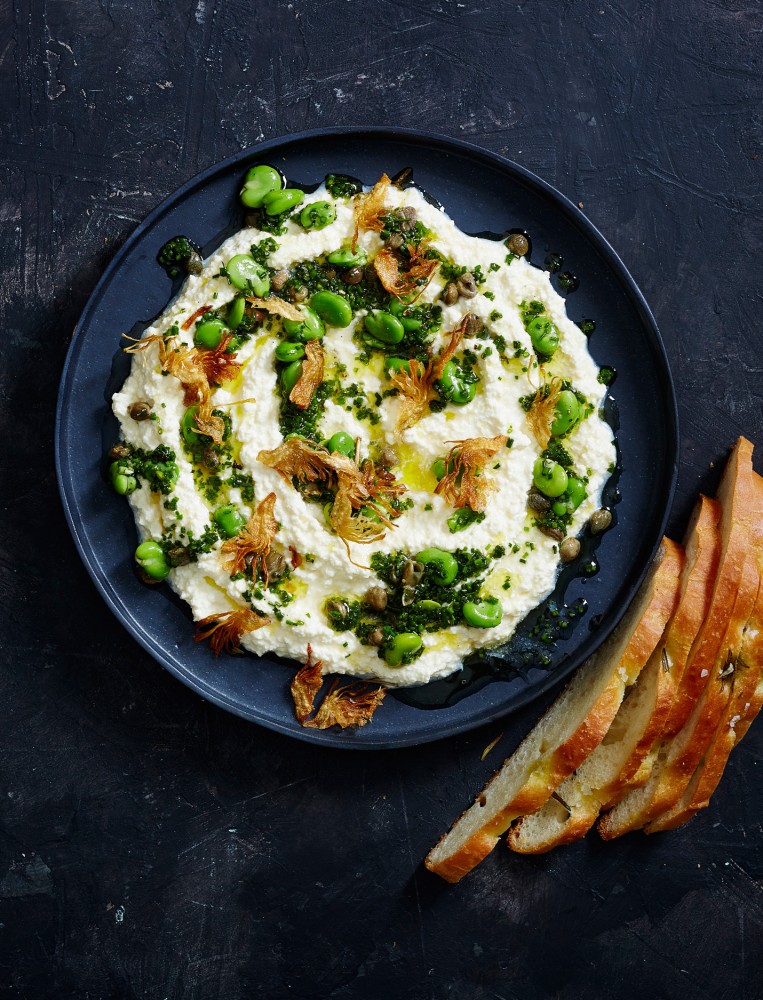 Next, we were served the star of the evening – gnocchi with spring vegetables and kombu butter. Analiese began with baked potatoes instead of boiled, and demonstrated how she scores the skins with a knife beforehand so they come apart easily straight out of the oven. She emphasised the importance of working with them while they're hot, to melt the parmesan and incorporate it as smoothly as possible. She also cautioned us to do as much as possible before adding the flour, explaining that once it's added it can be easy to overwork the dough.
With another nod to Nonna, Analiese confessed that she preferred rolling out the "potato snake" with her hands instead of a piping bag, before expertly chopping it up into gnocchi-sized pieces and rolling them down a fork to get those distinctive gnocchi grooves. I can attest that they achieved a fluffy-cloud texture that was perfectly complemented by the crunch of the sugar snap peas, which Analiese tasted and pronounced fresh and tasty enough to barely need cooking. The chef is adamant about adjusting recipes to suit the quality of the ingredients, and in this instance, sticking to the bare minimum absolutely enhanced the fresh feel of this dish. Between the light texture of the gnocchi, the delicate saltiness of the seaweed butter and the freshness of the greens, this plate-full of spring flavours was an absolute delight.
Download or print the recipe for Analiese's fresh spring gnocchi here.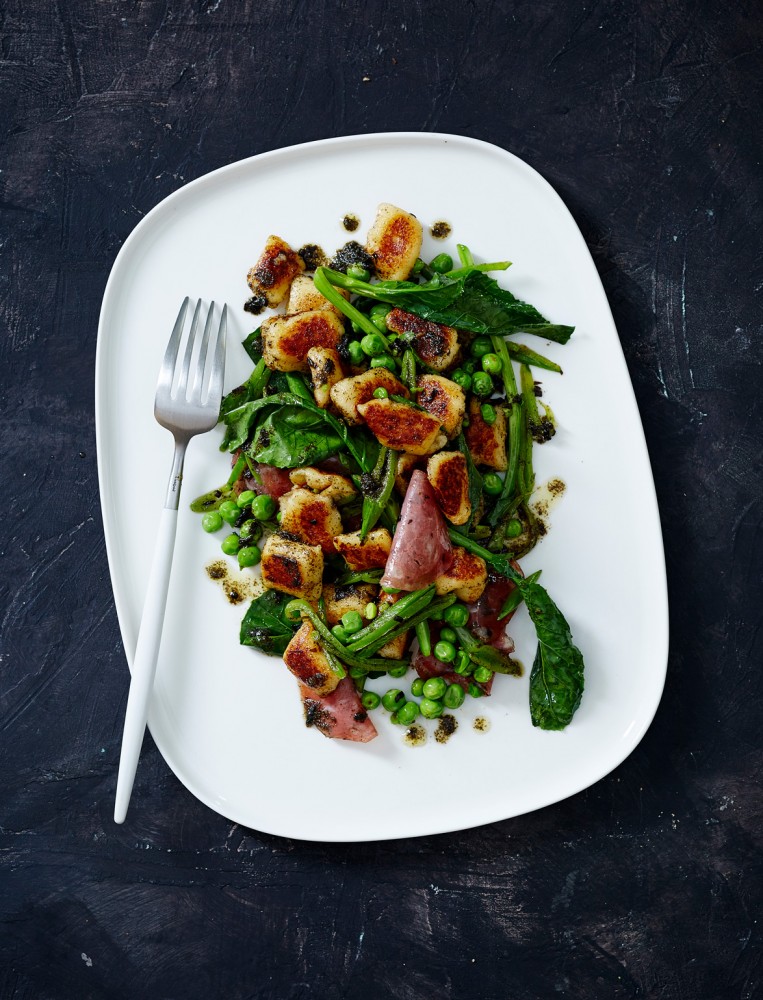 Tools of the Trade
In the sleek Harvey Norman demonstration kitchen, Analiese and her assistants brought the professional vibe with half a dozen things on the go at once. For most of the night, Analiese worked over the sleek black glass of the Neil Perry Kitchen by Omega 60cm Gas on Glass Cooktop, moving to the Neil Perry Kitchen by Omega 45cm Gas Wok Burner Cooktop for high-heat pursuits like browning the gnocchi or deep-frying the saltbush. Both feature sturdy, flat iron trivets, precision heat control and electric ignition for a smooth cooking experience.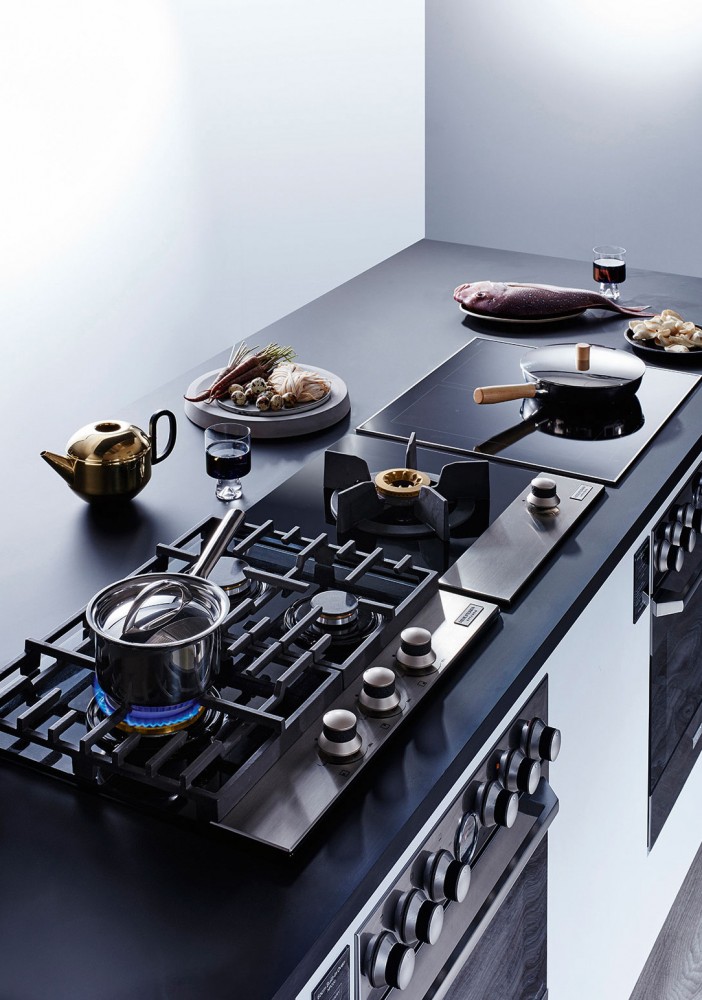 If you're after a kitchen upgrade, check out the full range of kitchen appliances online or visit your local store to talk to our expert staff.
And if you've been inspired to sample the Gourmet Institute experience for yourself, find out which chef and what delicious recipes are coming up next here.
Still hungry for more? View more chef recipes from our previous Gourmet Institute events. There's David Thompson, Colin Fassnidge and Paul Carmichael for you to devour.