If you're a passionate foodie or simply cannot resist an invitation to try tasty food, the Gourmet Institute at Harvey Norman is the place to be. Being the latter, I jumped at the chance to see a cooking demonstration themed Super Salads for an eager audience of gourmands by Chef and Director of two-hatted Biota Dining & Rooms in NSW Bowral, James Viles.
I arrived at Harvey Norman Alexandria nice and early with my foodie friend and we eagerly accepted a glass of Obelisk Wines Ded Reckoning Pinot Noir Chardonnay 2016, courtesy of Naked Wines. The fresh flavour of zesty strawberries was just what I needed to start the evening. Other available wines included My Other Self Chardonnay 2016 with stonefruit, grapefruit and cashew aromas, and the Andevine Hilltops Shiraz Grenache 2016, offering a more floral and red-fleshed fruit flavour.
We were soon called to assemble in the modern Harvey Norman kitchen and were treated to a quick pre-show kitchen appliance demonstration. While we watched the demonstration, we were offered a range of canapés including braised wagyu brisket and truffle pithivier, organic chicken sandwich and fig and prosciutto pizzetta, to name a few. I was loving the food experience already!
Now a bit about the star of the night. Chef James Viles started his career in the kitchen at the very young age of 12, polishing cutlery. His first job as a chef was at The Schoolhouse in the Southern Highlands, his home base. It didn't take long for James' talents to be recognised and at just 23, James was awarded a Sydney Morning Herald Chef's Hat, the first of many he would receive.
Before the main event, we had a quick chat with James about his inspiration, travels and quest for the best ingredients.
Having worked overseas with some of the world's best chefs including two-star Michelin Chef Hans, we asked James why he chose Bowral to set up his restaurant (knowing he could've had any location). James coolly replied: "I need to get dirty, I need to be out in my garden, that's not possible in the city."
Known for his commitment towards sustainability and imaginative modern food, James quickly set the tone of the night with his love for fresh ingredients. The fresher, the better. Even if you have to source the ingredients yourself as James did in a helicopter at one point, the end product is worth the effort.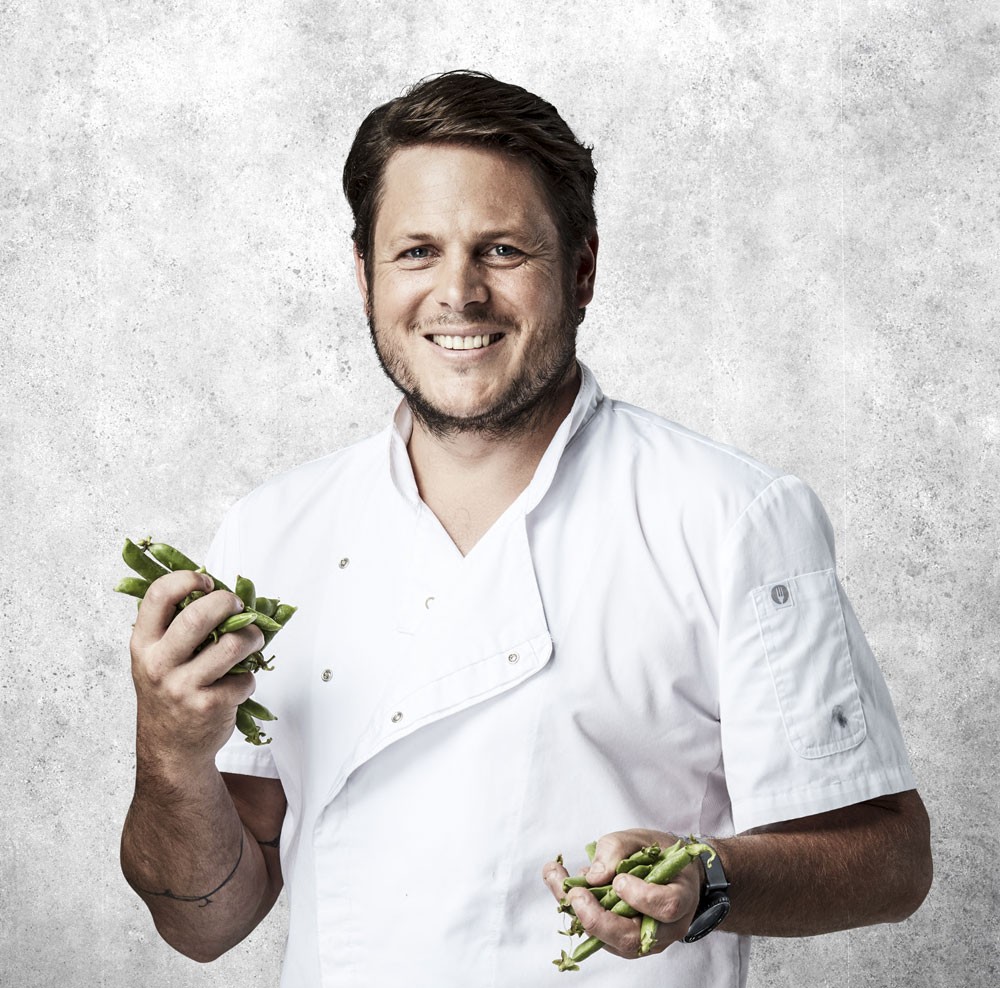 Smokin' Kingfish With Irresistible White Peaches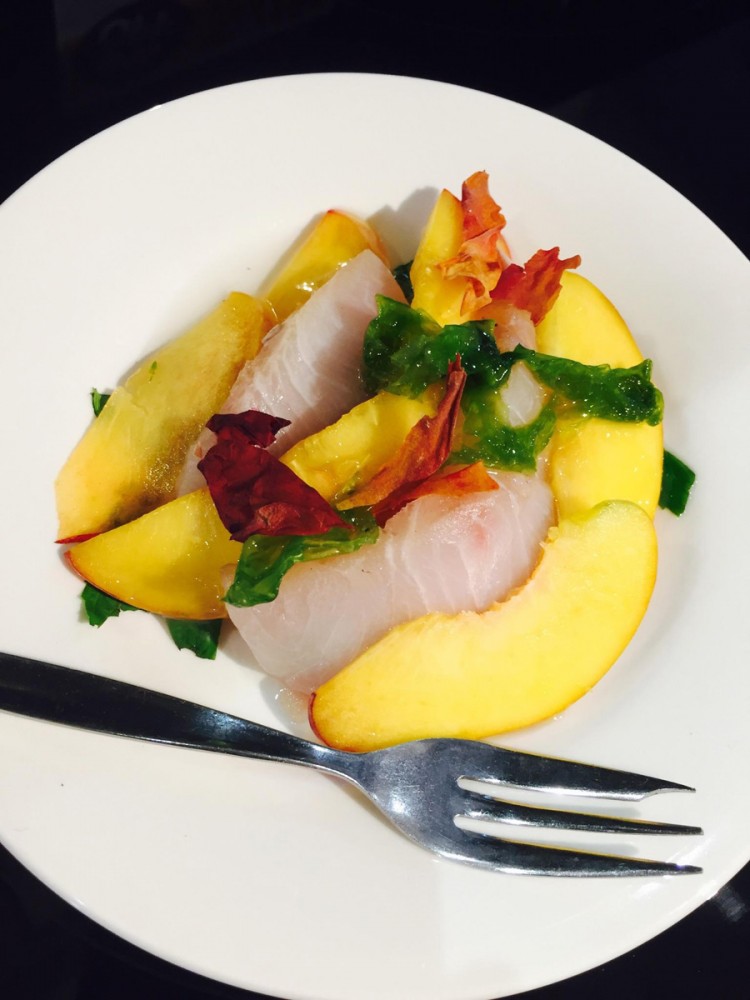 Download or print James Viles' recipes:
White Peach – Mint and Smoked Kingfish Salad with a Dressing of Fried Bones.
The opening recipe of the night was White Peach – Mint and Smoked Kingfish Salad with a Dressing of Fried Bones.
I am not a salad connoisseur, nor am I familiar with exotic salad recipes, but even my foodie friend was curious about the combined flavours of fish and peaches.
As James started to prepare the stock for the dish, he advised that any fish could be used in this recipe, not just kingfish, just as long as 'it's oily'. We watched in anticipation as James smoked the kingfish over the Neil Perry Kitchen Gas Wok Burner Cooktop, and in just a matter of minutes, we could smell the flavours.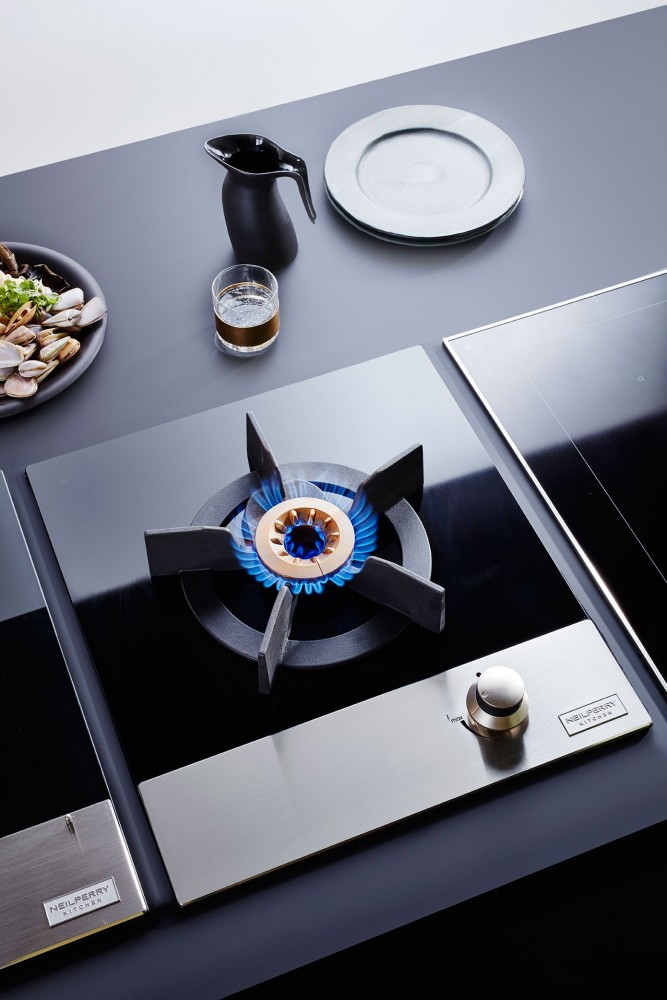 As the smoky flavours permeated the room, James introduced his concept of creating a 'flavourtown' with cooking. James let us in on a little tip to intensify the flavours from the kingfish: "Wrap it in a Chux, so it can breathe, and put it in the fridge for a day."
The great thing about this stock dressing is that it keeps well (up to 2 months) so you can use it in a range of recipes. But don't wash the fish. To James, washing fish washes the flavours away. I certainly will have to change my approach to fish, imagine all the flavours I've been missing!
We were then shown the art of cutting fish. James sliced a little part of the skin from the fish flesh and skilfully created a little hole for his finger, he then pulled the skin off in one swift motion.
Plating up the dish, James started with a secret-but-not-so-secret ingredient – taramasalata – and added the peaches, mint leaves and here's a surprise – seaweed. Water spinach is listed in the recipe, but James encourages his audience to try deep sea diving and go on the hunt for fresh seaweed as it makes a huge difference to the taste of the dish. Or for us ordinary folk, it can be found in Asian grocery stores or even online. But according to James, the key is freshness. The dish certainly delivered on freshness and more so on flavour! My doubts over the combination of fish, peaches and seaweed were wiped clean just like my plate.
Peas, Pea Puree & Grapefruit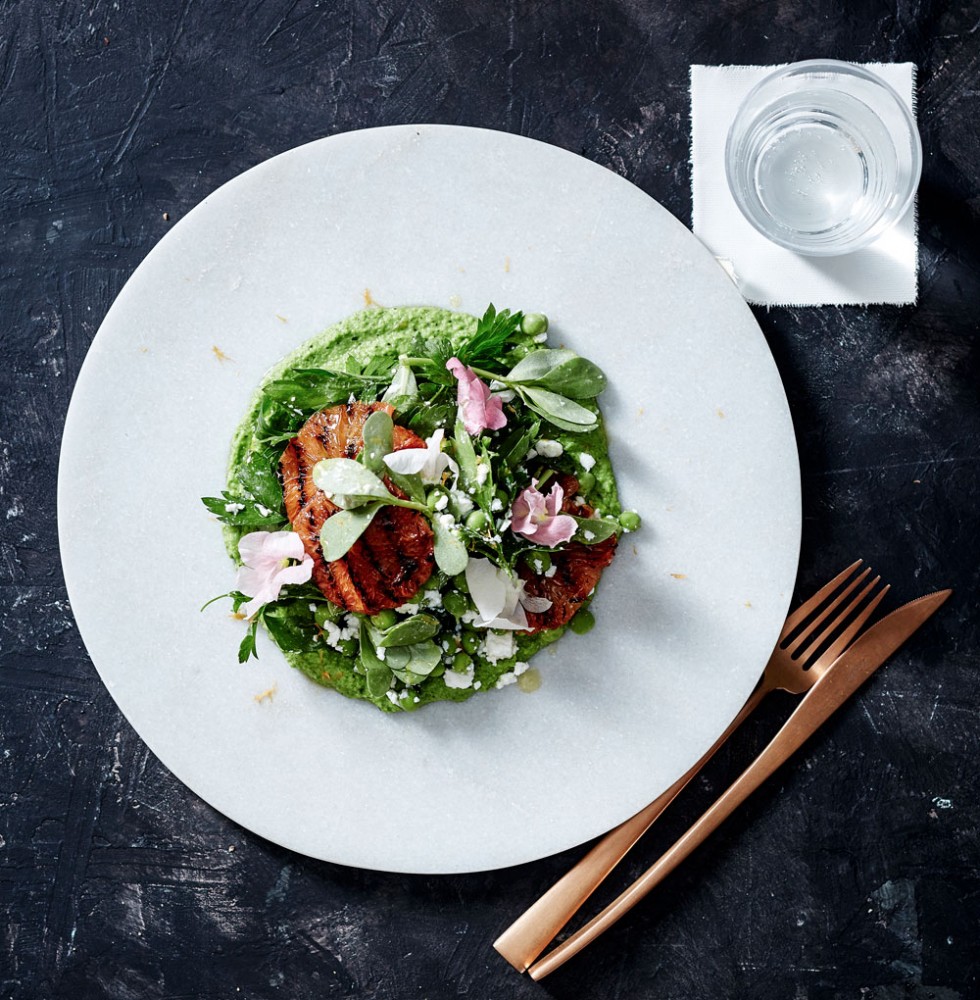 Download or print James Viles' recipes:
Young Raw Peas, Sheep's Milk Feta, Grilled Grapefruit and Purslane.
His two skilled apprentices served up the Kingfish as James started his next dish, Young Raw Peas, Sheep's Milk Feta, Grilled Grapefruit and Purslane. He casually cut a grapefruit and placed it on top of the Neil Perry Kitchen Gas Cooktop. Next minute, we had charred grapefruit. For James, it's all about instant results and time efficiency. The gas cooktop from Neil Perry definitely delivered. As James turned over the grapefruit, we saw that it looked deliciously caramelised.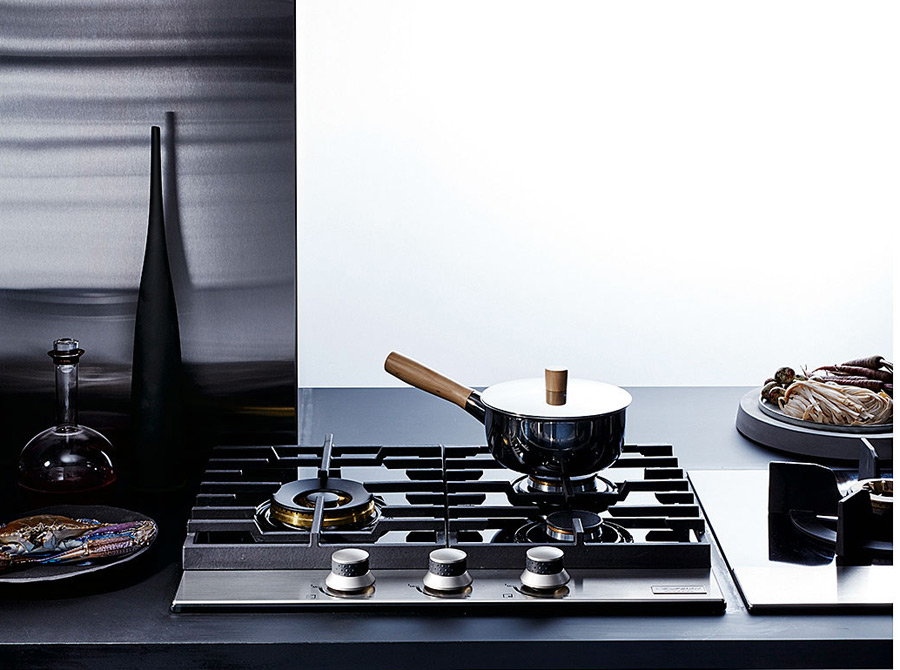 The final critical ingredient was peas and, interestingly, sweet pea flowers. Of course, James only uses the freshest ingredients and told the Gourmet Institute audience to never use frozen peas in preparation. In fact, each pea was plucked by hand and can be eaten as is. The ingredients combined perfectly and complemented each other to produce a delicious dish.
Chicken & Lentils With A Chilli Kick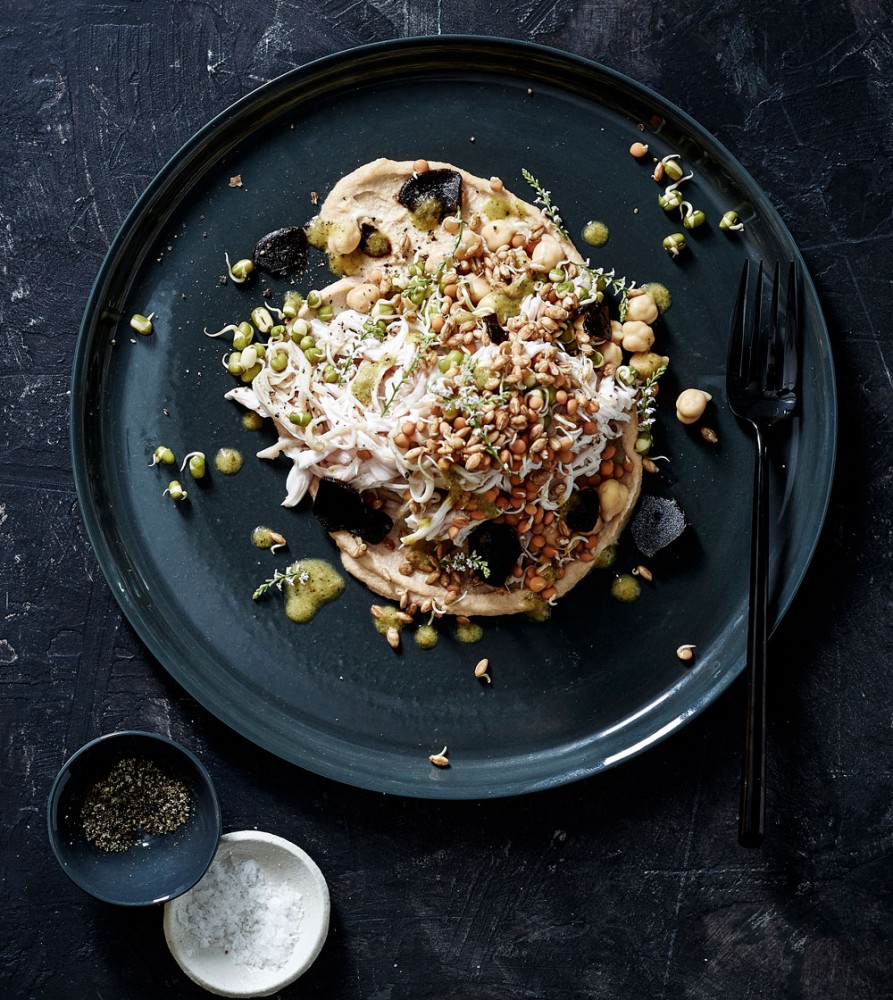 Download or print James Viles' recipes:
Salad of White Cut Chicken, Padron Chillies, Macadamia Crème and Sprouted Legumes.
For the finale, James whipped up a Salad of White Cut Chicken, Padron Chillies, Macadamia Crème and Sprouted Legumes. Let me just say, the first thing I saw James grab out of the Fisher and Paykel 525L ActiveSmart Slide-in French Door Fridge was a whole chicken and it was yellow! The surprise in the audience was evident. James explained: "this is a chicken that has been fed on grains and pastures". He promised the intense flavour of such a chicken would be apparent straightaway.
We watched as James poached the chicken in a large saucepan and then char-grilled the green chillies over a metal grill on the gas cooktop. Then we saw macadamia nuts come out of the Miele Built-in Wall Oven, nicely roasted and aromatic. The nuts were then blended with salt and water. James advised they could last up to 2 weeks.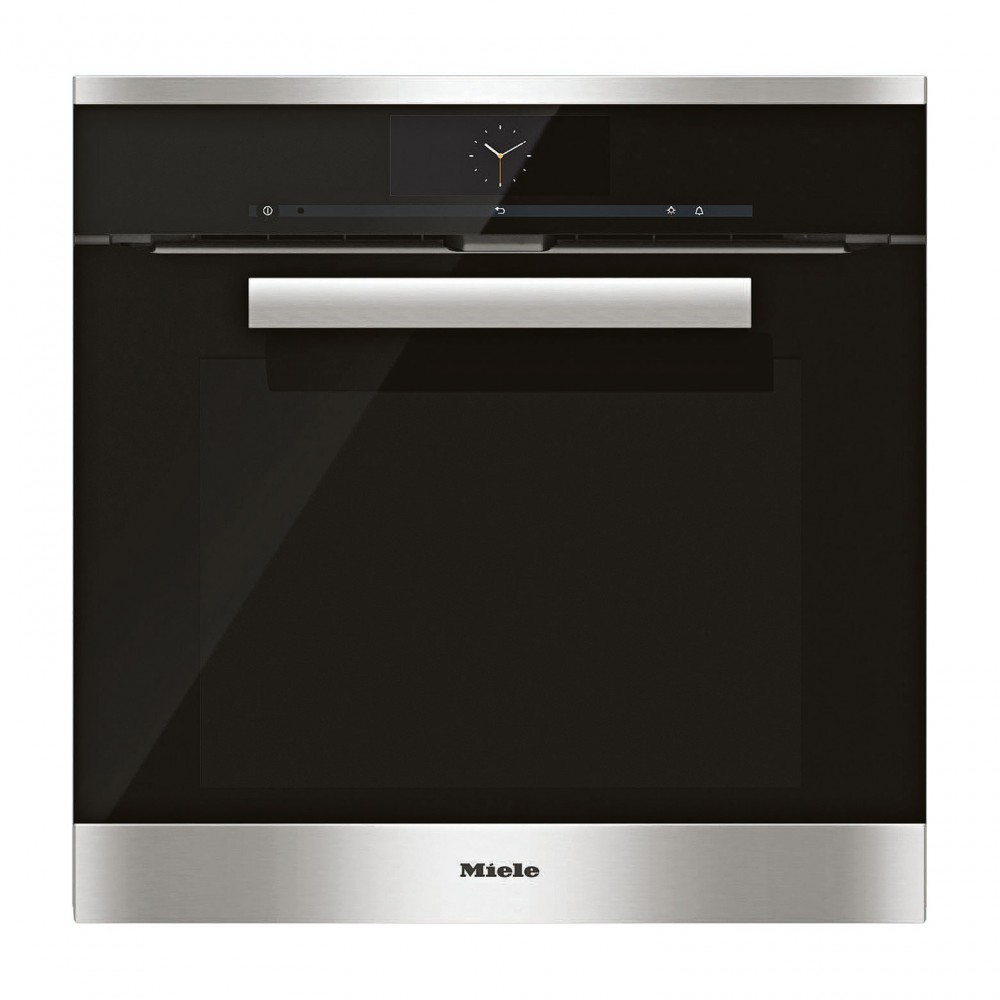 To keep the chicken a consistent colour before shredding James dipped it an ice bath. A generous quantity of ice is swiftly retrieved from the Slide-in French Door Fridge by Fisher & Paykel and placed into a giant bowl. In fact, the spacious configuration of the fridge allowed the chef and his apprentices to arrange and easily access the fresh ingredients throughout the night.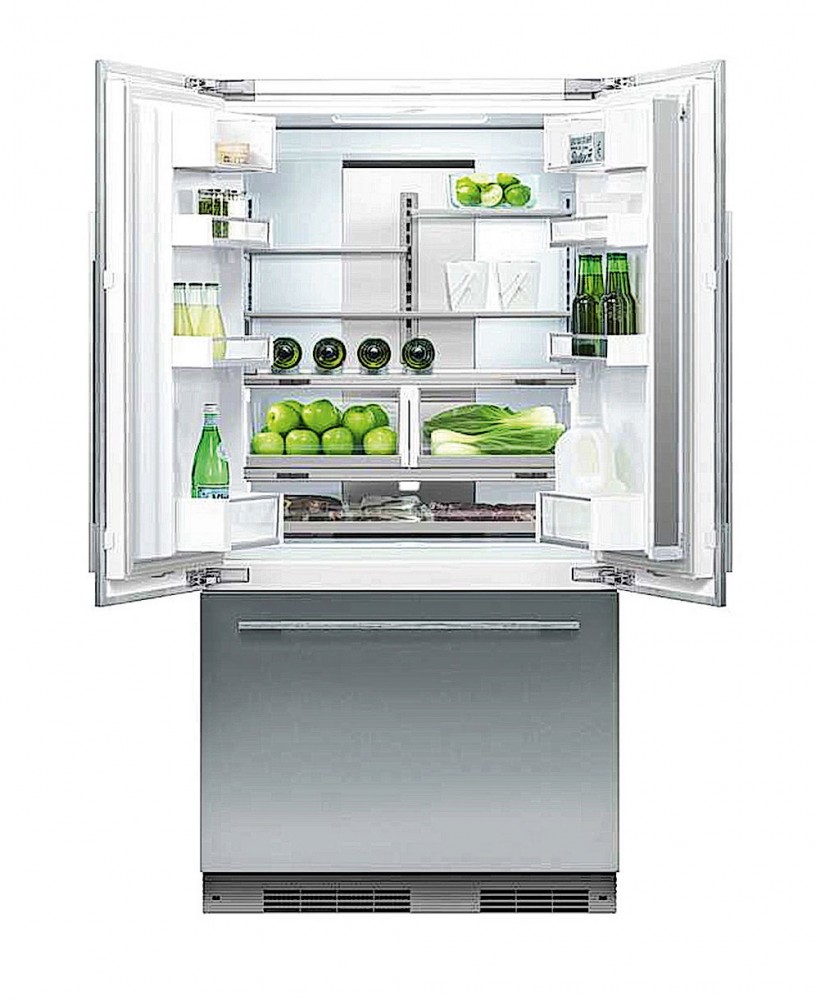 The taste was amazing. The flavour of the chicken was most notable, juicy and just the right texture. Adding chilli paste to the mix for a spicy kick, I was in heaven.
So apart from fulfilling my love for delicious cuisine, what did I learn from this experience? I've been doing my salads all wrong! For a delicious super salad; fish should not be washed, grapefruit must be char-grilled over the cooktop and chicken should be grain and pasture fed.
If you're keen to experience an evening of delicious food, cooking tips and a demonstration from Australia's finest chefs, check out the details of the next Gourmet Institute event here.
For you foodies out there, you can also check out the latest food trends and top restaurants with the Gourmet Traveller.
Thinking of updating your kitchen appliances? View the great range available at Harvey Norman online or visit your local store today.
Hungry for more recipes? Check out the past Gourmet Institute blogs here.