The Gourmet Institute is back for 2017, and it was a pleasure to attend the first event for the year recently at Harvey Norman  Alexandria. I've been lucky enough to attend a number of these events in the last few years, and each one has left an impression. Whether it's new techniques to use in the kitchen, new flavours to add to my repertoire, insight into different cultures or a look behind the curtain into the world of professional cooking, I'm always come away from the events feeling inspired and reinvigorated to try something new in the kitchen.
I've long had a love for Thai cuisine. Growing up, when my family would go out for dinner and we needed to decide what we wanted, our first choice would usually be our favourite local Thai restaurant. With so many flavours and styles of dishes on offer, there was truly something for everyone in the family. We'd all have our go-to favourites: Dad and I would opt for a curry with a bit of zing, Mum would go straight for a stir-fry or noodle dish, and my sister found it hard to go past the classic peanut satay beef. But mixed amongst those classic there would always be something different to try. Whatever we chose, we knew we were in for a meal that would tantalise the senses.
With all of that in mind, I was very excited to be able to learn some tips and insights from a true master of the art. More than just a master chef, David Thompson can rightly be considered an Ambassador for the culinary delights of Thailand. Having won Michelin stars in London, scored the top spot in Asia's 50 Best Restaurants with his flagship eatery Nahm in Bangkok, and now bringing the taste of Thai street food to his Long Chim eateries in Singapore, Perth, Sydney and Melbourne, any claims I can make about his knowledge and experience would just come across as obvious understatements. Regardless to say, I was looking forward to having my horizons broadened.
Before the event, David sat down with us for a quick chat:
David spoke passionately about the Thai people and their relaxed approach to living that has left him entirely beguiled and besotted. It's an approach to food that possesses great discipline and humanity, with a culinary heritage that shines through in the daily lives of the Thai people.
"There's a wide repertoire and an extensive tradition to Thai cuisine, with skills that have been inherited from generations past," said David. Food is integral to Thailand, with street food especially serving as a very democratic way of eating.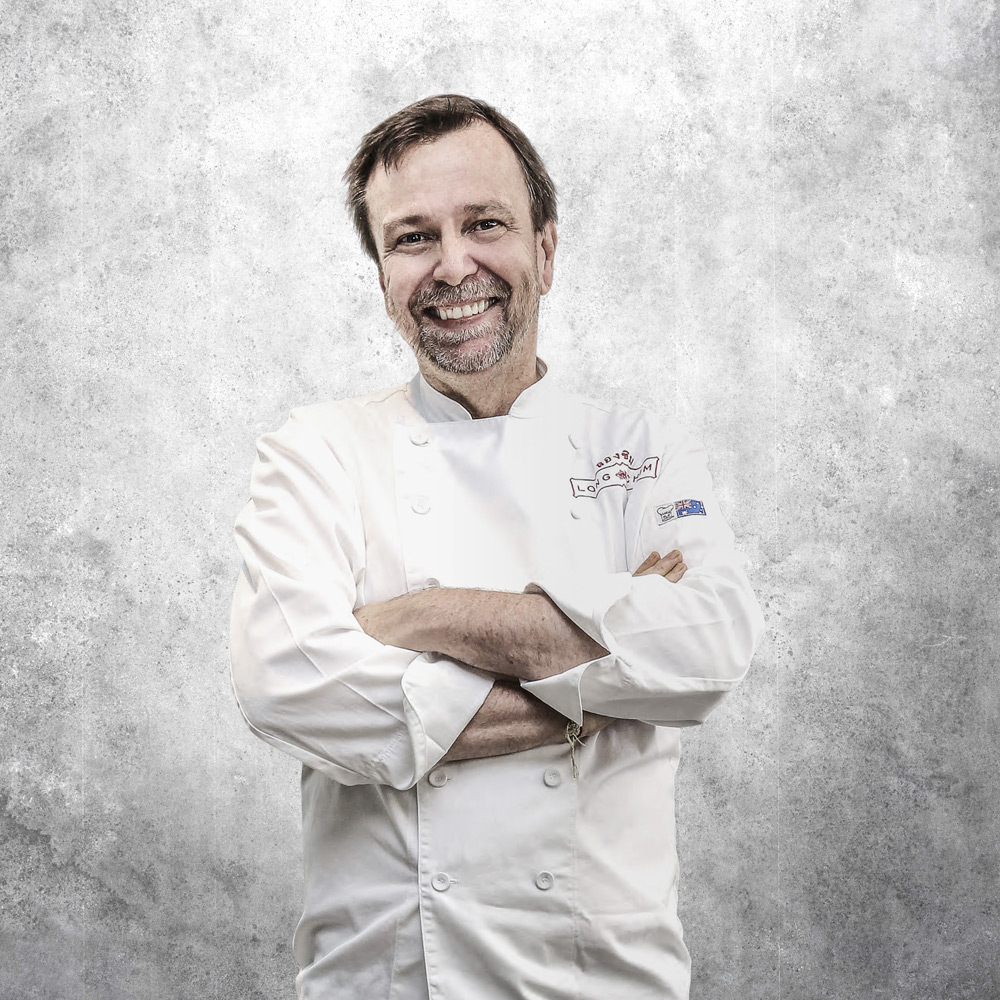 Another delight of the evening was David's deliciously dry sense of humour, which provided for some great banter between himself and the host for the evening, Pat Nourse, the Managing Editor of Gourmet Traveller. Their rapport added greatly to the atmosphere of the evening, and further reflected the Thai perspective that life is meant to be laughed at.
Upon arrival we were treated to a range of tasty canapés that tied in with the theme of the night – deep-fried spanner crab cakes with sweet chilli and cucumber, charred baby corn with ginger and coriander, and red curry duck pithivier. Naked Wines were in charge of the drinks for the evening, with the Rod Easthope Hawkes Bay Pinot Gris 2016 being a favourite of mine. Possessing ripe pear and heady rose petal notes with a dusting of cinnamon and wild fennel, this complex array of characters made this wine truly something special – and perfectly paired with the Thai cuisine on offer. Also circulating on the night were an Andevine Hilltops Shiraz Grenache 2016, which offered notes of floral red fruits with a toasty oak influence, as well as an Obelisk Wines Ded Reckoning Pinot Noir Chardonnay 2016 with a sherbetty fruit palate.
The dishes David prepared that evening were designed to be indicative of Thai home cooking, with the dishes chosen for their ease and simplicity.
"Thai home cooking is all about taste, and not the affectation of presentation" said David, acknowledging that these meals should be easy, casual and accessible.
Our first dish for the evening was prawns baked with vermicelli noodles. The taste of this dish was incredible, with the various spices and flavours combining into something greater than the sum of its parts that tasted quintessentially Thai. David told us that this dish can be easily customised to suit our personal taste and the ingredients available to us, because not all of us will have home-made pork fat available to use with the same vicious abandon as David. It was interesting to learn David's technique for preparing the prawns – delicately slicing down the spine of the shell in order to deveins the prawns while leaving the rest of the shell intact so it can be closed in again in order to keep the meat moist during cooking. This gives a more tender result and intense flavour, which was immediately evident when it came time for us in the audience to taste this delectable dish.  I'd never seen this technique before, and while it may take me a few goes to master, it's something I look forward to trying in the future.
Download or print the recipe by clicking here.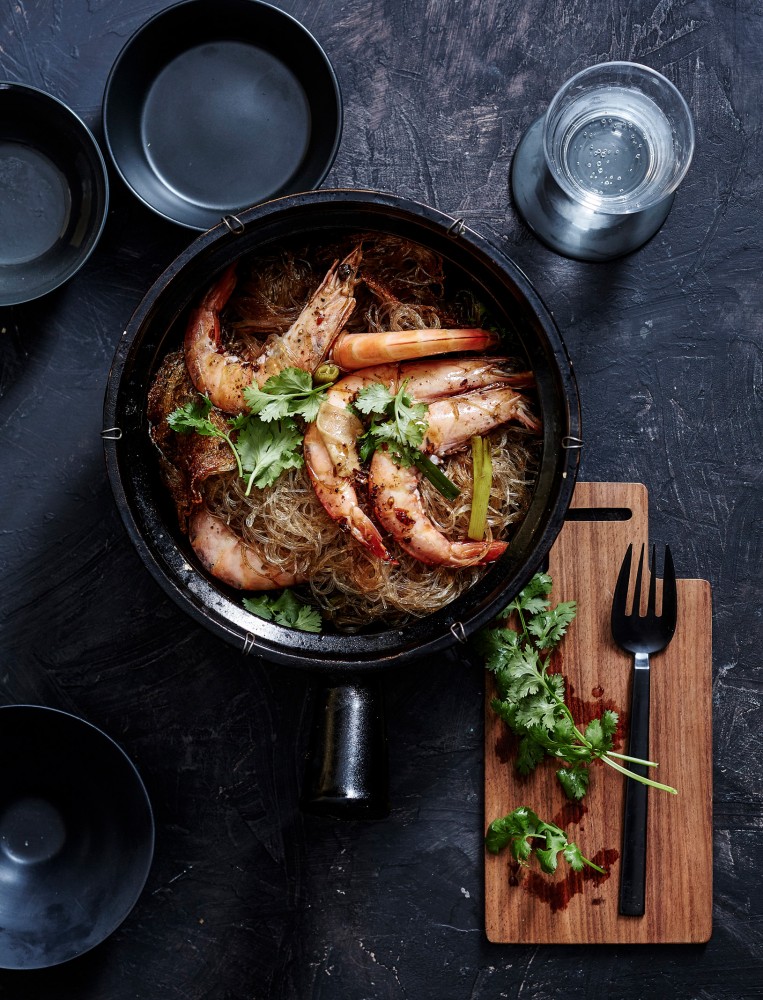 The final dish that David and his assistants prepared for us was chicken stir-fried with red curry and holy basil on a bed of rice. The bone-in chicken pieces were stir-fried in a wok until coloured, before garlic and chilli paste were added with the combined ingredients fried until golden brown. A mouth-watering aroma filled the room, and we all wanted intently as this dish came together. Curry paste and other ingredients were added and then this cocktail of flavours was simmered until reduced – leaving a thick, rich spicy sauce. Anticipation had built to a crescendo when the dish was served, and it was at this moment that I regretted sitting towards the back of the room – meaning I'd have to wait that little bit longer to taste it myself. Some in the audience found this dish to be quite hot, needing to order another round of water to get through it, but I found it to have more of a 'hard tang' on my palette, with the aftertaste providing a nice amount of heat that let the flavours linger just that little bit longer.
Download or print the recipe by clicking here.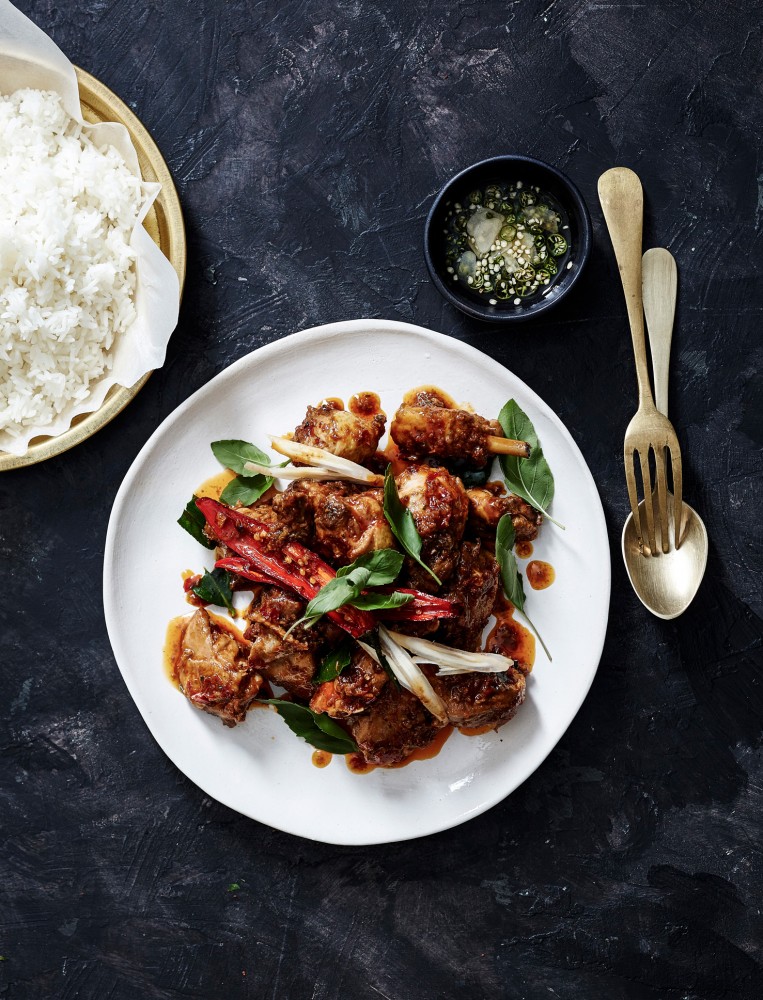 Tools of the Trade
Seeing the leading chefs in the country at work is always a highlight of these events, and watching David Thompson weave his magic using the appliances in our new demonstration kitchen was a pleasure. The Miele Built-in Wall Oven was just the ticket for David's baked prawns, providing the right amount of controlled heat to ensure that the prawns were pink and cooked while the noodles were finished off nicely. Before baking in the oven, the noodles that had been marinating overnight were seared alongside the prawns on the Neil Perry Kitchen Gas Cooktop until sizzling and coloured.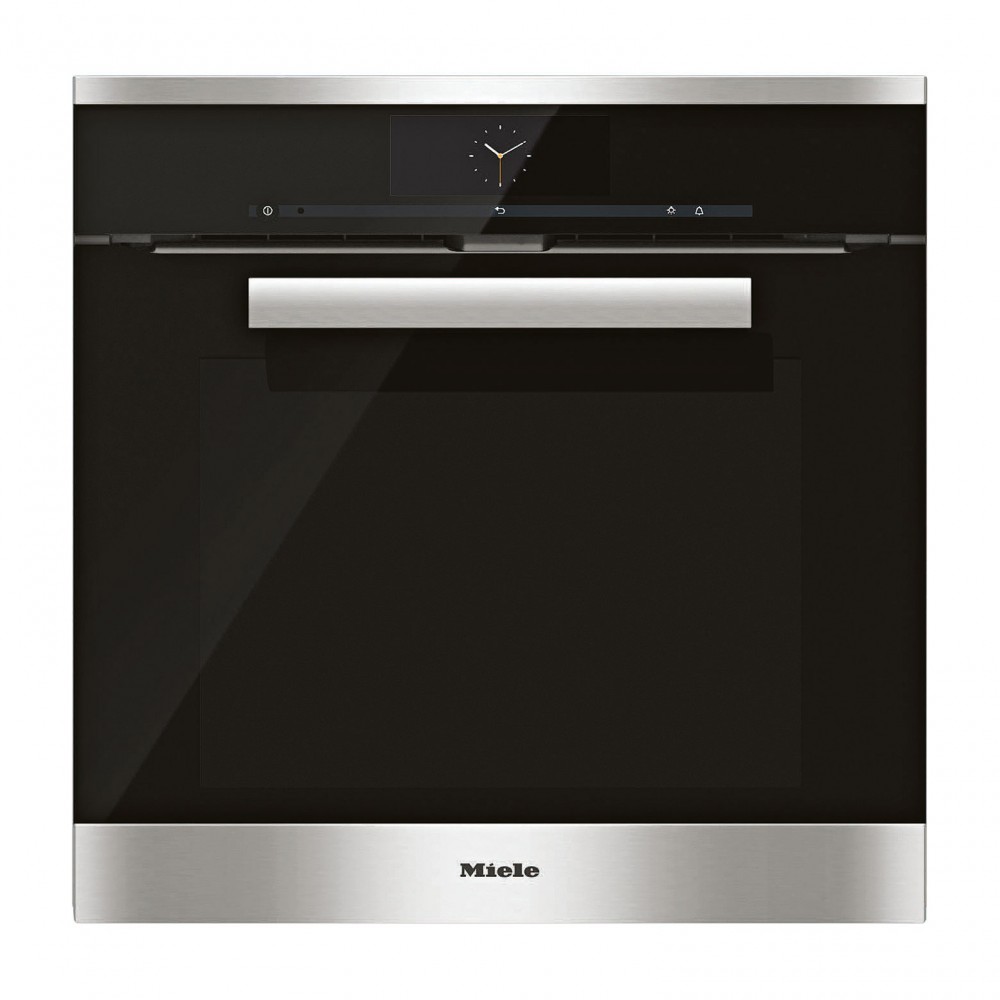 To cook his stir-fried chicken David utilised the Neil Perry Kitchen Gas Wok Burner Cooktop, which was ideal for reaching the high heat needed to get the perfect colouring on his stir-fried chicken. This commercial-quality appliance provides the fast heat and precise cooking control needed for Asian-inspired cuisine.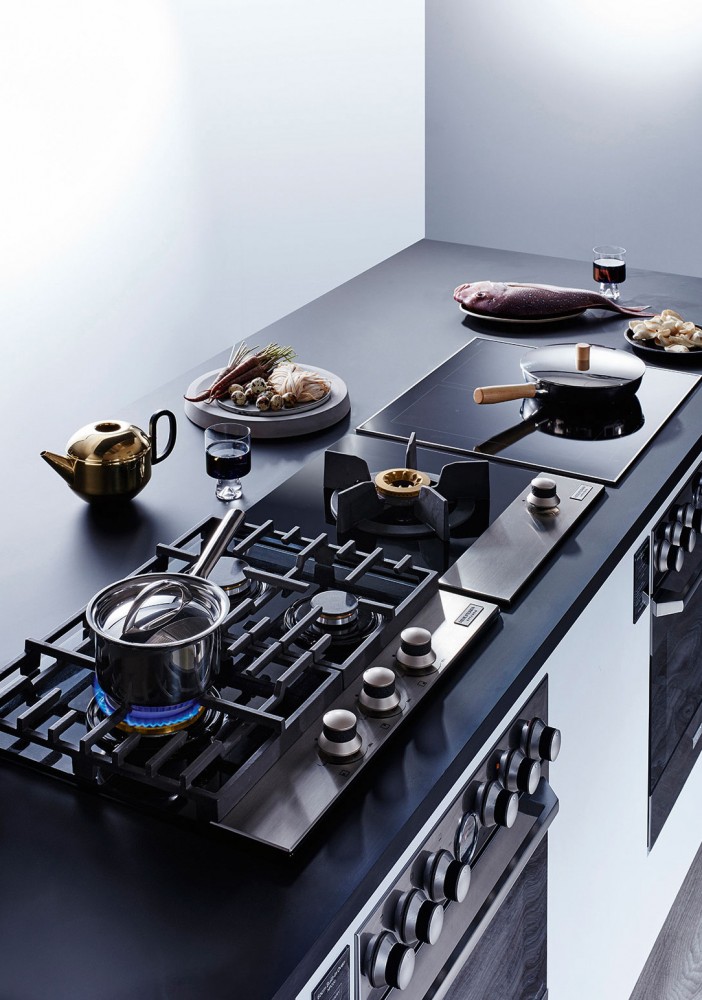 You can browse our innovative range of cooking products online or head into your local  Harvey Norman store where our friendly and knowledgeable staff can help you find the appliance that's right for your kitchen and your cooking style.
Hungry for more? Learn about this year's exciting Gourmet Institute events featuring Australia's most talented chefs!