You'd be hard-pressed to find anyone in Australia who takes their burgers more seriously, and has greater perspective on this tastiest of topics, than Dan Hong. The man who became a chef at the suggestion of his mother and now heads, among other Sydney eateries, the hugely popular Mr Wong Chinese restaurant, is incredibly passionate about — some may even say obsessed by — the seemingly simple burger. He even admitted to indulging in a McDonald's triple cheeseburger on the actual day of his Gourmet Institute master class.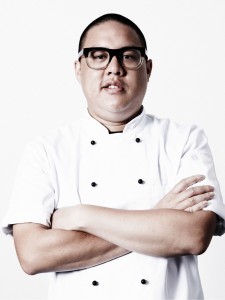 Harvey Norman @ Domayne in Alexandria, NSW, was abuzz on Wednesday 30th July, 2014 as Dan demonstrated how easy it is to cook a good burger at home, sharing some of his tricks and secrets along the way: "The number one mistake that most people make when they're making burgers is that they season the (mince) meat. It's a massive no-no!"
Dan worked his magic using the in-house steam ovens, Kenwood MG700 Meat Grinder and Breville The Smart Fryer. The burger boss whipped up a Korean fried chicken burger with Kimchi and Gochujang mayonnaise as well as his take on the perfect burger, the Lotus burger with Japanese mayonnaise and caramelised onions. So pleased with the finished product was he, Dan even took a photo and posted it on Instagram!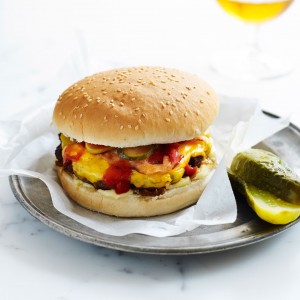 While the crowd tucked into his culinary creations, Dan answered some saucy questions we dished up:
Harvey Norman: What is the best advice you've received while working in the industry?
Dan Hong: To always taste everything; it may seem very simple but as chefs we don't do it enough.
HN: Do you remember the first time you ate a REALLY great burger?
DH: It would have to be the first time I had a Double ShackBurger from Shake Shack in New York. It was in early 2008 and it was so memorable because everything about it was perfect, from the soft bun to the melting American cheese to the amazingly soft rare beef patty.
HN: Finish this sentence: "I love cooking because…"
DH: "…I love eating and it makes people happy".
HN: What do you think about fast food-type burger places like the big, commercial chain stores?
DH: I have a soft spot for McDonald's – I think it's very consistent. I recently had McDonald's in Japan and it was on the next level! My favourite is a custom burger which is a double Quarter Pounder on a steamed bun with bacon, extra pickles and Big Mac sauce.
HN: If there's one tip everyone should know about preparing an amazing burger, what is it?
DH: Never add any extenders (breadcrumbs), binders (egg) or flavourings (Worcester sauce, herbs, ketchup, salt) to your beef patty! It makes your patty rubbery and you won't even end up tasting the beef! Always use a great quality beef (one that you would eat raw) and only season just before you cook it.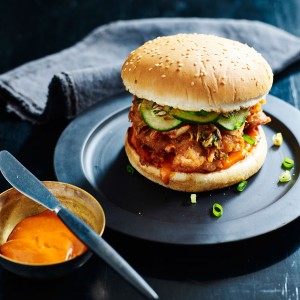 For more information on upcoming Gourmet Institute 2014 events, click here.
Read about the amazing events that have already taken place so far this year: